About two hours south of Cairns, the Mission Beach area contains gorgeous tropical beaches and lush rainforest, the perfect destination for relaxation in Queensland. But is there much to do with a dog? Find out about dog-friendly walks to do in the area and some sightseeing options nearby, plus dog-friendly accommodation and dining in Mission Beach.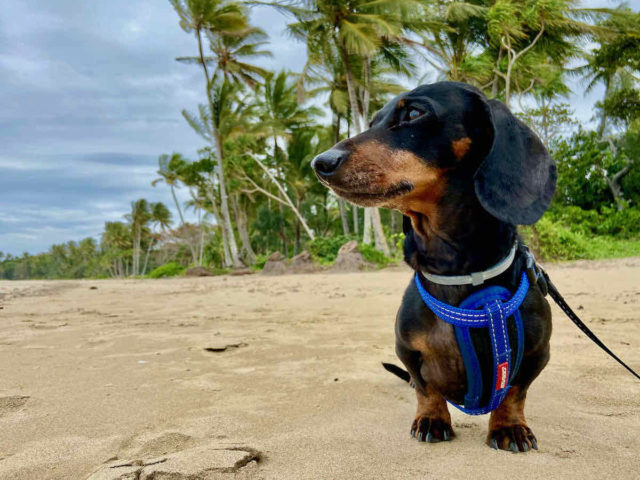 Dog-Friendly Sightseeing in Mission Beach
If your plans for a holiday at Mission Beach don't extend past relaxing and strolling on the beach, you're in luck if you're travelling with a dog, as the dog-friendly sightseeing options in the area aren't that extensive. However, there are some additional dog-friendly day trips available.
1. Stroll along the Beach
The top dog-friendly sightseeing option at Mission Beach is simply strolling along the beach with your dog. And with such beautiful beaches as Mission Beach, South Mission Beach, Wongaling Beach and Bingil Bay, is it any surprise?
At the time of our visit, dogs needed to stay on a leash on the beach. However, as of June 2023, there are now two permanent off-leash dog beaches around Mission Beach, plus another one being trialled.
The first permanent off-leash beach area is at the southern end of Mission Beach, in between Pacific Parade and Miter Street with access from the Esplanade. The second is between the Kennedy Esplanade boat ramp and the beach access point 100m north of Jackey Jackey Street at South Mission Beach.
There is also an additional area being trialled, at Wongaling Beach. This 500m stretch of off-leash beach is located in between the northern end of Banfield Parade and Dickinson Street. There is also a second off-leash dog beach being trialled further south at Tully Heads.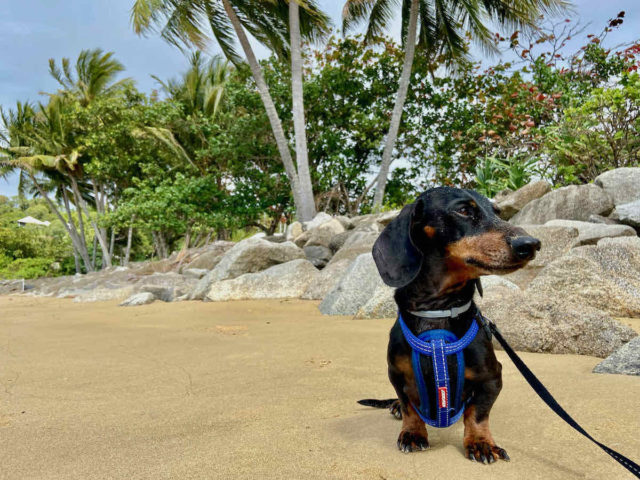 At the northern end of Mission Beach, it's possible to walk one way along the beach and then return through the forest behind the beach along the Ulysses Link Walking Track. Alternatively, make use of the many picnic areas and tables scattered along the beaches.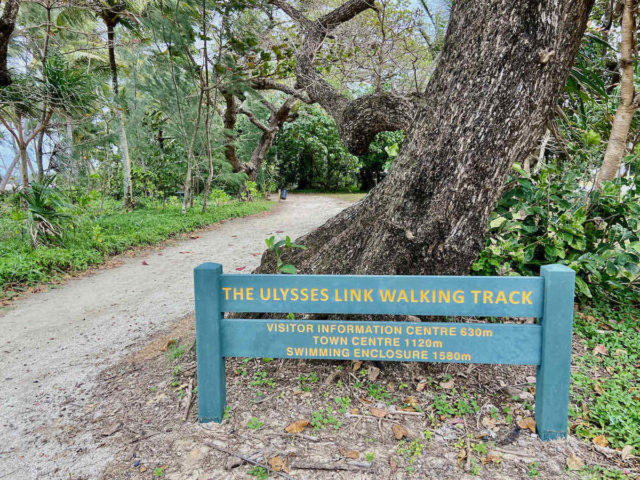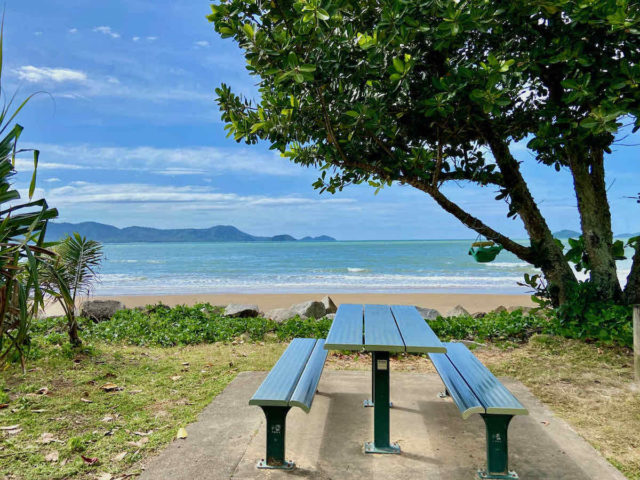 2. Walk Along the Kennedy Walking Track
At the southern end of South Mission Beach is the start of a wonderful walking trail, the Kennedy Walking Trail. The walking trail is 4km long, leading to Kennedy Bay Entrance, but the most popular section is the initial 300m of boardwalk leading to Lover's Beach, a picturesque spot.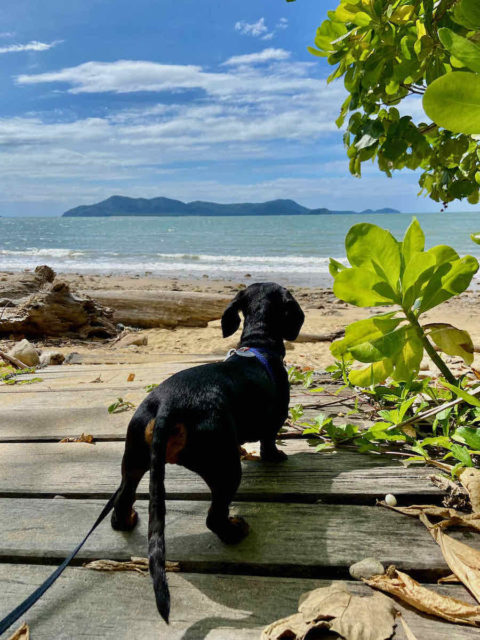 We turned around after Lover's Beach, when the trail begins to climb up steps and becomes a bush trail, just missing out on the lookout towards Dunk Island. The second half of the walk has more stairs and clambering, but is still not difficult. Allow two hours to walk one-way to Kennedy Bay.
It's also possible to extend the walk by walking along the beach to Hull Heads, accessible by road from Tully. Remember to keep your dog on a leash on the trail.
The carpark for the walking track is next to the South Mission Beach boat ramp, with a trial currently in place to allow dogs off-leash north of the boat ramp.
3. Or Follow the Cutten Brothers Walking Track
While many of the rainforest walks around Mission Beach are located in national parks, with dogs not allowed to join you, for a dog-friendly (but on-leash) option instead head just past the northern end of Mission Beach to the Cutten Brothers Walking Track.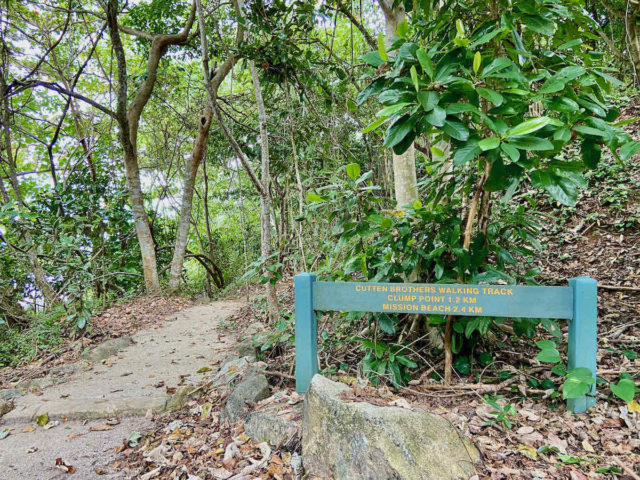 This 1.2km long bush trail leads through a remnant patch of coastal rainforest in between the Clump Point Boat Ramp and the Perry Harvey Public Jetty. Parking is available at both ends of the walk, or else reach the track from the Ulysses Link Walking Track along Mission Beach.
4. Visit Paronella Park & Mena Creek Falls
About a 40-minute drive inland from Mission Beach are the romantic ruins of Paronella Park. First developed into a tourist spot around the pretty Mena Creek Falls during the 1930s, in recent decades the remains of the Spanish "castle" have been preserved for a new generation of visitors.
Unfortunately, dogs are not allowed inside Paronella Park itself, although they are welcome in the adjacent caravan park and the cafe. However, what makes it dog-friendly is that the staff members will look after your dog while he or she is tethered on the verandah, during daytime hours, at no additional cost.
Included in your ticket is a tour of the gardens, although you're also free to wander and take plenty of photos at your own leisure. I also highly recommend returning for the included night time tour, when the castle is beautifully lit up, although dog-sitting is not available in the evening.
For a glimpse of Paronella Park and the falls with your dog, it's possible to visit the park opposite and walk across the suspension bridge. There's also a zig-zagging concrete path down to a viewing deck below, although the best views of the falls are from within Paronella Park itself.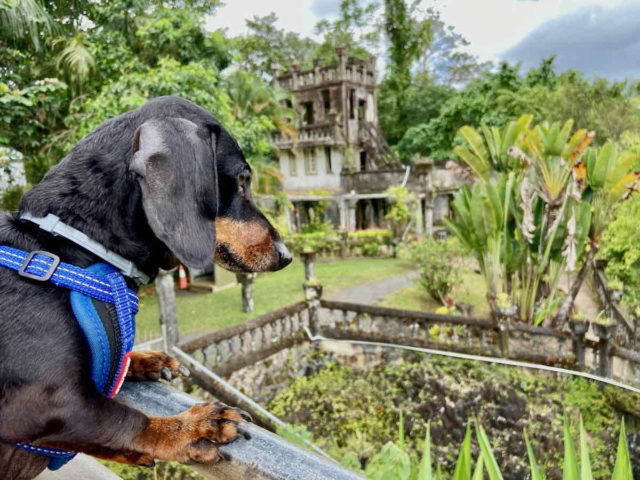 5. Explore the Tropical Art Deco Buildings of Innisfail
Another sightseeing idea in the area that it's possible to do with dogs is a walk around Innisfail, located 40 minutes north of Mission Beach. After being devastated by a tropical cyclone, the city was largely rebuilt in a local interpretation of Art Deco style, dubbed "Tropical Art Deco".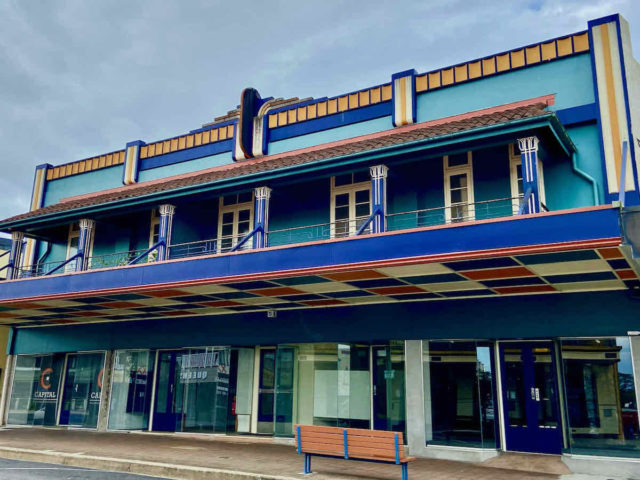 The art deco buildings are largely concentrated around Rankin Street and Edith Street, a fairly compact area. For a listing of buildings to see and details on each, either download the Tropical Art Deco app or pick up a brochure from the local visitor information centres. (A digital copy is also available through the link.)
Dog-Friendly Parks in Mission Beach
Until recently, there were no off-leash dog parks in the Mission Beach area. However, as of June 2023, there are now four off-leash dog parks in the Cassowary Coast council area, in addition to two off-leash dog beaches at Mission Beach and South Mission Beach and two more off-leash dog beaches being trialled.
Although none of the four off-leash dog parks are in the immediate area around Mission Beach, in the surrounding region check out:
Coral Sea Park (north of the shared path termination to Coral Sea Drive) at Cardwell
Wildsoet Park at Tully
Boustead Park at Kurrimine Beach
Wrights Park at Innisfail
Dog-Friendly Dining in Mission Beach
The Mission Beach area is home to plenty of cafes with outdoor dining areas, the majority that are happy for well-behaved dogs to join you, although it is a good idea to ask first.
One particularly dog-friendly cafe, plus an excellent place to search out for its good vibes, is the Bingil Bay Cafe. Tucked away up behind Bingil Bay Beach, the cafe is open from 7am to 8pm except on Mondays, with the bonus of live music on Friday nights and trivia on Tuesday nights. There's plenty of outdoor seating, including sheltered tables, plus dog bowls outside.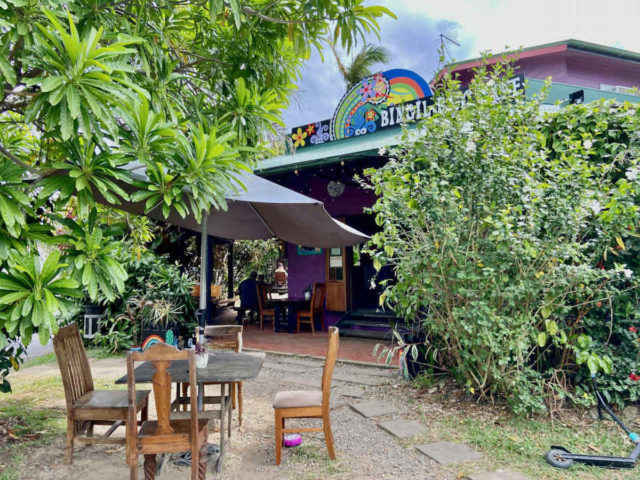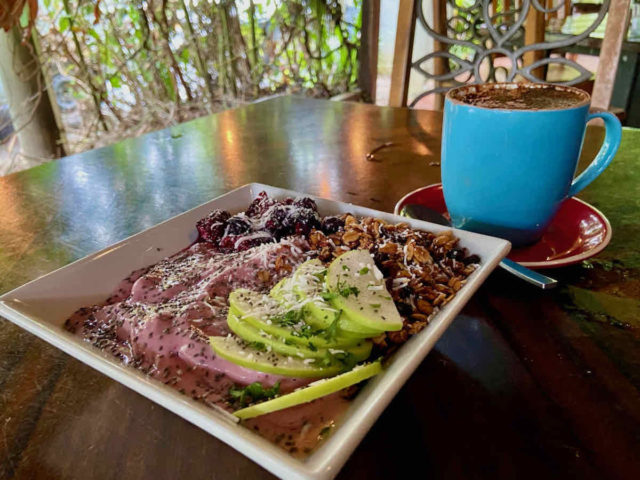 Dog-Friendly Accommodation in Mission Beach
Note: This post contains affiliate links, which means I may receive commission if you make a purchase using the links. See my full disclaimer.
Nearly all the caravan parks in the Mission Beach area are dog-friendly, although when I last checked the sole caravan park at South Mission Beach doesn't allow dogs. There's also a small council-run camping ground at Bingil Bay that permits dogs, as long as they are on leash, although the campsite is only suitable for smaller set-ups.
If you don't have your own caravan or tent, it's best to search the local holiday homes for pet-friendly options. One pet-friendly option is Litoria Mission Beach. Just 150m back from Wongaling Beach, pets are allowed inside (just not on furniture) and there's a fully-fenced backyard.
Keeping Your Dog Safe at Mission Beach
Known as the Cassowary Coast, the stretch of coastline including Mission Beach is home to a high concentration of wild cassowaries, although unfortunately (or fortunately?) we didn't spot any during our visits to the area.
It's important to keep this in mind when visiting the area with a dog. Both domestic and wild dogs are a significant threat to cassowaries, particularly chicks, although dogs have also been killed by larger cassowaries, ripped open by their dagger-like middle claw. For this reason, dogs should be kept on leash in cassowary habitat. If you spot a cassowary, keep your distance and a firm grip on your dog's leash, and retreat slowly.
Unfortunately, cassowaries aren't the only dangerous creature around Mission Beach. Crocodiles are also a risk along the beaches and in local waterways. During our visit, a sign at South Mission Beach warned of a recent sighting. For this reason, keep your dog well away from the water, ideally leashed on the beaches.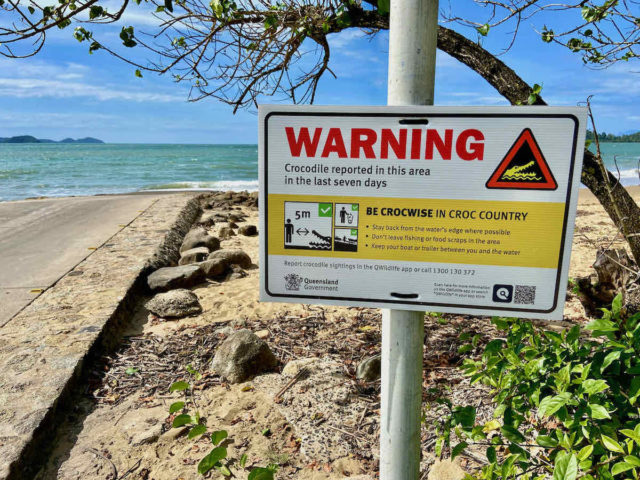 Head Next To