One of the most unusual destinations in South Australia is the opal mining town of Coober Pedy. This outback town is dotted with the remnants of opal mines, and almost half of the population lives underground, thanks to the heat. But it's a surprisingly dog-friendly destination!
Located 850km northwest of Adelaide and just under 700km south of Alice Springs on the Stuart Highway, it's also a must-stop town when driving through the centre of Australia. Read on to find out what to do in Coober Pedy when you visit with your dog, plus some excellent pet-friendly accommodation options.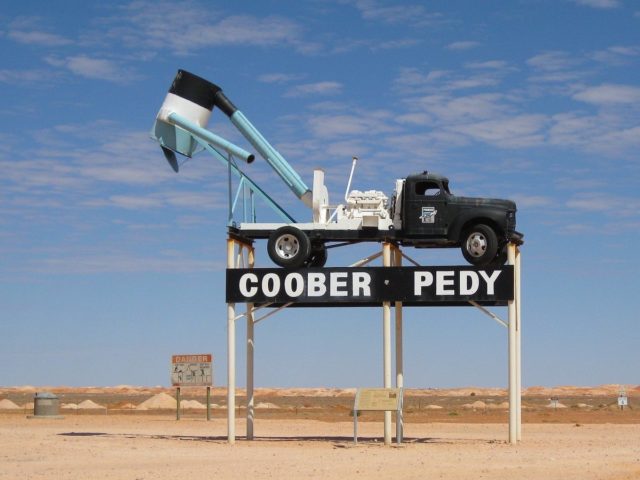 Dog-Friendly Sightseeing in Coober Pedy
When visiting Coober Pedy with your dog, make sure you head to some of these dog-friendly attractions both in and close to the town. Note that some attractions are closed during the hot summer months (off-peak season), reopening from March onwards.
#1 Visit a Mining Museum
The whole reason that Coober Pedy exists is due to opal mining, with the town dubbed the opal capital of the world. So while in town make sure you visit a opal mining museum, or at least browse a shop.
Tom's Opal Mine is a former mine that operated during the 1980s and 1990s, now turned into a museum. Choose between a self-guided and guided tour, plus don't miss the chance to noodle for opals afterwards by yourself. Pets on a leash are welcome.
Another popular historic mine in Coober Pedy is the Old Timers Mine and Museum. Dating to 1916, this was one of the original opal mines in Coober Pedy. Continuous self-guided tours operate. Ask whether pets are permitted – I had previously heard they are allowed, but have seen a recent comment that dogs are not allowed, but there is a kennel out the front.
Note that Umoona Opal Mine and Museum doesn't allow dogs.
#2 Explore its Quirky Attractions
Coober Pedy is one of the most unusual towns in Australia, and there are plenty of quirky things to explore around town, perfect for selfies. Check out the multiple signs, the Big Miner, the concrete UFO or the interesting tombstones at Boot Hill. Most of these attractions welcome dogs.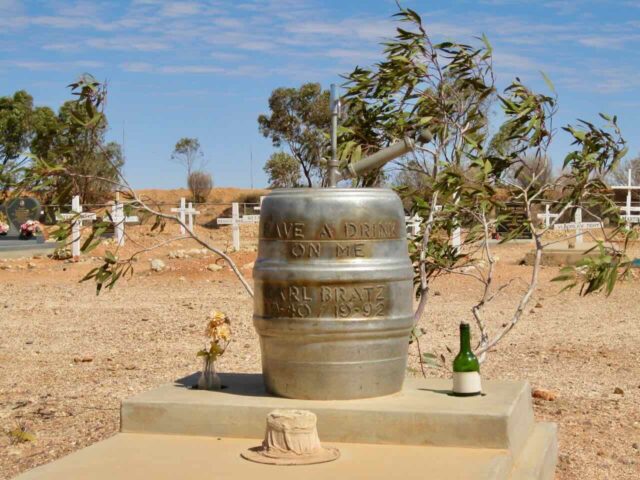 There are also multiple underground churches, including the St Peter and Paul Catholic Church and the Serbian Orthodox Church. While dogs are probably not allowed in these churches, if you can take turns visiting it's still worthwhile. At some churches at donation is requested.
To learn more about underground life in "dugouts", take a tour at Faye's Underground House, an original underground home in Coober Pedy. Tours cost a small fee and pets are welcome.
#3 Explore the Breakaways
One of the most beautiful attractions around Coober Pedy is the Breakaways, a series of low colourful hills to the north of Coober Pedy. Situated within the Kanku/Breakaways Conservation Park, which is Aboriginal owned, pets are welcome, as long as they remain on a leash.
Buy a permit for $11 per vehicle (or $9 concession) in advance from the website (or use the computers at the information centre), then take the Kempe Road out of town. It's a 70km loop drive, and you'll also pass the Moon Plain, a section of the dog fence and two lookout points.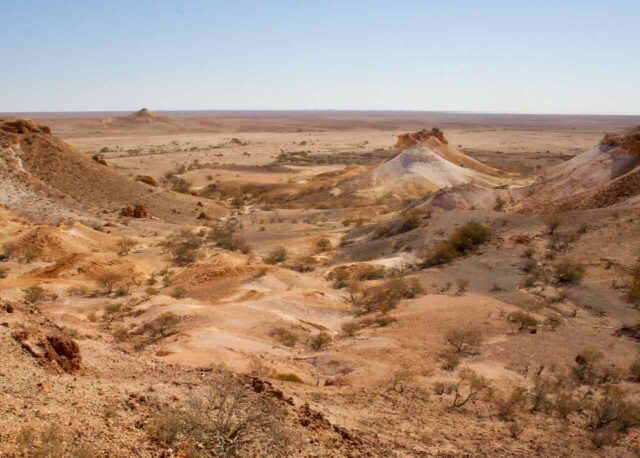 Note that the unsealed road used to access the park should not be driven on after rain – so skip this attraction if rain has recently fallen or double check at the info centre. At the park, stick to formed walking trails and make sure you bring poop bags for your pup, then take them back to town.
#4 Enjoy a Movie at the Drive-In
Coober Pedy is home to the only drive-in movie theatre in South Australia. Movies are shown every Saturday night, plus the occasional Friday night, with a break over the summer period.
A car holding up to seven passengers costs $20 entry, while single occupant vehicles are charged $10. Dogs aren't explicitly allowed on the website, but past visitors have reported taking their dogs along in their vehicle. I'm not sure if they're included in the count of passengers, but ideally keep them in your vehicle and keep them quiet.
#5 Take in the Sunset from the Big Winch
The colours of a desert sunset are magnificent, and one of the best spots to watch the sun set in Coober Pedy is from the Big Winch Lookout, next to the 8m tall Big Winch. Dogs on a leash are welcome to join you in walking up to the lookout. (Note however that dogs are not allowed at the adjacent cafe with it's lovely grass lawn.)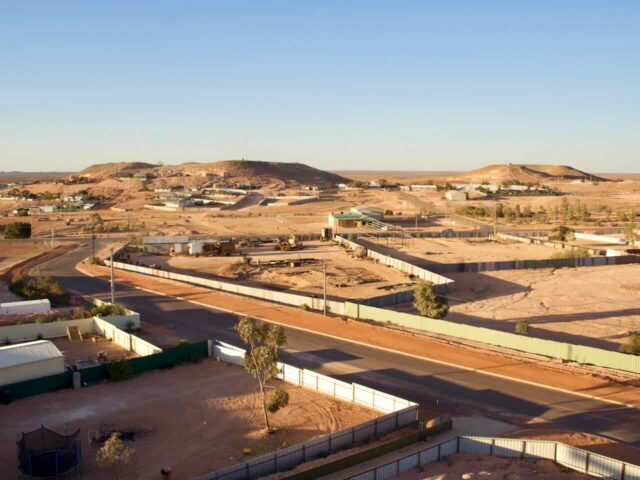 #6 Stay Underground
It wouldn't be a true experience of Coober Pedy without staying the night underground. The original inhabitants of the town built underground houses or "dugouts" to escape the brutal summer heat in the days before aircon, but it's a peaceful experience any time of year.
Check out the pet-friendly options that I've listed below, from a pet-friendly motel and apartments, to an underground campground.
#7 Fossick for Opals
If you're got some free time while visiting Coober Pedy, try hunting for opal yourself in the dirt heaps around town. Technically known as "noodling", there are multiple places you can try it out, including at Tom's Opal Mine.
Dog-Friendly Parks in Coober Pedy
Coober Pedy is home to one designated off-leash area, next to Marquardt Road, near Henri Street. However, it's not the most friendly patch of ground, with the dirt expanse unfenced and dotted with prickles. Take your pick whether you want to visit with your dog, bringing your own water bowl.
Keep in mind that Coober Pedy is dotted with disused mine shafts. It's important for your dog's safety to be kept on a leash at all time, so they don't accidentally fall down one. There are also reports of stray dogs around town, so be wary.
Dog-Friendly Dining in Coober Pedy
One of the best cafes around Coober Pedy is the Downunder Gallery and Cafe in the centre of town. Open from Monday to Saturday for breakfast and lunch, both the coffees and breakfast options are highly praised. Dogs are welcome out the front in the outdoor seating area.
If you're after a homemade pie, stop just down the road at the Passion Bakery and Cafe, where you can also purchase bread and cakes. There's multiple tables out the front where you can sit with your pup.
Dog-Friendly Accommodation Coober Pedy
There's plenty of pet-friendly accommodation options in Coober Pedy, no matter what your preferred style.
For starters, the Comfort Inn Coober Pedy Experience is pet-friendly. All rooms at this small motel are located underground, ranging from queen and twin rooms, through to family rooms and a two-bedroom apartment. Selected rooms are pet-friendly. Let them know that you're bringing a pet when you make a booking, so they can assign you one. No additional charge applies, as long as they don't make a mess and stay off the bed.
You can also stay at one of the underground houses that are dotted around Coober Pedy. Many of them also welcome pets to stay the night with you. A highly rated option is Holly Place, a two-bedroom apartment, with one of them underground. Pets are welcome to join you for no additional charge.
Coober Pedy is also home to the one of the only places in the world you can camp in a tent underground! Riba's Underground Camping is located a few kilometres south of Coober Pedy. As well as the underground camping option (tents only, no vehicles), there are also underground rooms, plus above ground campsites, both powered and unpowered.
Dogs are also welcome at the other caravan parks and campgrounds dotted around Coober Pedy. Another pet-friendly option is the BIG4 Stuart Range Outback Resort. Pets are welcome on both powered and unpowered sites, although not in any of their apartments. The park is also home to an on-site dog wash (for a fee).
Head Next To