South Australia is a wonderful destination in Australia to visit with your dog, thanks to the amazing variety of landscapes and attractions across the state. It's home to beautiful uncrowded beaches, world-class wineries and a huge variety of outback landscapes, and there're many dog-friendly destinations within the state.
If you're completing a Big Lap around Australia with your pup, you'll almost certainly pass through the state on your journey. But it's also just a short trip from the other southern states of Victoria and New South Wales.
Find out more about travelling in South Australia with your dog…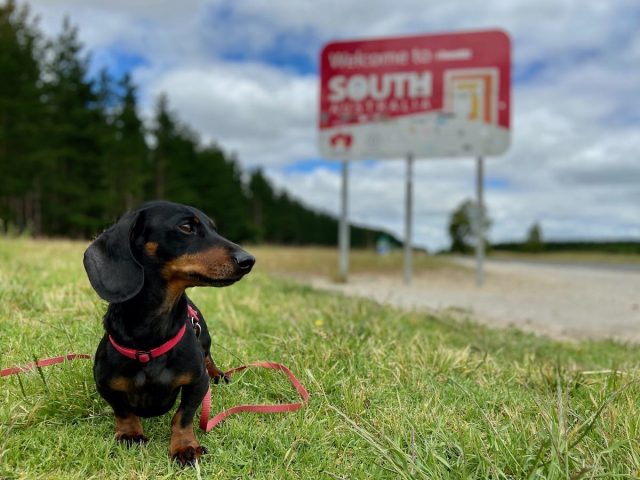 Dog-Friendly Holiday Ideas for South Australia
When visiting South Australia with your dog, make sure you tick off some of these amazing sights to be found in the state, just some of the dog-friendly holiday options in South Australia.
1. Paddle at Deserted Beaches
South Australia is blessed with over 4000km of magnificent coastline. So there's no shortage of beaches to enjoy, that are usually far from crowded. Many of them are dog-friendly, making a beach trip a must-do on you visit to South Australia with your dog.
Some of the best beaches in South Australia are located along the Yorke Peninsula and Eyre Peninsula. On the western coast of the Eyre Peninsula, two of the most spectacular beaches are Farm Beach and Greenly Beach, although check the conditions first of the unsealed access roads if you don't have a 4WD. Both beaches allowed dogs off-leash all day long.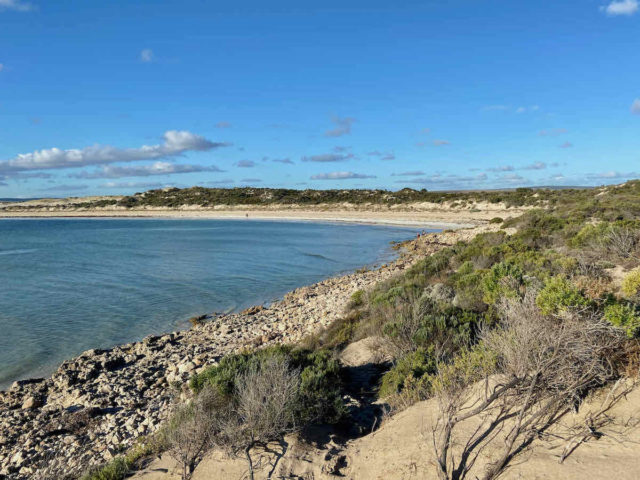 Even close to Adelaide there are beautiful beaches. The beaches within Adelaide are fairly dog-friendly. Over summer, dogs permitted on-leash on the sand during the day and off-leash before 10am and after 8pm. Even better, in winter dogs are allowed off-leash on the sand all day long.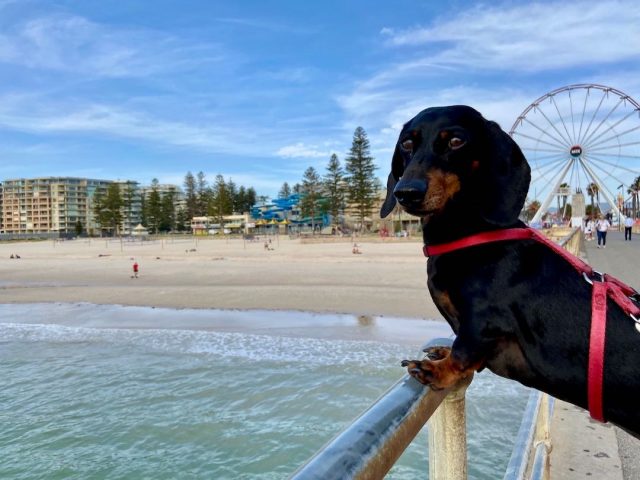 Just south of Adelaide are some more excellent dog-friendly beaches, such as Second Valley Beach and Rapid Bay. At the popular Carrickalinga Beach, dogs are allowed off-leash during the winter months, but there are some on-leash restrictions during the summer and Easter long weekend.
2. Go Dog-Friendly Wine Tasting
South Australia is home to multiple world-class wine growing regions, from the Barossa Valley to Coonawarra, and the Clare Valley to McLaren Vale. No matter if you prefer red or white wines, you're sure to find some excellent drops.
Many of the wineries permit well-behaved leashed dogs to join you, whether at an outdoor tasting area or inside the cellar door itself. Most local tourist information centres can provide you with a list of dog-friendly wineries, or check when you go to make a booking, with most wineries these days preferring reservations.
One of the most dog-friendly wineries around is Levrier Wines in the Barossa Valley. Dogs are required to be vaccinated (to keep their own wine dogs safe), but I've heard reports they even have an off-leash play area outside the cellar door.
Alternatively, head to Alpha Box & Dice in McLaren Vale. Well-behaved dogs are also welcome as this cellar door, which has previously held annual Dog Day events. Wirra Wirra Vineyards in McLaren Vale, open daily, is also dog-friendly in their outside area.
3. Explore the Flinders Ranges
Before visiting the Flinders Ranges along with my dog, I wasn't sure whether it was a worthwhile region to visit with your dog, thanks to much of the spectacular Outback region, including the famous Wilpena Pound, being located within a national park.
Luckily, I discovered there's still plenty of fun things to do with your dog. Whether that's driving to historic Blinman, stopping at the dog-friendly lookouts outside the national park, following the scenic drive through Parachilna Gorge or camping at the many dog-friendly outback stations.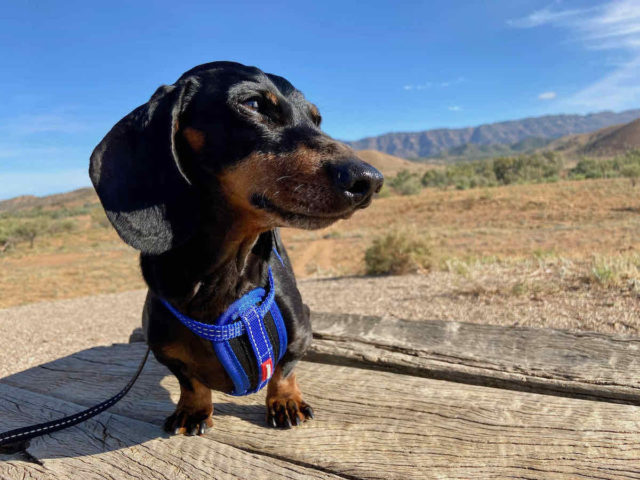 As long as you do some research and are happy to make some compromises, don't overlook visiting the Flinders Ranges with your dog.
4. Hire a Pet-Friendly Houseboat
The mighty Murray River wraps up its journey to the ocean in the southeastern corner of South Australia. Thanks to its wide girth and gentle currents, it's the ideal location for a relaxing stay on a house boat.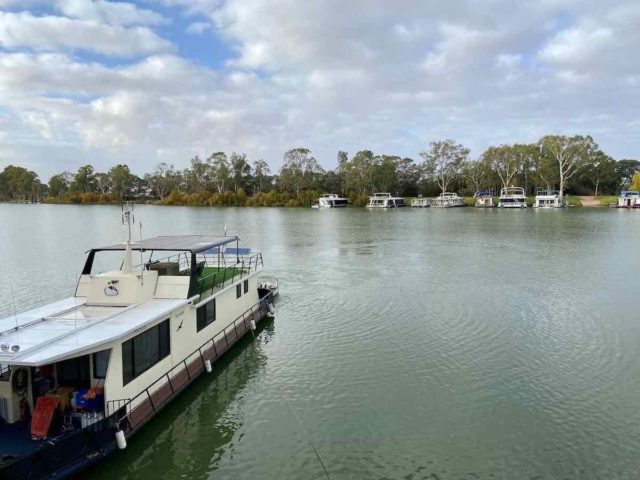 There's multiple companies that offer house boats for hire, mainly at the twin towns of Renmark and Paringa, plus further downstream at Mannum, Morgan and Blanchetown. Most of the houseboats are large enough to accomodate a large family group. And there's no need to leave your four-legged family members behind, with multiple companies offering pet-friendly houseboats for hire.
5. Visit the Outback Town of Coober Pedy
One of the most unusual destinations in South Australia is the opal mining town of Coober Pedy. Dotted all round town are remnants of its opal mines and most of the local population live underground, due to the summer heat.
More than just a brief stop on the long drive north along the Stuart Highway, it's worthwhile spending at least a night here, perhaps in an underground motel. There's also multiple underground museums to visit and perhaps try your luck at fossicking.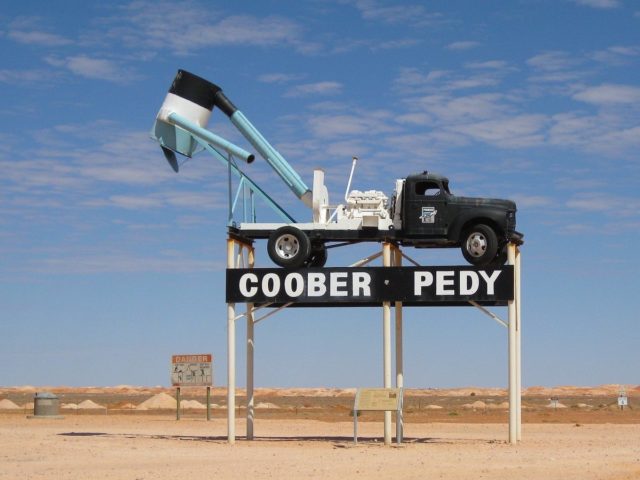 According to other visitors, most of the underground museums welcome dogs, including the Old Timers Mine and Museum and Faye's Underground Home Tour, although always check before entering or booking. The nearby Breakaways, with its colourful rock formations, also allows dogs.
6. Head to Kangaroo Island
Just off the South Australian coast is one of Australia's largest islands, Kangaroo Island. It's home to far more wildlife than just kangaroos, from koalas to seal colonies. Although it's national parks are off-limits to pets, it's still possible to visit the island with your dog.
Note though that a special step is required – you will need to notify the local council that you are bringing along a dog. More information is provided in the FAQs for the Sealink ferry that you'll likely take to the island. Dogs are permitted for free on the ferry, but must remain in your vehicle or on the top deck of the vessel.
7. Visit Dog-Friendly Hahndorf
The historic town of Hahndorf in the Adelaide Hills was recently named as the most dog-friendly destination in South Australia, making it a must-visit destination for you and your pup. Just a 30-minute drive from the centre of Adelaide so ideal for a day trip, the town strongly embraces its Germanic origins.
To find out about the dog-friendly businesses in Hahndorf, check out the listing on their website. A must-do is enjoying a hearty German-style lunch, with many of the restaurants that line the main street having outdoor tables and welcoming dogs to join you.
8. Drive Across the Nullarbor
If you're driving in between South Australia and Western Australia there's only one possible route – crossing the Nullarbor. Once you leave behind a few small farming towns outside of Ceduna, there's nothing more than roadhouses and the small border village of Eucla until after 1200km you reach the WA mining town of Norseman.
There's a lot of long, flat and very straight driving, including the longest straight road in Australia, 90 Mile Straight. However, to break up the drive, I've put together a guide to the most interesting sights along the road, most that are dog-friendly.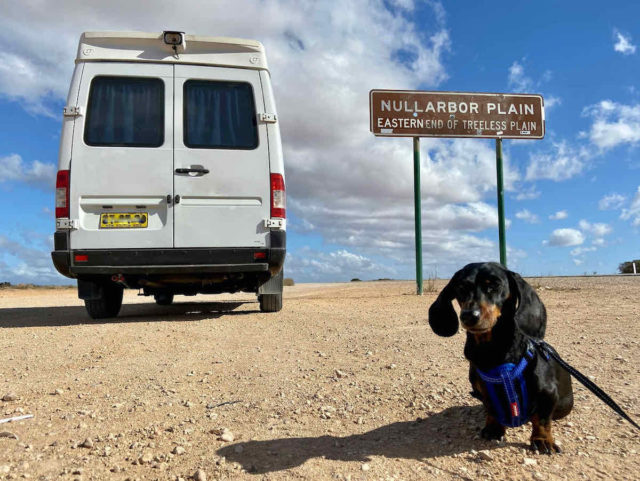 Dog-Friendly Hiking in South Australia
There's plenty of dog-friendly hikes in South Australia. A great resource to find dog-friendly walks is the the WalkingSA website – use the Dog walking filter to narrow down their list of over 700 walks across the state.
Alternatively, check out the hikes within the multiple dog-friendly national parks and other parks in the state. Either search for "Dog-walking" on the Find a Park page, or check out these recommendations for parks around Metropolitan Adelaide.
These are just some of the dog-friendly walks in South Australia you could head out on:
Pick from the many trails that criss-cross dog-friendly Belair National Park, just outside of Adelaide
Walk along the boardwalks of the Onkaparinga River Recreation Park, south of Adelaide
Hike to the summit of Mt Barker with your pup
Follow the walking paths in the dog-friendly Paringa Paddock section of the Murray River National Park just outside of Renmark
Circle around the Blue Lake in Mt Gambier with your dog by your side
Head out on the Oyster Walk around pretty Coffin Bay on the Eyre Peninsula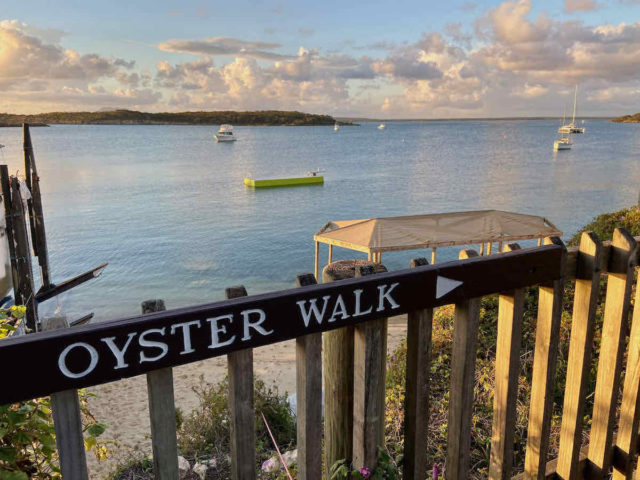 The majority of these walking paths require your dog to be on a leash – keep them leashed unless otherwise signposted.
If you want to walk your dog off-leash, check out my guide to the best fenced dog parks in South Australia.
Dog-Friendly Accommodation in South Australia
There's a wide variety of dog-friendly accommodation in South Australia, whether you're looking for a dog-friendly farm stay in the Outback, a fancy hotel for a city stay or just a simple holiday rental near the beach. Check out my suggestions for pet-friendly accommodation in South Australia, plus some of the best pet-friendly cabins in South Australia.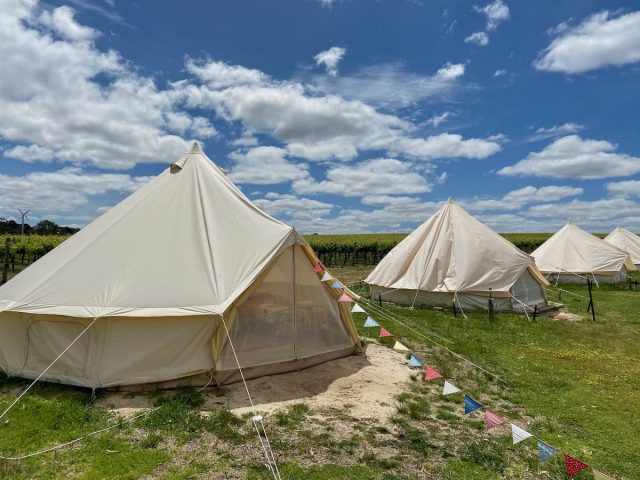 Dog-Friendly Guides to South Australia
I've put together a number of dog-friendly guides to South Australia, covering the regions that we visited together with your dog. Check out the following for more detailed information on travelling in South Australia with your dog, including sightseeing ideas and accommodation tips.
Keeping Your Dog Safe in South Australia
Before travelling in South Australia with your dog, particularly the Outback regions, you should be aware of some of the potential dangers to your dog.
One of the most dreaded dangers are 1080 baits. This poisonous bait is used extensively across Australia, including in South Australia, to control feral animals such as foxes. Unfortunately though, it is also lethal to pet dogs.
While locations where the bait is in use should be signposted, this can't always be guaranteed, plus there are reports of birds moving baits. For this reason, always suspect that these baits can be present outside of city areas.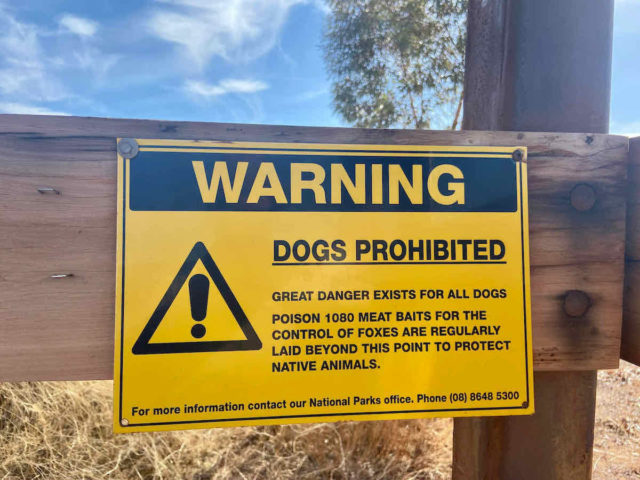 One of the ways to protect your dog is by buying them a muzzle and training them to wear it. Ask at your local pet store or consider buying one of the frequently recommend UK Yard Muzzles for Greyhounds online. Keeping your dog on leash and closely supervised is also recommended, giving them no opportunity to eat something from the ground.
In Outback areas, such as along the Nullarbor, dingos may also be sighted. I didn't notice any when I crossed the Nullarbor, but there are signs and I've heard reports from others. Make sure you keep your dog leashed and well away from any dingos, plus don't let your dog sleep outside in dingo country.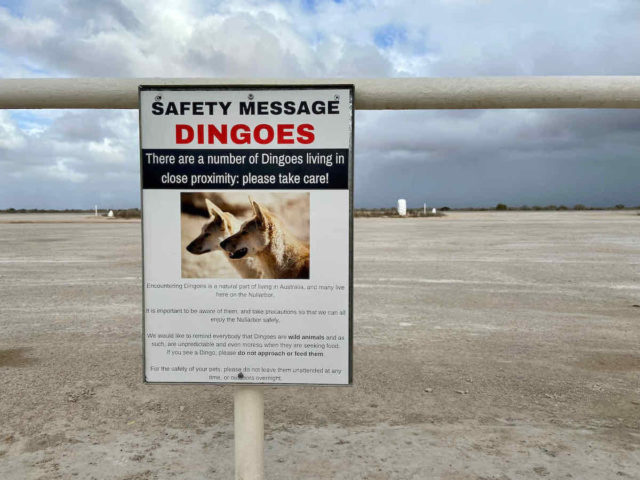 Finally, Ehrlichiosis, a tick-borne disease that has recently become present in northern Western Australia and the Northern Territory, has also been detected in some remote parts of far northern South Australia and as far south as Port Augustus. While not a concern in most regions of South Australia you'll likely visit, it's recommended to check the latest government updates.
If travelling around Port Augusta and further north, it's recommended that you protect your dog against ticks. In addition to a tick chew or spot-on treatment, purchase a tick collar for your dog. It's also best to keep them out of long grass and regularly check your dog for ticks.