The largest town in the centre of Australia and an essential stopping point when driving between Adelaide and Darwin, unfortunately Alice Springs isn't that dog-friendly a destination to visit. Find out what you can do with your dog, plus pet-friendly places to stay.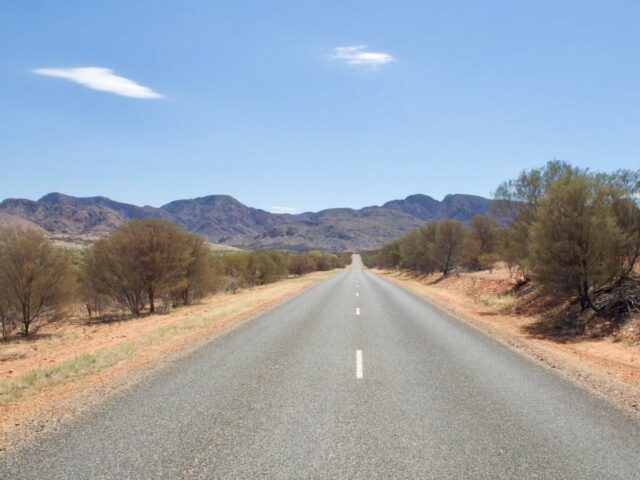 Dog-Friendly Sightseeing in Alice Springs
The majority of the attractions around Alice Springs are off limit to dogs. Not surprisingly, dogs are not allowed in the Tjoritja / West MacDonnell National Park to the west of Alice Springs, home to attractions including Simpsons Gap, Ellery Creek Big Hole and Ormiston Gorge.
Pet dogs are also not permitted at the privately operated Standley Chasm, or at the Telegraph Station Historical Reserve and Desert Park on the edge of Alice Springs.
These are some of the few dog-friendly sightseeing options around Alice Springs…
#1 Head up ANZAC Hill
The best views of Alice Springs are from ANZAC Hill. This hill is located at the northern edge of the town and is home to a 1934 Anzac Day Memorial.
Drive or walk up the hill to Trevor Reid Park, which has excellent views looking south over the town, towards The Gap. It's also a great spot to watch the sunset. Dogs are fine on a leash.
#2 Visit the National Road Transport Museum
For a dog-friendly museum around Alice Springs, head south of town to the National Road Transport Museum. This is actually four museums in one, including the Shell Rimula Wall of Fame, Kenworth Dealer Hall of Fame, Old Ghan Train Museum and RSL Military Museum. The massive trucks on display are particularly impressive.
It's quite a large museum – allow plenty of time for your visit, keeping in mind the earlier closing time on weekends, with last entry at 1:30pm. A single ticket gives you access to all museums. I've been assured by recent visitors that the museum complex is completely dog-friendly.
The cafe onsite is temporarily closed, but it's still possible to camp next to the museum for a nightly fee, with pets also welcome.
#3 Stay at Glen Helen
While dogs are not permitted to visit the Tjoritja / West MacDonnell National Park, it's fine for them to be in your vehicle while you drive through the park to Discovery Parks – Glen Helen. This lodge and caravan park is surrounded by the national park, but pet dogs are allowed on camping sites in the caravan park.
Glen Helen is about a 90 minute drive west of Alice Springs, along the fully sealed Larapinta and Namatjira Drives. It's a beautiful scenic drive, and if you're in a 4WD, you can continue along the Red Centre Way to Watarrka / Kings Canyon – just buy a pass in advance. Note that dogs aren't allowed to accompany you on the walk to the nearby Glen Helen Gorge, which is located back in the national park.
Note that the caravan park has been temporarily closed at time due to water supply issues, with site bookings not currently available during August 2023. Double check the situation before heading out, plus the latest pet rules. Also be aware that camping sites are on gravel and are quite expensive.
#4 Visit the Ross River Resort
Another pet-friendly resort that is located a short drive from Alice Springs is the Ross River Resort. It's about an hours drive east of Alice Springs, near the Trephina Gorge Nature Park.
The resort is based around the 1890s Loves Creek Homestead and offers a peaceful outback experience in the East MacDonnell Ranges. Dogs are allowed on their shady, grassy campsites. Both powered and unpowered sites are available for reasonable prices.
Enquire directly with the resort for what you can do with your dog. Note that dogs are not allowed at Trephina Gorge Nature Park and some other nearby attractions.
#5 Go 4WDing at Owen Springs Reserve
A former cattle station, Owen Springs Reserve is located southwest of Alice Springs and is popular for 4WDing and bush camping. While pets are prohibited in the northern part of the reserve, they are permitted south of Waterhouse Range, on a leash.
To access this part of the reserve, take the southern entrance, located 66km south of Alice Springs on the Stuart Highway. This section of the reserve includes the bush campground at Redbank Waterhole, plus 22km of 4WD track north to the Range. A high clearance 4WD is essential.
Redbank Waterhole is a temporary waterhole that dries up when it hasn't rained for awhile, but is beautiful when it's full of water.
Dog Sitting in Alice Springs
In order to visit the many attractions around Alice Springs that don't allow pets, many visitors with dogs make use of pet sitting services.
In particular, I've heard multiple recommendations for Pawz N Clawz Pet Accommodation. These kennels in Alice Springs are best for multi-day bookings, with accommodation options for dogs, cats, small pets, birds and even reptiles.
Rates are based on the number of calendar days your pet stays, and it's best to book well in advance, particularly during the Christmas, Easter and winter school holidays.
Alternatively, there's usually some pet sitters available in Alice Springs on Mad Paws, whether for daycare or overnight sits.
Dog-Friendly Parks in Alice Springs
Alice Springs is home to a large number of off-leash dog exercise areas. When I applied the leash free park filter on the council website, a long list of 27 parks were displayed! Double check the signage at park entrances and note that dogs are required to be under your effective control at all times – if not you may be required to leash them.
One of the best off-leash dog parks in Alice Springs is the Rotaract Park in Braitling. This fenced dog park has separate areas for both small and large (over 11kg) dogs. While don't expect much grass at the park, there are doggy bag dispensers, as well as a water fountain (which may or may not be working). There's also shaded seating.
Dog-Friendly Dining in Alice Springs
One of the best cafes around Alice Springs is Page 27 Cafe, with its laneway location just off the Todd Mall and excellent menu, reminiscent of Melbourne-style cafes. Open daily for breakfast and lunch, dogs are welcome in the outside seating area.
Another dog-friendly cafe nearby is Stumps Cafe, open daily from 6am to 2pm, with a dog-friendly outdoor dining area. Alternatively, head to the outskirts of town to Watertank Cafe in Ciccone. Dogs are welcome at the outdoor tables of the cafe, open for breakfast and lunch from Thursday to Monday.
Dog-Friendly Accommodation in Alice Springs
One of the most popular dog-friendly accommodation options in Alice Springs is the Heritage Caravan Park. All sites and cabins at the caravan park are pet-friendly, at least for friendly pets. The park also has a huge fenced off-leash dog exercise area, plus a K9000 dog wash.
The park is located on the southern side of town, amongst a cluster of other caravan parks. The nearby Discovery Parks – Alice Springs is also dog-friendly, on selected sites and a small number of cabins in two dog-friendly areas. Food trucks regularly set up in the evening, plus astronomy talks are held weekly.
For more pet-friendly accommodation in Alice Springs, check out the Alice on Todd Apartments. Make sure you request a pet-friendly room, with selected studio and one-bedroom apartments designated as pet-friendly.
Each of the pet-friendly apartments is located downstairs and has a fully fenced private back yard. Dog bowls and a welcome pack are provided, plus sometimes beds or a kennel. House-trained dogs are permitted inside, but not on furniture, with multiple pets considered and no size restrictions.
Keeping Your Dog Safe in Alice Springs
Alice Springs is most popular with tourists during the cooler winter months, when it's possible for overnight temperatures to drop to around zero, although it warms up during the day.
If you do visit over the summer months, be aware of the potential for extreme heat. Ideally have air-conditioning for your dog, plus make sure they have access to plenty of water and shade. Consider purchasing a cooling mat or wading pool for your pet.
Also be aware of how hot the ground can be for paws. Avoid walking on bitumen or concrete during the heat of the day, plus only exercise your dog during the early morning or late evening.
Another potential concern around Alice Springs are dingos, with central Australia home to a large population of dingos, including around the perimeter of the town. Ideally keep your dog on leash, especially in scrubland, to minimise the risk of attack.
For more advice, see the council website.
Head Next To