There's no need to head abroad from the UK to enjoy a day at the beach with your dog. The United Kingdom is home to some wonderful dog-friendly beaches, many of them that allow dogs year round. So make plans this summer to visit one of the dog-friendly beaches in the UK, with options from Norfolk to Wales, and Cornwall to Scotland…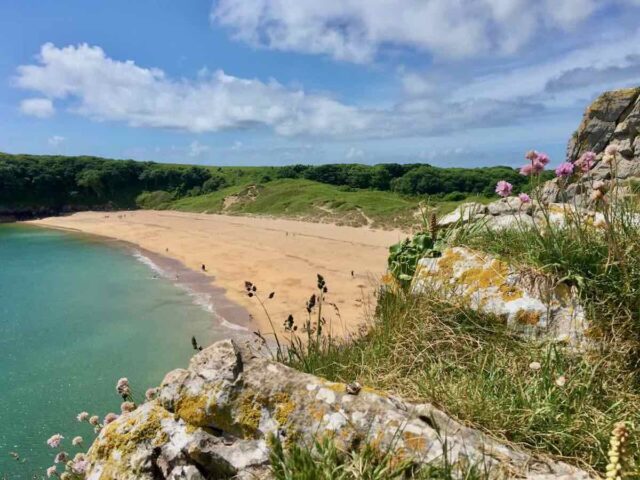 #1 Barafundle Bay Beach, Pembrokeshire
One of my favourite dog-friendly beaches in the UK is Barafundle Bay Beach. Now I call Australia home, so I've visited my share of excellent beaches. But this gorgeous golden sand beach in Pembrokeshire, along the southern coast of Wales, is one of the most beautiful anywhere in the UK or the world!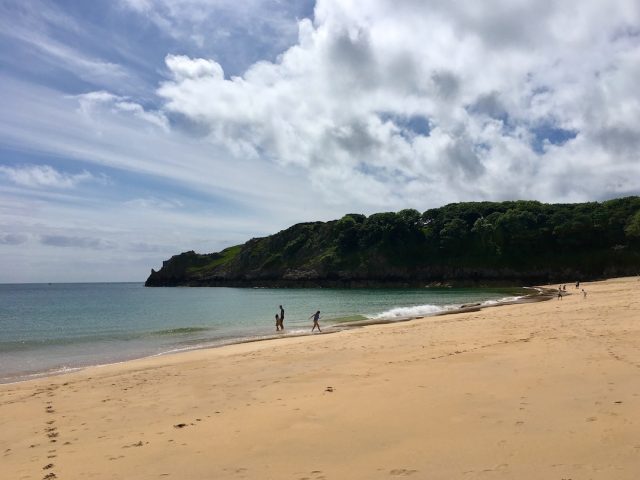 The wide stretch of sand is backed by a crescent of sheltering hills, making for a lovely micro-climate, especially on sunny days. Just be warned though that the water was still very chilly when I visited in June – it's not quite the Caribbean.
Barafundle Bay Beach is fairly remote. A car is necessary to reach the nearby carpark, where there is a charge for all-day parking. From there it's a short but scenic 10-minute walk down to the beach, including some steps. Dogs are allowed on the beach all year round.
#2 Hunstanton Beach, Norfolk
Contributed by Hannah of That Adventurer
Old Hunstanton Beach is one of the best dog-friendly beaches in the UK. It's in the village of Old Hunstanton on the north Norfolk Coast and is an easy walk from Hunstanton. The whole coastline is known for its golden sands and stunning sunsets.
Old Hunstanton Beach has no dog rules year-round so you can go for a walk with your dog on the beach all year round. There's loads of space for dogs to run around, explore the sand dunes or take a swim in the sea. There's even more room for running at low tide when the beach becomes super wide and the flat beach seems endless.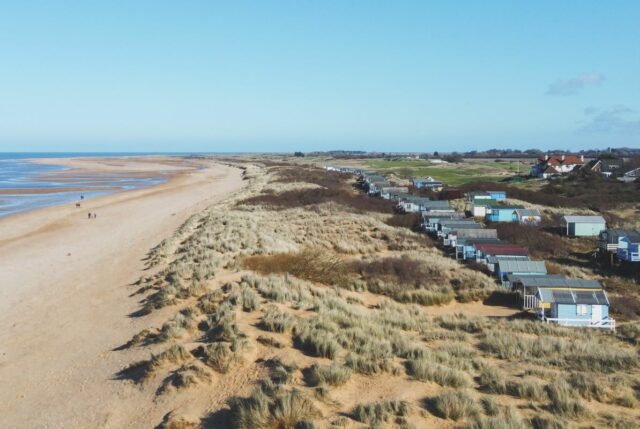 Getting to Old Hunstanton Beach is easy. You can either walk from Hunstanton town along the cliff tops at high tide, or on the beach itself at low tide where you'll find a shipwreck and get to do some hunting in the rock pools. Alternatively, you can park at the large pay by the hour car park by Old Hunstanton Beach and the lighthouse.
Old Hunstanton Beach holds a special place in my heart and that of my dogs, they love running about on the beach and taking a swim when the weather gets hotter (or even when it's not). It's definitely one of the best and biggest beaches in the area and is usually pretty quiet in the summer months.
#3 Ogmore by Sea, Bridgend
Contributed by Lowri of Many Other Roads
If you're looking for a dog-friendly beach, look no further than Ogmore by Sea in South Wales. This stunning beach gives you and your pup the perfect opportunity to explore incredible scenery and take a dip in the ocean.
The rolling sand dunes provide plenty of space to let your four-legged friend run around and play. Plus, your pup can take a dip in the crystal-clear ocean without any restrictions – as there are no dog bans at Ogmore by Sea!
My dog can be reactive at times but he is totally at ease here thanks to the amount of space available to explore.
There is a local bus that can bring you right outside the beach but if you can, bring your car. There is lots of parking available and you can get a day ticket for £6.50.
To make the most of your pet-friendly beach trip, visit the many pubs in the area that allow dogs and book a stunning cabin for the night!
#4 Brighton Beach, East Sussex
Contributed by Victoria Heinz of Guide Your Travel
Brighton Beach, located in the vibrant city of Brighton and Hove on the south coast of England, is a magnificent seaside destination with a special place in my heart. This pebbled beach offers a delightful mix of natural beauty, a lively atmosphere, and dog-friendly amenities.
What makes Brighton Beach so great is its welcoming attitude towards four-legged friends. Dogs are allowed on the beach year-round, making it an ideal spot for a leisurely stroll or a splash in the sea with my furry companion. There are certain dog rules in place, such as keeping dogs on a lead during the summer months (May to September) and ensuring they are well-behaved and cleaned up afterward.
Access to Brighton Beach is convenient, with various options available. Paid parking is available nearby, and public transport links, including trains and buses, make it easily accessible for visitors. I often prefer taking the train as it offers a scenic journey along the coast.
#5 Gorleston Beach, Norfolk
Contributed by Mandi Morrison of East Anglia Family Fun
Voted the Best Beach of 2023 by Trip Advisor, Gorleston Beach is a stunning, golden sandy beach on the Norfolk Coast, between Great Yarmouth and Lowestoft. It has a large free car park up on the cliffs and numerous free parking spaces down by the yacht pond at the opposite end.
Dogs are welcome all year round on Gorleston Beach from the Ravine up to the Cliffs, at the busy end near the cafes and arcades, they are welcome during the winter months, it is all clearly signposted, but there is enough beach for them to enjoy regardless, our two Newfoundlands love walking along the promenade and splashing in the sea!
There is a dog-friendly café located halfway along the prom, called Jay jays that has plenty of outdoor seating and they always have fresh bowls of water for all the visiting dogs, it really is a hidden gem.
#6 Warkworth Beach, Northumberland
Contributed by Sarah of Northumberlands Best
In England's most northerly county of Northumberland, the gorgeous town of Warkworth is famous for its castle (it's stunning), but there's also a fabulous dog-friendly beach here too.
It's just a 15-minute walk from the center of Warkworth to this glorious beach which has clean sand and few visitors. It offers miles of amazing, firm-footed walking. Dogs are welcome at Warkworth all year round and access is easy, there's a car park about a quarter of a mile from the village and the beach is just a short 5-minute walk through the dunes from there.
Warkworth Beach is one of Northumberland's top beaches, and it's easy to make a walk here into a circular walk too. This is a perfect beach to walk up, all the way to Alnmouth and then take the bus back. Well-behaved dogs (although usually a max of 2 per bus) are allowed on Go North East buses and it's a brilliant way to explore further if you're not a driver.
#7 Wells-next-the-Sea, Norfolk
Contributed by Anisa from Norfolk Local Guide
Wells-next-the-Sea beach, located about a mile away from the town of Wells-next-the-Sea on the north Norfolk coast, is a dog-friendly paradise.
This large sandy beach is part of the Holkham National Nature Reserve and famous for its beach huts on stilts, some of which can be hired for the day. Just behind the beach huts and dunes, there is a pay and display car park with the Beach Cafe, toilets, and showers.
While the area closest to the lifeboat is dog-free all year round, there is still plenty of space to let your dog run around. If you bring your dog, you will need to enter the beach via the stairs over the dunes towards the back of the car park and keep to the left.
However, it's important to be careful about the tide as it comes in quite quickly, and you don't want to be cut off from the beach. Always heed the siren and follow the instructions of the beach supervisor.
#8 Port Isaac Beach, Cornwall
Contributed by Sarah of Cornwalls Best
The small village of Port Isaac is built around a glorious old harbour, which has a fabulous small beach. And it's the perfect dog-friendly beach in Cornwall as it's so easy to get to, and everyone knows where it is! At low tide, it's fabulous, with a huge expanse of sand that goes out to twin piers.
Port Isaac Beach is a great dog-friendly beach, not least because it's really well protected from the weather and wind by the cliffs to the west of the village, meaning that even in the worst of weather you'll both get a lot of protection! Rockpools and a small stream running into the sea are definitely of interest to the inquisitive pooch as well!
There are six or so other beaches in the Port Isaac area all friendly to dogs, but this takes the biscuit as you're right in the center of the village, (you can even see the famed Doc Martin surgery from the beach) and there are lots of lovely cafes roundabout to grab a drink and a snack.
For drivers, parking is easy in Port Isaac, with car parks located on the outskirts of the village. If you aren't driving then there's a bus from Bodmin Parkway that takes about 2 hours.
#9 Gwithian Beach, Cornwall
Contributed by Claire from Go South West England
Visit Gwithian Beach, in the far south west of the UK (a stone's throw from Land's End!) for over two miles of doggy heaven all year-round.
Due to its popularity as a holiday destination, many of the best beaches in Cornwall have seasonal dog restrictions – including those in nearby St Ives. But dog owners who are staying in the town can just head to Gwithian in the summer months, where dogs can run free!
There are a couple of restrictions that you'll need to know about. The Godrevy section (at the far east of the beach) has seasonal restrictions in the summer from 9am until 6pm every day.
There's a small area next to it where dogs are only permitted on a lead during the summer months (from 9am until 6pm), but the rest of the beach, which is a 2.25 mile paradise spanning from Gwithian all the way to Hayle, allows dogs off leash!
Your dog will love leaping over the golden sands, and there's even a wonderful network of dunes which you can explore – the South West Coast Path runs right through them!
Find out more about visiting Cornwall with a dog
#10 Huttoft Beach, Lincolnshire
Contributed by Alex Trembath of Lincoln and Beyond
Nestled along the undiscovered coast of Lincolnshire, Huttoft Beach, also known as Moggs Eye Beach, is a vast stretch of golden sand that is dog-friendly all year round.
This hidden gem is sheltered by high, grassy dunes and provides plenty of space for dogs to run around, whether the tide is high or low. It's accessible from Lincolnshire's coastal road, and you can park up right next to the sand on the long car terrace that stretches along the rear of the beach.
As Huttoft beach is located along the Lincolnshire Coast Path, there is a marked trail you can take to either side for some scenic walkies. We love to take our dog here early in the morning for a run-around, or for an early evening picnic, when you will often have the entire beach to yourselves!
Dogs are welcome everywhere, including the small beach café, which has rooftop seating with glorious sea views.
#11 Hunmanby Gap, North Yorkshire
Contributed by Sinead of York Travel Expert
Hunmanby Gap is a long stretch of sandy beach on the North Yorkshire coastline, a one hour drive from York. It shares the same stretch of beach as Filey Beach and Reighton Sands and is backed by tall cliffs which occasionally reveal hidden fossils.
The beach is a favourite with local dog owners due to the rock-free expanse of clean sand available for the dogs to freely run on all year-round.
Seasonal fee paying parking (currently £5 per day) and public toilets are available in a field at the head of the path leading down to the beach. There is also a small year round free car park at nearby Reighton Sands.
If you go for a walk, be aware that this beach is tidal, so check tide times before visiting and keep an eye on the incoming tide. At the end of your walk, stop at The Beach Cafe at the foot of the slope leading to Hunmanby Gap car park.
#12 Traeth Llanddwyn, Anglesey Island
Contributed by Paulina of UK Everyday
If you're looking for a dog friendly beach, Traeth Llanddwyn on Anglesey Island is a great option. The beach is long and sandy, with plenty of space for your dog to run around. There are also some great walking trails in the nearby Newborough forest, where you can explore the island with your furry friend.
The best way to get to Traeth Llanddwyn is by car. Maes Parcio Ynys Llanddwyn car park is just a stone's throw away from the beach. Just keep in mind that dogs are not allowed on some parts of the beach from 1st May to 30th September.
Traeth Llanddwyn beach is one of the most unique and beautiful beaches in Wales. It is well known for its long stretch of golden sand and crystal-clear waters. Visitors can enjoy stunning views of the Isle of Anglesey, as well as the Snowdonia mountain range with their four-legged friend.
Find out more about hiking up nearby Mt Snowdon with your dog
#13 Llandudno West Shore Beach, Conwy
Contributed by Pauline of Manchester Pocket Guide
Located in the small coastal town of Llandudno, in North Wales, West Shore is one of the best dog-friendly beaches near Manchester and Liverpool, making it a great destination for a day trip.
While everybody else rushes to the town centre, West Shore beach is a quieter option for visitors.
There is free on-street parking by the beach, making it easy and cheap to park as well as a cute café serving English breakfasts and fish and chips.
West Shore is a very long sandy and rocky beach and is ideal for walks with your dog. It offers breathtaking views over the Conwy bay and is a great spot for sunset.
In terms of dog-friendliness, it's important to note that some sections of the beach (the middle part) are restricted during the summer months but the rest is accessible all year round.
The water is quite shallow as well which is always a good thing if you have a small dog.
#14 Cramond Beach, Edinburgh
While Edinburgh is certainly not a destination you'd consider associated with visiting the beach with your dog, did you know that there's multiple dog-friendly beaches around Edinburgh?
One of the closest dog-friendly beaches to Edinburgh is Cramond Beach. Located in between Edinburgh and Queensferry, this beach is just north of the historic village of Cramond, one of the earliest known sites of human habitation in Scotland and these days an outer suburb of Edinburgh.
At low tide the beach is vast – you can even walk all the way out to Cramond Island along the causeway, however double check the tide times in advance, as once the tide rises it's not possible to return the same way.
Dogs are allowed year round at Cramond Beach. Just above the beach is a large car park, along with toilets and a pub. There is also a promenade behind the beach, with views across the Forth, the perfect spot for more walks with your pup.
You May Also Like
About the Author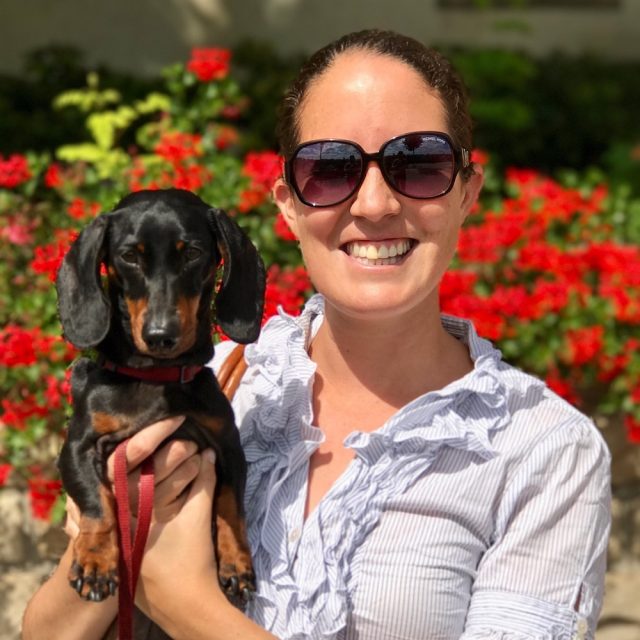 Shandos Cleaver is the founder of Travelnuity: Dog-Friendly Travel. She has travelled extensively with her Miniature Dachshund, Schnitzel, including to 33 countries across Europe, every state and territory of Australia except Tasmania, and 10 of the United States. She's passionate about providing inspiration and information to others wanting to travel with their dogs, whether close to home or internationally.