Set between the reef and the rainforest, the tropical city of Cairns in northern Queensland is one of the top tourist destinations in Australia. But what is it like to visit Cairns with a dog? Are there many dog-friendly options, and where can you stay and dine? Find out more about visiting Cairns with a dog…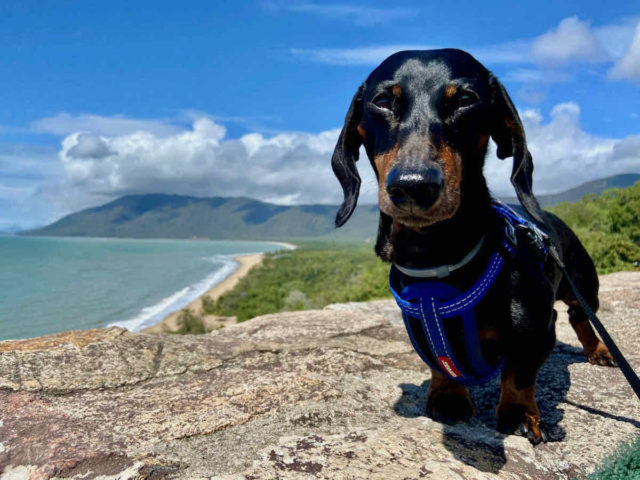 Dog-Friendly Sightseeing in Cairns
While many of the big attractions in and around Cairn are not dog-friendly, from day trips to the reef to the Skyrail to Kuranda, consider ticking off these dog-friendly attractions with your best friend by your side.
1. Stroll Along the Esplanade
A stroll along the Esplanade that runs along the Cairns waterfront through tropical parklands is a popular option with both local and visiting dog-owners alike. There's a combination of boardwalks and cycle paths, with on-leash dogs permitted to join you.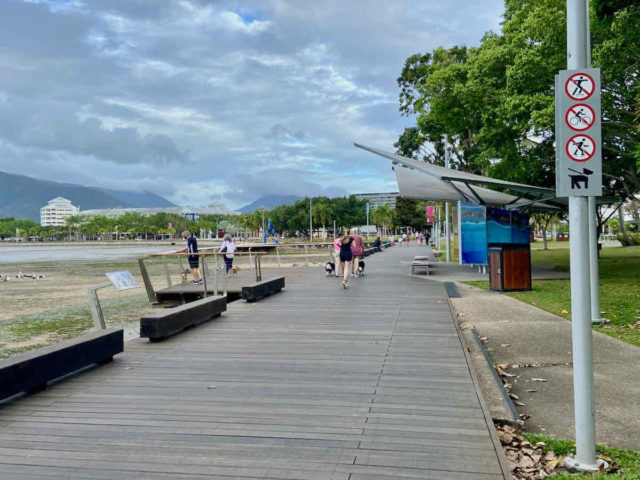 Just note that the lagoon area is off-limits to dogs, plus the central blocks in the Cairns CBD (roughly between Wharf and Aplin Streets, McLeod Street to the Esplanade). However, along the Esplanade between the two is fine. I'm not sure how often the ban on dogs in the CBD is enforced – while it's detailed on the Cairns Regional Council website, I didn't notice any signs on the streets.
There's meant to be an off-leash area at the northern end of the Esplanade, in between Smith and Lily Streets, adjacent to the mangroves. However, despite being listed on the council website, I couldn't spot any signs at the grassed expanse when I visited in late 2021, so I'm not sure if it's current.
2. Hit up the Beaches of Cairns
While the city centre of Cairns is located next to mudflats and mangroves, if you head to the northern suburbs of Cairns you'll encounter a string of sandy beaches.
One of the most popular spots with tourists is the resort enclave of Palm Cove. Across the road from this one kilometre stretch of beach are many high-end hotels and restaurants. Enjoy taking a stroll with your pup along the sand (except the area around the surf club), then return on the path behind it, underneath the palm trees. Just keep your dog on a leash, both on the beach and along the path.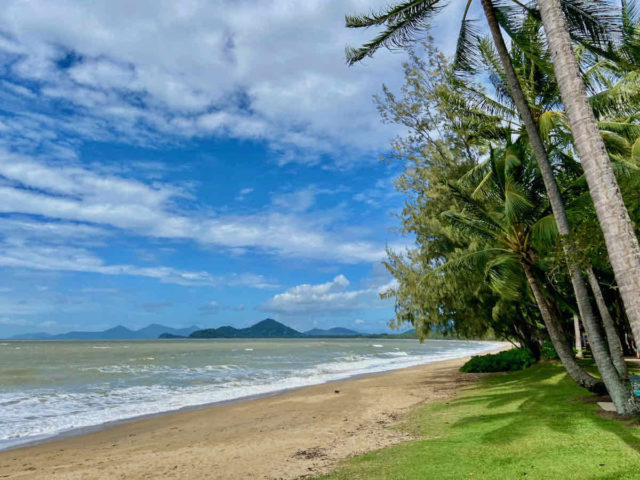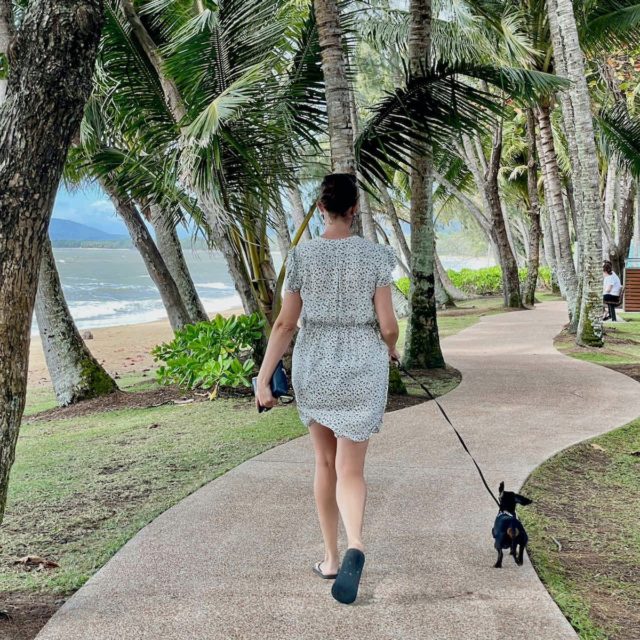 There's meant to be an off-leash section at the northern end of Palm Cove, in between the jetty (where dogs are prohibited) and the rocks, but there was no signage when I visited in late 2021, just the standard sign stating that dogs are required on leash.
Another beautiful beach near Cairns is Trinity Beach, an area quite popular with locals. At Trinity Beach there's an off-leash section at both the northern and southern ends of the beach. We headed to the northern end, which starts just after the playground. The only downside is that the beach is quite narrow at high tide.
3. Head to Four Mile Beach in Port Douglas
If it's fun on the beach that you're after, you can't miss visiting the resort town of Port Douglas, a scenic hour-long drive north of the centre of Cairns and only 40 minutes from Palm Cove.
Port Douglas is home to the beautiful long expanse of Four Mile Beach, running along the southern side of the town. While dogs are not allowed on the eastern end of the beach, close to the surf club, dogs are allowed on-leash dogs along the rest, plus there's an off-leash section at the far end.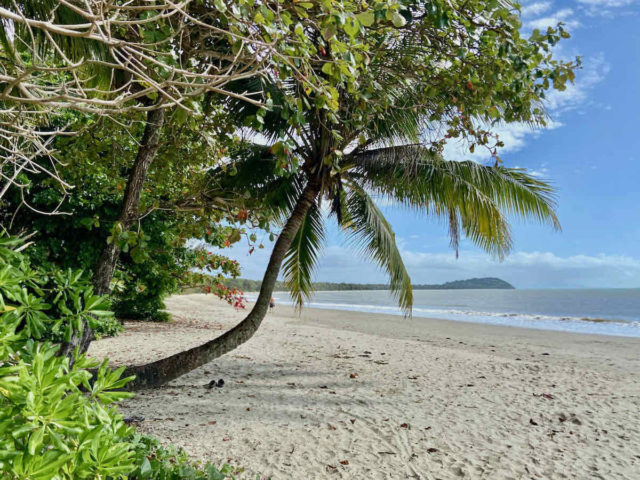 The off-leash section has recently been expanded, stretching from Four Mile Beach Park south. However, I didn't notice any signage, with a sign at the Cowie Street entrance, the old starting point, curiously indicating dogs should be on-leash.
Regardless, locals were allowing their dogs off-leash, so we followed suit. At the Cowie Street entrance, there's a handy hose for washing down your dog.
4. Walk Up Flagstaff Hill at Port Douglas
While in Port Douglas, an excellent on-leash walk that you can do with your dog is the Flagstaff Hill Walking Trail.
It's easiest to start the walk from the northern end at Rex Smeal Park, where there's plenty of parking. Then follow the 1.1km path along the headland to the steps leading down to Four Mile Beach. There's also a 175m detour up to Flagstaff Hill Lookout itself.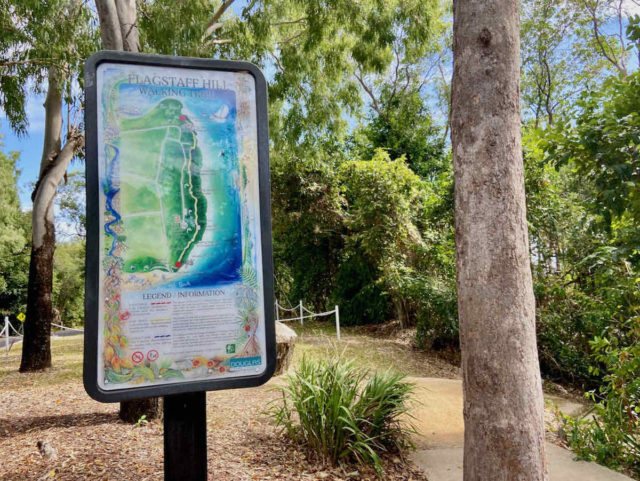 If you just want to appreciate the views without walking, you can also drive up to Flagstaff Hill, although the initial steep incline might be too much for some caravans. There's beautiful views along Four Mile Beach.
Find out more about visiting Port Douglas with your dog
5. Go Swimming at Goomboora Park
Unfortunately, many waterways around Cairns, whether beaches or creeks, aren't safe for dogs to enter the water, due to the risk of crocodiles. Luckily then, one of the best off-leash parks in Cairns offers a safe swimming spot.
Goomboora Park is located on the western side of Cairns, in the suburb of Brinsmead, just off the Western Arterial Road. About half of the wide expanse of grassy lawns is a designated off-leash area, on your right side as you enter, with the rest of the park (except the playground) permitting on-leash dogs.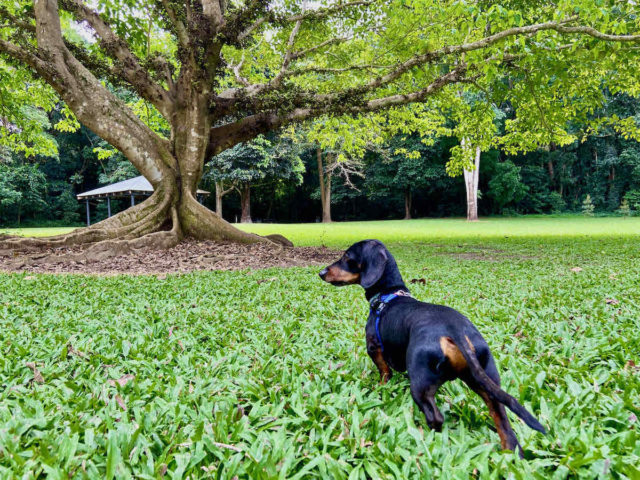 Along the edge of the park is a dense stand of forest, with Freshwater Creek running through it, including a dog swimming beach next to the off-leash area. It's very popular with locals and visiting dogs alike!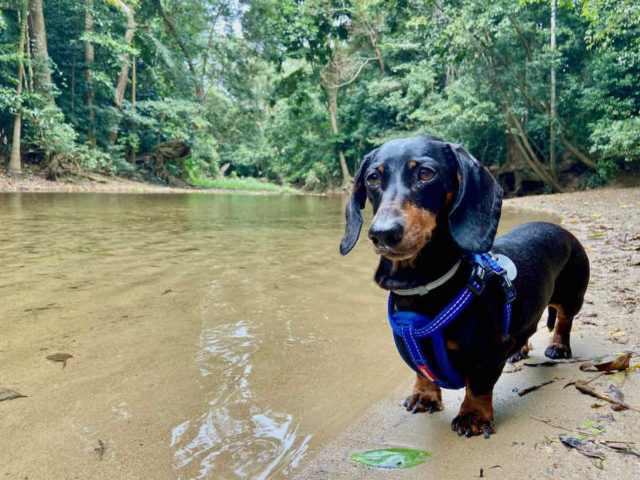 6. Visit the Markets in Kuranda
Up on the highlands immediately behind Cairns is the rainforest village of Kuranda. While you won't be able to visit it using the Skyrail or Scenic Railway with your dog, it's just a 20-minute drive up a scenic highway from the suburb of Smithfield.
The main street of Kuranda is lined with an eclectic array of shops and cafes, plus there's not one but two markets. Dogs are allowed at the Original Rainforest Markets, although there are prominent signs requesting dogs to be leashed. I used the same assumption for the Heritage Markets, and nobody said anything.
Note though that dogs aren't allowed on the rainforest walk behind the Original Rainforest Markets, nor in the wildlife attractions. Both markets operate from Wednesday to Sundays, although some extra shops may be open on holiday Mondays.
My pick of the two was the Original Rainforest Markets, with a strong hippie vibe, lots of clothing and jewellery stores, even a mini golf in the forest. The Petite Cafe Creperie was very busy at the time of my visit, and likely allows dogs at the outdoor tables.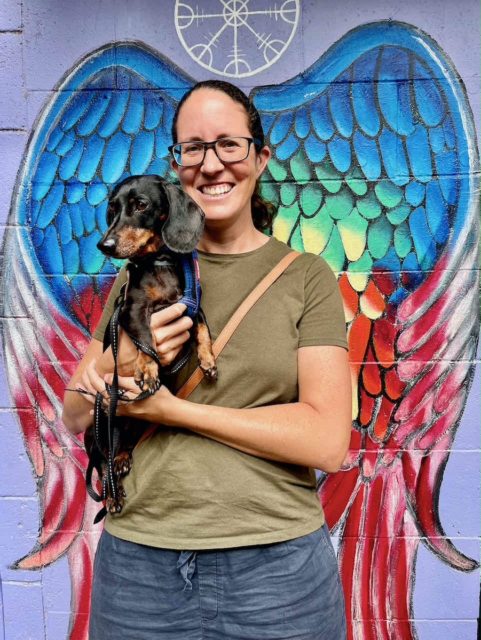 7. Head to the Atherton Tablelands
There's more to the highlands behind Cairns than just Kuranda, with the entire Atherton Tablelands region to explore. Just 30 minutes inland from Kuranda is the agricultural town of Mareeba, home to the majority of coffee plantations in Australia and the dog-friendly Emerald Creek Falls.
The Atherton Highlands also has a rich history, and a number of the museums are dog-friendly, both inside and out. A must-visit destination is the fabulous Historic Village Herberton, a 90-minute drive from Cairns.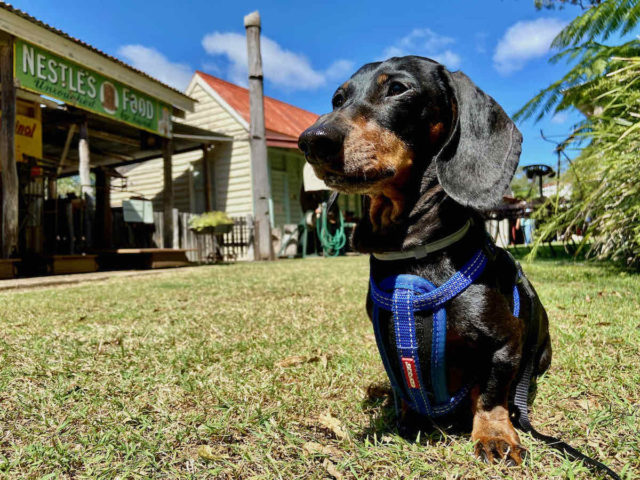 There's so many dog-friendly attractions on the Atherton Tablelands that I recommend you stay a few days in the area. Check out my dog-friendly guide to the Atherton Tablelands for more recommendations.
8. Go Kayaking at Babinda
The small town of Babinda to the south of Cairns is perhaps best known for the Babinda Boulders. A series of huge granite boulder outcrops along Babinda Creek, along with an adjacent swimming hole, unfortunately pet dogs are not permitted.
However, head further downstream and join a kayaking adventure with Babinda Kayaking, which refreshingly welcomes four-legged guests (and only a few "mini" rapids!)
Both half and full-day self-guided kayaking and SUP trips heading downstream are available. Pick-up to return to your starting point is included, but if you have a dog, someone will need to stay with them, as they don't have facilities to transport dogs.
Dog-Friendly Parks in Cairns
The Cairns government area is home to a staggering number of off-leash dog exercise areas, with 51 listed on their website. However, I discovered at a few locations, such as North Cairns and the beach at Palm Cove, that there wasn't any signage at the location, which is confusing.
One of the best dog-friendly parks in Cairns is the off-leash Goomboora Park, with its swimming creek. See above for more details.
About eleven of the off-leash areas are fenced, including Little Barlow Park in Bungalow. One of the closest off-leash parks to the city centre, as well as being fully fenced with a double-gate, there's also a water fountain and park bench. Fenced areas are designated on the council listing.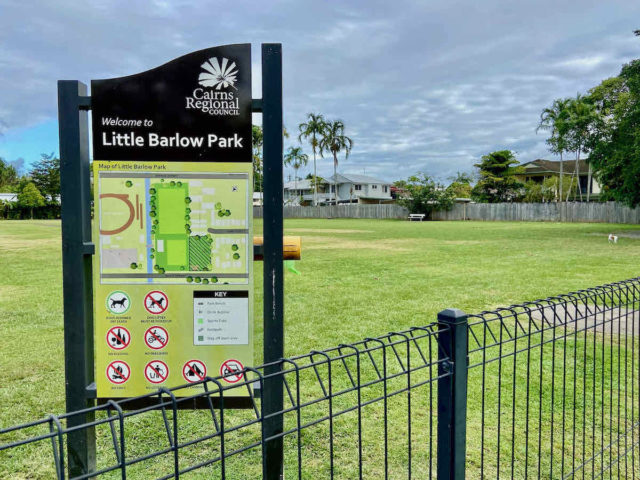 Another popular fenced dog park in Cairns is at Barron Waters / Burrawungal Park in Caravonica, on the western edge of Cairns. There is a large off-leash area at the northern half of the park, plus a newer separate section for small dogs. Your pups can even enjoy a safe swim here, with a man-made lagoon in the centre of the park. (Just check for any warning signs.)
Dog-Friendly Beaches in Cairns
For the full list of dog-friendly beaches in Cairns, refer to the list on the council website. Many of the beaches in Cairns have off-leash areas for dogs, generally at one or both ends of the beach.
We visited the off-leash area at Trinity Beach. Dogs are allowed off-leash at the northern end from just after the playground (see the signs at the beach) and at the southern end south of Peacock Street. Other beaches with off-leash areas include Bramston Beach, Buchans Point Beach, Clifton Beach, Ellis Beach, Holloways Beach, Kewarra Beach, Machans Beach, Half Moon Bay Beach and Yorkeys Knob Beach.
Before heading in the water, it's best to check the local signs for warnings about recent crocodile sightings and stingers. With crocodiles, it's best to stay well clear of creeks flowing into the sea, plus check what the locals are doing.
Dog-Friendly Walks in Cairns
There's quite a few dog-friendly walks available in and around Cairns, although most of them require dogs to be on a leash. As detailed above, some of the popular options are along the Esplanade in Cairns and the Flagstaff Hill Walking Trail at Port Douglas, not to mention the beaches, but there's some other options also.
One walk we didn't have time to check out is the Ivan Evans Track. Located in the suburb of Bayview Heights, southwest of the city centre, the track winds through dense rainforest, climbing to a lookout. About 1.2km long each way, allow about an hour to complete the hike. Dogs are permitted on leash.
Dog-Friendly Dining in Cairns
There's plenty of outdoor dining areas in Cairns and the surrounding areas, many that welcome dogs to join you.
A popular spot at the Cairns Wharf is Hemingway's Brewery, where you can order a tasting paddle or from their extensive food menu. Dogs are permitted at the tables out the front, or squeeze through the gap to the harbour front courtyard. Wharf ONE Cafe next door is also dog-friendly.
A few blocks away in the heart of Cairns, Crave Cairns is highly rated for its colourful food options, including bowls, smoothies and juices. Your dog is not left out with their own gourmet menu, available daily until 2pm. (Just be warned it's quite pricey!)
If you're in Palm Cove, a great spot to head is the Palm Cove Tavern. A few blocks back from the waterfront, they have a huge dog-friendly beer garden and relatively cheap drinks. Plus there's a "Doggy Dine-In" menu with three pet-friendly pub food options. Alternatively, Vivo Palm Cove across from the beach is recommended for being dog-friendly.
Heading north to Port Douglas, the Port Douglas Marina is home to a second Hemingway's Brewery, which also welcomes dogs. Another popular dog-friendly spot in Port Douglas is St Crispin's Cafe. Open for breakfast and dinner from Tuesday to Saturday, the picturesque spot overlooks a dam and the greenery of the Mirage golf course.
Dog-Friendly Accommodation in Cairns
There's a wide range of pet-friendly accommodation options around Cairns, no matter if you're after resort-style accommodation or bringing your own caravan or tent.
Note: This post contains affiliate links, which means I may receive commission if you make a purchase using the links. See my full disclaimer.
Dog-Friendly Resorts & Apartments Around Cairns
The newest dog-friendly accommodation option in Cairns are the Crystalbrook Bailey Residences. Centrally located near the Cairns Esplanade, these luxury holiday apartments welcome dogs in first floor rooms, each with their own courtyard or balcony.
Add a Residential Paws package to your room for $95 per night, including food, a water bowl and a special dog treat. It's best to contact the hotel directly to enquire about availability.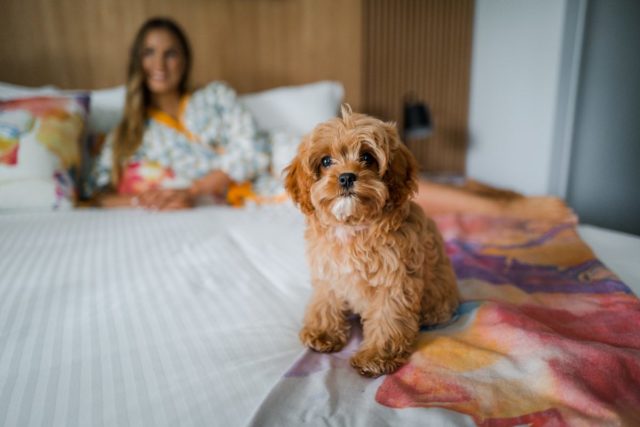 Another pet-friendly hotel option close to Cairns is the Sariyi at Palm Cove. This waterfront property has pet-friendly rooms with large courtyards, and there's no size restrictions. Dogs are allowed to dine with your in the al fresco restaurants onsite, including the rooftop courtyard. You'll just need to bring your dog's bed and bowls. Contact the property directly for full details.
Alternatively head further north to the Pink Flamingo Resort, just outside of Port Douglas. This resort welcomes adults and their pets, with some of the ten villas designated as pet-friendly. Each private villa is fenced, and your pup will be welcomed with their own bowls, blanket, plus a list of local dog sitters.
Pet-Friendly Caravan Parks Around Cairns
An increasing number of caravan parks around Cairns are becoming pet-friendly. Even the award-winning BIG4 Ingenia Holidays Cairns Coconut Resort is now pet-friendly, with pets allowed on powered and ensuite sites. This park has just about everything you could imagine for kids, plus a dog agility park for four-legged kids.
In Palm Cove, camp opposite the beach at the NRMA Palm Cove Holiday Park. Pets are able to stay on selected powered and unpowered sites, with up to two pets permitted per site. It's a must to book directly with the park and request permission for your pets.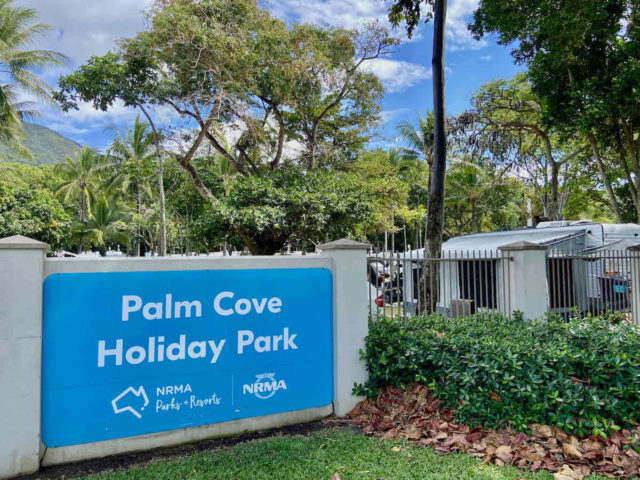 Alternatively, consider staying close to the magnificent Goomboora Park at Tasman Holiday Parks – Cairns Cool Waters. As well as pet-friendly sites, selected Daintree and Reef Cabins are pet-friendly and there is a Rainforest Creek Walk on site.
If you're travelling on a budget and are happy with a no-frills option, there's also a free camping ground at Gordonvale, 25 minutes south of the centre of Cairns. Greenpatch Reserve has toilets and picnic facilities, plus hot showers for a small fee.
Keeping Your Dog Safe Around Cairns
Crocodiles are an ever-present risk around Cairns. Always check for crocodile warning signs and keep an eye out for signs warning of recent sightings.
Only let you dog enter the water in known safe swimming spots, otherwise keep them on a leash and away from the water, especially near creek mouths. It's sometimes handy to check with locals.
Another risk on the beaches around Cairns are marine stingers. They are mainly present between November and May, although they can occur in other months.
Head Next To