The popular tourist destination of Phillip Island in Victoria is best known for its nightly Penguin Parades and its grand prix circuit, neither of which are dog-friendly attractions. But if you're visiting with a dog, what else is there to see and do, including in the surrounding area back on the mainland?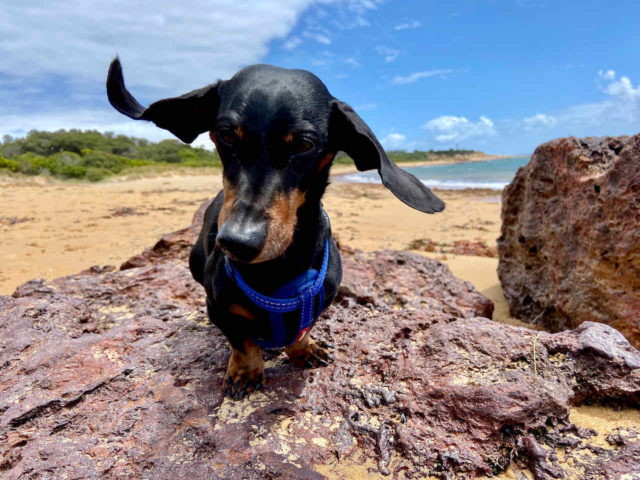 Are Dogs Allowed at the Penguin Parade?
The world-famous Penguin Parade at Phillip Island takes place each night in an area known as Summerlands, on the western tip of the island. This area is also home to Nobbies Centre and a popular boardwalk to view the nearby seals.
Dogs aren't allowed at Summerlands at anytime. The reason why is clear once you visit the area. As well as the nesting penguins and the seals, the area is home to Cape Barren Geese, who freely wander over the ground, and re-introduced bandicoot, thanks to most feral animals having been eradicated. All this wildlife would be threatened by the presence of pet dogs.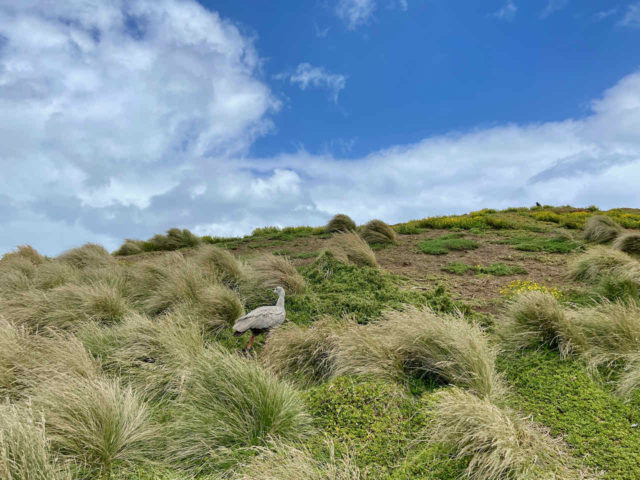 If you are attending the Penguin Parade though in the evening, particularly during the cooler months, we were informed at our caravan park that people frequently park with their dogs in their campervan or car, leaving them to have a snooze, as long as they are quiet. There are no specific signs forbidding dogs from being in cars, unlike with some national parks, although this may change.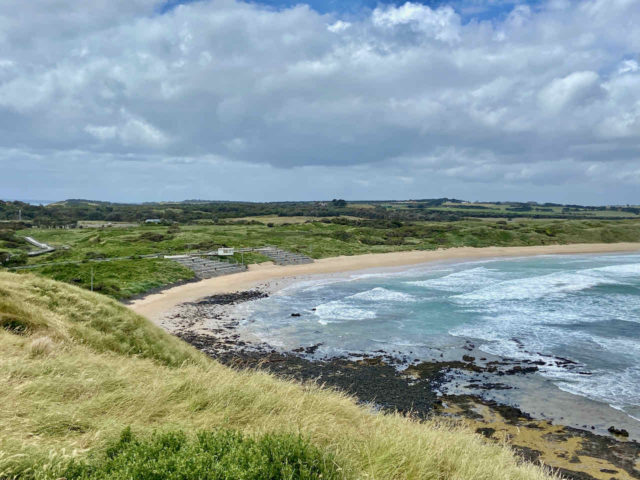 Other alternatives include organising a dog-sitter for your dog for the evening (or overnight) or more likely skipping a visit to the Penguin Parade when visiting Phillip Island with a dog.
Dog-Friendly Beaches on Phillip Island
While the beaches at Summerlands are a no go area for dogs, there are a few off-leash dog beaches on Phillip Island.
We went to the off-leash beach at Ventnor, located in between the ends of Ventnor Beach Road and Graydens Road. There's a carpark at each of the street ends. On Google Maps, search for "Ventnor Dog Beach".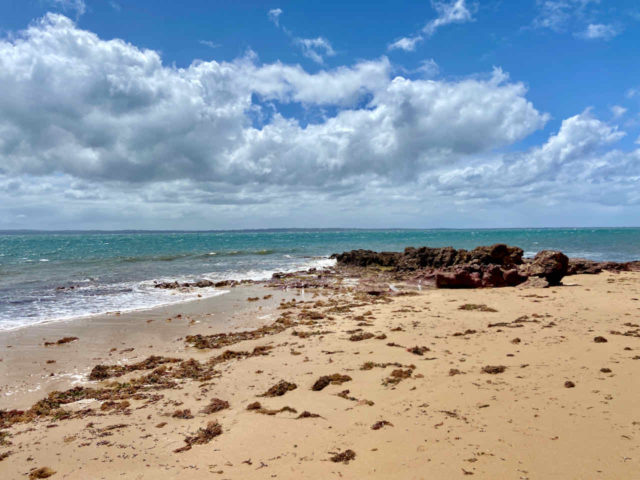 This dog beach is the sole off-leash beach that is off-leash all day long, year-round. There are also two other off-leash beaches at Cowes and Cape Woolami, but they are only off-leash all day long between May and November. In between December and April, dogs are only allowed on the beaches between 7am and 10am then from 5pm to 8pm.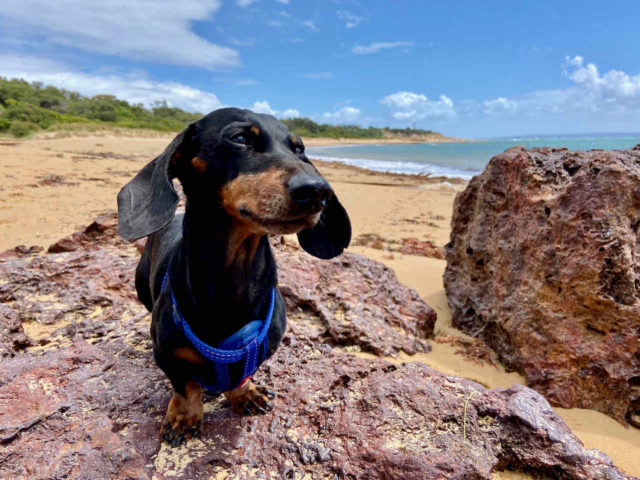 There are also a number of on-leash beaches, mainly around Cowes and Smiths Beach, that have the same time restrictions (i.e. on-leash all day long between May and November, but restricted hours in summer). For a map showing all the beaches, including detailed maps of the off-leash areas, click here.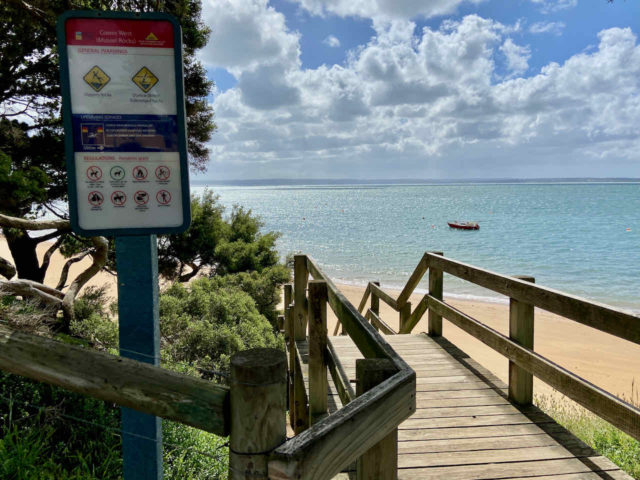 Note also that when dogs are allowed off-leash, they must be under effective control and must be put back on leash within 50m of a signed wildlife refuge.
Dog-Friendly Parks on Phillip Island
In addition to the above off-leash beaches, there is also one off-leash park located on Phillip Island. Head to the Blue Gum Reserve, just off Dunsmore Road in Cowes. The off-leash area is shared with the frisbee golf course and I believe it also has restricted hours in summertime.
Dog-Friendly Sightseeing around Phillip Island
There's multiple dog-friendly sightseeing options around the Phillip Island area, but many of them other than the off-leash dog beaches are located back on the mainland.
1. Hike the George Bass Coastal Walk
For an excellent dog-friendly walking trail with plenty of scenic views, head to the George Bass Coastal Walk that starts near the town of San Remo, back across the bridge to Phillip Island.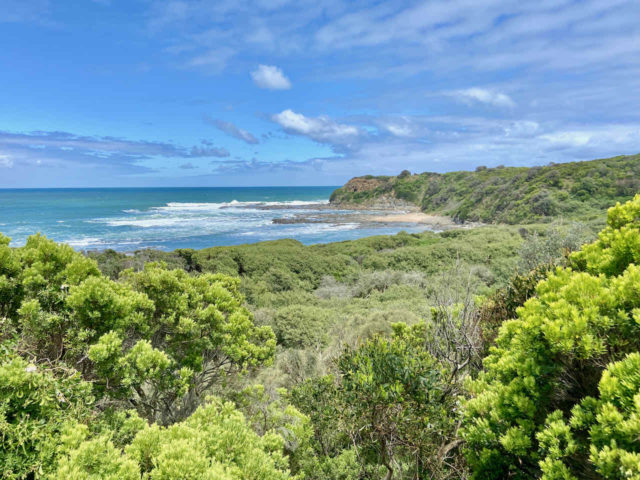 To access the walk from Phillip Island, turn down the short unsealed Punchbowl Road just after San Remo, with the walk clearly signposted at the turn-off. The walk continues for 7km to the edge of Kilcunda, where there is another handy access point at the Shelley Beach Carpark, just off the Bass Highway.
To complete the entire return walk, a total distance of 14km, the signs recommend to allow 4 hours. Alternatively, just walk partway and then return along the same path when you and your dog have walked far enough. The sections that we walked at either end were well-formed and fairly flat.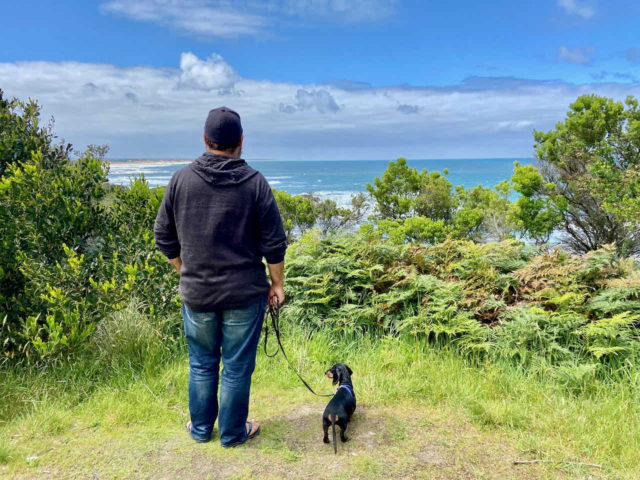 Just a warning, when we visited in November 2021, there were signs at the end of Punchbowl Road warning that it was a fox control area, with techniques including soft jaw trapping used, so dogs should be on a leash. There was also a sign warning of the use of 1080 baiting from October to December, so we skipped walking further with our dog.
However, there were no such signs at the Shelley Beach Carpark, so I'm not sure where the fox control area ends. The track is commonly walked by dogs though – I would skip if there are signs about 1080 baiting, but the rest of the time just keep your dog on a short leash.
2. Visit the Wonthaggi State Coal Mine
If you drive a further 25 minutes past San Remo, you'll reach the historic coal mining town of Wonthaggi, home to the State Coal Mine, now an historic site.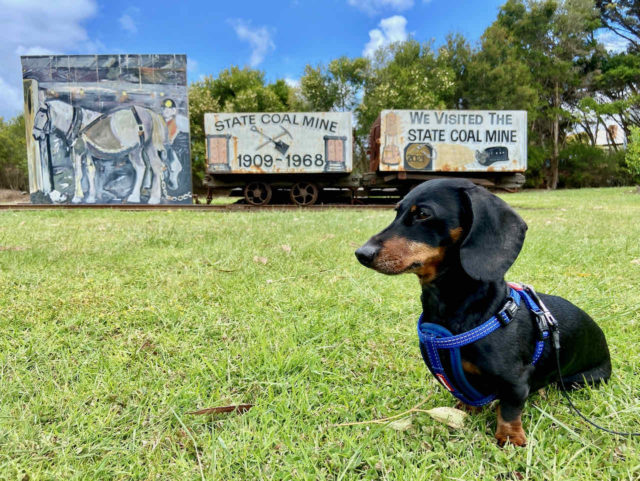 While dogs are not surprisingly not allowed on the underground tours of the now closed mine, they are allowed to join you for a wander through the above-ground historic area, which has free admission. Rather than cutting through the information centre and the cafe, instead used the gate to the side after confirming it's okay with the centre staff.
Among the sights to see are many of the historic buildings and machinery, along with an original locomotive and railway wagons. A BBQ area is available next to the carpark. We skipped entering any of the buildings with our dog.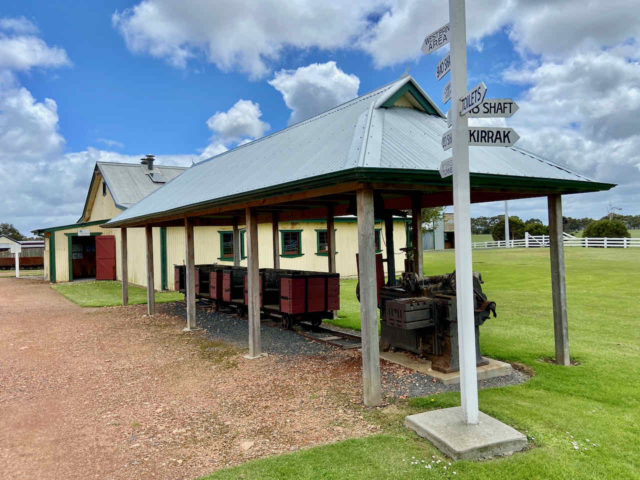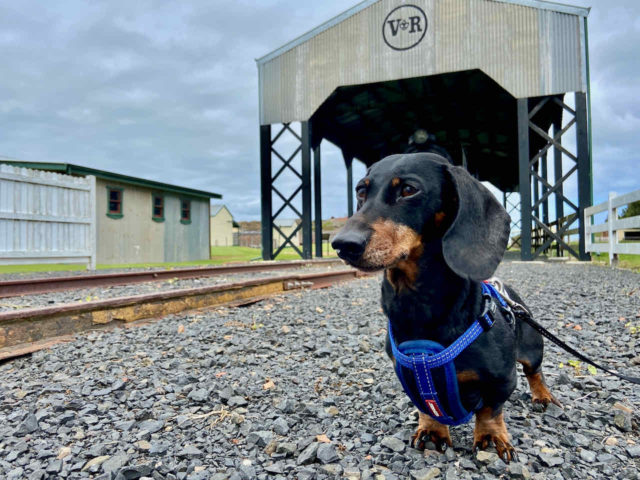 3. Sample the Local Wine
For a local dog-friendly attraction that is still located on the island, head to one of the two wineries on Phillip Island. Both are pet-friendly.
Phillip Island Winery is located just off Back Beach Road, and serves up delicious lunches as well as wine tastings. Dogs are welcome in the outdoor area and even have their own menu, including a "Pawsecco"! The cellar door and restaurant is open from Wednesday to Sunday, and bookings are essential to guarantee a table, although you're also welcome to spread a picnic blanket on the lawn.
Otherwise head to Purple Hen Winery on the eastern part of the island for a tasting of their cool climate wines. The winery is open daily during most school holiday periods, or five days a week from Thursday to Monday the rest of the year.
4. Or Taste the Local Beer
Alternatively, head to one of the breweries located on Phillip Island for a fun time with your pup by your side.
Ocean Reach Brewing in located in Cowes on Thompson Avenue. Enjoy one of their regular or seasonal brews, or a meal from the resident food truck. Dogs are welcome out the front at the outdoor tables, as long as they are kept leashed. Both the brewery and food truck are open during the evening from Wednesday to Sunday, plus lunchtime on Friday to Sunday.
Or perhaps head to Rusty Water Restaurant & Brewery, located opposite the Koala Conservation Park in the middle of the island. It's hard to miss with the giant koala statue outside. Dogs are welcome at the outdoor tables. They are open from Tuesday to Sunday, although only for dinner on Tuesday and Wednesday.
Dog-Friendly Dining Around Phillip Island
There's plenty of cafes and restaurants with outdoor dining tables on Phillip Island and in the surrounding area that allow dogs to join you, in addition to the dining options at the above breweries and wineries.
Right opposite the beachfront in Cowes, one dog-friendly option is the Isola Di Capri Restaurant. A traditional Italian restaurant that opens daily for lunch and dinner, dogs are allowed on the verandah.
Alternatively, the simply named Hotel across the street also has plenty of outdoor tables, with four-legged guests welcome. The pub offers a range of smaller and large plates, as well as pizzas. Its open from Thursday to Monday from 12pm to late. Note that no reservations are accepted for the pet-friendly outdoor tables.
Back in San Remo, I highly recommend stopping off at the San Remo Fishermans Co-op. This highly rated fish'n'chip shop serves up both deliciously fried local gummy shark and chips, as well as selling fresh seafood. There's plenty of outdoor tables. Just beware that the local pelicans are fed daily at midday close by!
Another great spot to spot at before or after visiting Phillip Island is Bassine Speciality Cheeses, a 15 minute drive from San Remo back up the Bass Highway. As well as offering tasty samples of their range of artisan farmhouse cheeses, you can also enjoy a cheese platter or scones with local cream in the cafe, with dogs on a leash welcome at the outdoor tables. Just say hi to their resident elderly dog, who can often be found dozing on the door mat.
Dog-Friendly Accommodation Around Phillip Island
Of the eight caravan parks on Phillip Island, all except one of the parks permits pets. However, the majority have seasonal restrictions, so check in advance for whether your preferred park is dog-friendly on your planned dates.
My picks are probably the Beach Park Tourist Caravan Park and the NRMA Phillip Island Holiday Park, both near the seasonal off-leash dog beach in Cowes. The latter also has pet-friendly cabins. There are also more caravan parks on the mainland.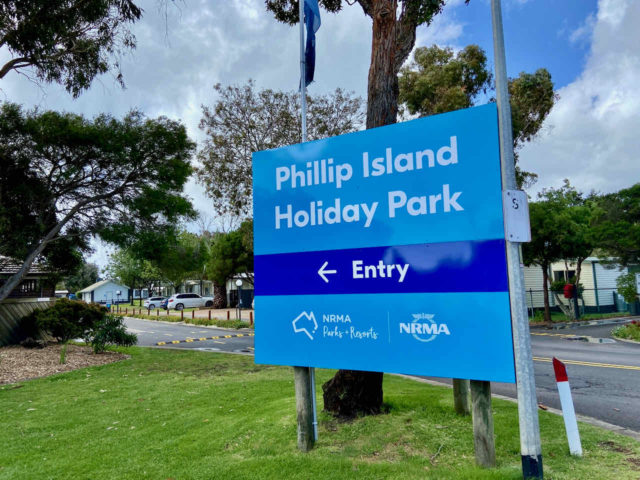 Alternatively, there are a wide range of dog-friendly holiday rentals on Phillip Island. An affordable pet-friendly holiday home in Cowes is The Cottage. The three-bedroom house sleeps up to five, set in a native garden setting and only 100m to the beach. Up to two well-behaved dogs are welcome, with the yard fully fenced.
Head Next To