Lakes Entrance is a popular beach destination in Victoria. Located along 90 Mile Beach in East Gippsland, the town is a 4 hour drive east of Melbourne. But what's it like to visit Lakes Entrance with a dog and are there many dog-friendly options? I share what I uncovered on my visit.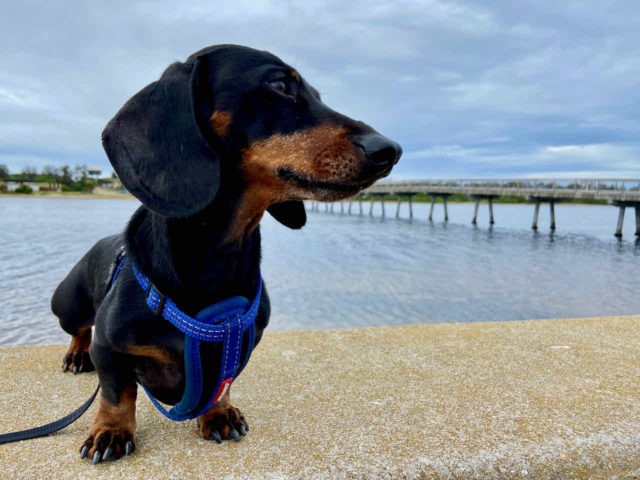 Dog-Friendly Beaches in Lakes Entrance
While there's plenty of miles of coastline, I didn't find the beaches around Lakes Entrance that dog-friendly, as least beaches in town.
For most popular beaches in East Gippsland during the months of November to April, dogs aren't allowed to swim at them or even stay in the foreshore areas, although they are allowed to pass through on a leash. Outside of this period, dogs need to stay on leash.
In Lakes Entrance, this rule applies at 90 Mile Beach Surf Beach (near the Surf Life Saving Club), the sheltered lagoon beach on the southern side of the Cunninghame Arm Footbridge and Eastern Beach. For further details, including other beaches where this applies, see the maps in this council factsheet.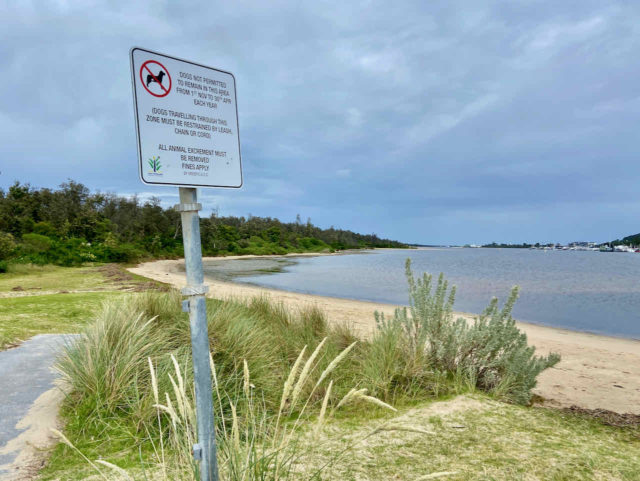 For all council-managed beaches and foreshores in the East Gippsland region, unless otherwise signed, dogs need to remain leashed. This also applies within 20m of waterways, including rivers and swimming holes, in parks and reserves in township areas.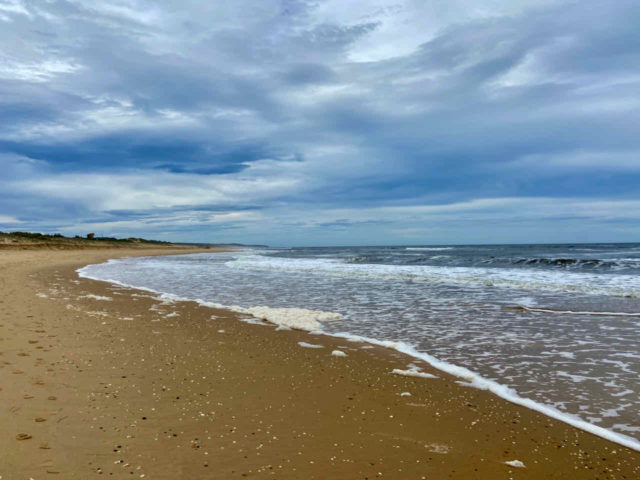 There are no designated off-leash beaches in the East Gippsland region. However, dogs are allowed off-leash outside township areas (defined as areas with a speed limit of 60km/hr or less), including beaches, unless they have been specifically listed in the above factsheet.
Dog-Friendly Sightseeing Around Lakes Entrance
Luckily the beaches aren't the only attraction of Lakes Entrance, with a number of other great dog-friendly sightseeing options that you should check out in the area.
1. Stroll Along the Foreshore
There's plenty of shared-use pathways around Lakes Entrance, with the path along the foreshore, parallel to the Esplanade, one of the most popular spots for taking a walk with your pup anytime of day. Along the way check out the local fishing fleet, one of the largest in Australia.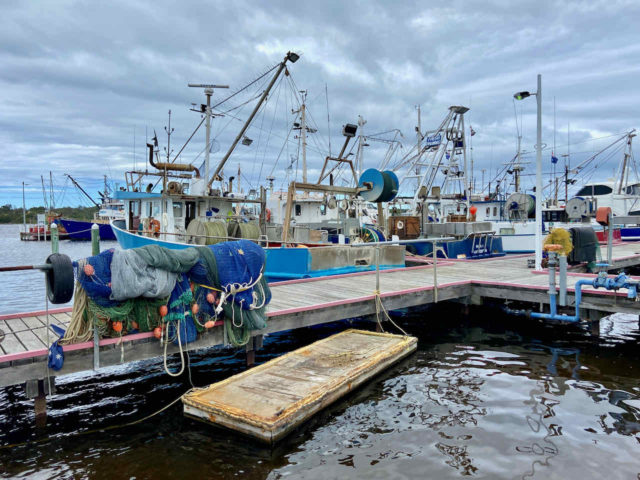 A popular place to stop is the Riviera Ice-Cream Parlour, close to the Cunninghame Arm Footbridge, which has a huge selection of flavours to choose from. Alternatively, there's a number of fish'n'chip shops fronting onto the Esplanade.
2. Or Walk Along the Entrance Walk
Another popular walk in Lakes Entrance is the Entrance Walk. Cross over the Cunninghame Arm Footbridge and then veer to the right before the surf club, where a sign provides information on the walk.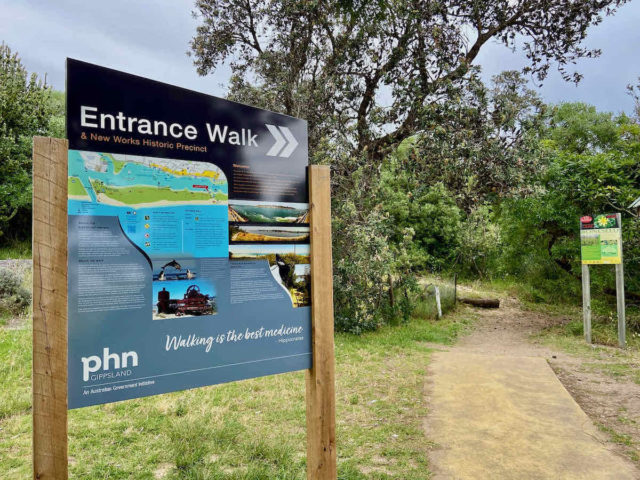 The 2.4km-long dog-friendly walk leads to the artificially formed entrance after which the town is named. At the far end, you can explore the New Works Historic Precinct, featuring some historic cottages, a lookout, boardwalk and amenities. Rather than returning by the same route, you can also return along 90 Mile Beach.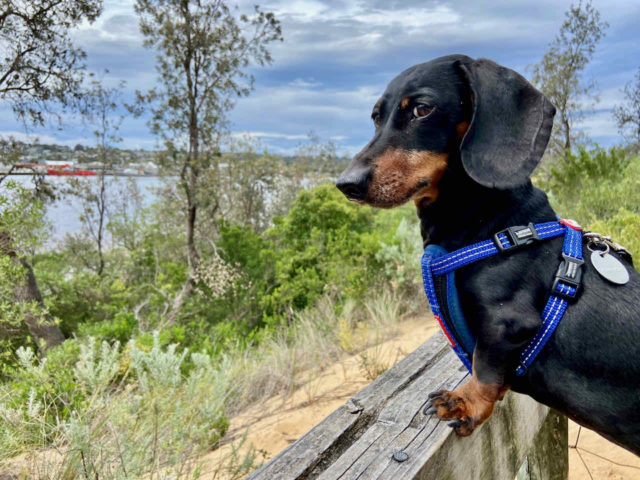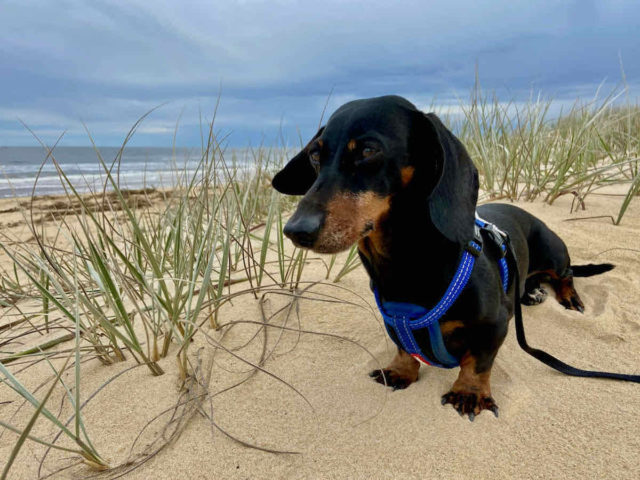 Allow about two hours to complete the entire walk, with an additional hour to explore the Historic Precinct. A shorter alternative is to cut back over to 90 Mile Beach along one of the beach access tracks, just completing a short beach loop.
Dogs need to remain leashed on this walk. Additionally, between November and April, dogs are not allowed to remain on the surf club beach 200m either side of the main access track, although they can pass through on leash.
3. Spot the Koalas at Raymond Island
One of the most wonderful dog-friendly attractions around Lakes Entrance is the Koala Trail on Raymond Island. Drive to Paynesville, about 45 minutes from Lakes Entrance, then take the ferry across to Raymond Island, which departs about every 20 minutes and is free for pedestrians (and leashed dogs).
The Koala Trail starts just opposite the ferry terminal and is well signposted, or you can buy a brochure for $2. The walk is about 1.2km long, although we followed the longer version that goes along First Parade.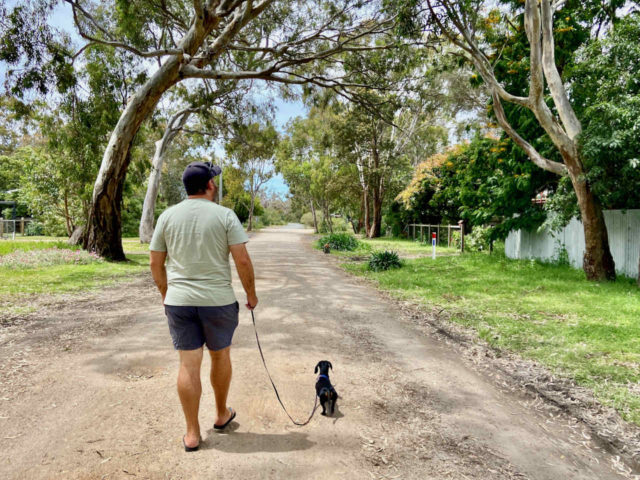 The sign states the walk can be done in 20 minutes, but we took far longer, continually peering up into the trees. We spotted about 20 koalas all up, with the first just metres into the walk. The final section of the walk is along a waterfront boardwalk, without as much chance of spotting koalas.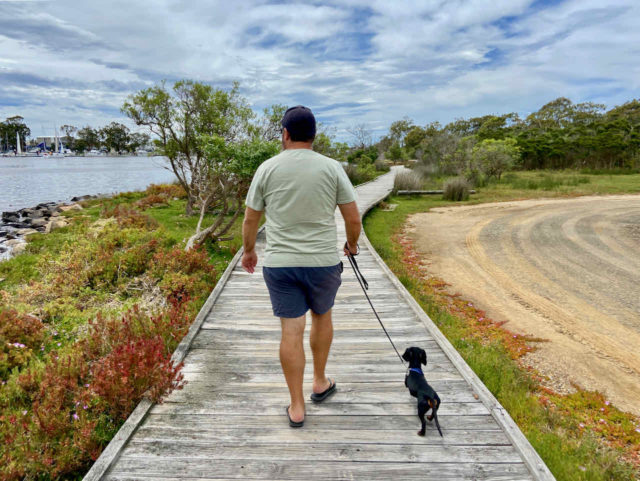 Naturally dogs need to stay on a leash on the walk, although most of the time our dog was oblivious to the sleepy koalas in the trees above him. We rated this koala experience up there with any paid wildlife park, but it was delightful that our dog could join us.
4. Go for a Run at Brackenbush Unleashed
Lakes Entrance is home to multiple off-leash dog parks and a fenced dog park (see more below), but I also recommend heading about 10 minutes out of town to Brackenbush Unleashed.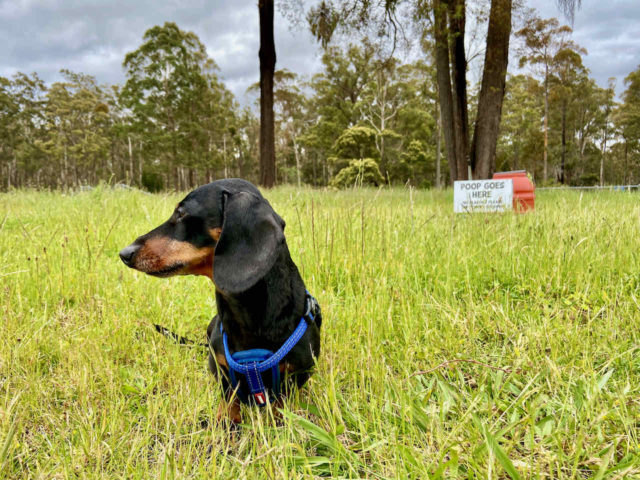 This fenced dog park on private property is a "Pick My Project" funded community facility. There's three gigantic off-leash areas, with an area for timid dogs as well as one for nature walks. It's also next to a state forest, where you can also exercise your dog on a leashed walk.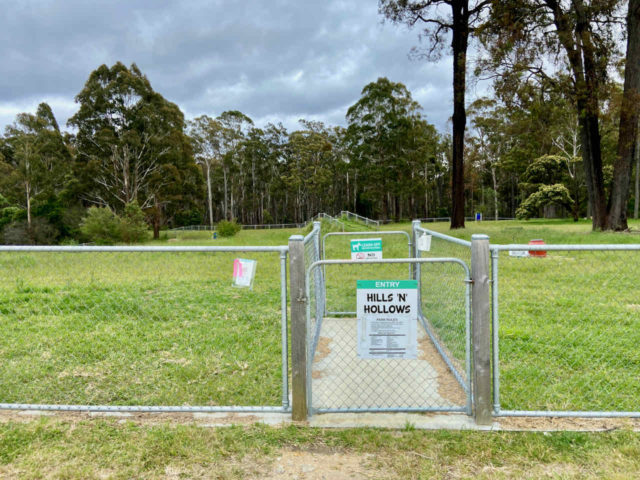 Follow the directions on Google Maps to the "Brackenbush Unleashed Dog Park", or just turn off Colquhoun Road at the airport and follow the clear signs. There's a short section of unsealed road but most is sealed.
5. Visit the Entrance of the Snowy River
For another coastal walking trail in the Lakes Entrance area, I recommend driving nearly an hour east to Marlo and the entrance of the Snowy River. On the eastern edge of town is the start of the 5.1km-long Snowy River Estuary Walk.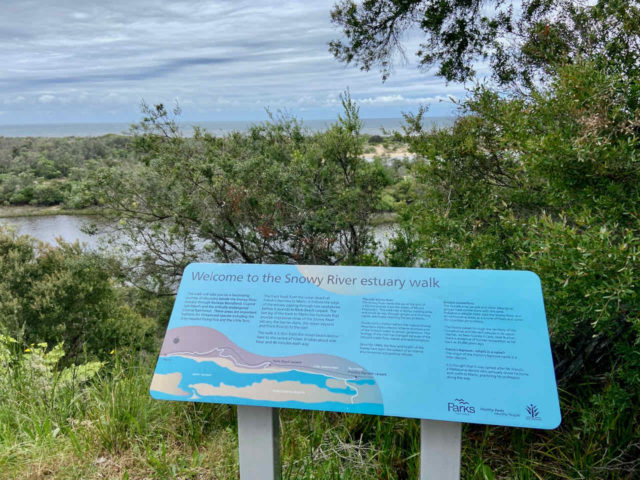 The walk runs alongside the Snowy River Estuary, with many lookouts along the first half, although it does cross to the opposite side of the road for a short stretch. It then descends next to the estuary after the Mots Beach Carpark, continuing on to French's Narrows where it terminates at the wild ocean beach.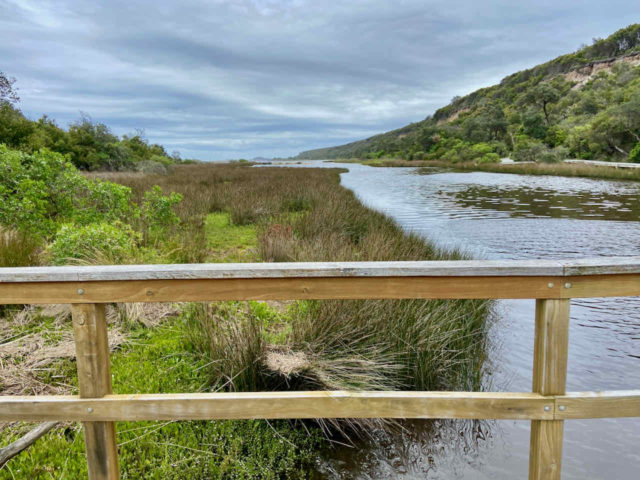 Allow about 1 hour and 40 minutes to walk each direction of the trail, although there are multiple small car parks along the way, including at French's Narrows, making it easy to just walk a shorter section. Dogs need to be on a leash.
6. Take a Cruise on the Lakes
There are multiple companies operating cruises on the Gippsland Lakes. If you're visiting the region with a dog, make sure you call up Lonsdale Eco Cruises. Other visitors to Lakes Entrance report that one pet dog is allowed onboard per cruise – first in, best dressed!
Once onboard, pet dogs are allowed everywhere except the wheelhouse. The three-hour wildlife cruises depart 1pm daily except for Wednesday, from Cunningham Quay along the Esplanade. Past passengers rave about the scones served for afternoon tea, along with tea and coffee.
7. Or Head Out on the Water By Yourself
Rather than just walking alongside the water, Lakes Entrance is also a superb spot to head out onto the water yourself. After all, the Gippsland Lakes are the largest navigable inland waterway in all of Australia.
If you don't have your own boat, there's multiple boat hire companies, plus companies hiring out kayaks, stand-up paddle boards and more. Just check in advance that they're okay with having a dog inside the boat.
Dog-Friendly Parks in Lakes Entrance
Lakes Entrance is far more dog-friendly when it comes to parks than beaches. The default rule is that dogs are allowed off-leash at council-managed public parks, reserves and ovals, unless otherwise signposted. However, dogs still need to remain under effective control, plus they need to be leashed within 5m of a shared use path, or 20m of a playground, BBQ area or waterway.
As well as the Brackenbush Unleashed Dog Park (see above), there's another fenced dog park in Lakes Entrance close to the centre of town. The Palmers Road Fenced Dog Park, next to the Aquadome, is a large fenced area with a variety of agility equipment. The area is double gated and large enough for dogs to have their own space, plus there's a water fountain inside.
Other off-leash parks in Lakes Entrance include the reserves alongside the Esplanade, Marine Parade and Panoramic Drive, plus at Eastern Beach and the Apex Park. For more information, see this webpage.
Dog-Friendly Dining in Lakes Entrance
Lakes Entrance didn't have as many outdoor dining areas as I expected, with many cafes and restaurants fully enclosed, particularly along the Esplanade. However, there are still multiple dog-friendly options around town.
Head to the Lakes Boatshed Cafe, on Marine Parade opposite the North Arm. There's a large outdoor deck area that's dog-friendly. The cafe is open daily from 8am to 2:3pm for both breakfast and lunch, or just a coffee or milkshake.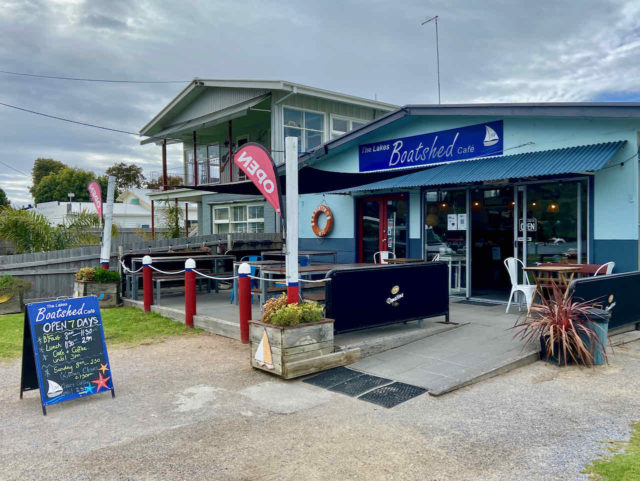 Alternatively, on Friday, Saturday or Sunday head to Red Bluff Brewers, just east of town. We missed visiting as we visited Lakes Entrance mid-week, but I've heard great things about the burgers and fish tacos served up by the resident food trucks, plus their great range of beers. Double check their hours before visiting.
Dog-Friendly Accommodation in Lakes Entrance
During our visit to Lakes Entrance we stayed at the Prime Pet-Friendly Tourist Park. This small family-run park is just a short walk from the waterfront, and is pet-friendly year round.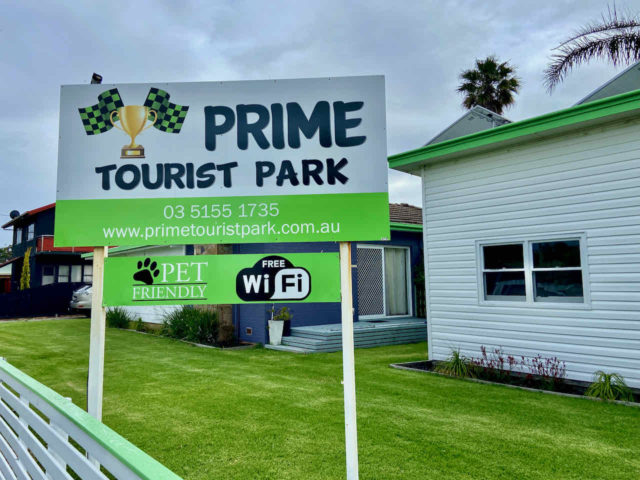 As well as the pet-friendly powered sites that we camped on, they also offer cabins, cottages and vans, that are 100% dog-friendly. (Although one cabin is restricted to hypoallergenic dogs only, for owners with allergies.) There's also a dog wash, an off-leash dog run (formerly the children's playground), a washing machine for pet bedding and even Dog Day Care Kennels.
Recently, the park became the first child-free caravan park in Victoria, perfect for those travelling only with fur-children. Keep an eye out for their new glamping tents plus accommodation packages including training sessions.
If you'd prefer to stay out of town, consider a farmstay at Eight Acres. While dogs are not allowed in the glamping tents, they are allowed in the two-bedroom self-contained cottages. Up to two dogs are permitted per cottage, for an additional fee of $100 per pet per stay. It's also conveniently close to the Brackenbush Unleashed Dog Park.
A fabulous option for a luxurious stay for a large group is Country House Retreat. This four-bedroom farmhouse 10 minutes west of Lakes Entrance can sleep up to 10, and includes an outdoor entertaining area and hot tub. Well-behaved pets are allowed year-round, including inside, except in bedrooms. The property is securely fenced and includes a wire/chain run.
Head Next To