Rome, the Eternal City, has long been a popular destinations for tourists from throughout the world. And just because you're travelling with a dog, doesn't mean you should skip visiting the city. While some sites and museums will be off limits, find out what you can do around the city and on day trips to the surrounding countryside.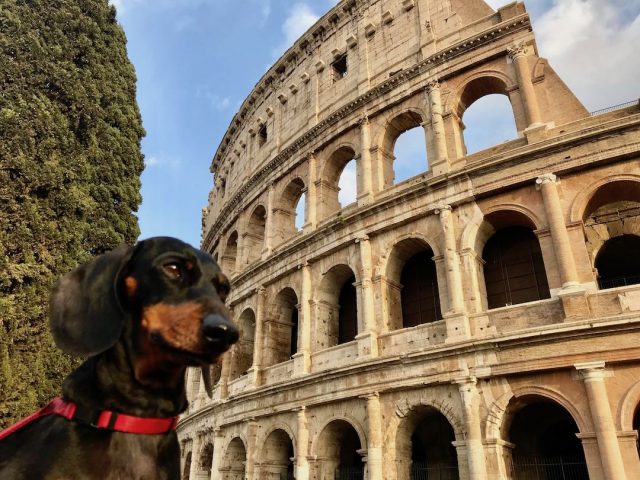 Dog-Friendly Sightseeing in Rome
There's plenty of things that you can do in Rome with your dog by your side. Tick off these dog-friendly adventures on your visit to Rome…
#1 View the Exterior the Colosseum
On our first morning in Rome with our dog, we wandered over to the outside of the Colosseum. While it's not possible to head inside with your dog (and we had already visited the interior on a previous visit), it's still a magnificent structure to view from the outside!
While in the vicinity of the Colosseum, there's also a number of other superb structures that you can see for free. Check out the 21m-high Arch of Constantine, the 2nd-century Trajan Forum including Trajan's Column and the imposing Monument to Victor Emmanuel II. Allow at least all morning or afternoon to explore the area on foot.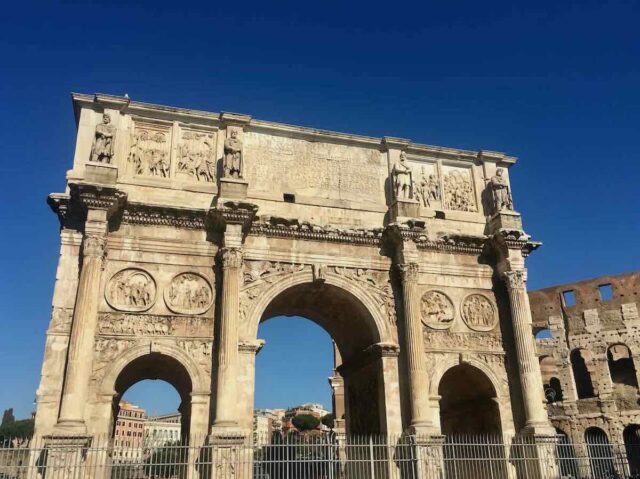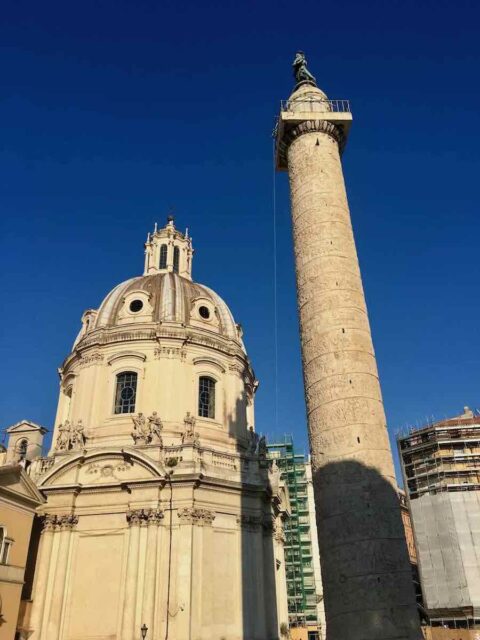 #2 Wander Through the Roman Forum
When I last visited Rome, it wasn't possible to take dogs inside the enclosed Roman Forum and Palatine Hill area, the same as inside the Colosseum. However, in March 2023 the rules changed.
It is now possible to take small dogs that weigh no more than 5kg inside with you, as long as they remain inside a carrier bag. Note that dog prams are not permitted. While you'll need to pay an entrance fee, dogs enter for free.
Note that this only applies to open areas. As well as being not permitted inside the Colosseum, pet dogs are also not permitted inside the Domus Aurea and all closed areas. Plus, if you have a larger dog, you're still restricted to viewing the area from outside the fence.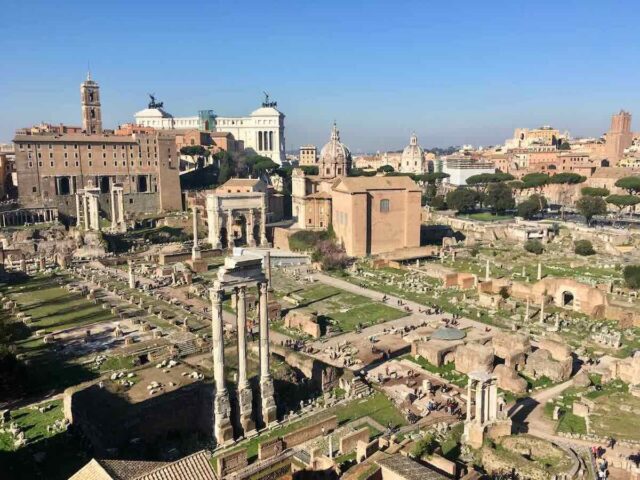 #3 Visit the Vatican City
The Vatican City is a city-state contained within Rome, located to the west of the Tiber River. There's no border checks when you cross into the Vatican City (I can't remember even spotting any signs!) and it's a must-see on a visit to Rome.
At the centre of the Vatican City is St Peter's Basilica, the largest church in the world by interior measure. While dogs are not allowed to join you in entering this holy site, it's still fine to visit the square outside of the Basilica and view it's exterior. Not surprisingly, dogs are also not permitted in the Vatican Museum, home to the Sistine Chapel – leave this for another day.
#4 Explore the Piazzas of Rome
It's not a true visit to Rome without wandering through it's piazzas and cobblestone streets, spotting new churches and monuments around every corner, a gelato in hand.
I'll leave it up to you whether to share your gelato with your dog, but they're welcome to join you in exploring the city on foot. One of the most beautiful piazzas that you shouldn't miss is the Piazza Navona, with its spectacular baroque fountains.
Naturally, don't also miss visiting the Trevi Fountain, although it's best to save this for early or late in the day, due to the crowds who could easily step on a paw. It's traditional to toss a coin into the fountain to ensure that you return to Rome!
#5 Stroll Through the Villa Borghese
For a welcome respite from the crowded streets of Rome, I recommend heading to the northern side of the city and the Villa Borghese, the city's vast urban park.
There's still plenty to see in the park, which is home to multiple villas, landscaped gardens and a lake. Or you can find a patch of grass to laze on. Your dog in particular will appreciate a visit to the "Area Cani Villa Borghese", the dog park near the zoo.
#6 Visit Ostia Antica
To explore more Ancient Roman ruins with your small dog by your side head to Ostia Antica, the archaeological site at the former harbour city near Rome.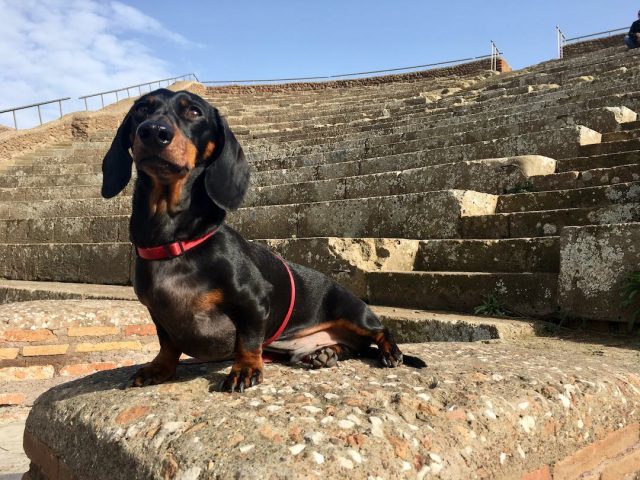 The official website specifies that small dogs are allowed at the site, as long as they are kept leashed throughout the visit. There is no guide as to the maximum size of dogs permitted, with no requirement for dogs to remain in a carrier like at the Roman Forum and Palatine Hill.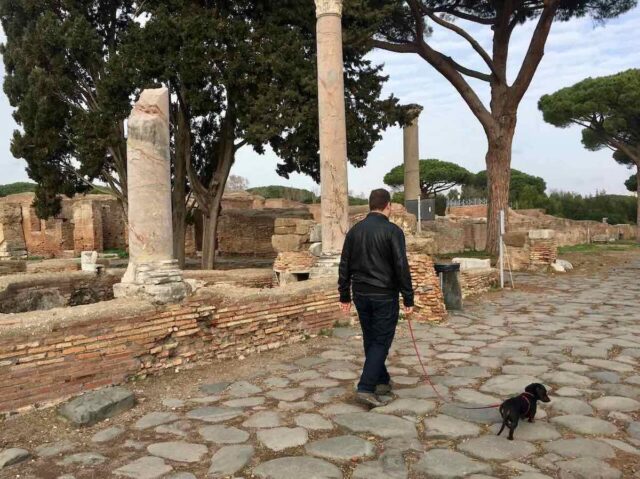 I recommend allowing most of the day to leisurely explore the extensive site, which is closed on Mondays.
The easiest way to get to Ostia Antica is by taking the metro and commuter train, with the journey to the site southwest of the city taking about 45 minutes. The entrance is a 5 minute walk from the Ostia Antica station. Alternatively, if you have a car it's possible to drive, with a carpark adjacent.
#7 Take a Day Trip to Villa Adriana
Another fabulous archaeological site near Rome that you can easily visit on a day trip is the Villa Adriana. The remains of the spectacular palace complex of the Emperor Hadrian near Tivoli, this site has been separately World Heritage listed.
It's a bit trickier to get to Villa Adriana if you don't have a car. We took the train to Tivoli, which takes under an hour, then a local bus, which is likely not possible with larger dogs. There is also a more direct route by metro and bus, bypassing the town of Tivoli.
Allow about half a day to explore the complex, which is also open on Monday. On the current website, I cannot find any guidelines about dogs, but at least smaller dogs on a leash are permitted.
#8 Visit the Gardens of Villa d'Este
The reason we visited Villa Adriana from nearby Tivoli, is that we were also visiting Villa d'Este, a magnificent World Heritage listed Renaissance garden in the town. These gardens take advantage of their steep hillside location to feature countless fountains and cascades – they're simply stunning!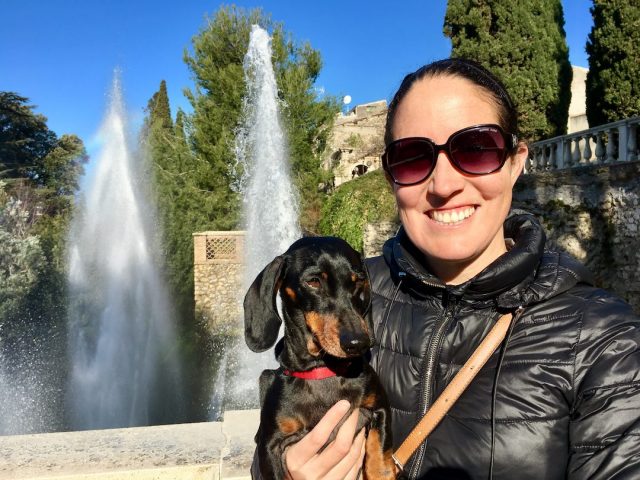 During our visit, dogs were allowed not only inside the gardens, as long as they were kept on a leash (and wearing a muzzle for large dogs), but they were also allowed inside the old Villa d'Este. The walls of the villa are covered with frescoes, many related to the themes of the gardens, although the highlight is undoubtedly the gardens themselves.
Villa d'Este is located about a 15 minute walk from the Tivoli train station, which is on the outskirts of the town. The villa is open daily, although only during the afternoon on Mondays. Make sure you time your visit for when the water organ plays, every two hours from 10:30am.
Dog-Friendly Parks in Rome
To search for any dog parks near where you're staying in Rome, I recommend searching on Google Maps for "area cani" or "dog park". However, most dog parks are located outside of the city centres in Italy.
One of the best dog parks close to the centre of Rome is located in the Villa Borghese, the vast urban park just to the north of the centre of Rome. The dog park is close to the zoo and is labelled as "Area Cani Villa Borghese" on Google Maps. It's very popular with locals!
Taking a Dog on Public Transport in Rome
To get around Rome with your dog, it's possible to take public transport, at least if you're travelling with a smaller dog.
Small and medium-sized dogs are allowed to travel on the metro, buses and trams in Rome. They are required to have an ordinary fare ticket (unless a guide dog), plus wear a leash and muzzle or travel in a carrier bag, although I don't think this was enforced during our visit.
Note also that dogs are only allowed in the first and last carriage of the metro and commuter trains. There is also a limit of two dogs per bus.
Dogs are also allowed on the longer distance trains operated by Trenitalia. Smaller dogs in a carrier up to 70 x 50 x 30cm travel for free, while larger dogs require a Second class or Standard half-price ticket and need to be leashed and muzzled.
Larger dogs are also not allowed in certain carriages, including Executive class, Premium class and Quiet Zone carriages on high-speed trains, plus on board regional trains between 7am to 9am on weekdays.
Dining Out in Rome with a Dog
It's easy to dine out in Rome with your dog by your side. Most restaurants allow dogs inside, although we usually sat outside with our dog when the weather was nice. I always recommend check before entering with your dog, as there are a few exceptions, and generally smaller dogs are more welcome.
Alternatively, head to the Mercato Centrale in Rome, close to Roma Termini (the main train station). This market hall, similar to a food court, contains multiple restaurants, plus one or two bars, and casual seating.
It's great if you want to sample a variety of food or enjoy a meal before catching a train. Dogs are welcome at the Mercato Centrale, although it reserves the right to issue muzzles for large dogs.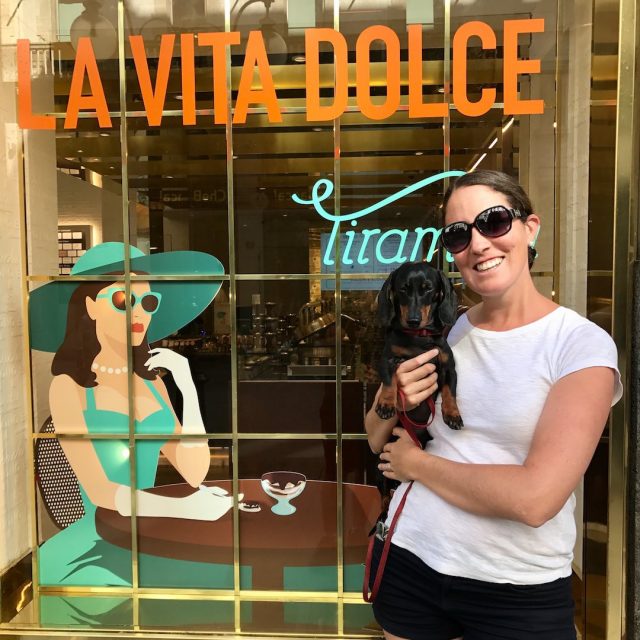 You May Also Like