After visiting Italy on three separate occasions with my dog, Italy is hands-down one of the most dog-friendly destinations in Europe.
While the German-speaking countries have a reputation for being dog-friendly (and certainly are), in Italy there's even more places that you can visit with a dog, including rather relaxed rules when it comes to dogs, that I haven't encountered in other destinations.
Read on to find out what it's like travelling in Italy with a dog…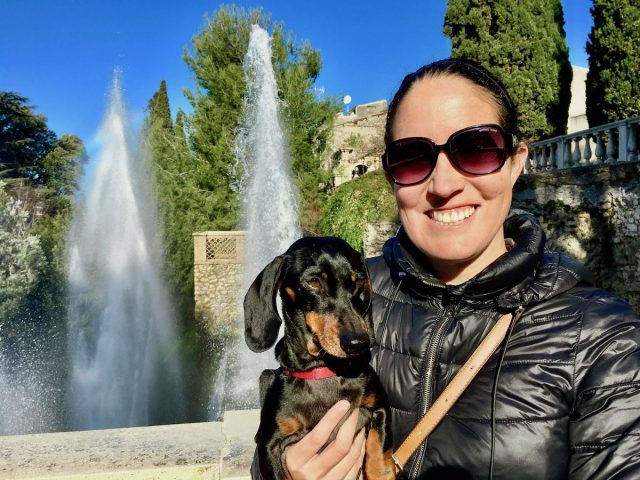 Travelling to Italy with a Dog
The same rules apply for taking a dog to Italy as for other EU countries. To find out the requirements if you are travelling from outside the EU, click here. If you are already in the EU, a microchip, pet passport and valid rabies vaccine is required.
Note that when you leave Italy with a dog, if you are flying to a non-EU country, an additional step is required.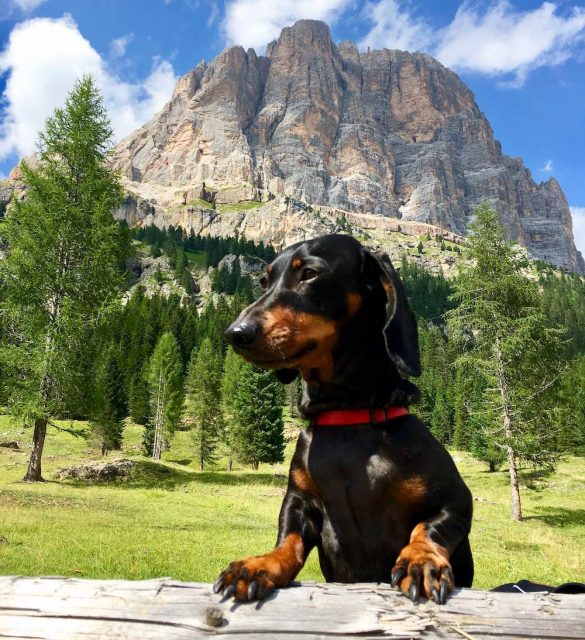 Exporting a Dog from Italy
When cats and dogs fly out of Italy to a non-EU country, the Italian government requires that your pet has a Pet Export Certificate. This includes pets flying to the USA. I've heard varying reports though whether this applies to pets simply holidaying in Italy – it's best to check with your airline or get one just in case.
You firstly need to obtain a certificate of good health from a local veterinarian. Then within 48 hours visit the local ASL (Azienda Sanitaria Locale), who will check your pet's health and rabies certificates and issue an export certificate, for a small fee. For full details, see this US embassy website.
The US website states the export certificate is valid for only 6 days, but I've also heard it's valid for 30 days. The US website also states that your pet must have been vaccinated against rabies in the last 11 months, but normally the 3-year rabies vaccination is recognised in the EU.
I don't have personal experience at obtaining this certificate, as I have not flown out of the EU from Italy. This requirement does not apply when flying out of other countries, such as France, something to keep in mind if you're considering where to fly out of Europe.
Dining Out in Italy with a Dog
You'll have no trouble finding dog-friendly restaurants in Italy to dine at with your dog. While there are some places that have a sign at the door stating no dogs are allowed, usually bakeries or small bars, most restaurants and cafes will allow dogs inside. Although always first check with the waiter.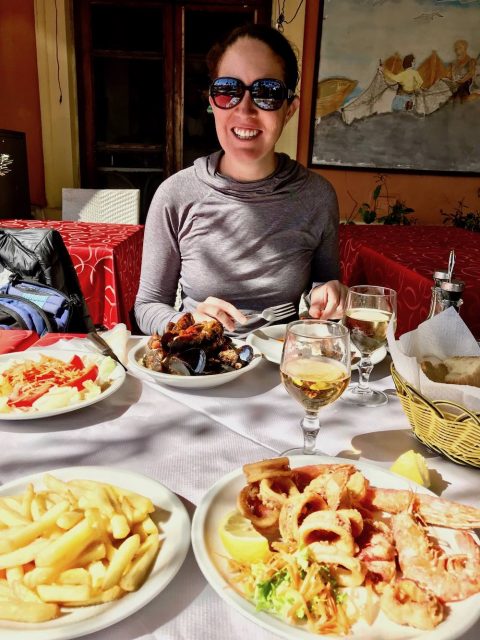 Alternatively, even when we visited Italy in January and February, it was still sometimes warm enough on a sunny day to sit at the outside seats. If there's outside seating and the weather is pleasant, the owners will usually appreciate you choosing that option.
Another alternative is to head to one of the indoor market halls in Italy, such as the Mercato Centrales in Rome and Florence. Both of these markets welcome dogs, although reserve the right to issue muzzles for large dogs. We visited both these markets with our small dog with no issues.
These market halls, similar to food courts, contain multiple restaurants, great for if you want to sample a variety of food, alongside one or two bars and long tables and benches. We even spotted an elderly man feeding his dog at his feet some very expensive steak in Florence!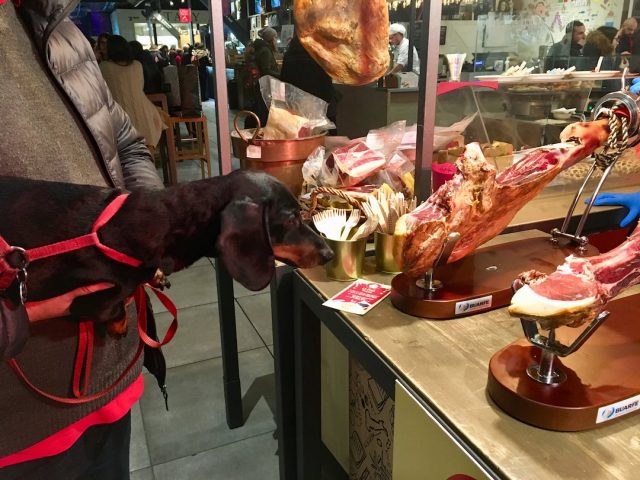 Shopping in Italy with a Dog
We experienced no issues bringing along our dog when shopping in Italy, at least in clothing and gift stores. Dogs are a common sight inside many shops and malls.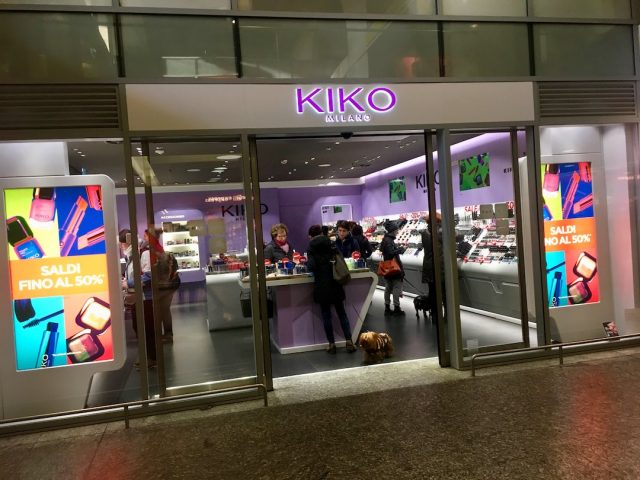 Additionally, unlike in other parts of Europe, even some grocery stores in Italy allowed dogs inside. We spotted this at our local grocery store in Turin. Although we were then told off when we carried our pup – the rules for this store was that dogs had to be on the floor!
We also purchased some fancy Italian groceries at the Eataly store in Genoa with our dog at our side.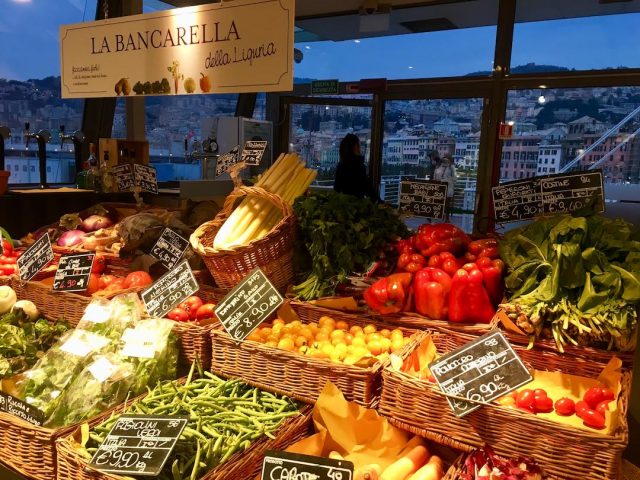 Taking a Dog on Public Transport in Italy
Dogs are welcome on most public transport in Italy. And even if there are rules, just like many rules in Italy, they're not always enforced.
For instance, generally there's a rule that dogs on public transport need to wear a muzzle. However, it's usually enough to just carry one and put it on if requested, as this rule is not frequently enforced, especially for small dogs. (We were never asked for our Miniature Dachshund.)
It's also sometimes required to have your dog's paperwork with you (the pet passport for non-locals), although we never had this requested.
Rules for Dogs on Trenitalia Trains
We frequently travelled around Italy on trains operated by Trenitalia, the main train company. Tickets on regular regional trains are cheap compared to elsewhere in Western Europe and don't need to be booked in advance, although book the tickets for the more expensive high-speed services in advance.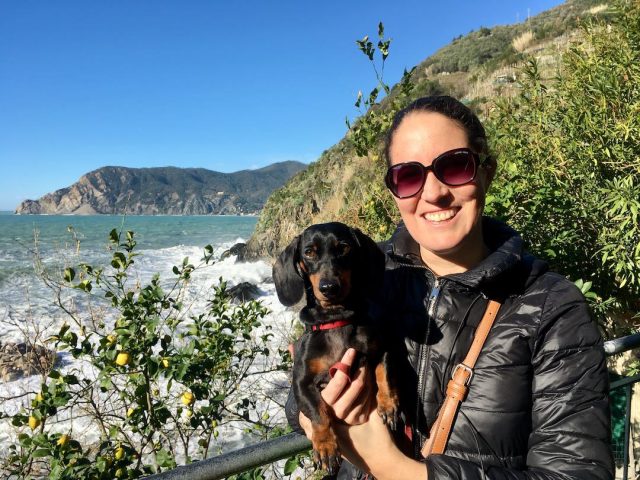 Small dogs in a carrier no larger than 70 x 30 x 50 cm are permitted to travel for free, in all classes of trains. Although we also took our small dog multiple times on trains without his carrier and without a ticket, especially on day trips, and none of the ticket inspectors said anything.
Larger dogs need to be on a leash and muzzled, and are not allowed on certain carriages or trains (not in Executive class, Premium class or the Quiet Zone on high-speed trains, not on regional trains between 7am to 9am on weekdays). Larger dogs are also required to have a Second class or Standard half-price ticket (regardless of class).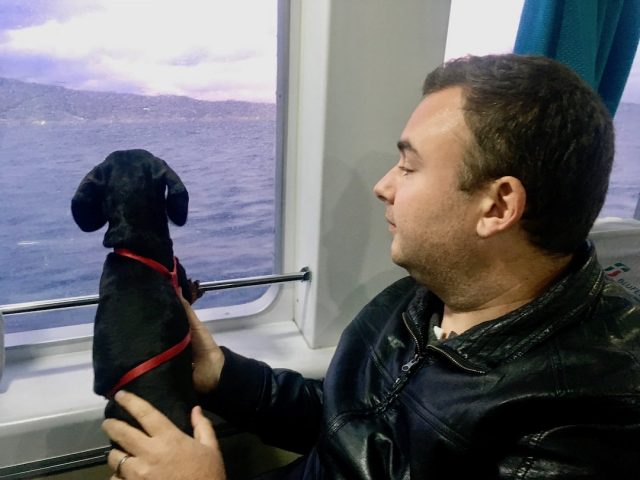 Rules for Dogs on Local Transport
In Rome, small and medium-sized dogs are allowed to travel on the metro, buses and trams. They need to wear a leash and a muzzle (or other small animals can travel in a carrier bag), and have an ordinary fare ticket (unless a guide dog, although I don't think we bought a ticket for our dog). Additionally, dogs are only allowed on the first and last carriage of the metro and regional trains, plus there is a maximum of two dogs on a bus.
The rules for dogs on public transport in Milan are similar, as summarised in the bottom video on this page (not available as of 2023). Only small and medium-sized dogs are allowed, they need to wear a leash and muzzle, and they require a ticket. Additionally, dogs are not allowed between 7.30 and 9.30 and 17.30 and 20.30.
If you are heading to Venice, dogs are definitely allowed on the vaporettos, the water boats that criss-cross Venice, with no ticket required. Dogs are expected to be on a leash and muzzled, although generally a muzzle isn't enforced, at least for smaller dogs. Just be warned that some of the vaporettos along the Grand Canal can get very crowded, so are best avoided with a dog!
Dog-Friendly Accommodation in Italy
We had no troubles finding dog-friendly accommodation in Italy, whether it was Airbnbs next to Lake Como or around Sicily, a centrally located hotel in Milan or an agroturismo in Tuscany.
When comparing how dog-friendly the hotels in different European cities were, both Florence and Rome were in the middle of the pack, with 49% and 31% of hotels allowing dogs, respectively. However, there are a huge number of hotels and guesthouses in most Italian cities, so the numbers of dog-friendly establishments are still huge.
Expect hotels to be more welcoming towards small dogs, and that that there is usually a small fee charged.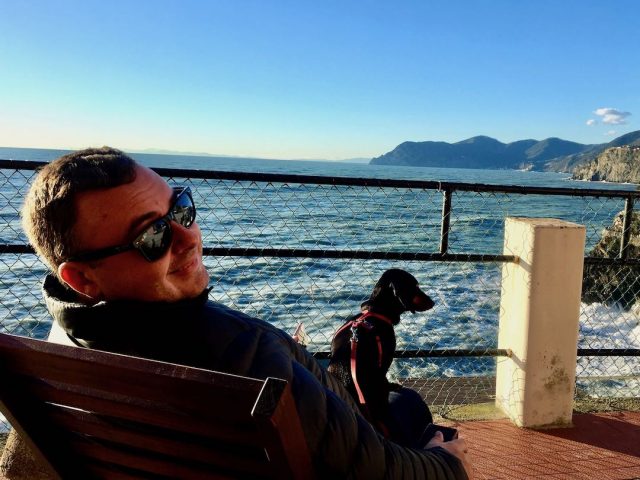 If you are having trouble locating an affordable dog-friendly hotel, or prefer staying in your own apartment, then turn to Airbnb and other holiday home rental platforms.
City centre apartments in Italy can be noisy when facing the street, so be aware if your dog is noise-sensitive like ours. But we found plenty of offerings, plus many agroturismo establishments are listed on these websites these days.
Dog-Friendly Parks in Italy
While travelling in Italy with our dog we didn't stumble across many dog parks. But that's not because dog parks (known as "area cani" in Italian) don't exist, simply that they're usually outside of the city centre, so you need to search for them (just enter "dog park" on Google) and then purposely visit them.
One dog park we did stumble across was in Naples, that city of unexpected discoveries. There's a convenient dog park just outside the Monastery of Santa Chiara, near the Piazza del Gesù Nuovo. We also noticed that some of the parks in Milan had fenced dog runs.
And I regret not heading to the beautiful Villa Borghese in Rome, somewhere I had visited on previous visits without my dog, as I later discovered it's home to a superb dog park (called the "Area Cani Villa Borghese" on Google Maps or the "Bioparco" on Apple Maps).
When it comes to regular parks in Italy, the Italians aren't as strict as the French, and dogs sometimes might be allowed, but not always. One example of a garden that unfortunately doesn't allow dogs is the Boboli Gardens in Florence.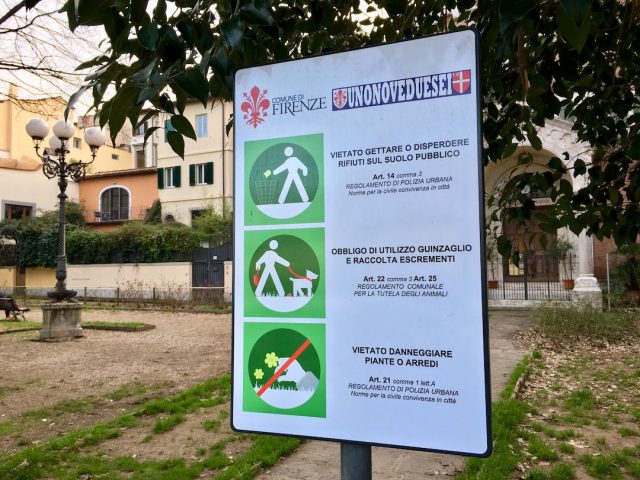 Dog-Friendly Sightseeing in Italy
If you're travelling in Italy with a dog, you'll be delighted to discover that there's a huge variety of dog-friendly sightseeing options in Italy.
For starters, most of Italy's impressive archaeological remains are not off limit to dogs, something that we found was the case in Greece. While the sites in the centre of Rome don't allow dogs (except to view from the periphery), dogs are permitted in other sites ranging from Ostia Antica to Pompeii.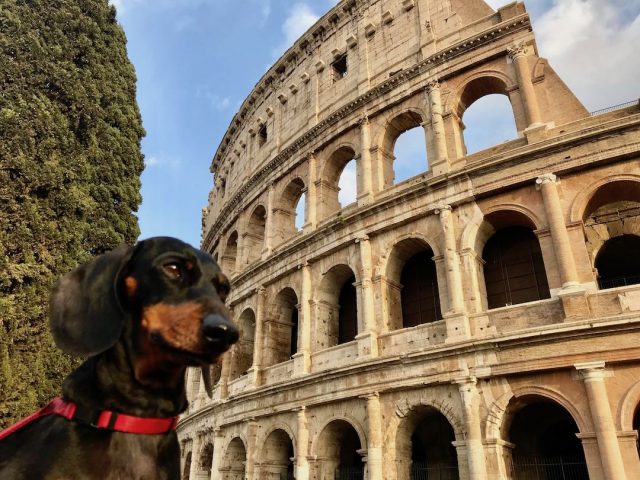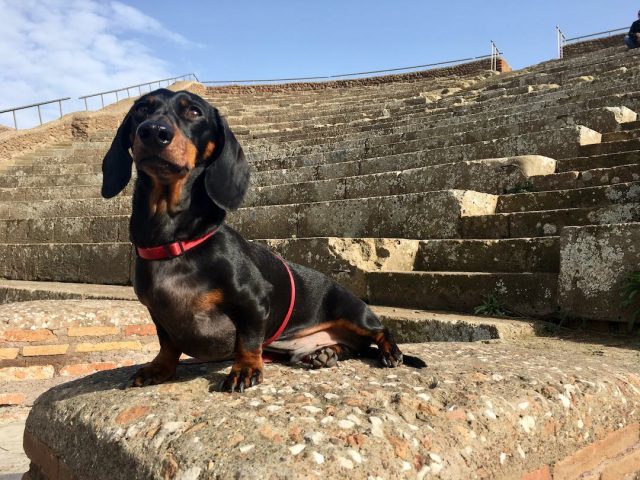 A dog is also the perfect companion to explore the many historic cities and towns in Italy. Wander through the laneways of Venice (just head to the backstreets to avoid the crowds), the gorgeous hilltop towns of Tuscany, or World Heritage-listed Matera or Alberobello in the south.
Previously, small dogs in carrier bags were even allowed inside the former Royal Palace at Turin, although this is unfortunately no longer the case.
Don't also forget the beautiful natural scenery in Italy, such as hiking (or taking cable cars) in the Dolomites.
Often details on whether dogs are allowed are only found on the Italian language pages. I often googled the name of the attraction and "cane" (dog) or "cani" (dogs), then used Google Translate, to confirm the pet rules in advance.
For my top recommendations on sightseeing in Italy with a dog, check out these dog-friendly options. Plus if you're heading to Sorrento, check out my recommended day-trips, each of which are dog-friendly.
1. Visit a Roman or Greek Archaeological Site
First up, unfortunately one of the most popular destinations in Italy that doesn't allow dogs (and isn't a church or museum), are the main archaeological sites in the centre of Rome: the Colosseum, the Palatine Hill and the Forum. And considering there's stringent security checks, there's no way to sneak your dog in.
However, they're just about the only archaeological sites in Italy that don't allow dogs, apart from some smaller sites such as the Villa Romana del Casale and Taormina Amphitheatre, both in Sicily.
Nearly every archaeological site in Italy, and there's plenty of them, ranging from Roman to Greek to Etruscan, allows dogs on a leash. Here are some of the sites we visited (or could have visited) with our dog: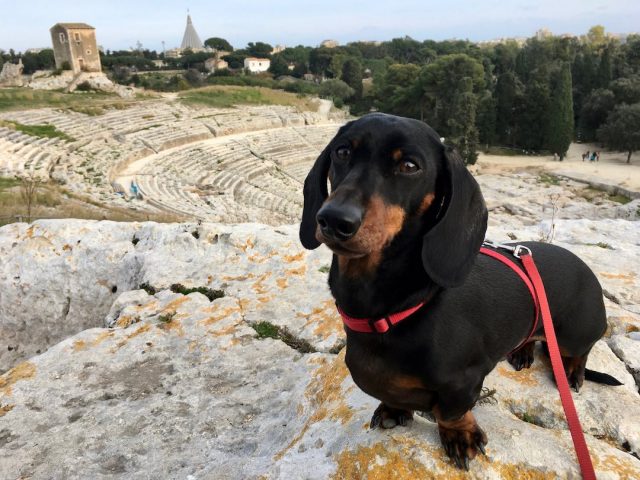 Pompeii: The most famous archaeological site in Italy, small pets are allowed as long as they remain on a leash and are carried inside buildings (or one of you stays outside)
Ostia Antica: If visiting Rome with your dog, head instead to the harbour city of ancient Rome, located just 45 minutes south-west via metro and local train
Villa Adriana: The emperor Hadrian's amazing palace complex is located near Tivoli, about 1 hour east of central Rome, via a combination of train and local bus, or by road
Paestum: A couple of hours south of Naples, home to some of the most magnificent Greek temples anywhere in Europe
Neapolis Park, Syracuse: On the island of Sicily, home to both a Roman amphitheatre and a Greek theatre
Agrigento: Also on Sicily, a superb complex of Greek temples and ruins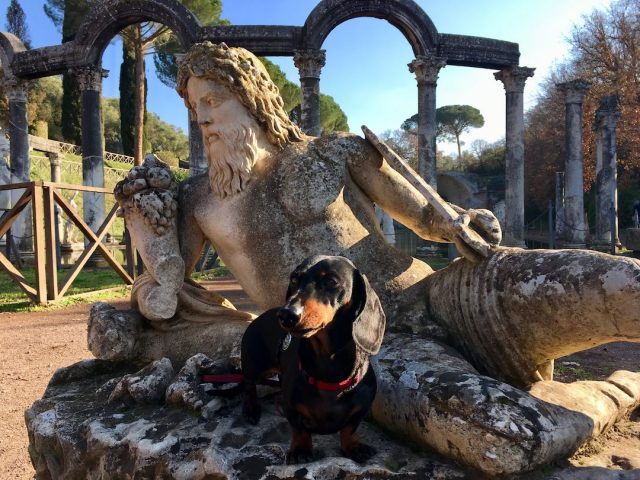 2. Visit a Beautiful Italian Renaissance Garden
Some of the gardens in Italy dating back to the Renaissance period are amongst the most beautiful anywhere in the world. And one of the most magnificent gardens of all is located at the Villa d'Este, in the small town of Tivoli, just to the east of Rome (under 1 hour via train). Here the gardens take advantage of the steep hillside to feature countless fountains and cascades.
Dogs are not only allowed inside the gardens, as long as they are kept on a leash (and wearing a muzzle for large dogs), but they're even allowed inside the old Villa d'Este. The walls of the villa are covered with frescoes, many related to the themes of the gardens, although the highlight is undoubtedly the gardens themselves.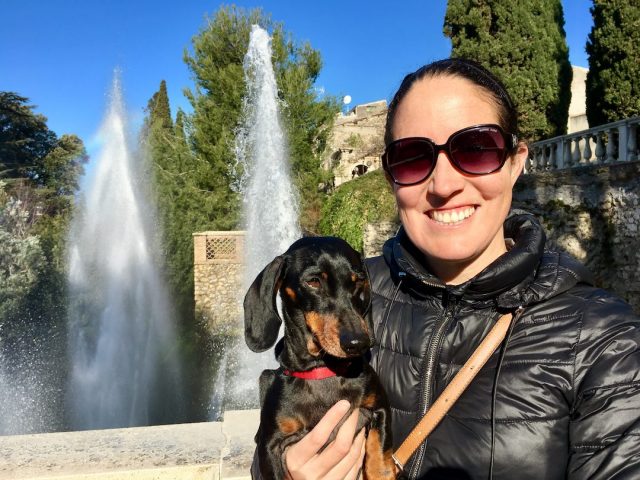 3. Get Lost in Venice
Despite the crowds and expensive accommodation, Venice is still an irresistible destination in Italy. And best of all, if you're mainly sticking to wandering the laneways and canals, soaking up its charm, your dog will make the perfect travel companion. Your biggest possible issue? Being mistaken as a local and having people speak to you in Italian!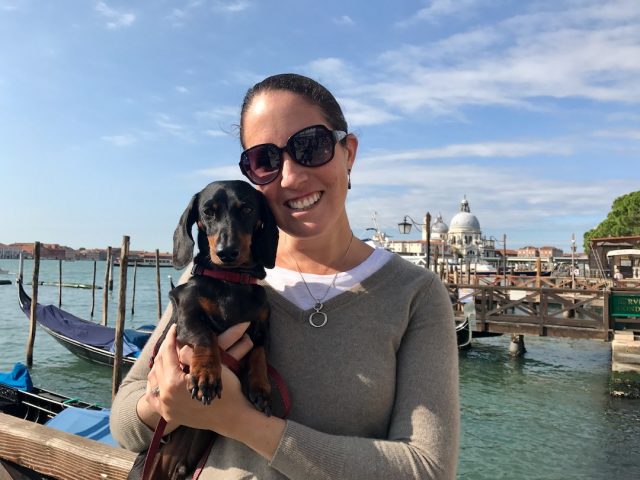 While we didn't take Schnitzel on a gondola ride, I'm sure dogs would be welcome, as long as you can afford the hiring fee (probably without sharing with other tourists).
Dogs are definitely allowed on the vaporettos, the water boats that criss-cross Venice, no extra ticket required. Dogs are expected to be on a leash and muzzled, although generally a muzzle isn't enforced, at least for smaller dogs. Just be warned that the boats going up the Grand Canal can get very crowded in the late afternoon, so are best avoided.
If you're staying more than a single day in Venice, consider heading out to the island of Burano. This pretty island is best known for its colourful houses, as well as traditional lace work.
Ideally buy a 24 hour or longer pass for the vaporetto. (The 24 hour pass costs €25, with unlimited trips, while two single tickets costs €19). Your dog will appreciate a break from the crowds, plus the grassed areas!
Read more about visiting Venice with your dog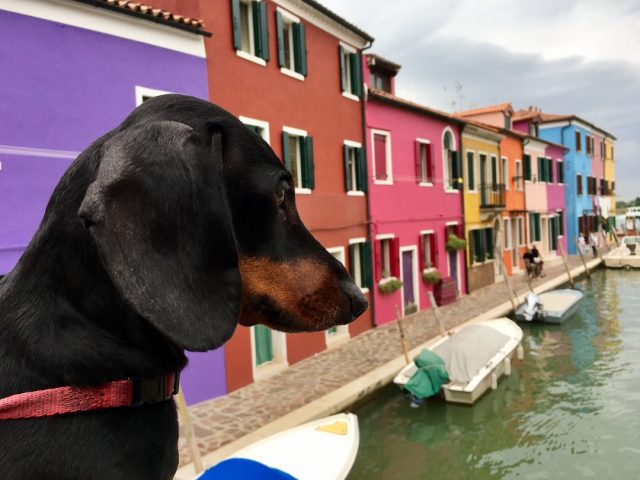 4. Walk the Cinque Terre
The five pretty villages of Cinque Terre and the hiking trails that connect them are very popular, especially during the summer months. So much so that there has been talk about limiting the number of visitors, although this hasn't yet gone ahead.
However, visiting in during the winter is a different story, and the ideal time to visit Cinque Terre with your dog.
It was a rainy, stormy day when we arrived by train at Manarola in mid-January, and barely any tourists were around. This also meant many of the tourists shops and most of the restaurants were closed. (Luckily our Airbnb host was quick to point out which restaurants in the village were still open.)
But the next day dawned bright and sunny, and it was perfect for exploring the coastline with our dog.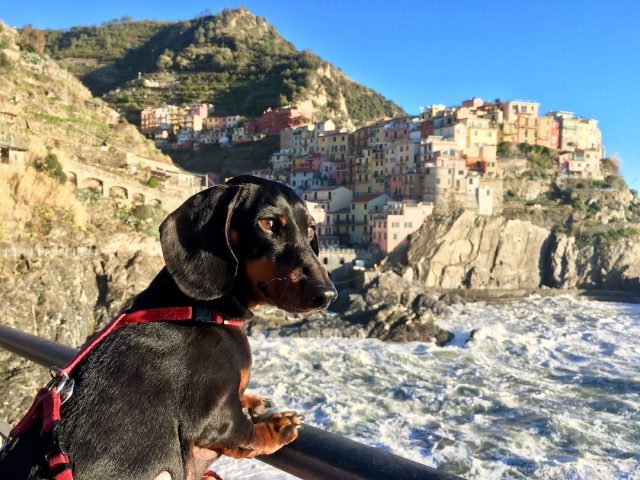 As well as keeping visitor numbers down, the trails between the villages are a lot more pleasant to walk during the cooler days of winter, or cooler periods of spring or fall. We didn't do much hiking, as Schnitzel was still recovering from his IVDD and required carrying, but with the steep ascents and rough track underfoot, it was tough enough without the summer heat.
If you're looking for gentler walks, take the 1km Via Dell'Amore walk between Riomaggiore to Manarola (which was closed due to a landslide during our visit, but has since reopened) or stroll along the paved paths of Monterosso.
Read more tips for visiting Cinque Terre
5. Discover the Hill-Top Towns of Tuscany
Not far away from the Cinque Terre, and best accessed from the city of Florence, the hill-top towns of Tuscany have been captivating visitors for centuries. When we visited during winter time, many of the shops and restaurants were closed, the usually tourist-packed streets quiet. But especially when the sun came out, there was no mistaking the beauty of the landscape.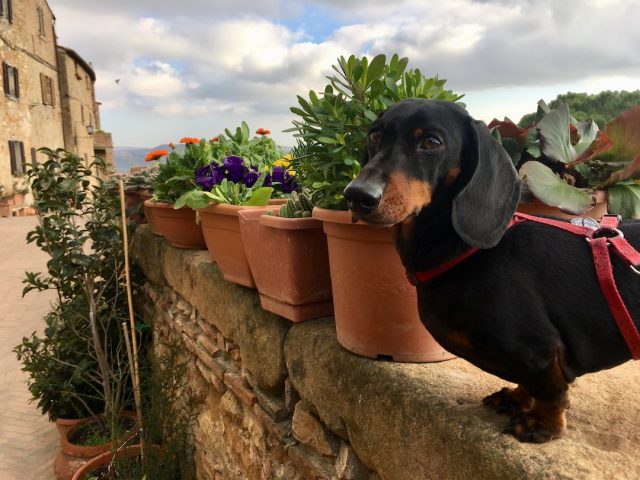 The best way to experience these towns is to just wander through their streets. Siena in particular has a beautiful cathedral, but as expected no dogs are allowed inside.
Many accommodation options in Tuscany allow dogs. My tip: rather than staying inside one of the towns, it may be better to find a resort or farm-stay out in the countryside, where your dog will have plenty of grass for part of the day.
6. Chill in a Villa at Lake Como
If you're looking for somewhere relaxing to spend a few days in Italy during the summer, head north to Lake Como and book a dog-friendly villa. Okay, you will have to brave its narrow roads first before you get to relax, but then you can enjoy beautiful vistas like the one pictured.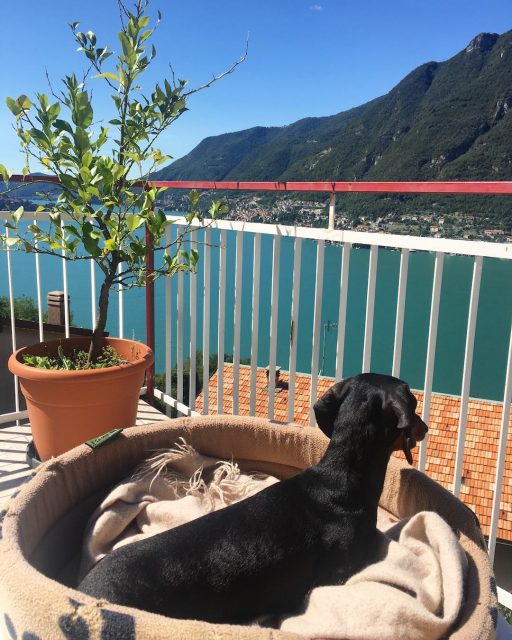 Try and find somewhere close to a beach if the weather is warm, or just hang out and soak up the scenery. If you want to venture out for the day, visit some of the gorgeous villas and gardens around the lake (many that allow dogs in the gardens), or stop by beautiful Bellagio, at the junction in the lake.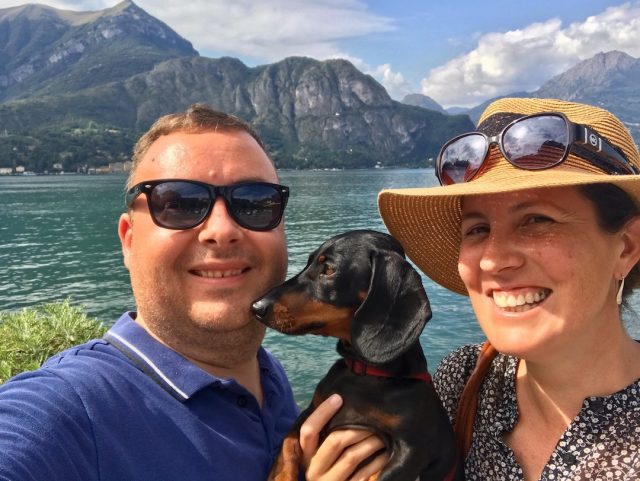 Want to check out the interior of a listed villa? At nearby Lake Lugano, Villa Fogazzaro Roi allows small dogs to be carried in your arms or in a carrier during the one-hour long guided tours, for no additional charge.
7. Explore the Trulli in Alberobello
The trulli are the unique stone huts with cone-shapped roofs found in Apulia, southern Italy. The best place to check out these traditional dwellings is in the UNESCO World Heritage listed town of Alberobello.
While many trulli are these days tourist shops, restaurants and B&Bs, there are still plenty that are home to local residents, more so in the Aja Piccola area than the more commercialised Monti quarter.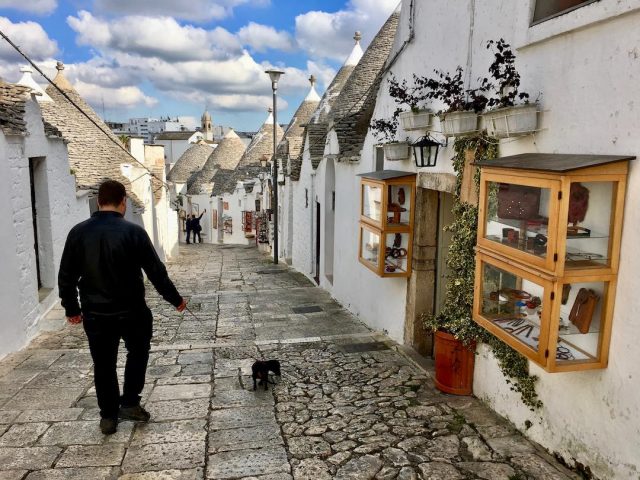 Many of the shop owners welcome visitors to come inside and check out the dwellings (plus hopefully browse their wares), and our dog Schnitzel was always allowed to accompany us. We also visited one home that was open to visitors, where Schnitzel was also welcome, though we had to keep him away from the very comfortable cat!
8. Or Explore the Sassi in Matera
Not far away from Alberobello is the equally charming small city of Matera. Here the traditional homes are also made of stone, but cut out of the hillside, with the name sassi. One of the best things to do here is simply wander along the streets and hillsides, with your dog at your side, feeling like you're in a place far removed from the modern world.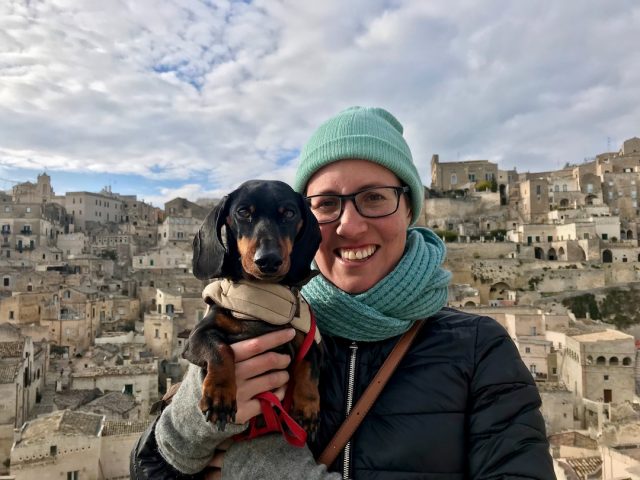 We also visited a local museum highlighting the traditional lifestyle of the local people, with plenty of displays of tools and photographs, plus one of the rock-hewn churches. In both, Schnitzel was welcome to join us, though we did carry him.
9. Get Lost in the Alleyways of Naples
Naples is one of the most vibrant and lively cities in Italy, especially on the laneways of its historic centre. It may look daunting and it's best to stick to the local transport rather than drive, but once you've entered the district it will likely charm you just like it charmed me.
Here there's no need to sit down at a restaurant to dine, with some of the best food available straight on the street. From pizzas to arancini to the lobster-like sfogliatelle and baba au Rhum, do like the locals do and buy what grabs your fancy and eat while strolling along.
Naturally, there's countless dogs out with their owners (although keep a watch for unpleasant surprises underfoot). If you're wanting a break, stop by the Santa Chiara Monastery complex with its off-leash dog yard, for a play with the local dogs.
10. Dine on a Feast of Italian Food
If you're wanting to dine out in Italy, you'll also find that most restaurants allow dogs inside. We only spotted a few "no dogs allowed" signs on the door of restaurants, most often small bars or bakeries. However, always check when entering, and if your dog is large or not the best behaved, there's plenty of outdoor seats at many restaurants.
Another option to consider are the Mercato Centrales in Rome and Florence. These large market halls are like food-courts, with multiple restaurants contained inside, alongside bars and casual seating. Prices aren't cheaper than in local restaurants, but there's plenty of variety and dogs are allowed.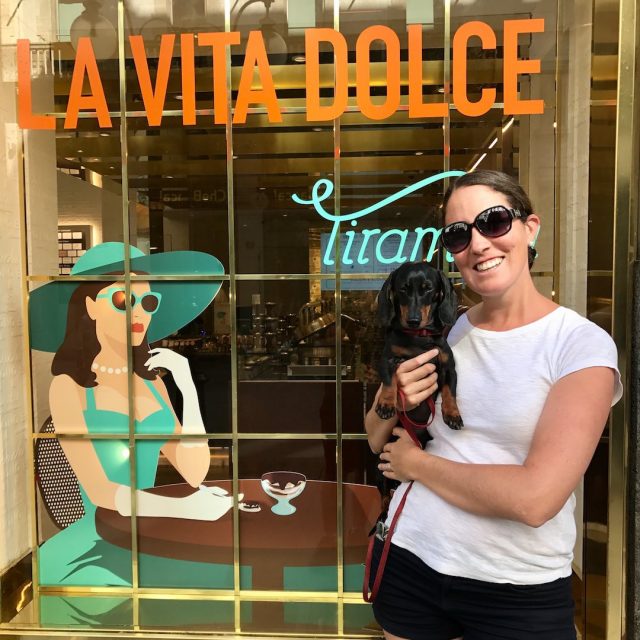 You May Also Like
Inspired? Pin this to your Pinterest board!