The coastal city of Shellharbour is located just south of Wollongong, about a 90 minute drive south of Sydney. While the city doesn't offer that many dog-friendly attractions, that may soon change with a proposal for two new off-leash dog beaches. Find out what you can do in Shellharbour when visiting with a dog.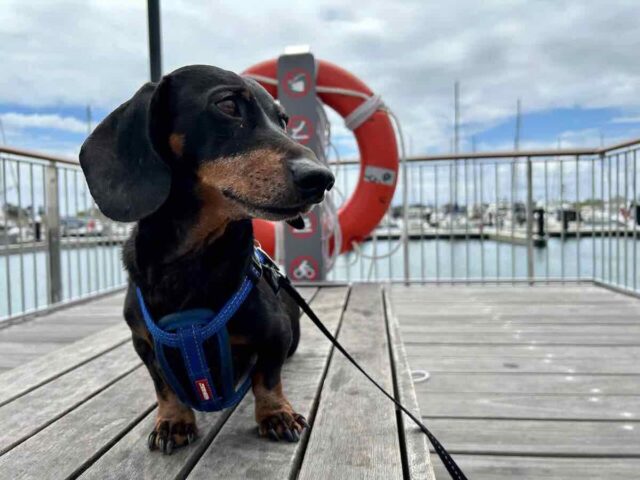 Dog-Friendly Beaches at Shellharbour
Shellharbour is home to multiple beaches, but at the moment there is only one off-leash dog beach. The Shallows Coastal Reserve next to Bass Point Tourist Road permits off-leash dogs, in between the gravel loader, near the entrance to Bass Point Reserve, until just west of Harbour Boulevard.
The reserve has a large grass expanse, plus is adjacent to the sea. However, the beach is not the greatest, composed of gravelly sand, rather than regular sand. There are three carparks alongside the reserve, with plenty of car spaces. Just be aware there is no fence to keep dogs out of the carparks or off the adjacent road.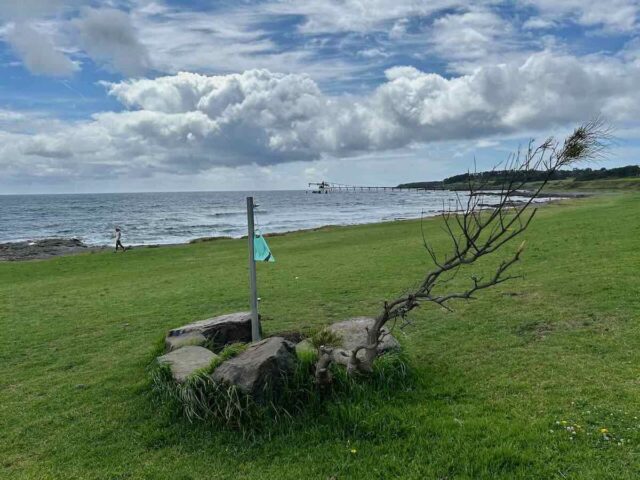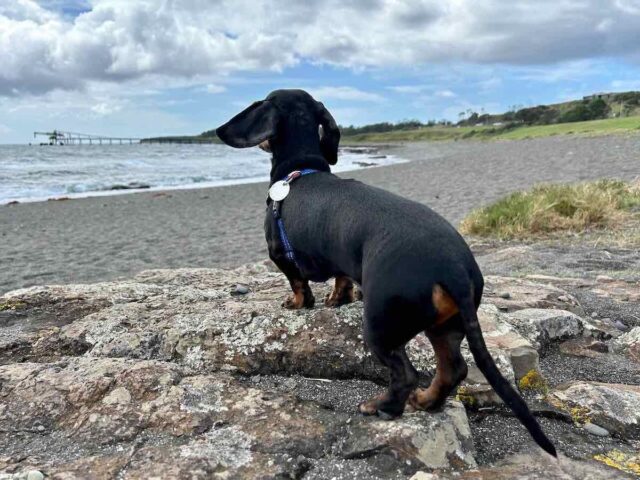 Hopefully, there will soon be some better off-leash beaches for dogs to visit around Shellharbour. There is currently a proposal with the council for two new off-leash dog beaches. However, I wouldn't expect a decision to be made until at least late 2023, perhaps in time for the summer months.
The first new proposed off-leash dog beach in Shellharbour is at North Shellharbour Beach. The off-leash section would stretch for 500m along the middle of the beach, in between the two patrolled areas at either end. There are already multiple access paths from Junction Road.
The second proposed off-leash dog beach in the Shellharbour area is Kiyong Beach at Warilla. The 200m stretch of sand lies at the eastern end of the popular Reddall Reserve, near the easternmost carpark. This calm beach lies just inside Lake Illawarra.
Alternatively, at the moment, consider heading to the next nearest off-leash dog beach just north of Lake Illawarra in Windang. Perkins Beach is one of the off-leash dog beaches in the Wollongong area.
The off-leash section of this beach starts close to Murrie Street in Windang, where there is a carpark and pathway to the beach. (Search for "Windang Dog Beach" on Google Maps.) The off-leash beach stretches 4km north to Port Kembla Beach. The long off-leash beach lies alongside bushland reserve, but there are a few other access paths along it.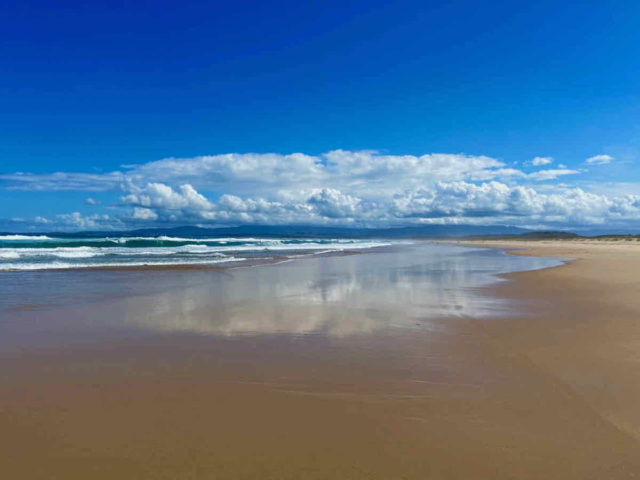 Dog-Friendly Sightseeing at Shellharbour
Dog-friendly sightseeing options in Shellharbour are limited. Some of the most popular attractions in Shellharbour don't permit dogs, including the Killalea Regional Park and Bass Point Reserve, popular for snorkelling and home to an Indigenous Cultural Walk.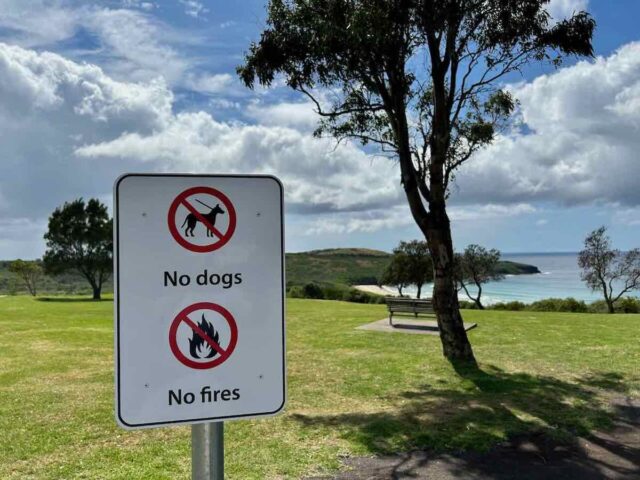 However, check out these dog-friendly activities in Shellharbour, including multiple dogs that permit on leash dogs.
1. Explore Shellharbour Marina
Shellharbour Marina only recently opened in 2021 and is a wonderful new attraction in Shellharbour. It's also a great spot to head with your dog, as long as you keep them on a leash.
While many of the homes and apartments surrounding the marina are still under construction, the promenade walk around the marina was also completed in 2021. The waterside walkway extends for 2.5km in total, including onto the breakwall on either side of the marina entrance.
It's a great spot to walk with your dog, whether the entire length or just part of it. There's even water fountains for both humans and dogs along the way. Just make sure you clean up after your dog and keep them out of any playgrounds, plus the Kids Beach next to the Town Centre.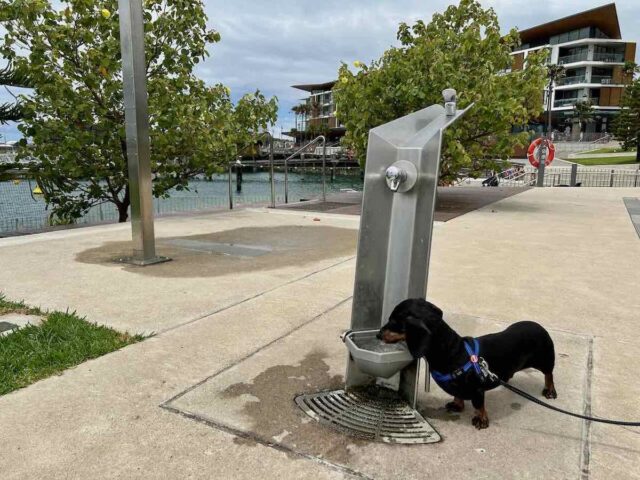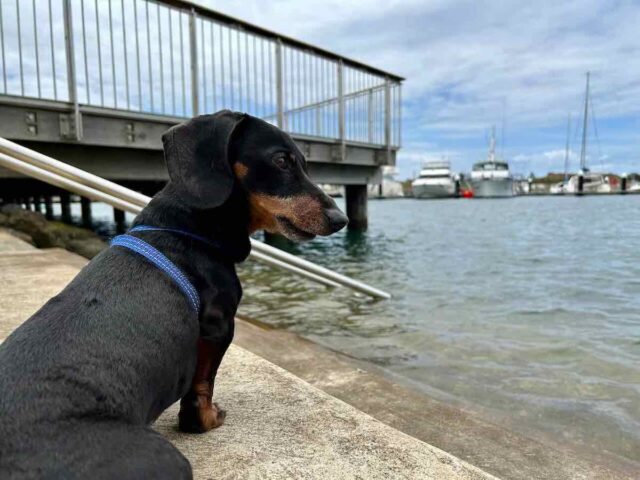 2. Stroll Along the Village Waterfront
The original town of Shellharbour is centred just north of the Marina on Addison Street. Since the major shopping centre to the west has began to be known as Shellharbour City Centre, this town centre has been dubbed Shellharbour Village.
Situated right next to the beach, it's a popular spot for a stroll, with dogs on a leash allowed along the waterside path, although not onto the beach. The path starts next to the dog-friendly NRMA Shellharbour Beachside Holiday Park (see below).
3. Bushwalk at Blackbutt Forest Reserve
While most of the reserves around Shellharbour don't permit dogs, including Killalea Regional Park, Bass Point Reserve and further afield in Macquarie Pass National Park, dogs on a leash are permitted at Blackbutt Forest Reserve.
Though there may be some parts of the reserve where dogs are not allowed – I spotted one sign prohibiting dogs from a section near the Blackbutt Way Entrance. The main signs though don't mention this.
The reserve is criss-crossed by multiple walking paths, fire trails and cycle paths, passing through sections of regenerated forest and some grassy expanses. However, signposts for the walking paths are quite limited and vague.
One potential dog-friendly walk is this Blackbutt Forest Reserve Loop. Starting from the Wattle Road Carpark, the 4.3km loop follows a mixture of fire and walking trails, along with the cycle path extending to the eastern side of the reserve.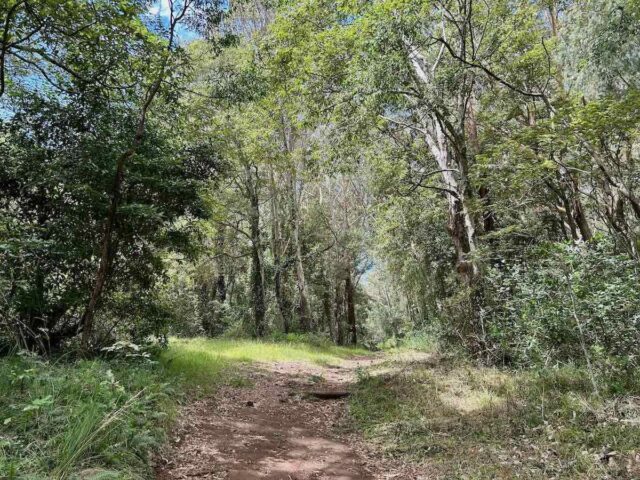 3. Check out the Lake Illawarra Art Trail
The Shellharbour area extends as far as the southern shoreline of Lake Illawarra. A popular destination for fishing, boating and swimming (during the summer months), one of the most popular reserves on the southern side is Reddall Reserve in Warilla. Dogs on a leash are allowed on the paths through the reserve.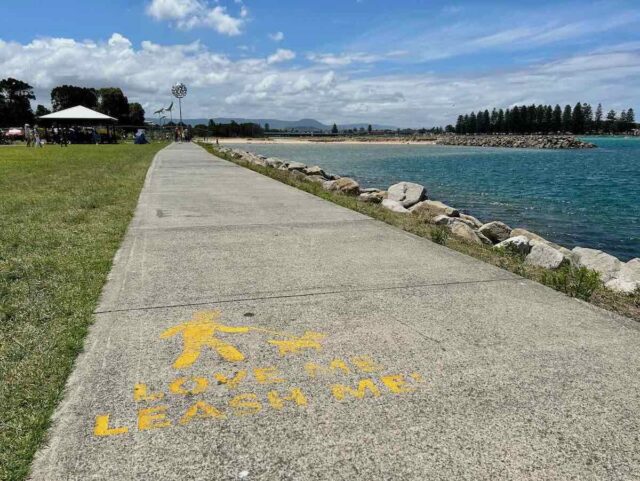 Reddall Reserve is the starting point of the Lake Illawarra Art Trail. At least eight artworks are dotted along the lake shore next to the walking path, created in response to the lake, its history and its people.
The trail starts from the carpark opposite Windang Street then follows the shoreline west, passing underneath Windang Road next to the bridge. Follow Reddall Parade back to your starting point for a loop just under 2km long. The proposed off-leash dog beach at Kiyong Beach is just east of the starting point.
Dog-Friendly Parks at Shellharbour
In addition to the off-leash dog exercise area at the Shallows Coastal Coastal Reserve mentioned above, there are five additional off-leash areas in the Shellharbour Council area, including two fenced dog parks.
Oak Flats Dog Park is an excellent dog park with two separate areas for large dogs (over 15kg) and small dogs (15kg and under). Both areas are securely fenced, with bins, water fountains and seating, although there is only limited shade in the Small Dogs area.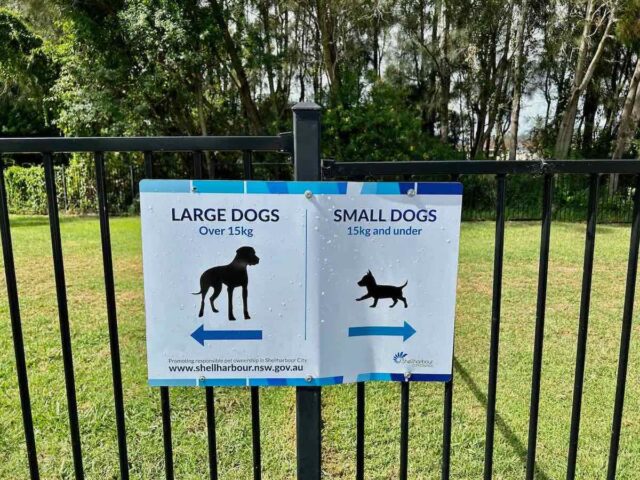 The Large Dogs area also has some agility equipment. There's plenty of parking alongside the park on Kingston Street.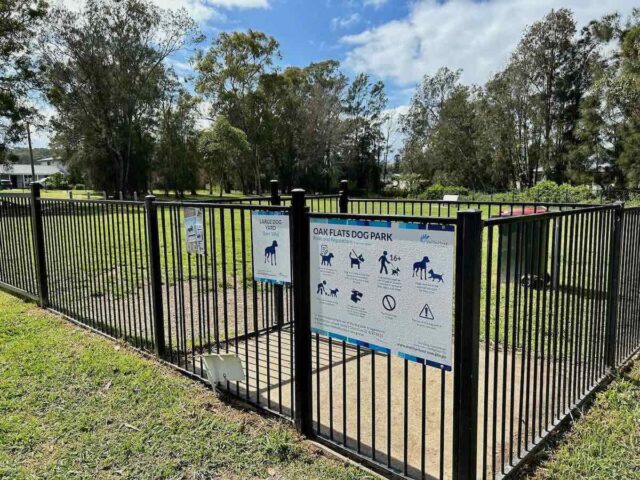 A second fenced dog park is located closer to the centre of Shellharbour in Flinders. The Flinders Dog Park is also securely fenced, although there is only a single area for all size dogs. The park also contains agility equipment, plus a sheltered picnic table and seats. The park is nicely grassed, although it's located on a slope.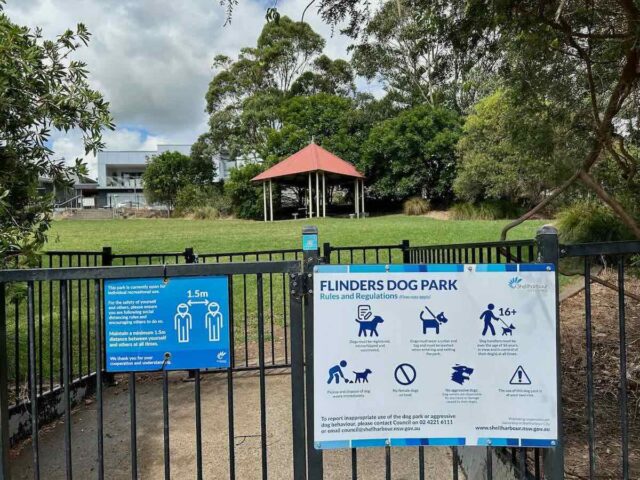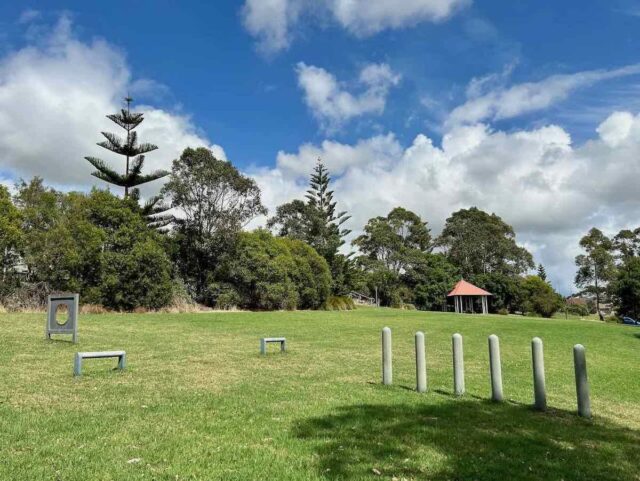 There are also three off-leash exercise areas at Barrack Heights (the south side of Jock Brown Oval), Mount Warrigal (Alex Hoffman Park, access from Cuthbert Drive and Matthews Drive), and Albion Park Rail (part of Croome Road Sporting Complex, near John O'Dwyer Oval, with a proposal to add dog agility equipment). The council website has maps.
Dog-Friendly Dining at Shellharbour
While visiting Shellharbour Marina, we enjoyed a wonderful lunch at Georgia Rose, in the waterfront dining precinct next to the Waterfront Tavern. Georgia Rose has a large semi-enclosed area where dogs can join you – anywhere on the concrete floor in the front of the cafe and bar.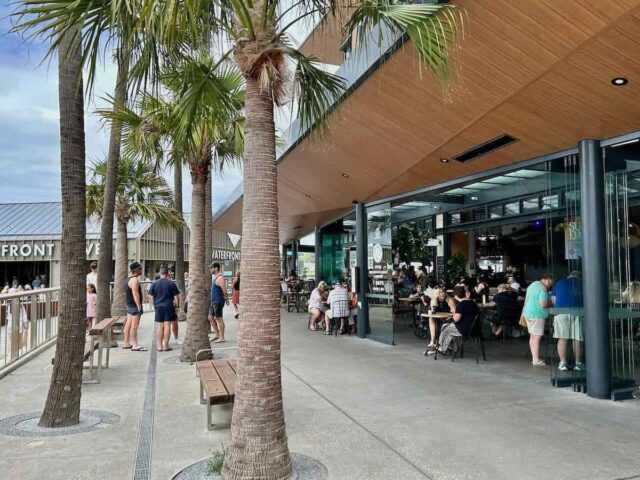 Georgia Rose is open for extended hours every day – generally from 7am until 11pm, serving up breakfast, lunch, dinner or just a beer or coffee (from the next door cafe). The salmon poke bowl and pulled pork burger we ordered were both delicious and delivered quickly – although I believe there have been some issues with slow service at times, plus the prices are on the expensive side.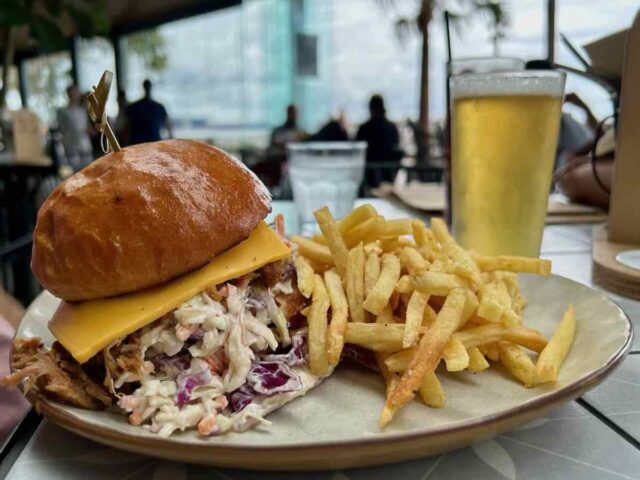 If you want to sample the local beer, they have a large variety of beers on tap, including options from the local Bass Point Brewery. Order a middy or schooner, or select four beers for a tasting paddle.
There are also multiple cafes on Addison Street in Shellharbour that have outdoor dining areas where dogs are generally welcome – although it's always best to check in advance. Consider heading to Bayside Pantry, J's on the Deck or Pacino's Cafe. The Ocean Beach Hotel unfortunately doesn't allow dogs, despite their large outdoor dining area, and their seagull issue.
Further north, check out Cafe Els at Warilla Grove, where dogs are welcome in the outdoor area. The cafe is open daily for breakfast and lunch.
Dog-Friendly Accommodation at Shellharbour
Note: This post contains affiliate links, which means I may receive commission if you make a purchase using the links. See my full disclaimer.
The NRMA Shellharbour Beachside Holiday Park in the centre of Shellharbour is a pet-friendly caravan park. Small dogs are welcome on their powered and waterfront holiday sites, although not in any cabins. Up to one small dog per site is permitted, with no listed seasonal restrictions, but direct bookings essential.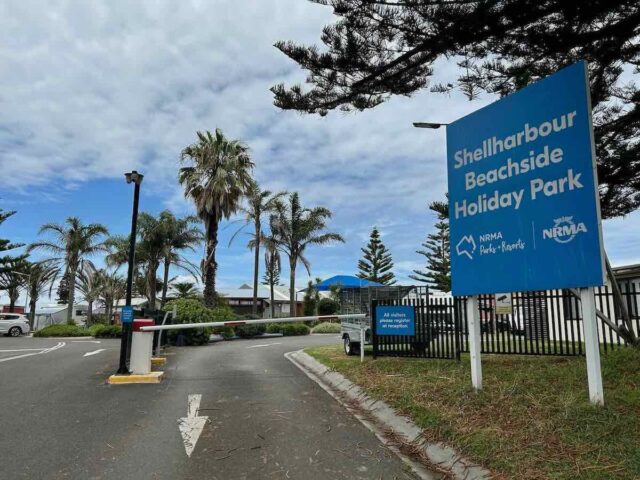 There are limited options for pet-friendly holiday rentals around Shellharbour, especially when it comes to larger dogs. One pet-friendly option is Beachside Bliss in Warilla. This two-bedroom studio apartment can accomodate up to six.
The owners live in the detached main house with a small friendly dog. Up to two dogs of a similar nature are welcome, for an additional fee of $50 per dog per stay. Only thoroughly house trained dogs are allowed inside, with the expectation that you clean up any pet hair inside before you leave.
Another nearby pet-friendly option, just north of Lake Illawarra, are the Windang Inns. Both their Lakeside and Golf Place properties have pet-friendly rooms available for a small premium, including apartments and Lakeside Cabins. It's a short drive to the off-leash Perkins Beach.
However, be warned that it's rather budget-style, and many recent reviews for both properties haven't been flattering. I wish there were some better pet-friendly alternatives!
Head Next To