The Wollongong area is a great dog-friendly destination in NSW to visit near Sydney. It's less than a 90 minute drive from the Sydney CBD to the centre of Wollongong, or just over an hour to the northern suburbs, making it perfect for a day trip.
There's plenty of dog-friendly attractions in Wollongong, especially its many dog-friendly beaches. Interested in staying longer? I've also hunted down the best dog-friendly accommodation options in the region.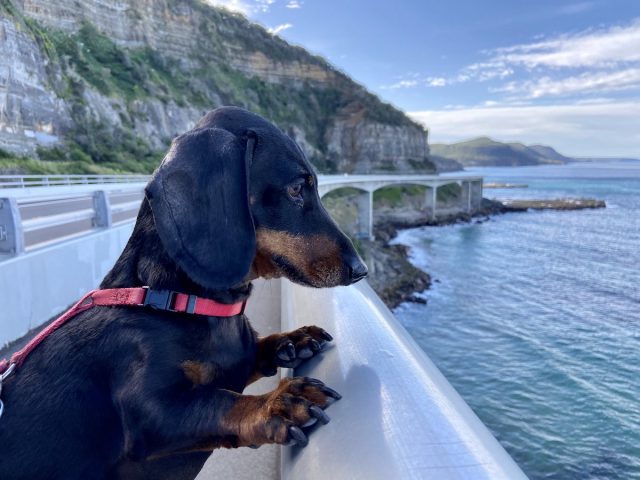 Dog-Friendly Beaches in Wollongong
Compared to the rareness of dog-friendly beaches in Sydney, particularly ocean facing beaches, the Wollongong region has an abundance of dog-friendly beaches, both off- and on-leash.
The Wollongong City Council has put together a simple and clear system of signage for beaches. You'll want to look out for green-zone beaches, which are off-leash beaches, with dogs allowed off-leash all day long, year round.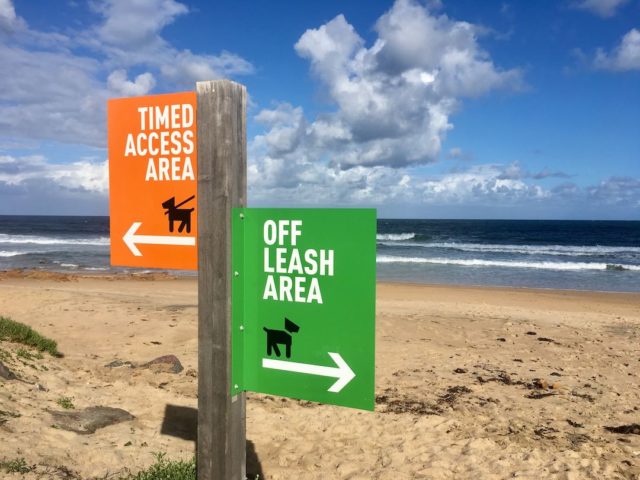 Stay clear of red-zone beaches, where dogs are not permitted. This includes the busiest swimming beaches in the region. Red zones also apply to areas within 100m of a lifeguard patrolled area and all rock platforms.
In between are orange-zone beaches, where dogs are allowed on-leash, but only before 9am plus after 4pm in winter or after 6pm in summer (from the start of the September/October school holidays to Anzac Day).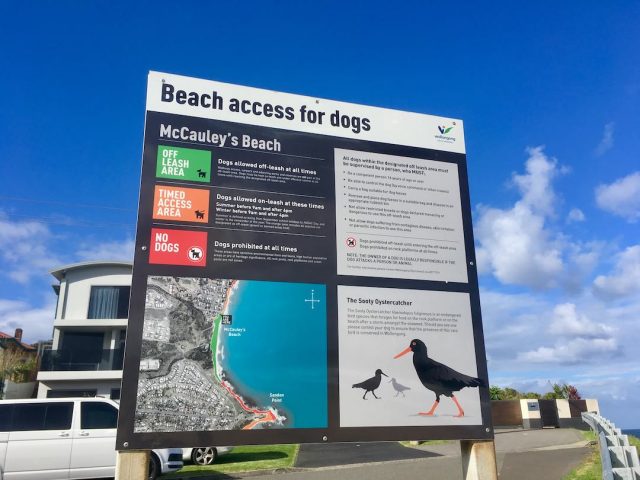 The following beaches are green-zone off-leash beaches in the Wollongong council area, from north to south:
The northern end of Stanwell Park Beach
Sharkey's Beach, Coledale
Little Austinmer Beach
McCauley's Beach, in between Thirroul and Bulli
Bellambi Boat Harbour Beach
East Corrimal Beach
Most of Puckey's Beach, Fairy Meadow
Coniston Beach, Wollongong
MM Beach (or North Beach), Port Kembla
Perkins Beach, Port Kembla
For more details about all these beaches, including plenty of photos to help you choose one to visit, see my guide to the off-leash dog beaches in Wollongong.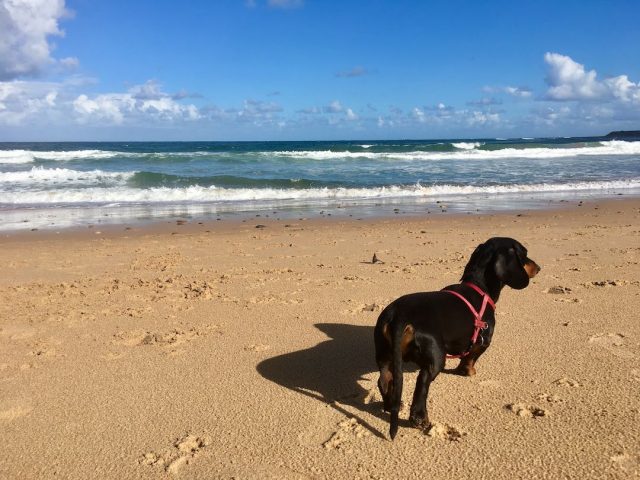 What About Beaches in Shellharbour?
If you head south of Lake Illawarra, you'll reach the Shellharbour council area. Unfortunately, all of its proper beaches currently prohibit dogs. The only beach that currently permits dogs is the reserve next to Bass Point Tourist Road between The Shallows coastal reserve and the gravel loader. However, the sand is gravelly and grey.
There are however proposals for two new off-leash dog beaches in the Shellharbour area, at Shellharbour North Beach and Kiyong Beach, on the southern side of Lake Illawarra. Perhaps dogs will be allowed at these beaches by the end of 2023?
Note that dogs are not allowed inside the nearby Bass Point Reserve.
Dog-Friendly Sightseeing in Wollongong
Looking for more ideas of things to do in Wollongong with your pup, other than heading to the beach? Consider these dog-friendly sightseeing options in and around Wollongong.
1. Stop Off at the Sea Cliff Bridge
One of the landmark attractions in the Wollongong region is the Sea Cliff Bridge. Opened in 2005, the bridge was required due to the repeated landslides that regularly closed the coastal road that previously hugged the cliffs.
These days the bridge soars out over the water and rock platforms and has been featured in countless car commercials.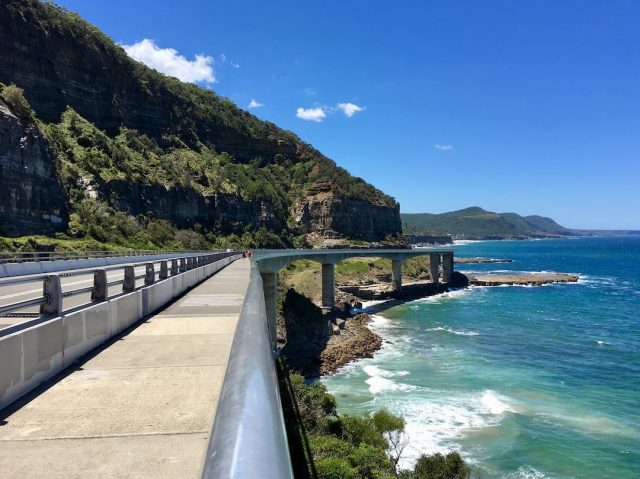 A must-do during any Wollongong trip is to drive along Lawrence Hargrave Drive through the northern suburbs, meandering through the small historic coal-mining villages. The Sea Cliff Bridge is located mid-way along the drive. But don't just drive across the bridge, also stop and walk across it.
The best car parking spots are just south of the bridge. It's easiest if you're driving south, with a few parking spots available alongside the road immediately south of the bridge, although they fill up on busy days. If you're driving north, pull into the small carpark near the Clifton School of Arts, then walk down the hill.
I recommend walking along the full length of the 665m-long bridge. Naturally dogs are allowed, as it's just a regular footpath. There's a poo bag dispenser at the southern end of the bridge.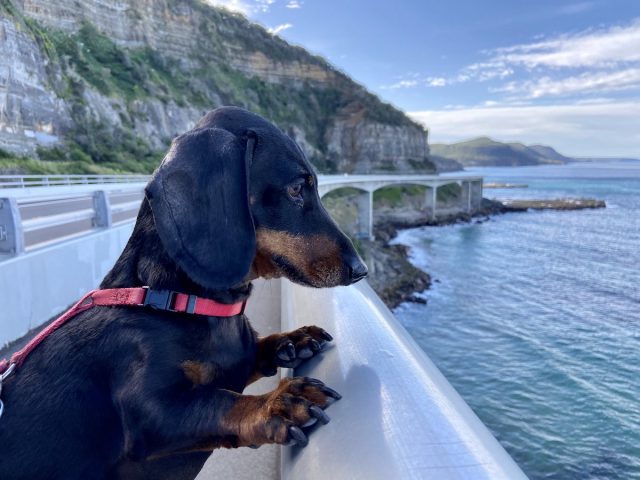 Be aware it can get quite hot with virtually no shade in summer time, so it's better to do during the cooler months of the year.
At the northern end of the bridge there is a gravel road way leading down underneath the bridge, which is a worthwhile diversion with your pup, to see the bridge from a different perspective. Note though that dogs are not permitted on the rock platform.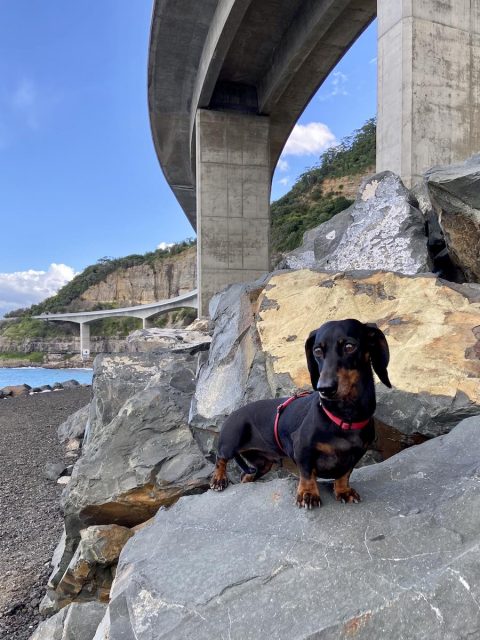 It's also possible to extend your walk either north or south of the bridge. There's a footpath next to the road in both directions, part of the Grand Pacific Walk, with plenty of sea views along the way.
2. Check out the Hang Gliders at Bald Hill
For beautiful vistas along the Illawarra coastline head to Bald Hill at Stanwell Tops. The spot is most famous as the location where local Lawrence Hargrave made early experiments in flight.
These days, the spot is very popular with hang gliders. While I don't recommend going hang gliding with your pup, it's a fun spot to watch them gliding in the wind currents on breezy days.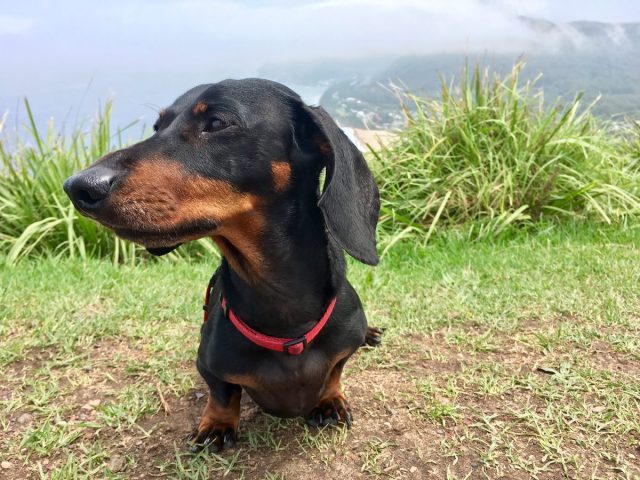 If driving from the south, turn right towards the Royal National Park after climbing up the hill after Stanwell Park. The main carpark for the lookout is accessed through the roundabout intersection.
Most days there's an ice-cream van operating next to the carpark, perfect for buying a soft-serve while holding onto your dog's leash and admiring the view. There's also a kiosk at the far end of the carpark.
3. Walk Along the Grand Pacific Walk
One of the best options for a dog-friendly walk in Wollongong are the many off-road shared paths in the region, that often hug the region's scenic coastline, passing by its off-leash dog beaches.
There are plans to construct an entire network of walking and bike tracks linking the Royal National Park and Lake Illawarra, dubbed the Grand Pacific Walk. Some parts have already been completed, along with colourful signage and drinking fountains for humans and pups.
The shared pathway that runs from Thirroul, about 15km north of Wollongong, to Wollongong Harbour, was constructed years ago. I've picked out some of the best shorter options along its length, combined with walks along the off-leash beaches, in my guide to dog-friendly walks in Wollongong.
4. Go for a Stroll at Puckeys Estate
Most of the popular bush walks in the Wollongong region are located within the Illawarra Escarpment State Conservation Area, in which dogs are not permitted. However, one excellent stand of coastal bush where dogs are allowed is at Puckeys Estate, just north of Wollongong.
I've put together a recommendation for a 3.1km walk that passes through the reserve and then returns along the adjacent off-leash dog beach. Check out my full notes in my guide to dog-friendly walks near Wollongong.
5. Head Out on Lake Illawarra
At the other end of the Illawarra is Lake Illawarra. Approximately 9.5 kilometres long and 5.5 kilometres wide, the lake is a popular spot for boating, fishing and prawning.
If you have your own boat or kayak, head to Lake Illawarra for a fun day on the water with your pup. There are thirteen boat ramps located all around the lake. The lake is not within a national park or other type of reserve, so there are no restrictions on dogs. However, the surrounding reserves are all on-leash areas.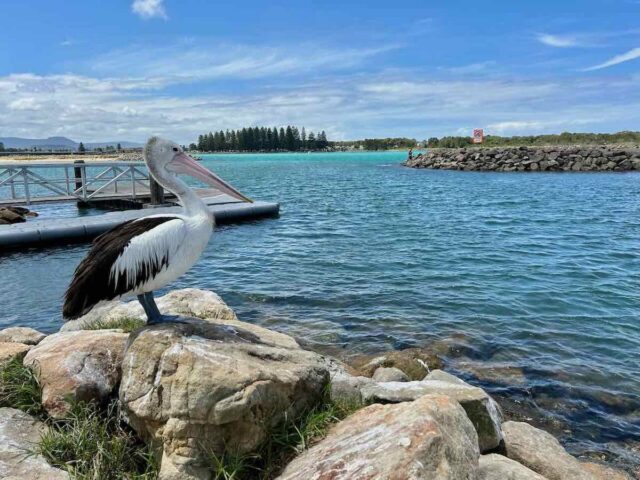 If you don't have your own boat or kayak, there are some boat hire companies available. Check whether they allow dogs in their boats. Alternatively, take a stroll along the many walking paths that border the lake, such as at Reddall Reserve, home to the Lake Illawarra Art Trail.
6. Visit the Grevillea Park
Tucked in behind the suburb of Bulli is the Illawarra Grevillea Park, a 2.4 hectare park with a rich collection of Australian grevilleas and other native species, maintained by volunteers.
While the park isn't open daily or even weekly, they do hold regular open days during the year, opening about six weekends per year in Autumn, Winter and Spring. There is a small $7 entry charge, as well as plants available for sale, and dogs are allowed on a leash.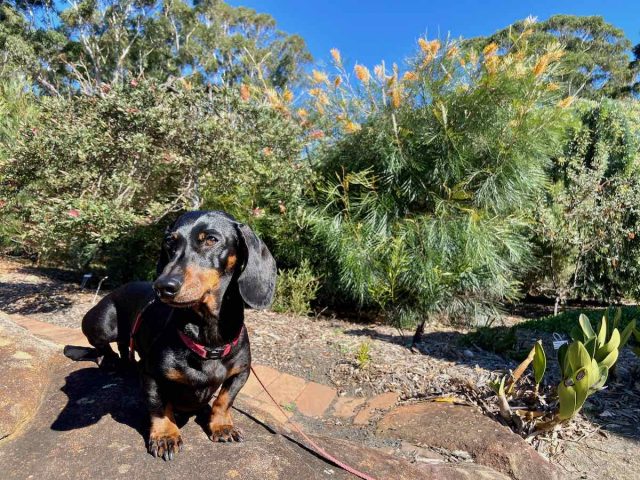 To find out when the park is next open, head to their website or Facebook page. Allow at least an hour to explore the gardens. Make sure you pick up or download the pamphlet with directions for a self-guide tour, pointing out the many diverse species of grevilleas. There's also a small rainforest area.
Check out more great dog-friendly gardens in NSW
7. Explore the Local Street Art
The CBD area of Wollongong is home to a variety of street art murals. Many of them date from the Wonderwalls Festival which ran over multiple years in the city.
For a fun on-leash walk with your dog, wander through the city's streets and laneways and try and spot as many works as you can. While murals come and go, a good starting point is this guide.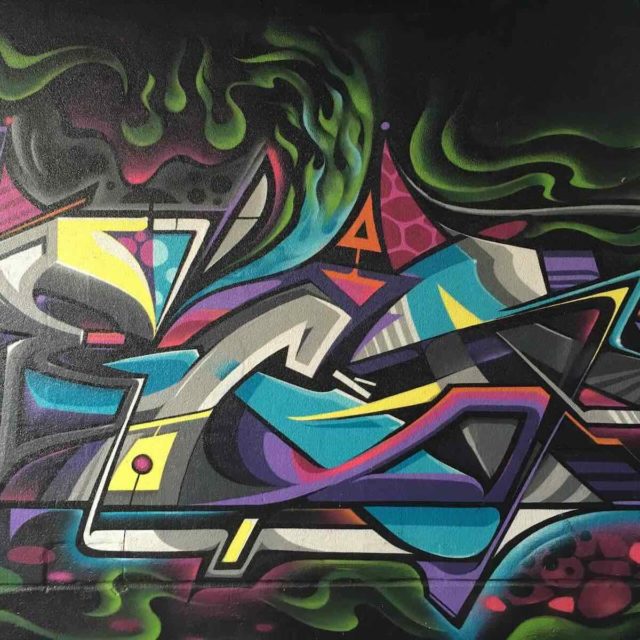 Check out more ideas of things to do in Wollongong
Dog-Friendly Parks in Wollongong
In addition to off-leash beaches, there's also a handful of off-leash dog parks in the Wollongong region, mainly located away from the beachside suburbs.
For some off-leash frolics with your pup, head to one of these parks:
Proud Park, Helensburgh
Figtree Oval, Figtree
Riley Park, Unanderra
King George V Oval, Port Kembla
Reed Park, Dapto
Eleebana Reserve, Koonawarra
For the latest details, see this page. Out of the six parks, the off-leash dog park at Reed Park has been fenced.
Woonona Petfood & Produce on Bellambi Lane is also home to a fantastic fenced dog park at the rear of their store. Completely enclosed and with agility equipment, it's a great option for if you've just visited the store, perhaps before or after a dog wash, plus free to the general public. It's open seven days a week, but presumably only during business hours (currently until 2pm on Saturday and Sunday).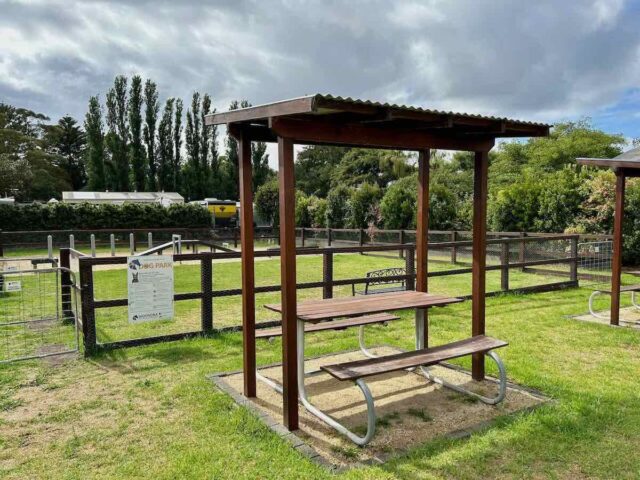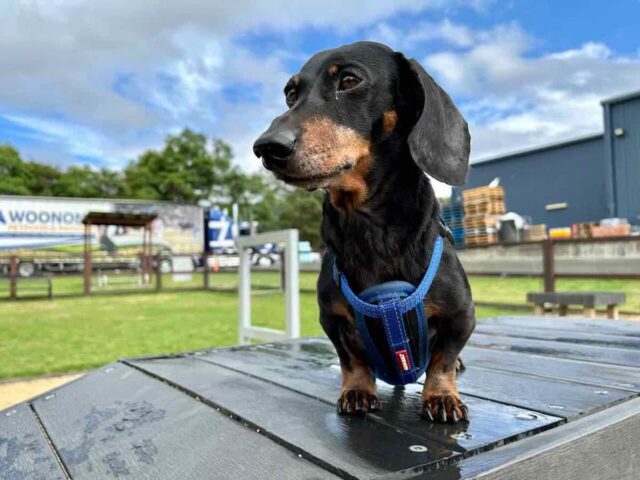 Heading further south, there are also six off-leash areas in the separate Shellharbour Council area, including fenced dog parks at Oak Flats and Flinders. Check out this listing, with maps.
Dog-Friendly Pubs in Wollongong
With its relaxed beach lifestyle, the Wollongong region has plenty of pubs with outdoor beer gardens where dogs are welcome to join you. Just double check before taking a seat if you're not sure.
My favourite dog-friendly pub in the Wollongong area is the Scarborough Hotel. This historic hotel is perched on the cliff top of Scarborough, with a extensive beer garden with large tables for enjoy lunch or just a cold drink.
It can get quite busy at the Scarborough Hotel, so it's advisable to book or arrive before midday. If visiting with a dog, walk past the main entrance and use the gate to the right hand side, to directly access the garden. Feel free to ask for a water bowl for your pooch, but remember they need to stay on a leash. Note that this pub is only open at lunchtime.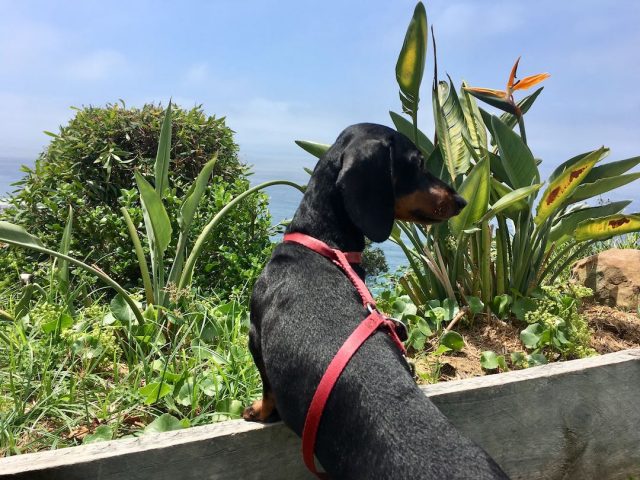 Another great dog-friendly pub nearby is Headlands in Austinmer. There's plenty of outdoor tables, with most of them left for walk-in guests. The brasserie is open daily for breakfast, lunch and dinner (virtually all day long!), plus the onsite Airstream serves up more casual options, including a pizza bar. It's just a short stroll to the nearby off-leash Little Austinmer Beach afterwards.
Dog-Friendly Cafes in Wollongong
If it's a delicious brunch you're after, consider heading to Honest Don's Cafe in Thirroul. Located across the road from a handy carpark, this Northern Suburbs cafe may lack the views, but still has a chilled ambience.
Snap up one of the outdoor tables (which might be tricky on summer weekends) and order a puppychino for your pup, with part of the profits going to a local rescue group.
Further south at North Beach in Wollongong, a popular dog-friendly cafe is the beachfront Diggies. Open daily for breakfast and lunch, the cafe offers an all-day breakfast, plus a lunch menu and is fully licensed. Dogs are welcome at a handful of their outdoor tables. Be prepared for a wait on busy weekends.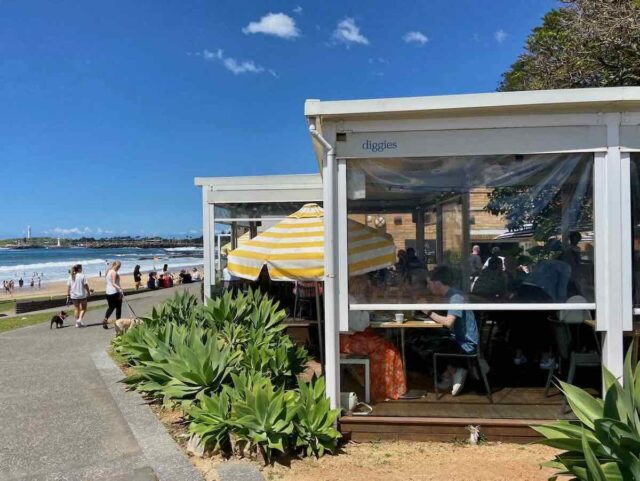 There's plenty more cafes right throughout the Wollongong region with outdoor dining tables, most that welcome dogs to join you. Just ask before taking a seat.
Dog-Friendly Accommodation in Wollongong
Wollongong is close enough to Sydney to make for a good day trip, but if you're looking at staying longer there are a handful of pet-friendly accommodation options in Wollongong.
Pet-Friendly Guesthouses and Holiday Homes in Wollongong
Note: This post contains affiliate links, which means I may receive commission if you make a purchase using the links. See my full disclaimer.
The majority of pet-friendly accommodation options in Wollongong tend to be guesthouses and holiday homes, including rentals on Airbnb and Stayz.
A highly rated pet-friendly option in the Wollongong region is Southview, a boutique guesthouse at Bulli. Their Garden Suite with its own courtyard is pet-friendly, although make sure you contact the hosts in advance. It's just a short walk from the off-leash McCauley's Beach.
I regularly hear recommendations for Sadies at Port Kembla, an affordable, self-contained cottage. It has a fenced yard and is close to the off-leash MM Beach.
For a larger and more luxurious option, terrific for families or groups, consider Beachouse Sharkies, which sleeps up to six. It's located opposite the dog-friendly Sharkies Beach.
Pet-Friendly Hotels in Wollongong
If it's a hotel for the night you're after, Mantra Wollongong in the heart of the city recently started offering some pet-friendly rooms. It's a must to call and request one of these rooms, plus check the relevant rules. An additional charge applies for pets.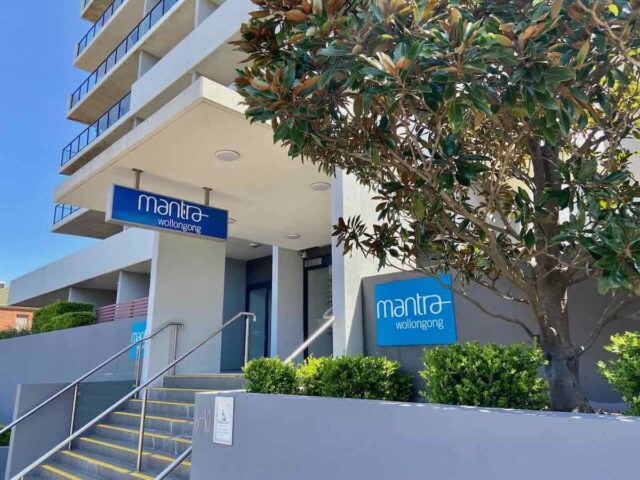 Down south, you can stay near Lake Illawarra with your dog at the Windang Inns. Both their Lakeside and Golf Place properties have pet-friendly rooms available for a small premium, including apartments and Lakeside Cabins. It's a short drive to the off-leash Perkins Beach.
However, be warned that it's rather budget-style, and many recent reviews for both properties haven't been flattering. I wish there were some better pet-friendly alternatives!
Pet-Friendly Caravan Parks in Wollongong
Similarly, there are only a few pet-friendly caravan parks in Wollongong. Most of the caravan parks are run by the local council and pets are allowed at only one of their parks, Corrimal Beach Tourist Park.
Pets are allowed on a limited number of caravan and camping sites at Corrimal Beach Tourist Park, and only during the off season. It's a must to call in advance to get permission for your pet and book. At least the park is close to the off-leash East Corrimal Beach.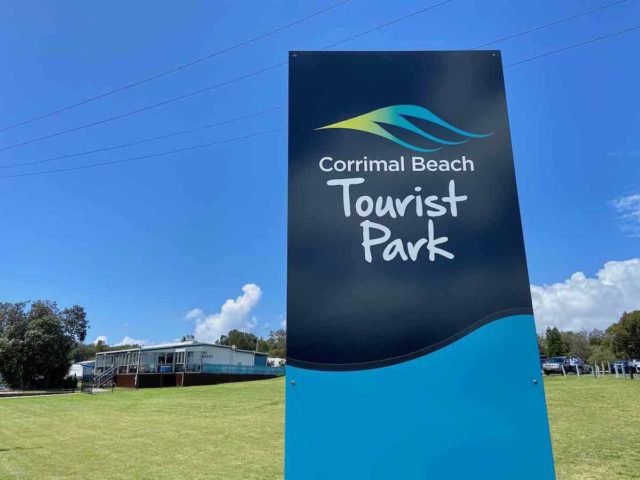 Another pet-friendly option is further south at the NRMA Shellharbour Beachside Holiday Park in the heart of Shellharbour. Pets are welcome on their powered and waterfront holiday sites, with up to one small dog per site and no listed seasonal restrictions. Direct advance bookings though are essential.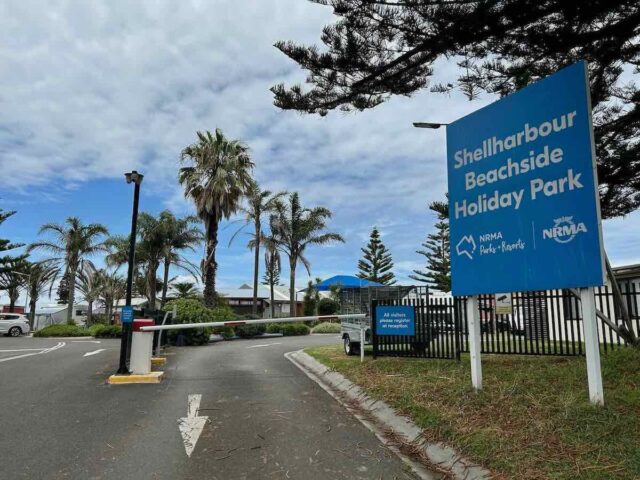 You May Also Like
Inspired? Pin this to your Pinterest board!