While New York City hasn't gone to the dogs, it's certainly a city of dog-lovers, with an estimated 425,000 dogs living within the five boroughs. And with many New Yorkers wanting their pups to join them in their everyday life, there's no shortage of creative ways they've stretched the rules, such as these photos showing ways New Yorks have taken their dogs on the subway, or semi-dog-friendly cafe options.
All of which means that New York City is a great city in the USA to visit with your dog, with many fun dog-friendly places in NYC to visit.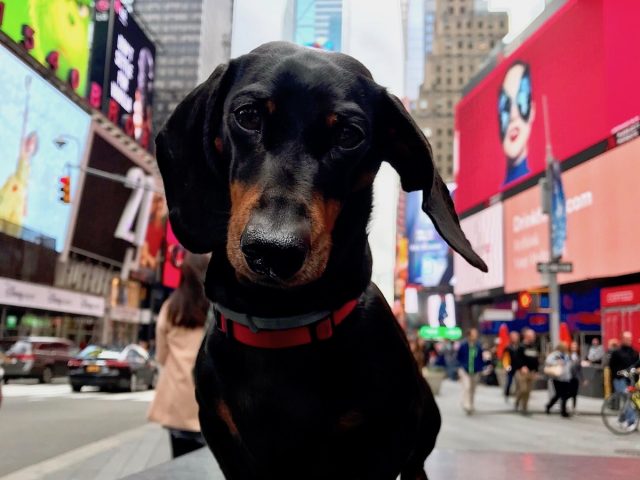 Note: This post contains affiliate links, which means I may receive commission if you make a purchase using the links. See my full disclaimer.
Dog-Friendly Sightseeing in NYC
If you're heading to New York City with your dog, naturally there's some popular tourist sights that you'll need to skip, unless you can leave your dog behind somewhere.
For starters, the theatre will be off-limits, whether on- or off-Broadway. Additionally, the popular High Line unfortunately doesn't allow dogs, partially due to the crowded walkways. I tried carrying my dog, but I was still asked to leave.
Instead, consider these dog-friendly places in NYC for your visit with your pup…
1. Walk Across the Brooklyn Bridge
A popular sightseeing option in New York is to walk across Brooklyn Bridge, either towards Manhattan or towards Brooklyn above the East River. With no rules restricting dogs, it's a fun thing to do with your dog, although I would recommend avoiding more popular times, as it can get rather crowded.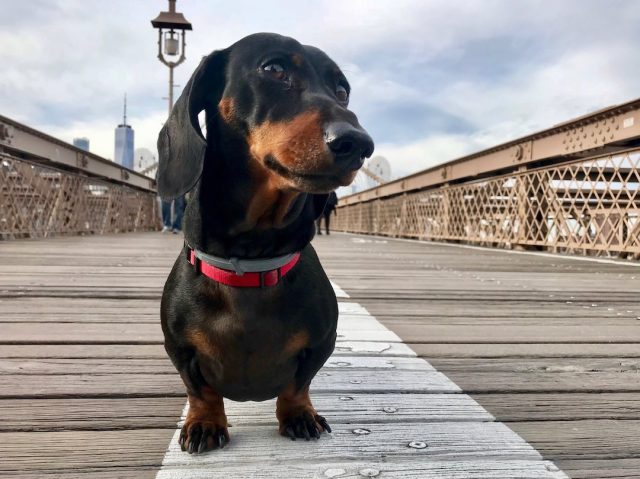 We walked across it towards Manhattan with Schnitzel, stopping for some great photos. Our choice of Friday afternoon during the busy Fall period probably wasn't the best, so we carried him a lot of the way. An alternative, less-busy bridge you can walk across is the Manhattan Bridge.
2. Stroll Around Central Park
Even if you visit Central Park during on-leash hours (9am to 9pm), it's still a great place to experience with your pup, walking around the huge park. Before visiting New York for the first time, it's difficult to comprehend how vast this park is.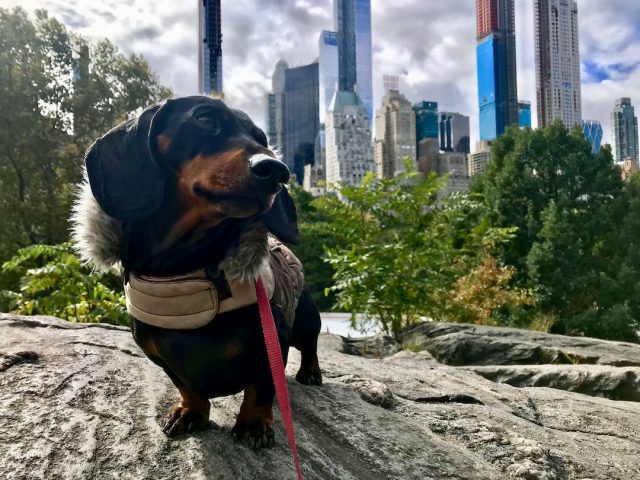 Popular dog-friendly spots to visit in Central Park include Strawberry Fields, Bow Bridge, Bethesda Fountain, Conservatory Waters, the Alice in Wonderland sculpture, and Belvedere Castle.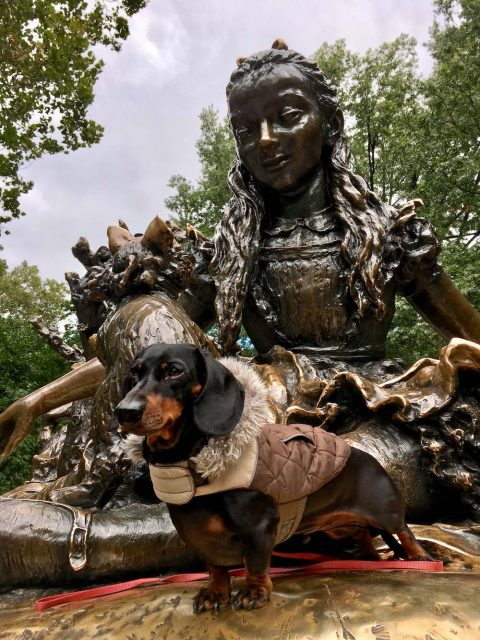 3. Check out the Street Art of Bushwick Collective
One of the best collections of street art in New York is the Bushwick Collective in Brooklyn. Located near the Jefferson St station on the L line, it's easily accessible via subway. The actual Bushwick Collective artworks begin on Jefferson St, then continues on Troutman St towards St Nicholas Ave.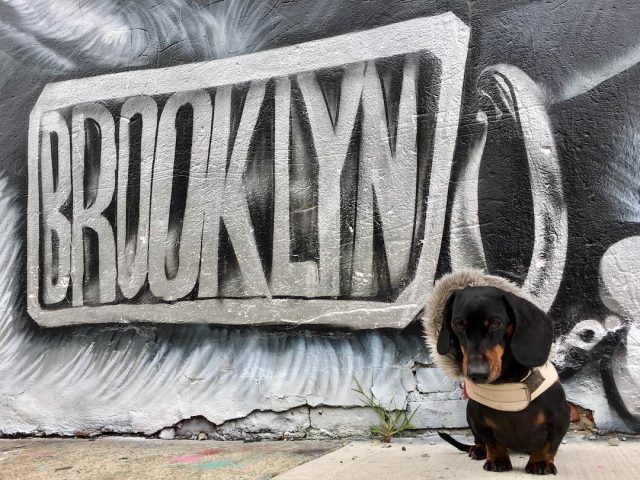 There's also plenty of other murals in the area, too. The artworks on the walls are ever changing, with new murals added each year in conjunction with a block party.
4. Visit Brooklyn Bridge Park
A popular spot to head for an iconic NY photo is at the intersection of Washington St and Water St in DUMBO, also known as the "Down Under the Manhattan Bridge Overpass" neighbourhood.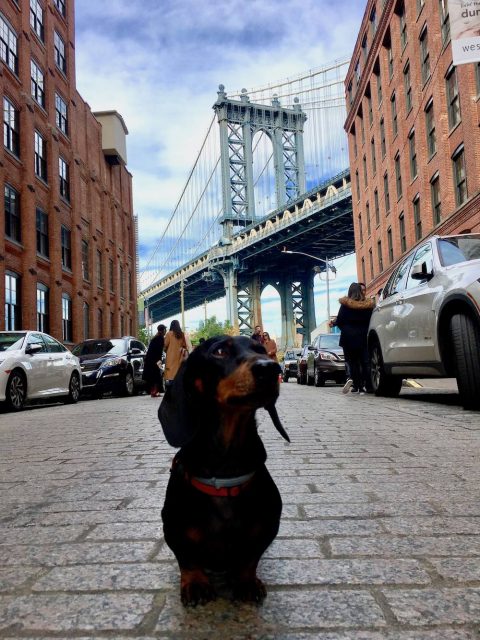 Just keep in mind that it can be tough to get a photo, due to everyone else jostling for the same shot, plus you'll need to keep an eye out for the occasional car.
Before or after, head to the nearby Brooklyn Bridge Park, located down the end of Washington St. It's a great spot to chill out for awhile and take in the city skyline.
5. Take a Ferry Past the Statue of Liberty
The two best ways to see the Statue of Liberty is on a paid visit to the island or from the Staten Island ferry.
While dogs are not allowed on Liberty Island, ruling out the first option, the Staten Island ferry allows dogs and is also free. Note that dogs need to be in a carrier bag or wearing a muzzle, otherwise they are not permitted onboard.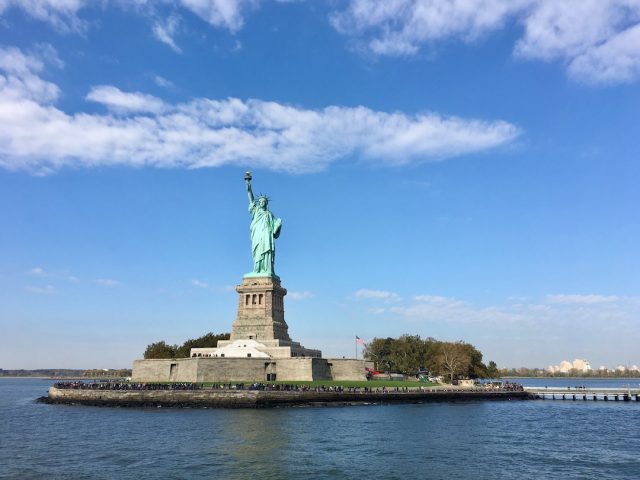 The trip to Staten Island takes half an hour. At Staten Island you'll need to disembark, but it's possible to re-board the same ferry, making an hour-long round-trip. Some of the cruise boat options in New York are also dog-friendly.
6. Take in the Views from Brooklyn Heights
Not surprisingly, only service dogs are allowed up to the iconic observation decks of the Empire State Building and the Rockefeller Centre. We left our dog in our apartment to head up the Rockefeller Centre when visiting NYC, but I later heard of a dog-friendly alternative.
Head to the Brooklyn Heights Promenade, not far from the Brooklyn end of the Brooklyn Bridge, for some great alternative views of the Manhattan skyline. Even better, it's completely free.
7. Visit the AKC Museum of the Dog
Located at the American Kennel Club headquarters, the Museum of the Dog celebrates the role of dogs in society and explores the human-canine bond, through its collection of art and exhibits.
While most dogs are not permitted to visit during regular visiting hours, only service dogs and invited demonstration dogs, there are frequent dog-friendly events when pet dogs are welcome, such as the regular Furry Friday evenings. Check the events calendar on the website for the latest dates.
8. Indulge in Some Shopping
In New York, many fashion stores and department stores allow dogs inside, at least well-behaved dogs. For example, while in the city we stopped off at Macy's at Harald Square, reportedly the largest department store in the world.
Reports online said that small dogs being carried are allowed inside the multi-level store. We tried to confirm this, but as it was quite busy, couldn't find someone, so just headed inside. If you're uncertain, it's always best to try and check at the door.
Note: Visiting the 9/11 Memorial Park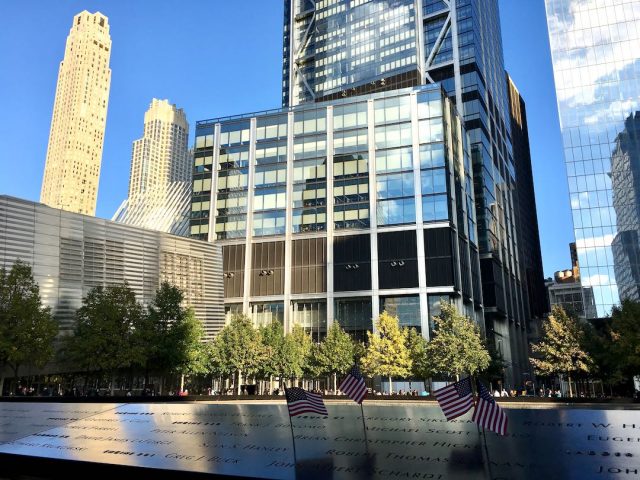 I highly recommend a visit to the 9/11 Memorial Park in Lower Manhattan while in New York. Note though that dogs are not allowed in the park.
If you're with someone else, I recommend taking in turns to sit on one of the benches at the edge of the park and look around the memorial. Otherwise, it's possible to just walk around the exterior of the park with your dog on a leash.
Dog-Friendly Parks in New York City
With the lack of backyards across New York, it's no surprise that there's plenty of dog parks, or "dog runs", scattered across the city. In the city centre, we enjoyed the dog run in Madison Square Park, convenient to the original Shake Shack.
Central Park also has some areas where dogs are allowed off-leash, with off-leash hours before 9am and after 9pm. Although, if your dog likes to chase squirrels as much as mine does, it might be a good option to keep them on a leash all day long!
Alternatively, check out the list put together by the NYC Department of Parks and Recreation or ask your accommodation for the nearest off-leash areas.
Taking a Dog on Public Transport in New York City
It's easy for dog owners to get around the five boroughs of New York with a small dog. Small pets are allowed on the subway and on buses of New York City Transit and MTA Bus, with no fare charged.
They are meant to be in a bag or other container, and "carried in a way that doesn't annoy other riders". There is no longer any mention that "no part of the animal may protrude from" their bag – just as well, considering locals often ignored that.
The rules for the Long Island Rail Road (or LIRR) are the same, while Metro-North Railroad also allows small dogs on a leash, without a bag, although pets are subject to approval by a conductor. (I don't think these rules have changed, but I can't find the rules on the latest website.) Small pets can also travel with you to New York on Amtrak trains.
If you're travelling with a larger dog that is too big to fit in a bag, your best bet is to skip the subway and instead turn to taxis and Uber or Lyft. Message your driver in advance to check whether they're okay with a dog. They would probably also appreciate your dog having a blanket to sit on.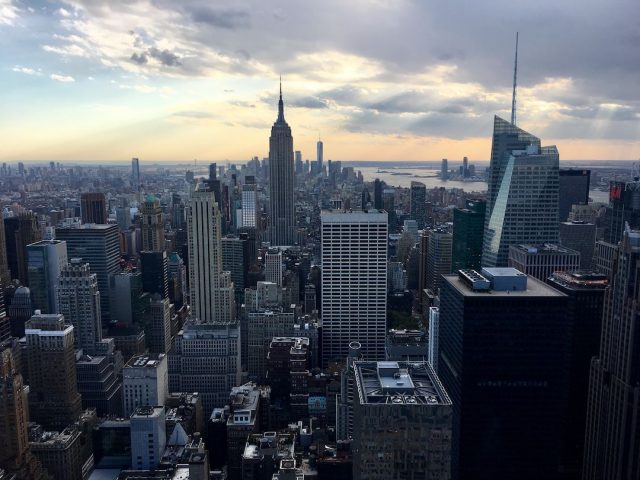 Dining Out in New York City with a Dog
The official word on dining out with your dog in New York City is that non-service dogs are allowed to dine with you in outdoor patios. Although it is at the discretion of the restaurant owner, so make sure you ask. While dining, dogs should be on a leash or in a crate, plus naturally they can't dine at the table or share your dishes.
One must-visit location to dine with your dog is the original Shake Shack restaurant, located in the middle of the city at Madison Square Park, just near the Flatiron Building. The park also has a dog run, with sections for both small and large dogs, perfect for before or after dining at the outdoor tables.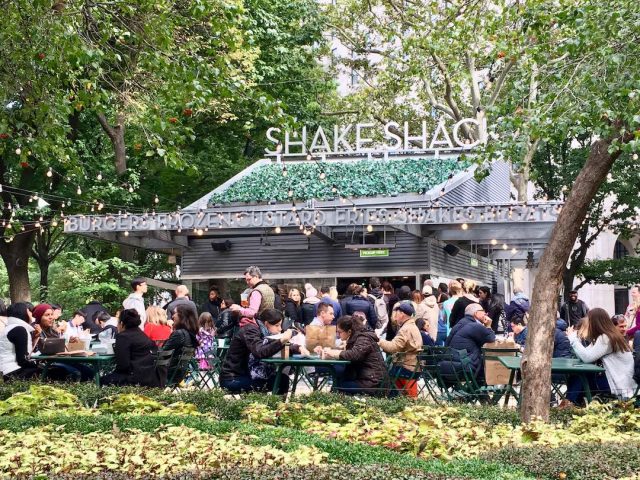 If you head over to the wonderful DUMBO neighbourhood, I recommend grabbing something from one of the many food trucks, then eating on the picnic benches in Brooklyn Bridge Park.
For something grander, head to Gilligan's at the SoHo Grand Hotel. It's perfect for summery days, with the many palm trees (that also provide plenty of shade) making for a tropical ambience. Reportedly it has amazing lobster rolls, and the staff are very friendly to dogs.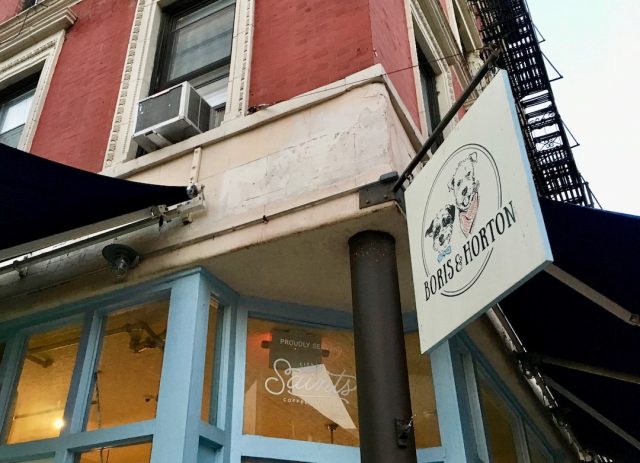 The issue we encountered though during our visit to New York was that it was far from summery. It was mid-October, just after the weather had turned cold. Some days the weather wasn't warm enough to dine outside, and over the winter it only gets worse.
Designed for such dilemmas, I recommend heading to Boris & Horton in the East Village, or their new location in Williamsburg. There you can buy a coffee in one half of the cafe, then head to the other side which is dog-friendly to enjoy it along with your pup. It's also a great spot to socialise your dog on days when the park is too cold a prospect.
Alternatively, for a quick bite on cold days, just grab a traditional New York hotdog from a stand or a take-away bagel.
Dog-Friendly Accommodation in New York City
There's no shortage of hotels in New York City that allow dogs, although New York City has less dog-friendly hotels compared to other cities based on percentage. Like all hotels in NYC, though, many of the dog-friendly options are quite pricey and the fee for a dog can also be substantial.
For a touch of modern luxury in the heart of New York, consider booking into the Concorde Hotel, a pet-friendly just off Park Avenue. Recently reinvigorated with minimalist light-filled interiors, the Concorde welcomes pets up to 25 lbs for no additional charge.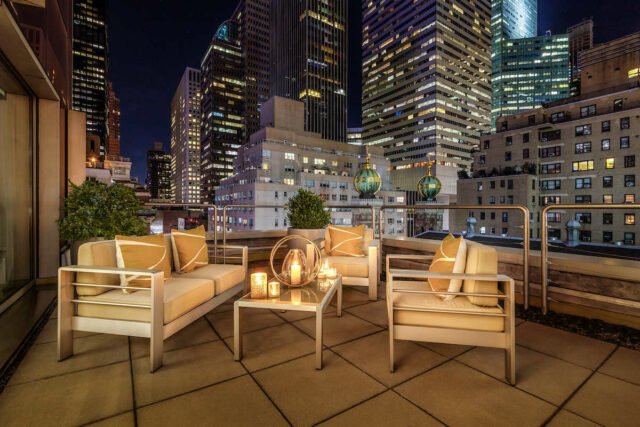 For more luxury options, consider these other famous dog-friendly hotels in New York City:
For a less pricey option, check out La Quinta, one of the hotel chains I singled out for being affordable and dog-friendly, although unfortunately they have started charging pet fees at many of their properties. Check out their two locations in New York City:
Up to two pets are allowed per room, cats and dogs only, including dogs up to 75 lbs. Check directly with the hotels for their full pet policy and the latest pet fees – it was $25 USD per night when I last checked.
You May Also Like
About the Author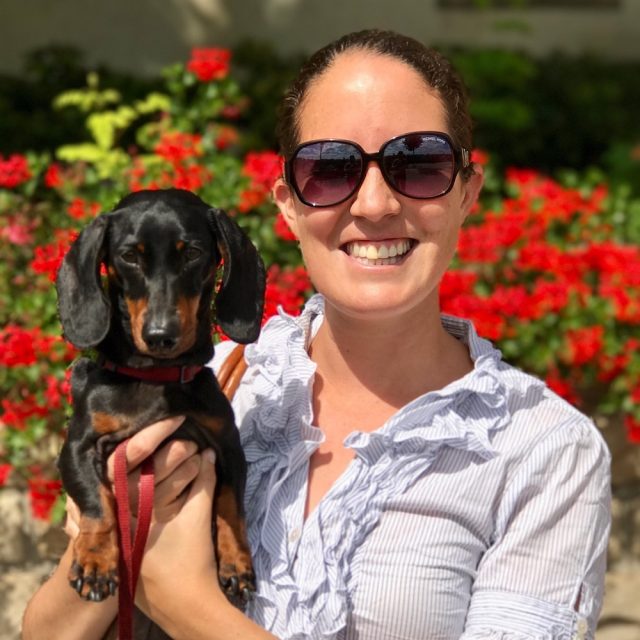 Shandos Cleaver is the founder of Travelnuity: Dog-Friendly Travel. She has travelled extensively with her Miniature Dachshund, Schnitzel, including to 33 countries across Europe, every state and territory of Australia except Tasmania, and 10 of the United States. She's passionate about providing inspiration and information to others wanting to travel with their dogs, whether close to home or internationally.
Inspired? Pin this to your Pinterest board!