The Yarra Valley is a beautiful wine-growing region just outside of Melbourne. And a visit to the area doesn't mean that you need to leave your dog behind. I share with you my tips on the best dog-friendly options in the Yarra Valley.
Dog-Friendly Wineries
It's not a visit to the Yarra Valley without a stop at a winery or two or more… And luckily many of the wineries welcome well-behaved dogs to join you in the tasting room.
During our visit to the Yarra Valley we visited the following dog-friendly wineries:
1. Helen's Hill
Helen's Hill is a boutique family winery with a long list of wines to taste across two labels: the Helen's Hill label and the more affordable Ingram Road range. You'll certainly find plenty of wines to taste no matter what your palette, with the Breachley Block Chardonnay being my personal favourite.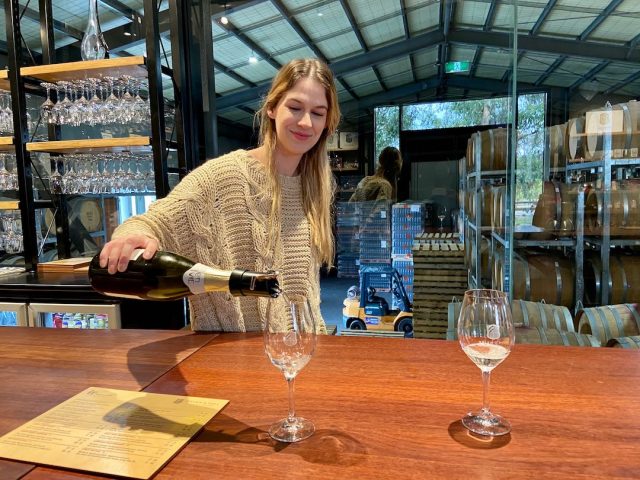 2. Helen & Joey's Estate
Helen & Joey's cellar door has one of the most gorgeous vistas in the valley from its large outdoor deck. Choose between tasting their multiple wine ranges inside or out on the deck accompanied by the view. Either way, don't miss out on saying hello to their resident unicorn!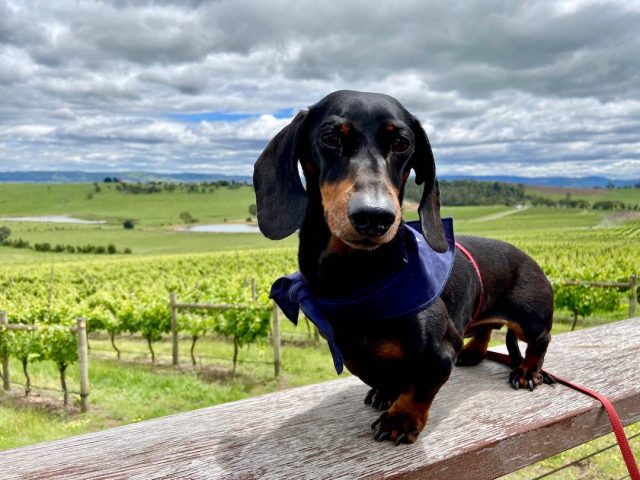 3. Yering Farm Wines
The cellar door at Yering Farm Wines is quintessentially Australian. With the farm originally a vineyard in the 19th century, the cellar door is a resurrected hay shed full of rustic charm. The wines on offer include multiple chardonnays and cabernet sauvignons. Don't also miss out on sampling their Farmyard Apple Syder, made from farm's own apples.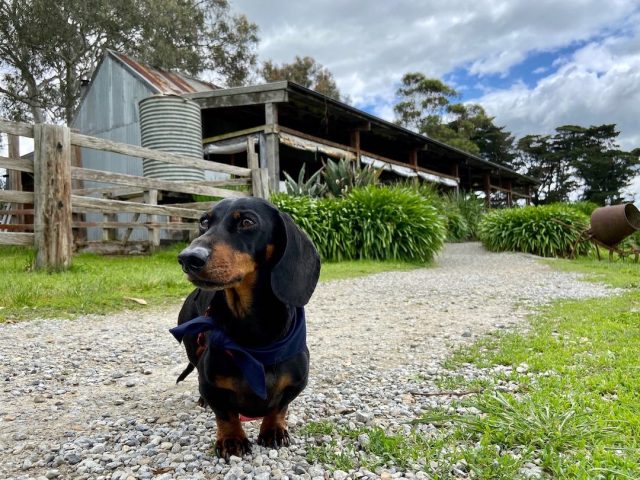 4. Maddens Rise
Stepping inside the small cellar door of Maddens Rise everything has been meticulously executed with an eye to quality. With all grapes hand-picked and fermented in small batches, the range of wines is smaller than elsewhere, but carefully curated. Their Arcobaleno blend (Italian for rainbow) features many white varietals you won't find anywhere else in the valley.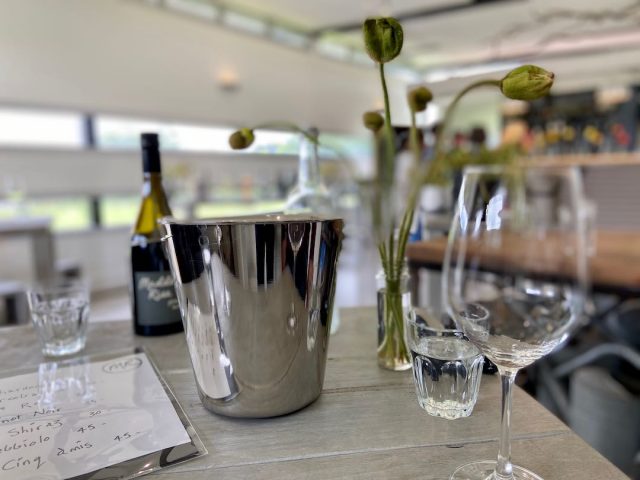 5. Payten & Jones
Both the wines and the cellar door for Payten & Jones are big on personality. The wines are "both dirty and delicious with a little soul left in", and their cellar door in Healesville is also a wine bar, staying open later on Fridays and Saturdays. The courtyard is the perfect spot to sit in the sunshine at the end of a day of wine tasting.
Sometimes rules can change, so I always recommend checking before entering (or in advance) whether the wineries that you wish to visit are still dog-friendly.
Two other tips: try to visit during a quieter period (such as our mid-week visit) than on a busy weekend when paws can be stepped on. Plus make sure your dog doesn't disturb other visitors, although you'll probably have plenty of requests for pats!
Dog-Friendly Breweries & Distilleries
Wineries aren't the only dog-friendly places to taste a tipple in the Yarra Valley. There's also a number of breweries and distelleries that will welcome your pup.
In between visiting wineries, we also visited Watts River Brewery in Healesville. All their beers are brewed right on site. Tasting is possible of both their standard range, plus their many special brews that frequently change.
Meanwhile, on the other side of Healesville is the boutique Four Pillars Gin distillery, which is also dog-friendly.
Take a Wine Tour with Your Dog!
Taking a self-guided wine tour can be a hassle, particularly as someone needs to be the designated driver and abstain from more than a brief tasting or two. And if you're bringing along your dog, there's even more work required.
Luckily then there's a fabulous company in the Yarra Valley who will take you and your dogs along on a winery tour: Pooches and Pinot.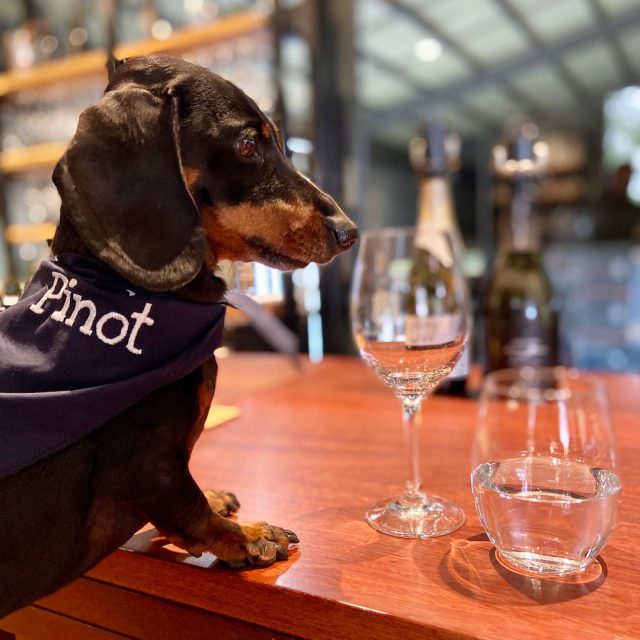 Jeff and Helen who run Pooches and Pinot know all the dog-friendly options in the valley. They'll organise your itinerary for you (after asking after your tastes and requests), and then drive you around the valley in style in one of their fabulous vans.
We were picked up by Jeff at 10am at our accommodation in their new Mercedes Benz van, with room for six to sit in the back facing each other. Up to two dogs can be accommodated on each tour (as long as they're already pals), either on beds in the back or in between the seats if there's room. Naturally Schnitzel insisted on sitting at our feet all the way.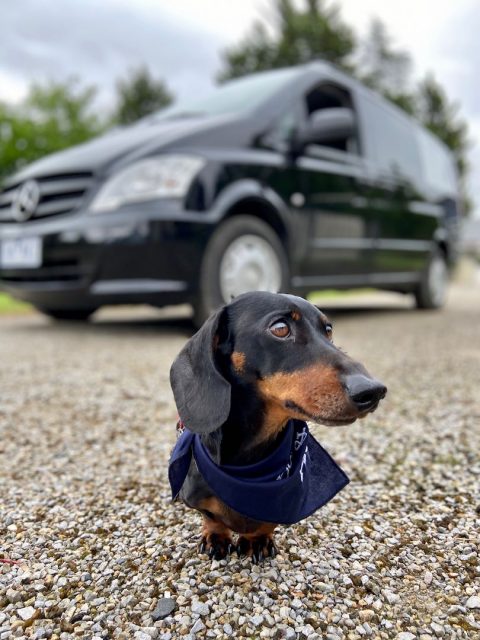 While we were guided through our tastings at different wineries (plus beer tasting at Watts River Brewery), Jeff made sure we were well looked after, plus that Schnitzel's needs were not ignored while we were distracted, occasionally taking him outside for a walk and gourmet treats. It's the VIP touches like these that make this into a fabulous day out for both yourself and your pups.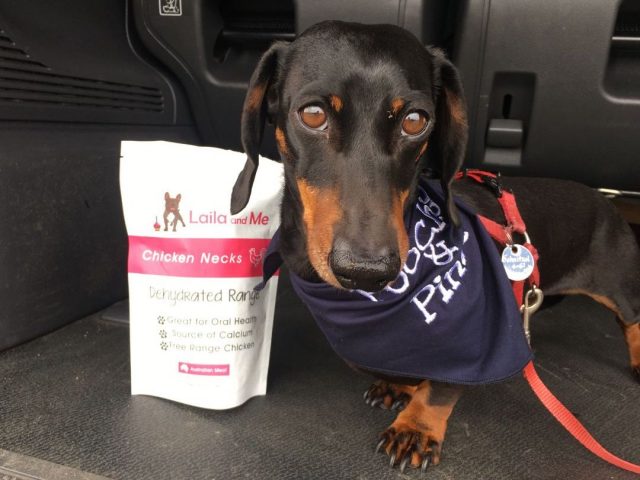 Pooches and Pinot offer Full Day, Half Day (either morning or afternoon) and the 'Dog's Bullocks' tour options. Full Day tours also include lunch at a pet-friendly cafe, while the 'Dog's Bollocks' tour upgrades this to a winery lunch – highly recommended for the full Yarra Valley experience! Prices vary depending on the number of guests (but not dogs). If you aren't able to bring along your own dog, you can also borrow a puppy for a day.
A Pooches and Pinot tour is the perfect way to have an indulgent day out in the Yarra Valley with your dog, perhaps to celebrate a special occasion or just to pamper your dog.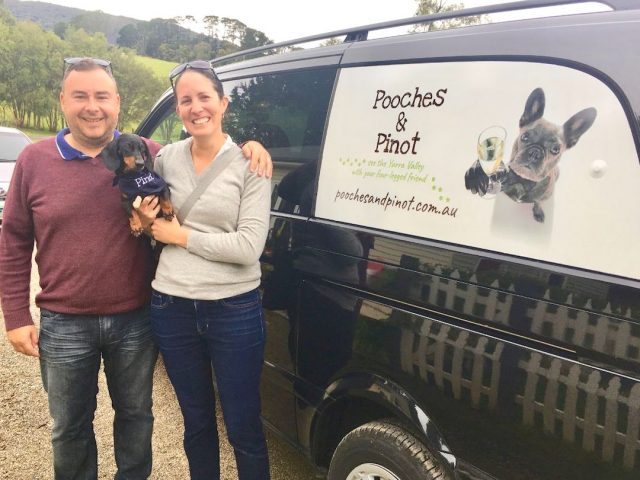 Dog-Friendly Accommodation in the Yarra Valley
After a full day of wine tasting in the Yarra Valley, it would be a pity to head back to the big smoke… Instead, stay for at least on night on a property nestled in the valley, where you can continue to enjoy the beautiful country scenery and perhaps additional tastings of your purchases from the day.
We choose to stay the night after our winery tour at Wiggley Bottom Farm. Wiggley Bottom is the perfect luxury farmstay for anyone travelling with a dog (plus those without!) The farm has been set up with doggie guests in mind, and there is no additional charge for the first dog guest in each party.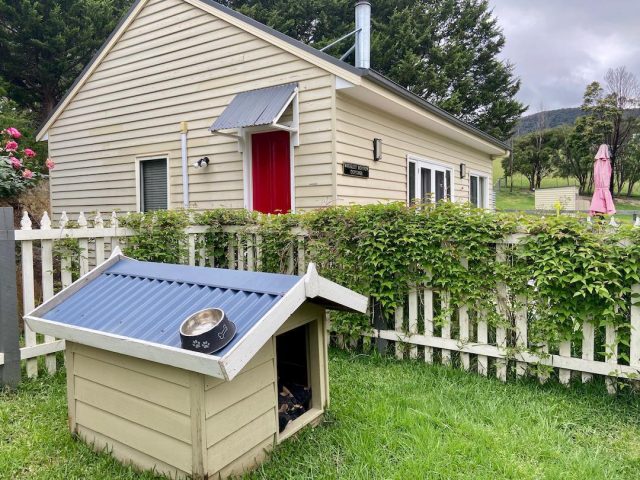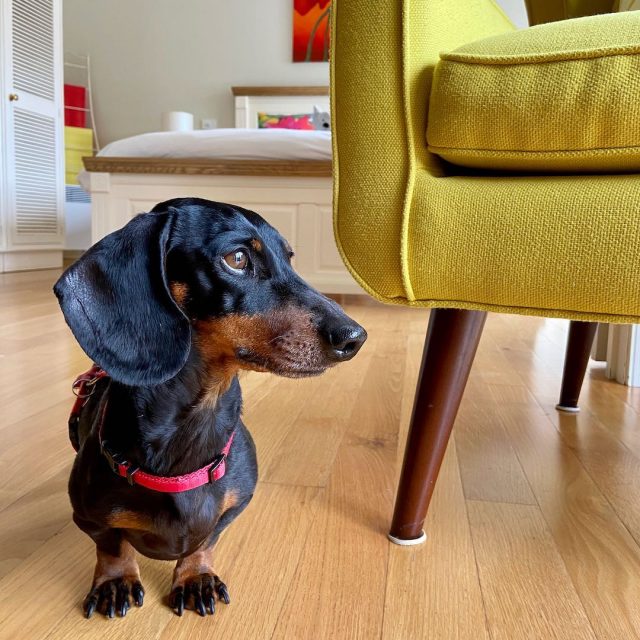 Multiple accommodation options are available on the property, less than 10 minutes from Healesville. We stayed the night in the Cottage, a great option for couples as it's quite private, not to mention the beautiful vistas from both inside and out on the patio. There's also the Apartment in the main farm building or the House, large enough for two couples. Plus there's the option to rent out the entire property for larger groups.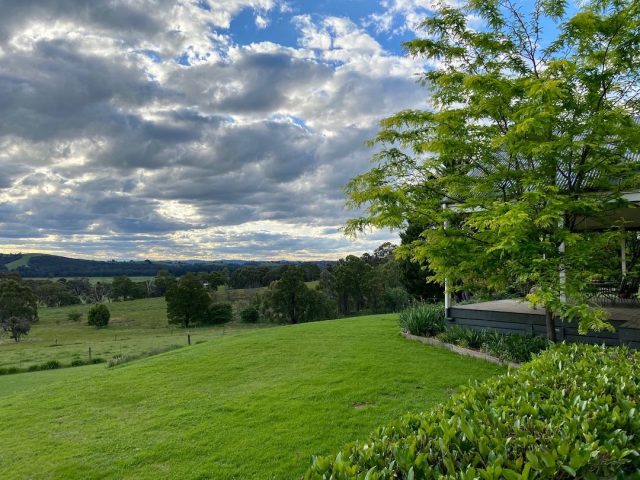 Each of the options has outdoor spaces for your dog to roam in, plus dogs are of course permitted inside. The Cottage has a fully-fenced outdoor kennel, great for if your dog isn't fond of sleeping indoors or if you're heading out for awhile without your dog. There are also fenced areas for enjoying a run in the country.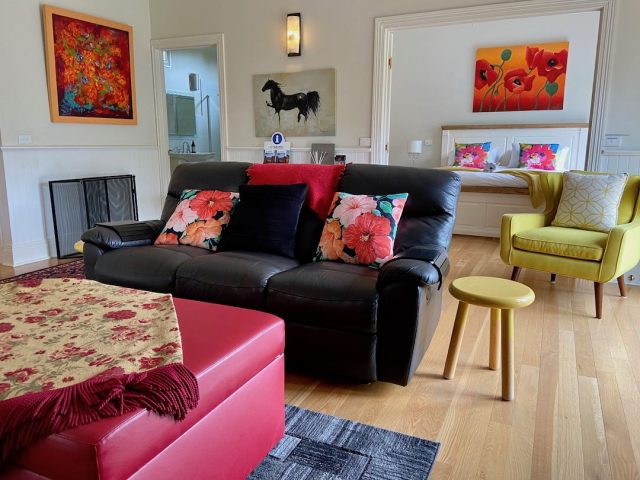 The whole property is stylishly decorated and all modcons are included, including a kitchen to prepare dinner or breakfast, and naturally a coffee machine. For winter stays there's wood-fired or gas-fire heaters, while there's also reverse cycle air-conditioning.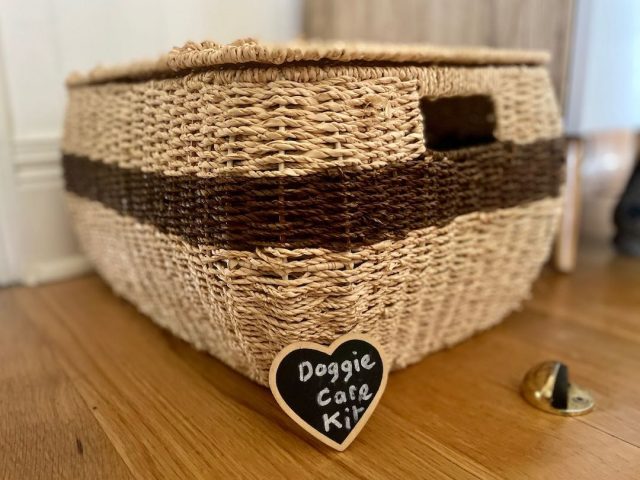 Our Schnitzel loved the treats from the dawgs treat jar (placed right next to the humans treat jar), plus there was a doggie care kit for anything we may have forgotten. Just one request from the owners – dogs should be kept off the furniture and out of the bedrooms.
Check out the latest dog-friendly special offer from Wiggley Bottom Farm: a 2-night mid week stay, including a tour from Pooches and Pinot and more!
Dog-Friendly Dining in the Yarra Valley
There's no shortage of amazing food options to try in the Yarra Valley, including many that welcome dogs in their outdoor dining spaces.
While out wine tasting for the day, many wineries offer a menu of food options. At Yering Farm Wines we enjoyed a delicious Pruner's platter lunch, complete with our favourite glass of wine each from our tasting.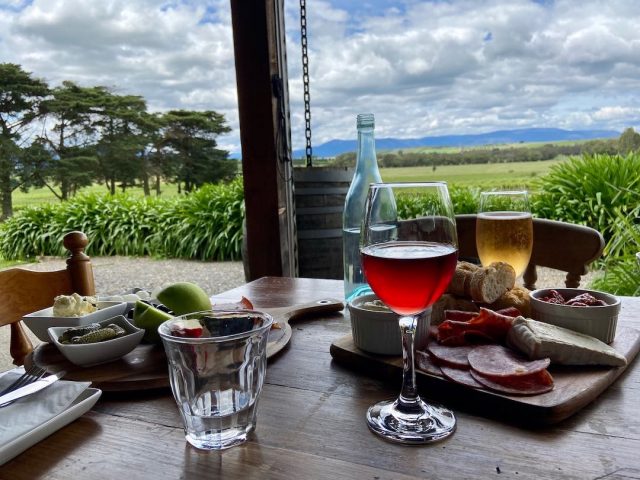 With an array of cheese, meats and more, if was a great accompaniment to a relaxing interlude gazing out over the vines, Schnitzel at our feet. Helen's Hill is also another winery that offers a menu of food options, including platters, mainly on weekends.
Alternatively, head to My Little Kitchen in Healesville. Open for both breakfast and lunch 7 days a week, the cafe offers up a menu full of inventive takes on brunch favourites, complete with beautiful presentation.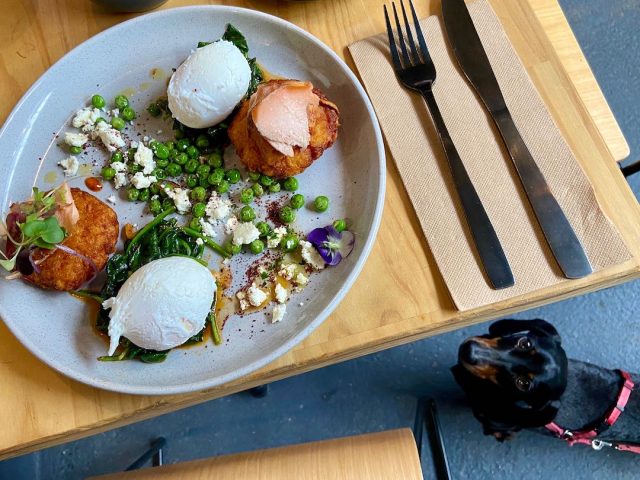 It was a hard choice to make, but I ordered the house smoked salmon with poached eggs, potato hash, minted peas and spinach. Other tempting options include their take on avocado on toast, complete with roasted baby beets and hazelnut crumb, along with the buttermilk waffles with lavender poached pairs.
There're also some more substantial options such as the chargrilled grass fed sirloin. Coffee is Toby's Estate Brunswick Blend, plus a rotation of Single Origin beans.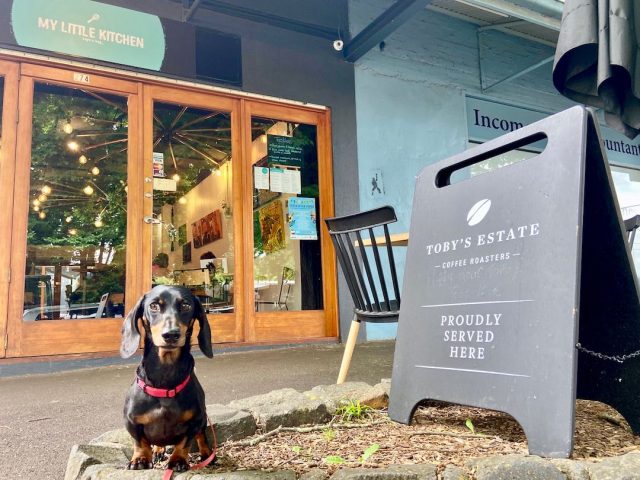 If you're dining with a dog, head right through to the dog-friendly courtyard out the back. Completely covered and with some handy heaters for chilly winter days, there's plenty of room for your dog to sit alongside you in comfort.
Note: The author received media rates on a package including a Pinot and Pooches tour, stay at Wiggley Bottom Farm and breakfast at My Little Kitchen. However, all opinions are entirely her own.
Inspired? Pin this to your Pinterest board!