Looking for a fun day out with your dog around Melbourne? No matter if you'd prefer to head to the beaches or the mountains, stay close to the city or head out on a road trip, I've got plenty of ideas for dog-friendly day trips all around Melbourne, all within a 2 hour drive of the city centre. Which one of these fun ideas will you next tick off with your pup?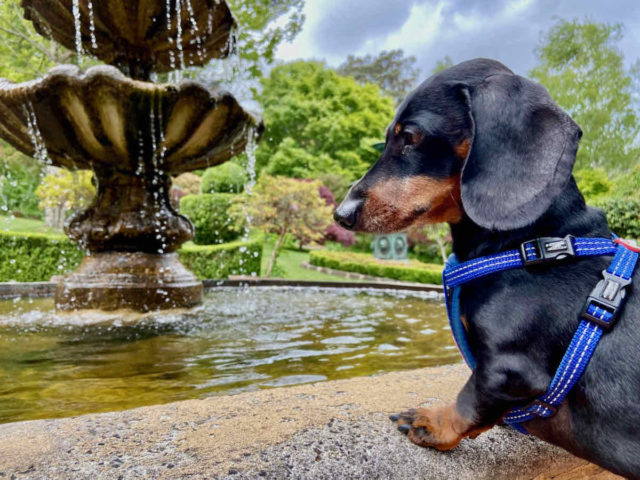 1. Explore Melbourne's Street Art
Melbourne is deservedly world famous for its street art. And spending a few hours exploring it on foot is actually a fabulous activity to do with your pup. Unlike art galleries, there's no rules against pets walking down laneways!
The most well-known destination for street art in Melbourne is Hosier Lane in the city centre, not far from Federation Square. I also highly recommend the nearby ACDC Lane and Duckboard Place, which are generally less crowded. Combine a wander on foot with your dog with a visit to a dog-friendly cafe, whether in one of the city laneways or along the banks of the Yarra.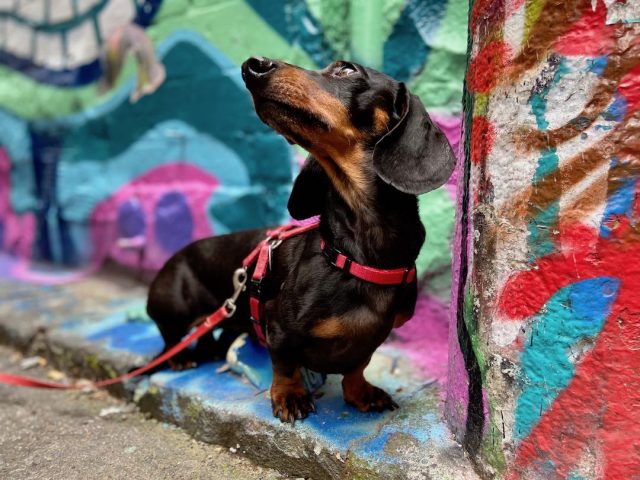 If you'd prefer to not head all the way into the city centre, there's also lots of great examples in other inner city suburbs, ideal for combining with brunch at a cafe or a drink at a local pet-friendly pub.
Find out more about staying in the Melbourne CBD with your dog
2. Go Hiking in the You Yangs
If you'd prefer a walk amongst nature rather than gritty alleyways, one of the best destinations to head to just outside of Melbourne is the You Yangs Regional Park. Located less than an hour from the centre of Melbourne, this regional park welcomes dogs to join you, as long as they stay on a leash.
The You Yangs were named after the local Aboriginal word for "big mountain in the middle of the plain". The most popular walking track in the park heads to the summit of Flinders Peak. From the top of this granite outcrop there's superb views back towards Melbourne and across the Bellarine Peninsula. The 3.5km return walk takes about an hour to complete, with lots of steps along the way.
There's also a variety of both shorter and longer walks, including some flatter options. One easier option is the 800m circuit around Big Rock. Don't also miss the short walk to the top of this granite outcrop, just a 100m stroll from the carpark. There's also plenty of picnic areas in the park.
3. Enjoy a Pugichino and Treats at Miss Drew's
A cute destination to visit on a weekend day trip from Melbourne, that your pup will simply love, is Miss Drew's Bakery and Dog Cafe on the Mornington Peninsula. Located behind the Tyabb Packing House and surrounded by antique shops, the dog cafe is open on Saturdays and Sundays. (It's best to double check the opening hours in advance.)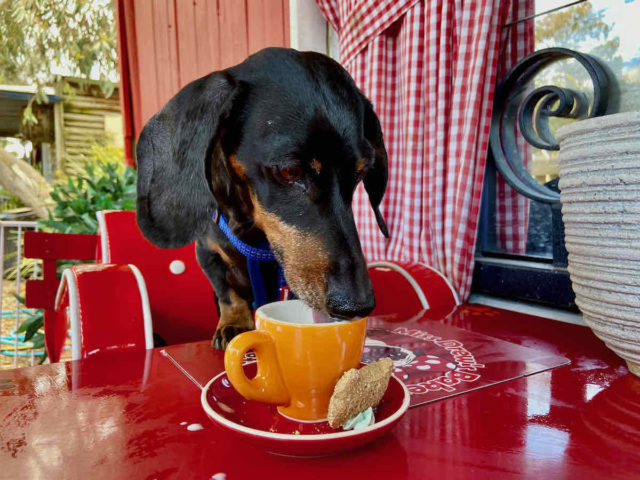 On the menu are a range of treats for your dog, from pugichinos to muffins and cookies. Perhaps order one of their meal deals for your dog and enjoy it at one of the many tables. There's also a shop selling treats and toys, and the option to order dog birthday cakes.
While there aren't any human options on the menu, instead step across the path to the Rattling Red Cafe opposite and grab your own takeaway coffee.
4. Spend the Day at St Kilda
St Kilda has long been a popular day trip destination in Melbourne, and it's also a terrific destination to visit with your pup. While your dog won't be allowed on the rides at Luna Park amusement park, instead take a walk along the pier (where dogs are allowed on a leash) and enjoy the surrounding beaches.
The closest dog-friendly beach at St Kilda is on the western side of the pier, near Pier Road until the draining channel. Here dogs are allowed off-leash all day long, year round. To the eastern side of the pier dogs are only allowed on the sand during winter. Dogs are also allowed year round on the sand at St Kilda West, except for the sensitive dune area, plus in between Brooks Jetty and the northern end of the St Kilda Marina car park.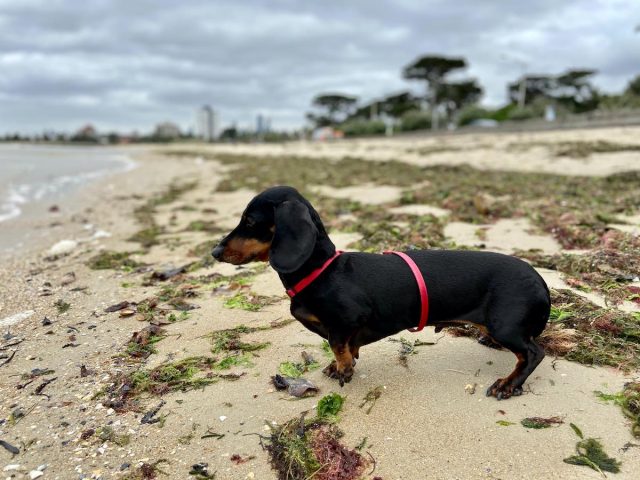 If you visit St Kilda on a Sunday, make sure you check out the market stalls along the Esplanade. Plus make sure you detour over to Grey Street and visit Chez Misty. This French creperie has a whole menu of crepes and puppyccinos just for dogs, as well as savoury galettes and sweet crepes for humans. Out the back are couches for canines, while there is also an indoor off-leash relaxing room.
5. Enjoy Paddle & Brunch at St Kilda
Chez Misty isn't just a dog-friendly creperie, they also offer Paddle and Brunch events for adventurous pups. You'll first of all enjoy a 1-hour Stand Up Paddleboard session with your pup, then breakfast together back at Chez Misty.
Over the 2022-23 summer, Paddle and Brunch ran on multiple days per month, a mixture of Saturdays and weekdays. Keep an eye out for the 2023-24 calendar. Groups are kept to a small size of four humans and dogs, plus life jackets are included and a SUP lesson from Karen from SUPs for PUPs. Naturally, plenty of photos are also taken!
Want more opportunities to learn paddleboarding with you pup? Check out the wide variety of lessons offered by SUPS for Pups, both at Bayside and the Mornington Peninsula. They even offer dog swimming lessons for less confident pups!
6. Go Punting in the Botanic Gardens
A wonderful dog-friendly destination in the centre of Melbourne are the Royal Botanic Gardens Victoria – Melbourne Gardens. Leashed dogs are welcome to join you for a stroll around the gardens, whether around the ornamental lake, through the fern gully or past the "volcano".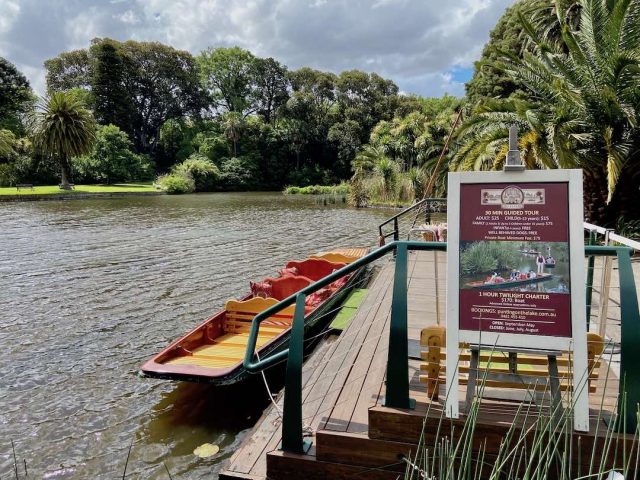 Another highlight of a visit to the Botanic Gardens is enjoying a punt on the lake. Private guided punt tours generally last 30-minutes, and run between September and May. The punts can hold up to six passengers, and well-behaved dogs can join you for free. There's even an Instagram account devoted to the dogs on the punt tours!
It's best to book in advance, at least during holiday periods. The punts depart from the landing in front of the Terrace Cafe.
7. Head to Altona Dog Beach
Another popular dog-friendly beach in Melbourne is Altona Dog Beach, just west of the city and Williamstown.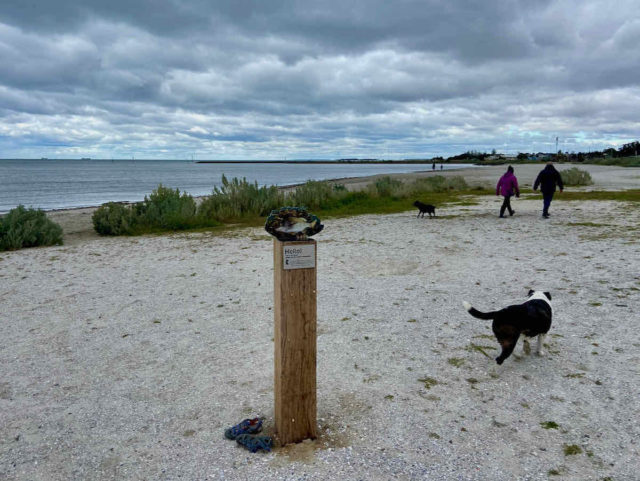 Dogs are allowed off-leash all day long, year round, both on the beach and in the adjacent fenced PA Burns Reserve off-leash park. However, dogs need to be on leash in the carpark area and on the paths to the beach, plus stay completely out of the conservation areas.
It's best to visit at low tide, when it's possible to wade with your dog a long way off-shore. Afterwards, make use of the dog wash-down area next to the carpark, with multiple spraying taps at different heights for all sizes of dogs.
For more dog-friendly beaches, check out my selection of the best dog-friendly beaches in Victoria
8. Explore Yarra Bend Park
Yarra Bend Park is only 4km northeast of Melbourne's CBD, but is home to the largest area of natural bushland left in the inner suburbs of Melbourne. The park is situated on both banks of the Yarra River, which takes a meandering 12km path through the park.
There's a wide variety of walks on offer in the park, from the 850m-long Bushland Circuit Trail to the 9.5km-long combined Dights Falls Trail and Westfield Extension. For a listing, download the visitor guide from the website. There's also multiple picnic areas.
Dogs are permitted in most areas of Yarra Bend Park, although there are some areas where they are excluded. There are also a number of off-leash areas – check the signage, and make sure you always carry a leash. The best spot for a doggie swim in the river is just below Deep rock.
Interested in taking your pup out on the river? Head to the Fairfield Boathouse, where you can rent boats, canoes and kayaks, and bring along your pup. The outdoor tables at the tea rooms are also dog-friendly.
9. Stroll Around Lake Daylesford
Daylesford is a popular weekend destination from Melbourne, but it's also close enough for a day trip, with the drive from the centre of Melbourne taking about 80 minutes. Renowned for its mineral springs and fine dining, the top dog-friendly activity in Daylesford is taking a stroll around Lake Daylesford.
It takes about an hour to complete the full circuit around the lake, which is largely flat and just under 3km long. There's multiple carpark options along the way, at Foreshore, Fulcher Street and Wombat Flat, or else it's an easy walk from the centre of town. Note that dogs need to be kept on a leash.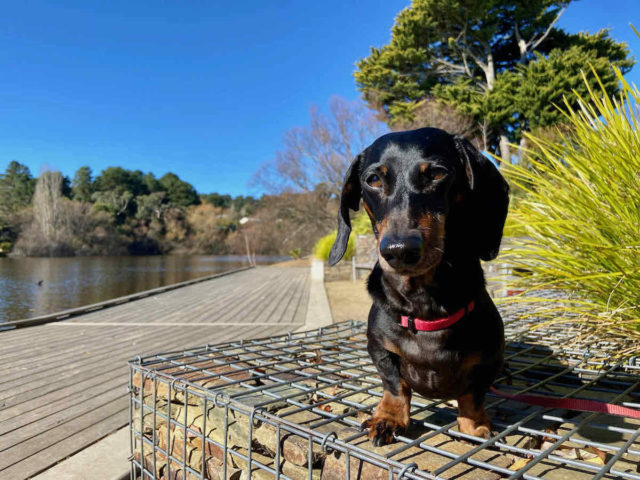 Along the way, stop and sample some of the local spring water. Take a short detour down to Central Springs Reserve, where there's an historic hand pump you can use to fill up your bottle, or stop at the Wombat Flat Mineral Spring.
Find out more about taking a dog-friendly getaway to Daylesford
10. Go Picnicking at Hanging Rock
Just over an hour north of Melbourne is Hanging Rock, made famous by the novel and subsequent film, "Picnic at Hanging Rock".
The reserve contains large picnic grounds, perfect for a picnic with your pup. There's also multiple walking tracks, including the popular walk to the summit of Picnic Rock. Note however that dogs are not allowed to ascend to the rock itself on the Summit Walk, so stick to the lower parts of the walk or instead follow the 1.8km-long Base Walk or the 2.3km-long Creek Walk.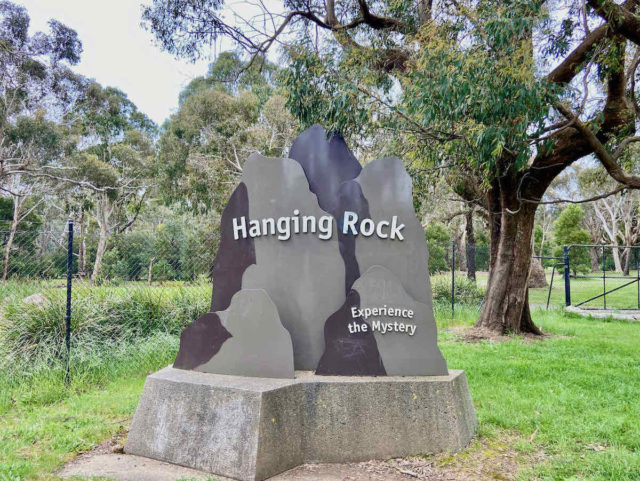 Note that the reserve charges an entry fee, either per vehicle or per individual if you enter on foot. Pets are not allowed on major event days, otherwise they simply need to stay on a leash.
11. Or Climb to Camel's Hump
Another park with dog-friendly walking trails close to Hanging Rock is the Macedon Regional Park, situated just to the south and containing the forested heights of the Macedon Ranges. There's a wide variety of walking trails in the park, from the 200m stroll to Memorial Cross from next to the tea rooms to the 30km loop track that links all the major sites in the park.
One of the best short dog-friendly walks is the short hike up to Camels Hump, the highest point in the Macedon Ranges. It's a moderate hike through bushland with beautiful views from the lookout at the summit, across to Hanging Rock and the surrounding countryside. However, it's only 1km, so can easily be completed in 20-30 minutes.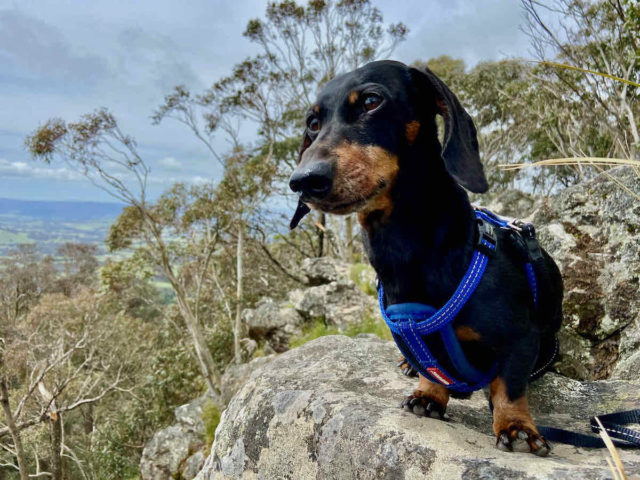 Before or after, enjoy a picnic with your dog in one of the many picnic grounds, or explore the other dog-friendly attractions of the Macedon Ranges. Make sure you keep your dog on a leash in the park.
12. Ride an Historic Train
There's multiple historic train rides located not that far from Melbourne where you can enjoy a ride with your dog.
Probably the closest option to Melbourne is Puffing Billy in the Dandenong Ranges, departing from Emerald Station, just over an hour east of Melbourne. However, dogs are only permitted on board the Puffing Billy Dog Express that runs one or two days a month and quickly sells out.
Alternatively, head north to Castlemaine and ride on the Victoria Goldfields Railway, taking the 45 minute journey to the historic village of Maldon. Dogs are permitted on the Excursion Class carriages, at the discretion of the Station Master, but not the First Class carriages.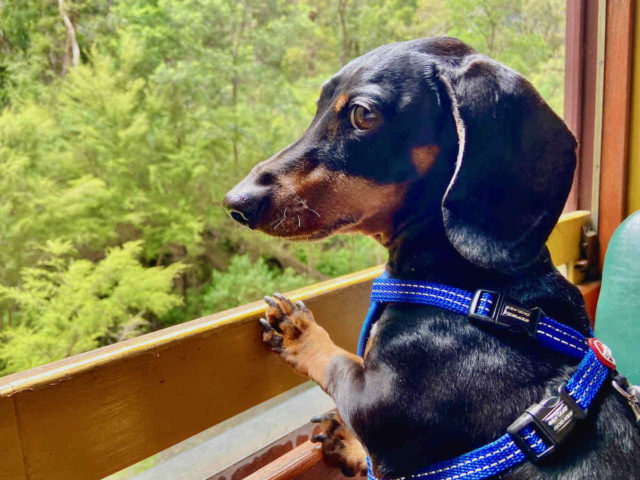 Finally, Walhalla is about 2.5 hours drive east of Melbourne, but well worth the longer drive. The historic gold mining town is home to the Walhalla Goldfields Railway, with trains running on Wednesdays, weekends, public holidays and school holidays. It's a scenic 4km ride through a narrow gorge each direction.
For more information, see my guide to dog-friendly historic train rides in Australia.
13. Go Underground at Walhalla
While Walhalla is closer to 2.5 hours drive from the centre of Melbourne, like I mentioned above, it's well worth the slightly longer road trip, as the historic train rides aren't the only dog-friendly attraction in this historic gold mining town.
Well-behaved dogs are also welcome to join you on the underground tour of the Long Tunnel Extended Gold Mine. Once one of the highest producing gold mines in Australia, these days you can take a 45-minute tour through the original workings, hearing fascinating stories from your guide along the way. Tours run daily, with a single tour on most weekdays but multiple tours on weekends, public holidays and during school holidays.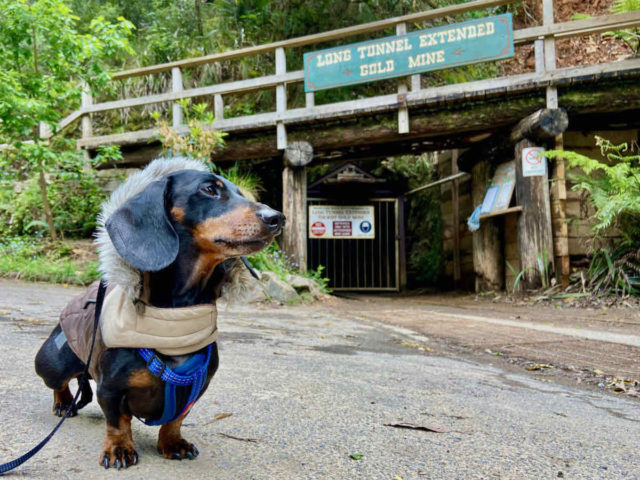 It's also worthwhile taking a wander through the historic town centre of Walhalla, reading the many signs explaining the town's history. If you have time, follow the Tramline Walkway with your pup, which starts opposite the old post office, then runs for 700m to the entrance of the Long Tunnel Extended Gold Mine.
Find out more about visiting Walhalla with a dog
14. Visit McClelland's Sculpture Park
For an arty dog-friendly experience on the edge of Melbourne, head to McClelland's Sculpture Park near Frankston. While dogs are not allowed inside the galleries also located on the site, leashed dogs are welcome to join you for a stroll around the sculpture park.
The sculpture park is surprisingly large, with nearly 100 sculptures installed in the bushland setting. Make sure you pick up one of the brochures with maps, so that you explore the far reaches of the site, as well as the large kinetic sculptures on the front lawn. For more information, download one of the free audio guided tours.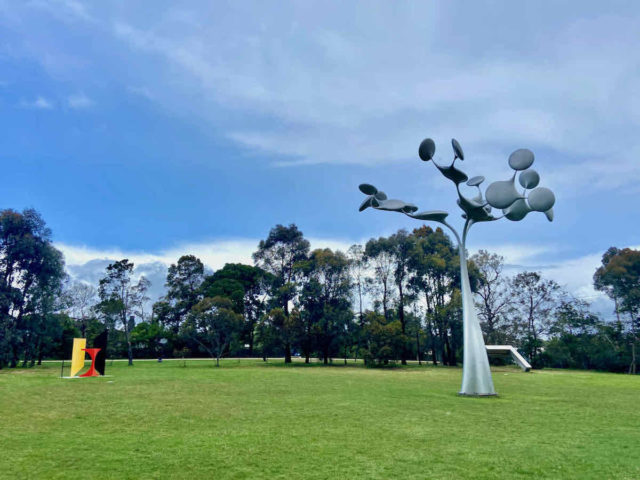 Note that there is a small admission charge, which covers both the sculpture park and the galleries. There's a small cafe onsite, as well as plenty of room to enjoy a picnic.
15. Go Leash-Free at the Briars Community Forest
If you keep on driving past Frankston, you'll arrive at the Mornington Peninsula proper. While I didn't find this popular weekend destination on the edge of Melbourne that dog-friendly (most of the beaches don't allow dogs, especially during summer), it is home to a superb off-leash dog park.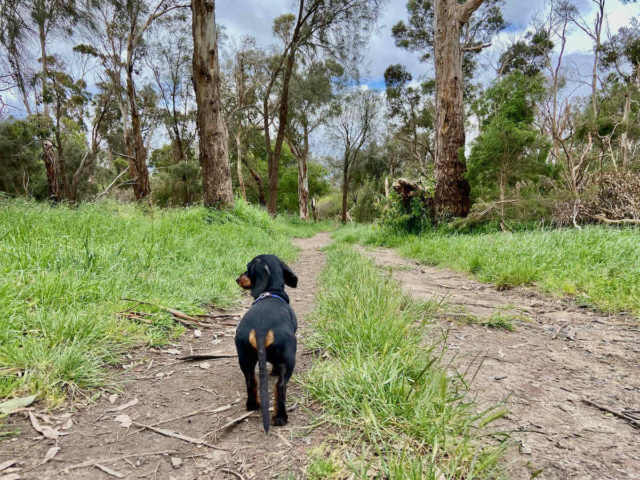 The Briars Community Forest takes off-leash dog walking in a fenced area to the next level, and is a must-visit for dogs on the Peninsula. This huge bushland reserve on the edge of Mount Martha is entirely fenced and contains multiple walking tracks, even a creek swimming spot. Perhaps head here after a visit to Miss Drew's Bakery and Dog Cafe (see #3)?
The best spot to park is on the Nepean Highway opposite Balcombe Grammar School, where there's a rough car park, rubbish bin and a double-gated entrance. Search for the "Community Forest Fenced Dog Park" pin on Google Maps.
Find out more about dog-friendly attractions on the Mornington Peninsula
16. Stroll Along the Geelong Foreshore
It's an easy 80-minute drive the opposite direction from Melbourne to Geelong. While Geelong is often overlooked in favour of the Great Ocean Road that starts just past it, it is home to a beautiful waterfront that makes for a great dog-friendly stroll.
From the visitor information centre at the Carousel, it's a flat 950m walk to Eastern Beach. Dogs are allowed on the sand and in the water at Eastern Beach, as long as they are kept on a leash. Along the way, perhaps detour onto the recently opened Wangim Walk. This 440m-long Wave Attenuator partially enclosing the yacht club is a chance to walk on water!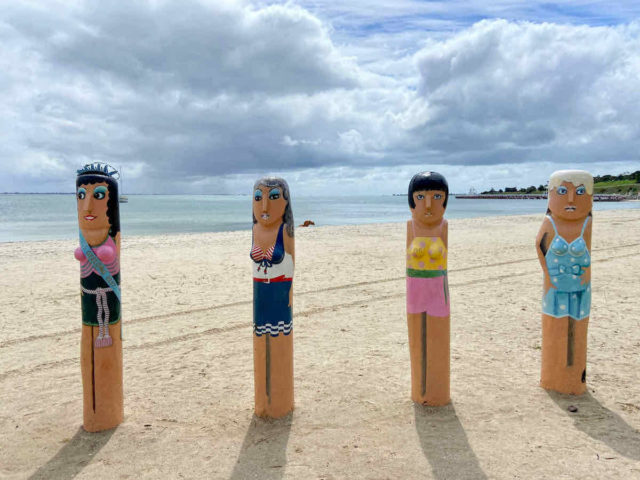 Just past Eastern Beach are the Geelong Botanic Gardens, located in the larger Eastern Park. Dogs are welcome in the gardens, as long as they are kept on a leash, including at the outdoor tables at the small tea house. The gardens are home to many heritage-listed trees and avenues, as well as a new 21st Century Garden.
All over Geelong, don't miss spotting the colourfully decorated bollards, with over 100 installed in between Limeburners Point and Rippleside Park.
17. Head to Fisherman's Beach in Torquay
While leashed dogs are allowed on Eastern Beach in Geelong all year round, during much of the year it's worthwhile driving a little further past Geelong to Fishermans Beach in Torquay, for a fabulous beach day trip with your dog.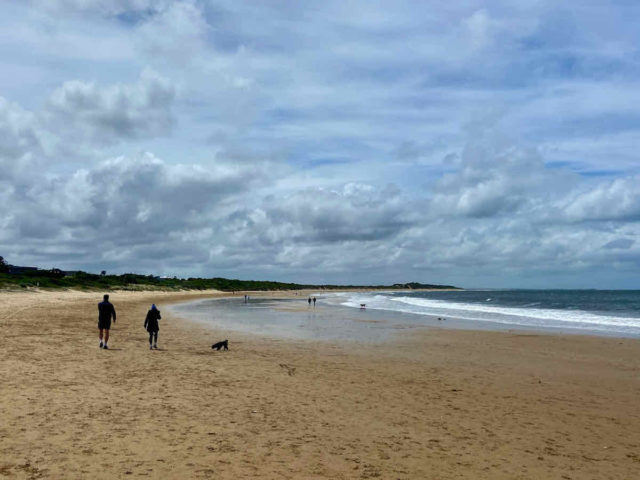 Between December and February, plus over Easter, dogs are only allowed on the beach before 9am and after 7pm. However, during the rest of the year dogs are allowed all day long on this wonderful ocean-facing beach.
The beach is large enough for a beach stroll, plus for your pup to enjoy a doggie paddle with plenty of space. Before or after, drop into the Salty Dog Cafe located right next to the beach access track. This cafe is very popular with dog owners, with dogs welcome at the outdoor tables and plenty of water bowls on hand.
18. Visit Forest Glade Gardens
During the Autumn months, Mount Macedon is a popular destination for viewing its colourful Autumn leaves and enjoying its cooler climate. However, Mount Macedon is also worthwhile to visit anytime of year with your dog, thanks to the dog-friendly Forest Glade Gardens.
These privately owned gardens are open daily and were gorgeous on the late spring day that we visited. Allow an hour or more to stroll around the many gardens, including the Japanese-style gardens that are a particular highlight.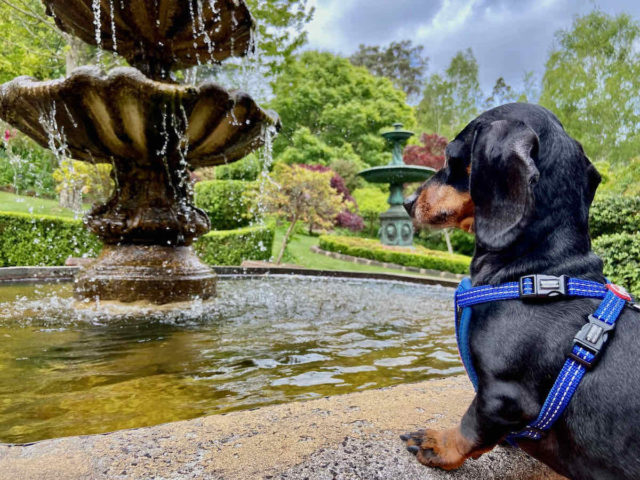 Make sure you bring cash for the entry fee, plus also respect the owners of the property, keeping your dog on a leash and cleaning up after it. Car parking is on the side of Mount Macedon Road and can be difficult on busy days.
19. Hike to Toorongo and Amphitheatre Falls
About a two-hour drive east of Melbourne is the Toorongo Falls Reserve at Noojee. While dogs aren't allowed in the Yarra Ranges National Park to the north, dogs are allowed at Tooroongo Falls Reserve (including off-leash, as long as they are under effective control).
The highlight of a visit to the reserve is the Toorongo Falls Circuit Walk, that visits the viewing platforms for the close-by Toorongo Falls and the more distant Ampthitheatre Falls. The entire track is 2.2km long and takes about an hour, passing through beautiful rainforest.
While the dog-friendly falls are best viewed after periods of rain, note that the track can get muddy and slippery underfoot, so make sure you pack a towel to clean off your pup.
20. Go Wine Tasting in the Yarra Valley
There's multiple superb wine regions on the doorstep of Melbourne, but one of the best and the most dog-friendly is the Yarra Valley, the oldest wine region in Victoria.
It's just over an hour's drive to the Yarra Valley, with most vineyards scattered around the towns of Coldstream, Healesville and Yarra Glen. Many of the cellar doors are open daily, and also welcome well-behaved dogs to join you, either outside or even inside.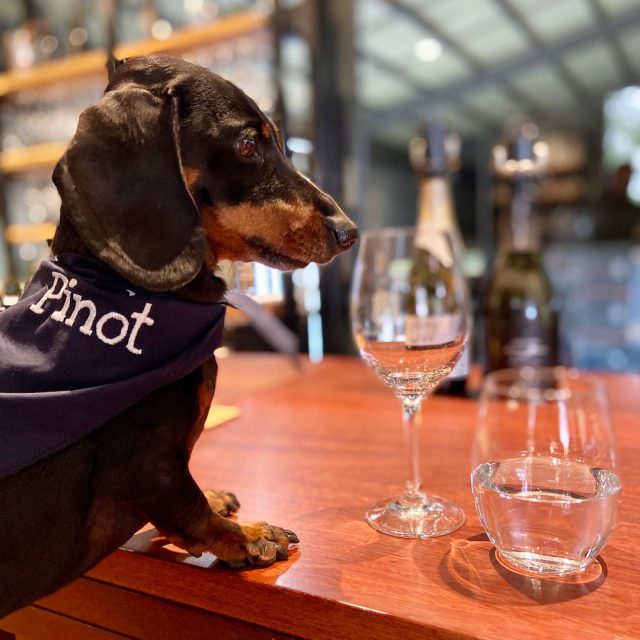 To take the hassle out of organising a wine tasting tour, I recommend booking a dog-friendly private winery tour with a company such as Pooches and Pinot. They can organise an itinerary for you, taking into account your tastes and recommending the best dog-friendly wineries, with both half-day and full-day options available.
Find out more about visiting the Yarra Valley with a dog
21. Or Take a Dog-Friendly Winery Bus Tour
Another option for a dog-friendly day tour where you don't need to drive are the Gourmet Pawprints Tours on Bella the Dog Welcoming Bus.
Gourmet Pawprints operates tours to multiple wine regions, including the Mornington Peninsula, and the Yarra Valley. They also operate an increasing variety of other tours, from city exploration tours to picnic days out. Check out the latest calendar.
On each tour, there is a charge per human, plus a small charge per dog – up to $25. On board the bus are dog seat belts, seat covers and blankets, plus facilitated dog socialisation before boarding. On winery tours, dogs will also enjoy their own treats, water and a movie over lunch.
22. Explore the Ruins of Maldon
It's an easy 1hr 40 minute drive from central Melbourne to the former gold mining village of Maldon. Australia's First Notable Town, after being classified by the National Trust in 1966, it's a great destination for a dog-friendly day trip.
Take a wander through the main street of the historic town, which is largely unchanged since the 19th-century. There's plenty of small boutiques and cafes that line the main street. Many of the cafes have dog-friendly tables out the front, or else the beer garden at the Maldon Hotel is pet-friendly.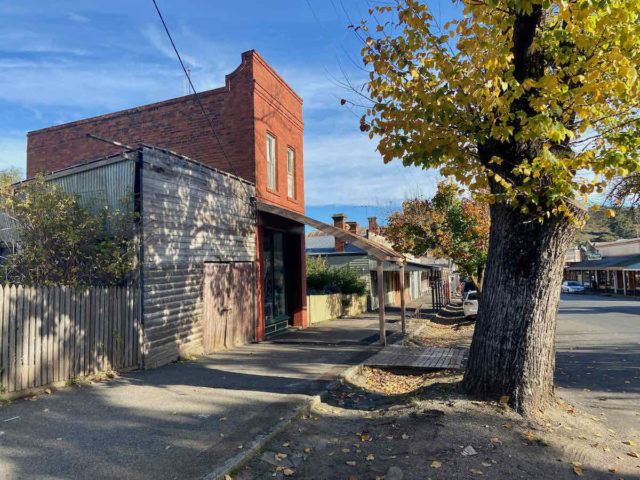 Don't also miss exploring the gold ruins adjacent to the township, within the Maldon Historic Reserve, including around the Beehive Mine Chimney immediately to the north. Make sure you pick up a brochure with a map in town. It's also possible to visit Maldon on the pet-friendly Victorian Goldfield Railways departing Castlemaine (see #12).
23. Visit a Former Gold Mine in Bendigo
Maldon isn't the only dog-friendly gold mining town in central Victoria, with the city of Bendigo a superb dog-friendly destination and under 2 hours drive from Melbourne. Along with the dog-friendly Vintage Talking Trams, one of the highlights of a visit to Bendigo is visiting the Central Deborah Gold Mine.
While dogs are not surprisingly not permitted on the underground mine tours, they're welcome to join you on leash in exploring the surface of the former gold mine for free, including ascending halfway up the poppet head along the trestle way (if they can be carried up the stairs). View the original change rooms, blacksmith's shop and engine room, although staff ask you to minimise time in the museum with your dog.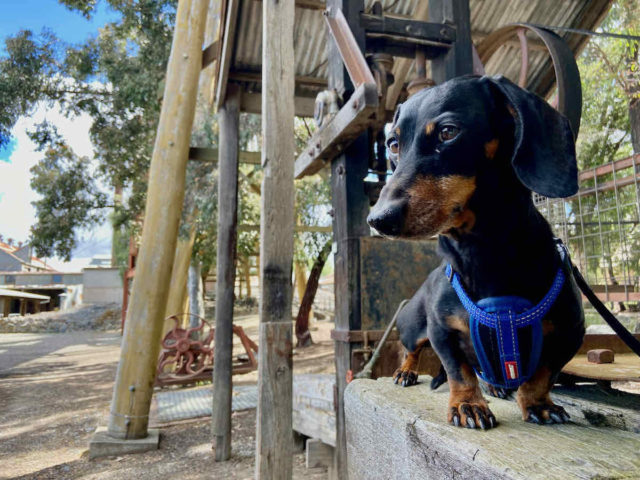 To explore more of Bendigo's gold mining heritage, head to the Victoria Hill Historic Mining Reserve. A popular spot for dog walking, the reserve contains a number of old mining relics, including some open cut mines. Park at the carpark on the Calder Highway, where entrance is open from 9am to sunset (during daylight savings time) or 5pm (the rest of the year).
24. Explore the Western World's Largest Stupa
The sights of Bendigo aren't limited to gold mining ruins. One of the most surprising attractions just outside of town is the Great Stupa of Universal Compassion, the largest stupa in the Western World.
Currently under construction about 15 minutes west of Bendigo, the stupa is based on the Gyantse Stupa in Tibet and is surrounded by the Peace Park Gardens, which contains many monuments from a variety of faiths.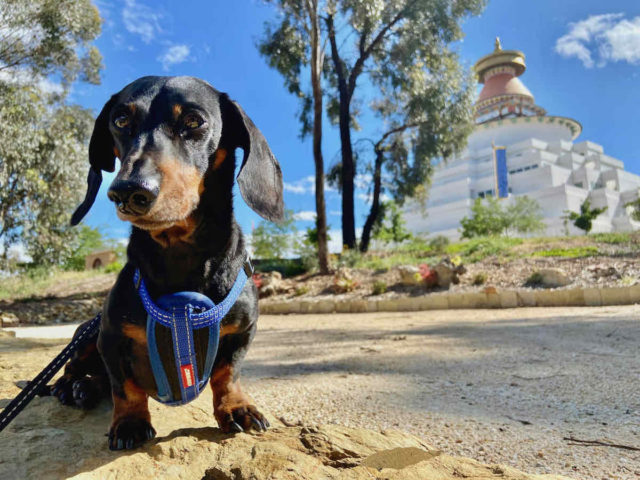 Another surprise is that pets are welcome to join you in visiting the stupa, both outside and even inside. (Although this may change once the construction of the interior is complete.) The stupa is open daily, entry by donation, and there is a cafe onsite with plenty of dog-friendly tables.
Find out more about visiting Bendigo with a dog
25. Enjoy a Cruise on the Yarra
To view Melbourne from a different viewpoint, take a relaxing cruise along the Yarra River. And you don't need to leave your dog behind, with Melbourne River Cruises permitting dogs on board their public Yarra River Cruises. (Note that dogs aren't permitted on other cruises, including dinner and special event cruises.)
Choose between a one-hour cruise up or down river, visiting either the Port and Docklands or River Gardens precinct, both departing from the Southbank Promenade. Alternatively, combine both together on a 2-hour Melbourne Highlights Cruise. Twilight and sunset cruises are also available during summer.
Cruises operate seven days per week, multiple times per day. Make sure your dog stays on a leash and is well behaved.
26. Or Hire Your Own Boat
If you'd prefer to drive your own boat in Melbourne with your dog on-board consider hiring one of the pet-friendly picnic boats from GoBoat.
Accomodating up to eight people and not requiring a boat license, the luxury electric picnic boats can be hired for between one and three hours, with optional extras including cheese boards and esky hires. BYO picnic and drinks!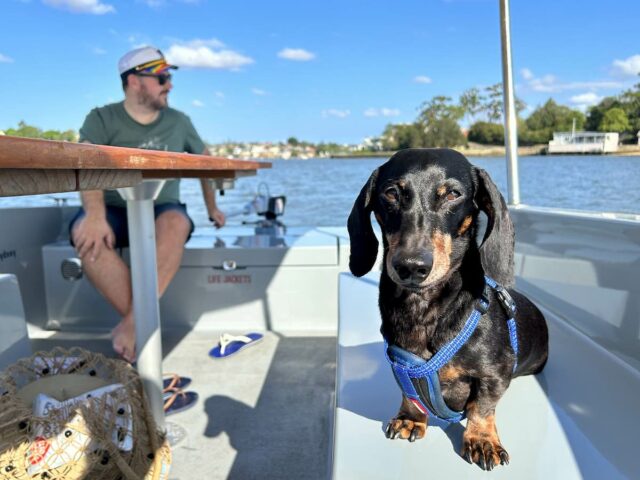 GoBoat Melbourne is located on the northern side of the Yarra River, on Banana Alley near Sandridge Bridge. If bringing your dog along, considering packing a doggie life-jacket. Alternatively, it's easy to attach your dog's leash to the base of the picnic table.
27. Visit an Historic Botanic Garden
In the latest 19th century, it became the fashion that any well-to-do town in Victoria would have their own botanic garden, both for the propagation of European plant species and a place for locals to spend their leisure time. Many of these are still wonderfully-maintained, and also welcome leashed dogs to join you.
Some of the best historic botanic gardens to visit around Melbourne include fine examples in Kyneton, Malmsbury, Daylesford and Castlemaine. Pack a picnic and hop into your car with your pup to enjoy a country outing at any of these gardens.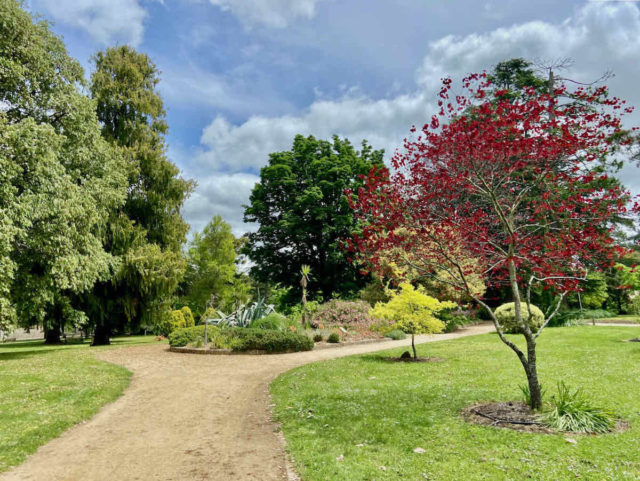 The Kyneton Botanic Gardens contains many large National Trust-listed trees, plus are adjacent to the Campaspe River with a wonderful riverside walk. At Malmsbury, don't miss the views of the grand Malmsbury Viaduct, located at the southern edge of the gardens. The Wombat Hill Botanic Gardens in Daylesford contain a short scenic drive loop, plus the dog-friendly Wombat Hill Cafe.
28. Hike the George Bass Coastal Walk
For a scenic dog-friendly walking track along the coast, head just over 90 minutes southeast of Melbourne to the George Bass Coastal Walk, located near Phillip Island.
The 7km-long walking track is accessible from either end. Either head to the Shelley Beach Carpark just off the Bass Highway at Kilcunda or to the end of the unsealed Punchbowl Road near San Remo. It takes about 4 hours to complete the entire 14km walk, or else just walk partway and then return along the same route.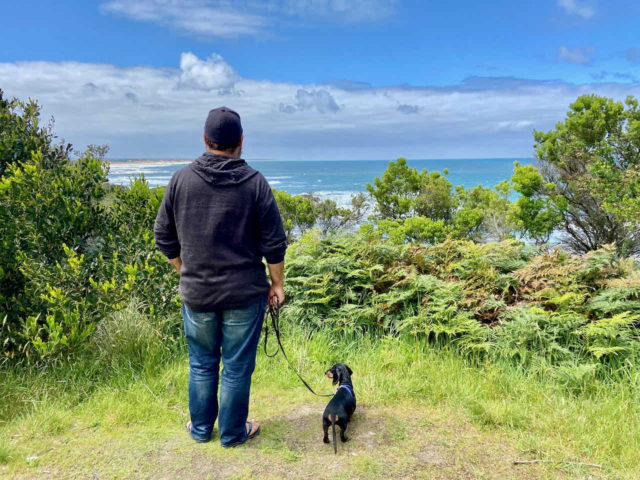 While dogs are permitted on leash and it's well-known as a dog-friendly walk, keep an eye out for signs about 1080 baiting. Baits had been recently laid at the Punchbowl Road end when we visited in November 2021, although there were no signs at the other end. This likely only occurs once a year.
29. Watch a Movie by Moonlight
Every year, the Moonlight Cinema sets up its screen at the Royal Botanic Gardens in Melbourne. And if you have a well-behaved pooch who can stay quiet while watching a movie, they're welcome to join you on your picnic rug. Dogs are welcome in all sections, including premium areas.
With screenings starting at sundown, I know my dog would likely sleep through most of the screening! Just remember to keep your dog on a short leash, and clean up after them. Sometimes special canine-themed movies are even screened throughout the season, which runs from November to March – check the program when its released.
30. Go on a Puppy Pub Crawl
Melbourne is home to plenty of dog-friendly pubs, so why not take your pup on a pub crawl? Puppy Pub Crawl organises group pub crawls for dogs and their owners, visiting some of the best pet-friendly establishments around Melbourne. The pub crawls are also a great opportunity to socialise, both for the pups and the humans.
Regular pub crawls take place all over Melbourne, from St Kilda to Footscray, Collingwood to Prahran. Dogs are provided with doggie cocktails and treats at each venue, with drinks specials and snacks available for humans.
The latest dates are all listed on their Eventbrite page, where you can make a booking for you and your pup. Or stay up to date with the latest announcements on their Facebook page.
You May Also Like
About the Author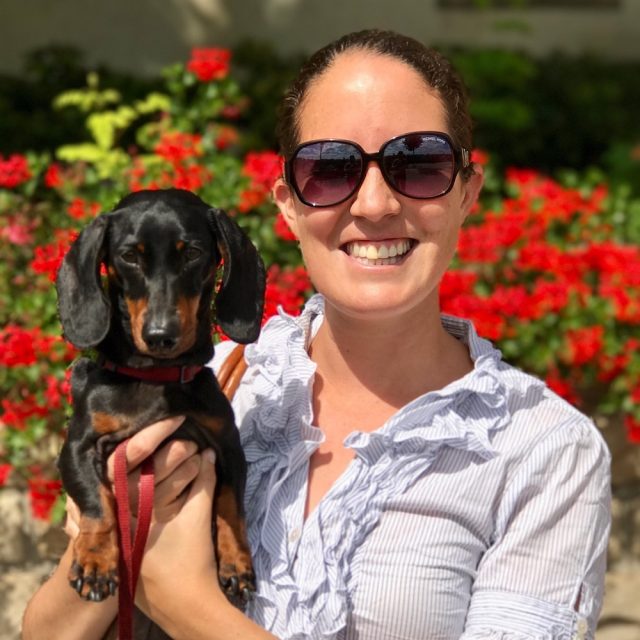 Shandos Cleaver is the founder of Travelnuity: Dog-Friendly Travel. She has travelled extensively with her Miniature Dachshund, Schnitzel, including to 33 countries across Europe, every state and territory of Australia except Tasmania, and 10 of the United States. She's passionate about providing inspiration and information to others wanting to travel with their dogs, whether close to home or internationally.