One of my favourite things about travelling in Europe with my dog is that he's allowed on nearly all the trains in Europe. Even when we travelled in the USA, small dogs are allowed on most Amtrak trains. But what about in Asia? Are dogs allowed on trains in Asia?
Now I must confess up front that I haven't yet travelled with my dog in Asia. Australian quarantine rules make it difficult to return to Australia from many Asian countries, plus I've usually stuck to short trips. Instead, this research is based on what rules are published online, plus from other residents and travellers.
It turns out the rules for dogs on trains across Asia vary greatly from country to country. While many countries don't allow dogs on trains (or only allow dogs on luggage carriages), there are a handful where dogs are allowed. Read on to find out the rules for some of the most frequently visited Asian countries.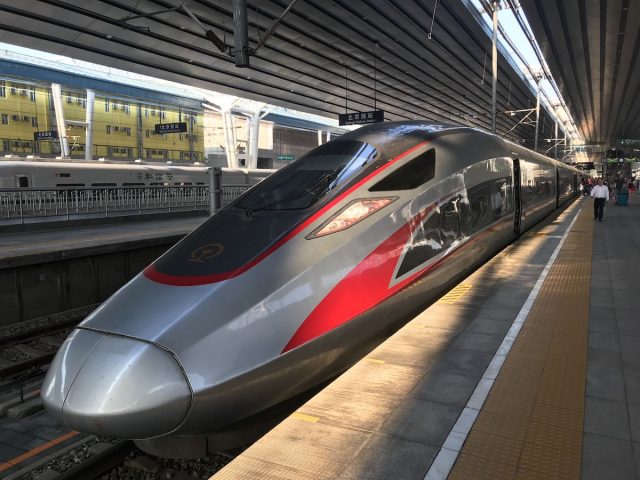 Dogs on Trains in Japan
Let's start with one of the most dog-friendly countries in Asia: Japan. Japan is famous for its excellent bullet train system, and luckily small dogs are allowed on trains.
There are multiple train companies operating in different regions of Japan, so I recommend looking at the specific company you will be travelling with. But the rules for both JR East (which operates many of the bullet trains and local trains around Tokyo) and JR West (which operates trains around Kyoto and Osaka) are virtually the same. The rules for other train companies are likely to be similar.
JR West kindly provides its rules in English, while these are the JR East rules in Japanese. Small dogs (along with cats, doves and similar) are allowed in carrying cases that are no longer than 70cm and with maximum dimensions of 90cm (or 120cm on JR East). There is a maximum weight including the case of 10kg (22 pounds).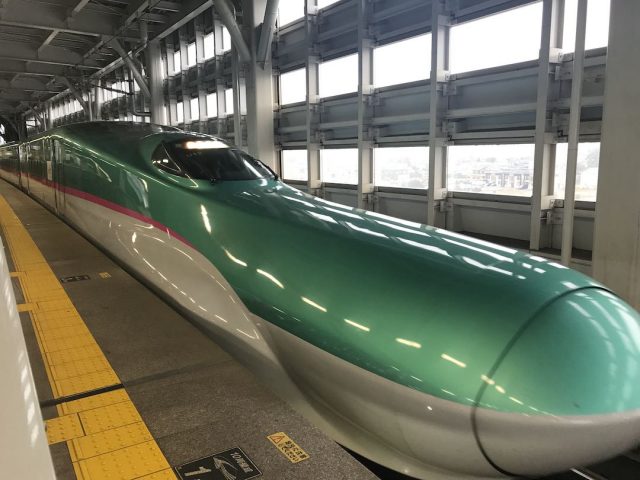 There is a small charge, listed as 290 yen on the JR East website (about $2.25 USD). You will need to take your pet in their carrier to the ticket gate for inspection and to purchase an ordinary personal belongings ticket. It is recommended that pets don't travel in very crowded trains, naturally, plus they must remain in their carrier both at the station and on the train.
Surprisingly, despite taking many trains in Japan, I didn't spot any dogs on my trips. Perhaps dogs aren't that commonly taken on trains. Or else they happen to be well-behaved, in which case it's easy to overlook a dog travelling in a carrier bag, unless you are sitting next to it.
Dogs on Trains in South Korea
South Korea is similar to Japan, in that small dogs are also allowed to travel on trains. I couldn't find any information on the official train company websites, but the Stripes Korea site summarises the rules.
Both Korail and SRT trains allow small dogs (and cats) with a maximum length of 60cm, on both their express and slower trains. The pet must fit comfortably in a carrier, placed under the seat in front of you or on your lap. The carrier must be no larger than 45cm x 30cm x 25cm, with a maximum total weight of 10kg (22 pounds).
Your dog must remain in their carrier at all times, with the carrier covered and the interior kept out of view. Make sure you carry your pet's vaccination certificate and card. There are some breeds that are not permitted, such as pit bull terriers, Dobermanns and German shepherds, but the size restriction would also rule these dogs out.
While I haven't taken trains before in South Korea (just long-distance buses, that usually also allow small dogs in carriers), there are numerous reports online of people seeing well-behaved dogs on trains, sometimes not even in carriers. One extra recommendation from Stripes Korea is to book a first-class ticket with KTX for extra leg-room for your pet's carrier.
Dogs on Trains in China
Unfortunately, while China's high-speed trains are a convenient and comfortable way to travel around the country, the situation isn't so comfortable for pets. No pets are permitted inside regular train carriages on Chinese trains (only guide dogs); pets are only permitted to be consigned as checked luggage (similar to flying in the hold of a plane), with a weight limit of 50kg.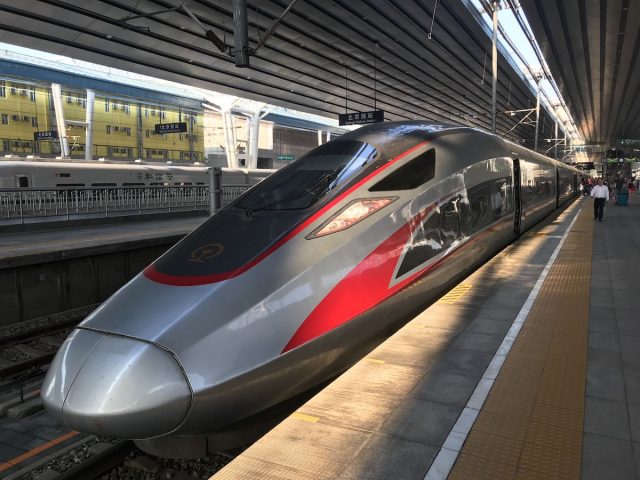 Firstly, you will need to check that the train you intend to take has a baggage carriage. Then you will need to cage them and drop them off 4 hours prior to departure, along with their quarantine and health certificates. The cost depends on your pet's weight and the distance. For more details, see here and here.
Dogs on Trains in Vietnam
Trains are one of the most popular (although rather slow) options for travelling along the length of Vietnam. However, the rules when it comes to pets and travelling on trains in Vietnam aren't that clear…
If you look at the official regulations, it seems that pets are allowed. Livestock is prohibited from hand luggage (and instead must travel in special coaches), but "pet dog, cat, bird, ornamental fish" are excepted, but "must be equipped reasonably so as to ensure sanitation" and "no harm to surrounding passengers".
According to an article previously published by Lodyhelp, you need to transport your pet in a cage and use a muzzle. If you'd prefer to not use a cage, you can then book an entire compartment (a soft or hard sleeper), but you still need to use a muzzle.
However, there are also reports from people attempting to transport their dogs that many train staff members don't believe dogs are allowed, and stop them from boarding trains. I guess it comes down to luck and being discreet, or going through a local? In the case of these expats who transported their dog from HCMC to Hanoi in a cabin, they used a local contact who spoke Vietnamese to make arrangements.
Dogs on Trains in Thailand
I can't find any official rules on travelling with pets on trains in Thailand, a popular option on routes such as Bangkok to Chiang Mai.
According to this site, pets are not allowed in air-conditioned first-class and second-class carriages on trains in Thailand, only the third-class "fan" carriage. There is no size limit, but your pet must travel in a cage, that you provide, with a cost between 90 and 150 baht, based on its size.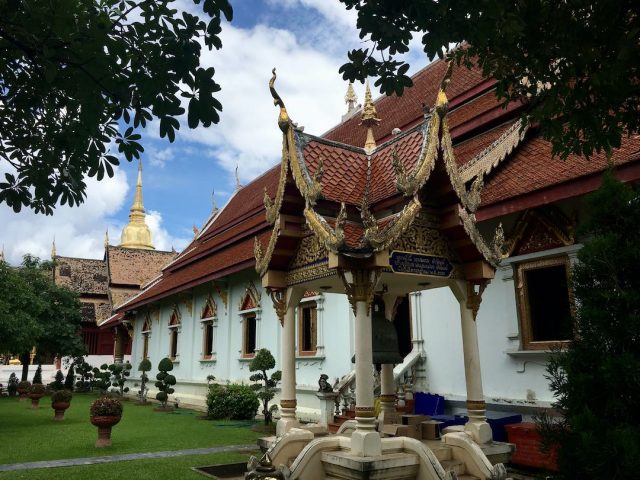 I've taken the 3rd class only train between Bangkok and Kanchanaburi, and found that the trains aren't as hot as you would expect, thanks to the large, open windows. However, be prepared for hard wooden seats and needing a shower from all the dust.
If you have a larger dog who is too big to travel in a crate in a regular carriage (or more likely there is a maximum size), this blog post details the process used for checking your dog in to the luggage carriage. Note that not every train has a luggage carriage, plus your dog will need to be in a crate.
Dogs on Trains in Indonesia
Indonesia is a Muslim majority country and this means that dogs are generally considered unclean and not permitted in many places. This extends to trains, including the excellent train network across Java, with large signs displayed at train stations and on trains prohibiting all types of animals.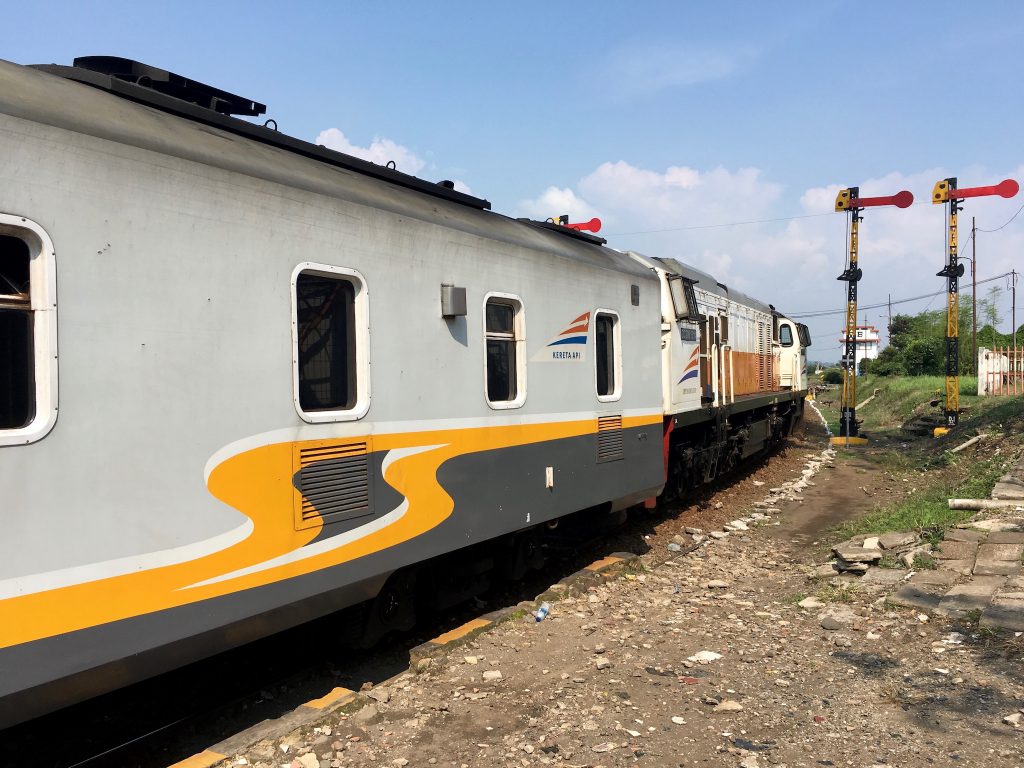 Surprisingly though, some of the signs prohibiting animals don't show the typical dog symbol, but instead a snake symbol! I'm annoyed I didn't take a photo of one of these to share.
Dogs on Trains in Malaysia
Like in Indonesia, dogs are also not permitted in many places in Malaysia. Unfortunately, this includes trains, as mentioned in this article. There are clear signs on trains in Malaysia that prohibit the transport of pets, including dogs.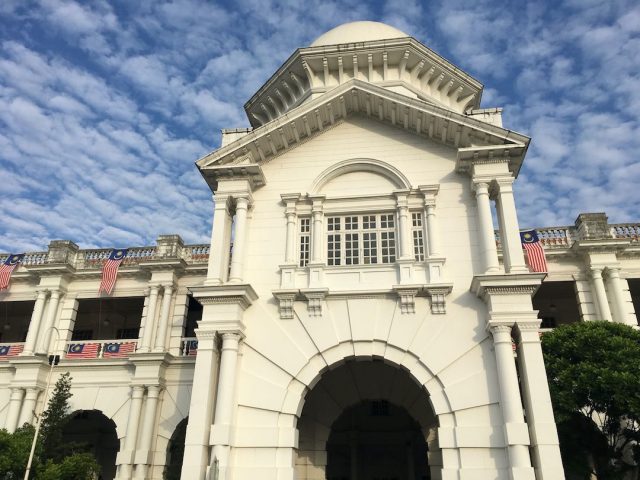 Dogs on Trains in India
Dogs are allowed to travel on trains in India, although there is a long list of rules and regulations to follow.
The main restriction is that dogs are only permitted in AC First Class or First Class carriages. In lower class carriages, dogs need to be booked and carried in the luggage/brake van, with specially designed dog boxes available for this purpose.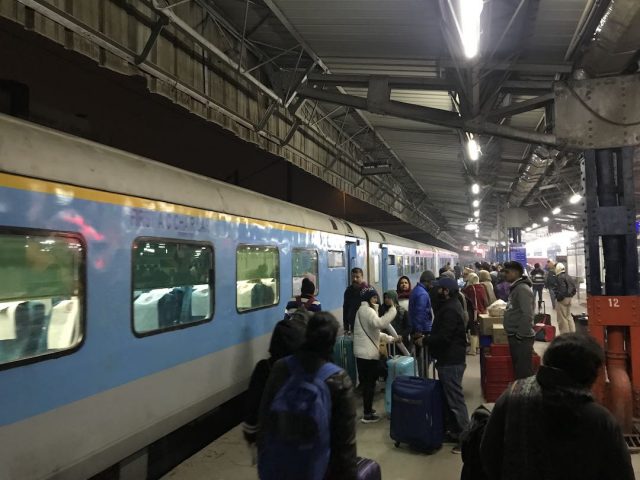 If travelling in First Class carriages, you need to exclusively reserve a compartment, either a two-berth coupe or four-berth cabin, plus write to request an exclusive compartment. Both large and small dogs are permitted.
Note that charges apply, both for travelling in the luggage/brake van or in First Class carriages, depending on the type of train. Contact the parcel office to book your dog's ticket. For more details, see this page and this page.
Before you travel to India, quickly and easily apply for an Indian e-visa online at e-visums.co.uk.
Dogs on Trains in Sri Lanka
Once again, I couldn't find any official rules stating whether or not pets are permitted on trains in Sri Lanka.
If you've ever travelled in trains before in Sri Lanka, you'll know that the non-reserved carriages can be a bit chaotic, and probably a variety of unusual goods are transported, with a dog easily overlooked. (Although the carriages can be overcrowded, which isn't the best environment for transporting a pet.)
While visiting Sri Lanka I met up with lady from Belgium living in Sri Lanka with her Dachshund. She had managed to bring him along multiple times on train trips. I think she never got a proper answer on whether her dog was allowed, and whether he was permitted depended whether or not anyone spotted him (especially as he didn't usually travel in a carrier) and their attitude.
You May Also Like
Inspired? Pin this to your board!