One of the best ways to travel around Europe is by train. Travelling by train is scenic and spacious, and on shorter trips it is often quicker than flying, once you take into account getting to and from the airport and check-in times. But, what about if you're travelling in Europe with your dog? Are dogs allowed on trains in Europe?
Luckily, the answer most of the time is yes. There are a few exceptions, with a longer list if you are travelling with a larger dog, but most trains in Europe allow both large and small dogs to travel on them.
I've frequently travelled by train with my dog myself, and highly recommend that other travellers (especially with dogs too big to fly in a plane cabin) consider this transport option. I'll share all the tips you need to travel around Europe with your dog by train.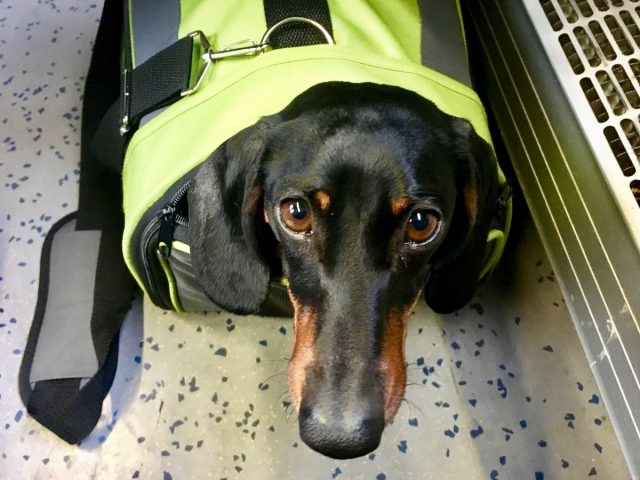 Which Trains in Europe Don't Allow Dogs?
Up until recently, there was only one train that I was aware of in Europe that doesn't allow any pet dogs. And of course it would be one of the handiest options, especially for travellers from the UK with dogs!
Yes, I'm referring to the Eurostar, the train that connects London to Paris, Brussels and other continental cities, without the need for flying or catching a ferry.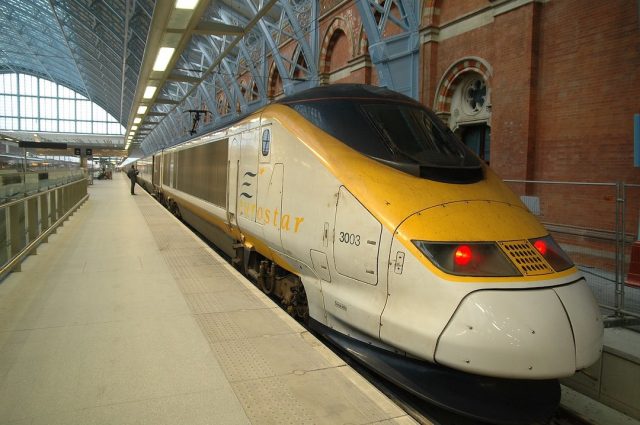 The most frustrating aspect is that dogs are allowed on trains in both England and France. But this convenient option connecting the UK and Europe (especially considering dogs can't travel to the UK in plane cabins), is off-limit to pet dogs.
There have been petitions and the like over the years, and I heard murmurs from the vet I visited in Paris that it would be changing, but all to no avail. We can only hope!
Read more about alternative ways to travel between UK and Europe with a dog
I have only come across two other train services in Europe that doesn't allow any size dog, the two seasonal weekly trains previously operated by Thalys, now by Eurostar, the Eurostar Sun and Eurostar Snow. (The other Thalys services, now operated by Eurostar, are pet-friendly.)
It always pays to check the pet rules in advance!
Which Trains in Europe Don't Allow Large Dogs?
The second consideration is that while most other trains in Europe allow dogs, there are some countries where only smaller dogs (who can travel in a pet carrier) are allowed on trains, with larger dogs not allowed.
This is unfortunate, especially considering that the train is a excellent option for owners of larger dogs whose pets are too large to travel in plane cabins, unlike many of these smaller pets. I am aware of at least four countries where this applies, although there are some exceptions.
At this stage, I'm not aware of any other European countries where larger dogs are not permitted to travel on trains. However, always check the rules in advance, before booking, as I haven't researched the rules for some Balkan countries, plus the rules can change.
Restrictions for Larger Dogs on Trains in Spain
Firstly, this applies in the popular destination of Spain. Up until recently, the pet policy of Spanish train company RENFE clearly stated that on all trains, only small pets were permitted. On most trains, the maximum weight of pets was 10kg, and they must be in a carrier with maximum dimensions of 60 x 35 x 35 cm.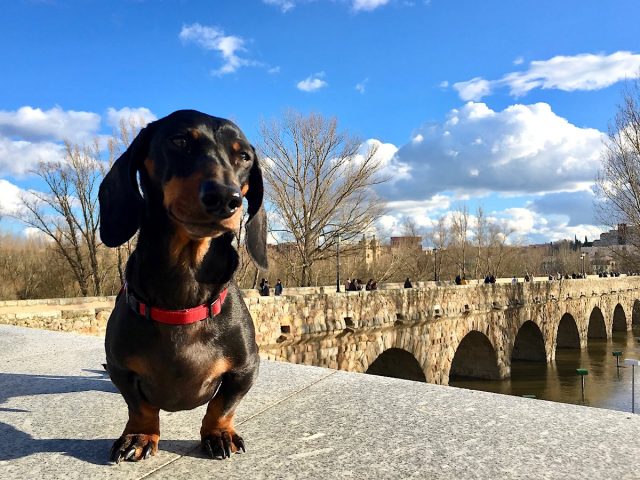 Previously, the only exception was on Cercanías (Commuter) and Feve services, where there is no weight limit and dogs can travel with just a leash and muzzle. (This policy also flows through to Portugal, with larger dogs allowed on trains in Portugal except for the international trains, that also travel through Spain.)
I will admit that when we travelled with our dog by train in Spain neither the weight nor size of our crate was checked. (And when immediately catching a train after flying to Spain we travelled with a far larger crate.) And I have heard of some people getting away with travelling with a larger dog outside of a carrier on the train.
However, there is some good news! As of late 2022, the policy changed to allow larger dogs up to 40kg on two routes, on the AVE (high-speed) trains on the Madrid to Barcelona and Madrid to Malaga lines. A single large dog is permitted per passenger, who will travel in the adjoining seat, with a maximum of two dogs per train.
It's possible to book your dog online, but make sure you arrive at the Renfe Service Centre 40 minutes before departure, to complete the paperwork and collect a travel kit, containing a seat cover and mat. Hopefully the program is extended!
Restrictions for Larger Dogs on Trains in Greece
In Greece there are also restrictions for larger dogs. Based on an English translation of the rules that is no longer online, my interpretation was that larger dogs are only allowed some of the time on trains.
Firstly, they are only allowed on certain routes, between Athens and Thessaloniki, Thessaloniki and Alexandroupoli, and Athens and Kalambaka, where there is a luggage transport coach.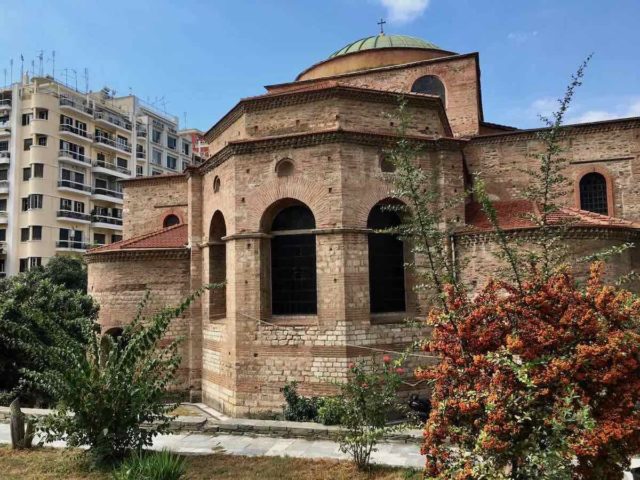 Secondly, they must travel in a pet transport box up to 118 x 76 x 88cm in this luggage transport coach, with access provided by the train manager. Now that's a big box to move around!
Restrictions for Larger Dog on Trains in Slovenia
In the otherwise dog-friendly Slovenia, while small dogs are allowed on all trains, large dogs are not allowed on the InterCity Slovenia (ICS) tilting trains, the fastest domestic trains. However, as large dogs are allowed on other trains, it's usually possible to select an alternative train.
The same Slovenian website also mentions that in Croatia, dogs are not allowed on the tilting trains Nr. 520-525 running on the Zagreb to Split route. However, no mention of this is made on the Croatian website, showing this may be an old rule.
Restrictions for Larger Dogs on Trains in Ireland
Finally, in Ireland larger dogs are generally not allowed to travel on the country's trains, operated by Irish Rail.
However, an exception is made on the inter-city trains between Dublin and Cork, and Dublin and Belfast. Larger dogs though are permitted to travel in the guard vans on these services, although not in the passenger carriages.
Which Trains in Europe Allow Dogs?
I have researched the rules for dogs on trains (and often travelled by train with my dog) in these European countries. In all of these countries both large and small dogs are allowed on trains, in regular passenger carriages: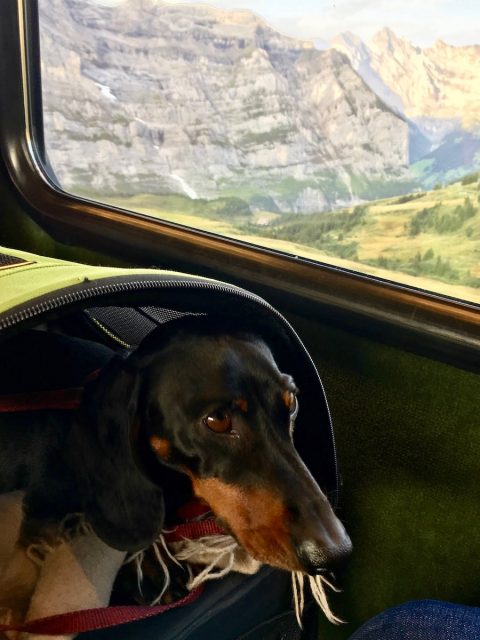 In some of these countries, dogs might only be allowed in certain carriages or areas. Often dogs are not allowed in first class carriages. Plus in Scandinavian countries, including Denmark, Norway and Sweden, there are set areas on the trains for dogs. Check before booking seats or when boarding.
In a few countries, you might need to ask permission of people nearby (or other passengers can object), meaning you might need to move. I have more details in the guide to each country (click on the links above)
What are the Rules for Dogs on Trains?
In the majority of these European countries, the rules for dogs on trains are fairly similar, with one set of rules for small dogs and another set of rules for larger dogs.
Rules for Small Dogs on Trains in Europe
For small dogs, as long as they are also travelling in a carrier, they generally travel for free. The main exception I have come across for this is France, where there is an additional set €7 charge, but some premium services may also charge a fee.
In some countries, the rules stipulate that small dogs can also travel on your lap, without a carrier, again for free. And in many other countries where this isn't stipulated, you can usually get away with it, such as in Italy.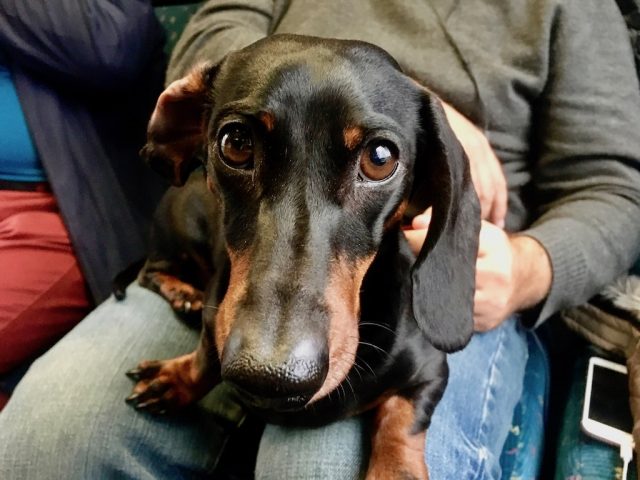 Rules for Larger Dogs on Trains in Europe
For larger dogs, they are generally charged a half price fare or child's fare. Sometimes ticket machines will have a dog specific ticket, otherwise ask for which ticket applies if it isn't clear.
There are some metropolitan trains where all dogs travel for free, plus on domestic trains in the Netherlands there is a cheap "dog ticket" that lasts all day and is just €3.30.
All countries that I am aware of require larger dogs (or any dogs not in a carrier) to be leashed, plus many will require the use of a muzzle. Check out my guide to muzzles in Europe for which countries do and don't require muzzles on public transport.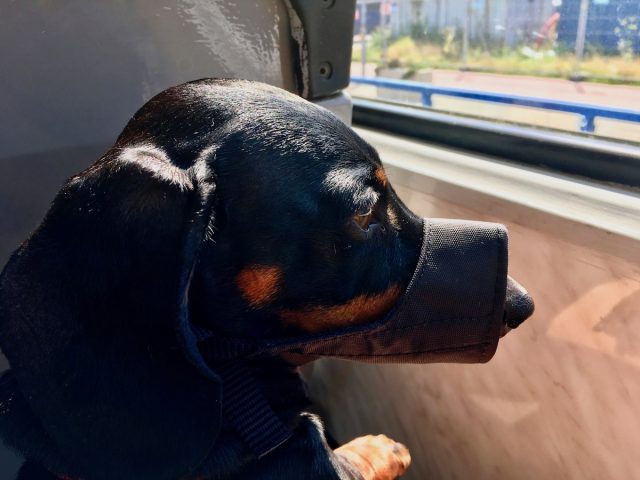 Are Dogs Allowed in First Class and Sleeper Carriages?
The rules vary from country to country about dogs in first class carriages. Some countries prohibit all dogs or larger dogs in first class, while in other countries dogs are permitted (with their ticket still being a second class half price fare). Check before booking first class tickets.
When it comes to sleeper carriages, dogs are sometimes prohibited, or you may need to book the entire compartment. Check in advance before planning to take an overnight train. But dogs are always prohibited from dining carriages.
Other Rules for All Dogs
Finally, no matter the size of your dog, the rules usually prohibit dogs sitting on seats. (You can sometimes get away with this if your dog is not too large and is sitting on something, such as a blanket.)
And there shouldn't need to be a written rule that you should clean up after your dog. Naturally, your dog should only do their business outside of trains, but if an accident does happen (including from travel sickness), always clean up.
For more rules on dogs travelling by train in specific European countries, click on the links I've provided above. I also try and link to the relevant train company pages, so you can read the full pet policy.
Tips for Travelling with Your Dog on European Trains
After taking dozens of train tips across Europe with my dog, here are my top tips for if you're planning on travelling by train in Europe with your dog.
If your dog hasn't previously travelled by train, start with shorter journeys.
Avoid long journeys unless your dog is okay at holding on or there will be a longer stop along the way where your dog can have a break off the train. (Although keep in mind, if the train is running late, you might be too worried about the train departing early to step off – this happened to me on a train from Bratislava to Berlin.)
Allow extra time when arriving at the departure station, particularly if you still need to buy a ticket for your dog.
At stations, carry a small dog on escalators or try to use stairs if you have a larger dog.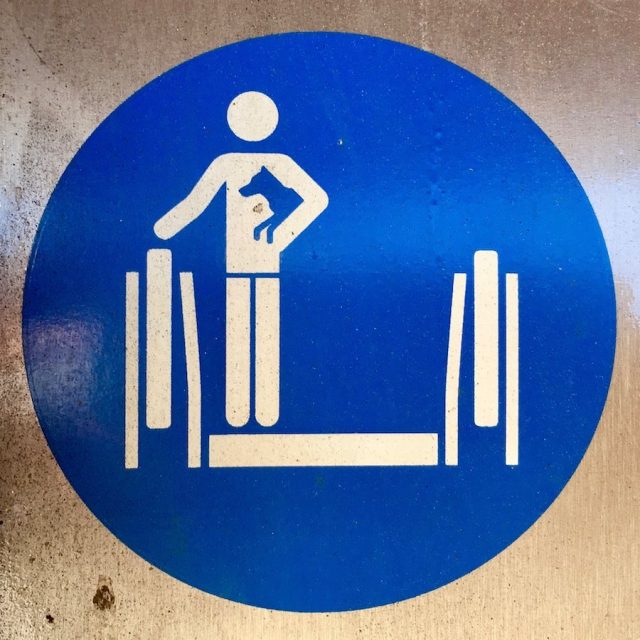 If seating is unreserved, I generally try and sit away from other passengers (and any other dogs), in a quiet spot. I find my dog is happiest if he can sleep most of the journey.
Always be prepared with a muzzle, even if you don't like using a muzzle on your dog. In some countries muzzle rules aren't always enforced, but there's still a chance it will be.
When arriving at your destination, think about your dog and provide them with a toilet break as soon as possible.
You May Also Like
About the Author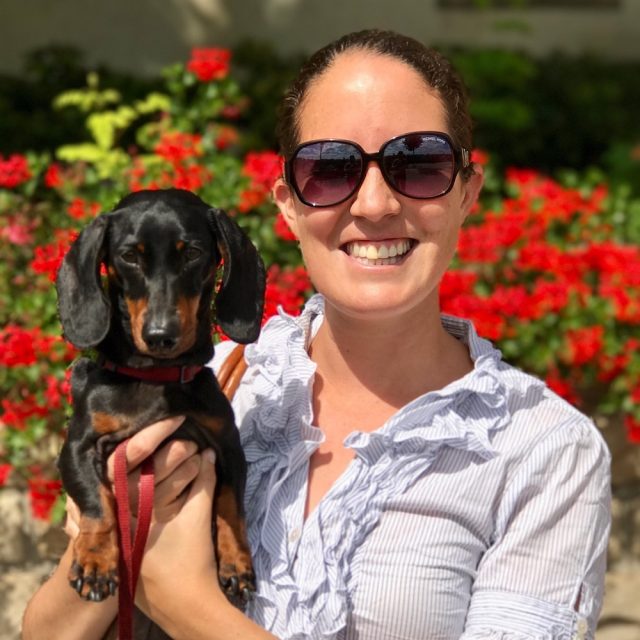 Shandos Cleaver is the founder of Travelnuity: Dog-Friendly Travel. She has travelled extensively with her Miniature Dachshund, Schnitzel, including to 33 countries across Europe, every state and territory of Australia except Tasmania, and 10 of the United States. She's passionate about providing inspiration and information to others wanting to travel with their dogs, whether close to home or internationally.
Inspired? Pin this to your Pinterest board!