While traveling around Europe with my dog, one of my favourite ways of traveling was via train. I was thus delighted to discover that Amtrak in the USA now allows small pets to travel on many of its train services. Find out how to travel on Amtrak with a dog, including our experience traveling from New York to Philadelphia and then to Washington, D.C with our dog on Amtrak.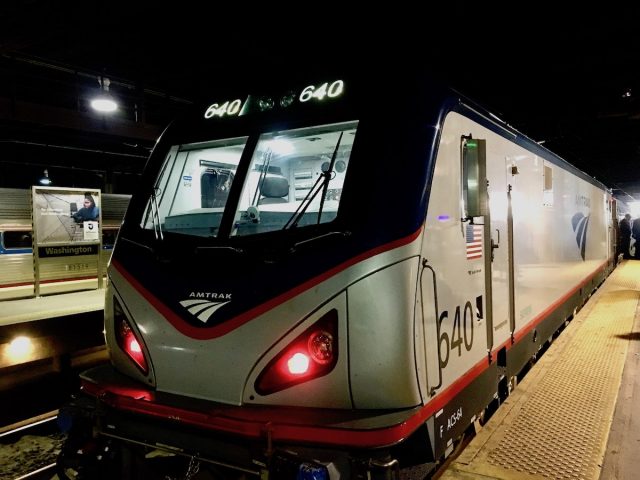 Are Pets Allowed on Amtrak?
While small dogs and cats are now allowed on Amtrak trains, there are naturally restrictions. For starters, not all trains allow pets.
For example, if traveling between New York and Washington, like I did, the Northeast Regional trains accept pets on all services. However, the Acela Express only accepts pets on weekend and holiday services, while some other trains don't allow pets anytime.
This is clearly listed at the top of the Amtrak pet policy, click here to view it.
Other key rules to keep in mind are that the maximum weight of both dogs and cats, including their carrier, is limited to 20 pounds (9kg). There is also a limit of one pet per customer (as the pet must be stowed underneath your seat), plus your pet must be at least 8 weeks old.
Pets are only allowed on trips up to seven hours in duration, including transfer time for multi-segment trips. Pets are also only allowed in coach class, not in first class, business class or sleeping carriages, except for weekend Acela business class.
Also refer to the Amtrak pet policy for details of the carrier your pet needs to travel in. The maximum size is 19″ long x 14″ wide x 10.5″ high. It can be hard or soft, but must be leak-proof, well-ventilated and large enough for your pet to sit and lie down inside without touching the sides.
Note that your pet in its carrier counts as a piece of carry-on baggage (out of your normal limit of two carry-on pieces and two personal items). Your pet must remain inside its carrier both at the train station and while on the train.
Booking Your Pet on Amtrak
It's very easy to book your small dog (or cat) to travel with Amtrak using the website. When selecting your train journey, alongside essential details such as the time, duration and ticket options, each trip displays whether pets are allowed and how many remaining pets can be booked.
(There is a limit to the number of pets allowed on each train service, usually five pets, so try and book in advance.)
Once you choose a train and ticket option and click "Add to Cart", it's simple to add one or more pets to your booking (depending on the number of passengers you're also booking) on the next page, in the same way as you would add a bicycle or golf clubs.
Then it's time to finalise your booking and pay for your tickets. It's also possible to make a booking including a pet through the customer call centre or at staffed Amtrak stations.
The fee for traveling with a pet is currently $26 USD (or 800 Amtrak Guest Reward points). This is higher than I've experienced in Europe (where in nearly all countries, a small pet in a carrier bag rides for free), but it is far cheaper than if you were flying with your pet.
Checking in For Your Trip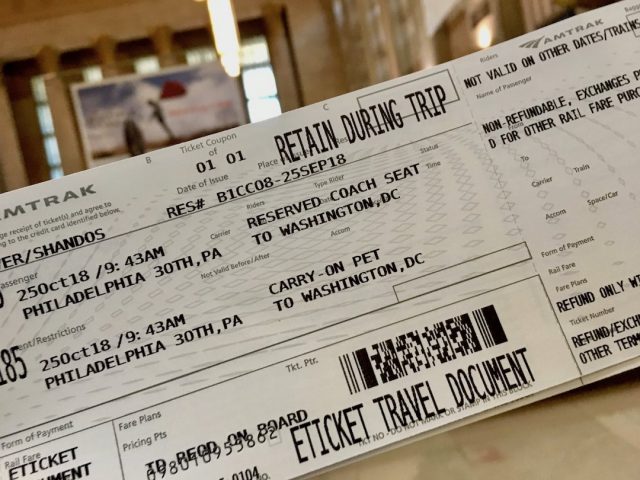 We travelled with our dog on two Amtrak train trips: firstly from New York to Philadelphia, then from Philadelphia on to Washington, D.C. We made sure to arrive in plenty of time for both trips.
Amtrak requests that people traveling with a pet from staffed stations (like we were), to check-in at the ticket office no later than 30 minutes before departure. I don't believe this is a hard cut-off like when checking in for a flight. Although we did go close to finding out in New York!
The down-side is then it's a long wait after checking in until the platform number is announced for trains.
At the ticket office, the staff member looked up our booking, had a quick glance at our pet carrier bag with our dog inside (although didn't weigh or measure it), and then handed us a Pet Release and Indemnification Agreement to sign.
It's best to review this ahead of time, so you are familiar with the contents, but you don't need to print it and bring it to the station. If you are traveling from an unstaffed station, speak to the conductor who will confirm your pet's eligibility and provide you with this document.
Boarding the Train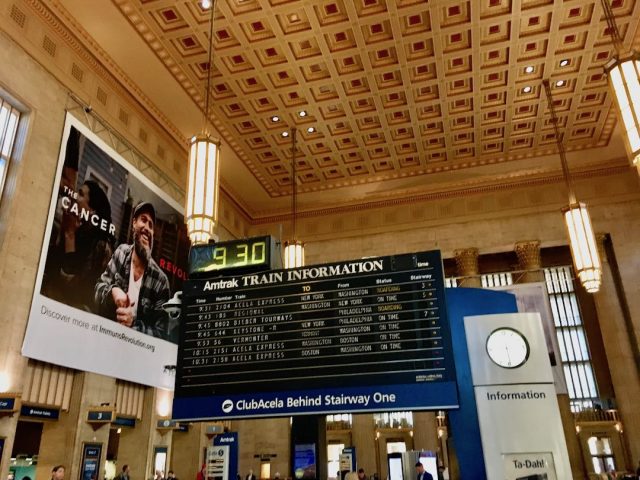 Once the platform for our train was announced each time, we headed downstairs to the train. Despite what is printed on the pet agreement form (that it "must be signed and returned to an Amtrak Train Crew Member to permit pet on-board"), you don't need to show this to anyone before boarding the train.
I hunted for someone both times, but was waved onto the trains. Hold onto it until the ticket inspector onboard reaches your seat.
The other confusing thing is that despite having "reserved coach" tickets, you don't have a specific seat reserved. "Reserved" just simply means you are guaranteed a seat (with a maximum number of tickets sold for the train).
Except for a few trains that have a specific carriage for pets (as mentioned in the pet policy, but double check with a staff member if you're uncertain), you can sit anywhere, on any coach carriage. Although I recommend avoiding the quiet carriage unless you are confident that your dog won't make a peep!
On-Board the Train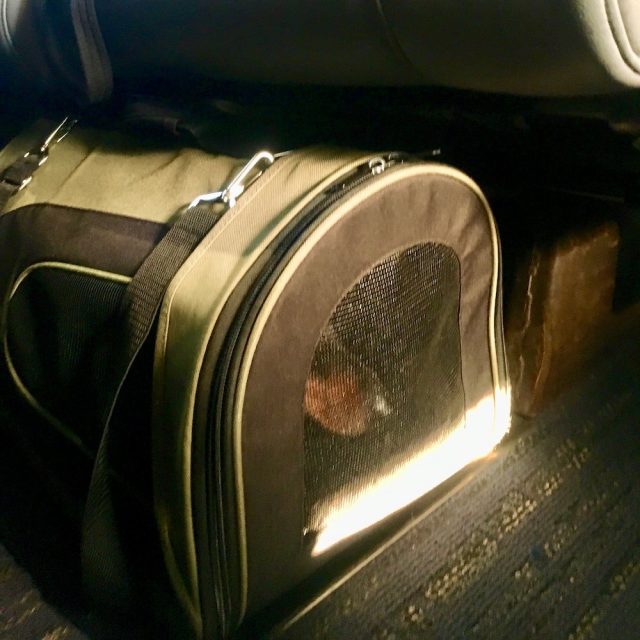 Once you've found seats onboard the train, place your pet in their carrier bag underneath your seat. (The seats are constructed differently than on a plane, so there's a gap underneath your seat, rather than the seat in front.)
The one exception is Amtrak Cascades trains where you can put your pet carrier on the floor in front of the seat next to you. It's even possible to stow your pet's carrier bag in your footwell, if you would prefer, as it's quite roomy!
Sometime after boarding, a ticket inspector will come around the check your tickets. At this point, also hand over your pet agreement form.
As well as putting some tags in the holder above your seat to indicate your ticket has been checked (and perhaps your destination), the ticket inspector will also place a paw print tag there.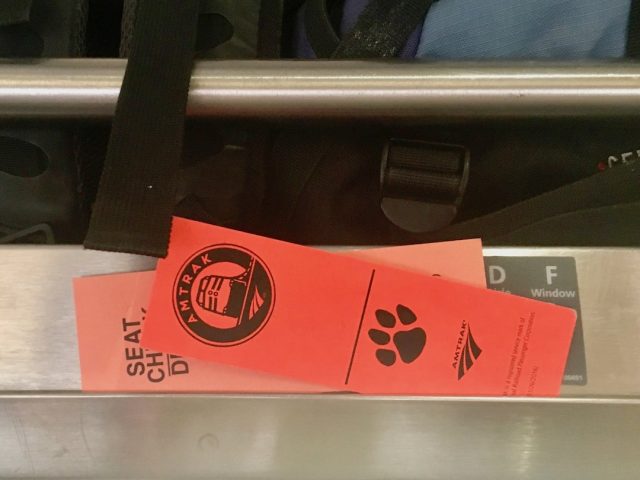 Now it's time to sit back and relax for your train trip. Note that until you disembark and depart from your destination station, your dog will still need to stay in their carrier bag. And if you're planning on heading to the food service carriage, you won't be able to take your pet.
Inspired? Pin this to your Pinterest board!