Top at the list of the attractions that you have to see in Barcelona, Spain, are the works of the renown Catalan architect Antoni Gaudí.
His most famous work is the enormous, and still under construction, church of La Sagrada Família. But there are also another five properties built by Gaudí that are also UNESCO World Heritage listed and situated close by in Barcelona, in the districts of Eixample and Gràcia.
And the best way to see them all in one day? By bicycle!
Why I Recommend a Bike Tour
If you're a serious student of architecture, you'll probably want to visit inside many of Gaudí's properties and spend more than a day exploring them.
For other visitors, though, I recommend choosing just two or maybe three properties to visit inside, especially considering the high entry fees charged by each individual property. For the rest of the properties, just view their exteriors.
When I visited Barcelona for the first time, I tried to put together a self-guided route to visit multiple properties. However, they tend to be too far apart to easily walk in between them, and not all are close by metro stops.
Instead, the properties are the perfect distance apart for a self-guided bike tour. Plus the wide, flat streets of the modern Eixample and Gràcia districts are excellent for bike-riding.
What If I Have a Dog?
And if you're visiting Barcelona with a dog? I recommend walking part of this route with them, or hiring a trailer to use with your bike (see below).
In particular, don't miss out on visiting Park Guëll with your dogs – dogs are allowed for free in the park on a leash!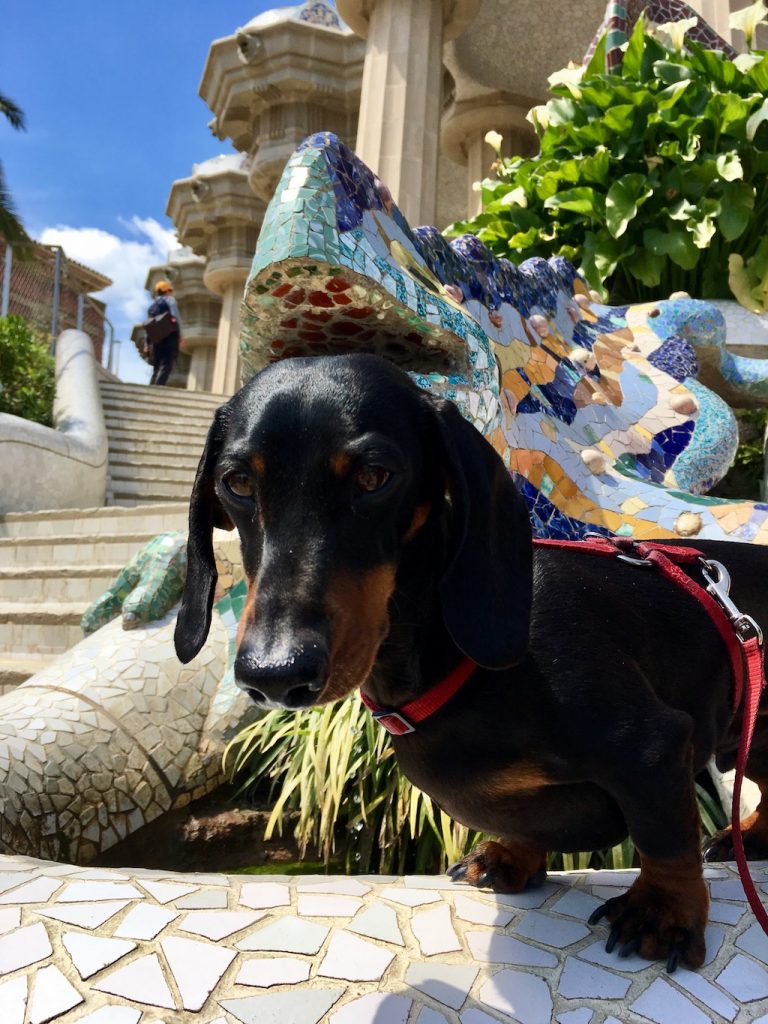 Hiring a Bike in Barcelona
Barcelona has a share bicycle scheme, Bicing, but usage is restricted to Spanish residents. Instead, head to one of the many bicycle hire shops scattered all over the city.
For this tour, I recommend hiring a bike from Rent-a-bike, at 25 Carrer del Perill in the Gràcia district. It's close to many of the Gaudi properties (and was down the road from my accommodation). If you're not staying close by, the closest metro stop is Diagonal.
Bike hire starts from €15 per day (€40 for e-bikes), with the option to reserve in advance. You can add a trailer to your booking for €15, including special trailers for dogs. Double check their latest opening hours.
Read this post to find out more about cycling in Catalonia
Recommended Itinerary & Distances
Start: Rent-a-bike, 25 Carrer del Perill
Stop 1: Casa Milà, 261-265 Provença (cnr Passeig de Gràcia) (Distance: 700m)
Stop 2: Casa Battló, 43 Passeig de Gràcia (Distance: 550m)
Stop 3 (optional): Palau Güell, 3-5 Carrer Nou de la Rambla (Distance: 2.3km)
Stop 4: La Sagrada Família (Distance: 2.2km from Stop 2, 4.5km from Stop 3)
Stop 5: Park Güell, Carrer d'Olot (Distance: 2.8km)
Stop 6: Casa Vicens, 20 Carrer de les Carolines (Distance: 1.8km)
Finish: Rent-a-bike, 29 Carrer del Perill (Distance: 1.7km)
Total Distance: 9.7km without Stop 3, 14.3km with Stop 3
Stop 1: Casa Milà
It's not far to the first stop on your Gaudí tour of Barcelona, Casa Milà, which is just 700m away. It's easy to see why this building has been nicknamed La Pedrera, or the "quarry house". Although sombre in colour, its curvaceous lines are highly typical of Catalan Modernism.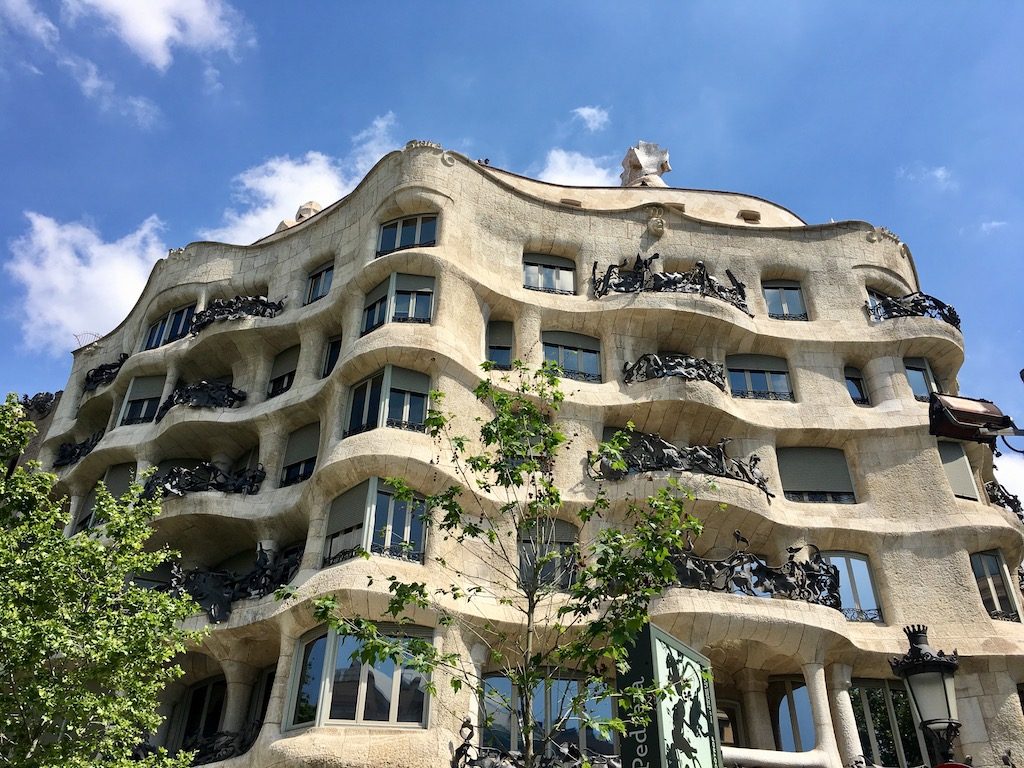 Stop 2: Casa Battló
It's just a short 500m further down the wide boulevard of Passeig de Gràcia to Casa Battló, or the "dragon house". It's fun to try and spot the dragon motifs scattered over the building's exterior. I found it quite difficult!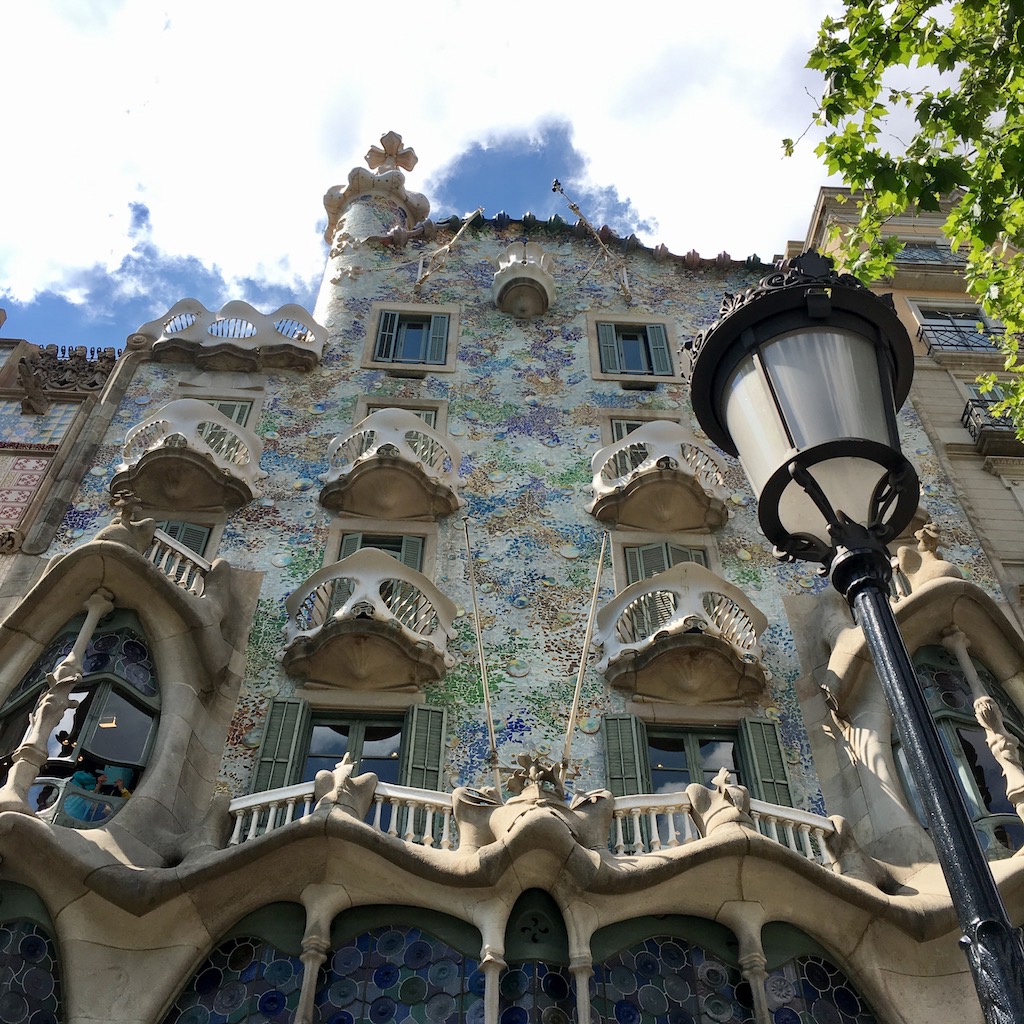 Just be warned – the stretch of bike path outside this house is one of the most dangerous in Barcelona, due to the overspill of spectators taking photos!
Stop 3: Palau Güell (optional)
At this point, it's optional to head a further 2.3km into the historic centre of Barcelona to Palau Güell.
Most of the bike riding will be along the busy La Rambla. However, considering that you're likely to walk along this stretch on foot at some point during your visit to Barcelona, it's probably better to detour by this property then. Doing so will save a sizeable 4.6km off the total distance of this bike tour.
Stop 4: La Sagrada Família
You'll spot La Sagrada Família well before you arrive at it. Its towers and cranes dominate the Barcelona skyline. After being under construction for over 100 years, the most recent planned completion date was 2027, the centenary of Gaudi's death. However, with the lockdowns of recent years, its completion has again been delayed.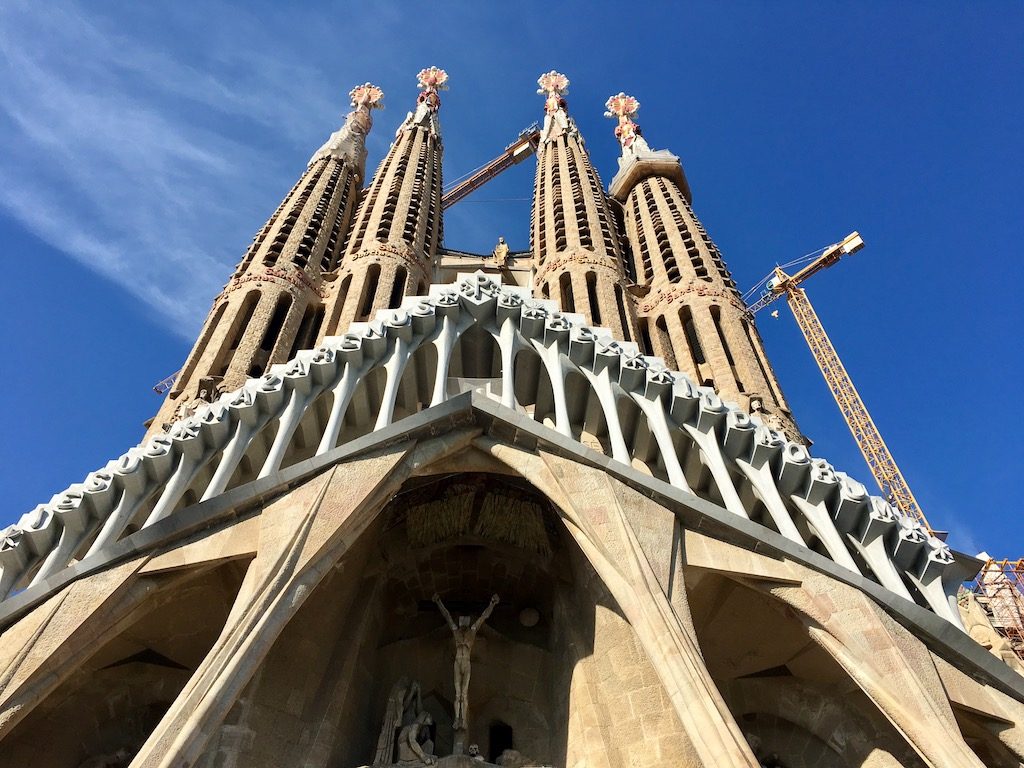 While Gaudi designed the entire church and it is undoubtedly his masterpiece, interestingly the only parts that have been UNESCO World Heritage listed are the Nativity Facade and the Crypt. These were the two main parts of the building constructed during Gaudi's lifetime.
The Nativity Facade in particular was my favourite part of the church. With it's intricate details it's possible to spend ages staring up at it.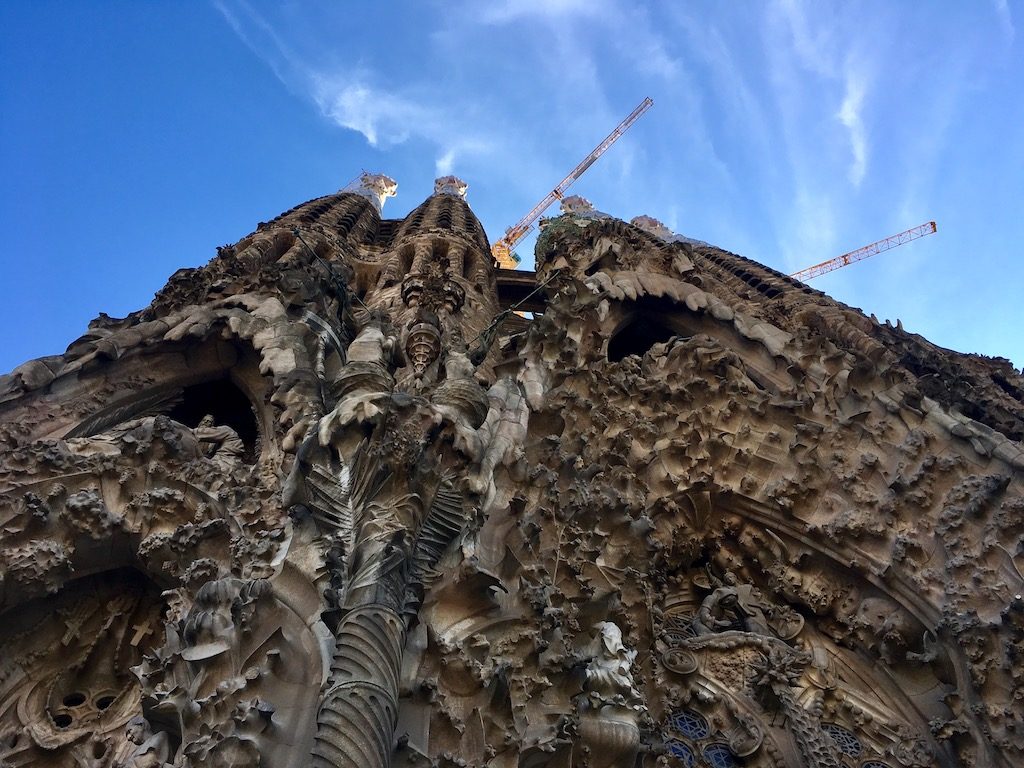 Make sure you book in advance if you want to enter inside (and see the facades up close). Included in the entry ticket is a display about Gaudi's architectural techniques in the downstairs exhibition space.
Stop 5: Park Güell
The most difficult part of your bike ride will be the 2.8km uphill to Park Güell. Luckily then, the park is a wonderful spot at which to chill out, enjoying the views of Barcelona below, while also admiring the elements constructed by Gaudi.
Entry to the monument section is ticketed, and you'll also likely need to book in advance. Dogs are allowed to join you inside the park for free, although there are some areas where they are not allowed to visit, for conservation reasons.
Stop 6: Casa Vicens
It's a 1.8km ride back downhill through a maze of smaller streets to Casa Vicens. The first house that Gaudi built, it was mainly obscured by scaffolding during my visit in 2017, but they are now long gone, unveiling this magnificent property. The interior has only recently been open to the public for the first time.
Once your visit is over, it's just a leisurely 1.7km back to your starting point and to return your bike.
You May Also Like
Inspired? Pin this to your Pinterest board!