One of the most enjoyable activities to do with your dog is going for a hike. A chance to sniff out new smells and burn off energy, it's a fun option whether you're close to home or travelling with your dog. However, hiking with dogs in Australia brings it challenges, from finding dog-friendly hikes to the dangers of the Australia bush.
Note: This post contains affiliate links, which means I may receive commission if you make a purchase using the links. See my full disclaimer.
Where Are Dogs Allowed to Hike in Australia?
When looking for dog-friendly hiking trails in Australia, you'll find that many of the most spectacular and popular hiking trails are located within areas where dogs are prohibited. However, there are still some dog-friendly walks available.
Are Dogs Allowed in National Parks in Australia?
Unfortunately, dogs are prohibited from most national parks in Australia. In NSW, dogs are not allowed in a single national park, and they are only permitted in a handful of dog-friendly national parks in other states of Australia.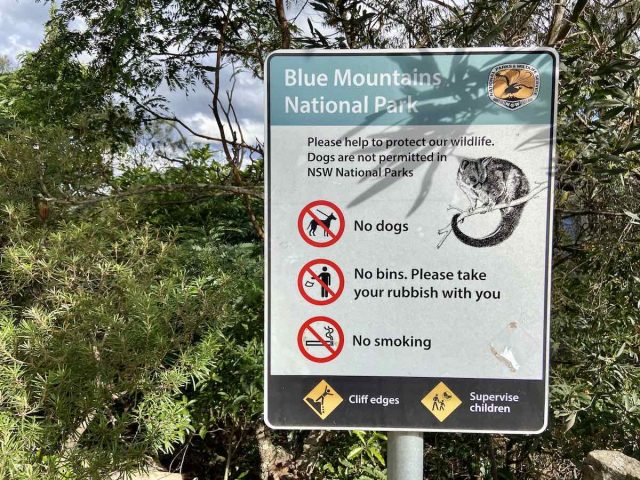 This rules out hiking with your dog on the many popular walks located in national parks. Dogs are also frequently prohibited from nature reserves and state conservation areas. However, there are still alternative pockets of bush that permit dogs.
Dog-Friendly Alternatives to National Parks
One of the alternative options in Australia that permits dogs are state forest. Dogs are generally permitted in state forests in Australia. For instance, in NSW dogs are permitted in all state forests. These forests are usually a mix of plantation trees and natural bush.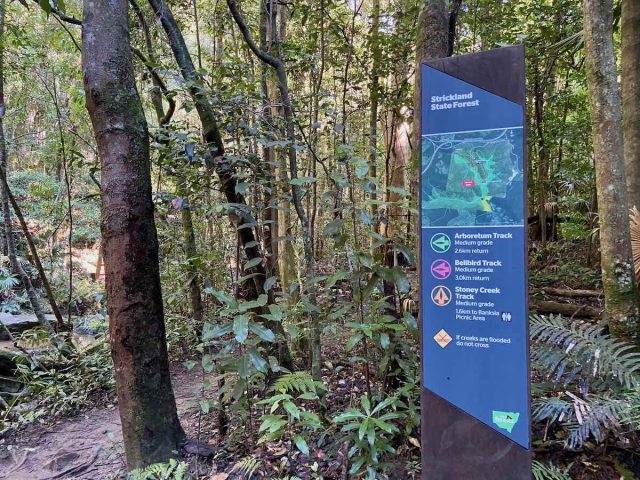 Another alternative are regional parks. In NSW, dogs are permitted in most regional parks. Some of these are stand-alone, such as Wolli Creek Regional Park, near the inner Sydney suburb of Wolli Creek. Or they may be adjacent to a national park of the same name (Berowra Valley Regional Park and Berowra Valley National Park) – be careful of the boundaries!
For some of the other parks in Australia that permit dogs, check out my guide to dog-friendly national parks in Australia.
There's also plenty of other walking tracks on Crown land or council land that permit dogs. Check the website in advance or signage before getting out of the car with your dog.
Recommended Dog-Friendly Hikes Around Australia
I've managed to complete some excellent walks in Australia with my dog. For some of my recommended walks, check out these posts: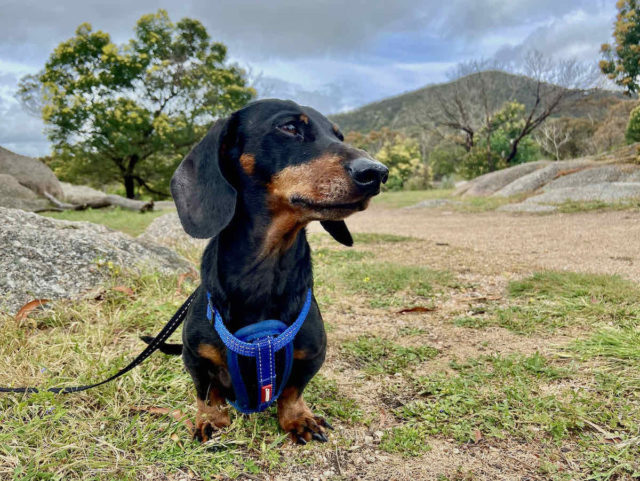 How to Find More Dog-Friendly Hiking Trails
Another way ways to find dog-friendly walks in Australia is to search on AllTrails. This website and app has an option to tag tracks as dog-friendly, including whether it's on- or off-leash.
For some listings of dog-friendly hikes in other states around Australia on AllTrails, check the following:
Staying Safe When Hiking with Your Dog
Before hiking with your dog in Australia, there's a number of important things to prepare and look out for to keep your dog safe. Many of these tips also apply to keeping your dog safe when travelling in Australia.
Use Tick Protection
Many areas of the Australian bush harbour ticks, carried on native and feral wildlife, so protect your dog against ticks.
This is especially important along the Eastern seaboard, from Queensland down to Victoria, where the paralysis tick is found. This tick causes tick paralysis and can be fatal to dogs. It's most commonly found between Spring and late Autumn, but can be found year round, especially in the tropics.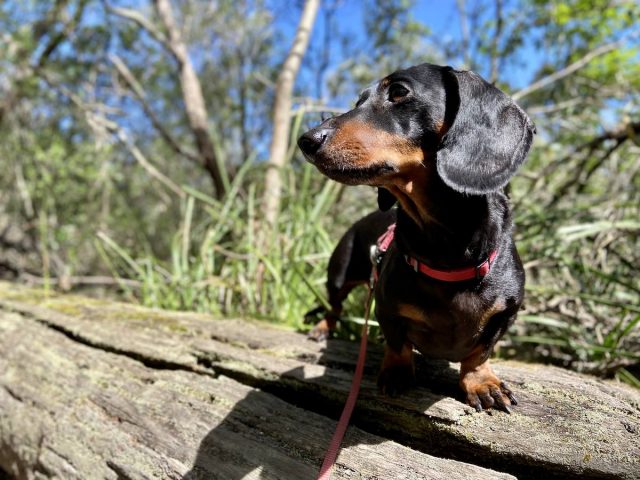 In other regions of Australia, paralysis ticks are not present, but there are brown dog ticks and cattle ticks. Brown dog ticks can carry Ehrlichiosis, a tick-borne disease that can be fatal, that up until recently had not been present in Australia.
However, since 2020, cases of Ehrlichiosis have been detected in northern Western Australia, the Northern Territory and northern South Australia, plus one case in early 2022 a case in Mt Isa, in western Queensland. Find out more about the situation in Western Australia.
It's important to use a tick treatment for your dog, plus daily check your pet for ticks when they've been in bushland areas. At the moment I give my dog a NexGard Spectra chewable each month. There are also a number of other chews, spot-on treatments and collars, including the Seresto Collar (for puppies and small dogs, or medium and large dogs).
For a great discussion of options available in Australia, check out this guide or speak to your vet.
Look Out for 1080 Baits
Before hiking anywhere with your dog, check for signs warning about 1080 poison, sodium fluroacetate, baits. These baits are frequently used to control foxes and feral cats, in both public reserves such as national parks and by private landowners. Unfortunately, these baits can also easily kill your pet dog or cat.
If baiting has recently occurred, there should be signs up warning dog owners to not take their dog into the area. I've noticed these signs are reserves around Sydney, covering a period of about one month, about once per year. There are also often online warnings, such as this map for the WA Western Shield program. Find somewhere else to go hiking with your dog.
However, sometimes baits may be present and there are no warning signs. Usage of 1080 baits is particularly widespread in Western Australia, with the situation so bad that the Parks and Wildlife Service of Western Australia advised in September 2020 that it's best to leave your pets at home while holidaying.
If you are concerned about 1080 baits, keep your dog by your side on a leash and use a muzzle that prevents your dog from eating or even licking a bait. Frequently recommended muzzles include the UK Yard Muzzles for Greyhounds, Baskerville muzzles (although these still allow a dog to eat a treat), or solid wire cage muzzles. Fit the muzzle ahead of time, checking your dog cannot remove the muzzle, and train your dog to wear a muzzle.
If you believe that your dog has been poisoned by a bait, seek veterinary assistance immediately. Early signs include frenzied behaviour, vomiting and loss of bowel control. There is no antidote and unfortunately 1080 poison is usually fatal.
What About Snakes?
When hiking in the bush, dogs are also exposed to the same risks as humans, including the risk of being bitten by one of the many deadly snake breeds present in Australia.
In my long years of experience hiking in Australia, both with and without my dog, I actually haven't spotted that many snakes, although there's probably many more occasions where they have been nearby. Frequently snakes will sense the vibrations of yourself and your dog, and move away.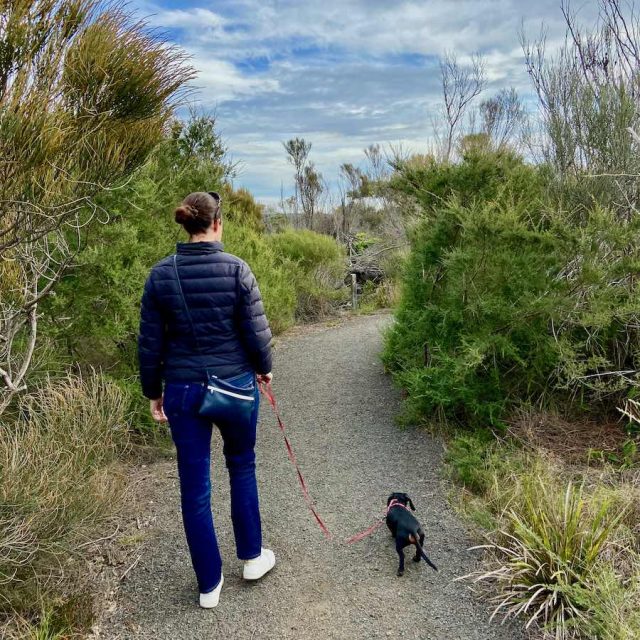 The best way to keep your dog safe is to keep them on a lead, by your side. In particular, don't allow them to run through long grass. If you do spot a snake, stand still and move slowly away with your dog. Don't be aggressive towards the snake.
If you suspect your dog has been bitten by a snake, get them to a vet as quick as possible. With timely anti-venom treatment, many pets can be saved, depending on the number of bites. Find out more in this factsheet.
What To Pack for Your Dog
Just as you should always be prepared and take a bag when hiking, except on short urban walks, make sure you also pack everything your dog may need when hiking with your dog.
Consider packing the following items when hiking with dogs:
Additional water for your dog
A collapsible water bowl
Plenty of treats (both to reward and provide additional energy)
Poop bags and perhaps an extra zip-lock bag (to cut down on odour if the inevitable happens at the start of the hike!)
Dog coat (during cold weather)
Towel (or at least leave one in your car, in case your dog needs to be dried or roughly cleaned before hopping in)
Dog Backpacks and Slings
You may also want to consider a dog backpack or carry sling for your dog. For instance, puppies shouldn't be walked long distances until they get older, as excessive exercise can affect their musculoskeletal development, particularly in large and giant breeds.
Dogs with breathing difficulties, older dogs and small dogs may also not be up to walking long distances. Having a way to comfortably carry your dog can be handy when your dog needs a rest.
Check out this great guide to backpacks for carrying Dachshunds and other small dogs. One popular option is the K9 Sport Sack, although this option isn't suitable for Dachshunds.
Be Responsible When Hiking with Your Dog
Finally, when hiking with your dog, always be a responsible hiker and consider other people on the walking track.
If the area requires your dog to stay on a leash, keep them on a leash. Even in off-leash areas, it's usually appreciated if you leash your dog when passing other people, with or without a dog.
Always pick up after your dog. And don't leave poop bags on the side of the track. Carry them with you until you see a bin or take them home with you if necessary.
By being a considerate user of the hiking trail and following the rules, the trail is more likely to stay dog-friendly into the future.
Inspired? Pin this to your Pinterest board!