If you live in Australia and want to travel with your dog, the best option is to travel domestically within Australia. Thanks to the strict quarantine laws for getting your dog back into Australia, not to mention the expense, heading overseas with your dog is often unfeasible.
Not that your options in Australia are that narrow, thanks to this vast and varied continent. And while limited accommodation options, transport restrictions and pets being banned from nearly all national parks makes travelling with a dog more difficult than in other parts of the world, travelling with your dog in Australia can still be very rewarding, whether it's for a weekend away or on a Big Lap around Australia.
Never travelled with your dog before? Read my guide on how to travel with a dog for plenty of tips!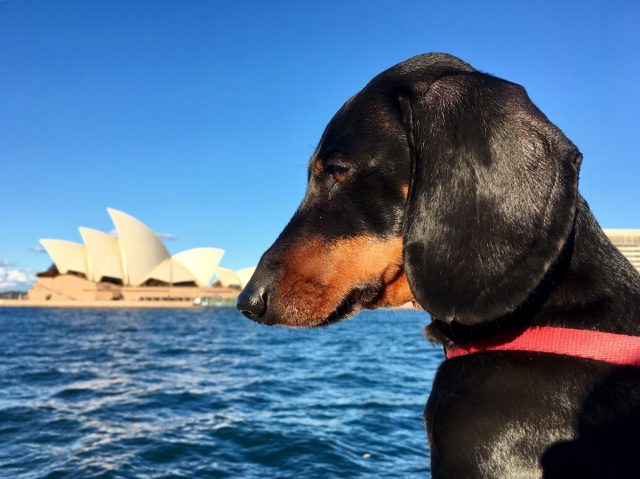 Travelling Between Australian States with a Dog
If you're travelling with your pet across state and territory borders, be aware that some biosecurity rules may be in place. Just as you may not be allowed to transport fruits and vegetables across the border, extra checks may apply for transporting your dog.
The latest rules (which can change from time to time) are downloadable in a PDF from the Australian Interstate Quarantine website. Currently, there are no restrictions for travelling across any state borders with a cat. And there is only one state with a requirement for transporting dogs to the state: Tasmania.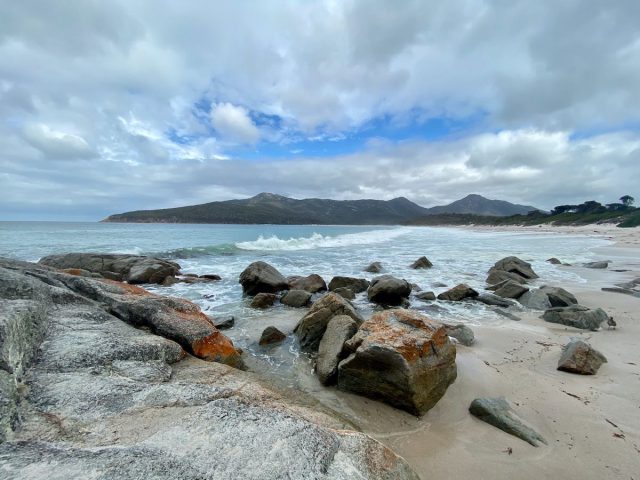 Before dogs travel to Tasmania, whether on the Spirit of Tasmania or on a plane, they must be treated for the hydatid tapeworm. This needs to be done within 14 days of entry to Tasmania. Evidence can include an official statement from your vet, a statutory declaration or a pill packet and receipt. For more information, see this factsheet.
Additionally, since the outbreak of the tick-transmited Ehrlichiosis disease in northern Australia, on the same form, you also need to declare that you have inspected your dog for ticks.
I've sometimes seen references to quarantine applying for Western Australia, but there are currently no restrictions or quarantine for pet dogs and cats travelling to WA, as listed here.
Note, however, if you are travelling to some of the territories of Australia located overseas, such as Norfolk Island or Christmas Island, extra requirements may apply.
Driving Around Australia with a Dog
The best way to travel around Australia with your dog is in your own vehicle. There's a great tradition of doing the Big Lap, and many people take along their dog, finding dog-friendly options along the way. Your dog is your best friend and driving around with them is one of the best ways to ensure that the two of you will have a memorable trip together.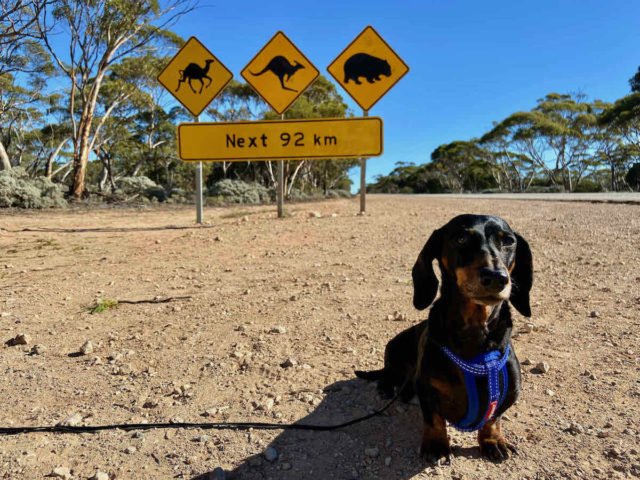 Alternatively, if you're just going away for the weekend, it's also easiest if you can drive your own car. There's no restrictions or extra fees, and your dog should already be used to and comfortable with travelling in your car.
For long distance travels in Australia, it's easiest and cheapest if you have a campervan, campertrailer or caravan, so that you can take advantage of the free camp sites around the country. (Which also usually don't have rules prohibiting dogs.)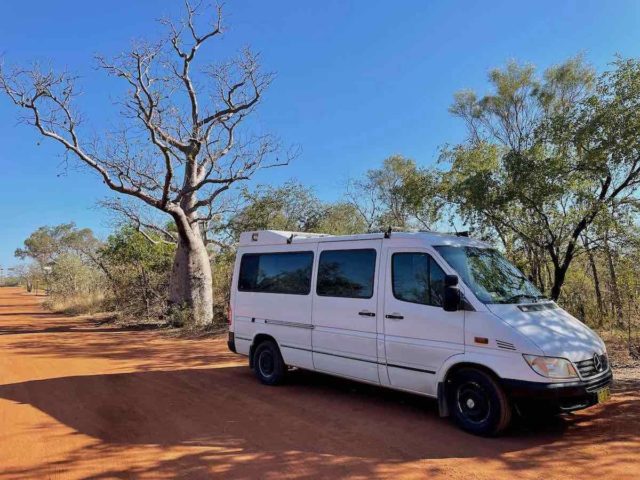 Taking along a regular tent may also be an option, but the ground at free campsites isn't always suitable ground for pitching tents, and you'll more likely need to camp at caravan parks, paying fees and being restricted to parks that permit dogs.
Check out my guide on camping around Australia for more information, plus my guide on dog-friendly road trips. I've also put together specific guides if you are driving along the Hume, driving from Sydney to Brisbane or driving from Adelaide to Darwin with your dog.
Hiring a Car in Australia with a Dog
If you don't have your own car, or are firstly flying somewhere with your dog, you may be planning to hire a car. This is a great option for taking a road trip with your dog, especially if you don't own a car. However, be aware that most hire car companies in Australia have restrictions when it comes to transporting dogs in their cars.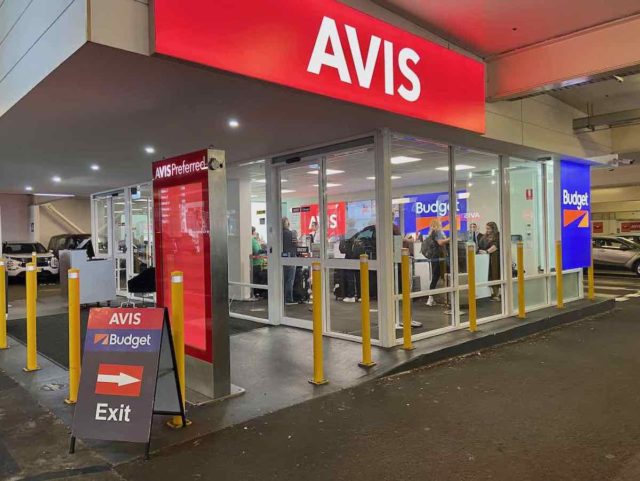 There are a few hire car companies that outright ban dogs in their vehicles. However, with some other companies it is up to the individual location. Before hiring a car, call the branch that you are planning to hire from, and speak to the manager. Naturally, of course, cars are expected to be kept free of pet hair, or at least returned free of pet hair.
For more details, including the policies of the major companies and lots of tips, read my post on hiring a car in Australia with a pet. Then search for the best hire car for your preferred location and dates at Discover Cars.
Hiring a Campervan in Australia with a Dog
Rather than a car, you could also consider hiring a campervan. Travelling with a campervan will make it far easier to find somewhere dog-friendly to stay the night, whether the many caravan parks in Australia that allow pets on sites, or even free camping spots.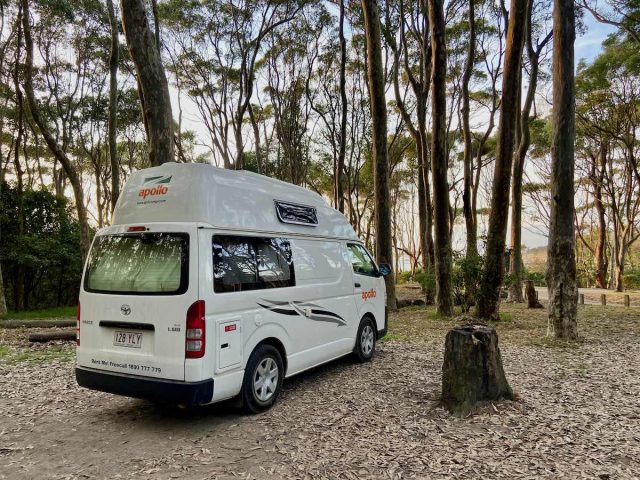 Some, but not all, campervan hire companies in Australia permit pets in their motorhomes and campervans, for an additional fee. To easily view a list of options, search for a campervan hire on campstar, then click on the filter "Pets Allowed". Pet fees are listed and can be added to your selected option.
To find out more, check out my guide on how to hire a pet-friendly campervan in Australia.
Flying with a Dog in Australia
Given the size of Australia, it's often quickest to get to your destination by flying. Dogs are also permitted to fly with you in Australia, although there are of course restrictions.
First up, no airline in Australia permits dogs to fly in the cabin, unlike in many parts of the world such as Europe and the USA, except for recognised assistance dogs. The Australian aviation rules recently changed from outright banning this to leaving it up to the airline, but no airline has yet changed their rules.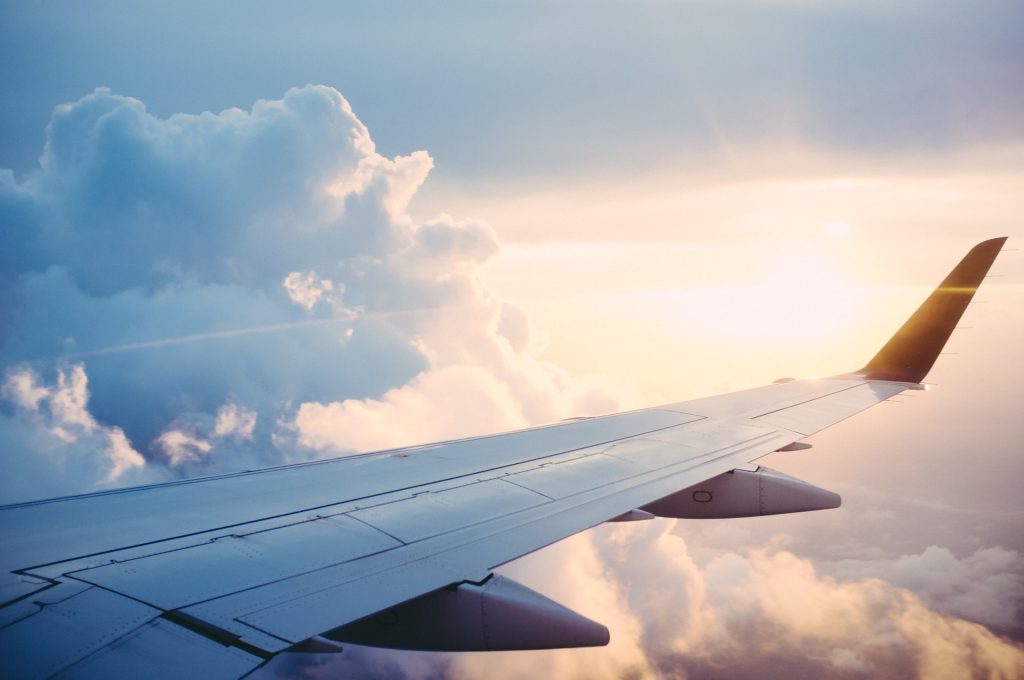 When flying with your pet, your options are flying with Qantas (including Qantaslink), Virgin Australia and Regional Express (REX). Note that the discount airlines Jetstar and Bonza do not transport pets.
If you are travelling with Qantas, it is easy to book your pet's flight online, ideally before your book your own flight (due to limited numbers, particularly on Qantaslink). The cost is based on weight and crate size.
From 2020 to 2023 it was required to book through a pet transport company, but this is no longer the case, except if you have a snub-nosed dog or cat – you can now book directly with Qantas Freight. However, prices in 2023 have increased substantially compared to 2019. For more information, click here, plus check out their handy FAQs.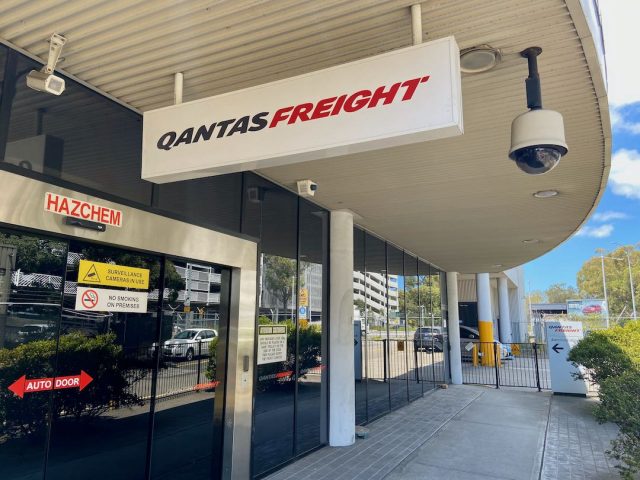 If you would like to fly your dog with Virgin Australia, all the relevant information is provided here. Virgin still requires you to make a booking for your pet's flight through a pet transport company, such as Jetpets or Dogtainers.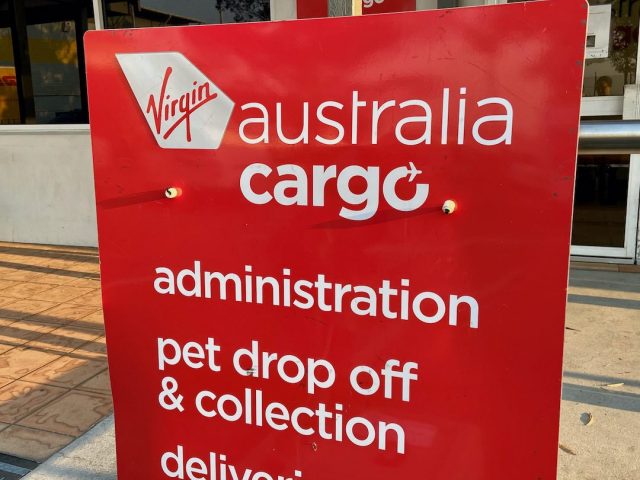 If you are flying with Regional Express (REX), the arrangements differ depending on what state you are travelling in. Pets flying on regional flights within New South Wales and Victoria that weight no more than 30kg, including their crate, can simply and easily fly as excess baggage.
However, in South Australia and Western Australia, pets need to be booked and lodged through Qantas Freight, while in Queensland you need to book through Dogtainers. Plus pets flying on the newer Boeing 737-800 jet operated flights between capital cities need to be booked through selected pet transport companies. Check out the full details here.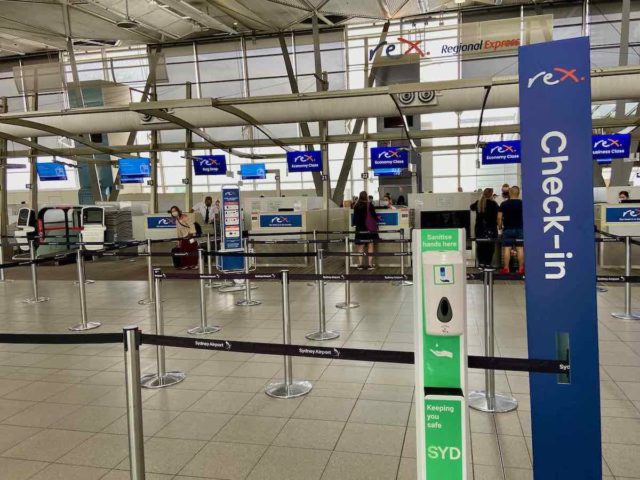 Note that your pet will need to travel in an approved flight crate. Crates are available for purchase from major pet stores, pet transport companies plus directly from Qantas, at major domestic airports. Or you can hire a create if you are using a pet transport company. For more information on the suitable size crate and other requirements, see this handy guide from Qantas.
For more information on flying with your dog, check out my very detailed guide to flying with a dog in Australia. Additionally, if you're considering flying in the warmer months of the year, check out my tips for flying with your dog in summer.
Catching Long-Distance Trains in Australia with a Dog
In general, pet dogs are not permitted on long distance trains in Australia. Great Southern Rail, which operates the famous long-distance trains including The Ghan and Indian Pacific, does not permit pets. NSW Trains and Queensland Rail also clearly prohibit pets.
The main exception is V/Line in Victoria. Small animals, including both cats and dogs, are permitted to travel on all V/Line train services (but not coach services), as long as they travel in a suitable container. The container must be stored in an assigned storage location, and transport during off-peak periods is recommended. For more information, see here.
Local Transport in Australia with a Dog
Whether your dog is allowed on local public transport in Australia depends on what state you are in. Public transport is organised by each state government, so the rules vary between each state.
The most dog-friendly state in Australia when it comes to public transport is Victoria, by a long shot! Public Transport Victoria allows small dogs in a container to travel on all trains (both metropolitan and the regional V/Line train services, see above), trams and buses in the state.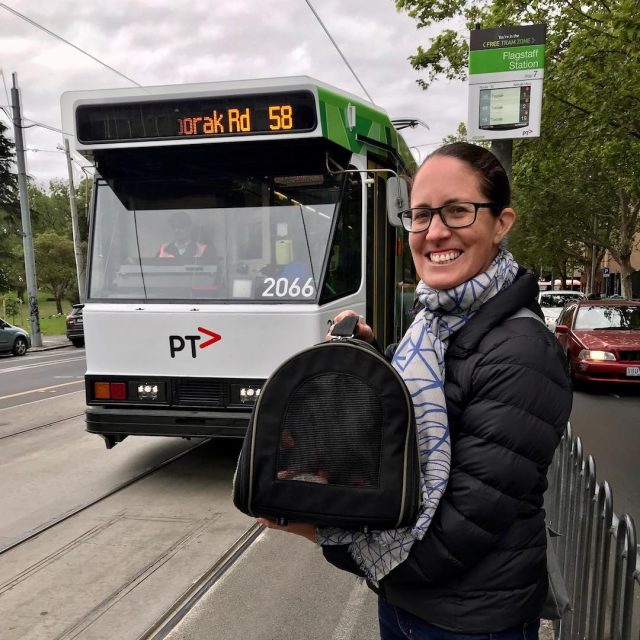 Additionally, larger dogs are allowed on metropolitan trains, if they are wearing a leash and muzzle. The only non-dog-friendly services are V/Line coaches. For more information, see the full guidelines.
The next most dog-friendly state is New South Wales. Small dogs in an enclosed carrier are allowed on buses, light rail and ferries, although you need to ask permission from the driver/crew and ideally avoid peak hour. (I often catch buses with my dog for weekend outings.)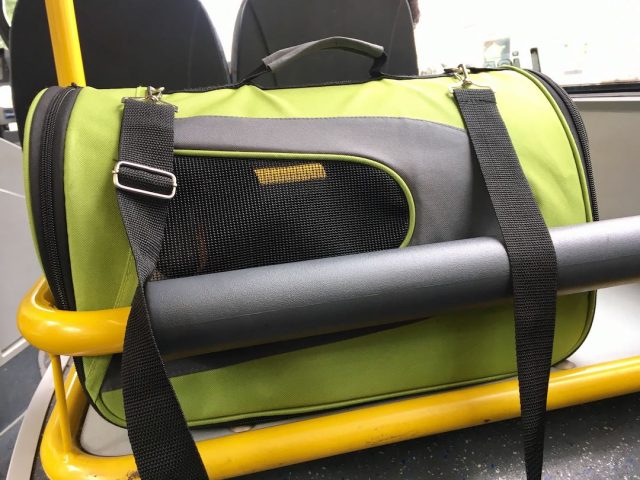 However, no dogs of any size, not even small dogs in a carrier, are allowed on the state's trains, plus the new metro lines or coaches. Check out the full rules.
The Australian Capital Territory (ACT, basically Canberra) is also becoming more pet-friendly when it comes to public transport. The latest rules stipulate that pets are allowed on both light rail services and buses, as long as they are in a secure pet carrier and, in the case of buses, if you ask permission off the driver. Here are the relevant rules.
Finally, Queensland permits dogs to travel on Brisbane River ferries and CityCats. Both small and large dogs are permitted, either in an enclosed carrier or wearing a leash and muzzle, on the outside deck. Note that they aren't permitted during peak hours (6am to 8:30am and 3:30pm to 7pm Monday to Friday). See the full details here.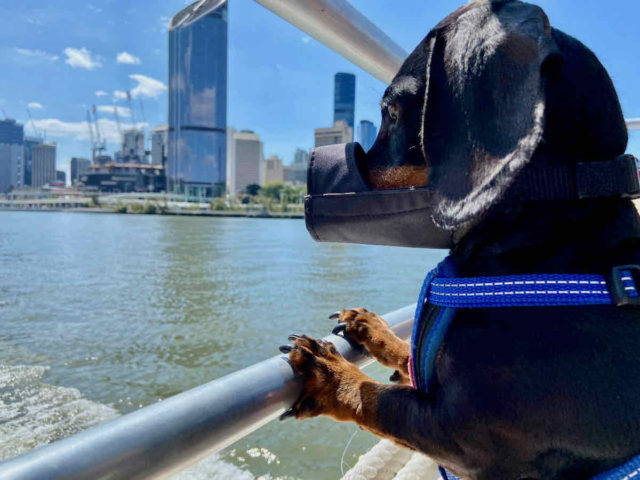 Elsewhere in Australia, unfortunately pet animals are not allowed on public transport, except for approved assistance animals. This applies in Western Australia (Transperth rules), South Australia (Adelaide Metro rules), Tasmania (Metro Tas rules), and the Northern Territory (rules).
As an alternative, consider booking an Uber Pet ride. Available in most Australian cities for about $6-7 more than a standard UberX trip, selecting this option means the Uber driver is happy to transport your dog.
Up to one pet is allowed (at the discretion of the driver), with no size or breed restrictions. Bring along your own leash, harness or carrier to restrain your dog, plus ideally something to cover the car seat. No cleaning change should apply for small amounts of hair, but excessive hair or "accidents" will incur a cleaning fee.
Dining Out in Australia with a Dog
Luckily one area where Australia is more dog-friendly than many parts of the world (including many states in the USA and provinces in Canada) is in allowing dogs to join you in outdoor dining areas.
There is a single regulator for all of Australia and New Zealand, Food Safety Australia & New Zealand, and in 2012 they changed the rules to permit dogs in the outdoor dining areas of cafe and restaurants.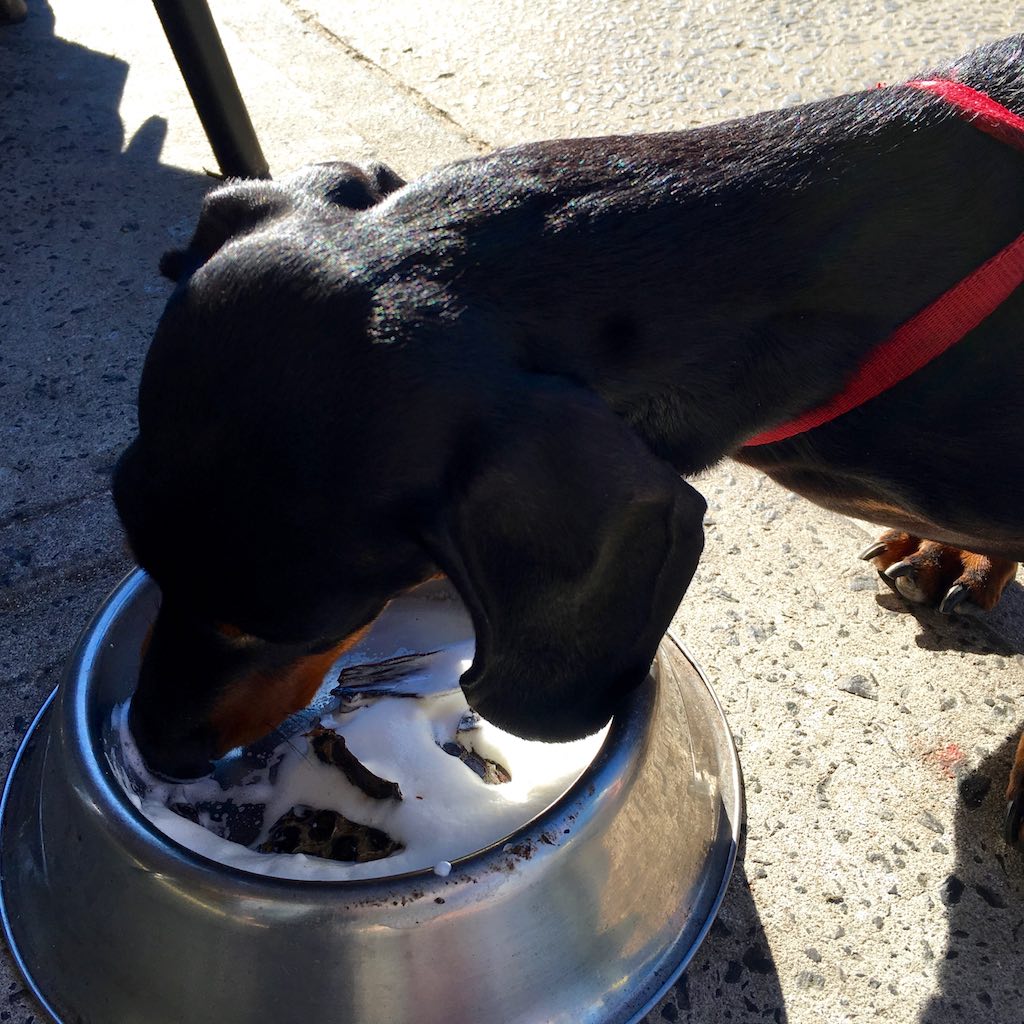 There is still the caveat that individual cafes and restaurants may choose to not allow dogs, so always check first unless dogs are clearly allowed. Plus additional rules usually apply. For instance, in NSW the rules state that dogs must be leashed, not be fed, stay on the ground, and not pass through enclosed areas to reach the outdoor area.
While dogs are not allowed in inside dining areas unlike in some parts of the world, luckily the weather is warm enough most of the year across Australia to dine outside, and during chillier weather many restaurants and cafes provide outdoor heaters.
There are also some pubs in Australia that permit dogs inside, but this is a bit of a grey area, and there have been crack-downs at times. This is more likely to apply in the front bar, and strictly exclude indoor dining areas. For recommendations of pubs that allow dogs inside, check out this list for Sydney and this list for Melbourne.
Dog-Friendly Accommodation in Australia
When it comes to dog-friendly hotels in Australia, the selection is limited, although fortunately growing. The most likely hotels to permit dogs tend to be boutique and luxury hotels in the cities, plus small country motels run by an independent owner.
While most chain hotels in Australia previously didn't permit pets, a growing number of hotel chains are pet-friendly. Ranging from luxury brands to apartment hotel chains, usually the pet policy is consistent between all properties. The greatest number of options are in the capital cities of Sydney, Melbourne, Brisbane and Perth.
Note also that some dog-friendly hotels don't publicise this on third-party booking sites, only accepting direct bookings. Even if a hotel does mention it allows pets on a third-party booking site, it might be best to contact them directly, as often only specific rooms allow dogs, plus there might be weight restrictions and usually always a fee.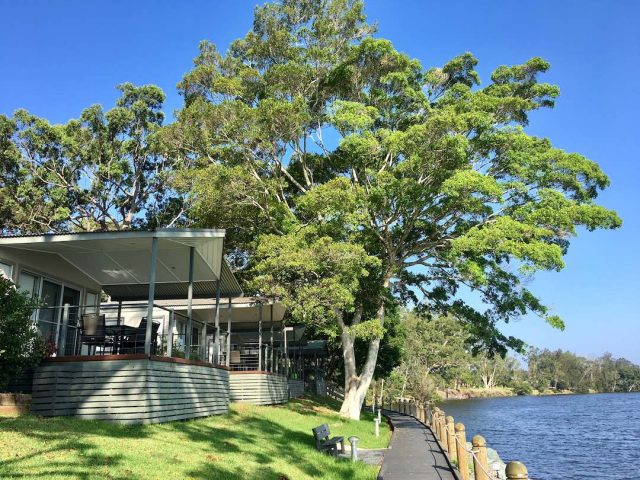 A much more popular accommodation option in Australia for people travelling with dogs are the many caravan parks. A fair number of caravan parks in Australia permit pets, although this is often restricted to people staying in their own caravan or tent, perhaps in selected sites only.
The number of caravan parks that allow pets in their cabins is smaller, although I have stayed in the wonderful deluxe cabins at Discovery Parks – Forster that are dog-friendly. Also keep in mind that many caravan parks in popular coastal regions stop allowing pets during the peak summer holiday period.
If you are travelling with your own campervan, caravan or tent, free campsites may also be an option. As well as not costing anything, these locations tend to not have many rules. Unfortunately, the cheap or free campsites in national parks are not an option, as dogs are prohibited in nearly all national parks (see more below).
Check out my post on how to find dog-friendly camping in Australia, from caravan parks to free camp sites.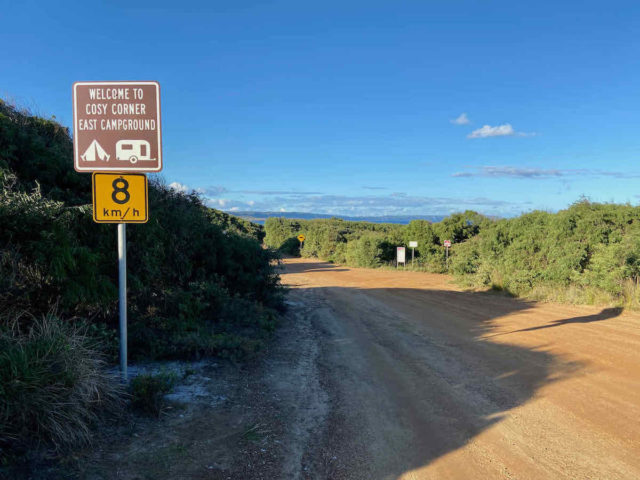 If you like the idea of camping with your dog but don't have your own tent, consider one of the dog-friendly glamping tents around Australia, ranging from basic to luxe.
Another option to consider are Airbnbs. We've stayed before in dog-friendly Airbnbs in Sydney. Check out my step-by-step instructions on finding and staying in pet-friendly Airbnbs.
For some dog-friendly accommodation recommendations around Australia, check out these posts:
Pet-Friendly Hotels in Australia
Dog-Friendly Caravan Parks in Australia
More Pet-Friendly Accommodation in Australia
Dog-Friendly Campsites in Australia
For something different, have you considered hiring a houseboat? To find a houseboat hire company that permits dogs onboard, check out my guide to dog-friendly houseboats in Australia.
Dog-Friendly Sightseeing in Australia
Many of Australia's top sights are located inside of our country's many national parks (of which there were a huge 619 when I last checked!) And unfortunately, pets are strictly forbidden inside of nearly all Australian national parks.
These are the rules for parks in NSW. As well as being banned from national parks in NSW, pets are also banned from state conversation areas, nature reserves, historic sites and Aboriginal areas in the state. This even applies if you leave your pet in your car, unless you need to drive through a park to access private property, in which case you are not permitted to stop.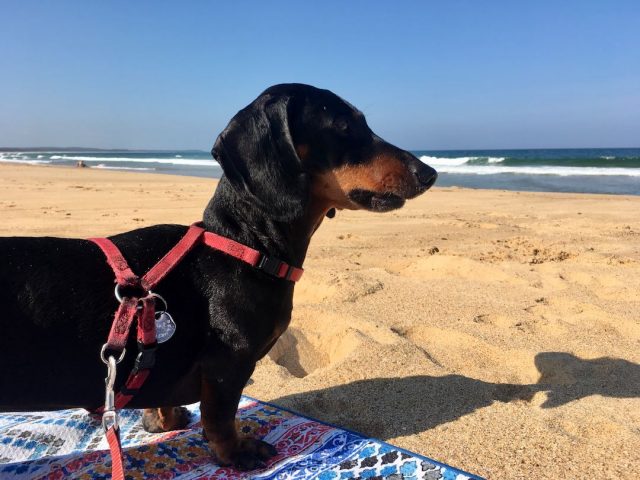 So, what sightseeing can you do with your pet dog in Australia? These are some suggestions: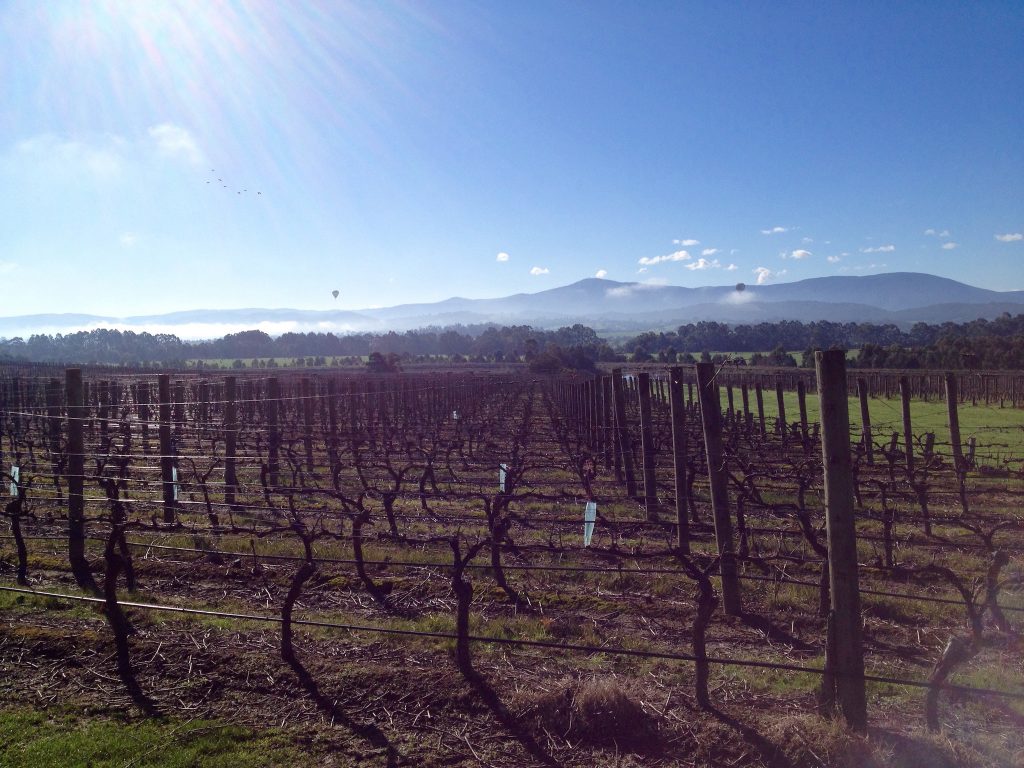 In particular, check out my list of the most dog-friendly destinations in Australia, all with plenty of fun dog-friendly things to do with your pup.
And if you're just wanting to let your dog run around off-leash at the park, but with the security of knowing it's fenced (especially when you're far from home), check out these dog parks:
Keeping Your Dog Safe
There's a long list of things that you need to keep your dog safe from while travelling in Australia, especially if you're heading to remote areas. Even close to home, there's still the risk of ticks and snakes, not to mention 1080 poison. To find out more, check out my guide on how to keep your dog safe while travelling in Australia.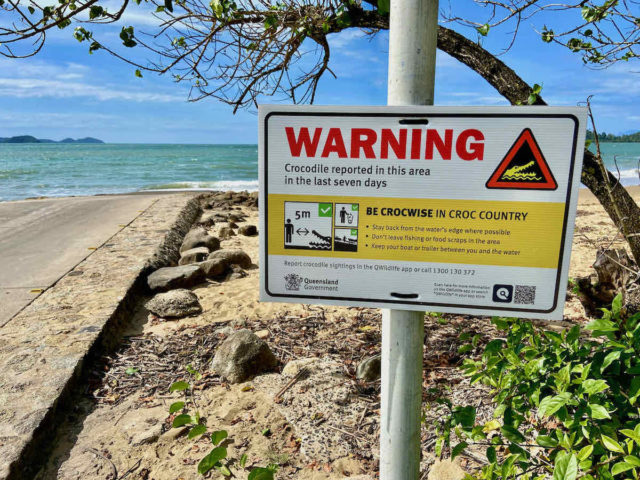 To help mitigate the risks, consider packing a pet first aid kit and taking a pet first aid course. Keep the number of a local emergency vet handy, or find out about the options for consulting a vet online.
Using Kennels & Dog-Sitters
As many tourist attractions in Australia aren't dog-friendly, including if you're wanting to visit any national park, many people travelling Australia with dogs make use of kennels and dog-sitters on their travels.
Firstly, there are many kennels scattered around Australia, where your dog can stay overnight or just for the day. Often local vets can provide listings if you can't find any options online. Alternatively, there are multiple websites these days that provide listings for dog-sitting in people's home.
Another option is to speak to other travellers that also have dogs. I've often heard of people taking turns looking after each other dogs. Noticeboards and receptions at caravan parks are also a good place to check for options.
Dog-Friendly Guides to Australia
I've put together a large number of dog-friendly guides to different destinations across Australia. Check out these guides before planning your trip or while on the road:
Australian Capital Territory (ACT)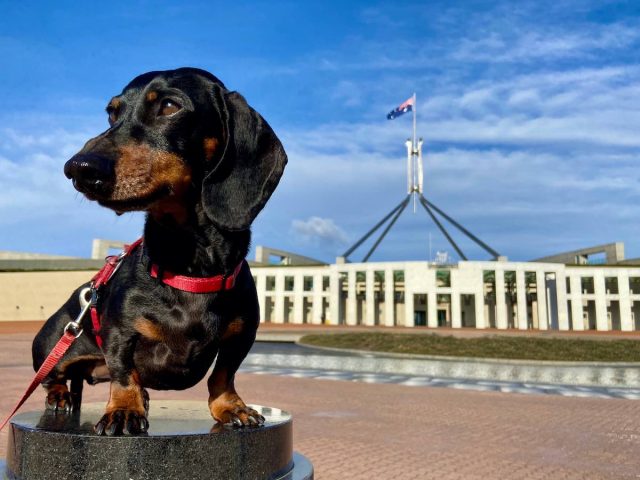 New South Wales (NSW)
General guides:
Around Sydney: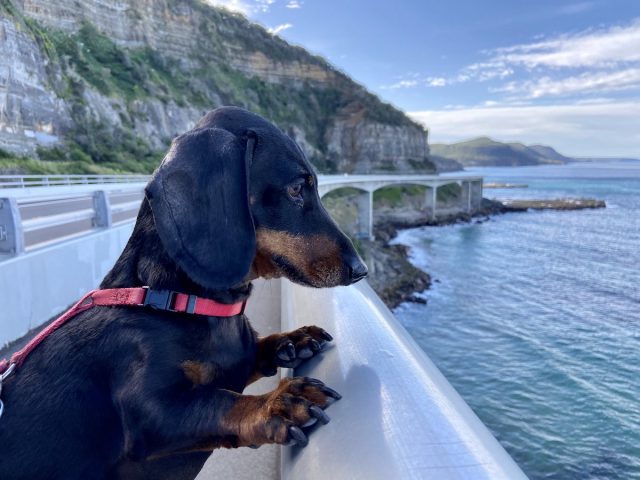 Dog-friendly getaways to the South Coast:
Dog-friendly getaways to the North Coast: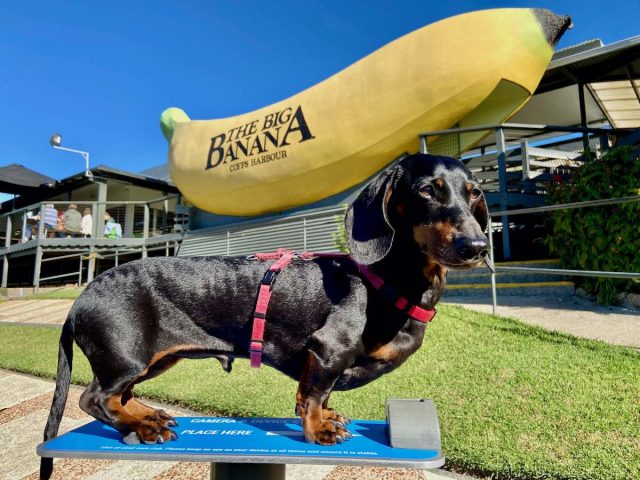 Head inland from Sydney:
Northern Territory (NT)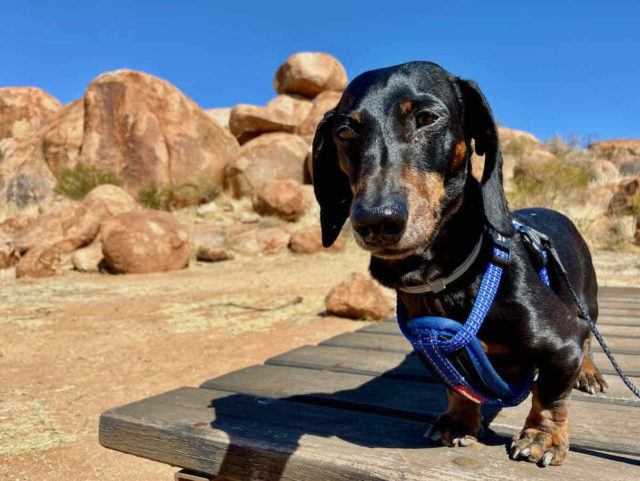 Queensland (QLD)
General guides:
Dog-friendly guides to Southeastern Queensland: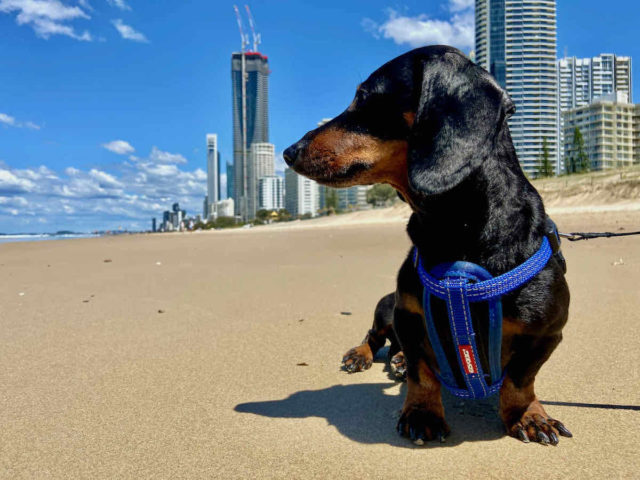 Dog-friendly guides to Central Queensland:
Dog-friendly guides to Northern Queensland:
South Australia (SA)
General guides:
Around Adelaide:
Regional and outback South Australia: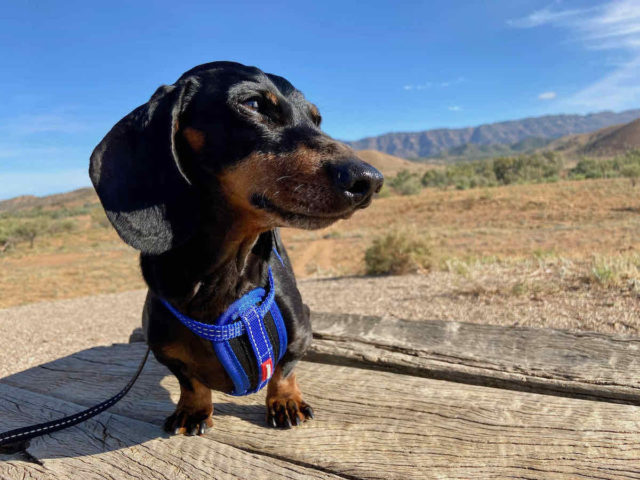 Tasmania (TAS)
General guides:
City guides: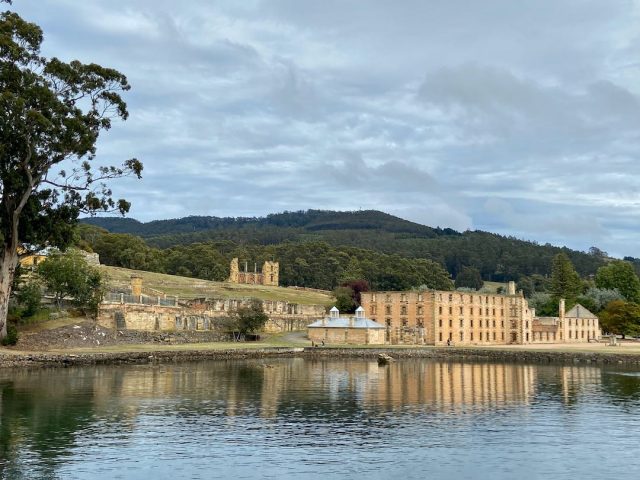 Victoria (VIC)
General guides:
Around Melbourne: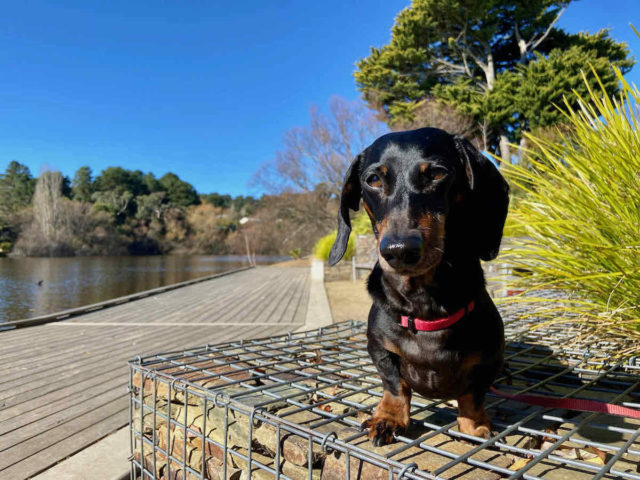 Dog-friendly guides to country Victoria: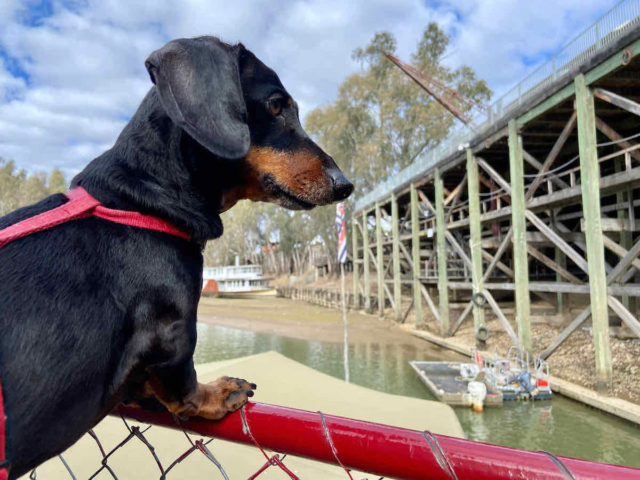 Western Australia (WA)
General guides:
Dog-friendly guides to Southern WA: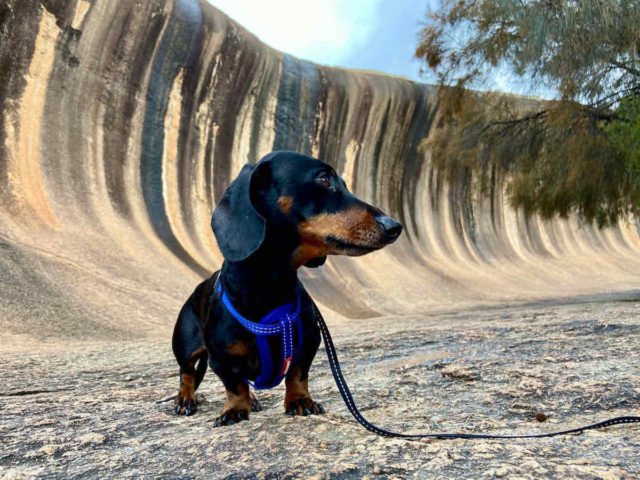 Heading north along the WA coast: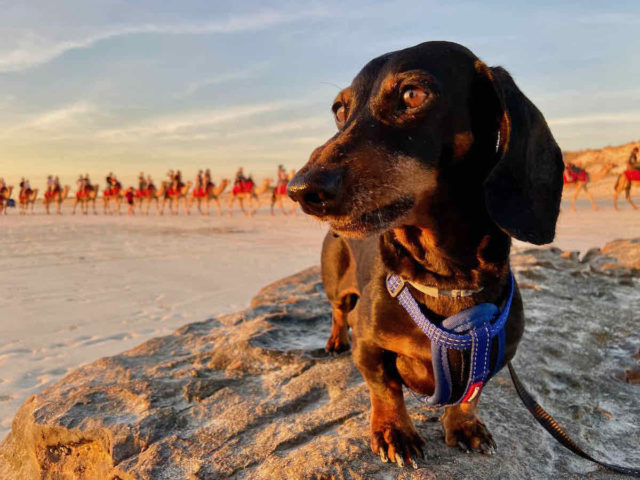 If You Are Travelling to Australia with a Dog…
While travelling to Australia with a dog is difficult and expensive, as I clearly showed when documenting my experience returning to Australia with my dog, it is not completely out of the question. For starters, the quarantine period is now a lot less than it used to be (as low as 10 days), although some changes in early 2023 have complicated things.
If you're heading overseas for an extended period, or relocating for work, you can bring along your dog, at least if you're currently living in most developed countries. The process is even easier if you're just travelling from New Zealand. These are the preparation steps required to import a dog to Australia depending on what country you are currently in.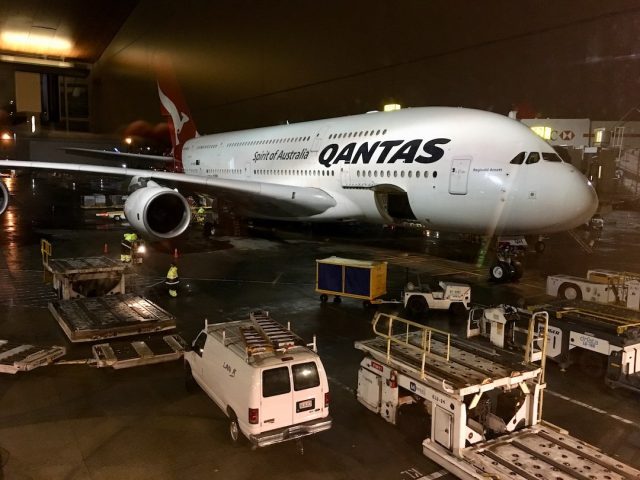 Firstly, there are Group 1 countries, which only includes New Zealand plus the Australian territories of Norfolk Island and Cocos Islands. The preparation required is fairly minimal, and no quarantine is required. For more information, see the steps for New Zealand.
Secondly, there are Group 2 countries and territories. These countries and territories are regarded as rabies-free, and include many island nations, plus the US territory of Guam and state of Hawaii.
Dogs and cats travelling to Australia from these countries, who have spent at least the last 6 months in the country or territory, do not required a rabies vaccine or rabies titre test. Note that an identity verification step is now required, at least 180 days beforehand plus quarantine is still required. For more information, click here.
Finally, there are Group 3 countries. This includes most European countries, the USA and Canada. The standard preparation (that my dog required coming from the USA) applies in these countries, including a rabies vaccine, rabies titre test and quarantine. Allow at least seven months for the preparation steps. This is detailed here.
The main barrier to travelling to Australia with your dog is if your country of export isn't listed in any of these three groups, as many developing countries aren't. You cannot import your dog directly from these countries to Australia.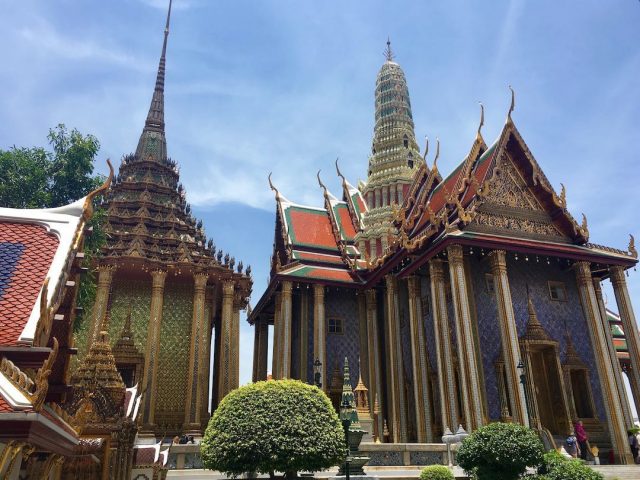 Instead, your dog needs to travel to Australia via a Group 2 or Group 3 country. Previously only the final preparation steps needed to be done in this second country, but the rules have changed to require a stay of at least six months in this second country. For more information see here.
Additionally, a new identity step has been introduced for Group 3 countries so that your pet is eligible for 10 days quarantine, otherwise they require a 30 day stay in quarantine. This step isn't yet able to be completed in many countries, increasing your pet's likely stay in quarantine.
Check out more guide with more tips on importing a dog to Australia. Or to find out more about what a stay in quarantine is like for your pet, check out my guide to Australian quarantine. And no, it's not possible to fly with a dog in the cabin to Australia.
Note also that when leaving Australia, you are required to get an export permit for your dog. This mainly ensures that your dog is adequately prepared to travel to their destination country, plus ensures they have a health certificate that many other countries required. Read the full details for exporting your dog from Australia.
Inspired? Pin this to your Pinterest board!