The Sunshine Coast in Queensland is a terrific destination to visit with your dog, with plenty of dog-friendly beaches, dog-friendly walks and plenty more fun things to do with your dog by your side. You can be as active or lazy as you (and your dog!) would like.
But where should you stay with your dog on the Sunshine Coast? Luckily there's plenty of excellent pet-friendly accommodation options on the Sunshine Coast, including some beautiful holiday rentals and resorts. Check out these dog-friendly accommodation ideas…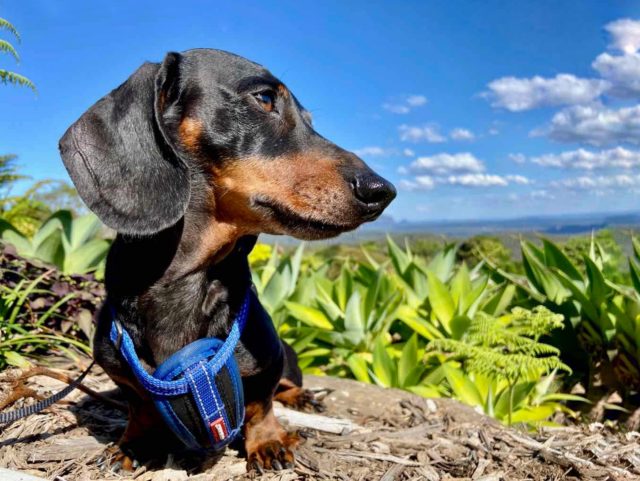 Note: This post contains affiliate links, which means I may receive commission if you make a purchase using the links. See my full disclaimer.
#1 Saltwater Villas, Mooloolaba
If it's a pet-friendly stay near the beach you're after on the Sunshine Coast, look no further than Saltwater Villas in the heart of Mooloolaba. All of the villas at this boutique villa complex are pet-friendly, including the waterfront villas with their own fully-fenced private courtyard. And of course pets are allowed inside with you.
Depending on the number of guests, choose between the two-bedroom villas sleeping up to four, three studios, or the three-bedroom house sleeping up to ten guests. All accommodation is air-conditioned, beautifully furnished and features water or garden views.
It's possible to rent tinnies, kayaks or SUP boards at Saltwater Villas, to enjoy a day out on the water with your pup. Alternatively, book into a beauty treatment at the day spa. The owners just request that you don't leave pets unattended – instead book in for their pet minding service.
Note that an additional charge of $50 per stay applies if staying with pets, and to enquire in advance if you are travelling with multiple pets.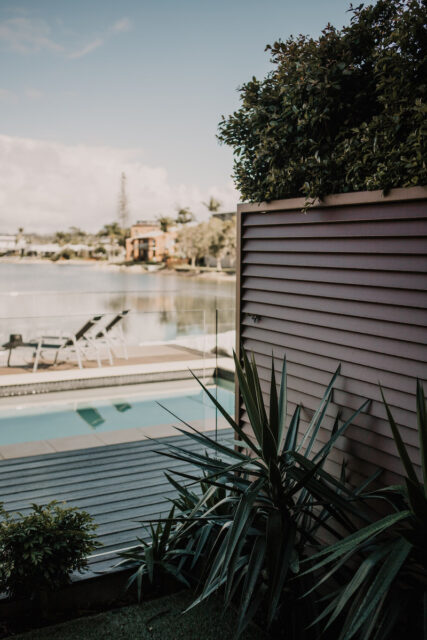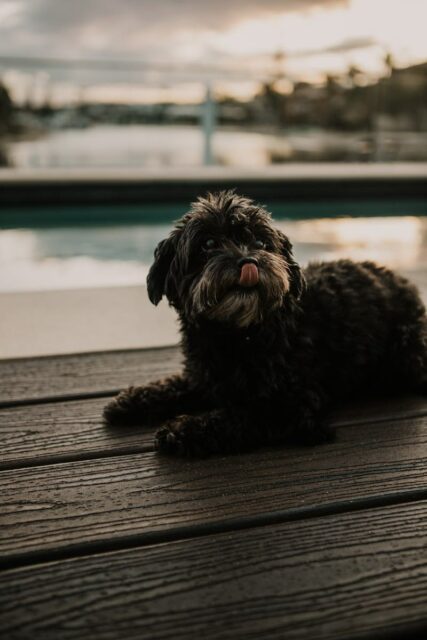 #2 Sunshine Valley Cottages, Woombye
The Sunshine Coast isn't all just about beaches, although a dog-friendly beach is never far away. Head inland to the beautiful hinterland for a stay with your dogs at Sunshine Valley Cottages in Woombye. Choose between three gorgeous cottages, each sleeping two humans and set in beautiful tropical gardens with a saltwater pool onsite.
House-trained pets are allowed inside each of the cottages, although not on the furniture or bedding. Each of the cottages is fully fenced, plus there's one acre of grounds for them to enjoy off-leash, along with two separate fenced off-leash areas and dog agility park.
Make sure you notify the owners in advance if you are bringing a dog, plus call and discuss if you have more than one pooch. There are no size limits and just a small additional fee of $10 per pet per night. Pet minding services are also available.
#3 Spicers Clovelly Estate, Montville
For true five-star luxury, look no further than the Spicers Retreats located in the Sunshine Coast Hinterland. Spicers Clovelly Estate is located at scenic Montville, with their French Cottage welcoming pets to join you for a luxury stay.
The French Cottage is perfect for groups of friends or families to enjoy a holiday together, with three bedrooms each with a king-size bed (twin bedding available on request, plus the option to add two rollaway beds), two marble bathrooms, kitchen and a large lounge area. Relax on the front or rear deck or in your own private splash pool.
The Pooch Package at Clovelly Estate features accommodation and daily a la carte breakfast, as well as a plush dog bed and bowl for your pup. Note that there is a size limit of 25kg for dogs staying at Spicers Retreats, and while they are allowed inside they are not permitted on the furniture.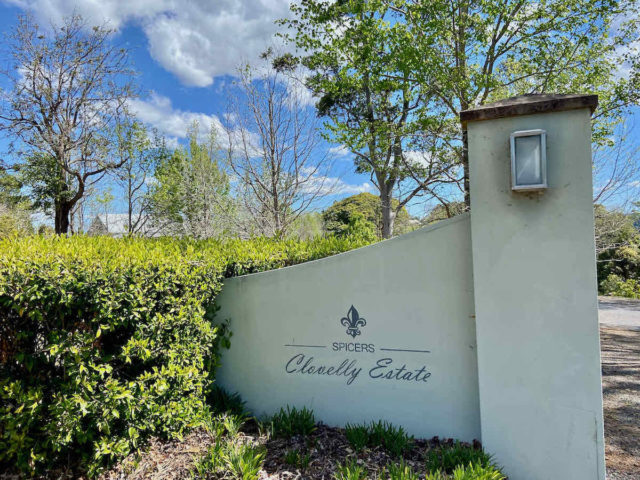 #4 Spicers Tamarind Retreat, Maleny
Clovelly Estate isn't the only pet-friendly Spicers Retreat located on the Sunshine Coast Hinterland. Head further south to the outskirts of Maleny where you'll find Spicers Tamarind Retreat. Fringed by rainforest, this Asian-influenced oasis has its own day spa and cooking school.
Pets are welcome to join you in the Orchard Villa. This spacious two-bedroom villa features two bedrooms with king-size beds, each with their own ensuite, along with a full kitchen and open plan lounge and dining area. There's a verandah with outdoor seating, or relax on chilly evenings by the fireplace.
The Pooch Package at Tamarind Retreat includes accommodation in the Orchard Villa and daily a la carte breakfast, as well as a plush dog bed and dog bowl in your room. Pets are welcome inside, although understandably not on the furniture or beds. A size limit of 25kg applies.
#5 Noosa Hinterland Escape, Black Mountain
At the northern fringe of the Sunshine Coast Hinterland at Black Mountain, a 25 minute drive inland from Noosa, is Noosa Hinterland Escape. Located in an original homestead dating back to the 1920s, this family-run B&B offers a country setting complete with lovely facilities such as the saltwater infinity pool, indoor fire, library and communal lounge.
This B&B is truly a pet-friendly property, with no discrimination on the basis of size. Up to two pets are permitted per room, although it's essential to call and discuss a pet booking in advance, so that the total number of pets on the property can be limited.
Locally made dog beds from Indie Boho are scattered around the property, with pet treats available for purchase. Your dogs are likely to meet the resident dog CEOs, Waldorf, Pood and Arlo, who love to play with visiting dogs. Note that dogs need to be kept on leash in common areas, plus are not to be left unattended – instead pet minding can be organised.
#6 Pillows & Paws Studio Apartment, Coolum
Not surprisingly given the name, Pillows & Paws in Coolum is very much a pet-friendly holiday rental. Located within walking distance of Coolum Beach, plus plenty of dog-friendly cafes and restaurants, it's perfect for a relaxing beach getaway with your pup.
A one-bedroom self-contained studio apartment with its own entrance, it can accommodate up to two adults plus an infant (bring your own cot). Outside is an alfresco verandah overlooking lush tropical gardens and a swimming pool, that you're welcome to enjoy as your own space.
Up to two dogs are welcome to join you, with no size restrictions applying. Dogs are of course welcome inside, plus to make use of the fenced yard. A two-night minimum applies, with discounts for longer term stays.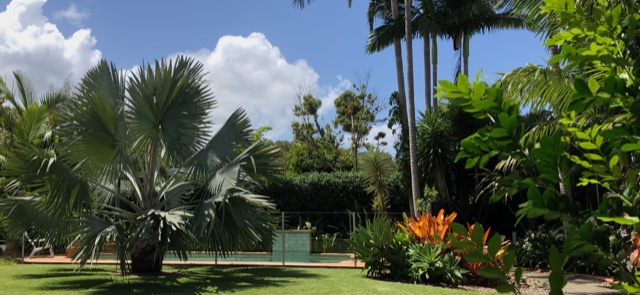 #7 Puppies & Pancakes Holiday Rental, Coolum
Puppies & Pancakes operates multiple pet-friendly holiday rentals in Australia, including this recently renovated two-bedroom rental unit in Coolum. Sleeping up to four guests with two queen-size beds, enjoy your own private entry and bi-fold doors opening to a large, fully-fenced private backyard.
It's the ideal property for dog lovers, with the popular off-leash Stumers Creek dog beach just a 1km walk away. Alternatively, relax onsite at the self-contained property. Leave the doors open to enjoy the sea breeze (there is no air-conditioning), with your pups able to wander in and out at their leisure.
Dogs are of course allowed inside, but ideally not on the furniture and beds. If your dog must go on the furniture, bring your own throws or towels, or use the ones provided by the property. Also bring your own dog beds and bowls. Generally there is a two dog maximum per booking (contact directly to discuss if you have more dogs), with no size restrictions.
#8 Rosecliffe Boutique Farm Cottages, Pomona
Rosecliffe Boutique Farm Cottages is set on a magnificent 93 acre farm with views stretching to the ocean and the Noosa Headland. A 35 minute drive inland from Noosa, choose between multiple pet-friendly accomodation options for your stay.
Rosecliffe Cottage is a one-bedroom cottage sleeping up to four, with a securely fenced patio courtyard and backyard. Rosecliffe Treetops features beautiful views and two bedrooms, accommodating up to five, with a fully fenced yard adjacent to the verandah. Alternatively, a small dog is welcome to join you at the unusual Rosecliffe Bus Stop, a restored vintage bus with a small fenced area.
Your dog will love the long walks on the farm and the adjacent Noosa Trail Network, or the seasonal swims in the dam. There's also the beautiful infinity waterfall swimming pool, plus the property is very kid-friendly, with the chance to feed the farm animals daily.
Note that you will be bringing a dog at the time of booking. Up to one medium to large dog is welcome, or alternatively two small dogs, but no barkers or aggressive dogs.
You May Also Like