While travelling with our dog Schnitzel, especially around Europe and the USA but also Australia, we've stayed in nearly 200 Airbnbs with him. We've often preferred to stay in a pet-friendly Airbnb rather than a hotel, particularly if we're staying somewhere for a while. We like having our own kitchen, not to mention there's often free parking and no additional fee for a dog.
Over the years, we've picked up some tips and tricks to make staying in an Airbnb with a dog relatively easy. If you're interested in staying in a pet-friendly Airbnb with your pets, especially for the first time, read on to find out how to have a great experience (and receive great reviews!), as well as how to find pet-friendly Airbnbs.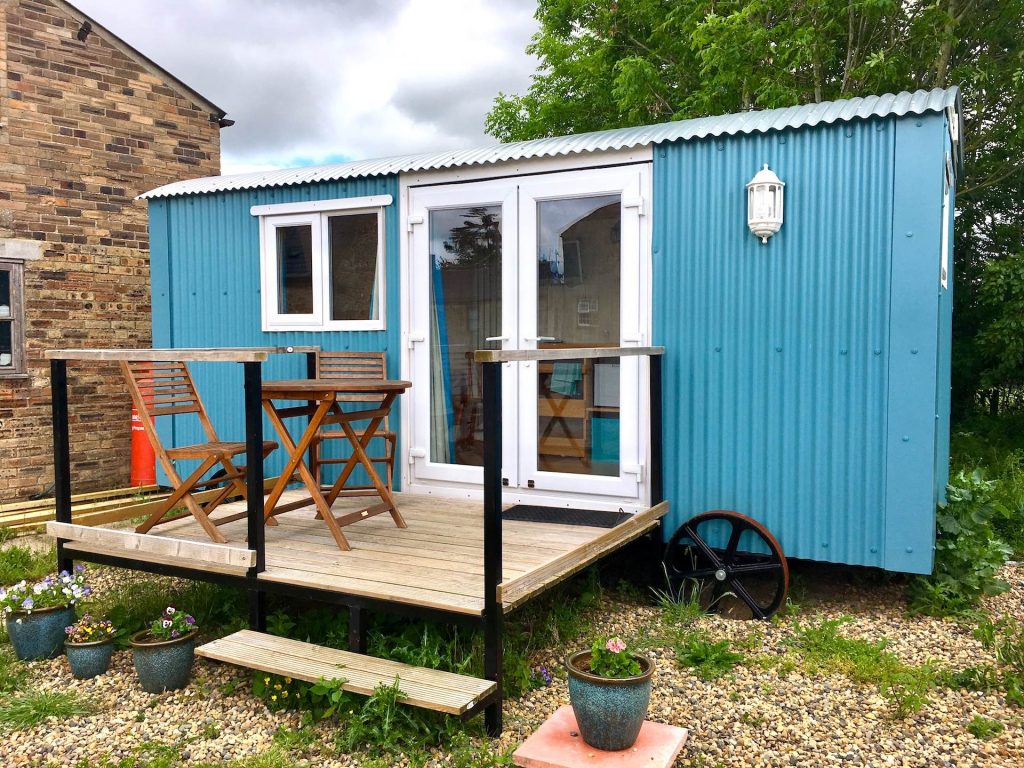 1. How to Find Pet-Friendly Airbnbs
To find pet-friendly accommodation on Airbnb, it's pretty easy! When you start searching for properties, include your pets upfront, so that only pet-friendly Airbnbs are returned. You no longer need to apply a filter for "Pets Allowed" after starting your search.
On the website, when specifying the number of guests as part of your search, also include the number of pets: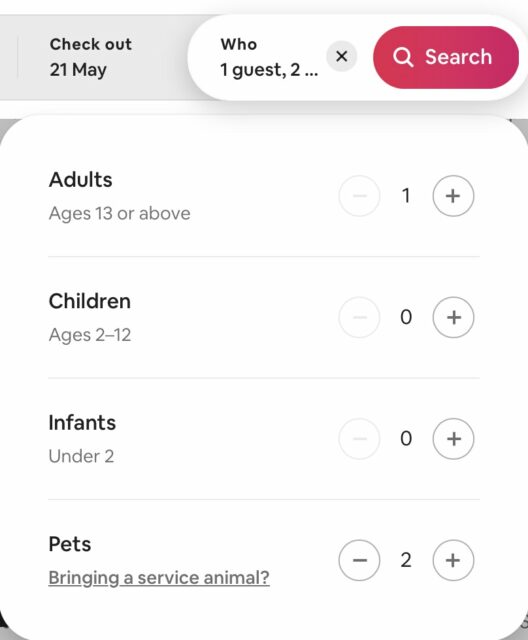 On the Android and iPhone Airbnb apps, the process is very similar. When specifying the number of guests, also specify the number of pets, with this interface displayed on the iPhone: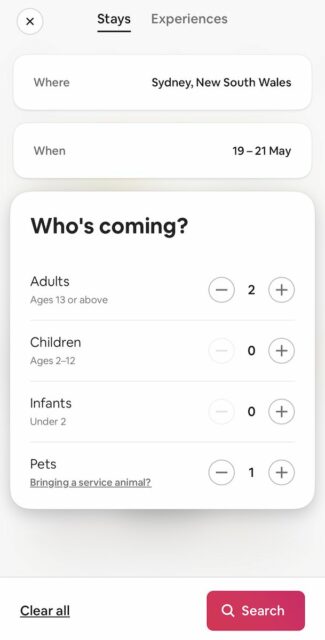 Now, only dog-friendly accommodation options will be returned in the search results, whether you are searching on the website or in the Airbnb app.
I still like to always double check the Airbnb is really pet-friendly. Occasionally the host has specified that no pets are allowed in the description or there might be restrictions on the number and size of pets.
Additionally, it's always a good idea to check if any pets live at the home, especially if your dog doesn't always get on with other pets.
Now that you've short-listed the Airbnbs for your trip, read on to find out more tips for both selecting where to stay and what to do once you arrive.
2. Double Check it is a Pet-Friendly Airbnb
The number one thing you should do when planning to stay in an Airbnb with your pet is double check that the Airbnb is a pet-friendly listing. After searching for pet-friendly Airbnbs using the steps listed above, I always additionally double-check the description and rules to ensure there is no mention that pets aren't allowed.
Not every property owner listing on Airbnb is that familiar with the interface, so sometimes mistakes do happen. Or the property may have previously allowed pets, and the box wasn't unticked to remove this, just a note added. You don't want to set your heart on a property that plainly states that it doesn't allow pets.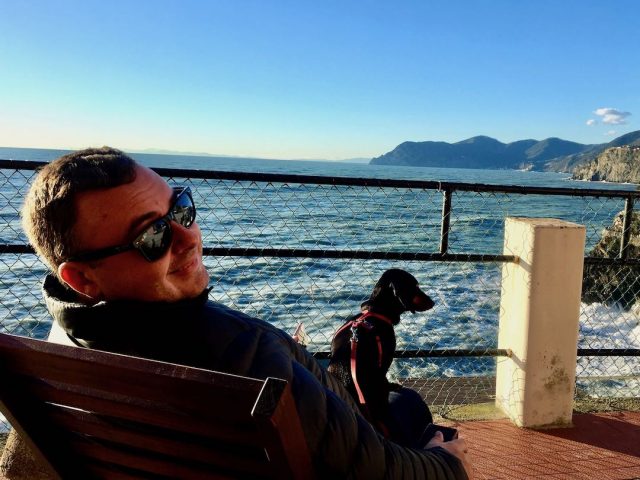 Additionally, check for any restrictions at this point. Some Airbnb hosts are only comfortable with small pets staying in their apartment, or perhaps only dogs, but not cats. As well as the type of pet, there may be a limit on the number of pets. (Even if nothing is mentioned, always discuss this point in advance if you have more than one pet.)
Some pet-friendly hosts may also charge an additional pet fee, which ideally is clearly stated in the Airbnb listing. (Although I have come across some listings where you're not message details until you book.) It's in your best interest to know all this at the time you decide which Airbnb you'll try to and book.
Unlike hotels, I haven't come across examples of Airbnbs where a pet deposit is charged, but this could be possible in some locations.
3. Consider Carefully if the Owner has Pets
When shortlisting a private room (rather than entire home) listing, there's also an additional step that you should do at this point. You should carefully check to see if the owner has their own pets and take this into consideration.
Some owners listing on Airbnb clearly explain what pets they have, their temperament and the likely interactions they'll have with your own pets. This makes it easy to consider the situation.
But in some listings, except for the brief statement that there are pets on the property (which can also cover pets living there at times, but not during your stay), there's no mention, except for perhaps a glimpse in the photos or a comment from a past guest. If you're in doubt, you should message the owner and ask for further details.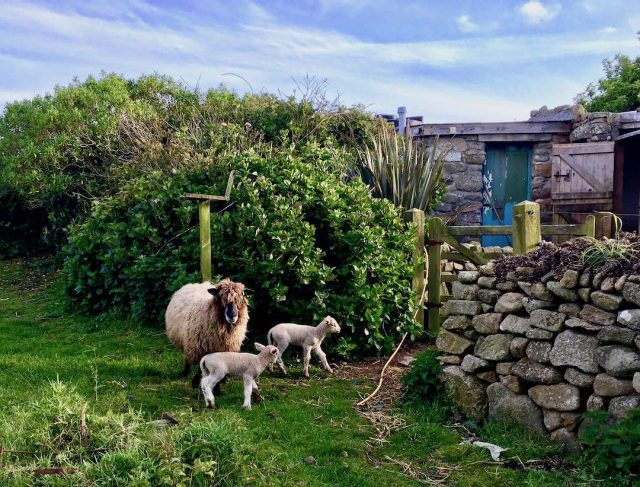 You're the best judge of whether your pet will likely get on with other pets on the property. If you're travelling with a dog who doesn't like cats, stay clear of properties that have a cat, particularly an indoor cat. If your pet doesn't get on with other pets, find an Airbnb that doesn't have other pets, or rent an entire home.
Taking this into consideration will both make your stay more pleasant and lead to more positive reviews.
4. An Entire Home or Just a Private Room?
One of the big decisions when staying in an Airbnb is whether you should be looking for an entire home or just renting out a private room. In some cities the decision has already been made for you, as there's essentially only private rooms available, due to city regulations that prohibit entire apartments being rented out as short-term rentals.
While I understand that many Airbnb users feel it's more responsible to rent just a private room, and they enjoy the experience of interacting with locals, when travelling with a pet, you also need to consider what will work best with your pet.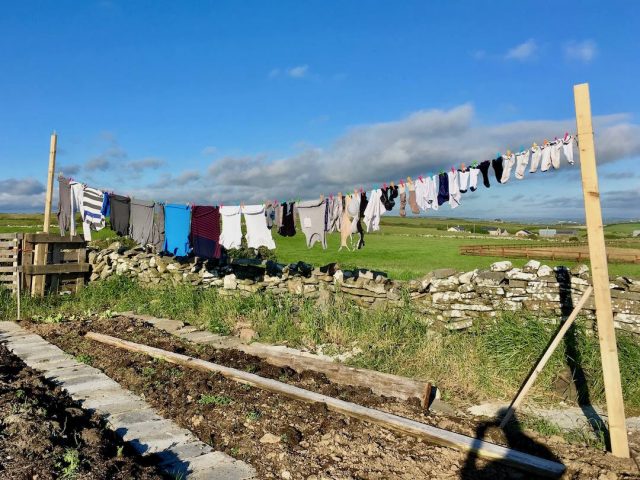 Does your pet get on well with other people? Will they be disturbed by the noise of other people in the home, especially if it's just a small apartment and people might be coming and going late at night or early in the morning? Take these points into consideration when making your decision.
Early on, when my pet wasn't used to travelling and staying in foreign homes, often we chose an entire home for these reasons. And we've stayed clear of the few shared room options!
On a similar note, consider whether there is a fenced-in backyard on the property. While this is unlikely if you're staying in an apartment, don't assume if you're staying in a house that the yard is fully enclosed. If this is important, check the details or message with the owner.
5. Always Notify the Owner You Will Be Staying with a Pet
When booking (or requesting to book) a pet-friendly Airbnb, always include a message stating that you are travelling with a pet, with details of your pet. This not only lets the owner know in advance to prepare for a pet staying in their home, but helps with two key aspects.
Firstly, if the listing doesn't allow pets, but you somehow missed this, this can be addressed immediately, rather than when you arrive on the doorstep with your pet.
The only time I ran into an issue like this, Airbnb had been playing around with their interface, and removed the step to send a message during a booking. I forgot to send a message separately, and upon arrival discovered that the owner had recently stopped allowing pets (but hadn't properly updated the listing). Luckily, they realised it was a mistake and trusted us to stay (and we made sure to be on our best behaviour).
Secondly, at this point the owner should let you know of any additional charges or rules for stays with a pet. My preference is that details are listed in the actual listing, but at least at this point you're informed of them within the free cancellation window.
This is the wording that I've usually used (I'll discuss more about reviews below): "We are travelling with our well-behaved small dog, a Miniature Dachshund called Schnitzel. (Please see previous Airbnb reviews for mentions of his good behaviour.)"
It's always good to be assured of prior approval to stay with your pet.
6. Follow The Pet Rules for the Airbnb
Whatever the rules that have been set by the home owner, whether they were listed in the House Rules section on the Airbnb site or supplied separately by message, make sure you follow them. For instance, if the owner stipulates no smoking inside you'd follow that, so the same applies for rules for pets.
Some of the different rules we've come across:
No pets on the furniture
No pets to be left unattended
No using bowls from the kitchen for your pet
Clean up after your pet (which shouldn't even need to be listed!)
If you're not happy to follow the rules set by the owner, remove the Airbnb from your shortlist. And if there's not many alternatives, sometimes you may need to make a compromise. (For instance, your dog normally sleeps on the bed, but the owner doesn't allow this, so your dog sleeps in their own bed for the night.)
Before heading off on your travels, we suggest getting your puppy used to the idea of being in a crate. Many dog owners crate train their puppies to allow for safer transport, as well as to provide their puppy with a space to sleep, relax and feel safe if they need to be left alone for a couple of hours, if permitted.
7. Take Everything Your Pet Needs
When staying in Airbnbs with my pet, usually we've carried everything that we know he might need, from his own bed to his own bowls to his own towel, not to mention his food and medication. Check out my dog packing list for a better idea for what we travel with.
While some Airbnb owners might provide items for your pet, the same as some hotels, always double check in advance if you expect something to be provided, don't presume there will be pet-friendly amenities, just because it's a pet-friendly listing.
In my experience, the majority of pet-friendly Airbnbs don't provide extras for pets, especially if they don't charge anything extra. However, often arrangements can be made in advance, if for example you aren't travelling with your pet's bed or water bowls.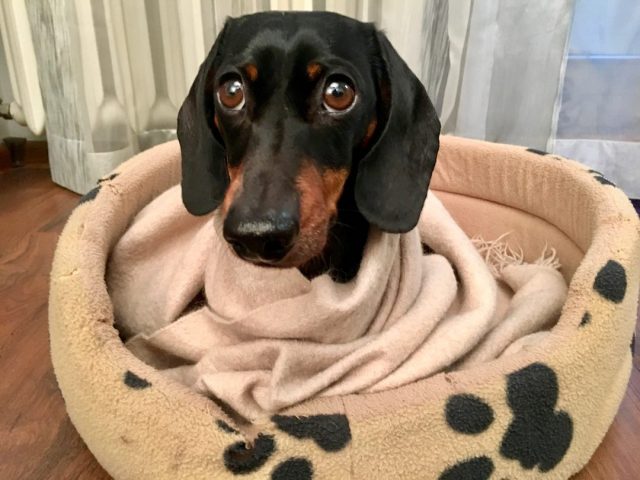 If pet-specific items aren't provided for your dog, also don't presume to use items designed for humans. While most Airbnbs provide towels for their human guests, I wouldn't presume to use them for my dog. Check first if you want to do this.
The same applies to borrowing a bowl from the kitchen cupboard for your pet. I know some people who do this, but some Airbnb owners specifically prohibit this.
Taking along your pet's own belongings will also help with them feeling at home. I've often had questions about whether my dog feels homesick, staying in different accommodation on a regular basis. But I've always felt that as long as he has us with him and his own dog bed, that he feels at home.
8. Minimise Noise During Your Stay
One of the biggest concerns we had when we started travelling with our dog was him barking while we stayed in Airbnbs and hotels, leading to complaints from neighbours and us getting kicked out. It wasn't an entirely unfounded fear, because while some dogs make not a peep, we know our dog barks at certain noises like garbage trucks and noisy neighbours. But we've never had an issue.
This partially comes down to knowing your dog and making choices to minimise this being an issue. For instance, if your dog is reactive towards noises, be careful if staying in an inner city Airbnb apartment, particularly if you'll be leaving the windows open. If other reviews mention it being noisy, especially from a nearby bar late at night, look for a quieter listing.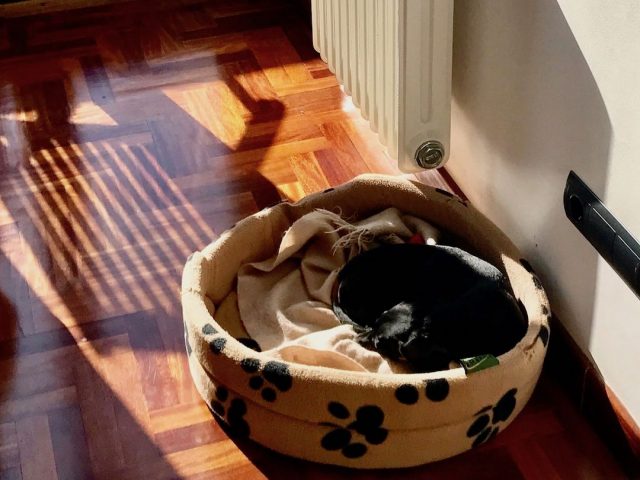 The same consideration should apply to leaving your dog behind on their own in an Airbnb. If the owner is fine with you doing this, only do this if you can trust that your dog will be comfortable and just sleep while you're gone. If you have a dog that doesn't like being left alone, and will potentially howl down the neighbourhood, don't leave them alone.
If your dog does start barking, despite your precautions, try and get them to stop, especially during quiet hours. If you can shut the windows (and instead use air-conditioning), try this. Consider leaving a TV running or playing music to block out noise. Although keep in mind that in many residential neighbourhoods the occasional dog bark is just part of the background noise.
9. Clean Up After Your Pet
I shouldn't need to say this, but always clean up after your pet. This is especially the case if you're staying in an Airbnb with a backyard, where your pet has been doing their business. I've come across some Airbnbs that forbid pets going into the backyard, presumably because other pet owners haven't been responsible!
This rule also applies to inside the house. While I don't do a thorough clean when leaving an Airbnb, unless it is part of the rules for staying in the property (and ideally not in addition to a cleaning fee!), I always do extra cleaning when staying with my dog.
Luckily my dog doesn't shed much hair, but if your dog sheds a lot, consider sweeping it up or using a vacuum cleaner. Consider carrying a clothing brush to get dog hair off any furniture or bedding (or cover with your own blanket).
Try and leave the house in a state that may show evidence of human occupants, but not also pets.
This is made easier if you try and prevent your pet from dirtying the house in the first place. If your dog's paws are dirty from outside, clean them before they're allowed in the house. If they've been rolling in mud, carefully carry them (or get them quickly) to the bath and bathe them. Also stick to using your dog's own towel to help clean them.
10. Build Up Airbnb Reviews for Your Pet
One of the things that has made it easy to repeatedly stay in Airbnbs with our dog has been through building up references for our dog. The first few times we stayed in an Airbnb with our dog, the owners had to trust that he was well-behaved. (Luckily, we had already stayed in a few Airbnbs before without our dog, which made it easier, instead of having zero reviews.)
As we stayed in Airbnbs with our dog, many of our hosts left reviews stating that our dog was well-behaved and that we left the property clean, that they had no issues. Sometimes we even had reviews stating that they couldn't tell a dog had stayed!
These reviews reassured future home owners that we could be trusted to stay with our dog. When sending a message with new bookings, I mention that they should "see previous Airbnb reviews for mentions of his good behaviour".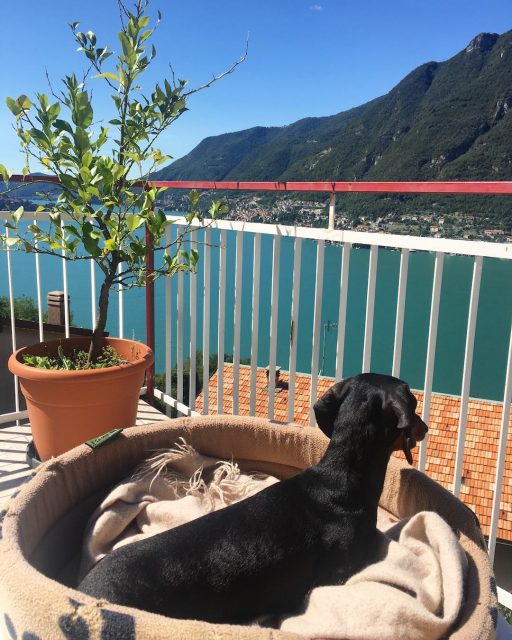 Ideally once you've stayed in a few Airbnbs with your pet, you also will receive some reviews mentioning them and their good behaviour. If you are in doubt whether your pet will be mentioned, when you check-out request the owner to mention them as part of their review.
I've also made use of these good reviews to one time stay in an Airbnb that technically didn't allow pets. I was having trouble finding somewhere suitable in a small town that allowed pets, so messaged the owner of one property. The owner looked at the reviews and decided she was okay with our well-behaved dog.
I've also heard from other dog owners that they do this quite frequently – it depends on how many pet-friendly Airbnbs are available.
Enjoy your stay in an Airbnb with your pet and thanks for being a considerate user, who ensures that pet-friendly Airbnbs continue to welcome pets!
You May Also Like
About the Author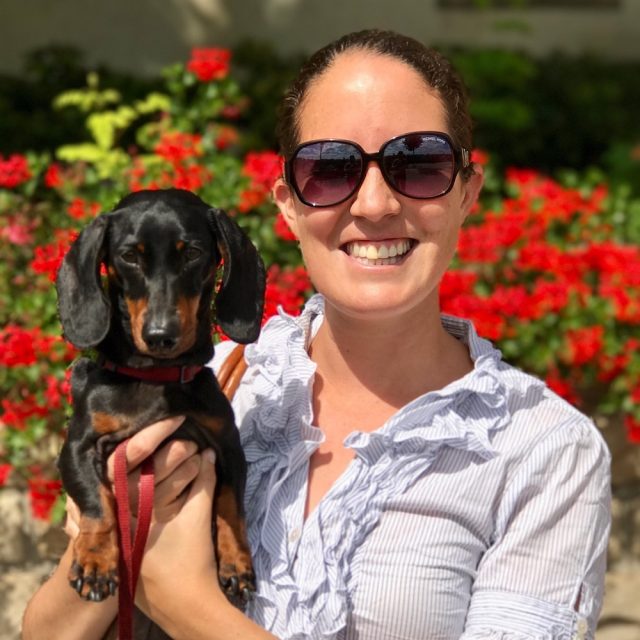 Shandos Cleaver is the founder of Travelnuity: Dog-Friendly Travel. She has travelled extensively with her Miniature Dachshund, Schnitzel, including to 33 countries across Europe, every state and territory of Australia except Tasmania, and 10 of the United States. She's passionate about providing inspiration and information to others wanting to travel with their dogs, whether close to home or internationally.
Inspired? Pin this to your Pinterest board!