Looking for a fun day out with your dog around Sydney? No matter what you're after, from dog-friendly walks to off-leash beaches to awesome dog-friendly cafes and even some unexpected surprises, I've got you covered with plenty of ideas for dog-friendly day trips around Sydney.
All these ideas are located within a two hour drive of the centre of Sydney, with some ideal for a whole day adventure while others will just take a couple of hours. So whether you're after something for today or you're planning in advance for upcoming weekends, keep on reading for plenty of fun things to do with your pup…
1. Go for a Walk Across the Harbour Bridge
One of the most scenic walks in Sydney is walking across the Harbour Bridge. And there's nothing stopping you from bringing along your pooch! I recommend parking around Kirribilli, then taking the steps up on the eastern side of the bridge, just south of the train station.
The walk is longer than you think, nearly 1.5km to the southern end of the bridge in the city. However, there's beautiful views along the way, just keep a hold of your hat on windy days.
At the southern end of the bridge, you could walk down through the Rocks and around to the Opera House. (Although dogs aren't allowed further into the Royal Botanic Gardens.) Alternatively, Observatory Hill is an off-leash dog park – just keep well away from any weekend weddings and picnics!
2. Or Walk the Bondi to Coogee Coast Walk
Another popular walking path in Sydney is the Bondi to Coogee Coastal Walk. This path meanders along this beautiful 6km stretch of coastline, past some of Sydney's most famous beaches. Although sadly none of the beaches permit dogs, you'll need to stick to the footpaths behind them with your pup.
There are however a couple of off-leash parks along the route. Marks Park on the headland above Bondi, where Sculpture by the Sea is held, is off-leash after 4:30pm and before 8:30am, except for when Sculpture by the Sea is on. Bronte Park behind Bronte Beach is off-leash after 3pm and before 10am. Also, Burrows Park just south of Waverley Cemetery is 24-hours off-leash.
There's also no shortage of tasty cafes to stop at along the way. Just do like the locals do and sit at the outdoor seating.
Read more about walking the Bondi to Coogee Walk with a dog, or check out my full list of dog-friendly walks in Sydney
3. Head to the Three Sisters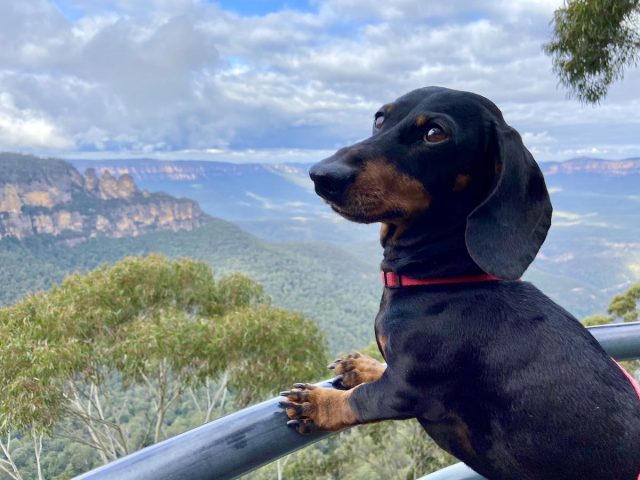 One of the most popular day trips from Sydney is to head up into the Blue Mountains, stopping at the famous look-out spots such as the Three Sisters.
Now, you probably thought it's not possible to do this with a dog, given that most of the area is contained within a national park, with dogs strictly forbidden. However, some of the most popular lookouts in the area lie just outside of the national park, controlled by the local council, with dogs allowed on a leash.
This includes the famous Echo Point Lookout at the Three Sisters. Just make sure you don't walk past the visitor centre into the national park. Other great dog-friendly lookouts include Eaglehawk Lookout, Cahill's Lookout and Sublime Point Lookout in Leura.
For more tips on visiting the Blue Mountains with your dog, including where to dine and dog-friendly walks, check out my Blue Mountains guide
4. Or Visit the Kiama Blowhole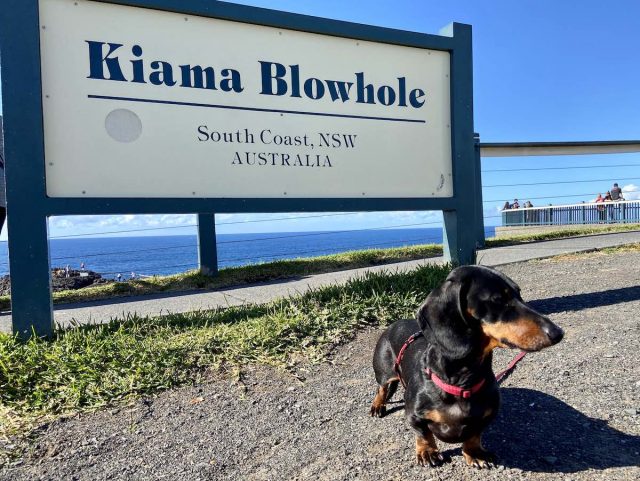 Another popular day trip from Sydney is to head south to Kiama, home to one of the largest blowholes in the world. The blowhole is best experienced during high seas, when it really blows!! But even during calm weather, it's a beautiful area to visit.
Out on Blowhole Point dogs are permitted all around, as long as they stay on a leash. Nearby is Diggie's Cafe, with plenty of outdoor tables or the option to order takeaway egg 'n' bacon rolls. Blowhole Point also lies along the Kiama Coast Walk, see #25.
For more tips on visiting Kiama with your dog, including dog-friendly beaches and more details on the Kiama Coast Walk, check out my dog-friendly Kiama guide
5. A Day Out on Pittwater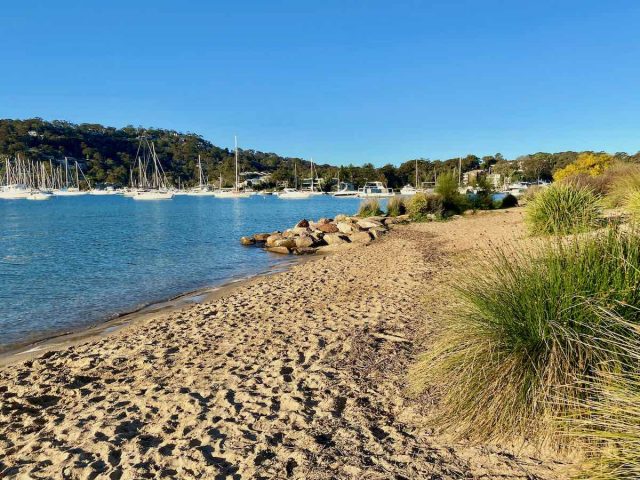 One of the best off-leash dog beaches in the Sydney region is in Bayview, one of the northernmost suburbs of Sydney, at the start of the Pittwater. The dog park is part of the larger Rowland Reserve, with a large grassy field and the adjacent beach denoted as off-leash.
As it's not an ocean beach, it's relatively calm, with shallower waters close to shore and deeper waters further out for more confident doggie swimmers. Just note that parking can be expensive, unless you nab one of the designated free one-hour parking spots, adjacent to the off-leash section.
Just across the water can be seen The Newport, a fabulous dog-friendly pub with a huge outdoor area to head to with your pup. It can get busy, so it's recommended to book before the start of the weekend, particularly for larger groups, although dogs are not allowed inside the Pavilion or the Pergola. Naturally, dogs need to remain on a leash at all times.
Check out my complete list of dog beaches in Sydney
6. A Walk Through Strickland State Forest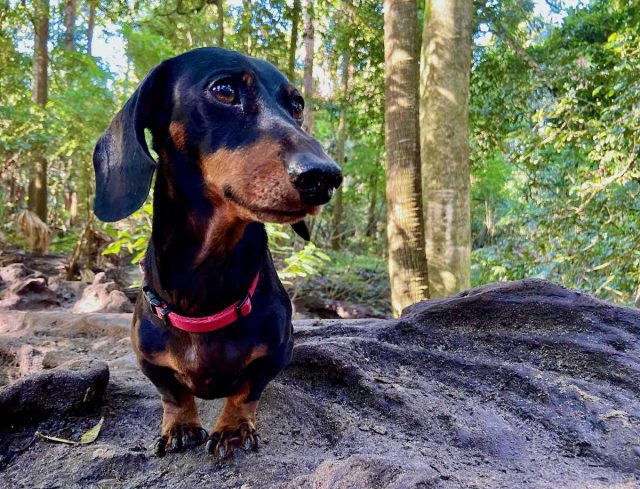 It can be tough to find a dog-friendly rainforest hike around Sydney, with many of the best walking trails located inside national parks, with dogs strictly not allowed. However, dogs are allowed in all NSW state forests.
One of the best state forests to visit close to Sydney is Strickland State Forest, just off the Pacific Motorway near Gosford. It's about a 75 minute drive north from the centre of Sydney, even closer from the northern suburbs or Parramatta.
Within Strickland State Forest there's multiple walking tracks on offer, most around 2km long, although you can combine together multiple walks for something longer. We choose to hike the Arboretum Track, a 2.3km hike through one of Australia's oldest arboretums, include a fun swinging bridge.
Note that the final road into Strickland State Forest is unsealed. It's about 2.5km down to the lower carpark, or 1.5km to the Banksia Picnic Area. The walking tracks in the lower section are often muddy, and if you're in a 2WD I'd recommend not driving to the lower carpark after heavy rain, although the Banksia Picnic Area should be fine.
Dogs are technically meant to be leashed in state forests, although often the old rule that they need to simply stay under your control has meant dogs are often let off leash. It's a popular spot spot for dog walking, even midweek, so make sure you keep an eye out and put your dog back on a leash when you spot other dogs.
7. Chasing Waterfalls at Lawson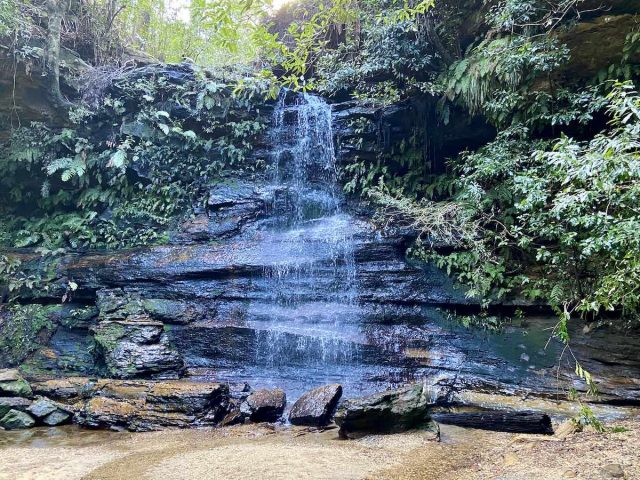 Another beautiful dog-friendly walk through the forest, but this time with the added excitement of waterfalls, is the South Lawson Waterfall Loop Track. This is one of the most popular dog-friendly walking tracks in the Blue Mountains. Along this 2.7km-long walking track you and your pup will explore not just one but four waterfalls.
Note that there are a few tricky sections for dogs. At the start of the walk (if you start from the point marked "Five Waterfall Walk Southern Carpark" on Google), there's a metal mesh bridge that many dogs will dislike, although they can detour through the creek. There's also some steep steps that smaller dogs will appreciate being carried up or down.
This walk is perfect for any time of year, including in summer when there's plenty of spots for dogs to have a splash in the water. Just note it can get muddy in some sections following rain.
NOTE: Since February 2022, there has been a short section of the track that is technically closed due to a rockslide, but recent visitors have reported being able to detour this section.
For more tips on visiting the Blue Mountains with your dog, check out my Blue Mountains dog-friendly guide
8. A Day Out at Centennial Park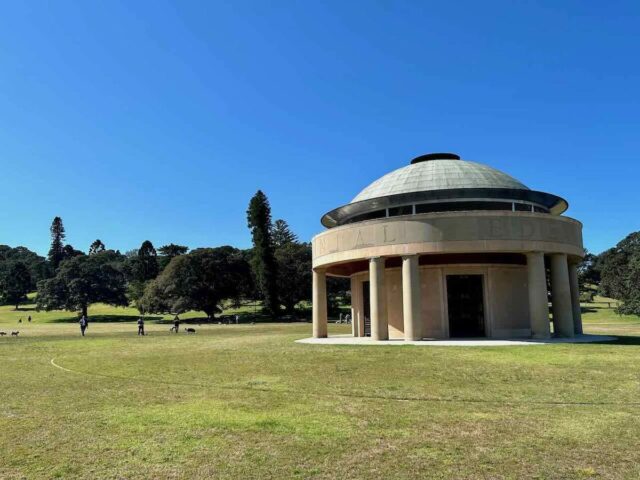 The gigantic expanse of Centennial Park and its surrounding parklands in Sydney's Eastern Suburbs is one of the most dog-friendly parks in Sydney. Around 43% of the parkland's open spaces are designated as off-leash, a huge 154 hectares!
To help plan your dog-friendly day out, check out this guide, which details which areas of Centennial Parklands are off-leash and on-leash, plus the few prohibited areas. Note that dogs are required to be on-leash on the footpaths, plus dogs are prohibited from the pond areas, to protect the native birds, and from the horse track.
Head to the park for a picnic, then enjoy strolling through the parklands and letting your dog run off-leash in the designated areas. One of the most popular off-leash dog areas is Federation Valley, in the north of the park. The 3.8km long loop walk around the park is also popular.
9. Catch a Movie at the Drive In
You'd probably be flabbergasted at the thought of taking your dog to the movie cinemas, but what about to a drive in cinema? But wait, surely there's no more drive in cinemas in Sydney?
Fortunately, there's one remaining drive in cinema in Sydney, the Skyline Drive In Blacktown operated by Event Cinemas, which luckily permits dogs to join you. They do need to remain on a leash when not in your vehicle and are not allowed in the Gold Grass area or the diner area, but are otherwise free to join you in watching the latest blockbusters and selected classics.
10. Or Spread a Rug at the Moonlight Cinema
The drive in isn't the only dog-friendly movie experience in Sydney, with the popular Moonlight Cinema in recent years welcoming pups as well at most of their locations, including in Sydney at Centennial Park.
Dogs are allowed in all sections, including premium areas. They naturally need to be kept on a short leash plus kept quiet during the movie. Don't bring a dog who is likely to bark during the screening! The full rules are here.
The dates and movies for the 2023-24 season haven't yet been announced. However, it will likely run from late November through to late March, with a wide range of movies no matter what your pup prefers!
11. Walk Across the Sea Cliff Bridge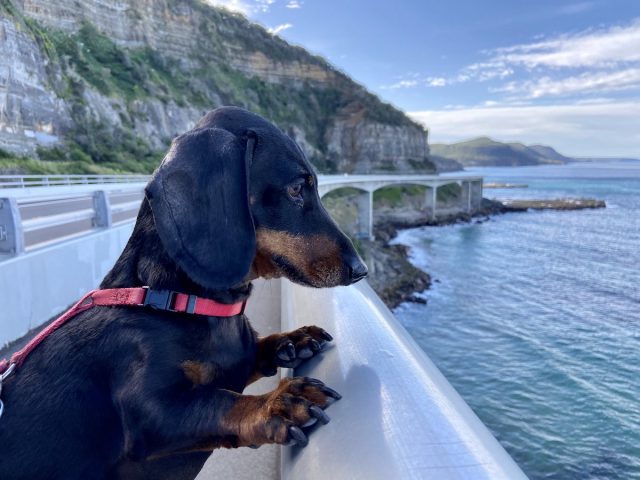 Just over an hour south of Sydney is the spectacular Sea Cliff Bridge, in the northern suburbs of Wollongong. Though it's an excellent spot to head for a weekend drive, the bridge is best appreciated by walking back across it as it soars out over the water and rock platforms below, with your pup welcome to join you.
The best car parking spots are just after the bridge, along the road immediately south, or there's a small carpark further up the hill. The bridge is longer than you expect, a long 665m. Make sure you keep your pup on a leash, particularly on busy days, and I recommend avoiding the walk during the middle of the day in summer, when it can get oppressively hot without shade.
At the northern end of the bridge, it's possibly to walk down on a gravel road leading to underneath the bridge, for a different perspective. A few kilometres south, a great spot to spot for lunch is the Scarborough Hotel, perched upon the clifftops with a large beer garden.
For more tips on the area, check out my guide to a day trip to Wollongong with your dog
12. Follow in the Footsteps of Bradman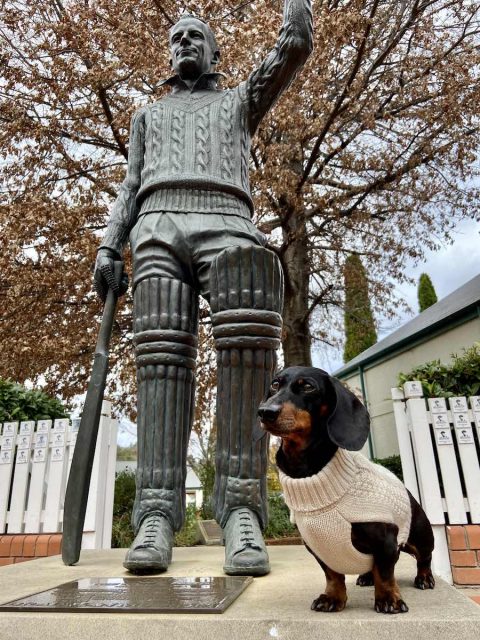 For all cricket lovers, the township of Bowral in the Southern Highlands is synonymous with Don Bradman, the legendary Australian cricketeer. After growing up in the town, his ashes were scattered at the local cricket oval after his death, now named after him.
The highlight of your day trip to Bowral is a visit to the Bradman Museum and International Cricket Hall of Fame. Not surprisingly, the museum doesn't permit dogs inside, but dogs on a leash are permitted to wander around the outdoor area of the museum, featuring a statue of Bradman, plus the adjacent Bradman Oval.
Previously, dogs were allowed in the outdoor area of the onsite cafe (perfect for someone to wait with your pup while the rest of your group toured the museum), but it is temporarily closed, but no advertised re-opening date. Afterwards, head off for the 1.7km long Bradman Walk starting from the museum, visiting landmarks including Bradman's childhood home.
13. Taste the Wine at Artemis Wines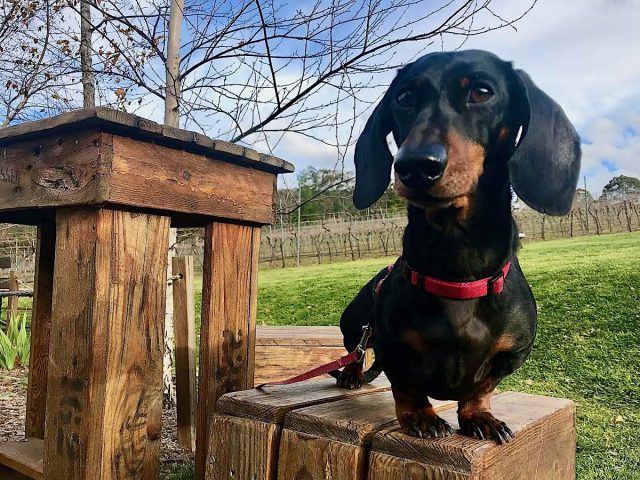 The Southern Highlands is also a great day trip destination for wine tasting. The premium cool-climate wine growing region is only a 90-minute drive from the centre of Sydney, closer than the Hunter Valley, especially if you live in Sydney's south west.
One of the best dog-friendly wineries around in the Southern Highlands is Artemis Wines. While dogs aren't allowed inside, they have a small verandah area where you can sit to taste with your dog, with staff regularly popping outside to pour your next tasting. Myself and my dog were made to feel very welcome.
In addition to wine, they also distill their own range of spirits, including gin. There's a small charge applicable for tasting, with bookings recommend – choose "Outside Cellar Door" or "Outside Marquee" when booking a tasting with your pup.
Outside on the lawn overlooking the vineyard are multiple tables, perfect for enjoying a cheese or charcuterie platter afterwards, or perhaps a pizza on weekends. Make a separate booking for "On the Lawn".
For more ideas on dog-friendly things to do in the Southern Highlands, check out my dog-friendly Southern Highlands Guide
14. Head to Kurnell for a Dip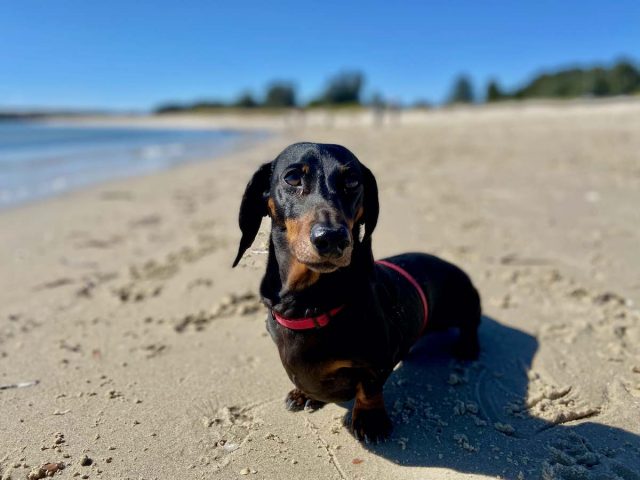 One of the other terrific 24-hour dog beaches in the Sydney region is Silver Beach at Kurnell. This relatively calm stretch of water is located on the Botany Bay side of the Kurnell Peninsula, and with its relatively shallow waters is great for less confident doggie swimmers.
The off-leash dog section is adjacent to the Bonna Point Reserve carpark, in between the third and fourth rock groynes, or just search for "Kurnell Dog Beach" on Google Maps. There's a water fountain for both humans and dogs. Just note that dogs are prohibited in parts of the adjacent Bonna Point Reserve (and must remain on-leash in the rest of the reserve) and along the rest of Silver Beach.
It's a fairly long 50 minute drive to Kurnell via the southern shores of Botany Bay. So combine your beach romp with a visit to the nearby Cook @ Kurnell Cafe, a popular spot for local dog owners, making for a fabulous dog-friendly day trip.
15. Go Kayaking on the Woronora River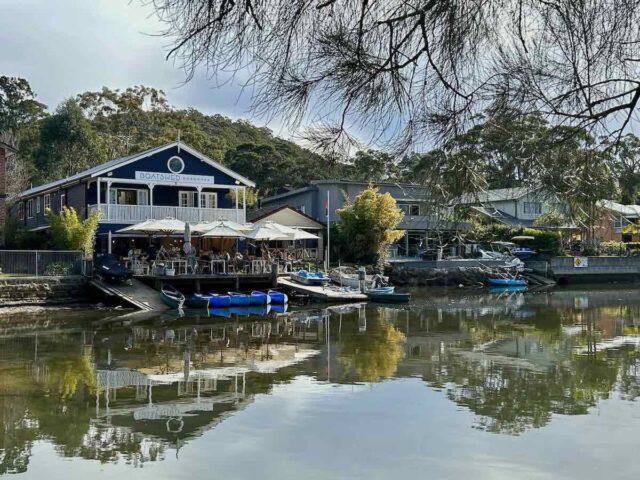 Another great dog-friendly day out in the Sutherland Shire of Sydney is to go kayaking on the Woronora River. Tucked away on a quiet stretch of the river, but just minutes from Sutherland, The Boatshed Woronora offers a range of kayaks and canoes for hire, starting from just half an hour up to a full day hire.
The 3-person canoes are probably the most dog-friendly option, with plenty of photos of people sharing them with their pups on Instagram. Note that it's best to time your hire around high tide, as the river is tidal. After your kayaking, enjoy the all-day breakfast and lunch menu served in the cafe.
16. A Day Out at Patonga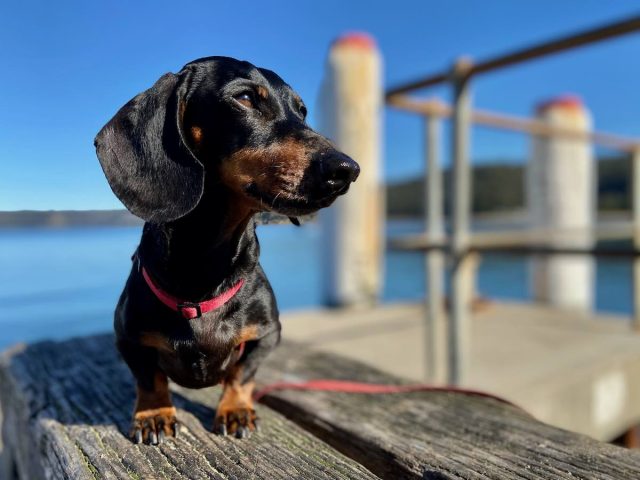 Located at the far end of Sydney, just beyond its northern outskirts, is the idyllic community of Patonga on the Hawkesbury River. Due to the long loop via the outskirts of Gosford it's a long 90 minute drive to reach, but well-worth while, with the final stretch being particularly scenic.
The highlight of a visit with your dog to Patonga is a romp on the off-leash beach. The main stretch of Patonga Beach is 24-hour off-leash from just after the jetty to the Meroo Avenue boundary sign. The waters of the lower Hawkesbury River are calm and clean.
Just opposite the jetty is The Boathouse Hotel Patonga, from the same operators as the Boathouse Shelly Beach and Balmoral. The large outdoor area is dog-friendly, plus there's also a take-away outlet adjacent, with decent prices. Unfortunately, the caravan park in Patonga is not dog-friendly.
17. A Doggie High Tea at Cafe Lost & Found
The botanically inspired Cafe Lost & Found is a hidden gem tucked away on Miller Street in North Sydney. Every weekend they serve up a delicious high tea, and your pup is invited to join you on Sunday afternoons. It's the perfect outing for a special occasion – one of the best dog-friendly cafes in Sydney.
Your pup will be treated to their own multi-tier stand of treats, from mini-burgers and sandwiches to sweet treats. Their accompanying human guests should also order high tea, with advance bookings of 48 hours required.
Before or afterwards, burn off some of the calories with an off-leash romp up the road at St Leonards Park, where pups are allowed off-leash except for on the playing fields.
18. Stroll Around Narrabeen Lagoon
For a terrific long on-leash walk in Sydney's north, head to the Narrabeen Lagoon Trail. This relatively flat 8.4km multi-use path all the way around Narrabeen Lagoon was completed in 2015. Dogs are permitted to join you as long as they stay on a leash, particularly when passing through protected wildlife areas.
You can begin and end the full loop at the multiple carparks situated around the lagoon, or just walk a shorter section then retrace your footsteps. I particularly recommend the bushland sections at Jamieson Park and near Bilarong Reserve, including the boardwalk section out above the lake.
There's multiple toilet facilities available along the way, plus water fountains and picnic areas. The full loop usually taking 2-3 hours, and there's plenty of shade except the stretch passing through Berry Reserve in Narrabeen.
19. Walk the Bay Run
Another popular loop path that is almost as long is the 7km-long Bay Run, looping around Iron Cove in inner western Sydney between Rozelle and Drummoyne. Once again, dogs are welcome to join you on a leash, although be warned that the running path can get quite crowded, particularly on warm sunny days during the cooler months.
For some off-leash fun, dogs are permitted off-leash in the following Lilyfield Parks adjacent to the Bay Run, as long as no organising sporting activities are taking place: Glover Street Sporting Ground, Leichhardt Oval No. 2, Leichhardt Oval No. 3 and the Waterfront Oval, Callan Park.
Much of Callan Park is also now off-leash, including Callan Point Beach – check the latest signs, although I noticed the beach was unsignposted. It's a great spot for pups to cool down on warm days!
A fun diversion is to turn down the Hawthorne Canal at the southern end of the Bay Run, and head to Cafe Bones in the off-leash dog park. This famous dog cafe is just the spot to stop for a Pupaccino and gourmet biscuits for your pup, plus something for yourself.
20. Head to Shale Hills Dog Park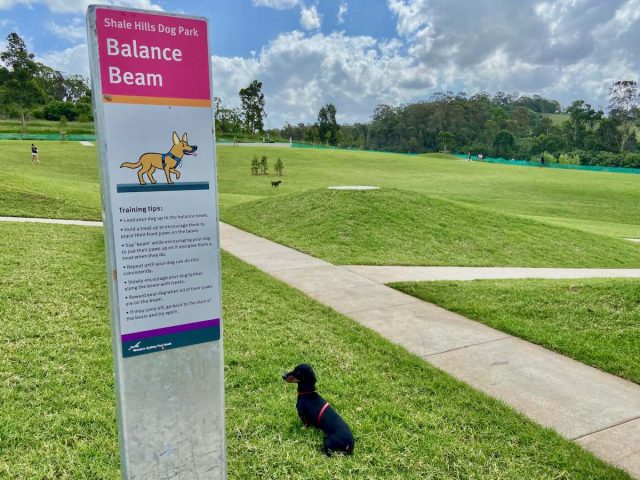 One of the best dog parks anywhere in Sydney is the recently opened Shale Hills Dog Park, located in the Western Sydney Parklands at West Hoxton.
This dog park is huge but still fully fenced, and also has a smaller fenced area for smaller dogs. There's also an agility course and training stations within the main park, so that you can train your dog (before rewarding them with a romp around), plus benches, shade and a scent garden.
If all that playing leaves yourself thirsty and hungry, head to Black Elk Espress, adjacent to Carnes Hill Library. They have a great range of hot drinks along with beautifully presented food options, with dogs permitted at their handful of outdoor tables.
21. Live it Up at Rose Bay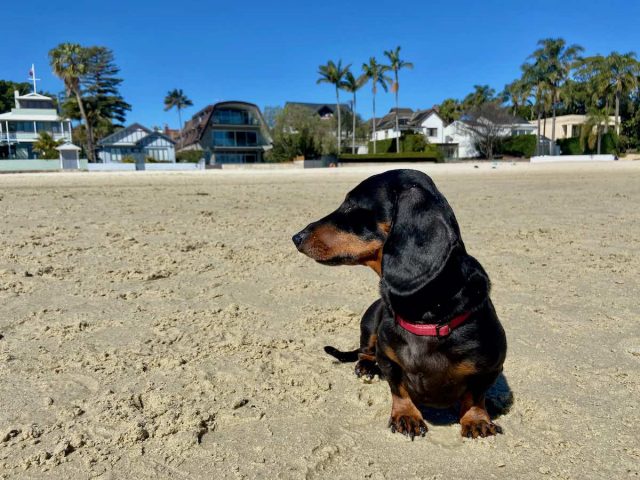 The closest dog-friendly beach to the centre of Sydney is located in the Eastern Suburb of Rose Bay. The Rose Bay Foreshore, designated as "Rose Bay Beach" on Google Maps, permits off-leash dogs in between Percival Park and Dumaresq Reserve all-day long.
It's ideal to head to the area at low low tide, when there's plenty of sand to walk on. Dogs are also permitted off-leash on Dumaresq Reserve, but only after 4:30pm or before 8:30am. The surrounding calm stretch of harbour is also a terrific spot to head SUPing with your pup.
22. Explore Balls Head
If you've never visited Balls Head before, you'll be surprised by how large this bushland reserve is, just 1.5km west of the Harbour Bridge at the southern tip of Waverton. As the reserve doesn't lie within a national park, dogs are permitted to join you on the walking trails that criss-cross the reserve, as long as they remain on a leash. Just avoid taking your dog when fox baiting periodically occurs.
One of the most interesting sites in the park are the caves that were used as housing during the Great Depression. It's also a great spot for a picnic. Alternatively head to the Grumpy Baker or Botanica, back up in the centre of Waverton, both which allow dogs at their outdoor tables.
A visit to Balls Head is great combined with a walk through the adjacent Carradah Park, a revamped former industrial site, and Waverton Park, both which permit dogs off-leash.
23. Visit a Grevillea Park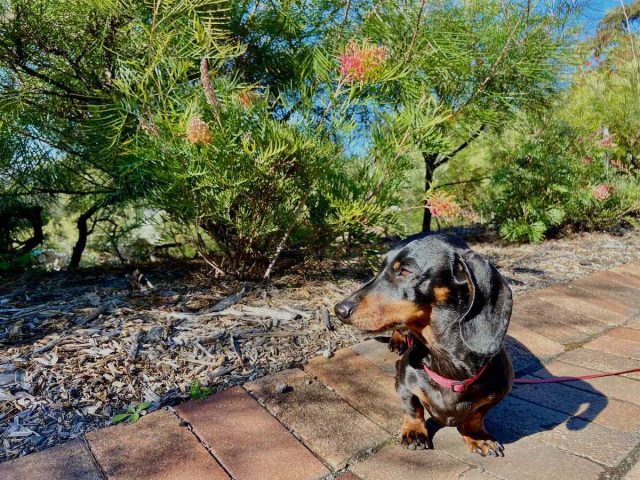 For a dog-friendly day out with a botanical theme, head south to the Illawarra Grevillea Park in Bulli, about 70 minutes south of the centre of Sydney. This 2.4 hectare park maintained by volunteers contains a rich collection of grevilleas and other native species, even a small rainforest area.
The park is open to the public about 6 weekends per year, in Autumn, Winter and Spring. Keep an eye on their website or Facebook page for the upcoming open days, with just a small entry fee charged. Dogs are welcome, but naturally must be kept on a leash.
Afterwards, consider heading to the nearby McCauley's Beach, close to the end of Point Street. Dogs are permitted off-leash on the beach all day long, up as far as Corbett Avenue, Thirroul, although stay clear of the rock platforms and the delicate dune area.
24. Go Boating on the Harbour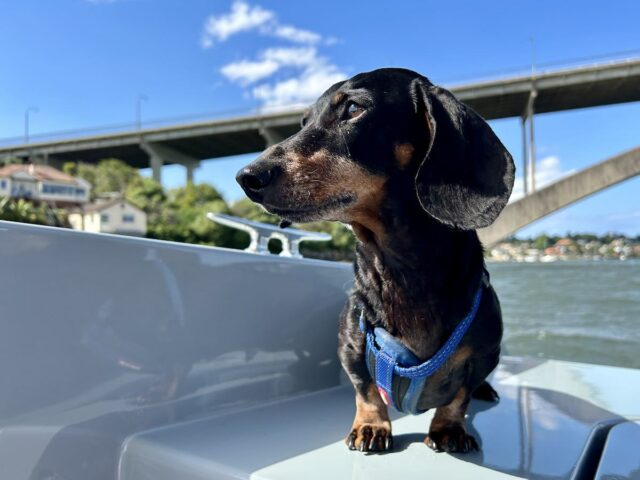 For a fun day out on Sydney Harbour with your dog, look no further than GoBoat. You may have already heard of them from their electric boat rentals interstate and overseas, but one of their latest locations is Cabarita Point in Sydney, and your pet is welcome onboard.
No license is required to hire one of their electric picnic boats, which can seat up to eight people. Onboard is a picnic table, drink holders and shade, and the electric motor is whisper quiet, great for a relaxing time out on the water.
Hires from just an hour are available, and you can also add on a cheeseboard, esky hire or even a captain's hat. The boats can easily accommodate an extra one or two small dogs, even if you have eight humans, but consider skipping an eighth passenger if you have a large dog. It's easy to leash your dog to the base of the table for their safety, or BYO doggie life jacket.
25. Walk the Kiama Coast Walk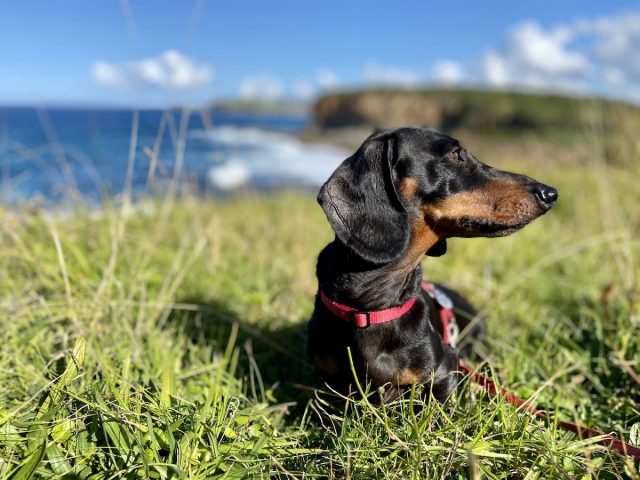 For water views of a different kind, head south of Sydney to the Kiama Coast Walk. This magnificent 20km-long walk extends both north and south of Kiama, with dogs allowed on-leash along the entire length, as long as you avoid some beaches where dogs are not permitted.
There's no need to walk the entire length, with multiple access points allowing shorter sections to walked. On a sunny late Autumn day I walked the southern section starting from Werri Beach at Gerringong. After walking around the lagoon, we followed the grassy trail along the cliffs south of Kiama, picture perfect views accompanying us until we decided to retrace our footsteps.
Just be warned this section of the walk may become inaccessible after heavy rain, when Werri Lagoon often joins to the sea. (Or at least necessitates a wade through the water.) For more details on the walk check out my dog-friendly Kiama guide, and it can be combined with visiting the Kiama Blowhole, see #4 above.
26. Or Walk Among Cherry Trees in Bowral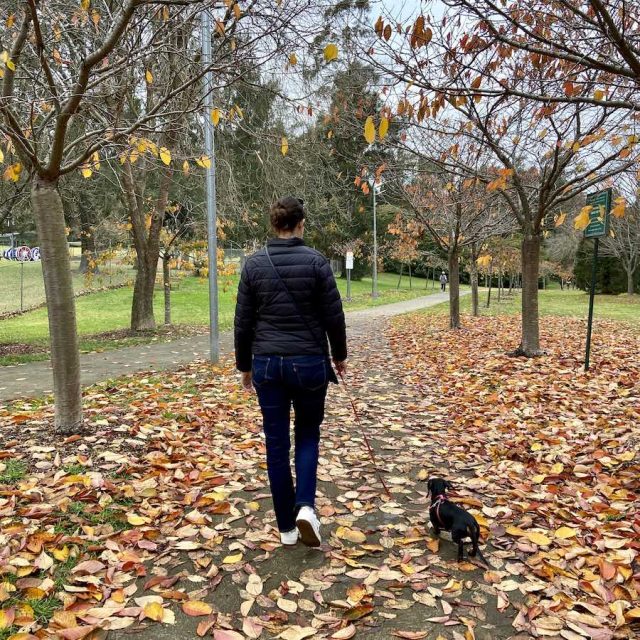 A picturesque outing during August or September is to the Cherry Tree Walk in Bowral. Over 500 cherry trees have been planted as part of a Vietnam War Memorial along the Mittagong Rivulet, stretching from the Bowral Swimming Centre to Boolwey Street.
As well as being a colourful spot to visit during the cherry blossom flowering season, it's equally colourful during the Autumn months when the leaves change. Dogs are permitted to join you on a leash on this easy walk, with plenty of parking available at the Bowral Swimming Centre.
Not that far away is the RAW & WILD Market & Cafe in Bowral, which has a menu for dogs including Doggie Pasta and Dogacinos. Their large outdoor dining area is accessible from the carpark at the rear of the cafe.
27. Head to the Shelly Beach Up North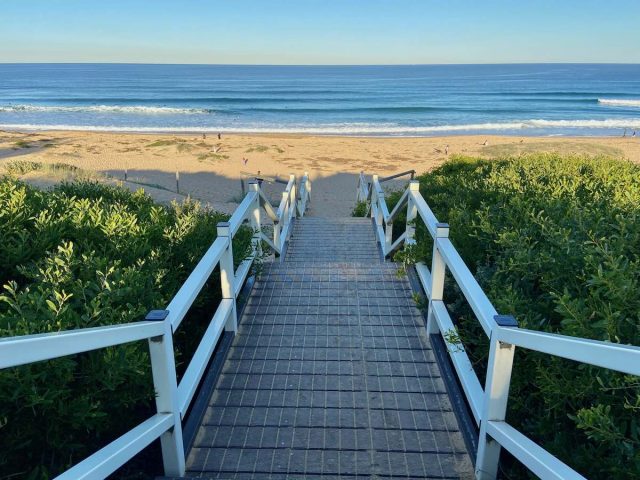 While there's not many off-leash beaches available for pups within Sydney, if you head up to the Central Coast there's plenty of off-leash options. One of the best is Shelly Beach, no to be confused with the beach of the same name in Manly.
Located not far south of The Entrance, to make sure you head to the correct beach just Google "North Shelly Beach Dog Beach". A 90-minute drive from the centre of Sydney, it's a beautiful large surf beach, with just as many surfers as locals with their pups when the swell is up.
The off-leash section of Shelly Beach extends from the beach access stairs marked by the pin, where there's plenty of free parking, south to the northern beach access walkway off Shelly Beach Road, adjacent to the golf course.
28. Visit the Grounds of Alexandria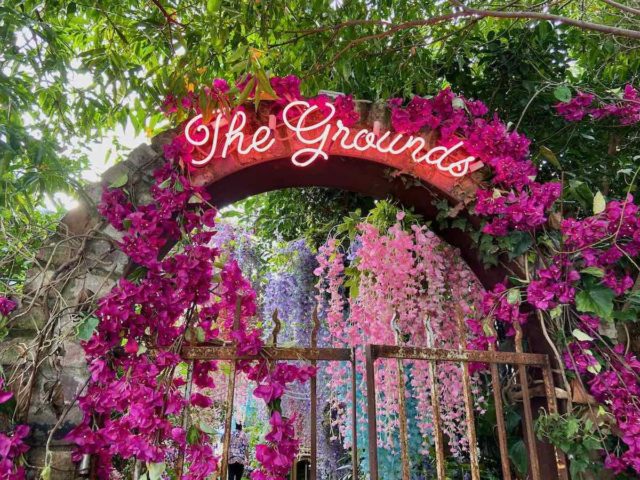 The Grounds of Alexandria is more than just a popular destination to head for lunch. As well as the ever-popular cafe, which is dog-friendly in the outdoor seating area (bookings a must on weekends) and also offers take-away, there's also the Potting Shed and the Garden precinct.
The Garden is the perfect spot to head for a relaxed lunch with your pooch, with a take-away style menu serving up burgers, salads, smoothies and more. Just nab a nook in the garden to enjoy your feast.
The Grounds is not far away from Sydney Park, one of the most popular dog parks in Sydney. Nearly all the park is 24-hours off-leash, except for a few small sections like the playground and near the barbecue areas. It's perfect for a long afternoon stroll.
29. Explore the Glebe Foreshore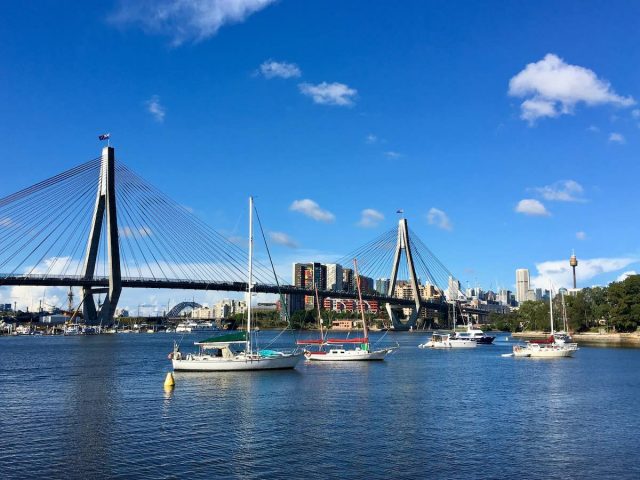 Head to Glebe to explore the inner city foreshore. Dogs are allowed off-lead on the Glebe Foreshore Walk that follows Blackwattle Bay in between Ferry Road and the tip of Glebe Point Road. There's even some sections where dogs can go for a paddle in the water.
Extend your outing by continue to the Glebe Foreshore Parks, in between the tip of Glebe Point Road and Annandale. Dogs are allowed on-leash in most of the park, except for sporting fields and playgrounds, plus off-leash in Bicentennial and Federal Parks west of the Canal.
If you head to the nearby Tramsheds, dogs are not allowed inside, but there's a "dog parking area" for if you duck in to pick up picnic supplies.
30. Indulge in a French-Style Lunch
Head north across the Harbour Bridge and to Middle Head to enjoy a French-style lunch at Frenchy's Cafe. This cute, relaxed cafe has a large outdoor dining area popular with local dog owners. Lunch options include homemade quiche, Salad Nicoise and Croque Monsieur.
Breakfast or lunch at Frenchy's is best combined with a walk through the adjacent bushland. While parts of Middle Harbour are contained in Sydney Harbour National Park, there's a walking track down to Chowder Bay that stays just outside of the national park. It's a delightful walk, with some great views along the way. Dogs need to stay on a leash.
31. Sniff the Rhododendrons in Blackheath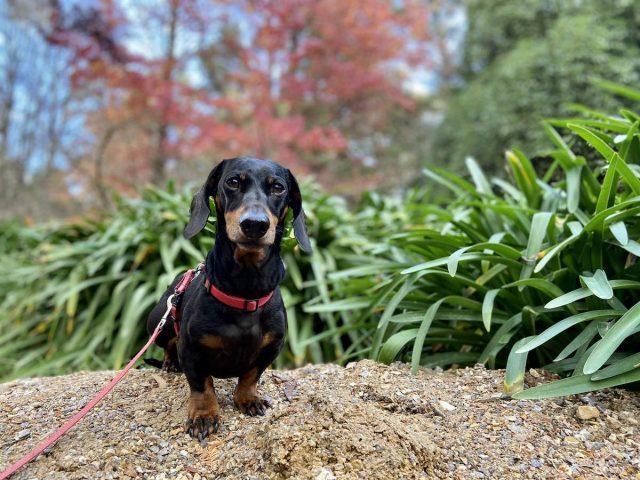 Another great dog-friendly garden that makes for a superb dog-friendly day out from Sydney is the Campbell Rhododendron Gardens in Blackheath, less than 2 hours west of the city centre.
The gardens are open year round, with entry by donation, but the prime time to visit them is during the rhododendron flowering season, from early October to mid-November. During this period the Rhodo Tea Rooms also operate.
Along the way, consider also visiting the dog-friendly scenic lookouts around Katoomba, see #3.
For more tips on visiting the Blue Mountains with your dog, check out my dog-friendly Blue Mountains guide
32. Explore Historic Berrima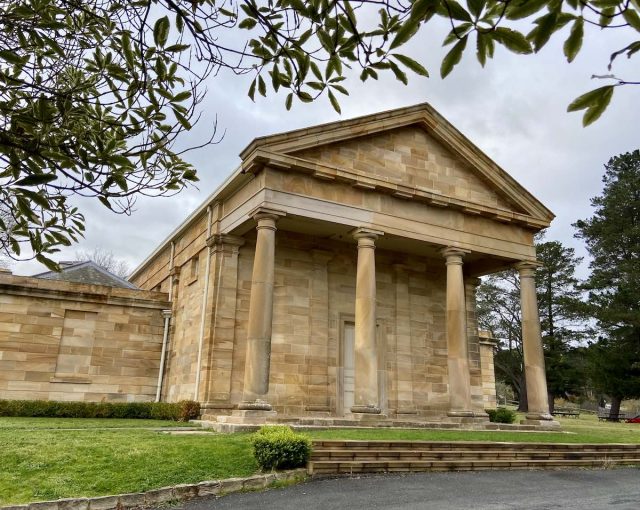 One of the most gorgeous historic villages to visit in all of NSW is Berrima, a largely preserved Australia Georgian colonial town in the Southern Highlands. And best of all it's just a 90-minute drive from the centre of Sydney, plus very dog-friendly.
Follow the Berrima Historic Walk through the village, commencing from the Berrima District Museum, where you can also buy the map for a small fee. Highlights include the Berrima Court House and Old Berrima Gaol, both built in the 1830s. Naturally dogs on a leash can join you.
If you're after lunch, head to either Magpie Cafe, with its dog-friendly verandah, or the historic Surveyor General Inn, which even permits dog inside in front of the fire. For some vintage shopping head to Sticky Beaks Vintage Emporium on Jellore Street, which welcomes dogs inside.
For more details on visiting the Southern Highlands with your dog, check out my dog-friendly Southern Highlands guide
33. Taste the Beers at Sauce Brewing Co
There's no shortage of microbreweries scattered around Sydney and many of the breweries welcome dogs inside to join you for a tasting. One of the best spots to head is Sauce Brewing Co in Marrickville.
Their taproom is open from Thursday to Sunday each week, with both indoor tables and a large area out the back, complete with a large shaded section. Food trucks are also always on-site, perfect for turning your session into a longer stay. Dogs are permitted both inside and in the beer garden.
For an off-leash run afterwards, head a few blocks away to Enmore Park, with dogs permitted off-leash in the northern section, or Henson Park, which is off-leash on the eastern side. Alternatively, the fenced Enmore Dog Park at Enmore TAFE is also popular with locals.
34. Circuit Around Lake Parramatta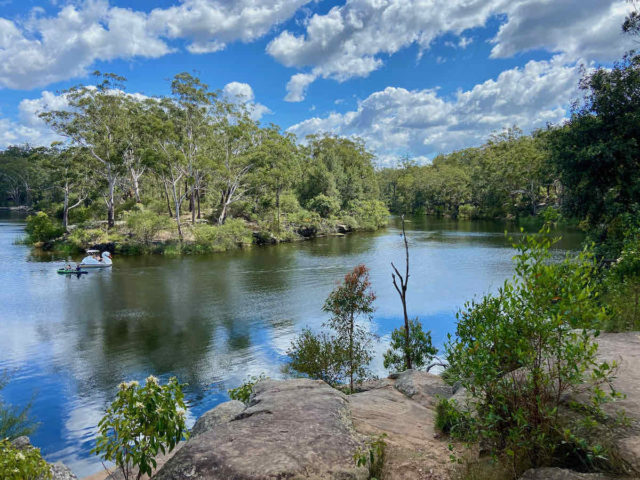 To experience a beautiful dog-friendly bushwalk near Parramatta head to Lake Parramatta Reserve in North Parramatta. Dogs are welcome as long as they stay on a leash and keep to the established walking trails – no bush bashing!
From the free carpark at the entrance, head in either direction to complete the full circuit around the lake. At 4.2km-long, allow about two hours. Alternatively, there's also two shorter walks available, on the eastern side of the lake.
Note that some stepping stones on the full circuit across creeks become impassable during and immediately after rain, so keep an eye on the weather. On the other hand, your dog is likely to enjoy a splash through the creeks.
35. A Picnic and Swim at Sirius Cove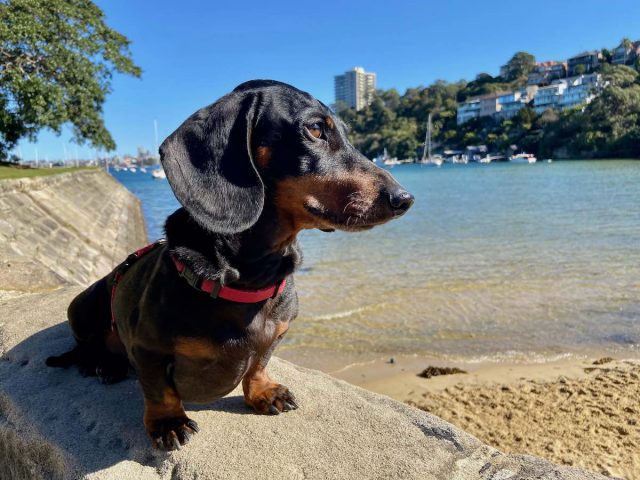 For a harbour-side picnic and doggie swim, head to Sirius Cove Reserve in Mosman. This harbour beach and bush-surrounded reserve is tucked away near Taronga Zoo, just a 15 minute drive from the centre of Sydney but a world away.
With plenty of shade, the reserve is a great park for picnics, so make sure your dog doesn't disturb anyone else. For this reason, while it's off-leash all day long on weekdays, during the weekends and public holidays is only off-leash after 4pm and before 9am. Enjoy a lazy long lunch, then let your dog frolic about on the sand.
36. Hike to Kentlyn Basin
On the opposite side of Sydney, drive down the rural streets of Minto Heights in southwest Sydney to hike to Kentlyn Basin with your pup. This beautiful bushwalk passes through Keith Longhurst Reserve, including many steps down to the banks of the Georges River.
At the end of the 1km-long trail you'll be rewarded with the natural pool at Kentlyn Basin, a popular spot for swimming in the warmer months. Thanks to the drop-off, the pool isn't accessible to dogs, but instead paddle in the shallow waters just upstream. It's a great spot to laze around for a few hours. Just keep your dog on a leash both along the track and at the Basin.
For more details, see my guide to dog-friendly hikes in Sydney
37. Join a Street Art Tour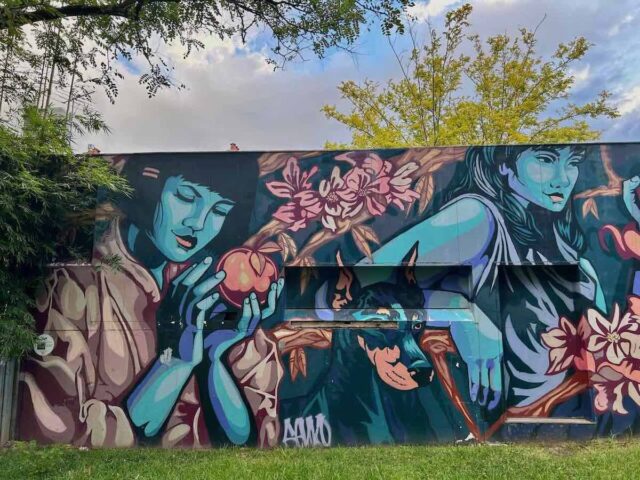 The Inner West of Sydney is home to some fabulous, colourful street art murals. While dogs aren't allowed inside most galleries, a street art tour is perfect for a cultural day out with your dog by your side.
Local Sauce run a variety of fabulous tours in different city suburbs. I've received confirmation that their Newtown Chewtown – Food & Street Art Tour is pet-friendly, although it's best to check in advance and advise the tour guide that you'll be bringing along a pet. As you'll stop at some restaurants for samples along the way, it'll probably work better for couples with a dog.
Alternatively, follow their Female Street Art Self-Guided Walk, also mainly around the Newtown area, but checking out some of the great street art with female painters or subjects. Along the way you'll pass the fenced Enmore Dog Park and end near the Camperdown Memorial Rest Park, which is partially off-leash. For a shorter walk, skip the first three stops.
38. Or a True Crime Walking Tour
For a very different type of walking tour in Sydney, make a booking with Murders Most Foul. Tour guide Elliot runs multiple tours in Surry Hills and Darlinghurst, sharing with you stories of the crimes that took place on these inner city streets during the 19th-century and early 20th-century.
The tours take between two and three hours, and wrap up at a hotel where you can grab a cold beer and bite, with a bowl of water for your pup. While I haven't yet taken one of these tours myself, the Surry Hills Sausage Dog Club enjoyed an exciting outing on one of the tours!
39. Browse the Rock Markets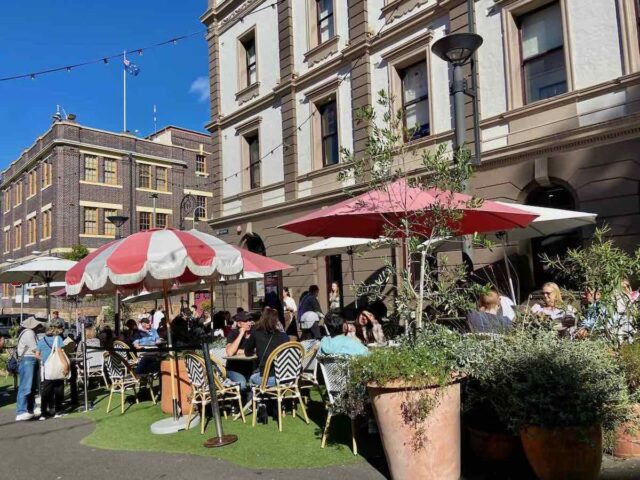 Every weekend, The Rocks district in the heart of Sydney are taken over by The Rocks Market, held between 10am and 5pm on both Saturday and Sunday. Market stalls are set up along the bottom of Argyle Street, Playfair Street and the far end of George Street.
Best of all, dogs are welcome to join you for a stroll around the markets. The majority of market stalls are run by local artisans, with a wide variety of artworks, homewares, jewellery and gifts for sale – your pup might even be able to sniff out some pet-themed stalls.
There's also a wide range of food stalls each weekend, or grab a table at one of the local hotels or cafes, many with large al fresco areas where dogs are usually allowed, although always check first. Alternatively, head up to the hill to the Australian Hotel, where dogs are allowed both outside and inside, even on the rooftop.
40. Take the Ferry to Bundeena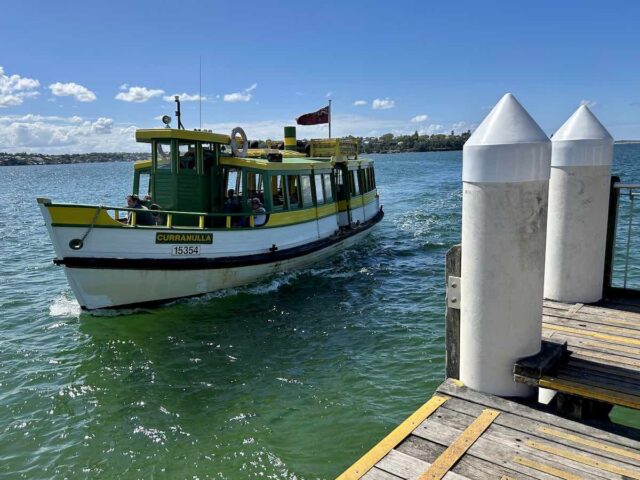 While only small dogs in a carrier are allowed on the government-run Sydney Ferries, there are also multiple dog-friendly ferries around Sydney that allow larger dogs on a leash onboard. One of the most scenic options is the ferry to Bundeena operated by Cronulla Ferries.
This ferry leaves the wharf in Cronulla roughly hourly. It's then a 25 minute across to Bundeena, on the northern edge of the Royal National Park, with leashed dogs welcome to join you for free. Perhaps stay on for the return trip, taking about an hour in total. Alternatively, you can disembark in Bundeena to explore.
Bundeena is home to two dog-friendly beaches, although with limited hours. Dogs are allowed on the small Gunyah Beach next to the wharf on-leash from May to August, plus before 8:30am or after 4:30pm the rest of the year.
Alternatively, head to the long sandy stretch of Hordern Beach. Dogs are allowed off-leash here between May and August, or before 8:30am and after 4:30pm on weekdays during the rest of the year. Note that dogs are prohibited from the beach on weekends and public holidays over the summer.
You May Also Like
Inspired? Pin this to your Pinterest board!