Beautiful beaches, stunning sunsets, delicious dinners – what's not to love about a holiday in the Greek Islands? Prior to my trip there in late 2018, it had been near the top of my wish-list for many years. And luckily it's just as easy to bring your dog along for when you travel to the Greek Islands.
I've previously covered what it's like to travel in Greece in general with a dog. In this post I will cover how to get to the Greek Islands with your dog, plus the logistics of getting around on the islands.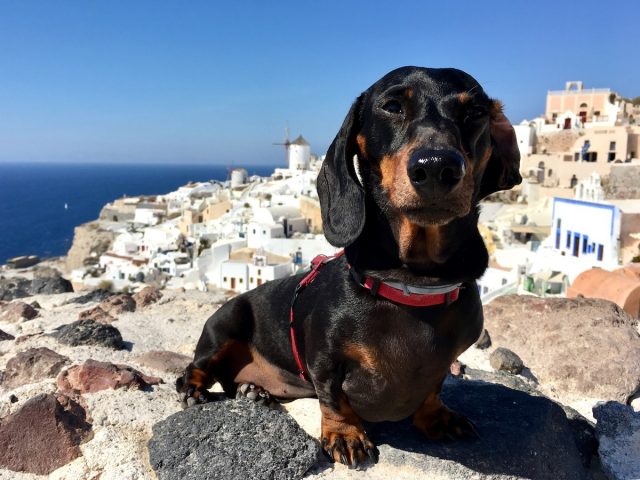 Flying to the Greek Islands with a Dog
The easiest way to get to the Greek Islands is to fly. It's far quicker than a ferry, plus a lot smoother, especially on windy days when the seas are rough. Many islands have an airport.
It's possible to bring your dog along on most flights, except on some of the budget airlines flying to the islands. Check my post on which European airlines allow dogs to fly in the cabin (or in the hold), with many airlines flying directly to the islands from all around Europe over the peak summer season.
Alternatively, you could fly to Athens and then catch a domestic flight out to the islands. Domestic flights from Athens to the islands are operated by Aegean Airlines, plus its subsidiary company Olympic Air.
Both airlines are particularly dog-friendly, with a common pet policy applying to both. Domestic fares for dogs in the cabin are just €30. They can even supply you with a disposable cardboard container for your dog at domestic airports.
On the downside, flights for humans to the Greek Islands can be quite expensive, especially during the peak season.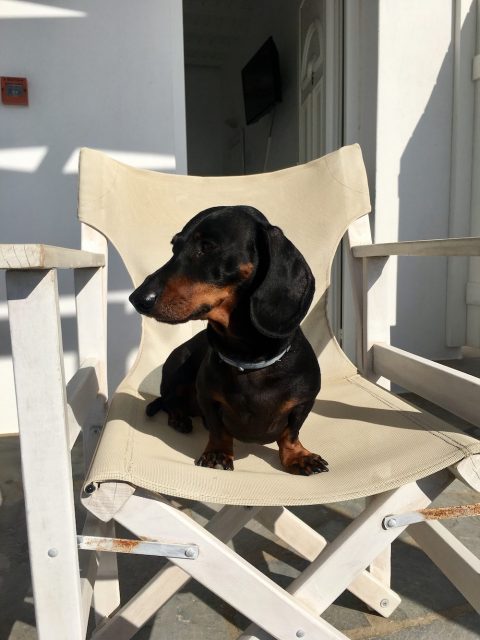 Taking a Ferry to the Greek Islands with a Dog
The other alternative is to take a ferry to the Greek Islands. Both regular (slower) ferries and high-speed ferries travel between the islands, with a large number of companies operating.
Most but not all ferries allow pets on board. (When comparing ferry options in 2018, it seemed quite a few of the fast ferries didn't allow pets.) The pet rules for a number of ferry companies are summarised on this site.
Generally there are three options for travelling with a pet on a ferry to the Greek Islands:
Booking a pet-friendly cabin, which is only available on selected ferries and generally in limited numbers (so advanced bookings are essential)
Transporting your pet in the kennel facilities, which may be free or available for a fee (occasionally with advanced bookings required)
Keeping your pet with you, generally on the open deck, but often small pets in a carrier are permitted inside (usually with no fee charged)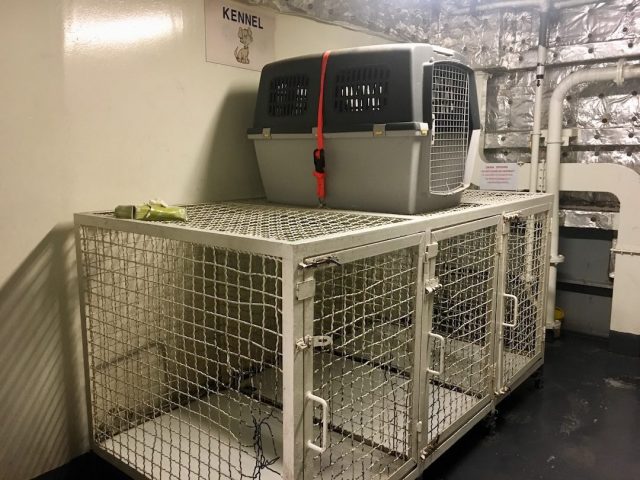 Find out the pet policies of the ferries operating on the route you are taking, and use it to select the best ferry for yourself and your pets. Many ferries require pets to be muzzle, when outside of cabins and kennels, plus you should travel with your pet's passport or health documents.
As well as ferries being a slower option to get to the Greek Islands, we also found that they can be quite chaotic, especially during boarding. Many ferries depart quite early in the morning, and additionally require you to be at the dock at least 30 minutes early. And it's best to allow time in case they run late, especially the so-called "high-speed" ferries.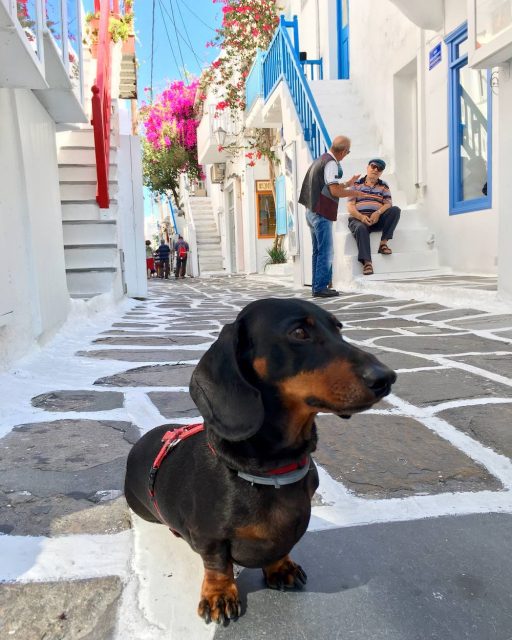 Our Experience on Regular Ferries to the Greek Islands
During our time visiting the Greek Islands, we experienced both regular (slower) ferries and high-speed ferries, with the regular ferries a more pet-friendly experience.
We firstly took a Hellenic Seaways ferry from Pireaus (near Athens) to Mykonos, and later a Blue Star Ferry from Santorini to Pireaus. Both of these brands are operated by the same company, with the same rules.
On both of the large ferries we travelled on there was a large outdoor deck, which is where most passengers with a dog travelled, with no fee payable. The downside of travelling on the outdoor deck was the high number of people smoking, which drove us inside.
On the Hellenic Seaways website, it states pets are not allowed in the indoor public area. However, when boarding the ferry, I spotted the below sign stating that "small pets in special baskets or cages" are permitted indoors, the same as service dogs. We ended up sitting inside for the voyage.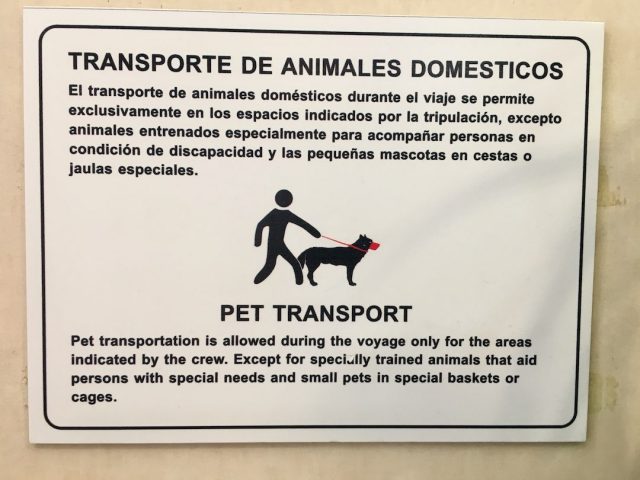 On the same site, it also states that "special areas for the pets' daily hygiene are available on board", although I didn't spot this.
On our second voyage with Blue Star Ferries, we also sat inside, although I didn't see a similar sign. However, on this voyage, which was quite crowded on the final leg, I also saw some larger leashed dogs going through the indoor areas, without anyone raising an eyebrow.
Our Experience on High-Speed Ferries in the Greek Islands
During our time in the Greek Islands we also took a high-speed ferry between Mykonos and Santorini.
We specially selected to travel with Seajets because they allowed dogs. Their website mentions that each of their vessels is equipped with a specially designated kennel, with no reference to a fee.
However, while boarding, we couldn't spot these, and couldn't see who to speak to downstairs. And as we discovered when we headed upstairs, there wasn't an outdoor deck on the ferry where dogs could travel.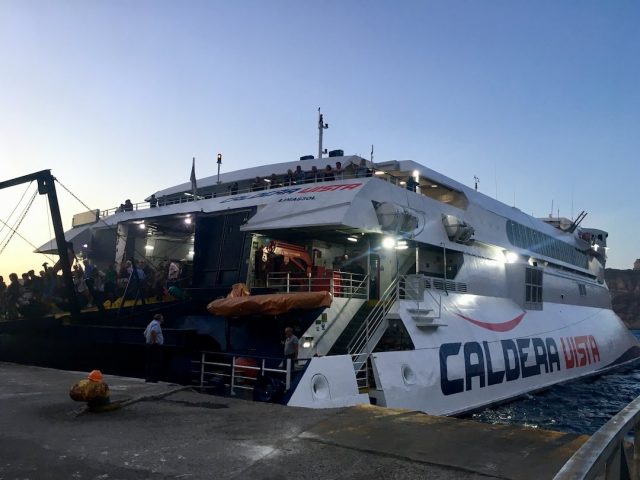 It was quite chaotic while we were boarding, as rather than taking a direct ferry from Mykonos to Santorini, we ended up being directed onto two separate ferries, changing at an island in between. Mainly due to this, but perhaps due to the rough seas (enough to make me feel seasick), our voyage ended up taking nearly five hours, instead of the scheduled three hours.
Partially due to the chaos and partially as we couldn't spot the kennels, we ended up sitting in the main seating area with our dog in his carrier bag. Later when disembarking, we spotted at "no dogs except guide dogs" sign, indicating that probably wasn't allowed. However, he stayed quiet during both voyages, so so I don't think anyone even realised.
Read about what to do on Santorini, including the best beaches on the island
Getting Around on the Islands
It's also worthwhile considering how to get around on the islands. On Santorini in particular, the transport infrastructure isn't really up to transporting all of the tourists on the island. Travelling with a dog makes it even more difficult.
Hiring a Car
If you're wanting to move around a lot, I would recommend hiring a car. Usually the main car hire depots are at the airport, but there's also other agencies scattered around. Car hire rates are quite high on the islands, and fuel prices are astronomical.
Luckily there's not far to drive though, so you won't be using much gas. We hired a car on mainland Greece with our dog without any comments made at the rental depot, so I'm sure there's no issues with dogs in hire cars on the island.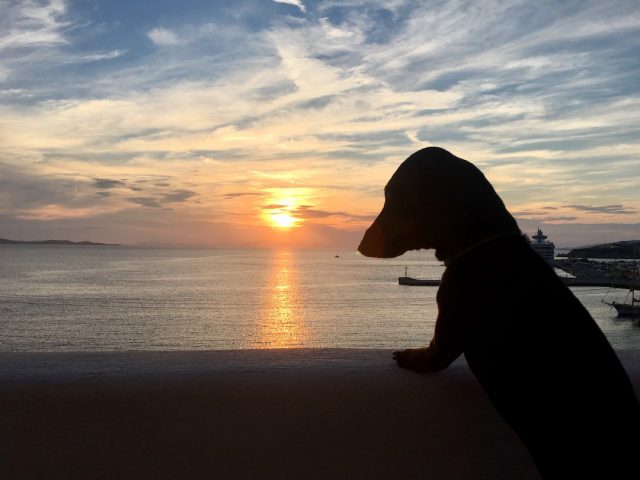 Catching Buses
If you have a small dog, it's possible to use the buses. We did this on Santorini. Just note that we couldn't find any information in advance about the rules for dogs on buses, even speaking to our hotel owner and checking the signs at the bus stops.
When we caught our first bus to Thera, no one commented on our dog riding on our lap. But when we went to catch a second bus to Oia, we were informed dogs were only allowed in a carry bag. The bus operators said there were a pet shop down the road, but we instead bought a cheap beach bag to use for the rest of the day.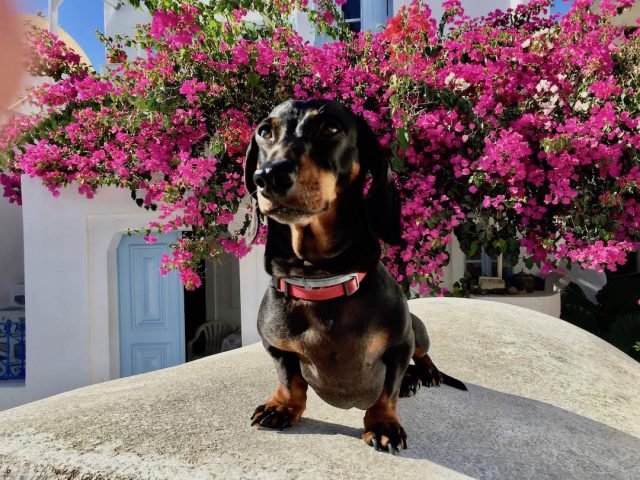 These rules are similar to what we later encountered on mainland Greece.
Taxis and Shuttle Buses
The next options are taxis and shuttle buses (mini vans). On Santorini, we booked a shuttle bus through our hotel, to take us to and from our hotel from the ferry wharf. There were no comments made on our dog, although he was in a carrier bag.
Later on when we went to catch a taxi (a difficult task except in Thera, as there's not many taxis on the island), we were informed dogs aren't allowed in a taxi, even when in a carrier bag, just in the minivans. One of the taxi drivers called a minivan for us, but it didn't turn up anytime soon, so we ended up taking the bus.
The Seabus on Mykonos
On Mykonos, our transport situation was simplified, as our hotel was within walking distance of the New Port, where our ferry arrived. (Just be warned there isn't a footpath along the edge of most roads, so it's a tricky affair with your luggage.)
We then caught the Seabus, a small ferry that operates between the New Port, Marina and the Old Port (and Old Town) on Mykonos. I didn't see any rules for dogs, but our dog was fine to join us on the outdoor deck, just wearing a leash. If the weather is bad and you want to ride inside, this might not be allowed.
More Dog-Friendly Tips
For further information on what it's like to travel in Greece with a dog, refer to my post. Some key points to remember are that it's not common to dine indoors at restaurants with a dog in Greece. (But if you're heading to the islands, who would choose to eat inside?)
On the plus side, there's no rules against dogs at beaches in Greece, including on the islands.
Also read my note about stray cats in Greece, which extends to the Greek Islands. We were unfortunate to have a run-in with a stray cat on Santorini, but on the other hand I can assure you that it's easy and quick to visit a vet, with at least three vets operating on Santorini.
You May Also Like
About the Author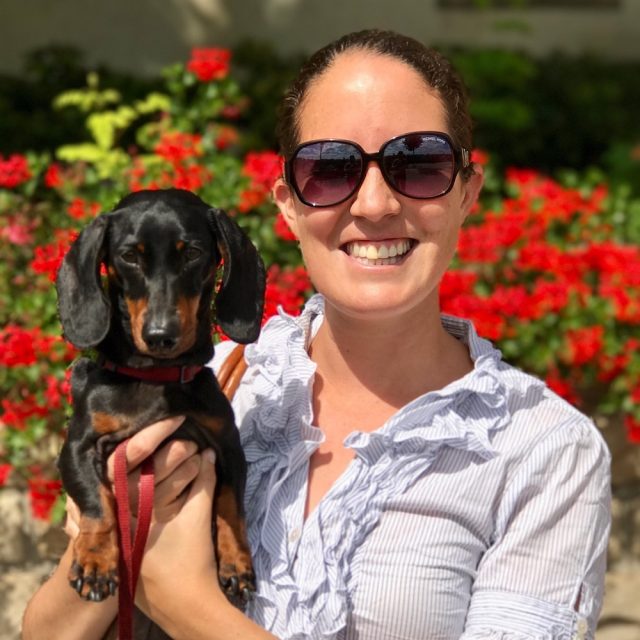 Shandos Cleaver is the founder of Travelnuity: Dog-Friendly Travel. She has travelled extensively with her Miniature Dachshund, Schnitzel, including to 33 countries across Europe, every state and territory of Australia except Tasmania, and 10 of the United States. She's passionate about providing inspiration and information to others wanting to travel with their dogs, whether close to home or internationally.
Inspired? Pin this to your Pinterest board!