On my trip around Europe with my dog in 2017 and 2018, Greece was the final country that we visited. It was mid-September and the perfect way to end our European travels, with some beach time on various islands and the mainland, enjoying the long Greek summer, along with our pup.
However, Greece isn't the most dog-friendly country in Europe, plus can be difficult to reach, so I've put together some tips for if you're planning on travelling in Greece with a dog.
Don't forget to protect your dog from Leishmania if visiting Greece during the warmer months. Read my post to find out more and preventative steps.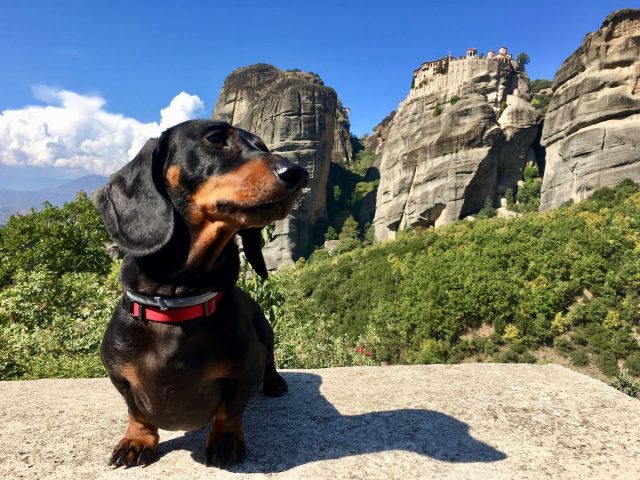 Travelling to Greece With a Dog
When travelling to Greece with your dog, the first thing to organise is how to get to Greece. Note that the standard EU rules apply for dogs travelling to Greece directly from other EU countries, with a microchip, pet passport and rabies vaccination at least 21 days before required.
Flying to Greece with a Dog
If you're travelling with a small dog, the easiest option is to fly into Athens with your dog in the cabin. We flew with Aegean Airlines, who allow dogs in the cabin, with dogs able to be easily added when booking your tickets online.
Pets up to 8kg are allowed in the cabin, with a charge of €60 internationally or €30 domestically. Aegean Airlines can even provide you with a free cardboard pet carrier at their domestic airports! Check out their pet policy for more details, plus details on flying pets in the hold.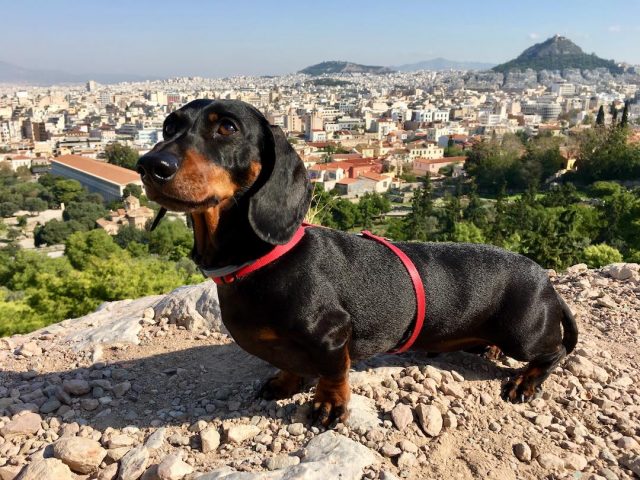 Driving to Greece with a Dog
If driving to Greece, be aware that unless you drive into Greece from Bulgaria, many of the countries in the Western Balkans are not part of the EU, including Bosnia and Herzegovina, Serbia, Montenegro, North Macedonia and Albania.
This means that you need to be aware of the individual requirements for each country, plus for re-entry into the EU.For some of these countries, you require a rabies titre test to re-enter the EU with your dog (click here for more information, plus a link to the list of countries).
I recommend having the rabies titre test done before leaving the EU (which means no waiting time applies) and having it recorded in your EU pet passport. However, I've also heard reports that often checks aren't done for dogs. But it's best to be fully prepared, in case they are.
Can you take a Train to Greece?
Unfortunately, Greece is not well connected to the rest of Europe by train.
At times, there has been a train from Sofia to Thessaloniki, although recently one section has been by bus. Alternatively, there may be a train from Belgrade to Thessaloniki. In either case, an additional 5 1/2 hour train trip would be required from Thessaloniki in the north down to Athens.
For the latest details, I recommend checking The Man in Seat 61.
Dining Out in Greece with a Dog
For the majority of the year (and especially the tourist season), the weather in Greece is ideal for outdoor dining. As such, it's probably better to dine outside with your dog, rather than ask to eat inside. I didn't see any locals dining inside with dogs, so I don't think it's that common, especially outside of Athens.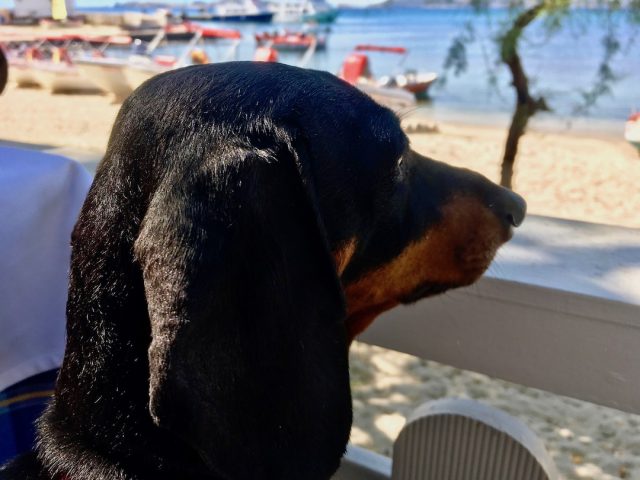 At one cafe in Delphi, we asked to sit inside as there were no outdoor tables, and they allowed us, but only just inside the door. However, a pizzeria near our apartment in Athens had a sign stating it was dog-friendly, so there are some dog-friendly places around. Keep an eye out or ask nicely!
Taking a Dog on Public Transport in Greece
Generally in Greece, dogs are only allowed on pubic transport if they are small and carried in a carrier bag.
We took our small dog multiple times on the metro in Athens without any issues. The metro services both the port of Piraeus and the airport, although a surcharge applies for airport tickets.
Dogs are allowed on the metro in Athens if they weigh less than 10kg and are in a carrier under 50 x 40 x 70cm in size, with no fee charged. Your dog should already be in its carrier bag when entering the station.
We also took the bus on Santorini and encountered similar rules. Actually, the first bus we boarded allowed us on board with our dog on our lap. However, when we went to board a second bus, it was insisted that our dog was in a bag. We ended up buying a cheap beach bag to get our dog back to our hotel, where our proper pet bag was located.
Unfortunately, there were no rules listed online or at the bus stop, and even our hotel owner who had dogs didn't know what the rules were! If in doubt, always take your dog in a carrier bag.
If you are travelling with a larger dog, they are not as often allowed on public transport and the rules are more complex. If getting around Athens, check out i-pet taxi. Regular taxis may also permit dogs inside, but it is up to the driver.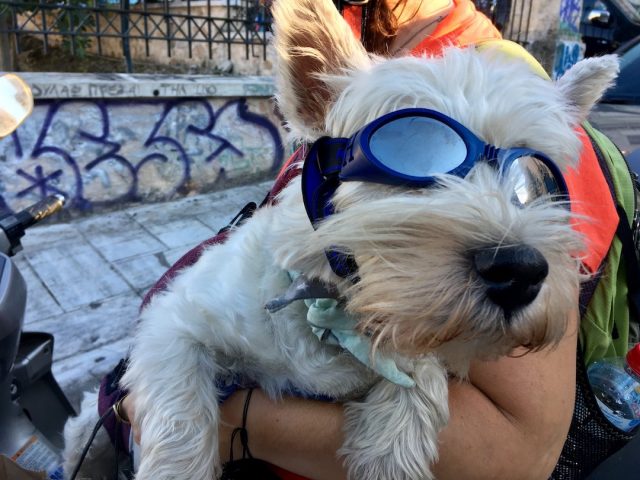 Looking to travel to the Greek Islands by ferry? Read my post about how to get to the islands, whether flying or on ferry, plus my recommendations on getting around on the islands.
Dog-Friendly Accommodation in Greece
While travelling around Greece, we had no issues finding dog-friendly accommodation options. We stayed in a mixture of hotels and Airbnbs, both on the Greek Islands and the mainland.
However, there are many hotels in Greece that don't allow dogs, with only 20% of hotels in Athens listed as dog-friendly on Booking.com in my recent survey of dog-friendly hotels in Europe.
It's good if you can be flexible. On the plus side, at each of the hotels we stayed at, we were not charged extra for our dog. In fact, both our hotels on Mykonos and Santorini had resident dogs that we also met.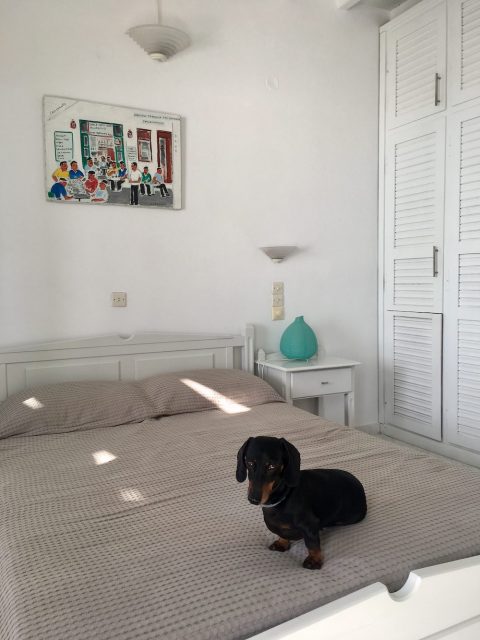 Dog-Friendly Sightseeing in Greece
Unfortunately, when it comes to sightseeing, there isn't much in Greece that is dog-friendly. One of the top attractions for most visitors to Greece are the multitude of archaeological sites, whether it's the Parthenon in Athens, or other renowned sites like Delphi and Olympia.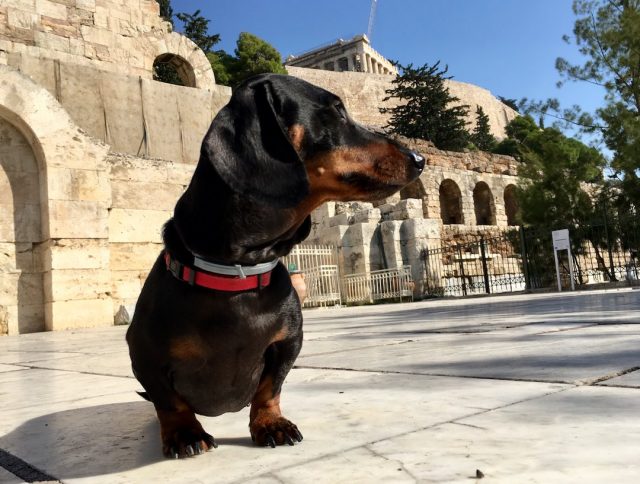 However, unlike in Italy where nearly all archaeological sites allow dogs, dogs aren't allowed in any of the archaeological sites in Greece.
This was true at all the sites (about 10) that we visited, with a no dogs allowed sign usually displayed at the entrance. Strangely, the same rules don't however apply to the many stray cats at most sites, and the stray dogs at some of the sites!
In Delphi, there was no sign at the smaller part of the site allowing free entry, and I thought I had found an area where dogs were allowed. However, as soon as I walked down to the ruins of the temple, a staff member came over to tell me that dogs weren't allowed there, too.
So, if you're planning on visiting archaeological sites in Greece, make sure you can leave your dog somewhere, or else take turns to visit.
So, what dog-friendly sightseeing can your dog do in Greece? At the famous cliff-top monasteries of Meteora, dogs are welcome to join you at the view points and for hiking. Just keep your dog on a leash, due to the huge drop-offs. Plus if you visit inside any of the monasteries (I recommend visiting at least one or two), take turns to wait outside.
We also took a boat cruise past the monasteries in the autonomous region of Mt Athos. While it's necessary to apply to visit, and women and children are strictly forbidden, everyone is welcome to take a cruise along the coast line. I checked in advance whether our dog was allowed on our cruise boat, and was given the okay.
My other recommendation if you're heading to Greece with your dog is to spend some time at the beach.
Dog-Friendly Beaches in Greece
Technically, dogs are allowed on all beaches in Greece, just as humans are also allowed on all beaches, even ones that appear private in front of hotels. However, make sure you're courteous with taking your dog to the beach.
Ideally choose a quiet stretch of sand, keep your dog on a leash if it can't be controlled by voice, and clean up after it. If your dog wants to go in the water, try and stay well clear of other bathers.
As summer is very hot in Greece, I recommend visiting early in the season or at the end of summer. When I visited Corfu in mid-October, the water was still lovely and warm.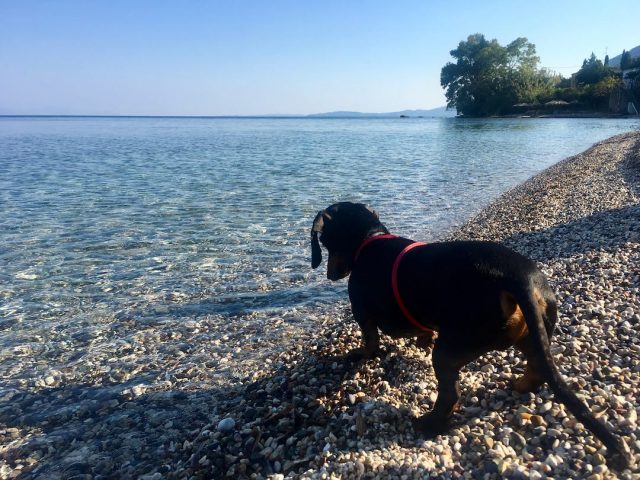 A Final Note on Stray Dogs and Cats in Greece
No matter where we went in Greece, there were stray cats everywhere. Whether on the islands, in Athens, or at the many archaeological sites, there was always some stray cats nearby. This includes when dining outside at restaurants.
If your dog is not a fan of cats, with mine eager to chase any that he sees, keep your dog on a firm leash, or try to distract them. Stray dogs weren't as common, but are also an issue. We didn't have any problems with the stray dogs, but if your dog has an issue with stray dogs, be wary.
We did however have an issue with a stray cat on the island of Santorini. While wandering the narrow laneways of Oia, the popular sunset town, we turned around a corner and a cat launched itself at our dog. It was with a kitten, and according to locals, it was probably getting in first after having had issues with local stray dogs.
Our dog ended up with a minor tear in his ear, as well as a few scratches (and more on the legs of my husband). Luckily there's plenty of vets in Greece, including multiple on Santorini, and after the vet patched his ear and we had a few chilled out days, our dog ended up healing fine.
While this could have happened in any country, it's still a warning for the greater likelihood when there's so many stray cats.
You May Also Like
About the Author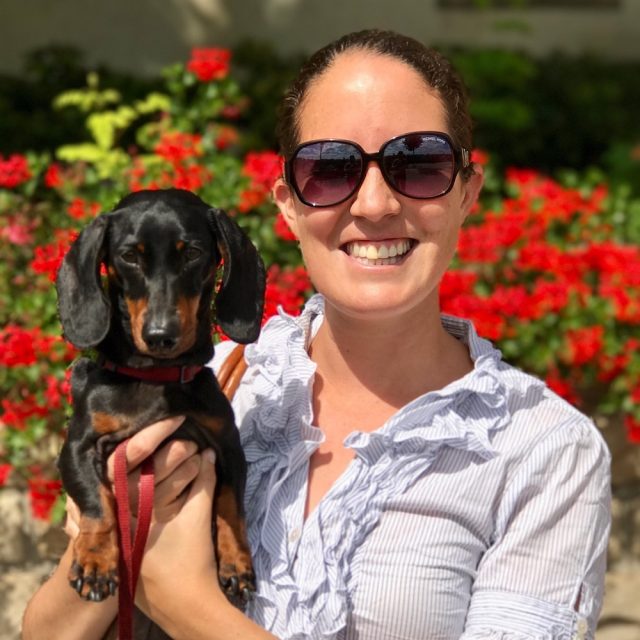 Shandos Cleaver is the founder of Travelnuity: Dog-Friendly Travel. She has travelled extensively with her Miniature Dachshund, Schnitzel, including to 33 countries across Europe, every state and territory of Australia except Tasmania, and 10 of the United States. She's passionate about providing inspiration and information to others wanting to travel with their dogs, whether close to home or internationally.
Inspired? Pin this to your Pinterest board!