Located in the tropical Top End, Darwin is a popular tourist destination in Australia. But with the nearby attractions of Kakadu National Park and Litchfield National Park, not to mention the wildlife and crocodile parks, not permitting dogs, is there really much to do in Darwin with a dog?
Find out about dog-friendly things to do in Darwin, the capital of the Northern Territory, as well as where to stay and dine out.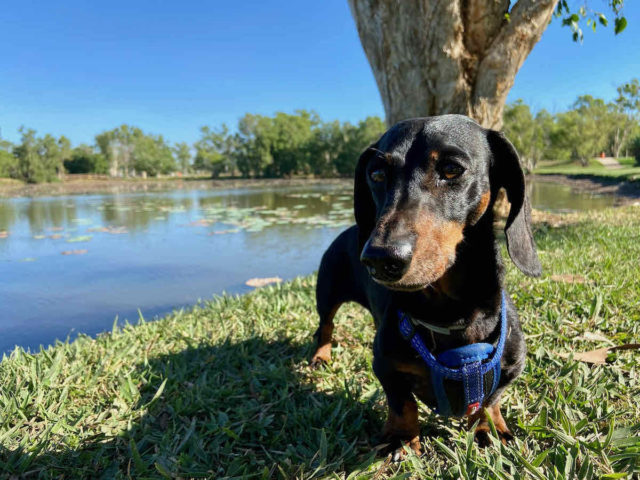 Note: This post contains affiliate links, which means I may receive commission if you make a purchase using the links. See my full disclaimer.
Dog-Friendly Sightseeing in Darwin
Despite many attractions not permitting dogs, there's still quite a few dog-friendly sightseeing options in Darwin. Consider heading to some of these options during your visit to Darwin with a dog.
1. Stroll Through the Darwin Botanic Gardens
Darwin has many beautiful green gardens and parks to visit to escape the Top End heat. One of the best options to visit are the George Brown Darwin Botanic Gardens.
Located not far from the city centre and Mindil Beach, dogs are allowed off leash in the garden. But they still need to be under your control – as emphasised by a sign I saw during my visit noting a recent dog bite incident, plus keep them on a leash in the car park.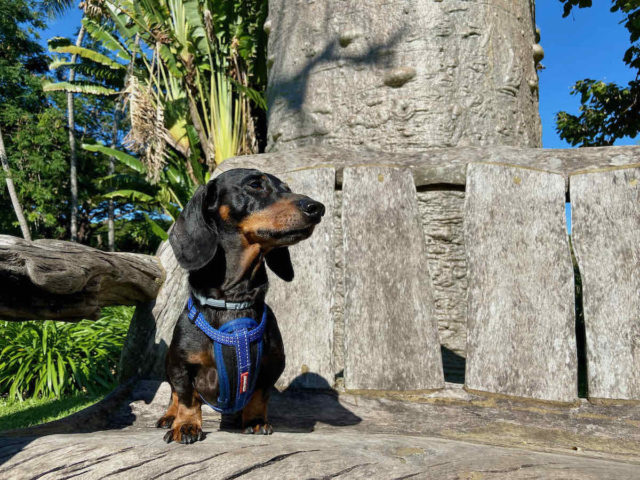 One of the shadiest sections of the garden to stroll through is the Rainforest Loop and adjacent Shade Forest. Alternatively, head to the Cycad Garden and Dinosaur Trail. It's also worthwhile stopping off at the dog-friendly Eva's Cafe in the gardens, which is open until mid-afternoon.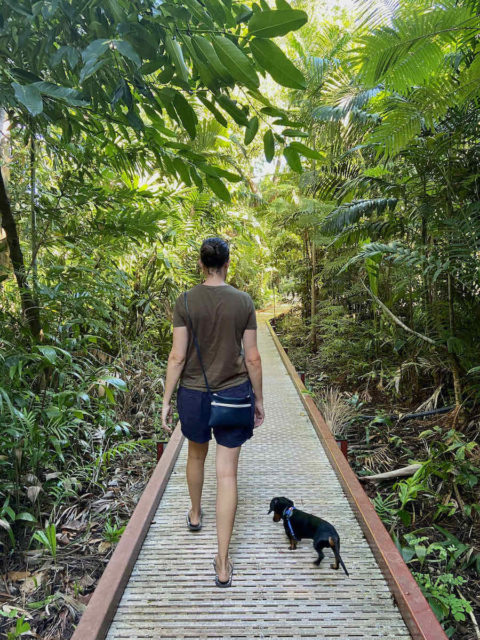 2. Head to Marlow Lagoon Dog Park
I rarely list dog parks as an actual sightseeing attraction for a destination, but this dog park is so amazing that I just had to list it here. Marlow Lagoon Dog Park is arguably the best dog park anywhere in Australia…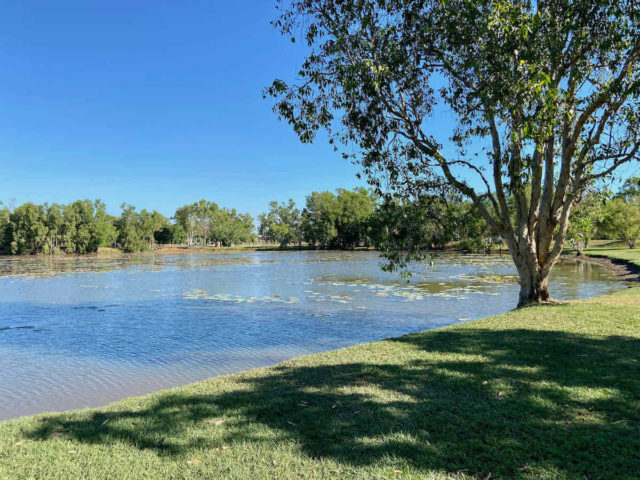 Located in the Palmerston City area to the south of Darwin proper, the dog park is a large area adjacent to Marlow Lagoon. When driving in, turn right and head down to the BMX track.
As well as a huge, fully fenced area along one side of the lagoon, there's also three smaller fenced areas for smaller and quiet dogs, with double gated entrances. There's a selection of agility equipment scattered throughout all areas, plenty of shade and water, and even a BBQ and picnic table in the main area.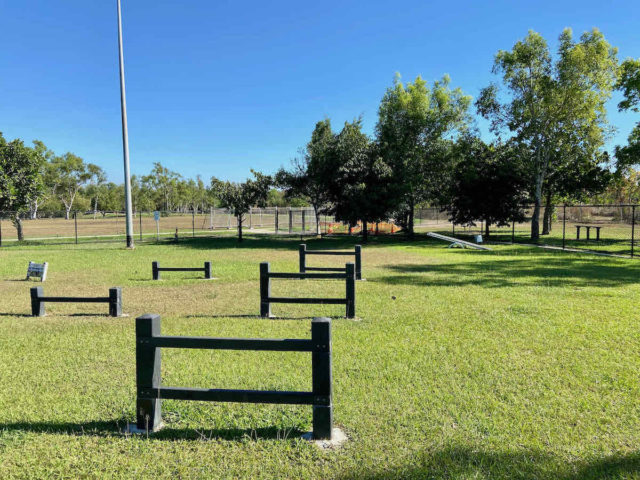 When I visited in 2021, there was a sign warning of the possibility of an estuarine crocodile in the lagoon, but locals said to disregard this. This could change, however, so check the latest signs or ask other dog owners at the park.
3. Visit Casuarina Coastal Reserve
Another great spot to head in Darwin and let your dog off-leash is Casuarina Coastal Reserve. This large reserve stretches for over 5km along the coast between Nightcliff and Lee Point. It features a long sandy beach, a grassy reserve behind, multiple picnic areas and walking tracks.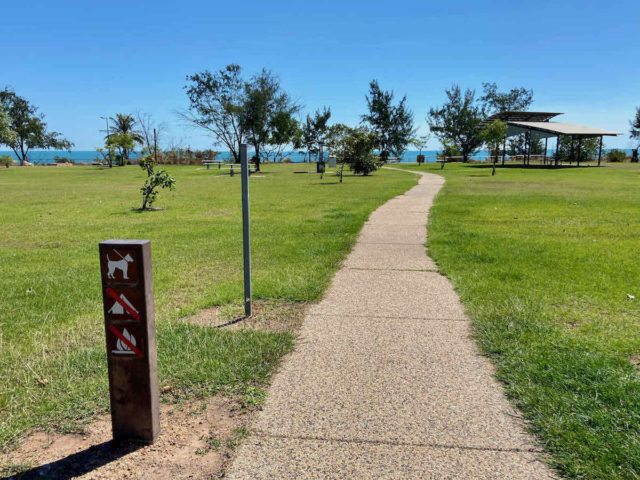 The restrictions on dogs vary throughout the reserve, from areas where dogs are allowed off-leash to areas where dogs are prohibited. The easiest way to check the restrictions is by checking out this map and the latest signs erected.
Along the beach, dogs are allowed off-leash in between Rapid Creek and Lee Point Rocks, except they must be on-leash between the Cliffs and Dripstone Point and around Sandy Creek. They are also allowed off-leash in the Rapid Creek Open Space, but must be leashed on walking trails.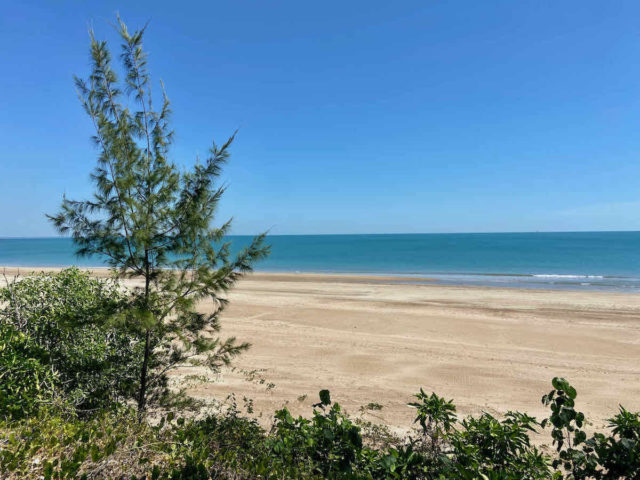 Dogs are prohibited from the area between Lee Point Rocks to Buffalo Creek, plus some picnic areas (although they are allowed on-leash at other picnic areas – check the map for specifics). While in the area, consider dropping by the dog-friendly De La Plage Cafe at the Surf Club.
4. Explore Darwin's WWII History
Darwin is a city with a fascinating history, particularly its role during World War II, when unfortunately the city was bombed multiple times. While the main museums (and the entire East Point Reserve) are off limits for dogs, there's still multiple dog-friendly places to explore this side of the city.
At Bicentennial Park, adjacent to the Darwin city centre, there's multiple panels exploring the city's WWII history near the war memorial, with extensive photographs from the era. It's worthwhile checking out and reflecting on how the city has changed.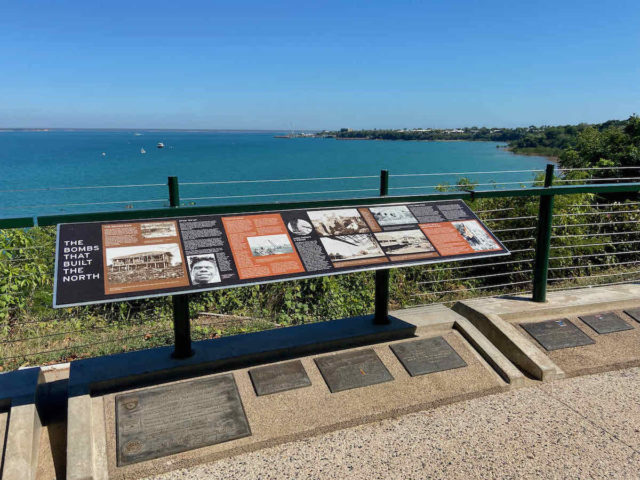 Many of the WWII remains around the city and to the south are also dog-friendly. The WWII Quarantine Anti-Aircraft Battery at East Arm is one such location. The Strauss Airstrip near Berry Springs is also a popular place to stop, with informative panels along the former WWII airstrip.
5. Head to Holmes Jungle Nature Park
While the majority of the nature parks (as well as national parks) that surround Darwin are off limits to pups, dogs are allowed at Holmes Jungle Nature Park, as long as they stay on-leash. This nature park is situated east of the airport, and has both a rainforest boardwalk and savannah walk.
Unfortunately, I didn't have time to visit the nature park myself, and some of the reviews of the park state that it's rather rundown. However, it's still an interesting dog-friendly walking option around Darwin.
6. Explore Darwin's Street Art
Driving through the Darwin CBD on my visit in 2021, I was surprised to spot many large murals on the side of buildings, that I didn't remember from previous visits. The murals are the result of the Darwin Street Art Festival, which has run every year since 2017.
Head to the website to download the latest map, which shows the locations of all the murals from each year. Alternatively, you can also download an app to take you on a self-guided tour.
Many of the murals are located around Austin Lane, as well as West Lane and Shadforth Lane. Relatively quiet and shady, walk along the laneways with your pup to discover the street art. Just note that dogs are not permitted along The Mall (which doesn't contain any street art).
Are Dogs Allowed to Visit Markets in Darwin?
Darwin is renown for its outdoor markets, especially the Mindil Beach Sunset Markets, which runs every Thursday and Sunday evening over the dry season, between April and October. However, the markets aren't a dog-friendly option to visit. Dogs are specifically prohibited from visiting any of Darwin's markets.
Note however that dogs are still permitted in these locations outside of when the markets held. For the Mindil Beach Sunset Markets, which takes place in the park behind the beach, dogs are still permitted on the actual beach during the markets, although note that it gets quite busy.
Dog-Friendly Parks in Darwin
The Darwin local government area is one of the most dog-friendly areas in Australia. Dogs are by default allowed off-leash in all of the local parks, with only a few exceptions. Dogs are however expected to still be under your control, responding to your commands, and if not are still expected to be on leash.
In addition to this, there's a number of fenced dog parks in the Darwin region. Within the Darwin City area, head to Muirhead Dog Park and Lakeside Drive Park. Both parks are fully enclosed and features two separate areas for small and larger dogs. Check out more details in my post on fenced dog parks in the Northern Territory.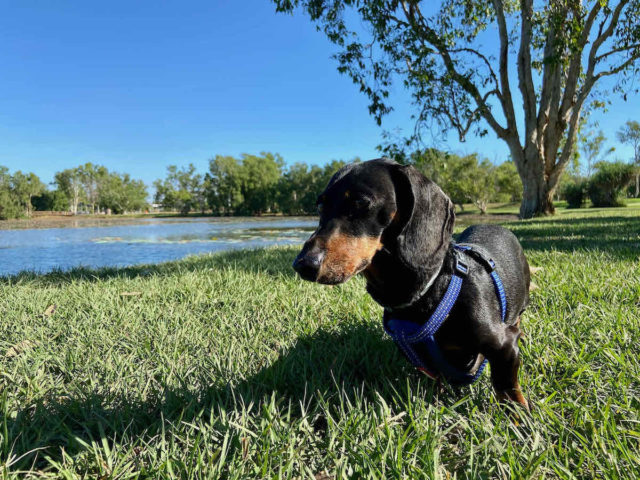 However, by far the best dog park in Darwin is the Marlow Lagoon Dog Park, in the Palmerston City area. See my description above about this large park, which features everything you could imagine in a dog park. Palmerston City also has two more dog parks – Bakewell Dog Park and Gray Dog Park.
Dog-Friendly Beaches in Darwin
Just as dogs are allowed off-leash in Darwin parks by default, dogs are also allowed off-leash at Darwin beaches, although it's not spelled out so clearly. However, be aware that crocodiles are a danger around Darwin. Plus swimming should be avoided between October to May, during stinger season. Check the signs or ask a local.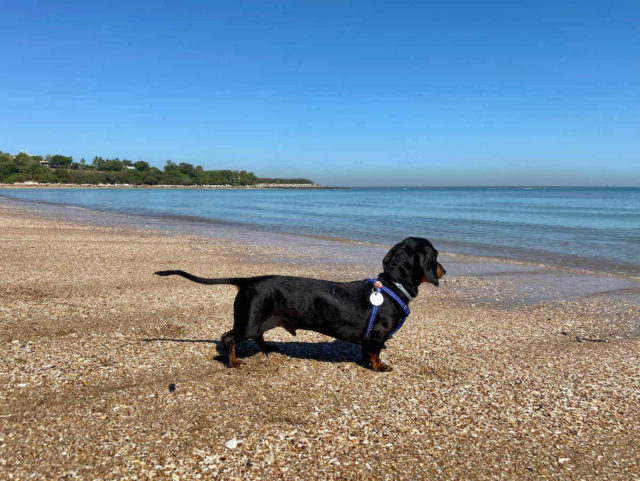 One of the best beaches closest to the Darwin CBD is the wide expanse of Mindil Beach. It might be best though to avoid the beach on Thursday and Sunday evenings during the dry season, when the Mindil Beach Sunset Markets take place, unless you like crowds.
Casuarina Coastal Reserve also contains a long stretch of beach, although avoid the creeks where crocodiles might be found.
Dog-Friendly Dining in Darwin
One of the best dog-friendly cafes in Darwin is Eva's Cafe at the Darwin Botanic Gardens. Dogs are permitted on both the large front and back verandahs, and water bowls are available. The cafe has delicious breakfast and lunch menus, or else head there anytime for a coffee, mango smoothie or tea and scones.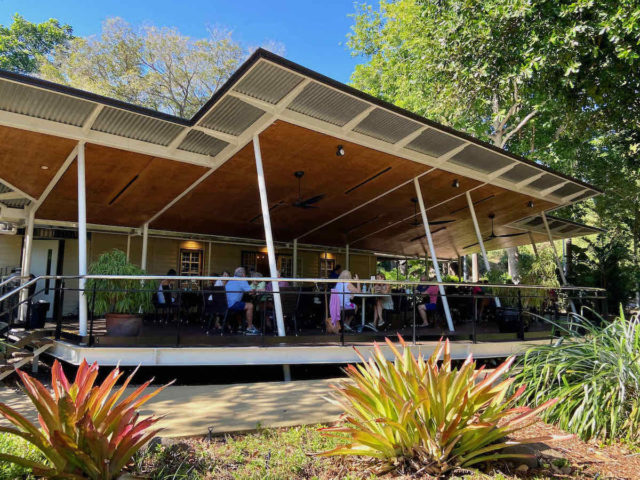 During the evening, I recommend dining at least one night at Frying Nemo. This casual seafood cafe is located at the Tipperary Waters Marina, and has plenty of outdoor tables with waterfront views. The focus is on locally wild caught fish, plus there's a great range of burgers, including crocodile and buffalo burgers. The cafe is licensed, with reasonably priced beer and wine.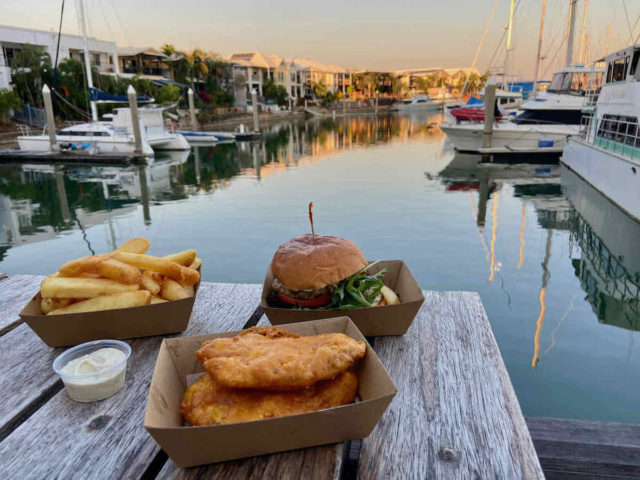 Another spot to head in the evening and enjoy a sunset is the Darwin Ski Club at Fannie Bay, which has a dog-friendly beer garden and is a popular spot to watch the sunset. Alternatively, One Mile Brewery is open Thursday, Friday and Saturday evenings and is reportedly dog-friendly.
Dog-Friendly Accommodation in Darwin
The majority of the caravan parks in Darwin are pet-friendly, although sometimes pets are only permitted on selected sites. Additionally, Discovery Parks – Darwin, the closest part to the city, doesn't allow pets during July.
We stayed at the Coolalinga Tourist Park. While a 25 minute drive from the city, the prices are quite reasonable (making it popular for longer stays), it has a swimming pool and there's a fenced dog exercise area at the front of the park.
Tumbling Waters Holiday Park is often highly recommended, thanks to its great facilities, but it's even further away from Darwin, past Berry Springs.
If you're after something more luxurious, check out the Mercure Darwin Airport Resort. This resort-style hotel offers a Pampered Pets Package, including accommodation in a dedicated pet-friendly room, their own pet bed and food bowl, plus a complimentary gift for your pet to take home. There are no size restrictions.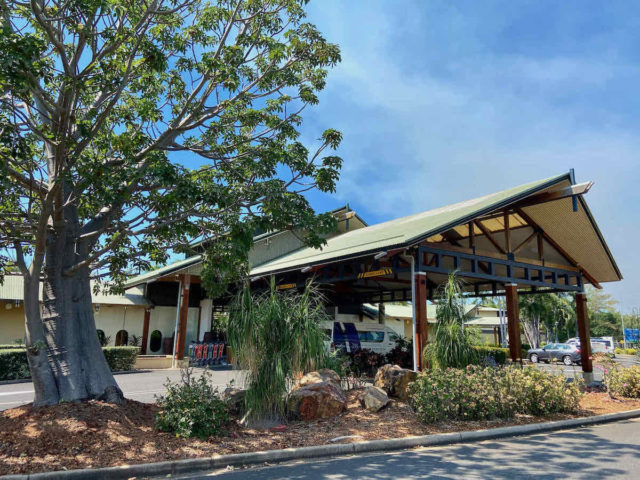 Another dog-friendly hotel in Darwin is the pet-friendly apartments at Quest Palmerston. Small to medium sized dogs are allowed in apartments on the first and second floor, for an extra $25 per pet per night. Also look into the centrally located Rydges Darwin Central.
Keeping Your Dog Safe around Darwin
Crocodiles are a real danger in many waterways around Darwin, and even in the harbour. Read the signs, and if in doubt, don't let your dog in or near the water. Another problem around Darwin are cane toads. Cane toads are poisonous to dogs. If there's a chance cane toads are around, it's best to not let your dog off leash.
Another danger in the entire Northern Territory is the tick-borne disease Ehrlichiosis. This disease can be fatal if left untreated. Make sure you use tick prevention treatment for your dog. It's best to combine the use of a tick collar, such as a Seresto collar (available both for puppies and small dogs and medium and large dogs), with your usual monthly chew. Also check your dog for ticks daily, plus keep them our of long grass.
Leptospirosis is another disease that is present in the Top End. Usually spread by rat urine, consider having your dog vaccinated against the disease, particularly if you're visiting during the wet season, plus stop your dog drinking from puddles.
For more information on these and other dangers when travelling with a dog, read my guide to keeping your dog safe when travelling in Australia.
Head Next To