The third largest town in the Northern Territory, Katherine is a popular tourist destination thanks to the nearby Katherine Gorge and Edith Falls in Nitmiluk National Park. But what is there to do if you are visiting with a dog? Find out about where to stay and some things to do with your pup.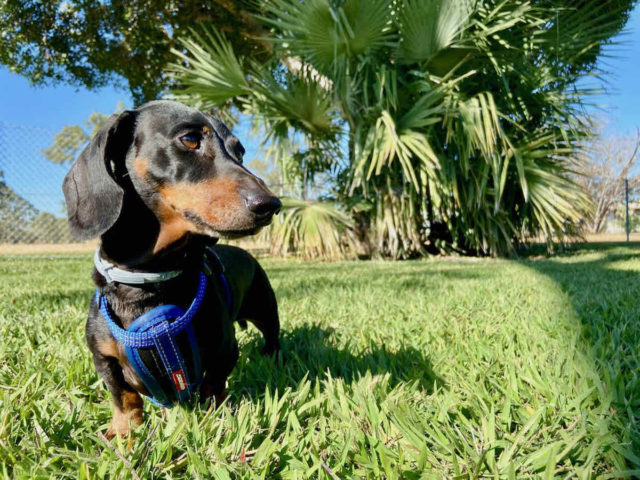 Note: This post contains affiliate links, which means I may receive commission if you make a purchase using the links. See my full disclaimer.
Dog-Friendly Accommodation in Katherine
About half of the caravan parks in Katherine are pet-friendly. Some caravan parks choose to not allow dogs, plus the campgrounds at Katherine Gorge and Edith Falls naturally don't allow dogs, due to being located within the national park.
A great caravan park located just a short walk from the centre of Katherine is the Boab Caravan Park. This small, well-maintained caravan park has grassy, well laid-out powered sites. Additionally, some of the ensuite cabins are pet-friendly, for a small extra fee.
We stayed in one of the cabins while having our campervan repaired and found it an excellent option, especially fronting onto the pool area. There is also a takeaway restaurant onsite.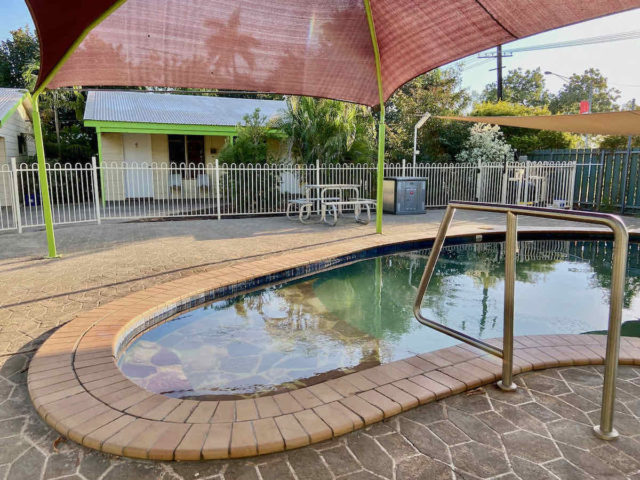 Another pet-friendly caravan park just outside of Katherine is Manbulloo Homestead Caravan Park. Located on Manbulloo Station, a working cattle station, there's even daily horse and cattle feeding to entertain the kids.
The facilities aren't that fancy, but most of sites are shady and there's a free dog bath. In addition to sites, both the motel rooms and self-contained cabins have lockable verandahs that are pet-friendly. It's just a short walk to the banks of the Katherine River, a great spot for fishing, although be wary of crocodiles.
Dog Sitting Options in Katherine
While visiting Katherine, you'll likely need to make use of a dog sitter while visiting the attractions in Nitmiluk National Park. We dropped off our dog for the day, before taking a booked cruised on Katherine Gorge in the morning, then spending the afternoon swimming at Edith Falls, about 45 minutes north of town.
We used Rellams Pet Retreat and were very happy with their personalised service – I think they quite spoiled our little dog! Their prices were also quite reasonable, and they are conveniently located just a few minutes outside of Katherine on the road to Katherine Gorge. There are two separate kennels for small dogs/cats and medium/large dogs.
Another option to consider in Katherine are Taggerty Kennels, located on the highway to the north of town.
Dog-Friendly Parks in Katherine
Katherine is home to a great fenced, off-leash dog park, located on Lockheed Road, close to the Auster Street intersection. The well-grassed area (although with an inevitable muddy spot) has shady seats and a water fountain.
Best of all there are dog toys and balls in some milk crates on the fence, with the request to leave them for all to enjoy. It's a must-visit when in Katherine with dogs, or if simply passing through on the drive south from Darwin.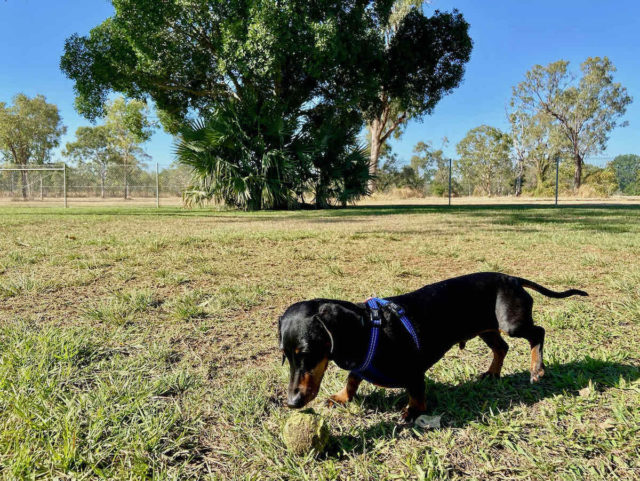 Dog-Friendly Sightseeing in Katherine
Unfortunately, there's not many dog-friendly sightseeing options in Katherine. As well as Katherine Gorge and Edith Falls in Nitimuluk National Park not surprisingly prohibiting dogs, dogs are also not allowed at the Katherine Hot Springs, another popular swimming spot close to the centre of town.
One of the best dog-friendly options available in Katherine is to walk along the Katherine River. There are walking paths along both side of the river, starting at the Low Level Crossing, a park that is also dog-friendly. The path on the north side end at the High Level Bridge, which carries the Stuart Highway, while the south side path continues on to Knotts Crossing. Dogs are required to be kept on a leash.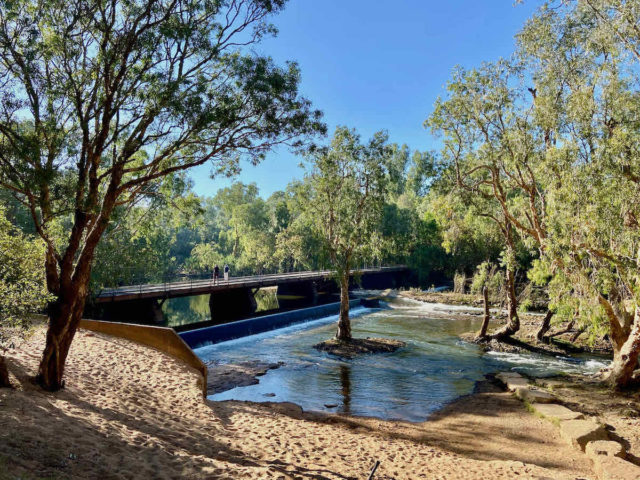 Dog-Friendly Dining in Katherine
Although Katherine Hot Springs is not dog-friendly, the pop-up Pop Rocket Cafe located in the park above the springs is. We spotted some dogs at the outdoor tables when walking past, and regret not visiting, as the cafe has excellent reviews and reasonable prices.
The cafe is open for both breakfast and lunch Monday to Sunday, or just enjoy a coffee. Note that it seasonally closes during the wet season between November and March.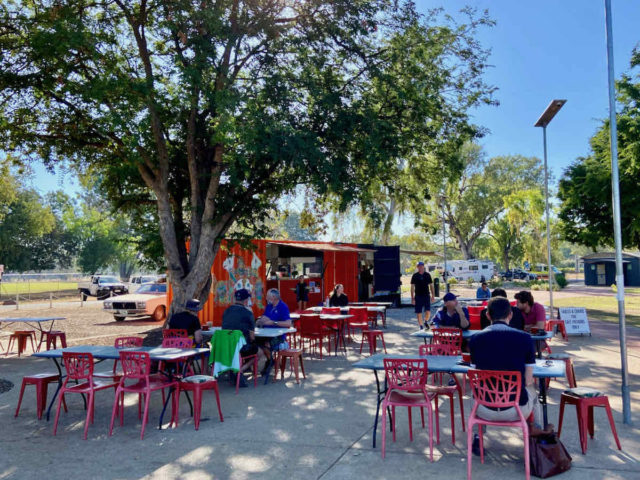 Keeping Your Dog Safe Around Katherine
Note that crocodiles are a risk along the Katherine River, so don't allow your dog to swim in the river and keep them on a leash. There are some safe places for humans to visit, such as the Hot Springs, but generally dogs are prohibited from these areas.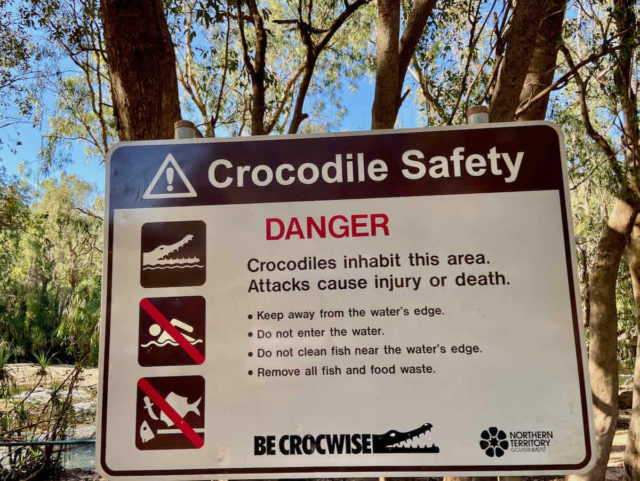 The tick-borne disease Ehrlichiosis is also present in the Katherine area, as in the rest of the Northern Territory. This disease is spread by the brown dog tick and can be fatal if left untreated, so it's vital that you use proven tick prevention treatments for your dog.
We used a Seresto collar for our dog, which quickly kills ticks before they can pass on Ehrlichiosis, in addition to our dog's monthly Nexguard chew. (The Seresto collar is available both for puppies and small dogs and medium and large dogs.) Avoiding long grass and daily checks for ticks are also recommended. For more information, see the NT government website.
Head Next To