This post was created in conjunction with Vallée les Etoiles
The Ardennes region in south-eastern Belgium is the perfect destination for a relaxing holiday, far away from bustling, modern life. Yet this forested, mountainous region is just over an hour from Brussels, 3.5 hours from Paris and 3 hours from Calais. And best of all there are many dog-friendly options available, making for a wonderful holiday with your four-legged family members.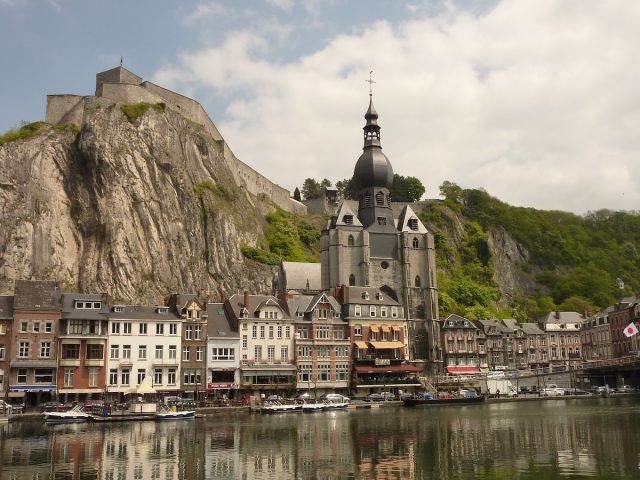 Where to Stay
One of the best dog-friendly places to stay in the Ardennes region is Vallée les Etoiles. Situated about 15km from Dinant, only a few kilometres from the French border, this holiday park is beautifully located in the forested countryside.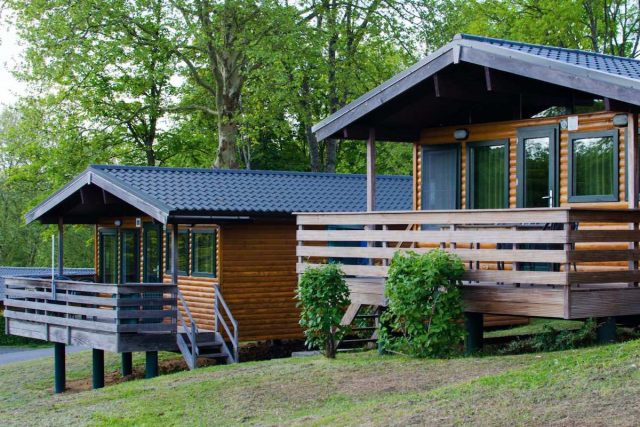 The holiday park offers a range of wooden chalets built and decorated in Norwegian style. They range from 2-person chalets perfect for couples up to 8-person chalets for large family groups. All chalets feature bathrooms, a kitchen and dining table, a sitting area and a cosy fireplace, perfect for during the colder months.
Up to two dogs are permitted per bungalow. Just let the staff know in advance that you'll be bringing a pet, so that they can reserve a pet-friendly holiday home for you.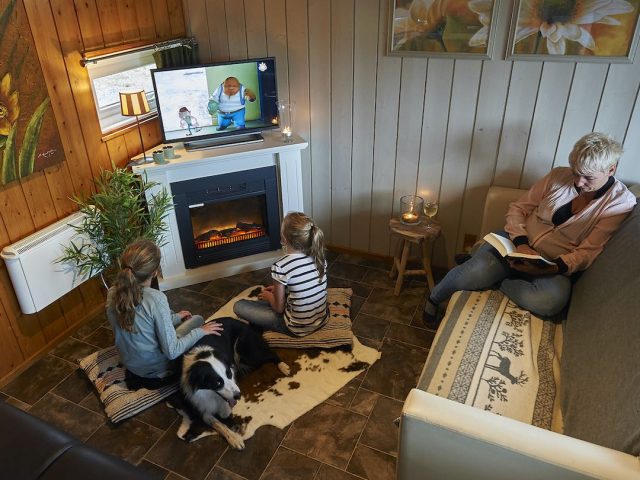 On site are a range of facilities, including swimming pools, saunas, tennis court, bicycle rental and entertainment for children during the summer months. There's a pet-friendly restaurant, La Bonne Heure, along with a lounge bar, serving up local cuisine and even it's own amber beer.
It's also possible to order breakfast sandwiches or pizzas in the evening to be delivered directly to your own chalet, perfect for lazy days.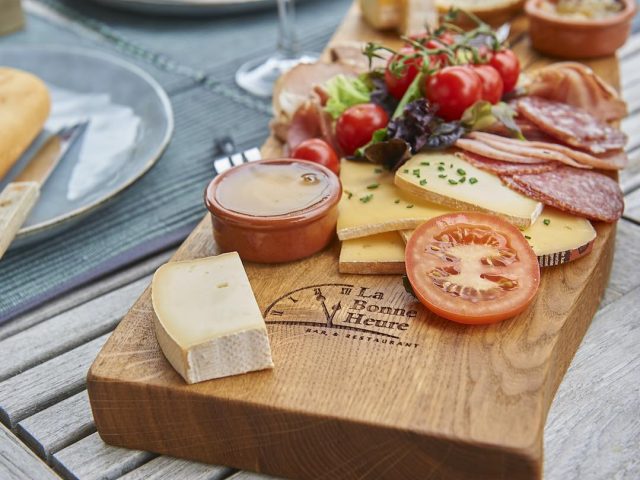 Dog-Friendly Sightseeing in the Ardennes
While of course it's possible to relax onsite in your chalet at Vallée les Etoiles, there's plenty of dog-friendly outings to keep you busy during your stay in the Ardennes region. These are some of my top picks…
1. Head Out Hiking
One of the top reasons to visit the Ardennes and stay at Vallée les Etoiles is for the superb hiking opportunities. The dense forests of the region are plentiful, criss-crossed by many walking paths of varying lengths, perfect for exploring with your four-legged friend.
In particular, there's multiple walks available directly from the Vallée les Etoiles holiday park, without the need to even get in your car. Just enquire at the reception for a map and details.
Two of the most popular destinations are the forest of Blaimont, with its beautiful trails winding through its fairy-tale forests, and the nearby village of Haustière, featuring an eleventh-century Romanesque abbey church and a castle, Les Sorbiers.
2. Visit the Historic City of Dinant
Not far away from Vallée les Etoiles is the historic city of Dinant. Its picturesque old town, squeezed in between the River Meuse and towering cliffs, is regularly listed as one of the most beautiful places in Europe.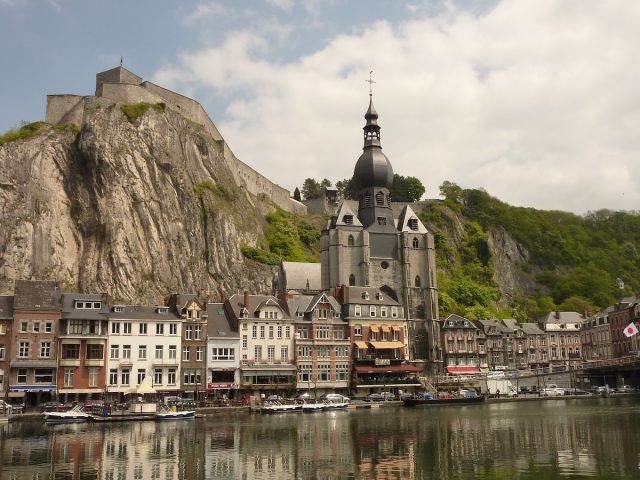 Some of the best views of the city are from out on the river. Multiple boat hire options and cruises are available.
Then it's a must to head up to the citadel on the cliffs above. Dogs are allowed inside the citadel, as long as they are kept on a leash. It's possible to take a cable car up, from behind the cathedral, with dogs also allowed.
Other historic towns and villages in the area to explore include Rochefort, La Roche and Ardenne.
3. Go Kayaking on the River Lesse
The Ardennes region contains many fast-flowing rivers, perfect for kayaking adventures. A trip can easily be organised with Lesse Kayaks, with multiple itineraries possible. Along the way you'll pass by medieval castles and chateau, beautiful stretches of nature, and be able to stop and paddle at small beaches.
If your dog is up for an adventure and loves the water, they're welcome to join you. Lesse Kayaks allows smaller dogs to join you for free, while larger dogs that take up a seat will be charged a fee. I recommend taking along your own dog's life jacket.
Kayaking tours run from early April to the end of October, subject to suitable water depth.
4. Visit Dinant Adventure Park
More adventures on land are available at Dinant Adventure Park. There's multiple programmes available, including rope bridges, nature walks, lasergame, cross-country cycling, death-rides and more. Options are available for different age groups, starting from 8 years old, with the park open year round.
While your dog won't be up to joining in on the courses, they are allowed on site. So if someone in your party is just a spectator, they can follow along with your dog on the walking trails, with no admission charge.
5. Head Underground at the Cave of Han
The Ardennes region contains many wonderful caves open to the public. A great option to visit with your dog is the Cave of Han, or Grotte de Han.
The Cave of Han is one of the most beautiful caves in Europe, with a highlight being its immense galleries, including the Hall of the Dome and the Hall of the Draperies, carved by the River Lesse. A century-old tram takes visitors to its entrance. Dogs are allowed as long as they are kept on a leash, including in the museum.
Note that dogs are not allowed in the adjacent wildlife park, whether you visit on foot or take the safari bus, not even small dogs in a bag. Additionally, the cave is only open on limited days during the winter months.
6. Explore the Region's Gallo-Roman History
Close to the town of Rochefort, worth visiting for its magnificent centre and Trappist beer, is Malagne, a Gallo-Roman archeological park. The park is the site of a former Gallo-Roman villa, which was likely lived in between the first and fourth centuries BC.
Attend one of the event days, such as the yearly Gallo-Roman Meeting during July, with live re-enactments, or else rent an audio-guide to explore the excavations, reconstructed mill and other projects.
The park is open during school holidays and on weekends and bank holidays between early April and early November, plus every day during July and August. Dogs are allowed on a leash.
7. Visit the Château Lavaux-Sainte-Anne
The Ardenne region is home to many beautiful chateau and castles, with differing policies when it comes to pets. One of the more pet-friendly options is Château Lavaux-Sainte-Anne.
A striking castle with three domed towers and a drawbridge, the Château Lavaux-Sainte-Anne dates back to the fifteenth century and combines medieval and Renaissance architecture. There are three museums on site, along with charming gardens and surrounds.
Well-behaved dogs are allowed on site, naturally on a leash in the garden. Additionally, it was previously possible to carry small dogs inside, either in your arms or in a carrier – check if this is still permitted.
You May Also Like
About the Author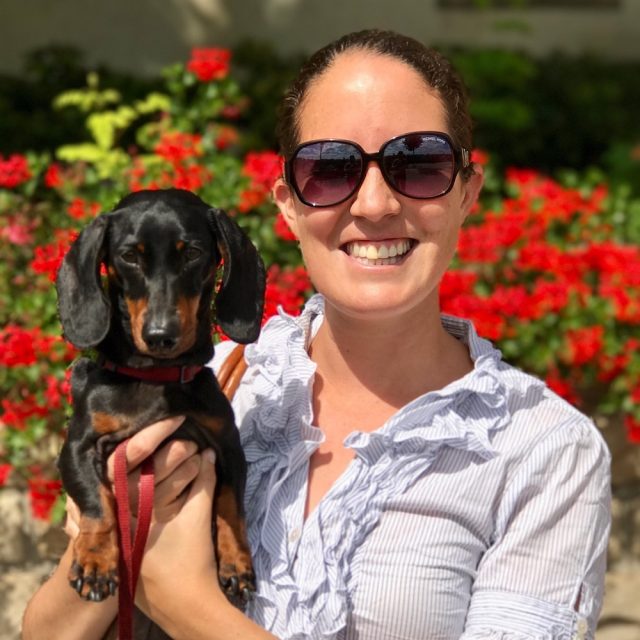 Shandos Cleaver is the founder of Travelnuity: Dog-Friendly Travel. She has travelled extensively with her Miniature Dachshund, Schnitzel, including to 33 countries across Europe, every state and territory of Australia except Tasmania, and 10 of the United States. She's passionate about providing inspiration and information to others wanting to travel with their dogs, whether close to home or internationally.
Inspired? Pin this to your Pinterest board!