When I think of Belgium, I immediately think of beer and chocolate. And while it's best not to let your dog indulge in either, you should consider taking your dog along on your trip to Belgium. With lots of dog-friendly options to choose from in, it's an easy European country to travel in with your dog. Here's everything you need to know for a happy time travelling in Belgium with a dog…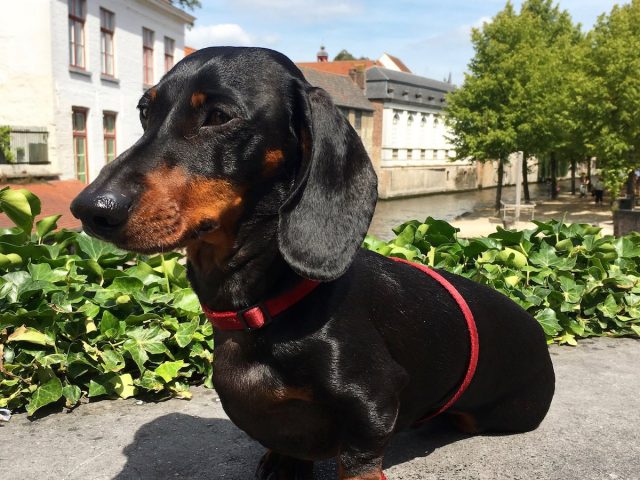 Travelling to Belgium with a Dog
The standard EU rules apply to travelling to Belgium with your dog. If you are travelling to Belgium from another EU country, your dog will need to be microchipped, have an EU pet passport and have been vaccinated for rabies at least 21 days before crossing the border. However, pet passports are generally not checked when crossing the border by car or train.
If you are flying to Belgium from outside of the EU, as well as a microchip and valid rabies vaccine, your pet will require an EU health certificate (also known as the Annex IV) and in some cases a rabies titre test. Check out the full details on travelling to Europe with a dog.
Dining Out in Belgium with a Dog
In our experience, many restaurants in Belgium will allow your well-behaved dog to join you inside, although it's always best to confirm first before entering. However, the majority of time in Belgium we ate (or just enjoyed a beer) at outside tables, along with our dog, as it was the middle of summer.
There's plenty of restaurants and cafes with huge outdoor terraces all around Belgium. When you have the option, it's easier and the done thing just to dine outdoors with your dog at one of these.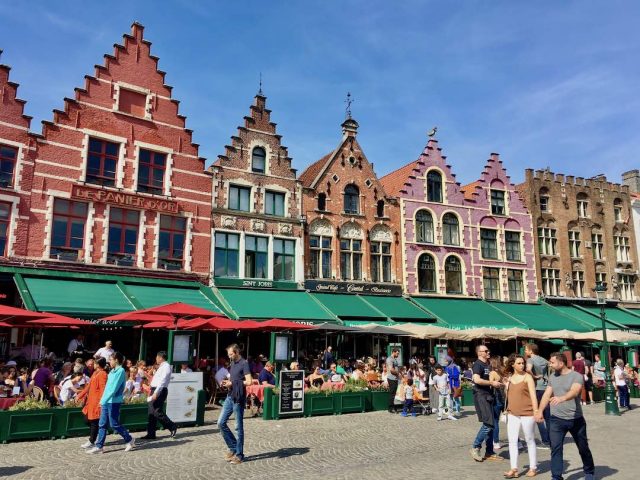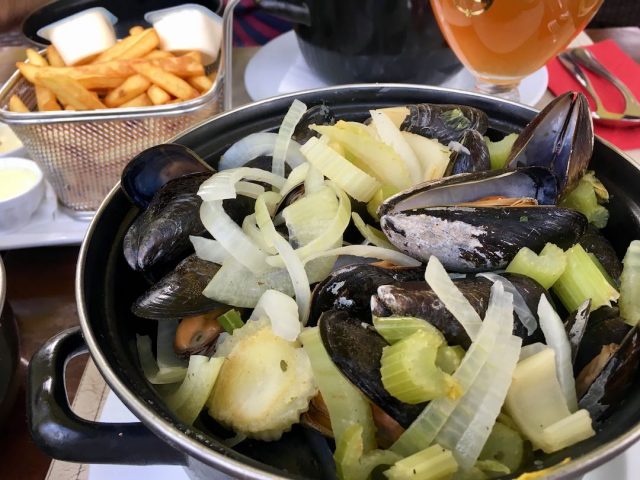 When the weather turned inclement on us, a couple of times we turned to EXKi, a healthy fast-food chain with multiple outlets around Belgium. Both times our dog was allowed inside, although there's the rule to keep them on the floor, away from the food options on counters higher up.
Alternatively, a less healthy option, there's also plenty of take-away fries and waffles on offer all around Belgium!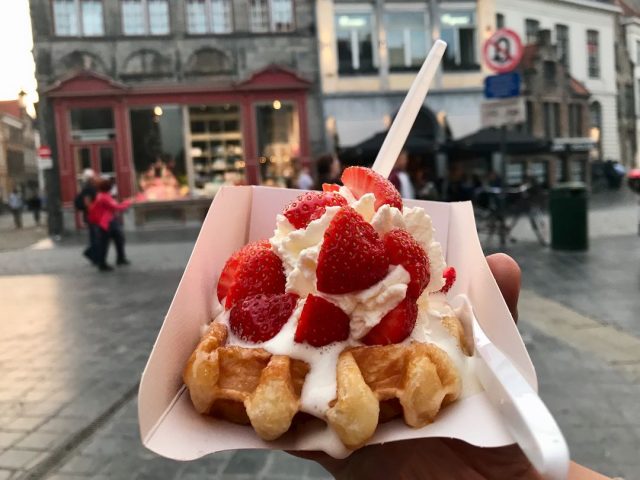 Taking a Dog on Public Transport in Belgium
It's easy to get around Belgium on the train system, as the country is quite small and well serviced by trains. On Belgian Rail, small pets in a basket, cage or box travel for free. The maximum dimensions of the container should be 30 x 55 x 30cm.
Larger dogs require a Pet Supplement which costs a small €3 per single trip. Muzzles are recommended but not mandatory, although it is also possible a conductor may insist on your dog being muzzled.
When it comes to local public transport, the rules can vary between the different cities in Belgium.
De Lijn operates many of the local public transport services in Belgium, including the trams in Antwerp and Ghent. On their buses and trams, dogs travel for free.
A leash is required, plus a muzzle if necessary, or alternatively use a cage for small pets. Additionally, the driver may refuse pets onboard when a bus or tram is full, or if they inconvenience other passengers.
In Brussels, public transport is run by STIB. While smaller dogs that can be held on a lap can travel for free, a ticket is needed for other dogs. Additionally, a muzzle is required for larger dogs.
Dog-Friendly Accommodation in Belgium
Belgium has a wide range of dog-friendly accommodation, from city hotels to beautiful B&Bs and apartments. Check out my picks in Brussels and Antwerp.
Note: This post contains affiliate links, which means I may receive commission if you make a purchase using the links.
A Stylish Hotel in Brussels
During our visit to Brussels, we stayed as the stylish 4-star pentahotel Brussels City Centre for multiple nights. It's just a short stroll from an upmarket quarter of Brussels, with trams passing right by the door to connect to the main train station and the Grand Place.
Pets are allowed on request in selected rooms, generally only one dog or cat per room up to 20kg, for an additional charge of €20 per stay, with a €25 deposit.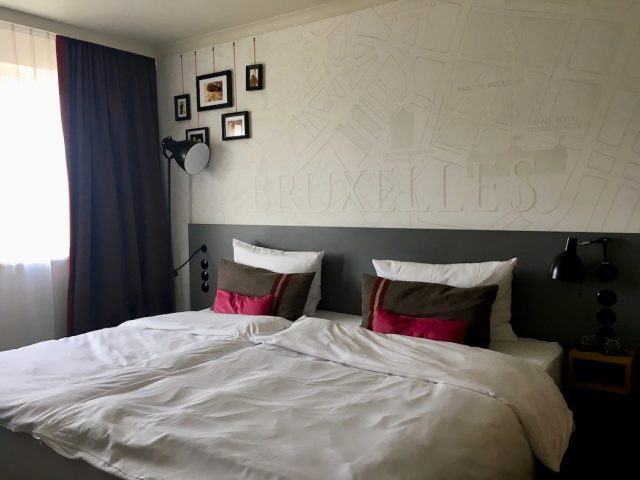 Look for great value rates available on many weekends and over the summer holiday period. In particular, we enjoyed relaxing with our pup in the large lounge area downstairs, which includes a restaurant and bar.
A Luxury Stay in Antwerp
Located in a gorgeous old building in the heart of the Old Town, I would love to stay at the Hilton Antwerp Old Town for a luxurious weekend. Small pets up to 11kg (25 lbs) are allowed on request for an additional €50 per night.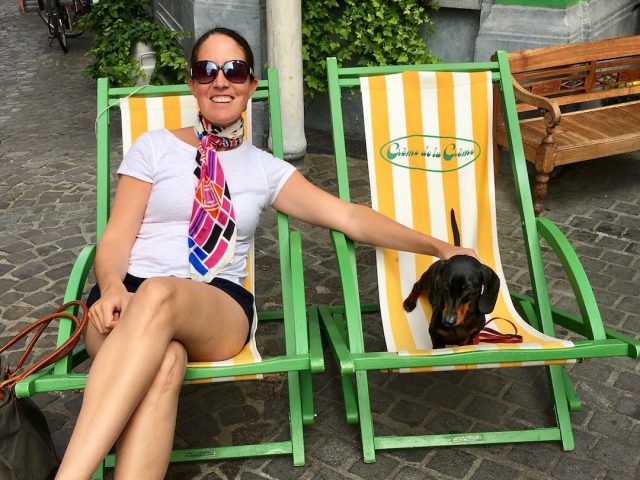 There's a range of rooms available, including executive rooms and suites that include complimentary breakfast plus free drinks and snacks at the Executive Lounge, which includes a private rooftop terrace overlooking the historic cathedral.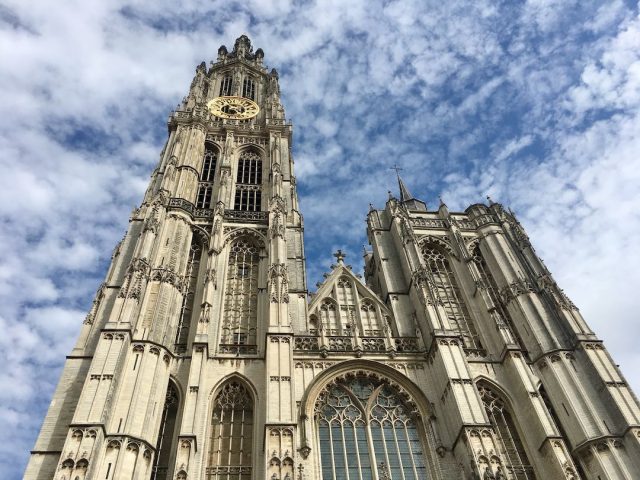 A Dog-Friendly B&B in Bruges
Bruges is a beautiful destination that deserves more than a day trip, ideally by staying within the town and enjoying the ambience during the quieter mornings and evenings. The Doghouse B&B is the only luxury, dog-friendly B&B in Bruges, located in an elegant canal-side house with a protected façade.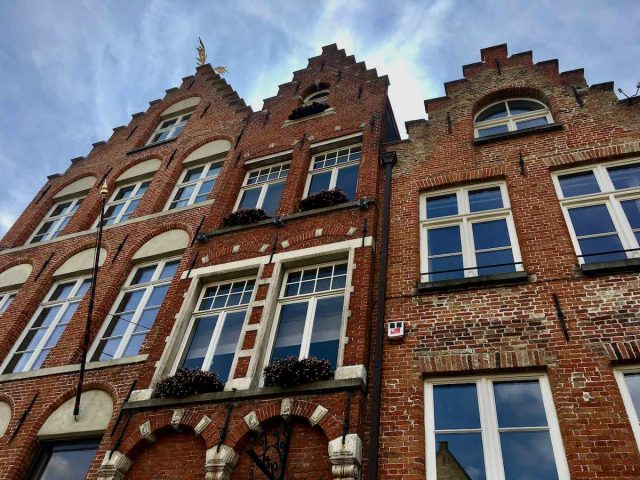 Choose between the canal-side Dexter Room or Roxy Room, with its own rooftop seating area. Breakfast is included daily, as well as use of bikes. There's a cosy doggy chill zone off the dining area, as well as a living room and courtyard to enjoy.
If you notify them about your pup, a "doggy tray" and blanket will be provided in your room. Dog treats and Belgian dog beer is also available for purchase.
Dog-Friendly Sightseeing in Belgium
Belgium offers you many options for your dog to join you sightseeing. In particular, I recommend adding the following to your must-do list.
1. Explore the Old Town of Bruges
Bruges (or Brugge in Dutch) is a delightful historic city in western Belgium. A major centre during the medieval period, much of its historic charm has been retained due to the river silting out and commerce moving elsewhere.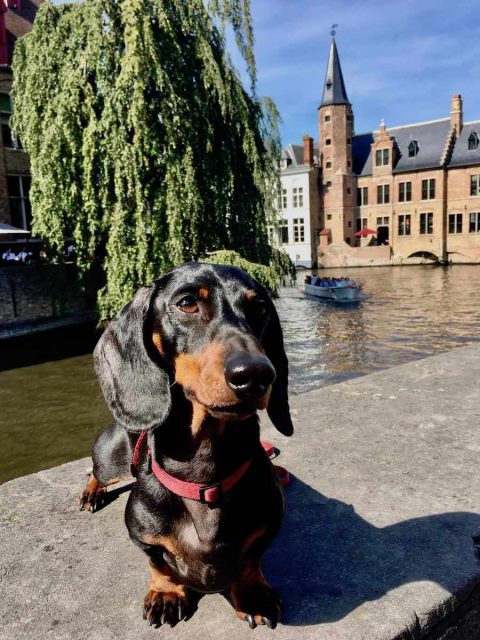 While many visitors arrive on a day-trip from Brussels, I recommend spending a least a couple of days here, as the town is at its best during the early morning and during the evening, when it is quieter. (It's also less than a 90 minute drive from the ferry terminal in Calais, perfect for a quick trip from the UK.)
We spent our time wandering through the streets of dog-friendly Bruges, enjoying a drink at various cafes (don't miss the cafe right on the small lake) and looking at the cute shops. If you have a sweet tooth, two chocolate shops recommended by locals are Dumon Chocolatier and The Chocolate Line.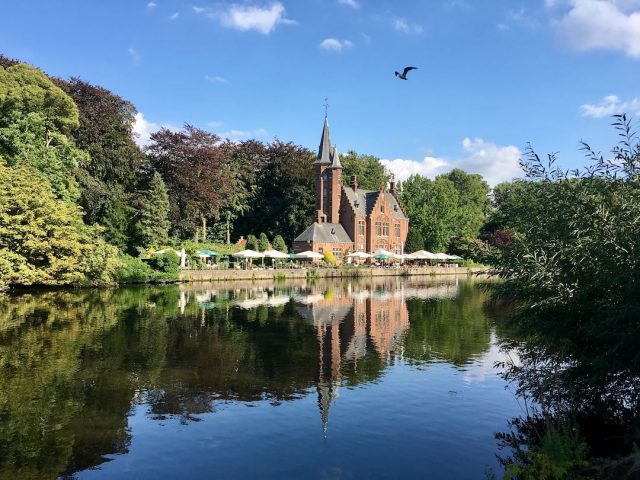 2. Visit the Grand Place in Brussels
Squares don't come much grander than the UNESCO World-Heritage listed Grand Place in Brussels. It's lined with impressive multi-story buildings built by the various guilds and merchants, plus the town hall and King's House or Breadhouse.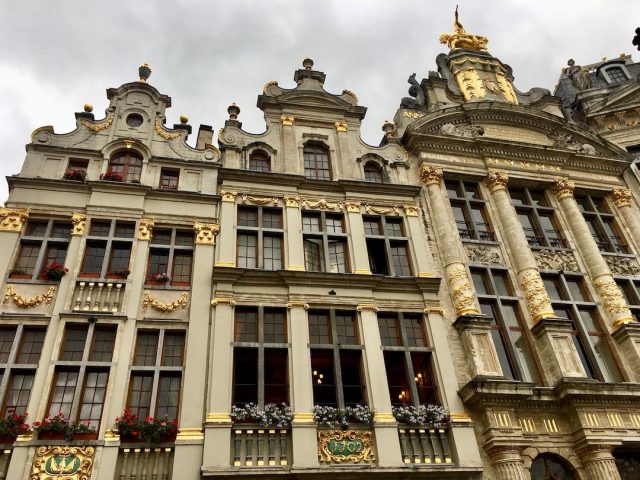 Take your time circling the square and taking it all in. I regret not also returning after dark, when the buildings are prettily lit up. While your pup won't be as impressed as you are, they're welcome to join you in this open-air museum.
3. Relax with a Belgium Beer
They take their beer seriously in Belgium! The country is particular renown for the Trappist beers brewed by monks. And there's nothing more Belgian than taking a seat at one of the many outdoor cafes and bars and enjoying a beer or two.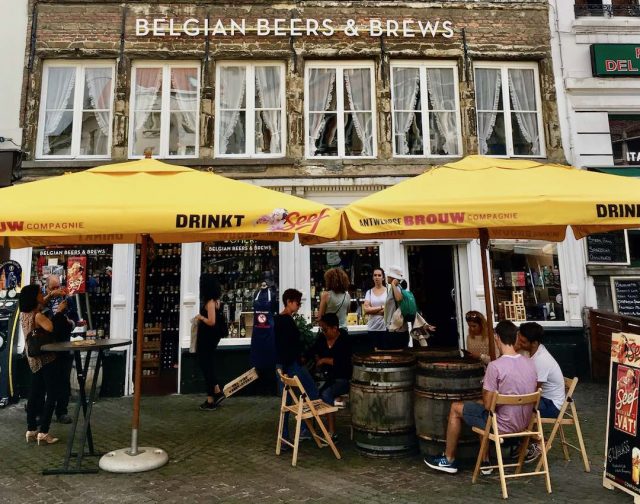 It's the perfect way to while away an afternoon, your dog at your feet, perhaps with some Belgian fries dunked in mayonnaise. Just be warned that the beers are often quite strong, so make sure you're walking back to your hotel or taking public transport afterwards.
4. Visit a Beguinage in Leuven or Bruges
While you've probably heard of monasteries and convents, in Belgium and some surrounding countries you will also find beguinages. These complexes were built to house beguines, religious women who choose to live together in a community, but without taking vows or retiring from the world, as in the case of nuns.
Many of these beguinages still exist, usually with beautiful preserved historic buildings. Sometimes they still house beguines or else they have been converted to other purposes, such as university housing.
If visiting Bruges, don't miss spending some time in the beguinage at the southern end of the city. It's a pocket of calm, despite the many visitors, amongst the busy streets. Or else consider taking a day trip to the lovely city of Leuven, close to Brussels, and visiting its larger beguinage.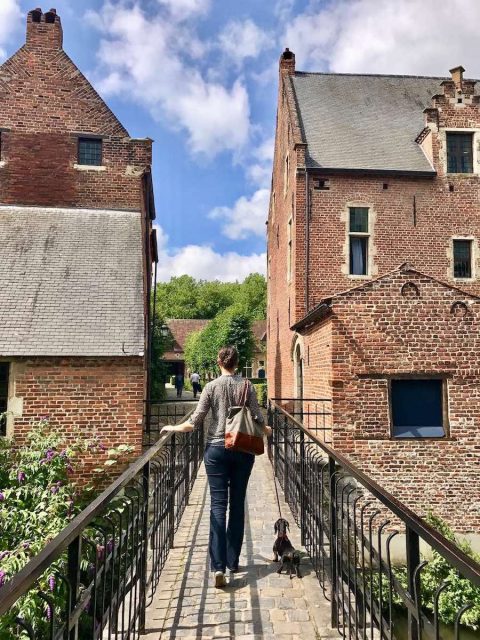 Well-behaved dogs are welcome to join you at either beguinage, except for inside any museum buildings open to the public.
Head Next To
About the Author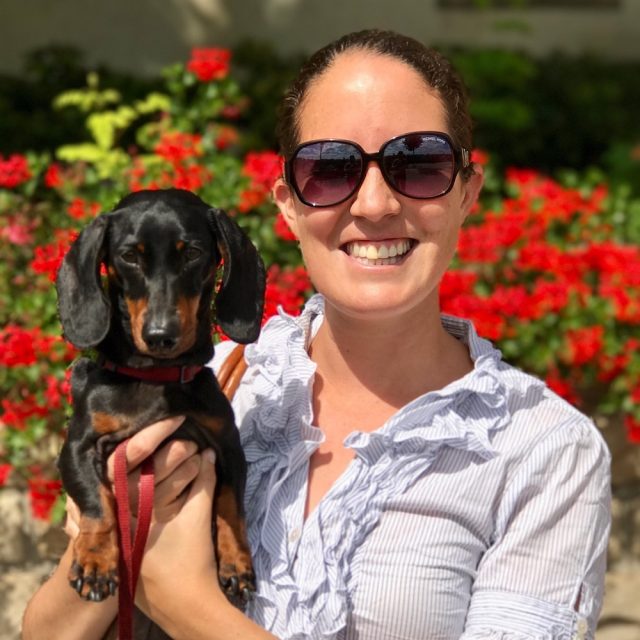 Shandos Cleaver is the founder of Travelnuity: Dog-Friendly Travel. She has travelled extensively with her Miniature Dachshund, Schnitzel, including to 33 countries across Europe, every state and territory of Australia except Tasmania, and 10 of the United States. She's passionate about providing inspiration and information to others wanting to travel with their dogs, whether close to home or internationally.
Inspired? Pin this to your Pinterest!