With its location in Europe in between Germany, France and Belgium, the city of Luxembourg makes for a great quick getaway destination. And not surprising given its neighbours, it's quite a dog-friendly destination. Read through my recommendations for a dog-friendly visit to Luxembourg, especially Luxembourg City.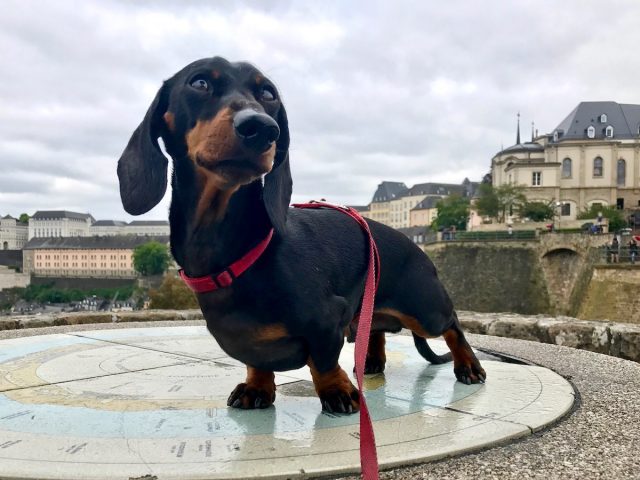 Travelling to Luxembourg City with a Dog
Luxembourg is easily accessible with your dog, whether by public transport or by private vehicle.
In the newer district of the city is Luxembourg Gare, the main train station. There are regular trains connecting the city to Belgium, France and Germany. Note that if you're catching a French train leaving the city (as I was) that you need to buy a pet ticket even for small pets in a carrier bag.
The city also has an international airport just outside the city. The local flag-carrier airline, Luxair, carries pets in the cabin (€50 fee one-way) and the hold. Make sure you check the documentation requirements before booking.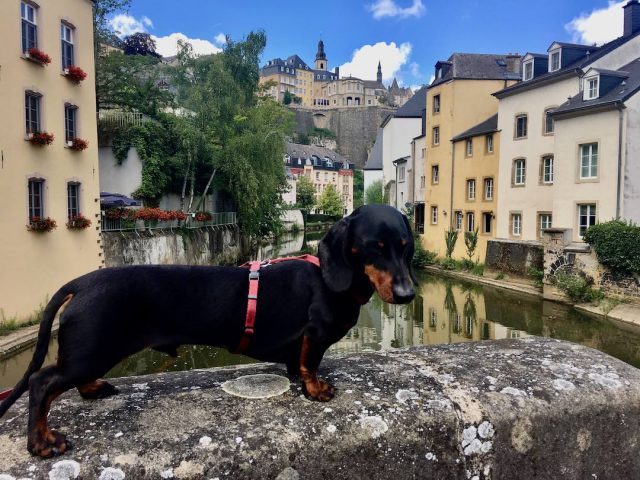 The standard rules apply for dogs travelling to Luxembourg. From elsewhere within the EU, your dog will require a microchip, valid rabies vaccine and pet passport. From outside of the EU, most dogs simply require a microchip, valid rabies vaccine and health certificate, but check the requirements for dogs travelling to the EU from your country.
Dining Out in Luxembourg with a Dog
Many restaurants in Luxembourg will allow you to dine inside with your dog – just ask at the door. Alternatively, find a spot in one of the many outdoor dining terraces, such as around Place d'Armes.
For something light, I recommend the sandwiches at Charles Sandwiches. We ate inside at their Centre location with our little dog, without any issues.
Alternatively, they offer cheaper prices for takeaway sandwiches, if you'd prefer to picnic in a park with your pup. There's also discounted prices on their most popular sandwiches during Happy Hour, between 4pm and 6pm, Monday to Friday only excluding public holidays.
Taking a Dog on Public Transport in Luxembourg
Since 2020, public transport has been free throughout Luxembourg, except for 1st class tickets on the train and cross-border trains. All other forms of transport, from 2nd class trains to the buses in Luxembourg City are free of change.
During our visit to Luxembourg prior to the change, we didn't use any public transport, thanks to the compact size of Luxembourg City, but we will now be tempted when we next return. It's also tempting to use the free trains to explore the rest of the country, with its beautiful natural scenery and many hikes.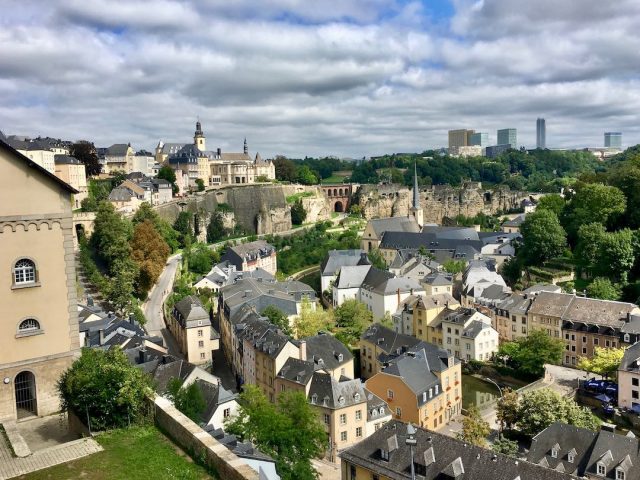 Of course dogs also travel for free on public transport in Luxembourg, with quite sensible pet policies. On buses in Luxembourg City and trains throughout Luxembourg, both small and larger pets are allowed.
Small pets should travel in a basket or cage, or on your lap. Larger dogs should be leashed and ride on the floor. Muzzles are only required for dogs that might bother or pose a danger to other passengers.
Dog-Friendly Accommodation in Luxembourg City
During our visit to Luxembourg in 2017, we found that accomodation was quite expensive, compared to other nearby cities. There's a reasonably high percentage of pet-friendly hotels, but it's a struggle to find options if you are on a budget.
We stayed at the Golden Tulip Hotel, later renamed the Hotel Central Molitor, but the hotel has now closed. At the hotel, which was in need of a refresh but centrally located, pets stayed for free. We left our pup in our room while we breakfasted (as the restaurant specified no dogs), but another person with a dog sat by the entrance of the room without any issues.
Dog-Friendly Parks in Luxembourg City
If you're looking for some green grass on which to walk your dog, check out this list of dog areas put together by the city. Poo bags are also handily provided for free at an astounding 400 (!) distribution points.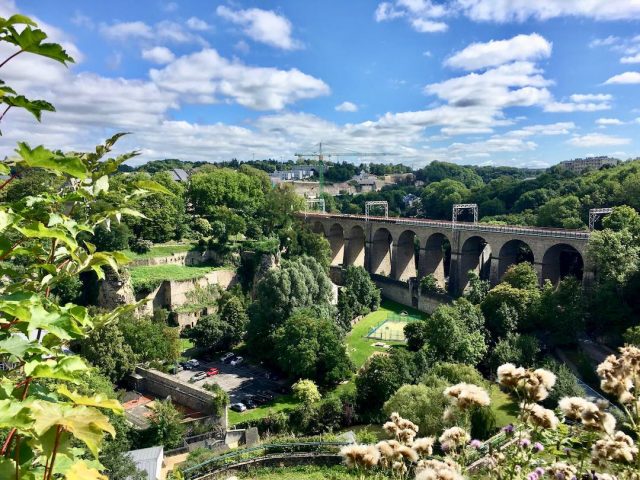 Dog-Friendly Sightseeing in Luxembourg City
My top recommendation for sightseeing in Luxembourg City with a dog is to explore the small city on foot.
There are multiple walking paths with different themes, including the Circular Walk. It's only about 5.5km, but there are a lot of ups and downs in this rugged city, so allow a few hours to the whole day. Grab a pamphlet with map from the local tourist office.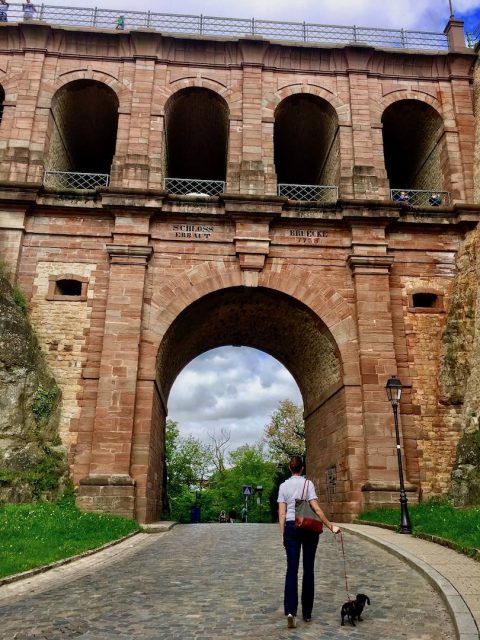 Spots that you shouldn't miss in your explorations include:
Casemates du Bock: One of the most impressive sections of the city's remaining fortifications, explore the old tunnels and take in the views from the bastions
Chemin de la Cornice: Check out the beautiful views from this walkway dubbed "the most beautiful balcony in Europe"
Grand-Ducal Palace: Tucked away in the old town, this is still the official residence of the Grand Duke of Luxembourg. During the summer it is open to guided tours (pets are probably not allowed), otherwise check out the guards at the entrance and its beautiful facade
Section of the Alzette River near St Jean du Grund Church: Make sure you descend to the lower town and explore this particularly pretty corner of the city
Ascenseur Panoramique du Pfaffenthal: One of the free lifts in the city to descend to and ascend from the lower town. This lift is particularly scenic as it is encased in glass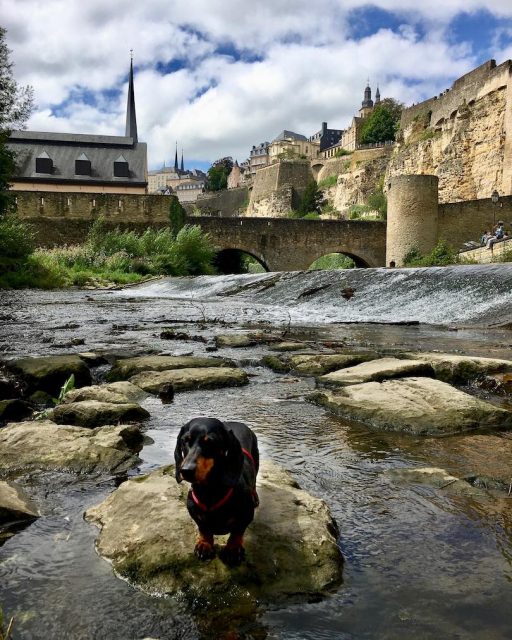 You May Also Like
About the Author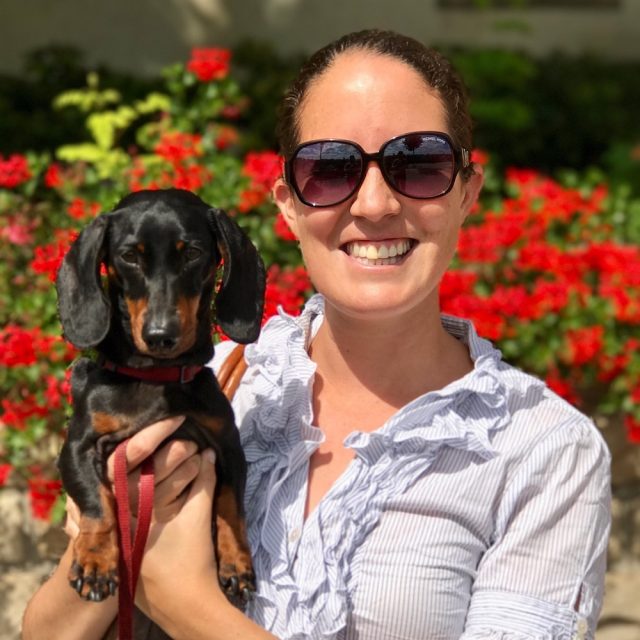 Shandos Cleaver is the founder of Travelnuity: Dog-Friendly Travel. She has travelled extensively with her Miniature Dachshund, Schnitzel, including to 33 countries across Europe, every state and territory of Australia except Tasmania, and 10 of the United States. She's passionate about providing inspiration and information to others wanting to travel with their dogs, whether close to home or internationally.
Inspired? Pin this to your Pinterest board!