With its location in Europe in between Germany, France and Belgium, the city of Luxembourg makes for a great quick getaway destination. And not surprising given its neighbours, it's quite a dog-friendly destination. Read through my recommendations for a dog-friendly visit to Luxembourg City.
Travelling to Luxembourg City with a Dog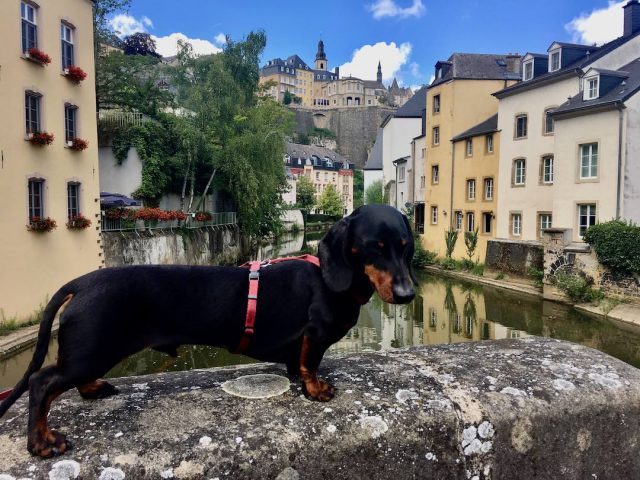 Luxembourg is easily accessible with your dog, whether by public transport or by private vehicle.
In the newer district of the city is Luxembourg Gare, the main train station. There are regular trains connecting the city to Belgium, France and Germany. Note that if you're catching a French train leaving the city (as I was) that you need to buy a pet ticket even for small pets in a carrier bag.
The city also has an international airport just outside the city. The local flag-carrier airline, Luxair, carries pets in the cabin (€50 fee one-way) and the hold. Make sure you check the documentation requirements before booking.
The standard rules apply for dogs travelling to Luxembourg. From elsewhere within the EU, your dog will require a microchip, valid rabies vaccine and pet passport. From outside of the EU, most dogs simply require a microchip, valid rabies vaccine and health certificate, but check the requirements for dogs travelling to the EU from your country.
Dining Out in Luxembourg with a Dog
Many restaurants in Luxembourg will allow you to dine inside with your dog – just ask at the door. Alternatively, find a spot in one of the many outdoor dining terraces, such as around Place d'Armes.
For something light, I recommend the sandwiches at Charles Sandwiches. We ate inside at the centre location with our little dog, without any issues. Alternatively, they offer cheaper prices for takeaway sandwiches, if you'd prefer to picnic in a park with your pup. There's also discounted prices on their most popular sandwiches during Happy Hour, between 4pm and 6pm.
Taking a Dog on Public Transport in Luxembourg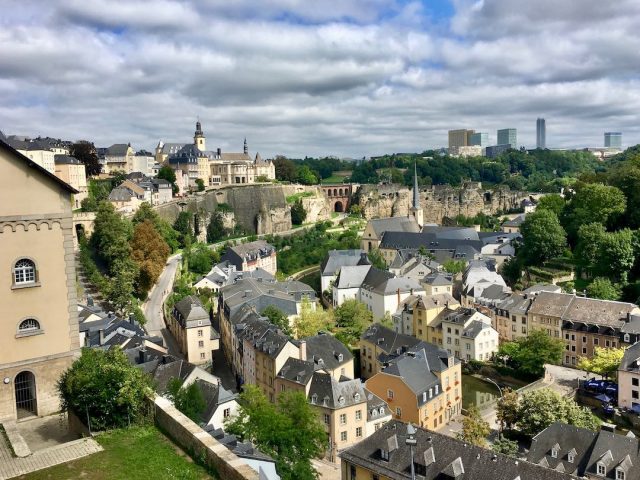 We didn't end up using public transport in Luxembourg City, as the city is fairly compact just like the country. But if you do need to use it, dogs are fine to join you. I couldn't find any information about whether a ticket is required, but considering that public transport is currently free for anyone under the age of 20 and will be free for everyone from March 2020, pets probably ride for free.
If you are able to spend longer in Luxembourg, head out of the city and explore the beautiful natural scenery of the country and its many hikes. The Luxembourg train system is great for getting around, including with your pet.
Both small and large dogs travel for free within Luxembourg. Dogs that are too large to sit on your lap (the preferred spot for my dog!) need to sit on the floor and be kept on a leash. Additionally, dogs that "may disturb or endanger those around them" need to wear a muzzle – it's great to find a sensible policy.
Dog-Friendly Accommodation in Luxembourg City
For our stay in Luxembourg, we stayed at the Golden Tulip Hotel, which has since been renamed to Hotel Central Molitor. The rooms could do with a refresh, but the hotel is more affordable than many other options in expensive Luxembourg. Plus, it's a short walk from the station and still within walking distance of the old town.
Pets stay for free, with a limit of one pet per room and a weight limit of 66lbs (30kg). (Double check this before your stay, in case it changes.) Rooms generally include breakfast. We left our pup in our room while we breakfasted (as the restaurant specified no dogs), but another person with a dog sat by the entrance of the room without any issues.
Dog-Friendly Parks in Luxembourg City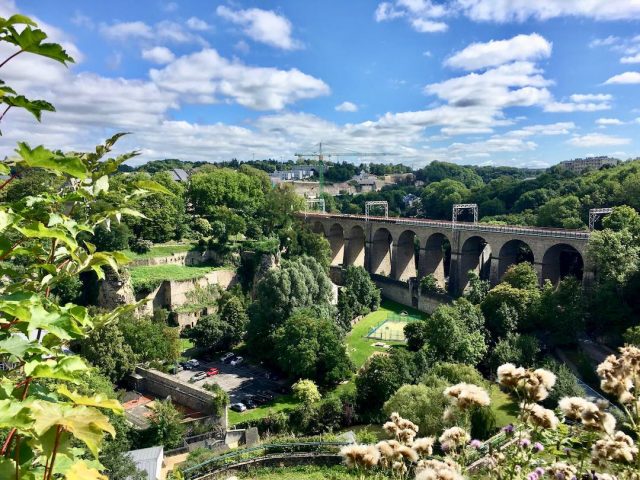 If you're looking for some green grass on which to walk your dog, check out this list of dog areas put together by the city. Poo bags are also handily provided for free at an astounding 250 (!) distribution points.
Dog-Friendly Sightseeing in Luxembourg City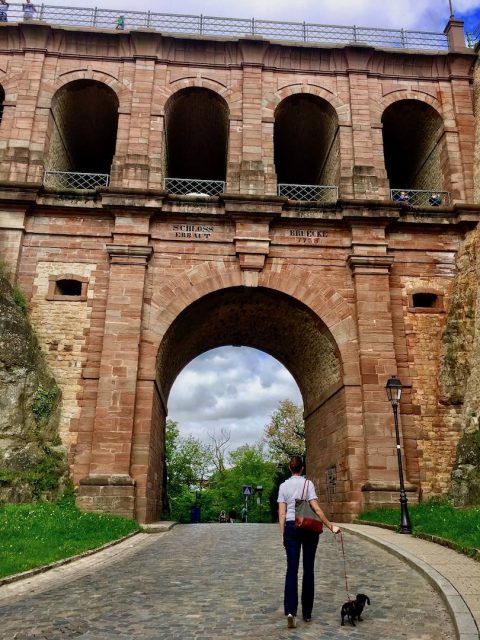 My top recommendation for sightseeing in Luxembourg City with a dog is to explore the small city on foot. There are multiple walking paths with different themes, including this main Circular Walk. It's only about 5.5km, but there are a lot of ups and downs in this rugged city, so allow a few hours to the whole day. Perhaps grab a pamphlet with map from the local tourist office.
Spots that you shouldn't miss in your explorations include:
Casemates du Bock: One of the most impressive sections of the city's remaining fortifications, explore the old tunnels and take in the views from the bastions
Chemin de la Cornice: Check out the beautiful views from this walkway dubbed "the most beautiful balcony in Europe"
Grand-Ducal Palace: Tucked away in the old town, this is still the official residence of the Grand Duke of Luxembourg. During the summer it is open to guided tours (pets are probably not allowed), otherwise check out the guards at the entrance and its beautiful facade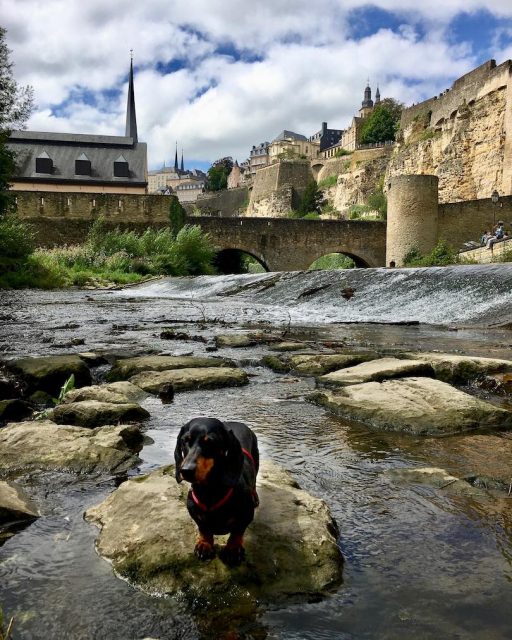 Section of the Alzette River near St Jean du Grund Church: Make sure you descend to the lower town and explore this particularly pretty corner of the city
Ascenseur Panoramique du Pfaffenthal: One of the free lifts in the city to descend to and ascend from the lower town. This lift is particularly scenic as it is encased in glass
Inspired? Pin this to your Pinterest board!