The French have a reputation for loving their dogs. So no wonder then that France is a popular destination for people travelling with their dogs, whether from across the Channel in the UK or further away.
But despite this reputation, France isn't the most dog-friendly country that we've visited in Europe. While your dog will generally be welcome by your side as you sip a wine in a cafe or eat the menu du jour inside, there are some places in France where dogs are strictly forbidden (mainly manicured parks) or technically not allowed (up until recently the case for larger dogs on the Paris metro, although luckily sensibility has prevailed).
So if you're heading to France with your dog, read on to find out about the ins and outs about travelling in France with a dog.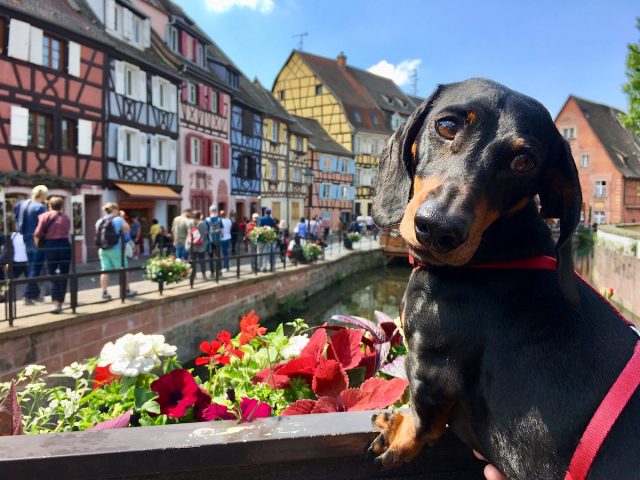 Travelling to France with a Dog
Taking your dog to France is relatively easy. The same rules apply for dogs visiting France as for dogs travelling to the rest of the EU (usually microchip, vaccinate for rabies and wait at least 21 days). Additionally, an EU pet health certificate is required or an EU pet passport for those travelling from elsewhere in the EU, although in the latter case this is usually checked when crossing the border into France.
Note that restrictions can apply on some "dangerous" dog breeds visiting France – check the note at the end of this post.
For details on how to take your dog to France, whether from the UK, the USA or the rest of the EU, read my full guide, including transport recommendations. I've also put together a comprehensive guide to the ferries from the UK to France and their pet facilities.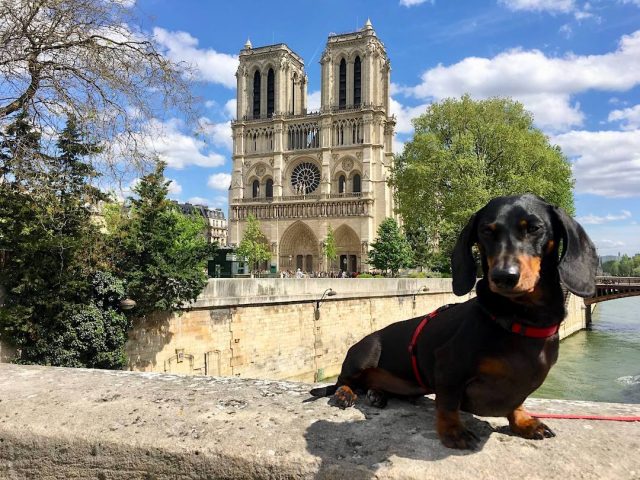 Dog-Friendly Accommodation in France
A wide variety of accommodation in France is dog-friendly, from hotels to B&Bs to Gîtes to campgrounds. (In my investigation in 2018, 50% of hotels in Nice and 37% of hotels in Paris allow dogs.)
If you're on a road trip, we found that many of the chain hotels located on the outskirts of cities were quite affordable and dependable, plus allowed dogs. This included the chains Ibis, B&B and Campanile.
Usually the prices were about €50 per night, not including breakfast, with an extra charge of around €5-10 for a dog. On the other hand, many fancy hotels also welcome dogs, and will be ready to treat them, for a price of course.
With Gîtes, including those bookable through Airbnb, we noticed that often linen (sheets and towels) are not included, or an extra fee is chargeable for their hire. Keep this in mind if you are not travelling with your own sheets and towels, and double check the details, as you could otherwise get a surprise when you go to check in.
Visiting Paris? Check out my list of some of the best pet-friendly hotels in Paris or my list of romantic dog-friendly Airbnbs in Paris.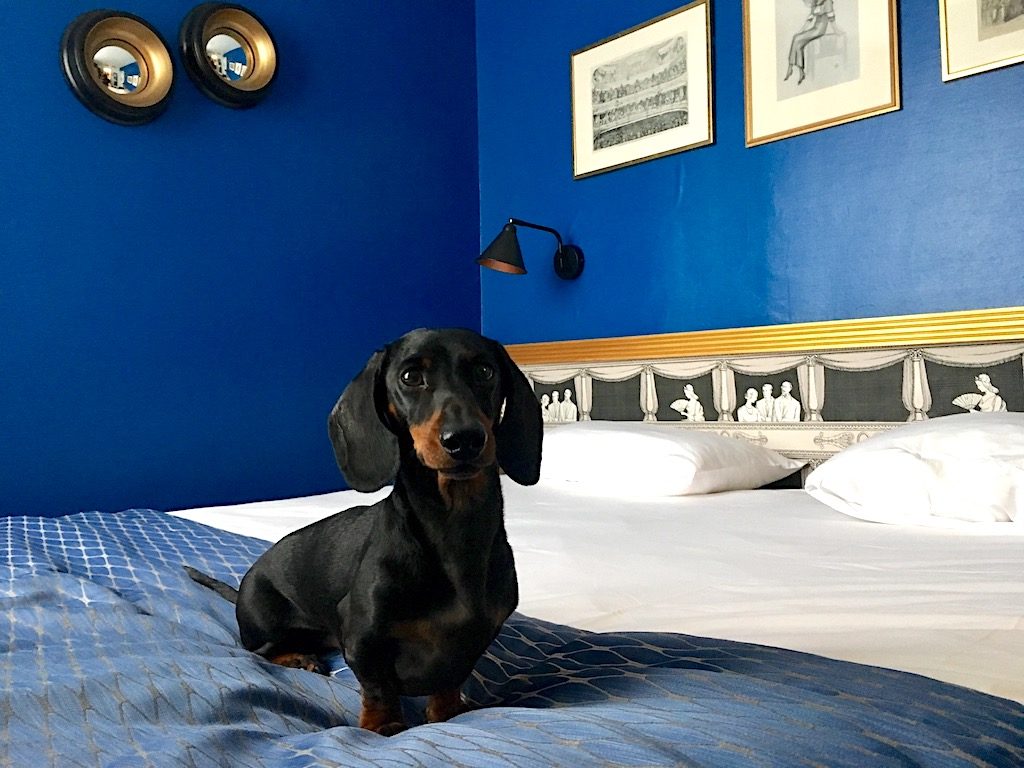 Dining out in France with a Dog
In France, most restaurants and cafes allow dogs to join diners, both inside and out on the terrace. If you would like to dine inside with your dog, it is polite to ask first (unless you see other dogs dining inside). And if the weather is sunny or your dog doesn't have the best manners, it is more polite to sit outside on the typically large terraces.
Over three visits to France, there's only one time that our dog wasn't allowed: sitting outside (not even inside!) a kebab shop in Strasbourg.
While travelling in France, we often took advantage of the cheaper lunchtime set menus, found at many restaurants around the country. Alternatively at lunchtime, we often bought delicious baguette sandwiches at the wonderful French bakeries.
As well as bakeries in the centre of town, there's typically larger bakeries on the outskirts of large towns, complete with car parks, like a French alternative to a fast food restaurant! While the majority of these bakeries don't allow dogs inside, we found an exception.
The Boulangeries Feuillette chain has multiple branches around the centre of France, including the Loire Valley. While a little more expensive than other boulangeries, it usually had both outdoor and indoor seating (often complete with comfy couches and fireplace!), and our dog was allowed to join us inside at multiple branches. It's also a great spot to enjoy a coffee and pastry. (Double check this is still the case.)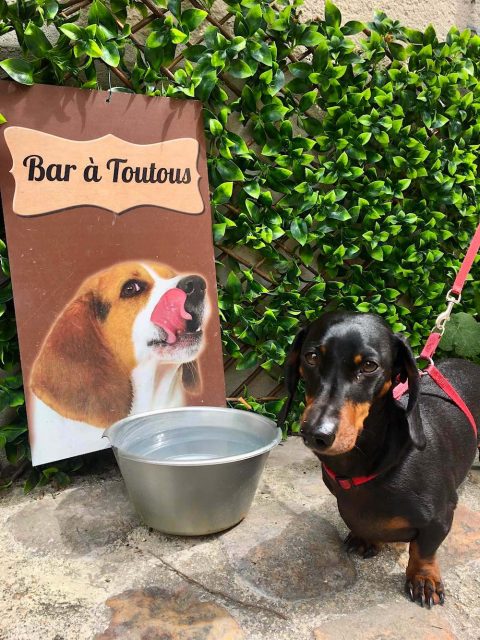 Taking a Dog on Public Transport in France
This is one area where France has previously not been as dog-friendly as other countries in Europe, although the situation has improved.
Pets on Public Transport in Paris
In Paris, small dogs are allowed on all forms of public transport (bus, metro, RER (train), trams and funicular) for free, but are meant to be carried in a bag or container, no larger than 45cm. However, in practice, I believe as long as they are genuinely small and not making a nuisance, you can get away with travelling with them on your lap without a bag.
We sometimes travelled with our dog on the metro like this, and saw other small dogs on laps, and encountered no issues. Larger dogs are only allowed on the metro and RER (train), not buses or trams, and must be leashed and muzzled, but no longer require a ticket. For the full rules, click here.
Pets on Public Transport in Other Cities
For other cities in France, the regulations vary – there is no one answer to the question whether are dogs allowed on buses in France. In some cities, only small dogs in a bag or basket are allowed on public transport. This is stated in the rules for Marseille and Lyon (during our visit in 2018). In this case, these small dogs travel for free.
In contrast, there is no such restriction for Bordeaux (French only), with the regulations only stating dogs must be leashed or transported in a basket. Larger dogs require a ticket, while smaller dogs in a carrier are exempt.
The rules usually also include some terms that the dogs cannot make any mess or inconvenience other passengers. If your dog is also classified as a "dangerous" breed of dog (see the note above), they are also usually not permitted on public transport.
Pets on Long Distance Trains
If taking long distance trains, the rules are more consistent. Yes, all sized dogs are allowed on trains in France, except for the Eurostar. For example, see the SNCF pet policy.
Smaller pets, ideally no larger than 10kg, should travel in a pet carrier smaller than 45 cm x 30 cm x 25 cm, placed on your knees or at your fee. Larger dogs should be leashed and muzzled, and travel at your feet.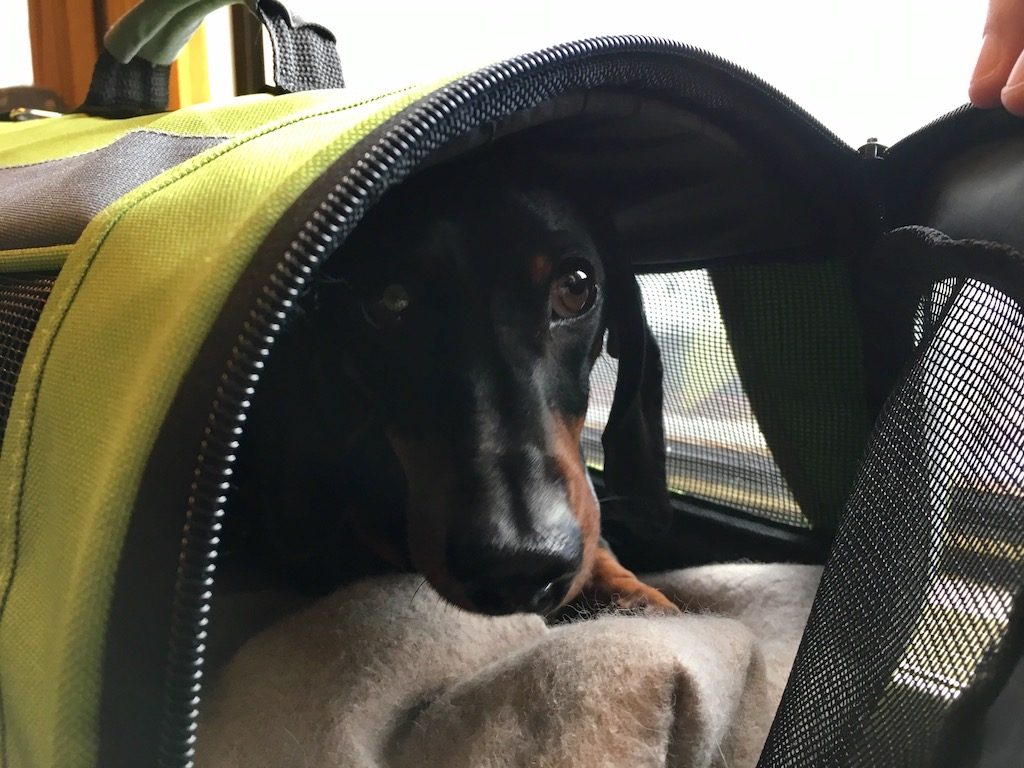 Both for small and larger dogs, a set fee of €7 is charged. The one exception is on TGV Lyria, TGV France-Germany, TGV France-Italy, TGV France-Spain and TGV France-Brussels (but not TGV France-Luxembourg and France-Freiburg), where a higher fee of €20 is charged for larger dogs.
Previously, larger dogs were charged a fare equivalent to 50% of the 2nd class fare on most trains, but this no longer applies. Additionally, it should be noted that pets are not allowed onboard rail replacement coaches.
If you have bought your tickets online through a ticketing site with no option for pet tickets, allow time to stop off at the ticket counter before your journey, to buy the extra ticket for your dog.
Shopping in France with a Dog
If heading out shopping with your dog, your best bet is to visit small boutiques directly on the streets and pedestrian precincts. Some shopping centres allow dogs in France, but not all. Naturally, dogs are not allowed in supermarkets.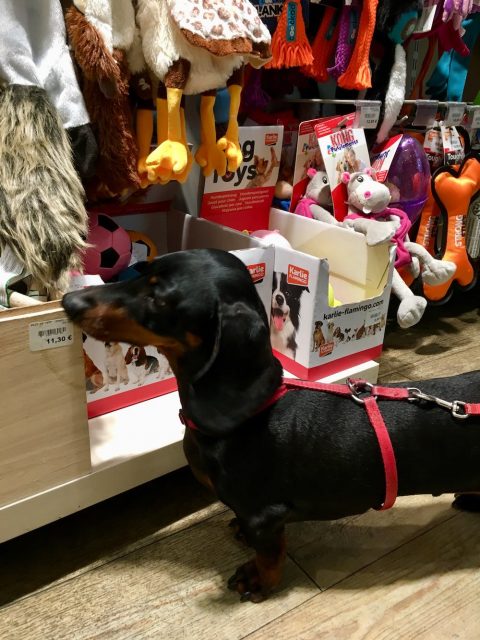 Dog-Friendly Parks in France
Compared to other countries in Europe, dogs are a lot less likely to be permitted in parks in France, especially in Paris. When we last stayed in an apartment in Paris, there were two parks located on the same street – both of which had clear signs banning dogs at the entrance!
However, dog-friendly parks can be found, including in Paris. If you have trouble finding one, ask your accommodation or search online. Additionally, in January 2019 (after my last visit), many city parks in Paris changed their rules to allow dogs. In these parks though, dogs are still required to be on a leash, plus parks with playgrounds were excluded.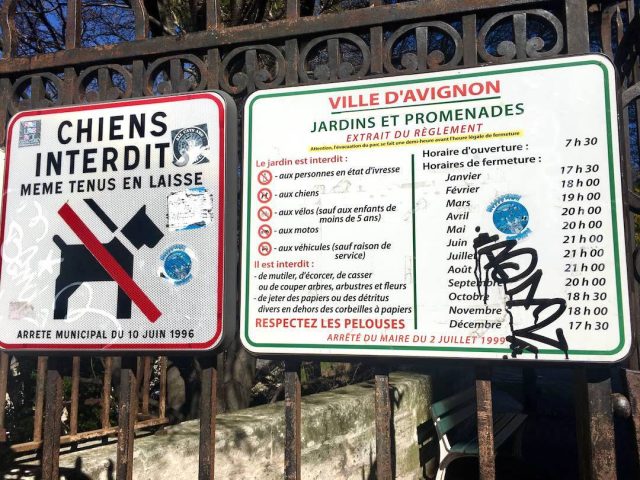 Dog-Friendly Sightseeing in France
While there's no chance of your dog joining you on a visit to the Louvre or climbing the Eiffel Tower in Paris, there are plenty of dog-friendly sightseeing options available for you to visit with your dog in France. We did however find that France is a country where you need to check the rules at each individual tourist destination.
Want to visit a famous Château with your dog? Many in the Loire Valley permit dogs on their grounds, and Chenonceau even allows small dogs to be carrier inside. However, at Versailles dogs are prohibited from the formal gardens, the same at Fontainebleau.
Be aware though that France is not the best destination for visiting beaches with your dog, at least during the warmer months. During the summer, from mid-June to the end of September, most beaches do not allow dogs on them, and some of the only beaches that allow dogs restrict them to before 8am and after 8pm.
To save yourself the research, I've put together this list of the best places to visit in France with a dog, covering nearly every corner of the country.
1. Stroll Along the Seine in Paris
One of the most beautiful walks anywhere in the world is a stroll along the banks of the Seine in Paris. From the medieval Île de la Cité (home to Notre Dame) to the park at the base of the Eiffel Tower, this stretch is home to some of the highlights of France, and is perfect for exploring with your dog.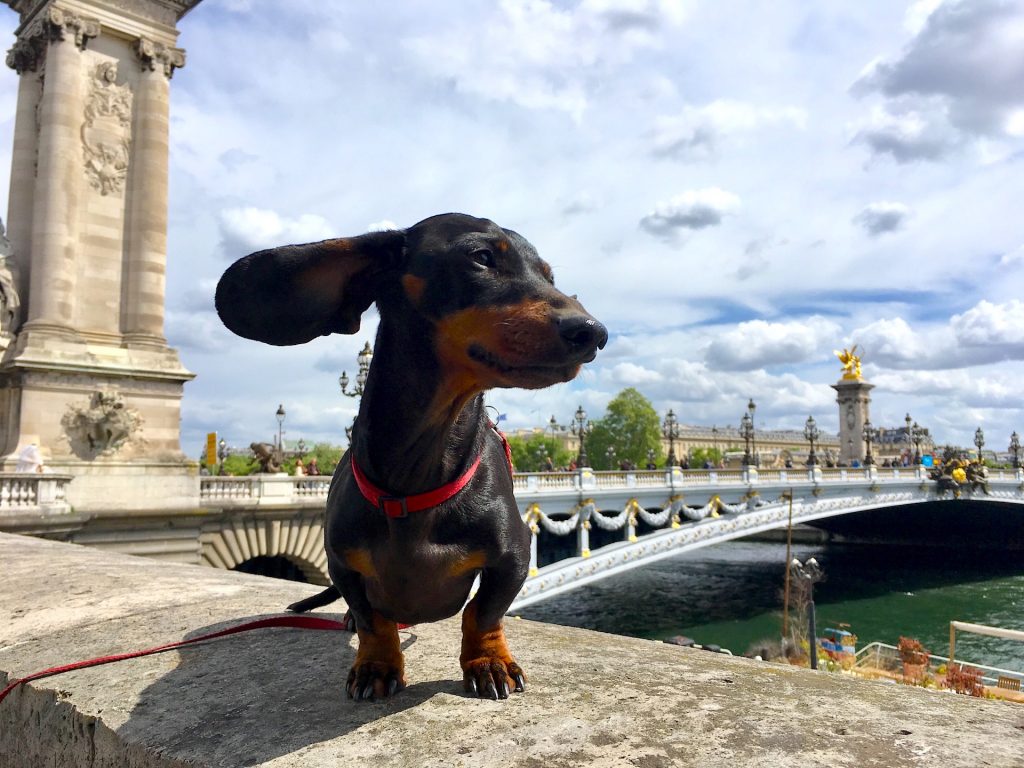 Check out the exterior of the Louvre and its pyramid, the Tuileries Gardens (dogs are allowed on two flanks on either side), Place de la Concorde, and the elegant bridges. And luckily dogs are allowed in the parks near the Eiffel Tower, on both banks of the Seine – perfect for the quintessential Paris photo with your pup!
Read more dog-friendly tips for visiting Paris
2. Plus visit the Luxembourg Gardens in Paris
While dogs are allowed in part of the Tuileries plus some of the large parks on the outskirts of Paris, my favourite park in Paris to visit with my dog is the Luxembourg Gardens (or Jardin du Luxembourg). This park is home to a gorgeous palace (now home to the French Senate), a large pond and plenty of famous statues to track down.
Dogs are allowed in the southeast corner of the park, through two gates – it's clearly indicated on the gates whether dogs are allowed or not, plus on the map of the park.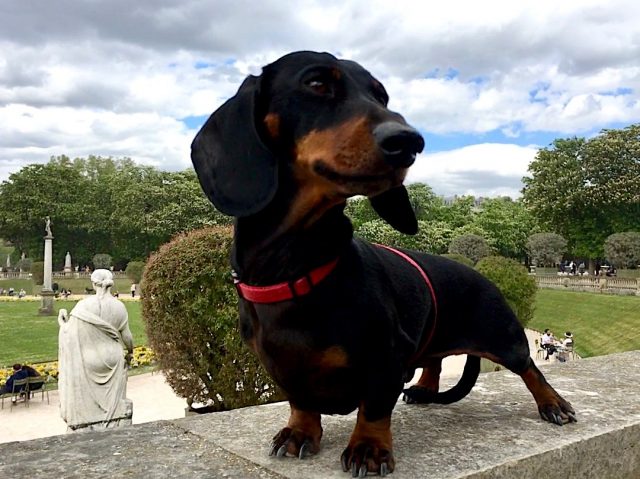 3. Visit a Dog-Friendly Château in the Loire Valley
One of my favourite parts of France is the Loire Valley. This area of France isn't too far from Paris (some people visit on a day trip), but ideally spend longer exploring the area by car or train, and visiting some of the many châteaux in the area.
We visited both the Château de Chambord and Château de Chenonceau. The former château, the largest in the region, allows leashed dogs on the extensive grounds that surround it, but not inside the actual château and the formal gardens.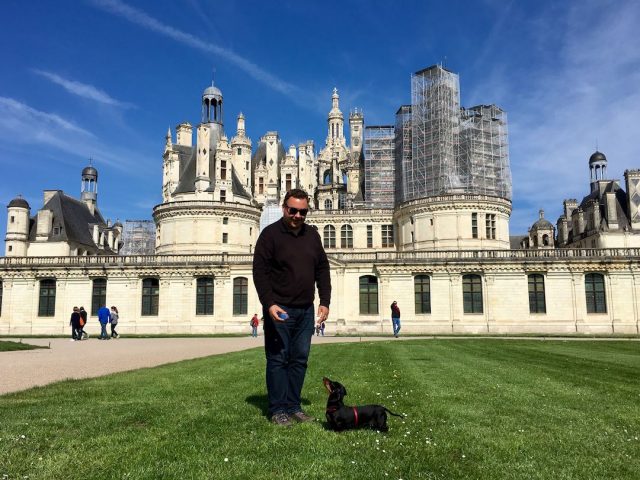 However, Chenonceau is extra dog-friendly, with dogs allowed inside the ticketed area (necessary to catch a glimpse of it) and the formal gardens, plus small dogs are allowed inside the actual building, as long as they are carried or in a bag!
Check out more details from our visit to Chenonceau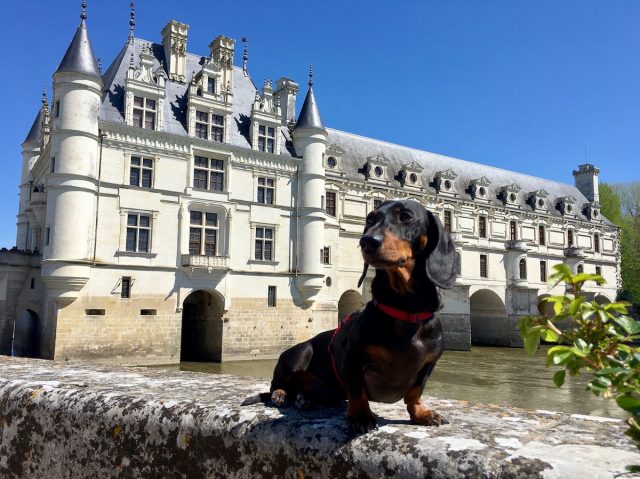 5. Explore the Cute Towns of Alsace
Another beautiful region of France is Alsace, the area of Eastern France next to the German border (and which has a strong German influence, after having moved back and forth between the two countries). Many of the towns (and cities) in this region are beautiful to visit, no matter what time of year.
I highly recommend Colmar (including the Fishmonger District), Strasbourg (especially the La Petite France area) and Riquewihr. Go for a wander and then pull up a chair at a local restaurant, with your dog at your side.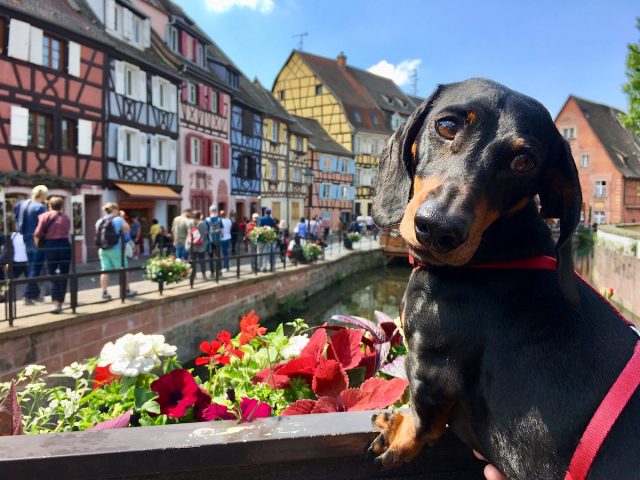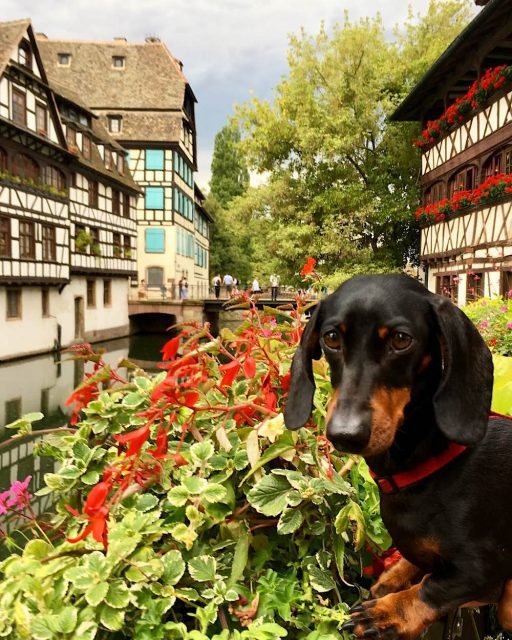 Also highly recommended are the Christmas markets – some of the most beautiful in all of Europe, though unfortunately I haven't visited these markets yet.
6. Stroll Along the Nice Waterfront
Nice lies right next to the Mediterranean Sea and makes the most of its seaside location with the Promenade des Anglais. This Promenade runs for 7km along the beach at Nice, all the way from the port area of the city to the airport.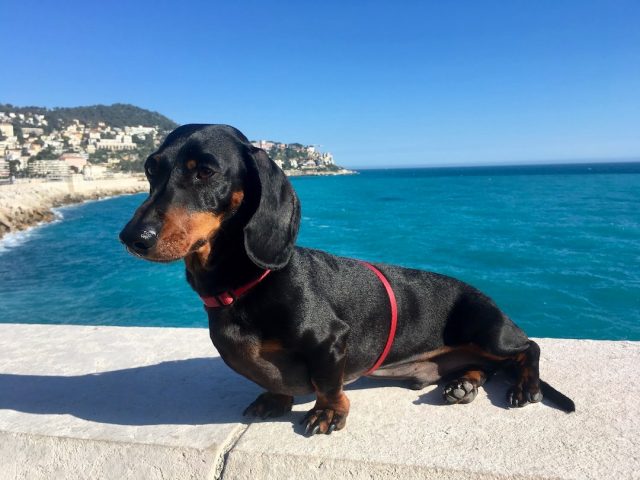 When the weather is sunny, this is the ultimate spot to go for a stroll, naturally stopping for an ice cream along the way (except for your pooch)! Just be warned it can get hot, even when we visited in April. So make sure the pavement isn't too hot for your dog's feet (or wear booties) and that they don't get affected by the heat. Alternatively, head out in the evening.
Although France is not generally a dog-friendly destination when it comes to visiting the beach with your dog, Nice is home to two dog-friendly beaches: Lenval and La Lanterne. Just be aware that dogs are not allowed on any other beaches in the area.
7. Visit Mont-Saint-Michel
This historic fortification and abbey in Northwestern France (close to the border with Brittany) makes for one of the iconic images of France. It's possible to visit the site with your dog, although only small dogs in a bag are allowed on the shuttle bus from the carpark, and no dogs are allowed inside the abbey.
However, if your dog would enjoy the extended walk along the causeway and bridge to the island, it's an ideal place to visit.
Read more about whether you should take your dog to Mont-Saint-Michel (including the kennel available if you don't take your dog)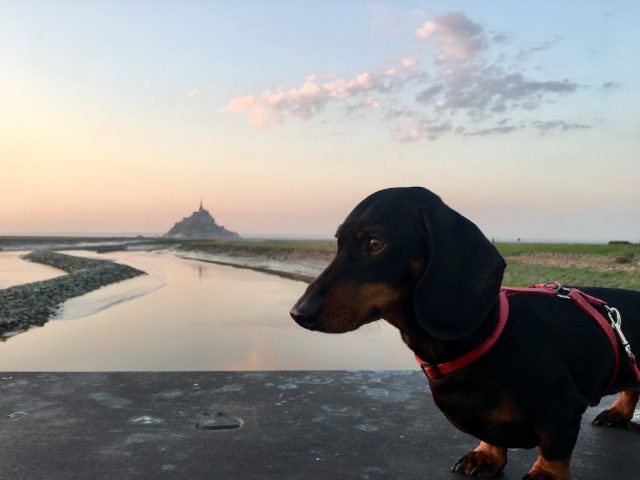 8. Visit the Medieval Town of Carcassonne
On the hillside next to modern Carcassonne, in southern France, lies the medieval fortress and town called Cité de Carcassonne. It's one of the best preserved medieval fortresses in France, still encircled with its original walls and towers.
While the château itself doesn't allow dogs inside, the rest of the cobble stone streets are perfect to explore with your dog. Plus you can walk all the way around the walls (in between the inner and outer walls). Don't also miss trying the local speciality of cassoulet.
9. Explore the Roman Remains in Provence
There's no need to head from France to Italy to visit Roman remains, as France has many fantastic sites itself, especially in the Provence region. And best of all many of the sites allow your dog to visit, too.
My top pick of dog-friendly places in France is the magnificent Pont du Gard. This viaduct is situated on a large natural site, great for exploring with your dog. Dogs are permitted everywhere except inside the building including the museum and bistro, plus on the guided tour that crosses the upper level of the viaduct.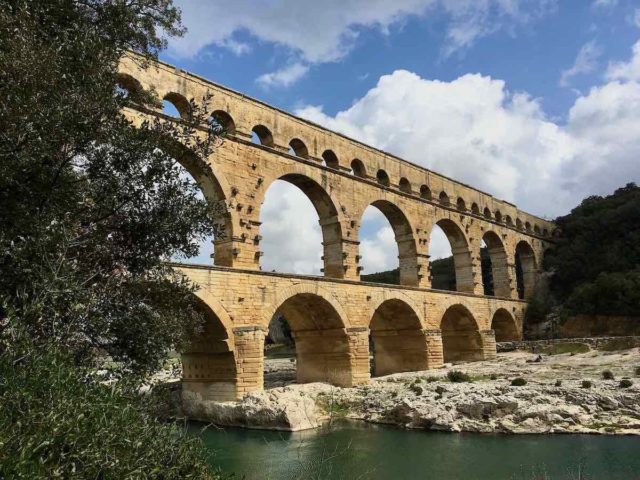 Other dog-friendly Roman ruins in Provence include the Triumphal Arch in Orange (on a roundabout with no restrictions) and the ticketed Theatre in Orange and Amphitheatre in Nîmes. (Note that no signs said whether dogs were or weren't allowed, so there is a chance this may be up to the discretion of staff.)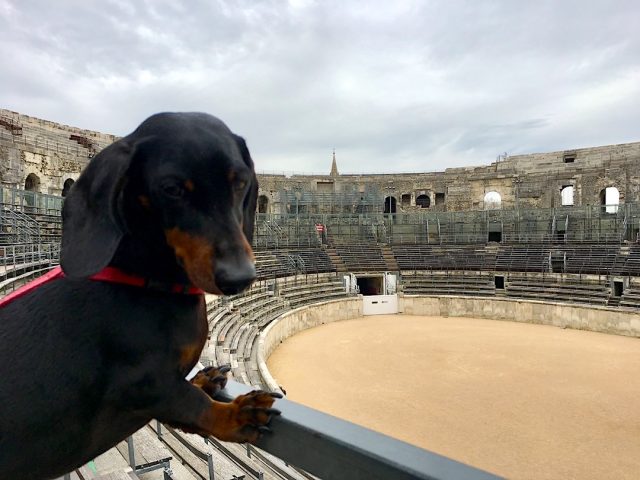 Unfortunately, dogs are strictly not allowed inside the Amphitheatre, Theatre and Roman Cemetery remains in Arles.
10. Spend a Day in Monaco
Okay, it's not strictly France anymore, but if you're staying in Nice, it's fun to pop into Monaco for the day! Watch the changing of the guard at the palace, check out where the famous racetrack runs, then view the casino from the outside.
During the afternoon, it's possible to visit the entry area of the casino for free, but unfortunately dogs aren't allowed inside. However, dogs are allowed in the pretty park next to the casino.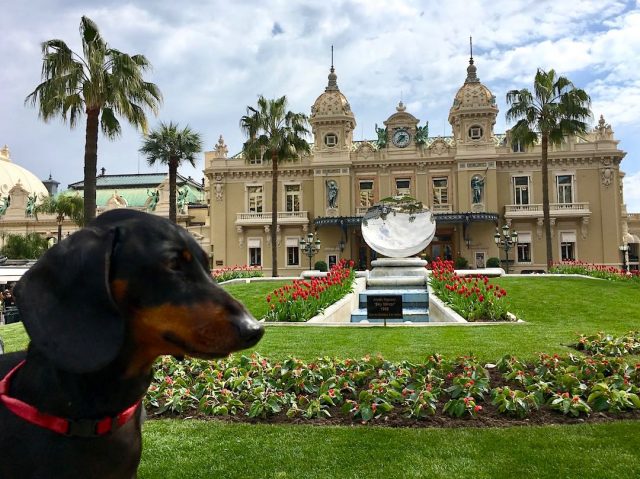 11. Hike the Cliffs of Étretat
While the White Cliffs of Dover might be more famous, France is home to some equally gorgeous chalk cliffs just across the channel. A popular spot to visit them is at the town of Étretat.
We only spent an hour walking up to the top of the cliffs (and taking some photos), but if you have longer it's possible to go hiking further along the cliffs. Dogs should be kept on a leash on the hiking paths – a must given the huge drop off from the cliffs!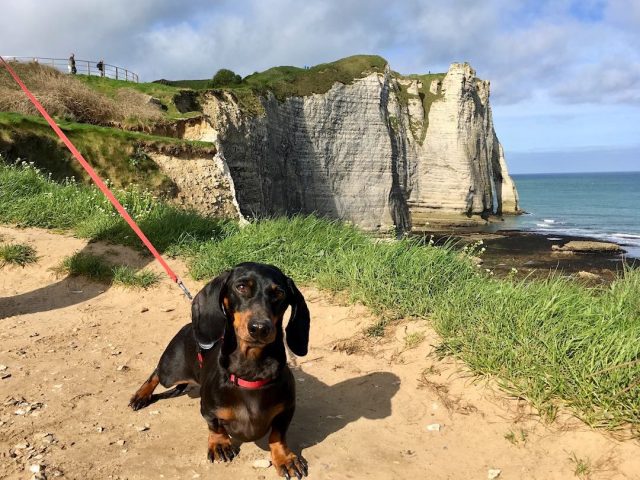 12. Explore Cute Little Villages
Finally, what would a trip to France be like without stopping in a cute village or two, even better if you just happen to stumble upon it? It's easy to do this on a France road trip with your dog.
One of our favourite surprises was discovering the gorgeous village of Angles-sur-l'Anglin, deep in the countryside south of Tours. Rising above the bridge crossing the river Anglin are the ruins of a castle, the main road and a few laneways packed with ancient stone houses.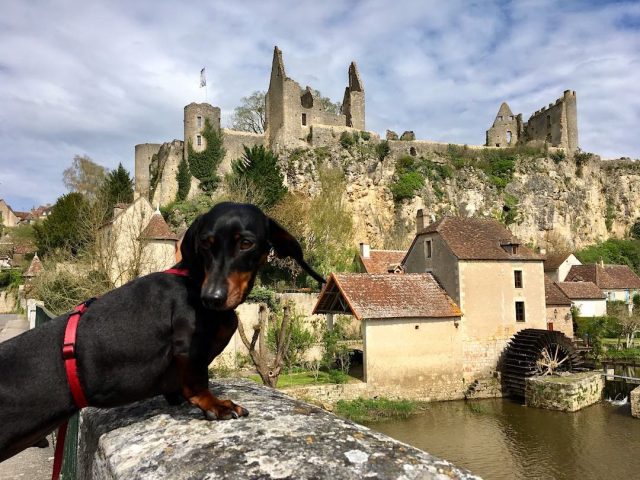 Luckily there was also a lovely teahouse next to the bridge from which we could take in the vista from the garden, with our pup at our side, of course.
A Note on Dangerous Dog Classifications
In France, some breeds of dogs are classified as dangerous and generally these types of dogs cannot be imported into France (class 1) or restrictions apply (class 2). The rules are not that clear when it comes to travelling through France with such a breed of dog, compared to permanently moving. (If you have experience in this area, let me know!)
But be prepared for possible issues, at a minimum. Such dogs may be prohibited on public transport or be restricted when flying French airlines.
These dogs are classified as Class 1 (and cannot be imported):
Staffordshire terrier, American Staffordshire terrier ("Pitbulls") and Tosa dog types without a pedigree
Any Mastiff dog types
These dogs are classified as Class 2 (and can be imported with restrictions, such as needing to wear a leash and muzzle in public):
Staffordshire terrier, American Staffordshire terrier ("Pitbulls") and Tosa dog types with a pedigree
Rottweiler dog types, with or without a pedigree
Read more about the dangerous dog rules for France or my full guide on travelling with a dog breed classified as dangerous
You May Also Like
Inspired? Pin this to your Pinterest board!