This is a guest post from Carrie of Pawfect Explorer
Choosing to share a holiday with your dog can be one of the most rewarding things you choose to do. But where should you take your dog while holidaying in England? For those of you looking to take your dog to a coastal resort, consider Bournemouth and the surrounding Dorset area.
Bournemouth is one of England's most popular seaside destinations, famous for its miles of impressive sandy beaches and beautiful coastline. Living in Bournemouth myself with my Miniature Dachshund, Reggie, I can safely say that Bournemouth is one of the very best places to visit, and even live, with a dog.
From cosy dog-friendly pubs and coffee shops, to windswept beach walks and local attractions, you and your dog might just fall in love with this coastal town. Read on to discover why dog-friendly Bournemouth could be the perfect travel destination for you and your pooch.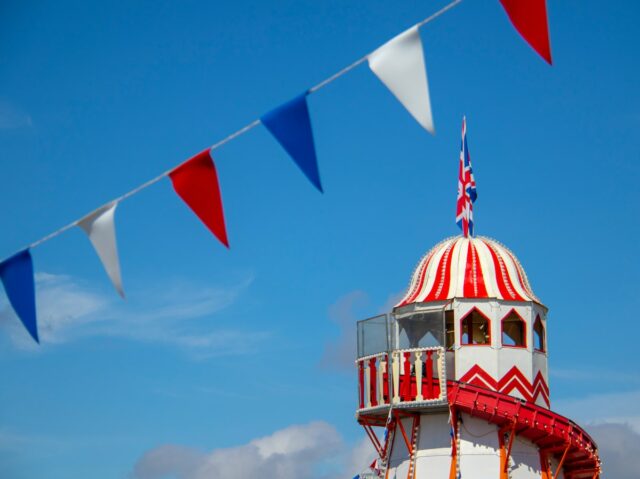 Dog-Friendly Beaches in Bournemouth
If you know anything about Bournemouth, you will know this seaside town is famous for its long stretch of lush golden beaches, warm doughnuts, and amusements. The beaches in Bournemouth run along the coastal path for miles, and include plenty of dog-friendly facilities, which are scattered along the beach front.
Bournemouth Central Beach is certainly the most popular beach in Bournemouth, but there are also many other options to consider, including Sandbanks, Alum Chine, and Hengistbury Head.
Visiting Bournemouth Central Beach
Bournemouth Central Beach is located next to Bournemouth Pier and is the destination where thousands of dog owners flock to enjoy a day on the sand. In 2021, Bournemouth Beach was even voted the 20th best beach in the world to visit by the TripAdvisor Travellers' Choice Awards.
Along the promenade of this popular beach, you'll find a selection of dog-friendly restaurants and cafés, with some facilities offering free dog biscuits, water, and dog-friendly food for canine customers. If I had to choose my favourite café to visit along the seafront it'd have to be the Chineside. The Chineside is a small, yet vibrant café, with a friendly atmosphere and a selection of tasty food.
After a short refreshment break at the café, you can enjoy a stroll along the promenade, with smells of candyfloss and warm doughnuts. Sometimes, I even have a wander down Bournemouth Pier with my Miniature Dachshund, Reggie, to admire the stunning sea views.
For those of you who are taking your family and friends to the south coast, Bournemouth Beach is also home to amusements, rides, and food stalls (during the summer time), which are perfect for keeping everyone entertained, while you and your dog are busy playing along the beach, and maybe having a paddle in the sea.
Throughout the winter and summer months, Bournemouth beach really is the perfect place to take your dog for a sandy scenic walk, or can even be the place you choose to visit when you simply want to relax in a café, with your dog by your feet, and a drink in hand.
For those of you planning to head to Bourthmouth beach, you could be in need of an affordable dog travel bag. Take a look at my very own PawPack, available to buy on Amazon Prime UK. The PawPack is a perfect dog travel solution, whether you're taking your dog down the road, to the beach, or abroad, the possibilities are endless.
Please be aware that parts of Bournemouth Beach have dog access restrictions during peak season, such as June to August. However, this doesn't mean all the beach will be completely closed, and you'll still be able to walk alongside the beach so long as you keep to the promenade and path.
If you are visiting Bournemouth during these busy months, I recommend visiting Hengistbury Head and parts of Sandbanks beach, which remain dog-friendly all-year round!
Dog-Friendly Sightseeing in Bournemouth
There's plenty more to do in and around the small, yet stunning coastal town of Bournemouth. Consider these other dog-friendly activities…
#1 Visit Iconic Sandbanks
To the west of Bournemouth, you'll find Sandbanks, another stunning coastal destination, where dogs are welcome on part of the beach all year-round. Sandbanks is a peninsular of land at the entrance to Poole Harbour. Recognised as one of the most exclusive areas in the world to live, Sandbanks is iconic for its award winning beach and serves as the ideal location for a seaside break with your dog.
Sandbanks is known as the 'most expensive seaside in the world', which is home to waterfront mansions, yacht clubs, and marinas. Sandbanks not only provides a sandy beach for your dog to trot along, but is also the perfect destination for you to take a well-deserved break, enjoy some tasty fish and chips, admire the breath-taking views, and potter along the sand with your dog.
For those of you taking the whole family, Sandbanks is also renowned for a range of sports, from beach volleyball and paddleboarding, to swimming and alike. These activities mean that other members of the family can have their own fun, while you and your dog get your dose of summer sunshine – with deck chairs and sports equipment available from the beach front office. Plus, there is plenty of parking, toilets, and dog-friendly cafés to choose from too.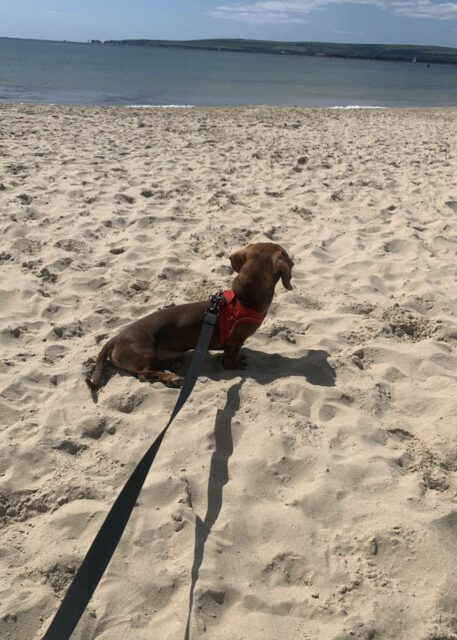 #2 Head to Hengistbury Head
I discovered Hengistbury Head not too long ago, and it is one of my favourite places to visit with my Miniature Dachshund, Reggie. Just down the road from Bournemouth, Hengistbury Head is a picturesque headland, situated near Christchurch Harbour, and is a beautiful location that combines grassland, heathland, and wetland with sandy beaches and ironstone cliffs.
If your dog prefers a quieter walk, rather than a lively stroll down Bournemouth Beach, then Hengistbury Head is definitely the place for your dog to truly enjoy themself. There are plenty of hidden paths situated throughout Hengistbury Head, and many walking routes that lead to unbeatable views, including views of the nature reserve, Bournemouth Bay, and sights across to the Isle of Wight.
At Hengistbury Head, your dog can really enjoy the best of both worlds, from a sandy beach walk that is perfect for digging on Mudeford Sandbank, to a beautiful countryside walk along Hengistbury Head. The abundance of paths means that you can choose whether to extend or shorten your walk – with plenty of parking, toilets and dog-friendly cafés at both ends of the site.
#3 Join the Dorset Dachshunds
Do you and your dog love to socialise? If you own a Dachshund and are planning to travel to the Dorset area, I strongly recommend you join the Facebook group 'Dachshunds of Dorset'. This unique social group is for dachshund owners to share their experience, organise meetups, and share knowledge of the breed.
The group regularly organise a variety of dog walks and provide members with the opportunity to meet with likeminded dog lovers and their dachshunds – sounds like heaven to me! Nearly every week the group members will choose to meet in Bournemouth or other local Dorset destinations, where they take their dogs on a scenic walk and socialise along the way. I have been to plenty of these 'sausage walks' and it really is a fantastic way to explore dog-friendly places, while socialising and enjoying a walk through popular areas of Dorset.
So, if you spot a large group of dachshunds in the Bournemouth area, you can almost be certain that they are from the 'Dachshunds of Dorset' group. Plus, who wouldn't want to go on a 'sausage walk'? It's a very cute site to behold, but beware this trip is not for those who appreciate peace and quiet, as a group of dachshunds joining together equates to a lot of barking, energy and stubbornness!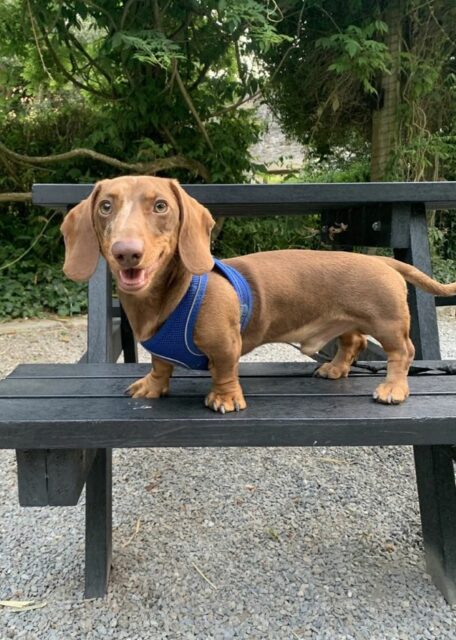 #4 Explore Durdle Door & Lulworth Cove
Durdle Door is a true beauty spot of Dorset and is one of Dorset's most photographed and iconic landmarks. Durdle Door is located on the Lulworth Estate in south Dorset, and is part of the Jurassic Coast. Durdle Door is the most famous stone arch in the world, which was created when the sea cut through the Portland limestone 10,000 years ago. Fortunately, Durdle Door is open to the public all year round, but please be aware that there is no access to the beaches after 9pm.
If you enjoy taking your dog hiking or your dog loves to experience a slightly more challenging walk, with a few steep ascents and descents, then this place is for you. Plus, dogs are welcome on the beach all year-round, and it is the perfect place for a seaside stroll, especially if your dog loves a paddle in the sea.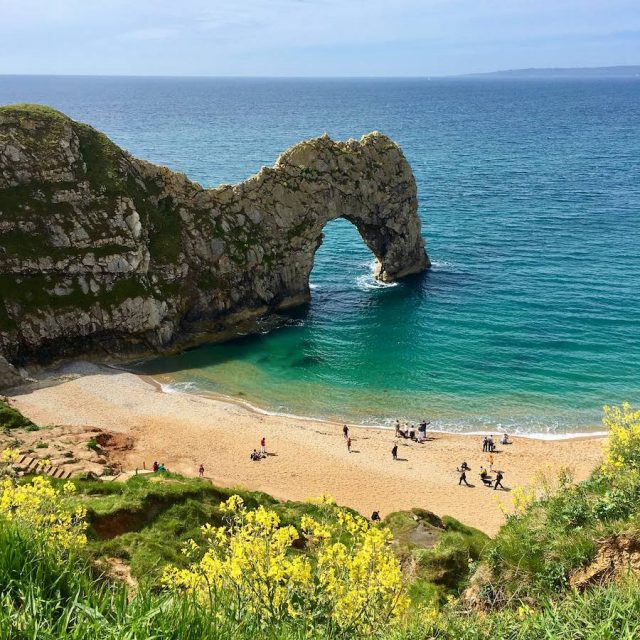 Near Durdle Door, you'll also find plenty of pet-friendly accommodation to choose from, including holiday homes and skylight cabins, as well as coffee shops that welcome your dog inside with open arms. There are even some facilities that sell dog-friendly ice-cream, so you can both enjoy an ice-cream along the beach.
Nearby, you will find Lulworth Castle, where you and your dog can explore the large park together. Afterward, you can both take a break in a cosy dog-friendly pub, known as The Lulworth Cove Inn. This pub is renowned for its friendly staff and welcoming atmosphere.
#5 Visit Moors Valley Country Park & Forest
Are you looking for a change of scenery away from the beach? Why not visit Moors Valley Country Park and Forest, situated ten miles north of Bournemouth. This park offers a never-ending trail of forest for your dog to roam, sniff and explore.
This large country park and forest offers approximately 1000 acres of woodland and park for your dog to explore, with miles of mapped walking and cycle routes, as well as dog-friendly facilities. Moors Valley Country Park and Forest is a fantastic place for you, your dog, and your family to visit – with play facilities, cycle hire, lakes, walking routes, and much more. Plus, this forest is full of sticks, different smells, paths, and mud – a place of true heaven for your dog!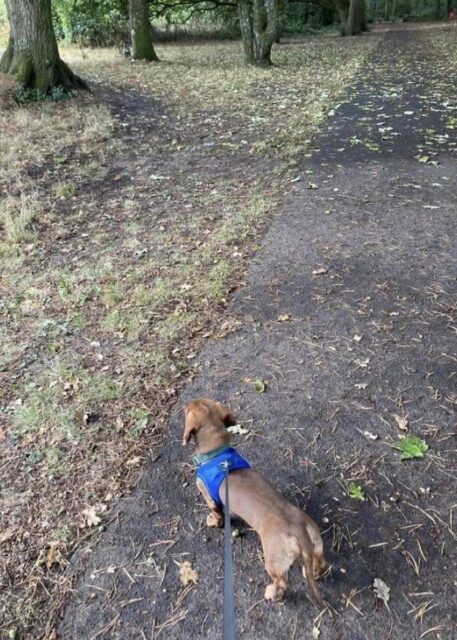 Dog-Friendly Cafes & Restaurants in Bournemouth
There are many dog-friendly cafés and restaurants located throughout Bournemouth, including a favourite of mine, Flirt. Flirt café is located at the southern end of Bournemouth Upper Gardens, and is mine and Reggie's happy place – from the glittery signboard and colourful furniture, to the bright art and feel good atmosphere.
This quirky café serves tasty food and is the ideal place to have a break with your dog, so that you can keep refreshed and refuelled on the move. Flirt sells your usual hot and cold drinks, along with light bites, bubble tea, and delicious cakes.
But what about if you fancy some traditional British food? In this case, I would recommend visiting The Grasshopper, a wood-panelled pub and restaurant. The Grasshopper is the place to go for a classic Sunday roast, steak pie, and alike.
This pub is dog-friendly, and always seems to have dog treats and water available, with a relaxed atmosphere. This pub is the ideal place for your dog to relax (and even eat) next to the table, while you grab a delicious hearty meal before your next Bournemouth expedition.
However, maybe you want to eat dinner with a sea view? If so, I recommend that you visit Urban Reef, a restaurant which offers unbeatable views as far as the Isle of Wight.
Urban Reef is located on the promenade of Bournemouth beach, and dogs are welcome anywhere on the ground floor terrace decked areas, where water bowls are available. Urban Reef use fresh and local produce, so you and your dog can indulge in the freshest of food!
In Conclusion…
So, if you're thinking of visiting the seaside, Bournemouth is definitely the place to go! Bournemouth is a fantastic holiday destination for your dog to enjoy the spectacular stretch of coastline, participate in your regular coffee shop trips, and even have a dig along the water's edge.
So don't go it alone when you go on holiday, take your dog along for the ride and give them the holiday they deserve. Plus it's only natural that we want to take our dogs out and about with us on our travels, and there's nothing better than sea air to blow away the cobwebs.
About the Author
Co-founder of Pawfect Explorer, Carrie is dedicated to the wellness of each and every dog parent, and their dog. As a true dog-lover she knows how much value a dog can bring to our lives, and also the challenges. Fortunately, there are many ways to help better manage yourself, so you can become the very best version of yourself for you and your pooch.
Born in Yorkshire, UK, Carrie has spent many years studying, researching and improving herself – both academically and personally. Having obtained a BSc in Veterinary Science, followed by an MSc and PhD in Physics and Bioengineering, she now works as a Science Editor, as well as Co-founder of Pawfect Explorer. Above all though, Carrie is a dog mom to her much-loved Miniature Dachshund, Reggie.
You May Also Like