This is a guest post from Jacqueline Lambert of World Wide Walkies
Often overlooked in favour of its more famous neighbours, Devon and Cornwall, I would like to introduce the dog-friendly delights of Dorset, my adopted county on the South Coast of England in the United Kingdom.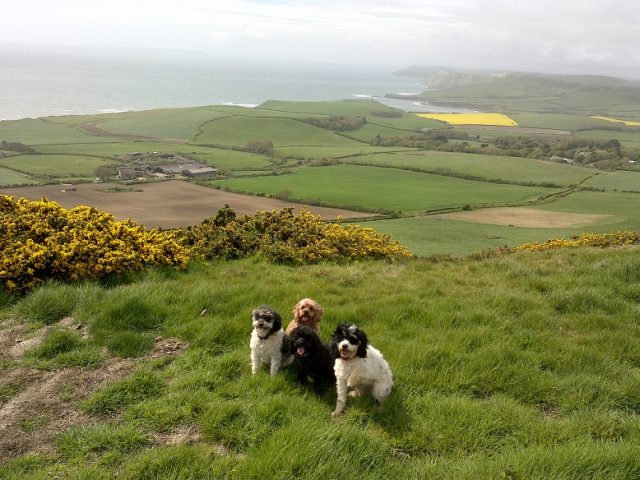 Why Visit Dorset?
Over half of Dorset is an Area of Outstanding Natural Beauty. It is home to ancient woodland, picture-perfect villages and Britain's only natural World Heritage Site – the 185-million-year-old Jurassic Coast.
Dorset's 100-mile coastline boasts several award-winning sandy beaches – which get 24% more sunshine and 28 days less rain than the UK average. At night, its Dark Skies leave you wondering at the heavens.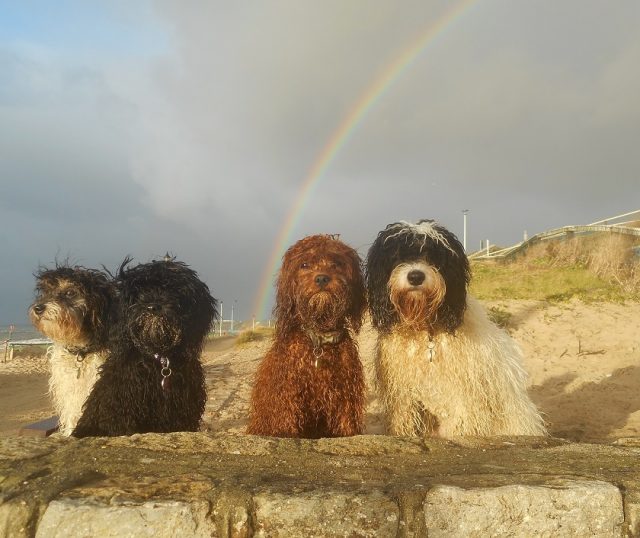 Dorset loves a festival; flowers, music, the arts, fossils, food, nettle eating and the internationally renowned Bournemouth Air Festival, Great Dorset Steam Fair and Dorset Knob Throwing.
Dorset's landscapes inspired writer Thomas Hardy, its shady smugglers featured in J. Meade Faulkner's atmospheric novel 'Moonfleet' and T.E. Lawrence – Lawrence of Arabia – sought sanctuary from fame at 'Clouds Hill'.
Fewer than 2-hours' drive from London, with no motorway and not many major roads, Hardy's 'Far from the Madding Crowd' still describes Dorset perfectly. Escape into Dorset's countryside and you will probably have it to yourself.
And Dorset has motivated me to write – because it is an absolutely mind-bogglingly wonderful place to explore in the United Kingdom with your dog!
Dog-Friendly Beaches in Dorset
Dorset has 27 unrestricted dog-friendly beaches. However there can be cliffs, currents, cold water and high tides, so do read RNLI's Safety Guide to Coastal Dog Walking.
One of the best is the sandy and uncrowded Southbourne Beach near Bournemouth. Walk to Hengistbury Head or watch the sun set over the Purbecks from the Bistro on the Beach.
View the full list of unrestricted doggie beaches in Dorset.
Dog-Friendly Sightseeing in Dorset
Dorset has oodles on offer. The major attractions are well-covered elsewhere. The following are our top tail-waggers.
1. Walk the South Dorset Ridgeway
The South Dorset Ridgeway Walks is a 5000-year-old road forming part of the long-distance South West Coast Path. Expect dramatic coastal views and so much ancient history that 'The Land of Bone and Stone' has been compared to Stonehenge.
2. Visit Badbury Rings
Badbury Rings is a substantial iron-age hill fort near the pretty town of Wimborne Minster. Consider a post-prehistory cuppa and wander (leads on) in the gardens at Kingston Lacy.
3. Ponder the Cerne Abbas Giant
Consider whether the 180ft high, naked chalk giant known as the Cerne Abbas Giant is a 1500-year-old Hercules or fertility god, or a 17th-century caricature of Olive Cromwell.
Nearby, paddle in the Piddle Valley and explore Tolpuddle to learn about the Tolpuddle Martyrs and the birth of Trade Unions.
4. Head to Corfe Castle
Corfe Castle is a fairy-tale village dominated by a dramatic, ruined, hilltop castle with miles of walks. Dogs on leads are welcome in the castle, most pubs and tea rooms and on the Corfe-Swanage steam train.
5. Walk to Old Harry Rocks
Complete the loop walk at Old Harry Rocks. Along the way view magical chalk cliffs and obelisks with views of Poole Harbour.
Start or end at the 16th-century Bankes Arms Inn, whose large garden overlooks Studland Beach. (Note that Studland has seasonal dog restrictions – and a naturist area.)
6. Stop by Lulworth Cove & Durdle Door
Lulworth Cove and Durdle Door may be busy and commercial (sleeping dogs will miss getting a parking space), but the shell-shaped bay and rock arch is a must-see. It's Dorset, so leave the cove and car park and have the coast to yourself.
7. Visit a Ghost Village
Tyneham Ghost Village is a fascinating place where time stopped in 1943. The houses and school remain exactly as they were over 70-years ago, when villagers were evacuated to allow training of Allied Forces. There are walks if you can drag yourself away. Due to firing on the Lulworth Ranges, check the current opening times.
8. Hunt for Fossils at Lyme Regis
If you saw Meryl Streep in 'The French Lieutenant's Woman' you will have seen Lyme Regis' famous 'Cobb'. 'The Pearl of Dorset' is famed for fossils: 200-years ago Mary Anning discovered several rare, complete dinosaur skeletons. It's a highlight of the Jurassic Coast. Expect more spectacular scenery and plenty of walking.
Dog-Friendly Dining in Dorset
British pubs traditionally welcome dogs and often serve excellent food. Plug 'Dorset' into Doggie Pubs to find hundreds of reviewed pubs. My prized poochy-pitstops including the following pubs and cafes.
The Three Tuns in Bransgore is a 'proper' 17th-century thatched pub serving excellent food and beer. It's pawfect after a walk in the New Forest. (Hurn and Wareham Forests are also worth exploring.)
At Mudeford Sand Spit, Beach House Mudeford offers gorgeous views over Christchurch Harbour, particularly at sunset. The café is about half-way around my favourite walk over Hengistbury Head. You can also cross the harbour to/from the café on the dog-friendly ferries from Christchurch or Mudeford Quay.
On a beautiful day head to Hive Beach Cafe at Burton Bradstock. Enjoy a fabulous beach walk followed by the freshest fish, grilled outdoors on the beach. Arrive early to bag a table.
Also, don't miss the quirky Square & Compass pub in Worth Matravers.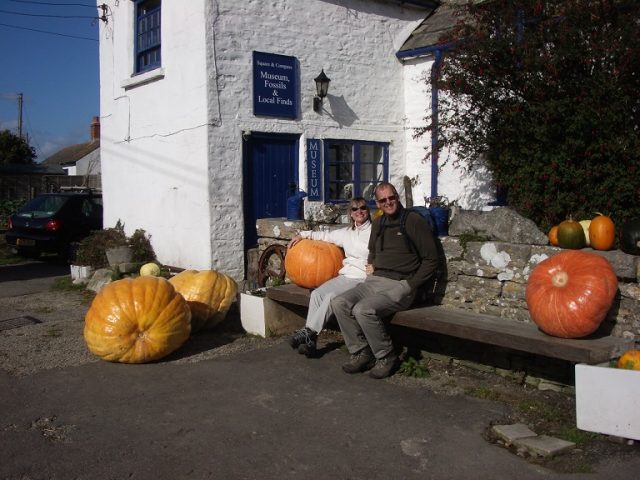 Dog-Friendly Accommodation in Dorset
We tour in a caravan. All Camping and Caravanning Club and Caravan and Motorhome Club sites welcome dogs free-of-charge. Individual pet policies apply to other campsites.
For more pet-friendly accommodation, check out the listings at Visit Dorset. The Dog Friendly Britain and Dog Friendly UK databases are also searchable by location.
Dorset is home when I am not touring with my Husband and four Cavapoos. However, having visited six continents, I can still firmly say that my favourite view IN THE WORLD is the 360-degree panorama from the top of Hengistbury Head. Enjoy!
About the Author
Jacqueline Lambert's blog World Wide Walkies details her travels in Europe with her husband and four dogs. It has been featured in 'Dog Friendly' magazine and the 'Eurotunnel Le Shuttle' newsletter.
Jacqueline has contributed guest blogs to dog and travel websites at home and abroad and writes newsletters, web content and articles on windsurfing for the UK's National Watersports Festival.
Jacqueline's series of books; 'Adventure Caravanning with Dogs' have all received five-star reviews on Amazon and are available worldwide as both eBooks or Paperbacks.
You May Also Like
Inspired? Pin this to your Pinterest board!