A gorgeous town in the Victoria High Country region, Bright is a delightfully dog-friendly destination. It's the perfect base for outdoor activities, from walking to cycling to winter snow sports. Find out more about what to do when visiting dog-friendly Bright…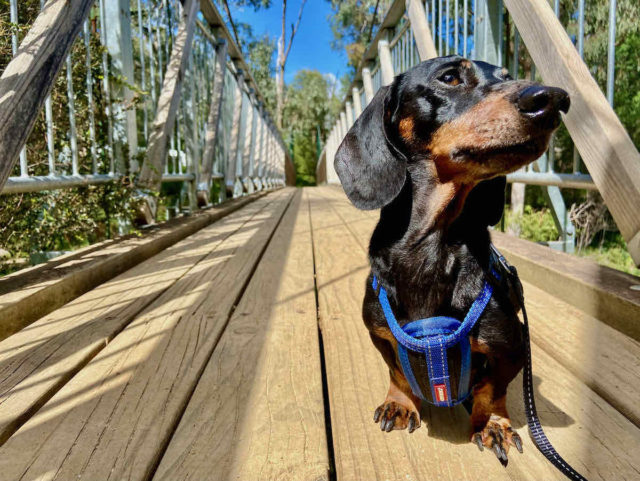 Dog-Friendly Sightseeing in Bright
If yourself and your dog love the outdoors, you'll find no shortage of dog-friendly activities to fill your days when visiting Bright. Plus, don't miss checking out the excellent local wineries and breweries while in town.
1. Walk Along the River
Bright is situated on the banks of the Ovens River, and a great introduction to town is taking a walk along the banks of the river. Starting from Howitt Park next to the centre of town, choose between two short walks heading in opposite directions: Canyon Walk and Cherry Walk.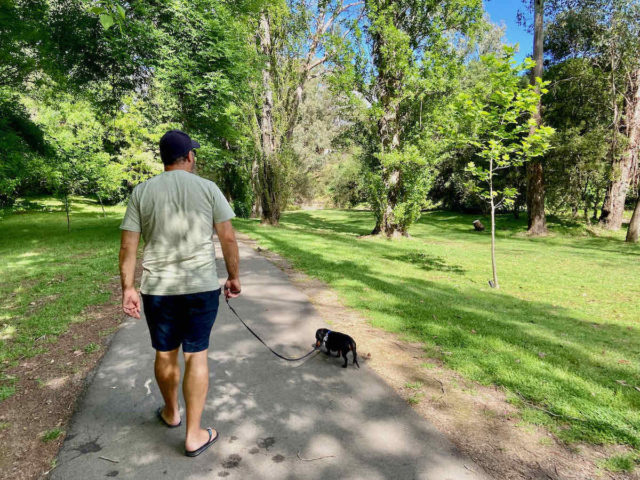 We choose to walk along the Canyon Walk, which technically starts on the western side of Star Road, but there's a concrete path from Howitt Park connecting with the start of the walk. This 3km walk loops through a section of the river known as the "canyon", an historic gold sluicing area.
Note that the path is at times uneven, particularly on the northern bank of the river, and there are two swing bridges at the start and end of the canyon section. There's a few variations on the walk, including a longer version that returns by the Murray to Mountains Rail Trail.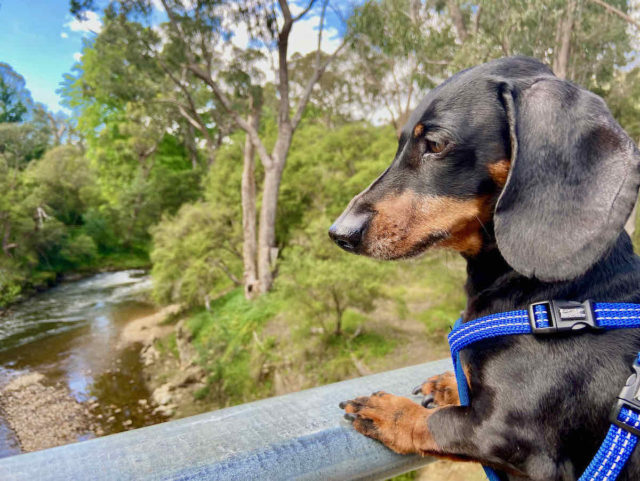 In the opposite direction from Howitt Park is the Cherry Walk. This 5km length walk also follows the river and features swing bridges. There's interpretative panels along the way and you can also pick up a brochure detailing the local flora found along the walk at the Visitor Information Centre in Bright.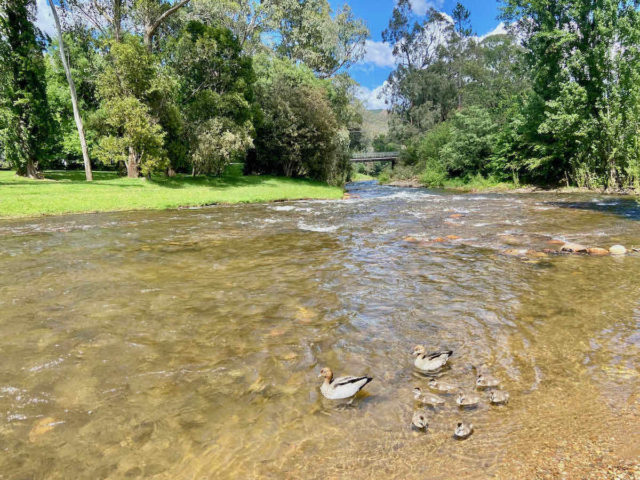 Even better, your dog can walk off-leash for parts of these walks. Dogs are allowed to walk off-leash in the local area outside of town centres, as long as they remain under effective control. Check out this map to see the on-leash areas for Bright.
On the Canyon Walk, dogs are allowed off-leash after the end of Riverside Avenue. On the Cherry Walk, dogs are allowed off-leash after Centenary Park.
2. Enjoy a Dip in the River
While Bright may certainly be a long way from any sandy beaches, there's still plenty of places your dog can cool their paws and enjoy a swim on hot days, thanks to the Ovens River and other local creeks.
The most popular swimming spot in Bright is next to the splash park, where there's even a jumping board. During the cooler months some dogs can be spotted having a paddle here, but during summer leave this stretch of water for the humans, and find a quieter stretch of water for your pup.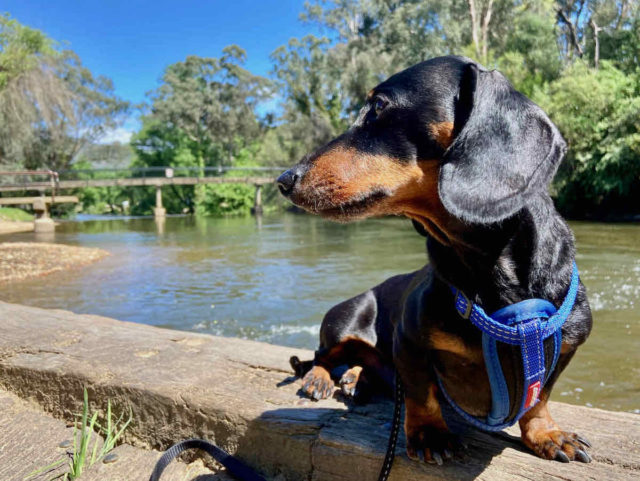 Both of the walks detailed above provide ample opportunities for paddling along quieter stretches of the river with easy access. Just be aware the water is quite cold!
3. Hire a Bicycle
Bright is surrounded by plenty of bike paths, including the Murray to Mountains Rail Trail that starts near Bright. If you're keen to get out there on two-wheels and don't have your own bike, there's bike hire shops right in town. And you can turn your day riding into a dog-friendly outing by also hiring a dog trailer for your pup.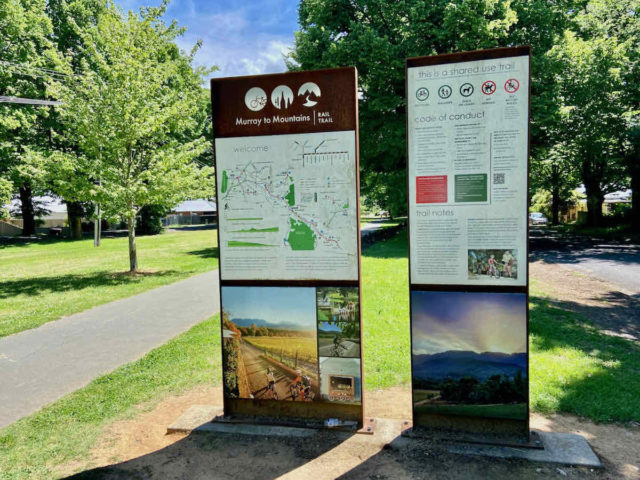 At least one of the three bike hire shops, Electric Bikes, offers dog trailers for hire. Their trailers are suitable for small to medium dogs up to 25kg, and can only be fitted to their own bikes.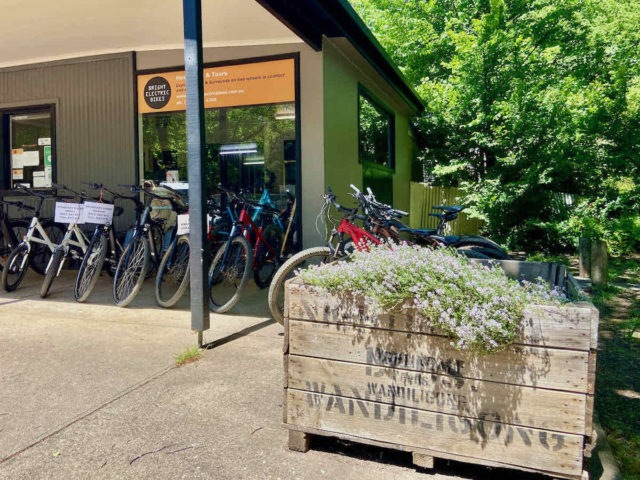 You may also like to enquire with the other shops whether they also have dog trailers. Don't forget to also enquire about maximum weights, especially if you have a larger dog or multiple dogs.
One of the most popular bike riding routes around Bright is the cycle path to Wandiligong, one of the end points of the Murray to Mountains Rail Trail. It's only 5.5km from Bright, making for a leisurely trip. Alternatively it's 6km down the valley to Porepunkah.
4. Visit the Wandiligong Diggings
Even if you don't ride a bicycle to Wandiligong, this cute village is a worthwhile spot to visit around Bright. As well as being home to the Nightingale Bros Apple Orchard, stocking crisp apples and even crisper cider, it's also home to the Wandiligong Diggings.
The Diggings is the former gold mining area in Wandiligong, centred along Growlers and Morses Creeks. These days it contains a number of walking trails looping through the bushland. Along the way, spot the remains of the gold mines, or watch for birds from the bird hide near the wetlands area. The Chinese Bridge is a popular landmark.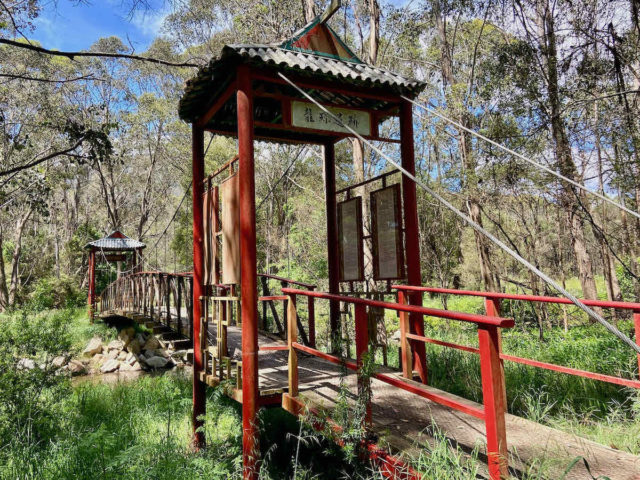 Dogs are allowed in the reserve, but need to be kept on a leash. Also keep an eye out for snakes during warm weather, plus there's a Currawong near the Chinese Bridge who repeatedly swooped our dog (but ignored humans).
5. Taste the Local Wine
Bright is located in the Alpine Valleys Wine Region, and there's a number of cellar doors close to town that you can visit, often with your pup.
We visited Ringer Reef, less than 10 minutes drive from Bright in Porepunkah. There's a small charge for a tasting inside the cellar door, although dogs are unfortunately not allowed to join you in the tasting area. Instead, book one of the dog-friendly tables on the landing, with wonderful views across to Mt Buffalo, or book a picnic on the lawn.
I highly recommend ordering the grazing platter, perfect for a couple to share for lunch. As well as ordering wine by the glass or bottle, there's also the option of ordering a set of three or four larger tasting glasses of wine, your choice from what is currently available for tasting. The cellar door is open daily except on Wednesdays, although options may be limited during the winter months.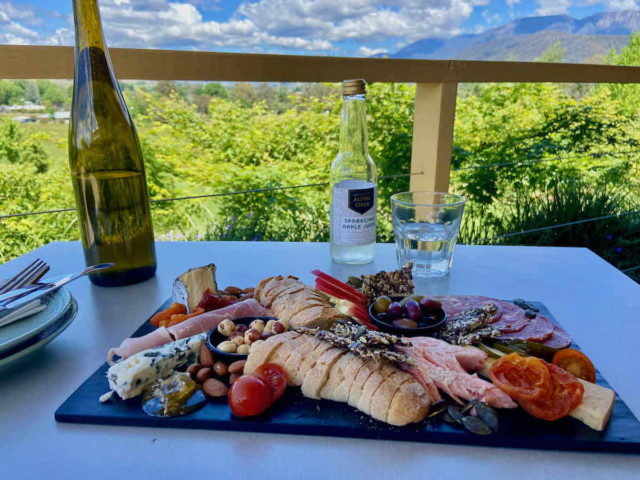 6. Visit a Brewery
As you drive up along the valley to Bright, you'll likely spot some of the hops grown locally. There's no surprise then that there's multiple breweries in and around Bright.
In the centre of Bright is Bright Brewery. Open seven days a week, it was busy even on the Tuesday lunchtime that we visited. There's a large outdoor area, with a deck out the back plus extra tables around the side, so there's plenty of room for your pooch to join you.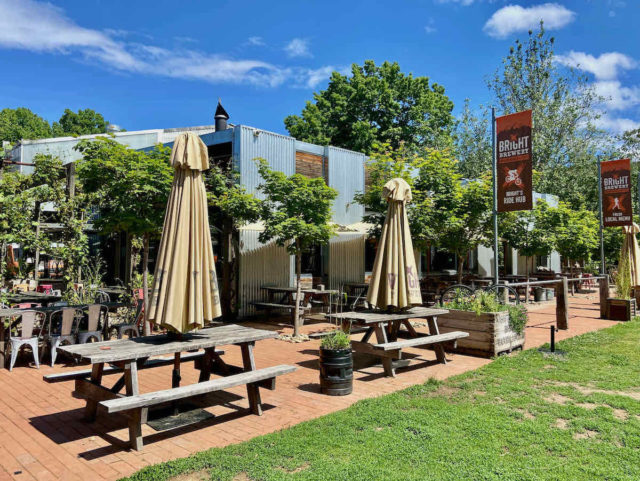 Choose between the 24 taps of beer on offer, or select one of the set tasting trays of six beers. There's also an extensive menu with a focus on local, whether that's trout or mushrooms, spirits or wine. We highly rated the pizza, but the burgers and bowls also looked delicious.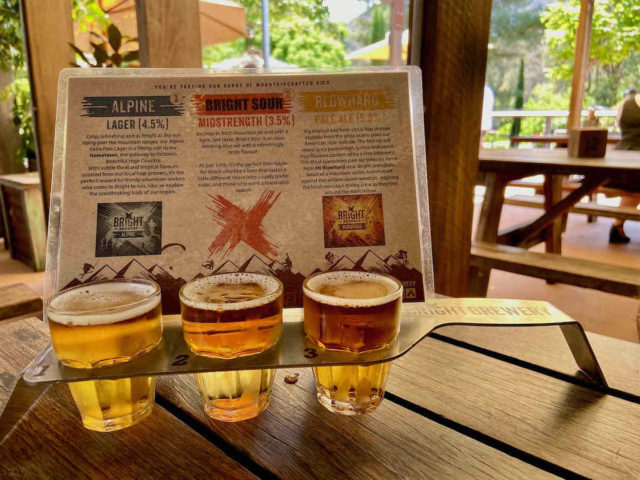 If cider is more your thing, try some of the locally produced Nightingale Bros Apple Cider. Available from their Alpine Produce store in Wandiligong plus on the menu at many local restaurants and bars, there's both a Sweet and Dry cider, plus non-alcoholic sparkling apple juice. While dogs aren't allowed inside the store, they're welcome to join you at the outside tables.
7. Take a Scenic Drive
The high country landscapes surrounding Bright are stunning, making it the perfect area to head out on an alpine scenic drive, along with your dog.
The closest alpine area to Bright is Mount Buffalo, with the access road starting at Porepunkah, only 10 minutes outside of Bright. However, the area is contained within a national park and there isn't a through road, so your dog isn't permitted to join you.
Instead, I recommend driving to the dog-friendly alpine resort of Dinner Plain, via Mount Hotham. While the road passes through the Alpine National Park and the Mount Hotham resort area, your dog is fine as long as it stays in your car. (Dogs are only permitted at Hotham Alpine Resort with a permit, which are not granted for one-off visits.)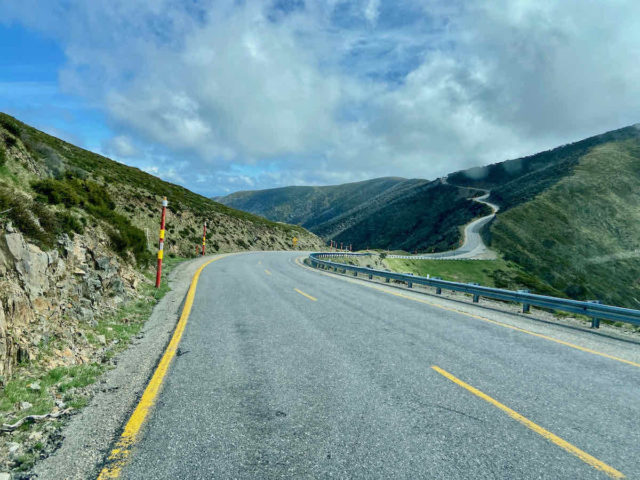 Dinner Plain is virtually the only alpine resort in Australia that is dog-friendly, with no permits required and even dog-friendly accommodation available. During winter time, it's the perfect place to play in the snow with your dog. Note however that when visiting in summer, many of the surrounding walking trails pass into the Alpine National Park and are out of bounds for dogs, so choose your activities carefully.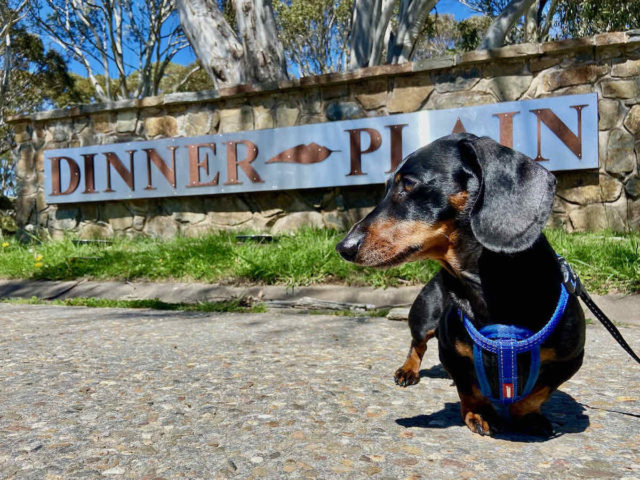 There's a lot of bends on the road up from Harrietville to Mount Hotham, so allow about 80-90 minutes for the 65km drive. We spent half a day completing the drive, stopping at the now closed Stables Cafe in Dinner Plain for some delicious hot chocolate to ward off the chill.
Dog-Friendly Walks Around Bright
There's plenty of walking trails in and around Bright, with dogs allowed to join you on most of them, except for tracks located in national parks.
In fact, outside of designated sections of the town centre of Bright and other towns, dogs are allowed off-leash, as long as they remain under your effective control, including that they return to you when commanded and don't bother anyone, person or animal. For maps showing where dogs need to stay on-leash, check out this page.
As mentioned above, two of the most popular walking tracks in Bright are the Canyon Walk and the Cherry Walk. Both depart from close to Howitt Park. It's also possible to walk along the Murray to Mountains Rail Trail, with on-leash dogs permitted, including the section to Wandiligong and the Diggings.
Some other popular dog-friendly walks around Bright include the Porepunkah River Walk (a 2.5km loop, mainly on-leash) and the Myrtleford Mosaics Trail (a 2km one-way path between Rotary Park and Apex Park, which is off-leash except in Rotary Park).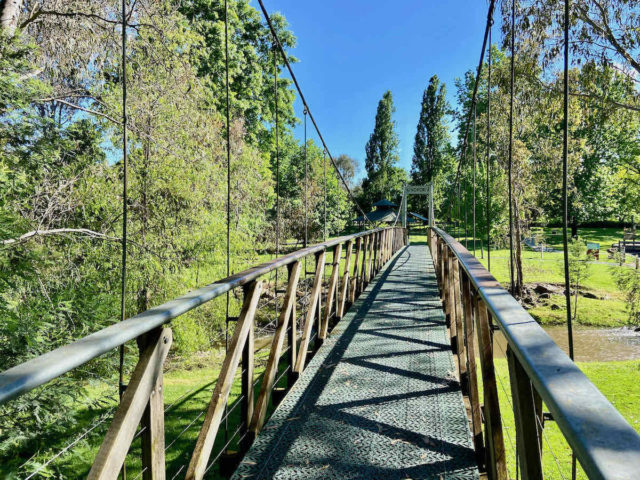 For more ideas, pick up the Walks & Trails Guide from the Alpine Visitor Information Centre in Bright, or download the brochures on this page. Unfortunately though, there's no indication on the brochures of which walks do and don't permit dogs, so double check at the visitor information centre if in doubt, or check the local signage.
Dog-Friendly Dining in Bright
Most of the cafes and restaurants around Bright permit dogs to sit by your side, as long as they have outdoor dining tables. As noted above, the Bright Brewery is a very popular dog-friendly spot, open seven days per week for lunch and dinner. I also highly recommend the grazing platters for lunch at Ringer Reef Winery in Porepunkah.
Another popular dog-friendly dining spot in Bright is the Ginger Baker Cafe, just near the splash park. It's particularly popular for breakfast, plus is also open for lunch or just coffee from Friday to Tuesday.
Further down the main road is Blackbird Cafe, which is also open for breakfast and lunch from Thursday to Monday. My dog was quite impressed with their "dog's bar" when we passed by, sampling all three water bowls! I also spotted dog water bowls outside Food Wine Friends on Ireland Street.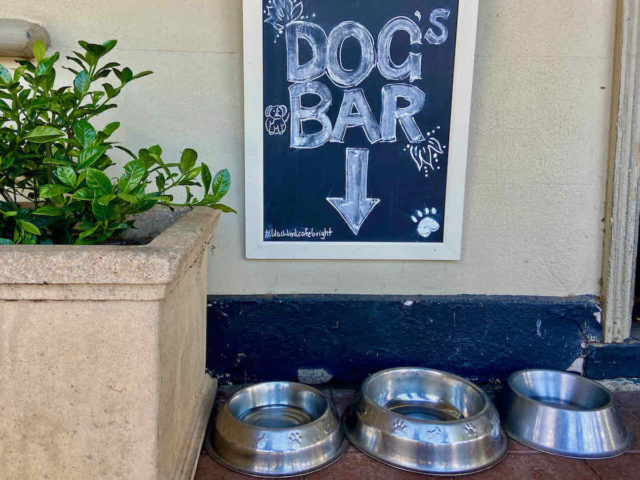 Dog-Friendly Accommodation in Bright
Note: This post contains affiliate links, which means I may receive commission if you make a purchase using the links. See my full disclaimer.
There's a huge number of caravan parks around Bright, with 13 caravan parks scattered around Bright, Porepunkah and Wandiligong. All but three of the caravan parks allow dogs on sites, although seasonal restrictions may apply at other parks. Some parks may also offer pet-friendly cabins, such as Discovery Parks – Mount Buffalo.
When visiting in November, we found the camping rates on the high side, compared to other destinations such as Beechworth. We stayed at Riverview Caravan park in Porepunkah, one of the parks offering unpowered camping sites. It's a peaceful spot along the Buckland River.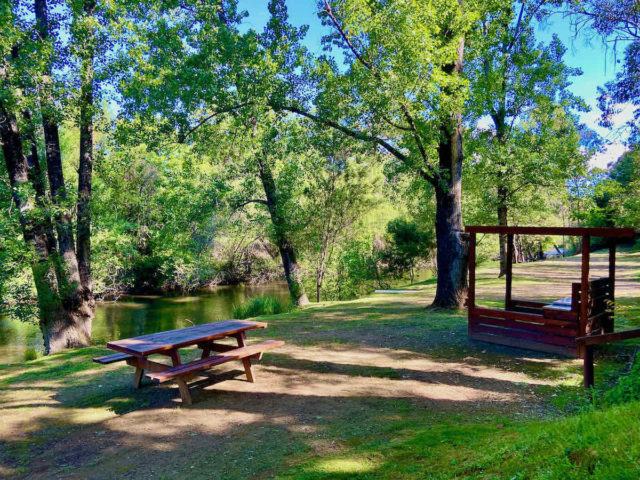 There's also plenty of holiday cottages available to rent in Bright, some of which permit pets to stay with you. One popular pet-friendly option is BlueMill Bright. They offer four accommodation options: BlueMill Cottage, BlueMill Lodge, BlueMill Escape (which combines together the Cottage and Lodge) and the older but large Old Mill Park. All the house are pet-friendly for a small fee, with generally two dogs permitted per house.
If you don't need as large a property, instead consider Tyntynder Garden Cottages on the edge of Bright. They have multiple cottages on offer, each with two bedrooms, a wood-burning fire and an individually fenced yard. They've won multiple awards for pet-friendliness, with pets allowed inside. Enquire directly for additional fees and rules.
Head Next To