Despite its isolation, Broome is one of the most popular holiday destinations in Western Australia. With the stunning Cable Beach and beautiful natural scenery, is it any wonder that this tropical town attracts tourists by the caravan-load every winter. But what if you have a pet? Find out what it's like to visit Broome with a dog, and the options available to you.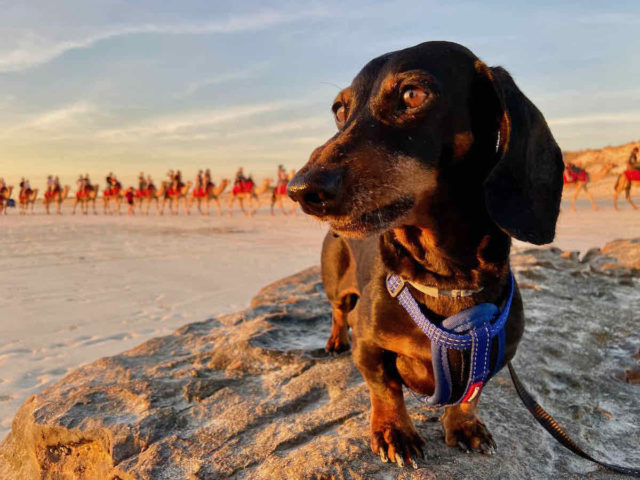 Note: This post contains affiliate links, which means I may receive commission if you make a purchase using the links. See my full disclaimer.
Dog-Friendly Sightseeing in Broome
So, once you've made it to Broome, what is there to do with your pup? Although it's a destination perfect for chilling out, consider ticking off these items..
1. Go Swimming at Cable Beach
While the bays closest to the centre of Broome are mangrove mudflats, across town is the 22km long stretch of white sand known as Cable Beach, due to it being the site of the first undersea telegraph cable linking Australia to the world.
Deservedly famous, it's a must-visit destination in Broome, whether to swim, laze on the sand or 4WD along much of it. And luckily, dogs are allowed even along the main swimming stretch, which is patrolled during peak season, as long as they are kept on a leash.
If you wish to swim with your dog or let them off leash, head outside of this main stretch. About 150m south of the surf club there's a sign indicating where the dog exercise area starts. Alternatively, head north of the rocks, where the main 4WD section is located. Dogs are allowed off-leash from 700m north of the rocks. Just keep in mind the rules are few along this stretch, which is also a designated nudist beach.
Keep in mind that it can get hot on the sand, even during the winter months, so consider setting up an umbrella to provide shade for your pup, and don't forget a water bowl, such as a collapsible bowl. It's also possible to hire umbrellas, sun lounges and more. Cable Beach can also be closed if crocodiles are spotted in the vicinity.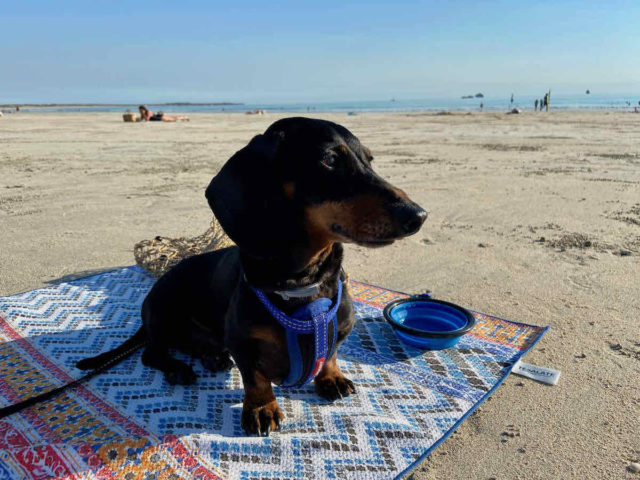 (Confusingly, the Broome council website states that dogs are prohibited from the main section of Cable Beach, Cable Beach Reserve and Town Beach Reserve, but signs onsite state that leashed dogs are allowed, so I'm going with the signs and other information.)
2. Watch the Sunset at Cable Beach
Cable Beach isn't just the place to go for a swim in Broome, it's also the place to soak up a tropical sunset, with the sun slowly sinking into the Indian Ocean that stretches before you.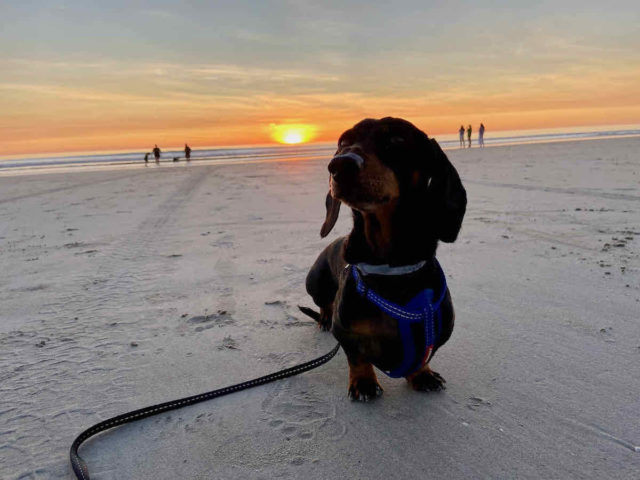 If you've got a 4WD, this is the most popular time to head to the sand, accessed from the northern end of the Cable Beach carpark. Once you found a spot, it's time to set up your chairs and watch the sunset with a beer in hand, your dog at your feet.
No 4WD? Perhaps set up a picnic blanket on the grassed reserve next to the carpark, or just stay on your beach towel on the main swimming beach.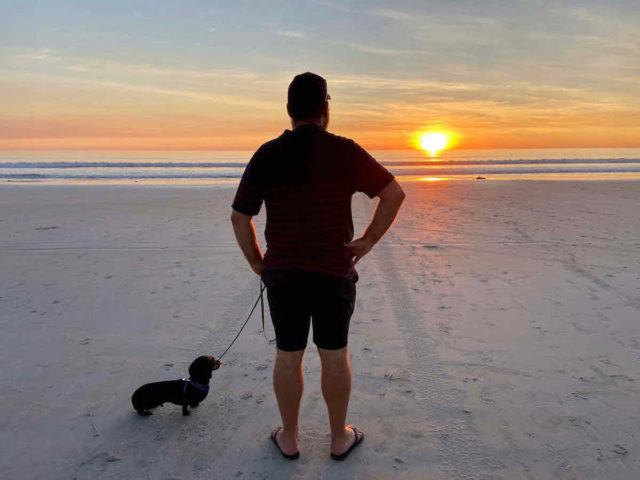 Sunset is also the time of the most popular camel rides on Cable Beach. These famous rides have taken place on Cable Beach for decades and are a sight to behold, even if you don't take part.
The camels walk along the beach north of the rocks, where 4WDs are also allowed. Just be careful to keep your dog well away, particularly if your dog shows an inclination to bark at the camels.
3. Look for Dinosaur Footprints at Gantheaume Point
The history of Broome dates back to prehistoric times, with some of the best dinosaur footprints in Australia found around Broome. One of the most popular spots to visit them is Gantheaume Point, at the southern end of Cable Beach, where leashed dogs are permitted.
The Point can be reached by road, which is surprisingly unsealed for the last 600 metres (at least when we visited in 2021). Take it easy if you're in a 2WD, as it can be bumpy, or park at the Turf Club instead. Then follow the walking track over to the rocks.
The dinosaur footprints are only visible at low tide, or very low tide, and visitors are actually discouraged from locating them, with no directions provided. We think we spotted some of them, but aren't sure. It's easier to check out the plaster cast of three prints, located at the end of the walking path.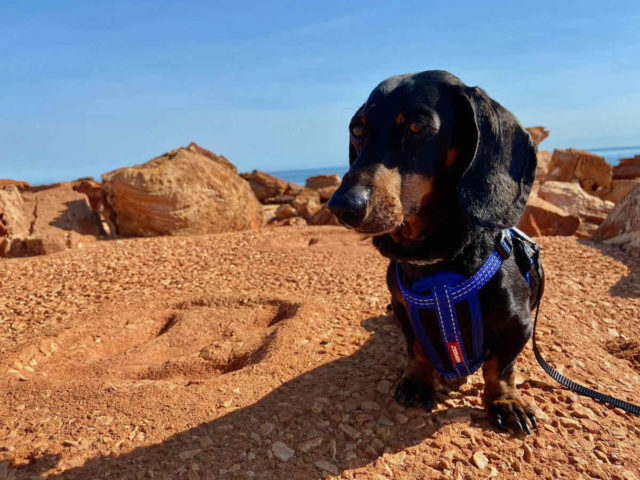 In any case, Gantheaume Point is a beautiful spot, with the red rocks starkly contrasting against the turquoise blue water, and worth a visit.
4. Head to Matso's Brewery
Matso's Brewery is a Broome institution, established over 20 years ago in the historic Matso's Store. They're most famous for their Mango Beer and alcoholic Ginger Beer, although they're not the only beers they typically have on tap.
Beer isn't the only thing on the menu, with the onsite restaurant offering up casual yet chic dining for lunch and dinner. Leashed dogs are welcome to join you in the beer garden area, but not on the verandah immediately surrounding the restaurant.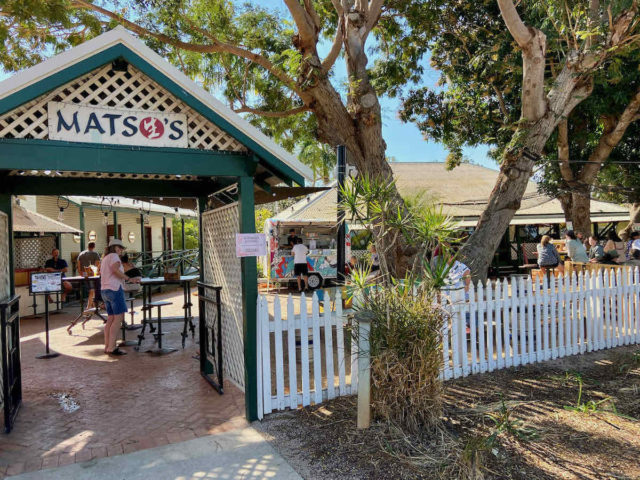 At the time of our visit, the other advantage of sitting in the beer garden, in addition to the lovely relaxed seating, was there was a Japanese food truck set up in the garden. In addition to being able to order from the main restaurant menu, we could grab the simple takeaway-style dishes from the food truck. This is probably only a dry season event.
5. View the Staircase to the Moon
Another Broome institution is watching the Staircase to the Moon. This natural phenomenon occurs at Roeback Bay, around each full moon period between March and October, as long as the full moon rising coincides with a low tide. Check online for the expected dates for the coming year.
One of the best dog-friendly spots to watch the Staircase from is Town Beach. Just be prepared for crowds and keep your dog leashed!
While Town Beach doesn't have the white sand of Cable Beach, it's still a great spot to visit with your dog any time of month during the day. Leashed dogs are allowed at Town Beach Reserve, and the large mature trees provide some welcome cooler temperatures. The reserve is also home to a huge playground and splash park for kids.
6. Visit the Markets
It's not a true visit to Broome without visiting at leash one of the markets held regularly in town.
The larger markets are the Courthouse Markets. These markets are held every Saturday morning, from 8am to 1pm, year-round. (Although they wrap up early at midday from September to March.) Additionally, between April and October, they're also held on Sunday mornings.
The bustling markets have a huge number of art and jewellery, local products and hot food stalls. On the morning of my visit, the drink stalls had very long queues! Afterwards, relax on the grass with a drink or lunch, while listening to live music. Well-behaved dogs on a leash are welcome.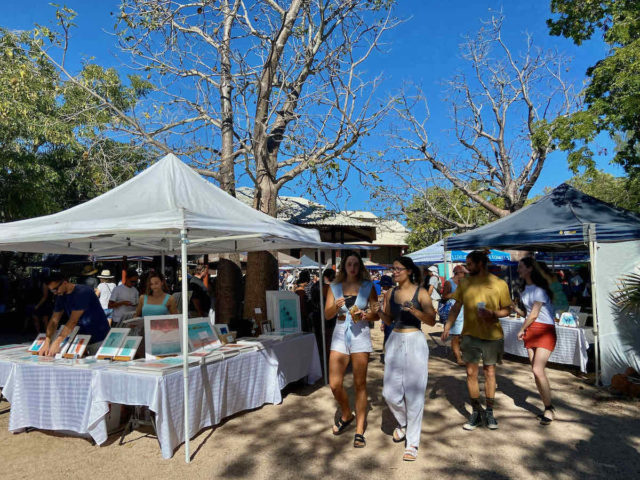 During the months from June to September, the Town Beach Markets are also held every Thursday evening. These smaller markets focus more on food, with a variety of food trucks set up, although there are also stalls with jewellery, clothing and homewares.
A special edition of the Town Beach Markets are held during the Staircase to the Moon event. One night of the full moon the Staircase Markets are held at the Town Beach Reserve. Browse the stalls and find something to feast upon on the grassy lawns while awaiting the spectacle.
7. Wander Through Chinatown
The historic heart of Broome is known as Chinatown, although it doesn't have that much of a Chinese touch to it these days. Instead, it's the location of many of the pearl outlets and shopping boutiques, as well as cafes, tour shops and more.
Go for a wander through the streets of Chinatown with your pup, keeping an eye out for the many signs explaining the history of Broome. Keep an eye out for Sun Pictures, the world's oldest operating picture gardens.
It's also worthwhile detouring to Streeter's Jetty, a jetty constructed in the late 19th century through the mangroves to allow access for the merchants and pearl dealers. At the time of my visit it was closed, but it has since re-opened. Further along the waterfront climb up to the Roeback Bay Lookout, for beautiful views over the mangroves and bay.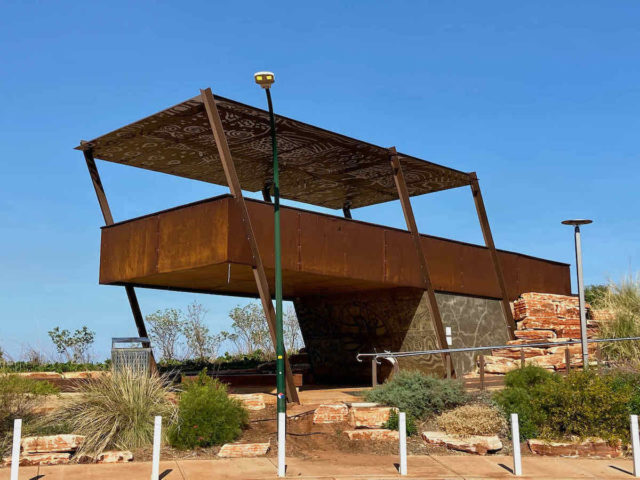 8. Explore the History of Broome
Broome has a fascinating history, ranging from the early pearling days through to the bombings that occurred during WWII. One of the most fun ways to explore the history is by taking a Broome Tramway Tour.
Tramway Tours depart daily from the Broome Visitor Centre, except on Sundays. Choose between the one-hour long Historical Tour at 9:30am, or enjoy a short ride on the historical tram on the 20-minute Snapshot Tour at 10:45am. I've been assured that pets are welcome to join you.
Another place to visit to explore the history of Broome is the Broome Historical Museum. This volunteer-run museum is open daily in two of Broome's oldest buildings. There's a variety of exhibits and activities for kids, with well-behaved dogs on a leash welcome to accompany you.
9. Go Camping North of Broome
Staying in Broome isn't the only option available to experience this region. If you want the Broome experience but without the crowds of Broome, head to the many camping spots located north of town.
Some of the potential campgrounds include Willie Creek, Nuwirrar (Barred Creek) and Kardilakan (Quandong Point). Access to each of these is 4WD only, and be prepared for no facilities, but campsites are generally free. Dogs are allowed at each of these locations, but double check in case rules change.
Further north again is the Dampier Peninsula. Previously only accessible to 4WDs, the 200km road to the tip is now almost entirely sealed, although many access roads to communities and campgrounds are still only suitable for high-clearance 4WD vehicles only, including to the popular Kooljaman at Cape Leveque.
In general, the local visitors centre advises that dogs shouldn't be taken to the Dampier Peninsula, and many locations do prohibit dogs. However, at least a few campgrounds are pet-friendly. Banana Well Getaway permits pets, while Gumbanan Wilderness Retreat allows small to medium dogs in their campground. At both campgrounds, keep your dog on a leash.
Dog Sitting Options in Broome
On my visit to Broome, we didn't make use of any dog sitting services. However, there are options available, such as if you want to visit the Dampier Peninsula. For starters, there's the Broome Pet Motel, located at 29 McDaniel Road near the point, which has quite reasonable rates.
The Broome Veterinary Hospital also offers boarding, whether just for the day or longer periods. Their current rate is $30 per calendar day (or $24 for cats). They recommend booking well in advance during holiday periods.
One more option is Broome Dog Sitting on Facebook, with Amy looking after pets in her own home and plenty of five-star reviews.
Dog-Friendly Walks in Broome
One of the best dog-friendly walks available around Broome is along the white sands of Cable Beach. While parts of it require dogs to be on a leash, head north of the rocks for the off-leash section. There's also off-leash exercise areas at Riddell Beach and Entrance Point.
Another option is to head to Minyirr Park, located in the sandhills behind Cable Beach, and experience one of its multiple walking trails. Close to the Gantheaume Point Road, there's an access point for the Lurujarri, Nagula and Minyirr Walks.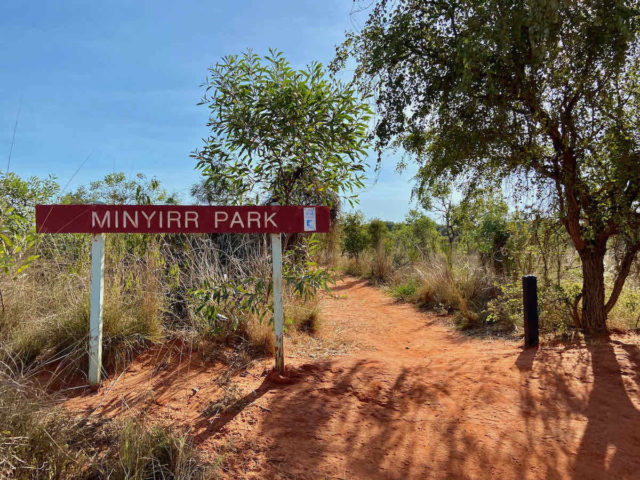 Or head to Cable Beach Road West, opposite the RAC caravan park, for the short Wanbiny Trail. This short concrete pathway leads to the dunes behind Cable Beach and can be combined with a beach walk.Dogs are permitted on leash.
Keep in mind the temperatures in Broome, with the best option to head out on a walk either early or late in the day.
Dog-Friendly Dining in Broome
There's quite a few dog-friendly cafes and restaurants located around Broome, where you can enjoy the warm tropical climate while feasting on some delicious local food.
For starters, as mentioned above Matso's Brewery has a restaurant onsite, open for lunch and dinner. The restaurant serves up dishes ranging from local fish to eye fillet, plus a list of share plates. Each of the markets in Broome also offers an array of food trucks.
Another frequently recommended dog-friendly cafe is The Good Cartel, located not far from the main Chinatown strip. Reputedly serving the best coffee in Broome, they also offer breakfast sandwiches and burgers.
If you're in the Cable Beach area, head to the Cable Beach General Store & Cafe for a dog-friendly cafe open until early evening every day. There's a wide range of breakfast, burger, pizza and fish 'n' chip options to choose from.
Dog-Friendly Accommodation in Broome
Over the years the accommodation options in Broome have become increasingly dog-friendly, at least when it comes to caravan parks. Not that long ago, none of the caravan parks in town permitted pets to stay, but now the majority are pet-friendly.
Each of Broome Caravan Park, Discovery Parks – Broome, RAC Cable Beach Park and Tarangau Caravan park accept pets, although check for any site restrictions or other rules. It's best to call up and book, and advance bookings are recommended over the winter months.
If you do arrive during the peak season without a booking, both of the current overflow sites, at the Pistol Club and the Seventh Day Adventist site, also allow pets. During the winter of 2021, Broome council also trialled free camping for self-contained RVs in part of the Cable Beach carpark, with no restrictions on pets. However, I don't believe this trial continued in winter of 2022.
Outside of Broome, about 20 minutes back along the highway, both the Broome's Gateway Pet Friendly Caravan Park and Roebuck Roadhouse allow pets.
The Gateway Caravan Park was originally the only pet-friendly option near Broome, and is still arguably the most pet-friendly, thanks to its fenced off-leash exercise area for dogs. Double check if the day kennels and pet-sitting service are still available. Note however that the park lacks powered sites plus the convenience of being in town.
Keeping Your Dog Safe Around Broome
It's important that your dog's safety is paramount when visiting this isolated region. For starters, Broome is in the Kimberley, one of the regions worst affected by the current outbreak of Ehrlichiosis. This tick-borne disease is spread by the brown dog tick and can be fatal if left untreated.
It's vital that you use a tick prevention treatment for your dog. In addition to continuing to give our dog his monthly Nexguard chew (which doesn't kill ticks quickly enough to prevent Ehrlichiosis), we also used a Seresto collar (available both for puppies and small dogs and medium and large dogs). For more information, see the WA government website.
At the other end of the size spectrum, estuarine (or salt-water) crocodiles are also a risk around Broome. While they're a rare visitor to the main stretch of Cable Beach, which is closed if there are any sightings, you need to consider the risk in less populated spots. Dogs can be a target of crocs, so keep your pup well away from the water, unless you have no doubt there are none around.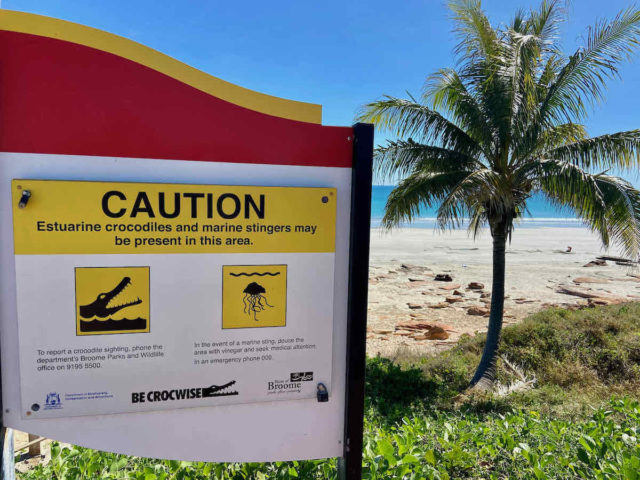 Finally, even if you are visiting Broome in the winter months, it's well into the tropics, and can still experience quite hot weather, particularly in the afternoons. Make sure your dog has access to shade and water, and never leave them alone in a hot car.
You May Also Like