Located just inside the tropics, Exmouth is a popular holiday destination in Western Australia, especially during the winter months, when its balmy temperatures and brilliant blue skies beckon holiday makers from further south, not to mention the allure of swimming with whale sharks. But what about if you are visiting Exmouth with a dog? Find out more about the dog-friendly options in Exmouth on offer, from sightseeing and beaches to dining out and accommodation.
Road tripping north with your dog to Exmouth? Check out these recommendations on dog-friendly campsites between Perth and Exmouth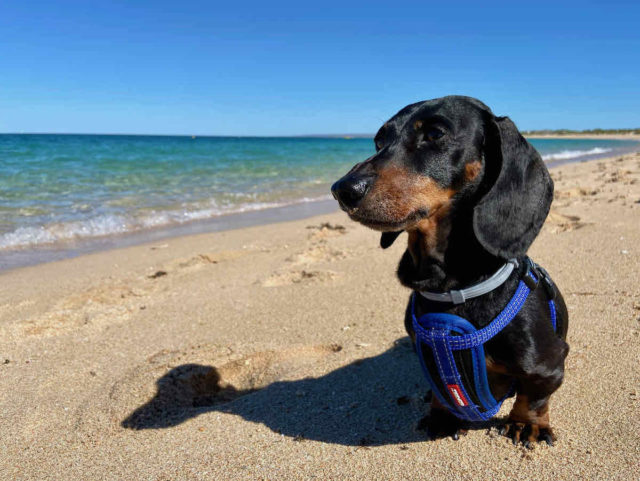 Dog-Friendly Sightseeing in Exmouth
Many of the big attractions of the Exmouth region and Ningaloo Reef are off the cards for dogs, from swimming with whale sharks to snorkelling and hiking in the Cape Range National Park to watching turtles nest on the beaches. So, what can you do with your dog? Here're my top tips for dog-friendly sightseeing in Exmouth…
1. Visit Bundegi Beach
My favourite dog-friendly beach near Exmouth is Bundegi Beach. This beach is about 10 minutes drive north of Exmouth itself, up towards the tip of the cape. This beach is just inside the gulf, but is still beautifully sandy and offers crystal clear waters for swimming. Dogs are allowed off-leash on the beach.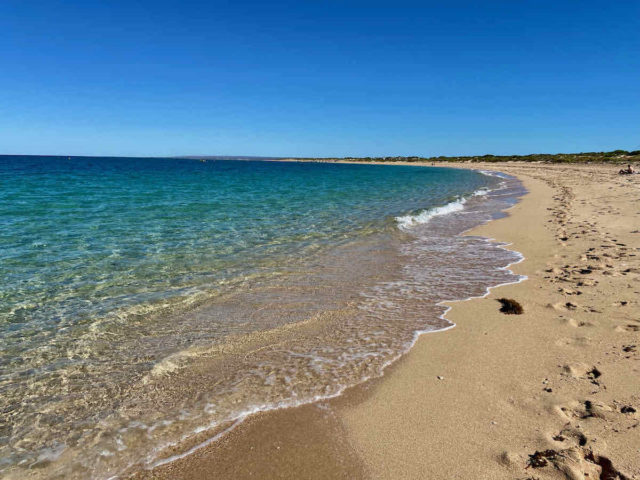 For further adventures, there's a recommended snorkelling spot a few kilometres to the south, accessible by kayak. See the signs next to the boat ramp. Alternatively, check out the fish hanging around the boat ramp while snorkelling, but don't expect to see coral here.
Afterwards, retreat to The Beach Shack, a cafe located right next to the beach. It's generally open for breakfast and lunch, although double check the opening hours in advance, which can vary. I highly recommend the local prawns cooked in garlic – half a kilo goes a long way shared between two!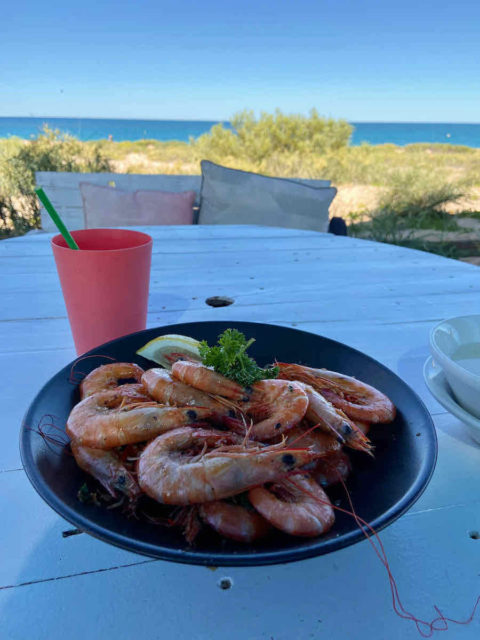 2. Head to the Lighthouse
For excellent views up and down the coast, head up to the Vlamingh Head Lighthouse, a 15 minute drive northwest of Exmouth. It's an easy but steep sealed road up to the lighthouse, which is no longer in operation, superseded by a light on the communication towers to the north. There's no restriction on dogs, but they should be kept on a leash.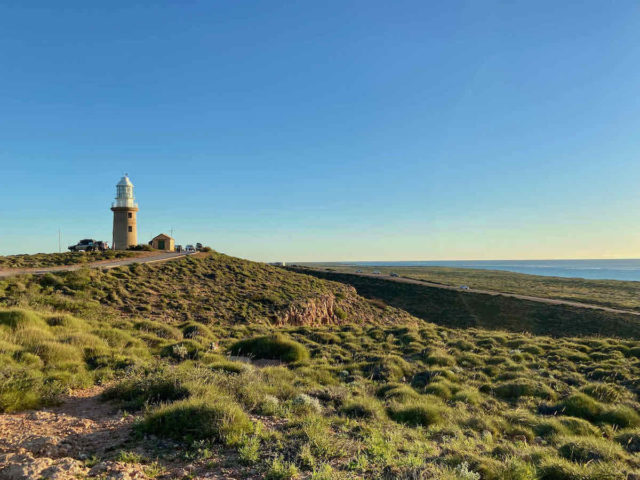 The lighthouse and nearby carpark is a popular spot for sunset. Just be warned there can be a lot of mosquitos that arrive before sunset after rainy periods. The lookout is also the best location on shore for spotting the whales that head to Ningaloo Reef each winter.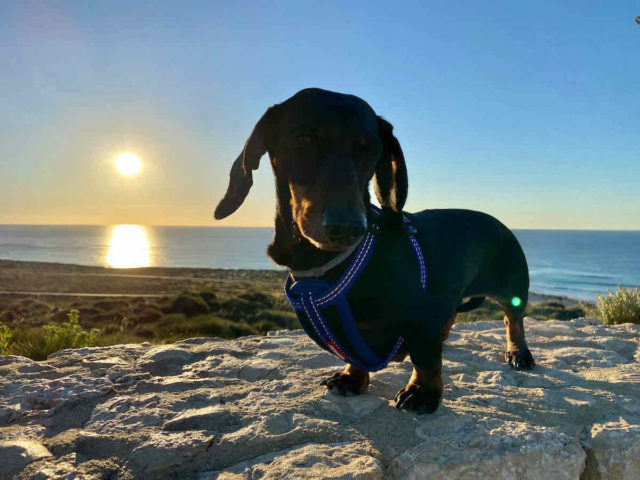 3. Taste the Local Craft Beer
Exmouth is home to not just one but two craft breweries. We headed to Whalebone Brewing Company, located in the industrial area on the southern side of town. It's very dog-friendly, with a large outdoor yard of tables, although dogs need to be kept on a leash and supervised. It's also very kid-friendly, with play equipment and a sandpit.
At the time of our visit there were seven locally brewed beers on tap, plus three guest brews. Tasting paddles come in three different sizes, ranging from five to nine generous sized tasting glasses. If you're feeling peckish, choose from the fantastic range of pizzas, with some also served in kid sizes. Double check the opening hours that vary between the seasons.
The other brewery in town is Froth Craft Brewery. Located next to the main shopping mall, this brewery is combined with a full restaurant, offering a more extensive menu. There's still plenty of outdoor tables, where well-behaved dogs are welcome. Both Froth and Whalebone have live music on selected nights.
4. Head to Coral Bay
While the best snorkelling spots close to Exmouth are located in the Cape Range National Park and strictly prohibit dogs, the same doesn't apply at Coral Bay. It's worthwhile visiting for the day (it's only a 90 minute drive) or for longer.
The main beach at Coral Bay doesn't permit dogs, with signs at every access point. But dogs are permitted in the grassed park behind the beach and in the carpark. If you're not travelling solo, perhaps take turns to snorkel and look after your pup?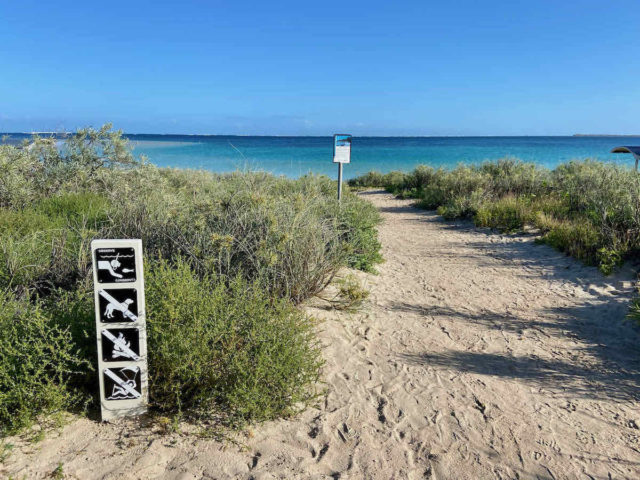 Alternatively, the beaches south of the point are dog-friendly. The main dog beach is Paradise Beach, in between the point and the boat ramp, but it's only accessible by a un-signposted 4WD track.
A popular alternative is to walk up to the lookout and then down onto the initial stretch of sand there. There are signs prohibiting walking on the dune to prevent erosion, but it is the easiest option to reach Paradise Beach without a 4WD.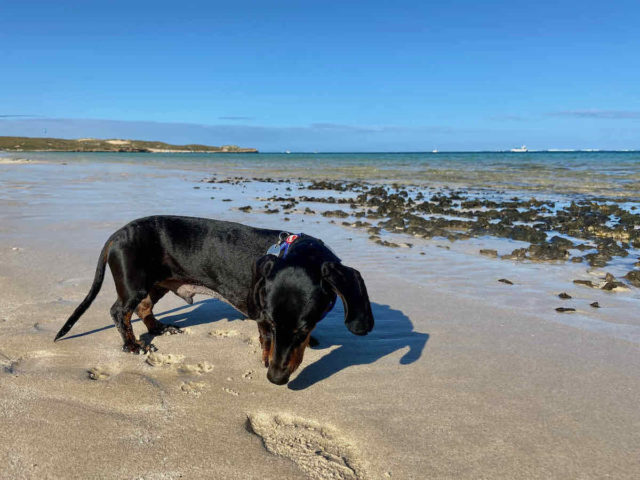 Two other options are the small beach next to the boat ramp, plus Five Finger Reef. The turn-off for Five Finger Reef is just before the boat ramp, but it's a 4WD only track. I wish I could have visited, as I've heard great reviews about the snorkelling!
Double check for any new signs with changes in rules since we visited in 2021.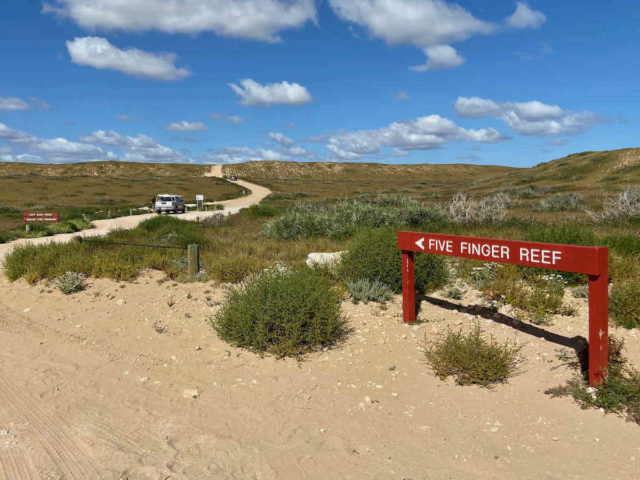 5. Stop at the Potshot Memorial
Exmouth owes much of its existence to its military role. A military base was firstly established at Learmonth to the south during WWII as part of Operation Potshot. Later in the 1960s, the establishment of the Harold E. Holt Communications Station led to the founding of the town.
It's interesting to stop off at the Potshot and Krait Memorials, near the Learmonth Airport, to learn more of this fascinating history. In particular, the complaints of the soldiers of the inhospitable environment are a far-cry from the area's popular with tourism these days, although enduring the summer heat without aircon would be tough.
The memorial is located not far from the Learmonth Beach Jetty, with it's dog-friendly beach.
6. Stay at a Station
Despite its coastal location, Exmouth and the Ningaloo region is part of Outback Australia, surrounded by stations. Many of these stations offer the chance to stay for a night or longer, with most welcoming dogs on camping sites.
The closest option to Exmouth is Bullara Station, about an hours drive back down the highway, and accessible with 2WD. It's open between April and October each year.
Other options closer to Coral Bay include Ningaloo Station, Warroora Station and Gnaraloo Station. Double check the details in advance, as some campsites are only accessible by 4WD and self-contained vehicles are sometimes required.
Dog-Sitting Options in Exmouth
If you do want to head out on a snorkelling trip or visit a national park for the day, there are multiple dog-sitting options available in Exmouth. For starters, contact the visitors centre who can provide you with a list of local dog sitters. There are also sometimes signs at the caravan parks, or check out Mutts Cafe which had a listing in mid-2022.
Another alternative that I made use of were the kennels at Exmouth Veterinary Clinic. The vet is only open from 9am to 4pm on weekdays, plus the rates are quite high, but it's an easy option, without the need to ring around.
Dog-Friendly Beaches in Exmouth
Note that many of the beaches in the Exmouth region don't allow dogs, for various reasons. Within Exmouth itself, Town Beach near the Yacht Club prohibits dogs, with plenty of clear signage.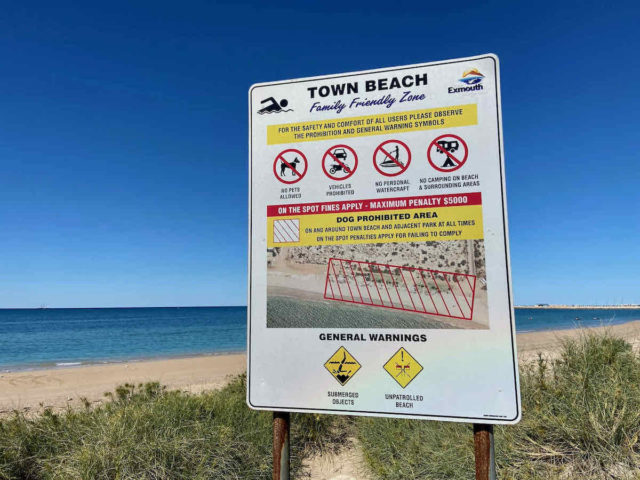 Dogs are also prohibited from many of the beaches on the western side of the cape near Exmouth. For instance, the popular Turquoise Bay, with its superb snorkelling, is located in the Cape Range National Park, where dogs are not allowed.
Further north outside of the national park, many of the beaches still don't allow dogs, due to turtle nesting that occurs during the summer months. Look out for signs at the access roads, plus for signs warning of 1080 baits.
Instead, head to one of the dog-friendly beaches in the Exmouth region. Within the township area there are two options. Golf Club Beach is immediately north of Town Beach, starting at Warne Street, and is also popular for 4WDing on the beach. Alternatively, Macleod Beach is south of the Exmouth Boat Harbour and quieter.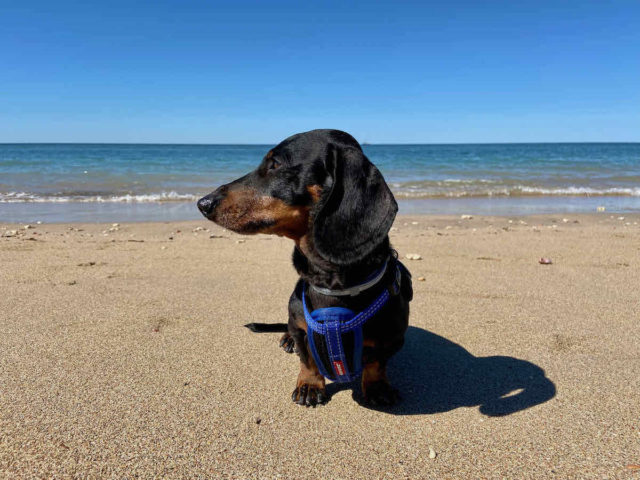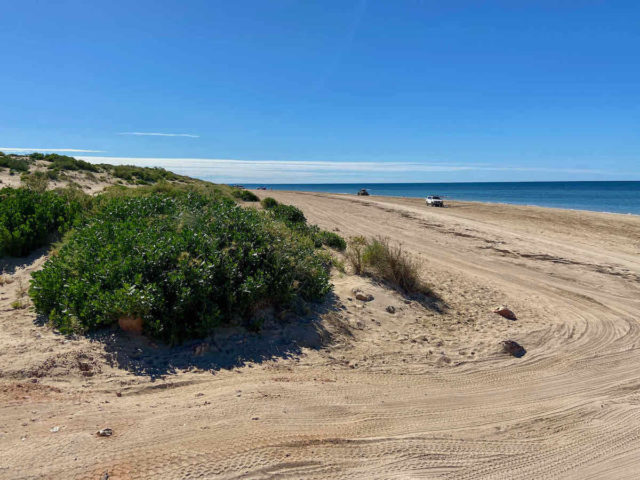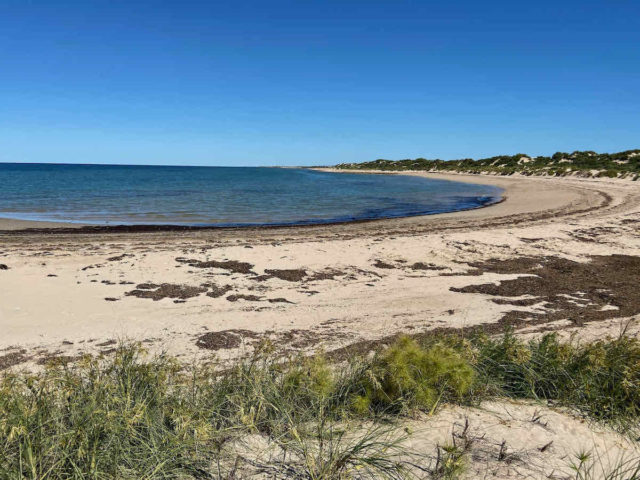 There's also a number of other beaches scattered around that permit dogs, mainly on the eastern side of the peninsula. Two popular options are Bundegi Beach (see above), 10 minutes drive north, and the area around the Learmonth Beach Jetty, a 25-minute drive south. Learmonth Beach Jetty is also a popular fishing spot.
Dog-Friendly Dining in Exmouth
There's plenty of dog-friendly dining options to choose from around Exmouth, which is not surprising given the climate and the popularity of outdoor dining.
As I mentioned above, both Whalebone Brewery and Froth Craft Brewery offer dining options. Whalebone has a great selection of pizzas, while Froth is combined with a full restaurant offering an extensive menu.
The Beach Shack at Bundegi Beach is another laid back option, and is beautifully located right on the beach, about 10 minutes drive north of town. The cafe is usually open for breakfast and lunch, although check the opening hours, as they can vary. The breakfast menu is offered up until 11:30am, after which expect a lunch menu featuring mainly burgers and seafood dishes, including these delicious garlic local prawns.
Back in Exmouth, two more options around town are The Social Society and Mutts Cafe. The Social Society is located just outside the mall area, with outdoor seating and dog treats on offer. It's open for breakfast and lunch, with it's coffee and breakfasts highly rated.
Mutts Cafe is located a few blocks south opposite the RAC caravan park, and is open in the morning, plus selected evenings. Head here for coffee, light meals and vegan ice cream. They also have a handy board listing phone numbers of local dog sitters.
Note that dogs are not allowed in the shopping mall in the centre of Exmouth, as well as Federation Park opposite (although I couldn't spot any signs in the latter area). For a full list of places in Exmouth dogs are prohibited, see this council listing.
Dog-Friendly Accommodation in Exmouth
Both of the caravan parks located in the centre of Exmouth, the RAC Exmouth Cape Holiday Park and Ningaloo Caravan and Holiday Resort, are dog-friendly year round, although only on selected sites. Make sure you choose a pet-friendly site when making a booking, or call up to book. Bookings well in advance are necessary during the winter school holidays.
Dogs are also allowed on campsites at Yardie Homestead Caravan Park (located closer to the Cape Range National Park), Bayview Caravan Park (one of two caravan parks in Coral Bay) and at many of the nearby station stays, such as Bullara Station.
For dog-friendly holiday homes, contact Exmouth Holidays for their latest listing of pet-friendly homes.
Keeping Your Dog Safe Around Exmouth
Note that 1080 baiting is used in the Exmouth region, including in the nearby Cape Range National Park. Keep an eye out for signs warning of the poison. Outside of town areas, keep your dog on a leash and possibly muzzled, especially if they are likely to eat anything they find on the ground.
Dingos are also present in the Exmouth region. I've never seen any dingos on either of my visits to the area, but there are signs warning of the dangers. Keep your dog inside at night and follow any guidelines.
The tick-borne disease Ehrlichiosis has been detected in the region around Exmouth, according to the WA government website. This disease can be fatal if left untreated so it is important that you use a tick prevention treatment, ideally a collar or spot-on treatment. Also check your dog daily for ticks and keep them out of long grass.
Finally, in the summer months, the temperatures in Exmouth are usually very high. Even in winter, temperatures of 25C or more during the day are common. Don't leave your dog in a hot car and make sure they always have plenty of water.
For more tips about keeping your dog safe while travelling in Australia, see my full guide.
Head Next To