The eastern gateway to the spectacular Kimberley region of Western Australia, Kununurra is both a destination in itself or a must-stop town along a Big Loop around Australia. But what if you're travelling with a dog? Find out about the dog-friendly options available in Kununurra.
Note: This post contains affiliate links, which means I may receive commission if you make a purchase using the links. See my full disclaimer.
Keeping Your Dog Safe Around Kununurra
Before providing ideas about what to do in Kununurra with a dog, firstly some tips on what not to do.
For starters, estuarine (or salt-water) crocodiles are found in many of the creeks and waterholes around Kununurra. Check the signs and stay away from any water where salties could be a risk, including areas you are unsure about. Don't let your dog paddle or get too close to the water's edge.
Even if some spots have been crocodile-free in the past, that may no longer be the case. This is especially true during the wet season and early in the dry season, when crocodiles may move into areas that are normally kept croc-free.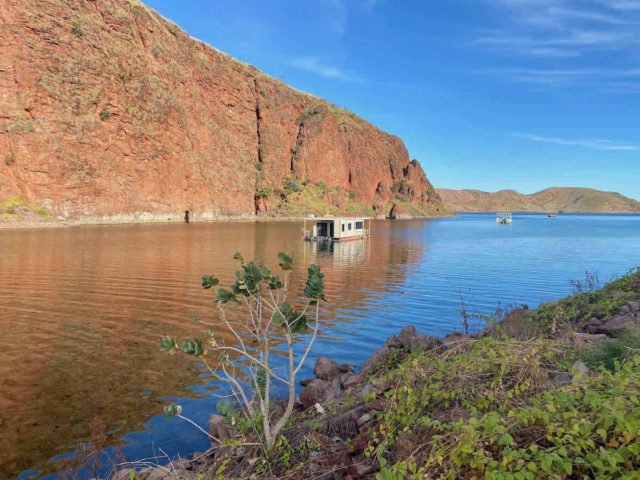 Kununurra has also had cases of Ehrlichiosis, a tick-borne disease spread by the brown dog tick, that can be fatal if untreated. It's important that you use a tick prevention treatment for your dog.
Seresto collars (available both for puppies and small dogs and medium and large dogs) are highly recommended, in addition to your dog's monthly chew (which won't kill ticks quickly enough to prevent Ehrlichiosis). Also check your dog daily for ticks and keep them away from long grass.
For more information, see the WA government website.
Dog-Friendly Sightseeing Around Kununurra
If you're spending some time in Kununurra, add these dog-friendly sightseeing options to your itinerary.
1. Head up Kelly's Knob
Looming above the township of Kununurra are the rock formations of Kelly's Knob and Mirima National Park, also known as Hidden Valley or the mini Bungle Bungles. While dogs are of course not allowed in Mirima National Park, it's fine for on-leash dogs to visit Kelly's Knob Lookout with you.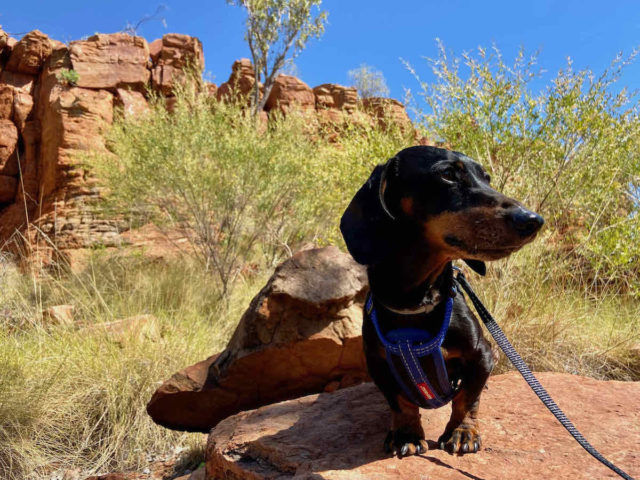 There's a road that almost reaches the top and ends in a carpark. From there it's a 1.2km return walk along the Kelly's Knob Walking Track to the very top and the main lookout. The walk is mean to be quite arduous, with steep sections. It's best done early or late in the day, with sunset a popular time.
An easier alternative is to take the short unmarked track to the right of the water tank, leading to a few lower lookouts that are still impressive, one with some shade.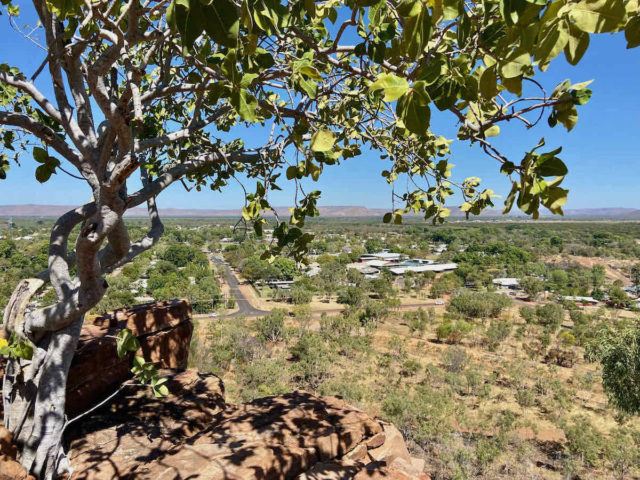 2. Go Swimming at Swim Beach
It certainly can get hot in Kununurra, no matter what time of the year you visit. Luckily then there's a safe spot to go swimming in town, if you don't have access to a swimming pool.
Swim Beach is located right next to Diversion Dam on the shore of Lake Kununurra. The lake is a saltwater crocodile controlled environment, meaning it's kept free of salties, although check first for closure signs before entering the water. There are still freshwater crocodiles, which aren't usually dangerous to humans, although stay out of the water after dark.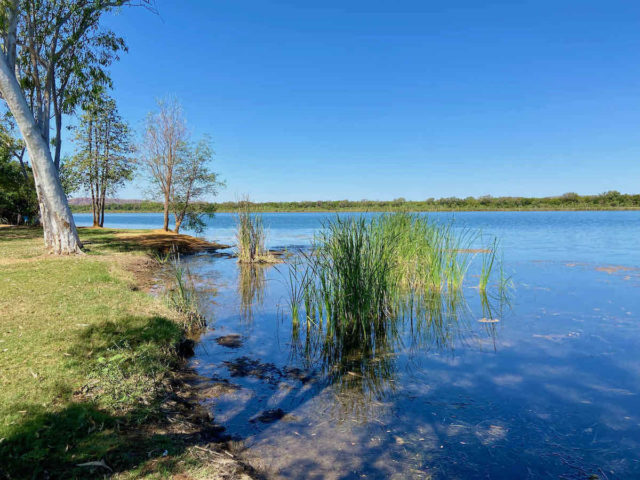 Even better, Swim Beach is a very dog-friendly spot. Part of the park next to Swim Beach is an off-leash dog exercise area, so it's fine for your dog to have a run off-leash, as well as a paddle on the shore.
3. Spot the Celebrities at Celebrity Tree Park
Further along the edge of Lake Kununurra, close to the town centre, is Celebrity Tree Park. The park is named for the many trees there planted by famous visitors to Kununurra, from HRH Princess Anne to John Farnham and Baz Luhrmann.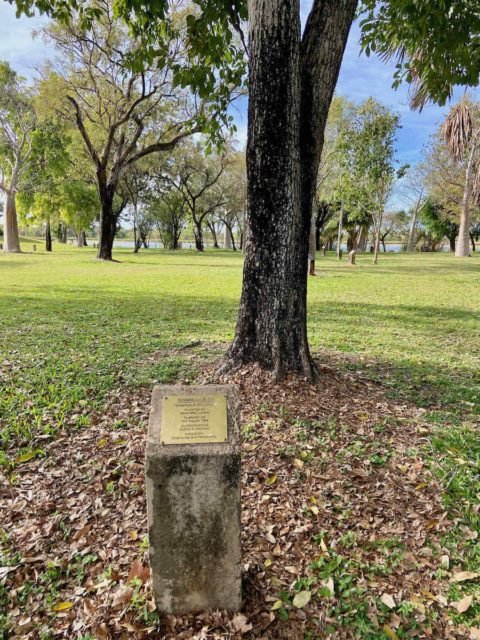 The park is quite a shady spot, perfect for escaping the heat of the sun. Go for a wander around the park with your dog on leash and see what celebrity names you can spot.
Adjacent to Celebrity Tree Park is Lily Creek Lagoon, home to a diverse range of birdlife plus also freshwater crocodiles. There's a concrete walking path following the edge, which again is dog-friendly, as long as your dog remains on-leash. It's easiest to spot the local crocs after dark, by shining a torch across the water, with their eyes reflecting the light.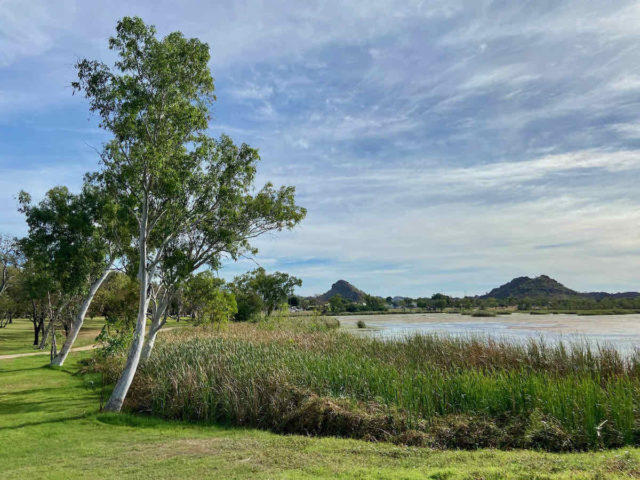 4. Drive Across Ivanhoe Crossing
If you've got a high-clearance 4WD, it's quite popular to drive across Ivanhoe Crossing, a few kilometres north of Kununurra. The water of the Ord River gushes across the crossing, making for great 4WD photos, although sometimes the crossing can be closed if the water is too high.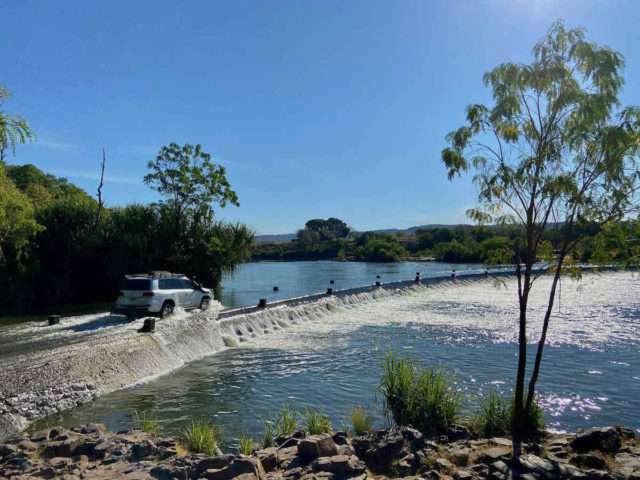 If you don't have a 4WD, it's still an interesting spot to visit, plus a popular fishing spot. There's a small carpark on the town side of the crossing, reached by a sealed road going through the Ord River Irrigation Area. Just stay well out of the water, including dogs, as estuarine crocodiles are a risk.
5. Visit Lake Argyle
Kununurra and the Ord River Irrigation Area owe their existence to the artificial Lake Argyle, Western Australia's largest freshwater man-made reservoir. A huge 703 square kilometres in surface size, don't miss visiting the lake during your time in Kununurra.
It's a short 50-minute drive from Kununurra to Lake Argyle, with the turn-off close to the Northern Territory border. At the Lake, drive across the dam wall, take in the views from Vista Lookout just above, or perhaps relax on the grass expanses of the Lake Argyle Picnic Area, next to the Ord River outlet.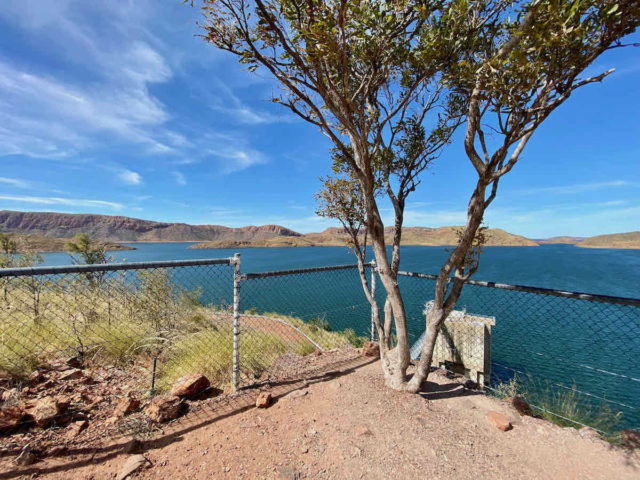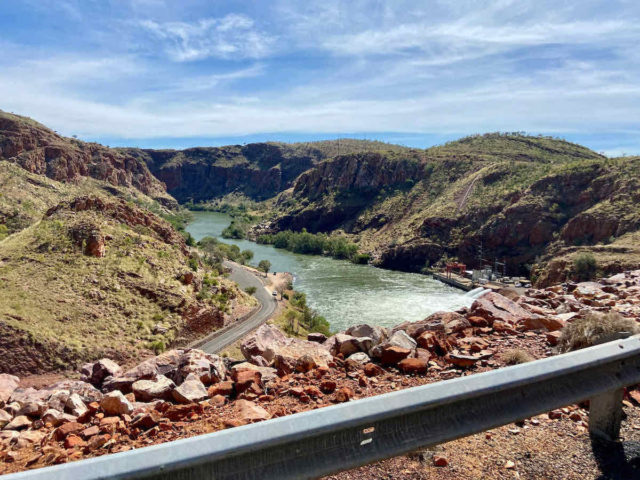 Close by is the popular and pet-friendly Lake Argyle Resort & Caravan Park, home to the famous Infinity Pool overlooking Lake Argyle. Up to two pets are permitted on the grassy caravan and camp sites. At the time of my stay, a deposit of $20 was taken, but I believe this may now be $100.
Pets are also permitted when staying in the cabins except for the Lakeview cabins, but unfortunately are not permitted inside, only on the deck area, which is not exactly pet-friendly.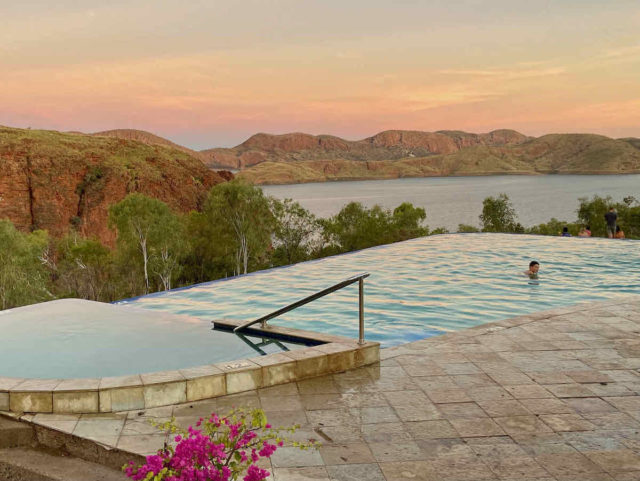 Contact Lake Argyle Cruises to head out onto the lake. If you take one of their tours, you can organise to leave your pup in one of their two sturdy enclosures next to their office. Make sure that one is available when you make a booking. If you have two dogs, you can choose to leave them in the one enclosure – it's up to you.
Lake Argyle Cruises also offers a range of watercraft for hire, from BBQ pontoon boats to kayaks to stand-up paddleboards. All of their equipment is pet-friendly, with advance bookings recommended during the peak season.
6. Drive to Five Rivers Lookout
While Kununurra has only existed since 1961, the nearby town and port of Wyndham was established in the late 19th-century to service the Halls Creek goldfields and early Kimberley pastoral stations. It's an easy day trip from Kununurra, less than an hours drive away.
The most impressive sight in Wyndham is the Five Rivers Lookout, situated 330m above the town's shoreline in the Bastion Range. Try to count the five rivers merging into the Cambridge Gulf and its mudflats. While in Wyndham, don't also miss stopping at the 20-metre-long crocodile statue at the entrance to town.
7. Head to El Questro
Kununurra is close to the eastern end of the Gibb River Road, one of the most impressive 4WD touring routes anywhere in Australia. At the eastern end of it is El Questro Wilderness Park, a gigantic former pastoral property that has now been developed for tourism.
Even if you aren't driving the full Gibb River Road, it's worthwhile visiting El Questro is you have a high-clearance 4WD. Dogs are permitted in the campground at the main station, about 100km from Kununurra along a sealed road then along the 4WD only access road.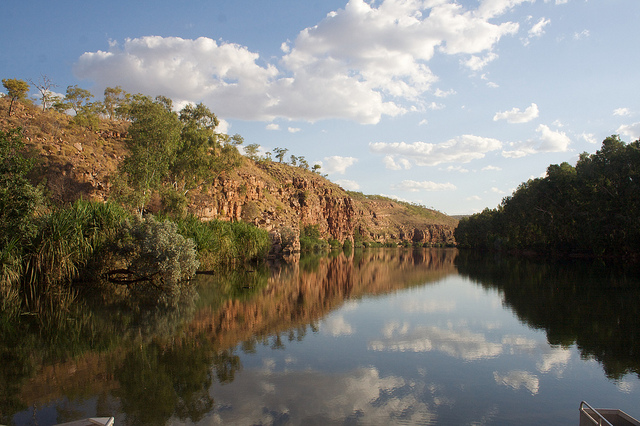 Unfortunately though, dogs aren't allowed to join you when visiting the many attractions at El Questro, such as Zebedee Springs, Emma Gorge and El Questro Gorge. It's best if you can share pet-sitting duties with someone else.
Dog-Friendly Parks in Kununurra
There's multiple designated off-leash dog exercise areas in Kununurra, where you can allow your dog to freely run around, as long as they remain under your control.
One of the best options is the off-leash area at Swim Beach, starting adjacent to the sailing club and extending for 150m along the shore.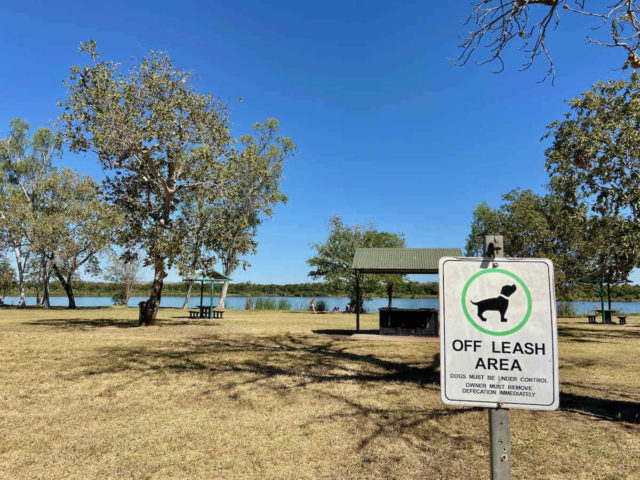 There're also tow more off-leash exercise areas. One is a large area at Lakeside Resort, extending alongside the lake between Hibiscus Drive and Argentea Avenue. There's also a small area close to town, next to the junction of Messmate Way and the Highway, extending to Lily Creek Lagoon.
For the latest details and handy maps, see the listing provided by the council.
Dog-Friendly Dining in Kununurra
One of the most pet-friendly cafes around Kununurra is Ivanhoe Cafe, situated just north of town on Ivanhoe Road. Tables and chairs are scattered across the shaded, grassy lawn, and you can also meet the resident dog.
Open for breakfast and lunch, their menu focuses on local produce, with their mango smoothies highly recommended. The cafe is only open seasonally over the dry season.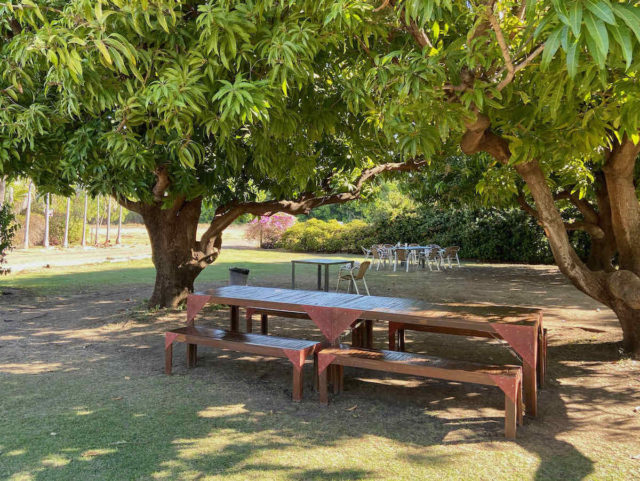 If you're staying at Lake Argyle Caravan Park, while dogs are not allowed in much of their large beer garden, there are a few dog-friendly tables on the edge. The restaurant is generally open for breakfast, lunch and dinner, as well as coffee and other drinks throughout the day, although hours may be limited during the wet season.
Dog-Friendly Accommodation in Kununurra
The majority of caravan parks in Kununurra permit pets, at least on powered and unpowered sites. Probably the most pet-friendly options is Town Caravan Park, which has a dog play pen onsite and a pet sitter during the dry season.
Unfortunately, this park was booked out when we arrived in town during the peak season, so we instead stayed at the large Hidden Valley Caravan Park. Most sites are grassy, however, make sure dogs are kept on a leash, as it backs onto the national park.
If you're not wanting to camp, instead contact the Kimberley Croc Motel. Book a Pampered Pet Package in one of their pet-friendly rooms, with access to the "pet ensuite", bedding and food bowl included, plus a complimentary "doggy bag" for your pet. Rooms are limited, so it's recommended to book in advance.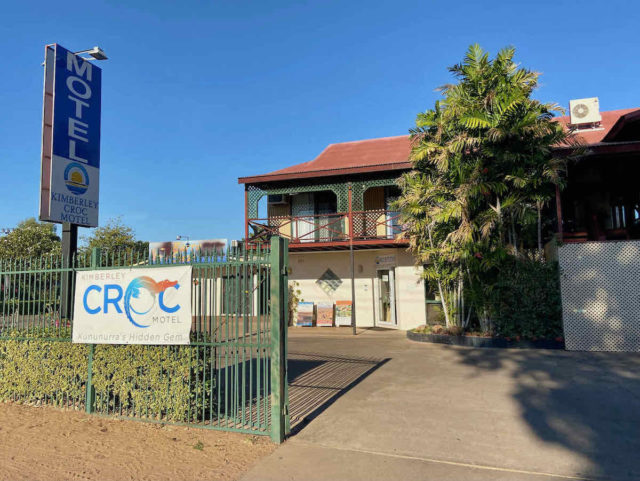 Other pet-friendly camping spots out of town include Lake Argyle Caravan Park, El Questro Wilderness Park, Wyndham Caravan Park and Parry Creek Farm Caravan Park, near Wyndham.
Head Next To