Budapest is one of my favourite cities in Europe. With so much history and charm, not to mention a reputation for being a more affordable destination in Europe, it's no surprise the capital of Hungary has become increasingly popular with international visitors in recent years.
Luckily, if you're wanting to visit with your dog, I also found that while it isn't as dog-friendly as some European cities, it's still reasonably dog-friendly, especially if you have some tips…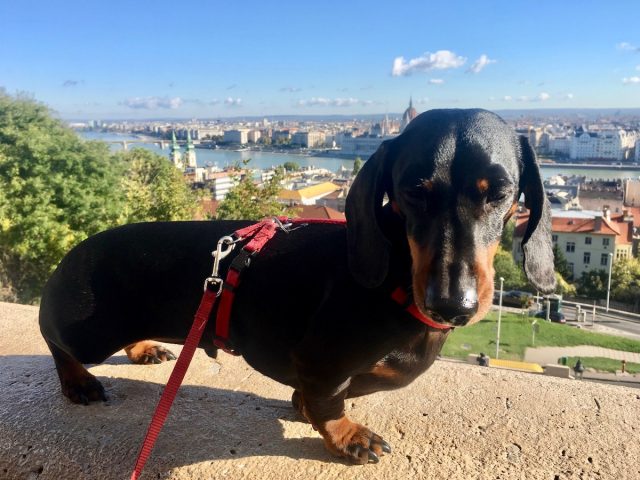 Travelling to Hungary with a Dog
The standard EU rules apply to travelling to Hungary with your dog, whether from another EU country or outside of Europe. Essentially, your dog will require a microchip, valid rabies vaccine and EU pet passport or EU health certificate.
If you are travelling to Hungary with your dog from Ukraine or Serbia, the rules are similar to those for travelling from outside of Europe, with a pet health certificate or "Annex IV" required if you don't have a pet passport from the EU or a related country.
Your dog will also require a rabies titre test for these two countries. This needs to be done three months in advance, or before leaving the EU with your dog, if you are initially from an EU country.
You will also need to enter Hungary at a valid "Travellers' points of entry", where your dog's paperwork can be checked. To view the possible entry points to Hungary, download the list here. Note that all of these entry points are open 24 hours.
Dining Out in Budapest with a Dog
When it comes to dining out in Budapest (something you don't want to miss with the affordable prices), we had varied experiences bringing along our dog.
There were some places that were welcoming towards dogs and allowed them inside. They probably were also regularly visited by locals with dogs. Some of these places had stickers showing they were dog-friendly outside – look out for them.
But not every restaurant is welcoming towards dogs. One night we dined at a Japanese restaurant, that definitely didn't allow dogs inside (and had no tables outside). And another time it seemed that our dog was only begrudgingly allowed inside, with us sitting at an odd table closest to the door.
If you don't at first succeed, keep trying. We probably found the Pest side more dog-friendly than the Buda side, where unfortunately we were staying. We also probably had more luck with restaurants outside of Budapest, in the rest of Hungary, but that was probably just down to pure luck. Alternatively, find cafes with outdoor seating.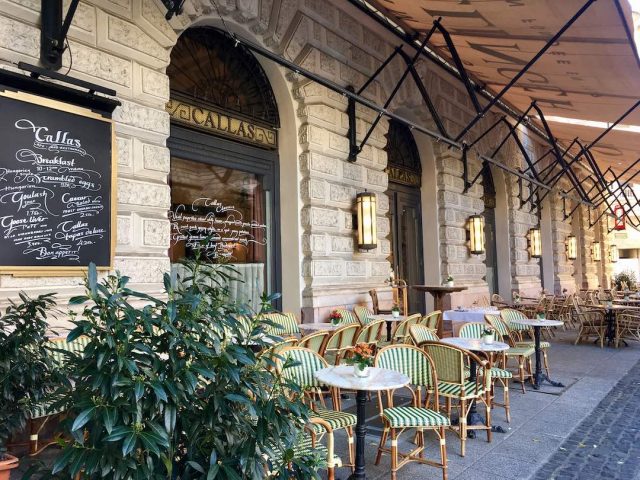 Taking a Dog on Public Transport in Budapest
All dogs, regardless of size, are allowed on public transport in Budapest, including the suburban railway lines. However, they must have a full-price ticket or pass, unless they are in a carrier bag (according to this article). Additionally, I've heard reports that dogs small enough to be carried on your lap can ride for free on buses and trams.
If you do need to buy a full-price ticket, one currently costs 350 HUF (less than €1), or less if you buy a book of 10. If you're staying long-term in Budapest, a monthly dog pass is available. Dogs outside of a carrier bag must wear a leash and muzzle, and to prevent disagreements, only one dog is permitted per vehicle.
Dogs on Trains in Hungary
Dogs are also allowed on long distance trains within Hungary, although the rules vary for domestic and international travel.
On domestic trains, passengers can be accompanied by up to two dogs each, in second class carriages only. For dogs, you need to pay a live animal fare, regardless of whether the dog is or isn't in a carrier bag. Dogs not in a carrier bag need to be leashed and muzzled.
If travelling in a compartment, you require the permission of everyone in the compartment. Large dogs weighing over 20kg need to travel at the end of the carriage, or in the multi-functional area on multiple unit trains. Additionally, you should carry your dog's vaccination certificate.
On international trains, small dogs in safe-lock cages travel for free, while larger dogs on a leash and wearing a muzzle need to have a half-price ticket. Depending on the country, pets may be excluded from the 1st class and night carriages, plus the number of pets may be limited.
I had previously read that dogs aren't allowed in trains and cars requiring a seat reservation, which would rule out sleeper carriages such as the Hungarian operated overnight trains to Romania, but I can no longer see this listed.
Dog-Friendly Accommodation in Budapest
Many hotels accept pets in Budapest, with 45% of hotels in Budapest saying they were dog-friendly in my recent survey. This applies equally to budget and high-end hotels.
The first time I stayed in Budapest I splurged on the 5-star Corinthia Hotel, which welcomes dogs for an extra charge. (Although that trip was without my pup, unfortunately.)
If staying at the hotel, don't miss the in-house Royal Spa, including heated swimming pool and spa pools. The hotel is located only a block away from the Octogon Square, plus is close to the restaurants and bars of Király St.
Another option is to find an Airbnb, with many dog-friendly options available. Last time when we visited Budapest with our dog we stayed in a lovely apartment on the Buda side of the river.
Dog-Friendly Parks in Budapest
There's some great dog-friendly park options in Budapest. For starters, the centrally located Erzsébet Square, just near Deák Ferenc metro station, has a fenced-in dog-run. Open around the clock, it's popular with local dog-owners, with many also enjoying a beer while their dog burns some energy.
Another great option is Olympia park, just north of the gigantic Hungarian Parliament Building, situated on the banks of the Danube. The dog playground is situated at the northern end of the park, and is complete with agility equipment and lockable gates. Just be warned it closes at sunset.
For more options, check out this local article.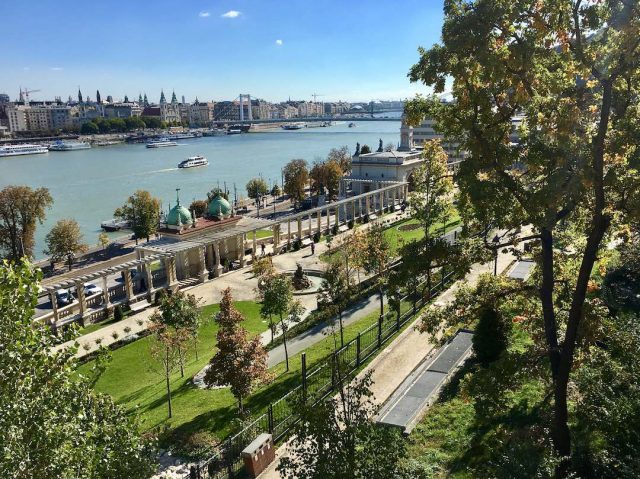 Dog-Friendly Sightseeing in Budapest
Not sure what to do in Budapest with your dog? Here are my top recommendations to get you started…
1. Climb to Fisherman's Bastion
The best viewpoint in Budapest is Fisherman's Bastion, located high above the city on the Buda (castle) side. It's possible to pay extra during the summer time to climb even further, but the view is still excellent from down below.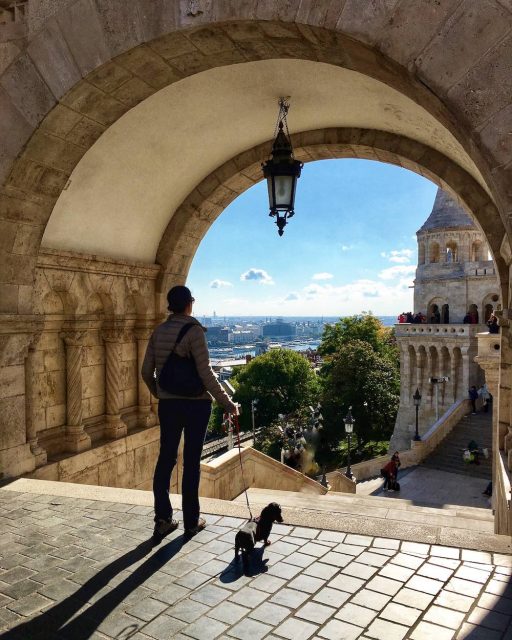 While you're there, check out the colourful tiles of Matthias Church, although as expected dogs aren't allowed inside.
2. Cross the Széchenyi Chain Bridge
To cross from the Buda side to the Pest side of Budapest (previously two separate cities that were only joined together in 1873), take the historic Széchenyi Chain Bridge. Despite its name, it's made of stone and cast iron, and was the first permanent bridge in Budapest, opening in 1840.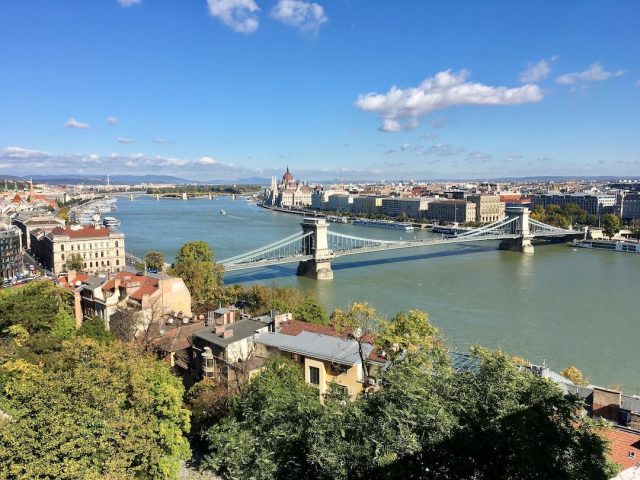 3. Stroll Along the Danube to the Parliament House
It's hard to miss the hulking Parliament House Building in Hungary, standing on the Pest banks of the Danube. Head north along the Danube after crossing the Chain Bridge or from the city centre to arrive at the building. With 691 rooms, it's the 3rd largest parliament building in the world, although the majority of it is completely unused.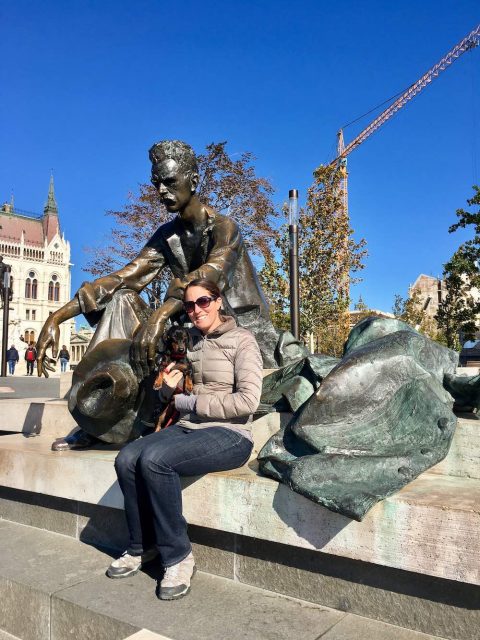 While you visit it, keep an eye out for the sombre Shoes on the Danube Bank sculptures, a memorial to the Jews killed in Budapest during WWII.
4. Visit a Ruin Pub
Budapest is famous for its "ruin pubs" – old, unused buildings that have been taken over to create rambling pubs and creative spaces. Rules aren't a high priority, so naturally dogs are allowed to accompany you, although always check.
I recommend visiting at a quieter time of day, such as during the afternoon or early evening (potentially to also dine out), so that both yourself and your dog enjoy the experience. On my last visit to Budapest with my pup, we visited Szimpla Kert, the original ruin pub and still one of the most iconic.
5. Take a Cruise Along the Danube
If you have a small dog, you can take it on a cruise on the Danube. With Budapest River Cruise, small dogs are allowed on sightseeing cruises, plus one dinner cruise option (check the website for which cruise, plus note they need to be in a carrier).
Dogs cruise for free, but must wear a leash and muzzle, plus have a pet passport and be immunised for rabies. Mention that you will be accompanied by a dog at the time of booking, so suitable seats can be selected.
I highly recommend taking an evening cruise to enjoy all the lit-up buildings lining the banks of the Danube.
You May Also Like
Inspired? Pin this to your Pinterest board