While Germany is well-known as a dog-friendly country, it isn't the only German-speaking country with a monopoly on being dog-friendly. Head directly south to German-speaking Austria for a destination which is almost, if not equally, dog-friendly.
We visited this beautiful destination twice with our pup during our time in Europe, and I highly recommend travelling in Austria with your dog. Here are my tips…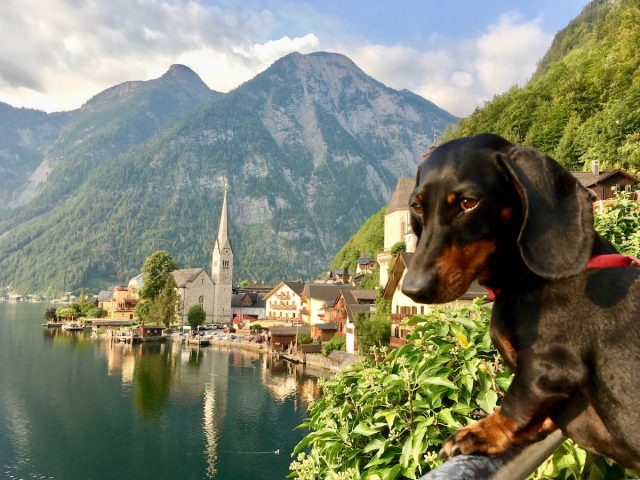 Travelling to Austria with a Dog
The standard EU rules apply to travelling to Austria with your dog. If you are travelling to Austria from another EU country, or some other countries such as Switzerland or Liechtenstein, your dog will need to be microchipped, have a pet passport and have been vaccinated for rabies at least 21 days before crossing the border.
For more details, review the rules for travelling between European countries with a dog.
If you are flying to Austria from outside of the EU, as well as a microchip and valid rabies vaccine, your pet will require an EU health certificate and in some cases a rabies titre test. Check out the full details on travelling to Europe with a dog.
Dining Out in Austria with a Dog
We found dogs to be allowed in many restaurants and cafes in Austria, similar to neighbouring Germany. Despite this, always ask for permission to enter with your dog, and it's probably appreciated in summertime that you dine on the outdoor terrace, of which there's plenty to take advantage of the evening sunshine!
Even in the cooler months, outdoor terraces are still often popular, with blankets supplied, of course.
In particular, if you're visiting Vienna, don't miss out on enjoying one of the many Viennese coffee houses, in particular savouring a rich slice of cake.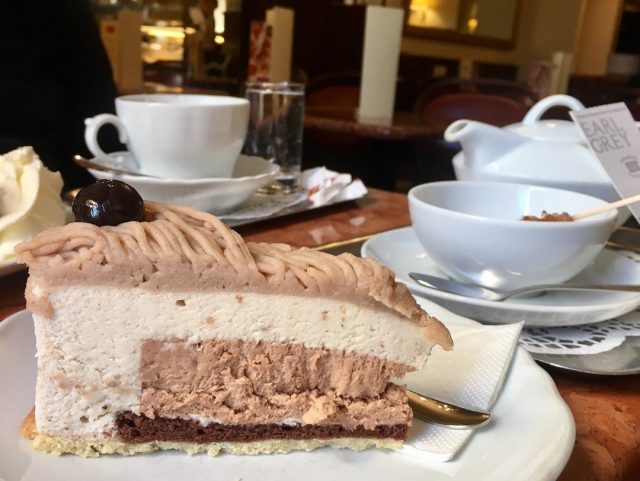 The most famous cafe in Vienna is the Cafe Sacher. While we visited it on a previous visit to Vienna without our pup (it is an expensive experience, so we skipped repeating), it is part of the pet-friendly Hotel Sacher, so dogs are likely allowed inside.
If not, we found plenty of other more affordable cafes and coffee houses that welcomed our well-behaved dog to sit beside us.
Taking a Dog on Public Transport in Austria
In Vienna, dogs are allowed on all forms of public transport (underground, trams and buses). Small dogs travelling in a fully-enclosed bag or container can travel free of charge. While all other dogs (including small dogs not in a container) must wear both a leash and muzzle and have a half-price ticket.
Annual pass holders can also take a dog free of charge, but obviously that doesn't apply to tourists. And muzzles are generally expected of dogs in other public spaces in Vienna, too.
The rules in other Austrian cities are likely to be similar. Although I found other cities such as Salzburg, Innsbruck and Graz to be very walkable, unlike grand Vienna.
It's very easy to visit many destinations in Austria via the train system, which is of a high standard and has a very easy to use website. (Just remember that Vienna is called "Wien" in Austria.)
The rules for dogs on ÖBB trains are similar to the rules within Vienna. Although it does state dogs are only allowed on "most" trains, without stating which trains they aren't allowed on.
Small dogs in a container can travel for free, while larger dogs require a ticket, leash and muzzle. However, the price is only 10% of a full price ticket, or a minimum of €2. When booking tickets online, add your dog when specifying the number of passengers.
I believe dogs are also allowed in the compartments of sleeping and couchette cars, as long as you have booked the entire compartment.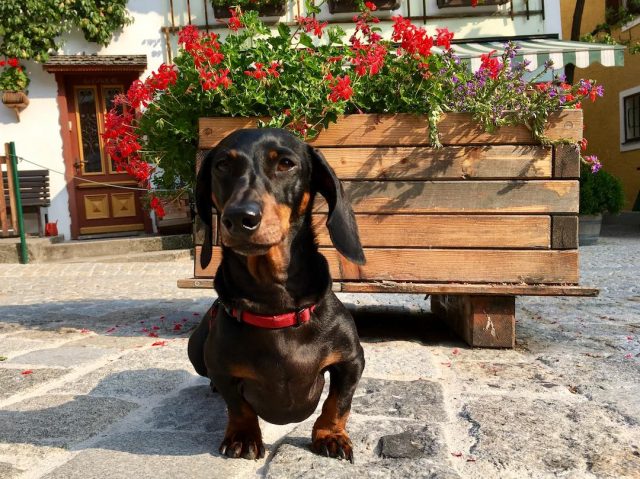 Dog-Friendly Accommodation in Austria
It's easy to find dog-friendly accommodation in Austria. In a recent survey I made, 64% of hotels in Vienna and 59% of hotels in Salzburg allow dogs, although charges frequently apply (generally starting at €10 per pet per night).
This applies to all types of accommodation, from luxury hotels down to simple guesthouses and Airbnbs. To get you started, here are some recommendations for dog-friendly accommodation in Austria.
Note: This post contains affiliate links, which means I may receive commission if you make a purchase using the links. See my full disclaimer.
Splurge: Hotel Sacher Vienna
For the ultimate splurge in Vienna, stay at the Hotel Sacher. A grand old hotel that has hosted famous guests including JFK and Queen Elizabeth II, it also has a delicious chocolate cake named after its famous cafe.
Rates are very expensive (unfortunately outside of my budget) and there is an additional charge for dogs on top. However, your dog will be looked after in style, with a bed, towels, bowls and a pet guidebook included. Services such as groomers and dog sitters are able to be organised.
Boutique: Small Luxury Hotel Altstadt Vienna
For a slightly more affordable yet still luxurious stay in Vienna, I recommend Hotel Altstadt. This 4-star hotel is located in the arty Spittelburg district, not far from the Museumsquartier. It features a range of rooms, from some creatively decorated by selected designers through to apartments.
I spent one Christmas here (albeit before travelling with my dog) and was very impressed by the warm welcome. Stand-outs included the excellent breakfast, complimentary afternoon cake and tea, plus the open-fire in the salon. There is an additional small charge for your dog.
Extra Dog-Friendly: B&B Hotel Graz
Only a couple of hours away from Vienna is the equally historic town of Graz. A stylish budget stay, which is very dog-friendly, is the B&B Hotel Graz. The location is excellent if you are travelling by train: it's only a 5 minute walk from the train station, and then a further 10 minute walk (or quick tram ride) to the charming Old Town.
I highly recommend adding on the good breakfast. Naturally my dog's favourite feature was the bowl of dog food (and water) in the lobby – he always made a beeline to it! Dogs are also supplied with a blanket, bowl and meaty treats in your room, with a small additional charge applying per pet.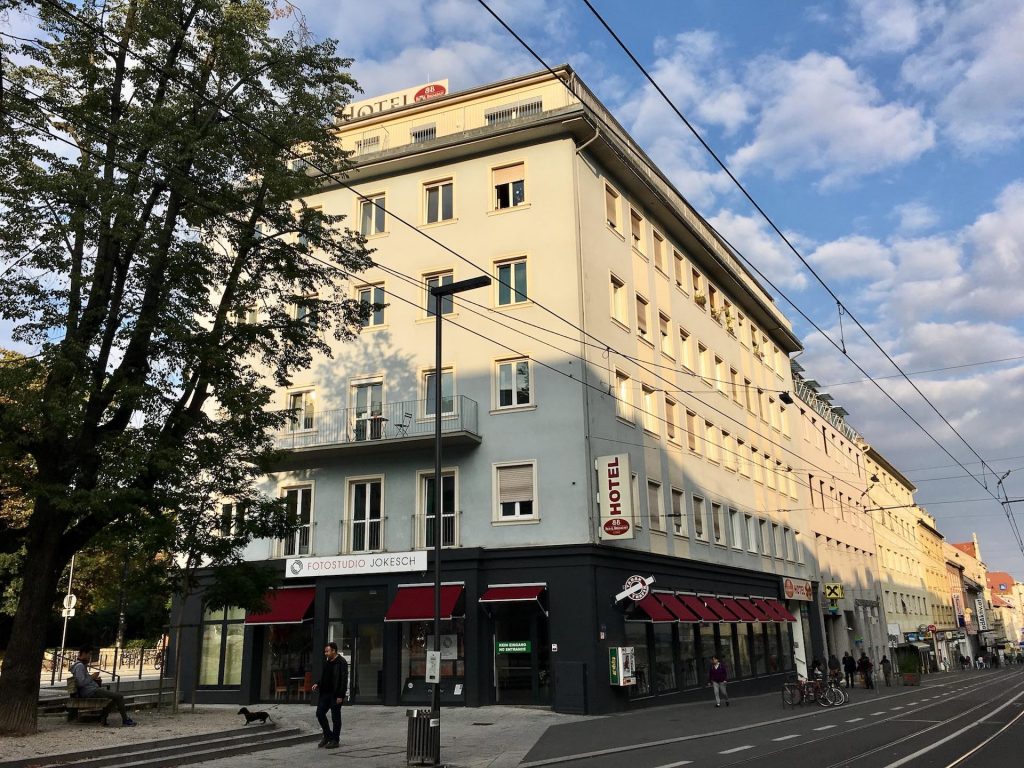 Homely: Gasthof Ledererwirt (Abtenau)
If you're wanting to visit the gorgeous town of Hallstatt and stay overnight (recommended so you can explore it without the hordes of day-trippers), there's not many affordable accommodation options nearby.
Instead we stayed an easy 30 minutes drive away in the charming town of Abtenau. Surrounded by green countryside, it's also a quieter option in summer, although in winter it's a popular base for skiing. We stayed at the Gasthof Ledererwirt, a small family-run hotel where we received a very warm welcome.
Rooms can be booked through Airbnb, with a small extra charge for dogs payable on check-out. Don't miss ordering the schnitzel at the hotel terrace opposite.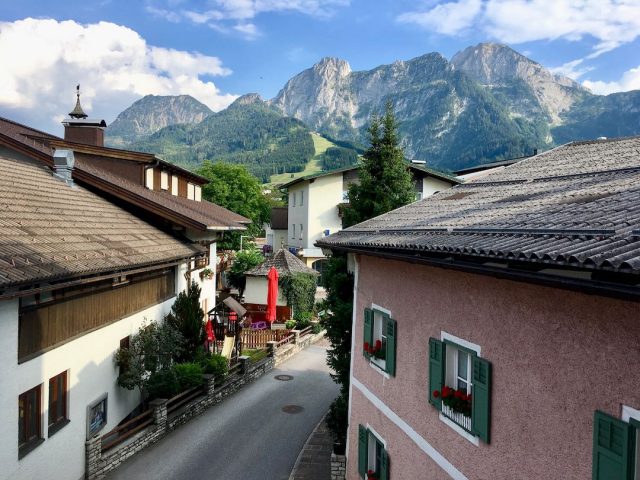 Dog-Friendly Sightseeing in Austria
While some Austria's most famous attractions don't allow dogs (from Schönnbrunn Palace to the famous opera houses and concert halls), there's plenty of other sightseeing options available when you're travelling in Austria with your dog. Consider some of these, whether you prefer the cities or the countryside…
1. Walk Around the Ring Road in Vienna
In the mid-nineteenth century, Vienna's walls were torn down and replaced with the grand Ringstrasse, or Ring Road. Now many important and famous buildings are located along the road. It's the perfect spot to go for a stroll with your dog (or a bike ride around the full loop if you have somewhere to carry your pup).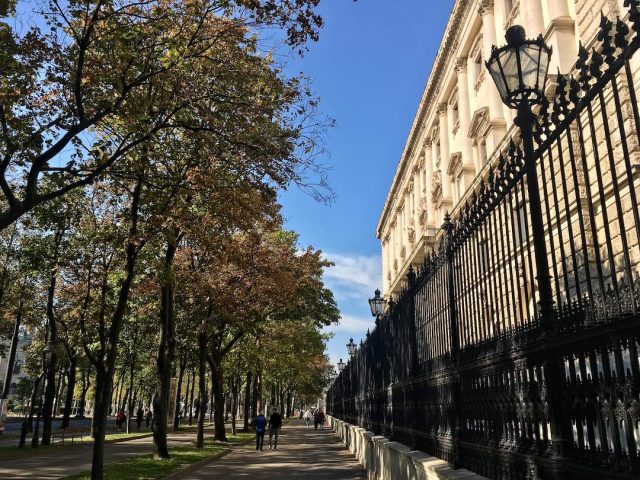 Don't miss out checking out the exterior of the many famous buildings located along the road, from the Town Hall (also the site of a popular Christmas market) to the grand Opera House.
2. Take a Cruise on the Danube
A cruise along the Danube river (known locally at the Wachau) between the towns of Melk and Krems is a great way to enjoy a sunny day. A glass of wine from one of the vineyards that you'll pass is the perfect accompaniment, along with your pup at your feet.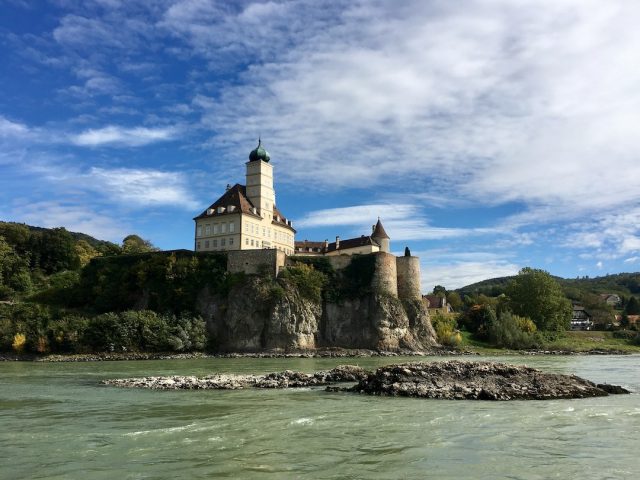 Brandner previously mentioned on their website that dogs are allowed free of charge. (A leash and muzzle is required, but muzzles can be supplied.) Other companies probably also allow dogs.
Both Melk and Krems are easily reached from Vienna by train. (When we went on the cruise, we bought a combined ticket from ÖBB, including also Melk Abbey, but I can't see those options now on the website, and also dogs aren't allowed inside the Abbey.)
Cruises generally only run between the warmer months of April and October.
3. Explore the History of Salzburg
The narrow laneways of Salzburg's Old Town are amongst my favourite in Austria. Wander through them, then climb the hill (or take the funicular) to the Hohensalzburg Fortress, that historically protected the town's important salt trade.
Dogs are allowed in the outside areas of the fortress, but not inside the State Rooms, according to reports on TripAdvisor. It's better to just buy the Basic Ticket (which doesn't include access to the State Rooms), unless you have a traveling companion and want to alternate visiting them.
4. Head to the Mountain Tops in Innsbruck
While visiting the city of Innsbruck in the Tyrol region, head to the mountain tops just above the town on the Nordkettern cable car. In the winter months there will be snow on the ground, but even in summer the views are spectacular.
The tickets for the cable car are expensive, so investigate whether it's worthwhile buying an Innsbruck Card, although most of the other attractions included in the pass are not dog-friendly. However, your dog is welcome to join you on the cable car for free!
5. Visit the Cute Town of Hallstatt
After visiting Hallstatt myself, I have to agree that this historic town perched on the edge of a lake is one of the cutest towns in all of Europe.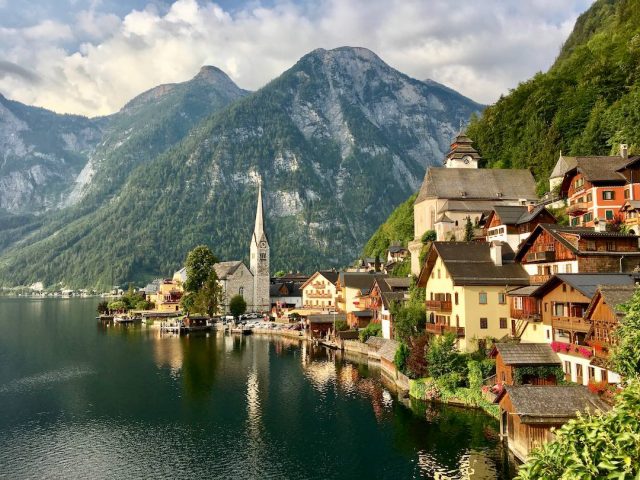 It's possible to visit the town on a day trip from Salzburg (either on a bus trip or take the train and ferry – make sure you have a muzzle for your dog on the ferry). However, I recommend staying nearby (see above), so that you can enjoy it during the more peaceful hours of early morning or evening.
If you don't arrive via ferry, hire an electric boat for a short motor on the lake. Seating up to five, naturally dogs are allowed, and it's a fun excursion with great photo opportunities.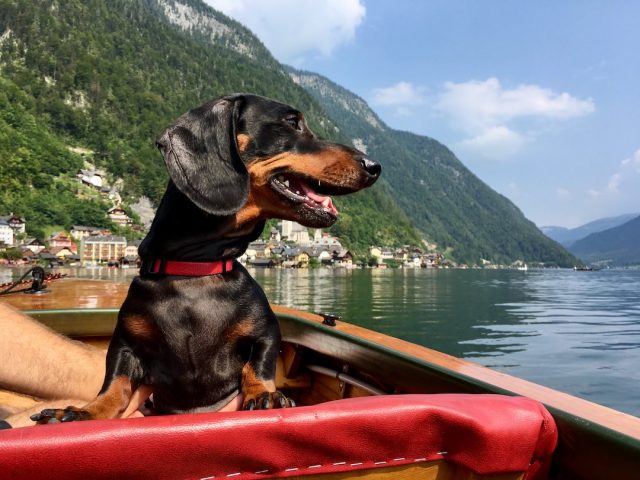 6. Climb to the Top of Graz
The capital of the southern Austrian province of Styria, Graz has a beautiful Old Town with buildings from many eras. High on the Schlossberg (castle mountain) above the town used to stand a fortress, until it was destroyed by Napoleon's army.
These days it's home to beautiful gardens and excellent views, and is great to visit with your pup. I recommend taking the elevator up (dogs are allowed), then walking back down. Don't also miss enjoying a traditional lunch or dinner at one of the many hearty restaurants.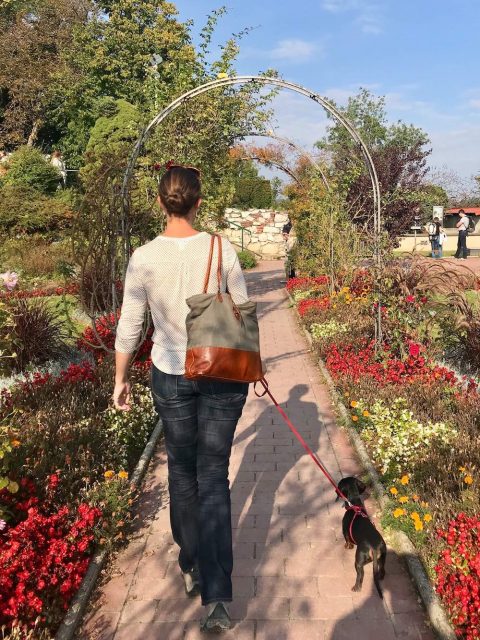 7. Drive the Großglockner High Alpine Road
The Großglockner High Alpine Road is the grandaddy of all alpine pass roads in Europe, the earliest tourist route developed, putting it in line for a potential World Heritage listing. It makes for an excellent day trip near the Italian border.
Naturally it's dog-friendly along the way, except for some (but not all) inside exhibits. It's best visited on a sunny summer day (it closes over the winter), with either a day ticket or two-day ticket available.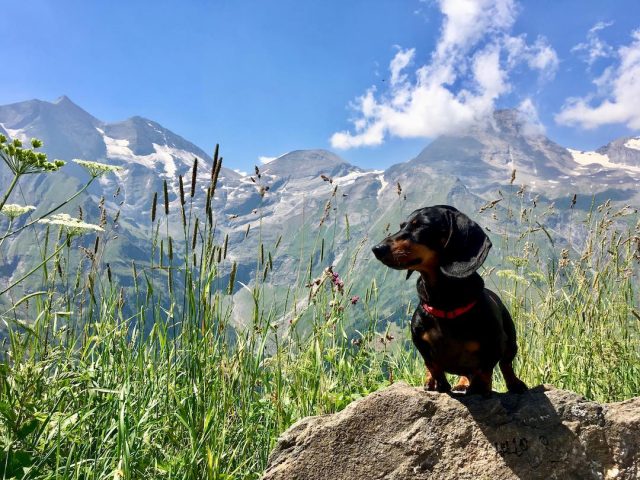 8. Taste the Local Wine at a Winery
Austria produces some excellent wines, particularly dry white wines, with Grüner Veltliner the most grown grape type. There's countless vineyards located along the Danube river valley, with many cellar doors in the towns of Melk and Krems, where the popular river cruises run between.
Alternatively, there's also some wineries on the outskirts of Vienna. Check in advance whether dogs are allowed inside, as well as whether reservations are required.
9. Visit a Christmas Market or Two
If visiting during December, you can't not visit at least one or two Christmas Markets in Austria.
Vienna in particular is home to a large number of markets, ranging from the large market in front of the Rathaus, through to smaller markets tucked away into different neighbourhoods. I also really enjoyed the markets in Innsbruck and Salzburg.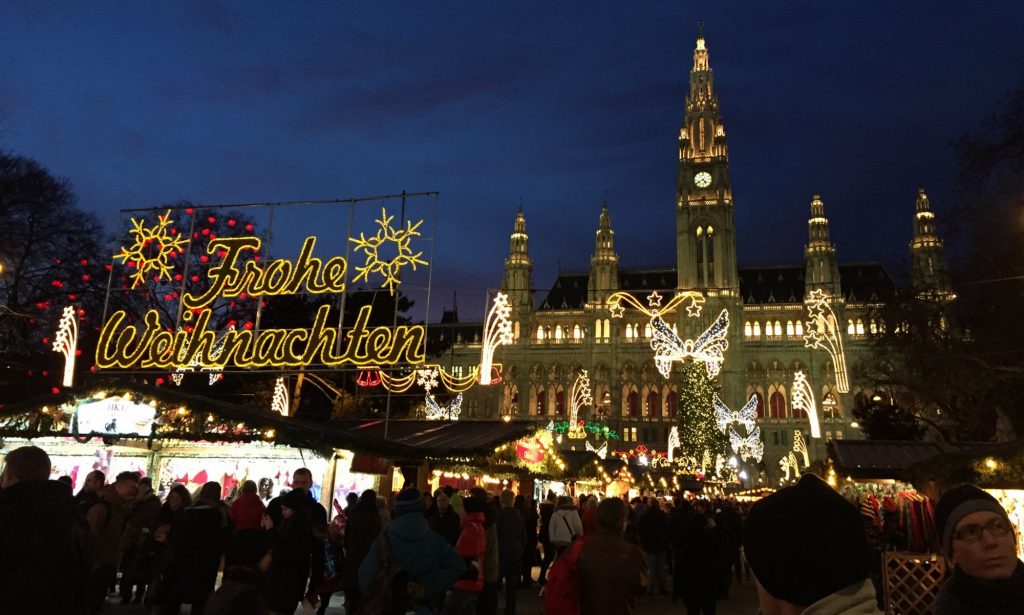 If visiting with a dog, check out my tips for visiting Christmas Markets with your dog.
You May Also Like
Inspired? Pin this to your Pinterest board!