If you're taking a holiday and would love to take your dog along, whether for a shorter vacation or long-term travels, Europe is your ideal destination. Not only is Europe about the most dog-friendly part of the world, it's easy to travel with your dog in between many of the countries.
In February 2017 I flew from Australia to Spain to travel around Europe with my Miniature Dachshund, Schnitzel. We then spent 20 months travelling all around Europe, visiting 33 countries and having plenty of dog-friendly adventures along the way.
If you're interested in also travelling in Europe with a dog, I've put together this guide to everything dog-related to help you along the way.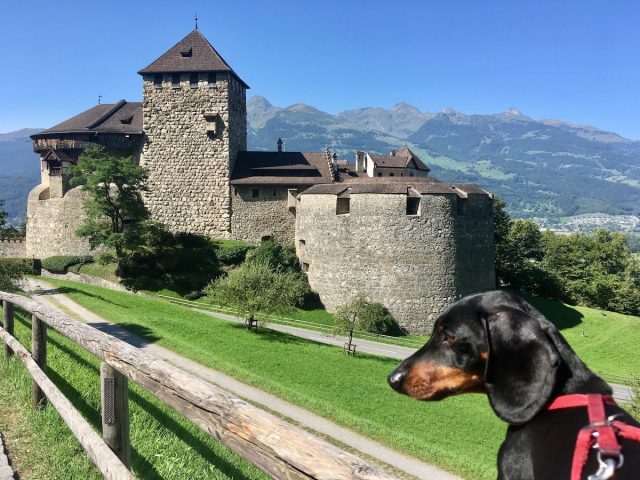 Paperwork for Travelling to Europe with a Dog
The paperwork for taking your dog to Europe depends on what country you're travelling to.
The situation is easiest if you're initially travelling to a country in the European Union (EU), with the same rules apply for dogs arriving in nearly every country, making it easier to keep on top of what you need to prepare. (I flew into the EU.)
If you're travelling to the EU, your dog will need to be microchipped, vaccinated for rabies and an EU health certificate completed. Sometimes, a rabies titre test will be required, or your dog may need a worming treatment. For other countries in Europe, generally similar requirements apply, but they can differ.
Want to know whether you will be travelling to an EU country? Currently, there are 27 countries in the EU: Austria, Belgium, Bulgaria, Croatia, Cyprus, Czech Republic, Denmark, Estonia, Finland, France, Germany, Greece, Hungary, Ireland, Italy, Latvia, Lithuania, Luxembourg, Malta, Netherlands, Poland, Portugal, Romania, Slovakia, Slovenia, Spain and Sweden.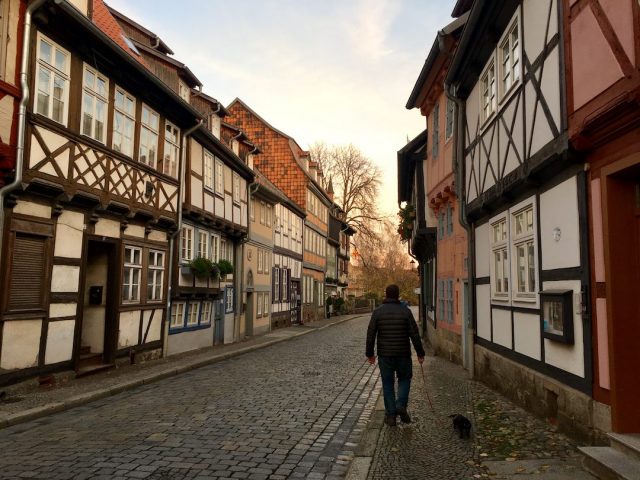 Since 2021, when the Brexit transition period ended, Great Britain now has its own rules for pet travel, although they are very similar to those for EU countries, and its own animal health certificate. Northern Ireland though is counted as being part of the EU still for pet travel.
To check out the full details on what's required, including details for other countries, check out my complete guide to the vaccines and paperwork to travel to Europe with your dog.
Paperwork for Travelling Between European Countries with a Dog
Once you're in Europe, often it's easy to move between countries, without requiring any extra paperwork. However, this depends on what countries you are moving between.
The greatest ease of movement applies if you're within the EU. Except for a handful of cases, you don't need to bother anymore with paperwork or visits to the vet to travel between these countries.
This flexibility also extends to a number of other countries and territories applying rules equivalent to the EU for the transportation of pets, including Andorra, Gibraltar, Liechtenstein, Monaco, Norway, San Marino, Switzerland and Vatican City State.
If you're travelling within the EU and this list of countries, as long as your rabies vaccine remains valid, the only reason you'll need to visit a vet before crossing borders is if your dog requires a worming treatment done by a vet. This is required between one and five days before heading to Finland, Ireland, Malta, Northern Ireland and Norway (plus the UK).
However, you should always keep a copy of your dog's paperwork on hand, either their EU animal health certificate (which is valid for up to four months) or their EU pet passport. (The EU pet passport is essentially a fancy record book for your dog's rabies vaccination and other treatments and health checks.)
Also note that if your pet's rabies vaccine lapses and they are re-vaccinated, this should be done at least 21 days before you cross any borders.
For other countries outside of the EU, the requirements vary but are usually similar. The most onerous requirement is that when returning to the EU from some non-EU countries, your dog will require a rabies titre test. It's best to get this before leaving the EU, so there is no waiting period.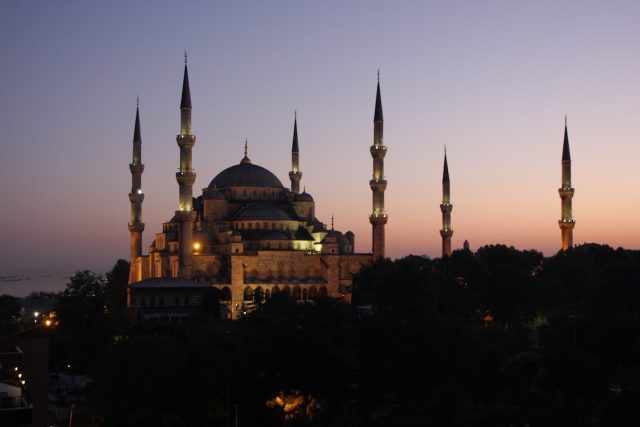 For full details, check out my guide to travelling between European countries with your dog. I also cover the likelihood that your pet's paperwork will be checked.
Reconsider These European Countries..
While Europe deservedly has a reputation as a great dog-friendly destination to visit with your dog, there're some parts of Europe that aren't so dog-friendly, especially compared to the most dog-friendly European countries.
For starters, I recommend not heading to Iceland or the Faroe Islands (part of Denmark) on holiday with your dog. The Faroe Islands only allows pets to be imported if you intend to stay for longer than 3 months, while Iceland has a complicated list of steps to import pets and requires a 14-day quarantine period.
Secondly, some dog breeds are classified as dangerous by some European countries, with many complaints about France in particular. If you are travelling with a dog breed that this may apply to, I recommend reading my information on travelling with a dog breed classified as dangerous, before making any plans.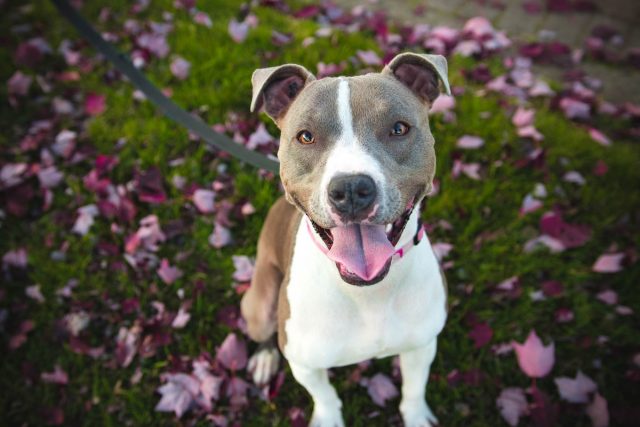 There are also variations in how dog-friendly different parts of Europe are, depending on whether larger dogs are allowed on public transport or dogs are allowed in restaurants. Read on to find out more…
Long-Distance Transport in Europe with a Dog
When travelling longer distances around Europe, the two main options are catching a train or flying. There are also long-distance buses, although they are not usually dog-friendly. Plus ferries may be an option between some destinations, including when travelling between the UK and continental Europe or around Greece.
Catching Long-Distance Trains with a Dog in Europe
When travelling around Europe, I generally prefer to take the train, at least for train trips that are no more than six to seven hours. It's usually cheaper overall and takes you right into the city centre. Luckily then, most trains in Europe allow dogs on board.
The main (and frustrating!) exception is the Eurostar to and from London, which runs under the English Channel connecting the UK with the continent.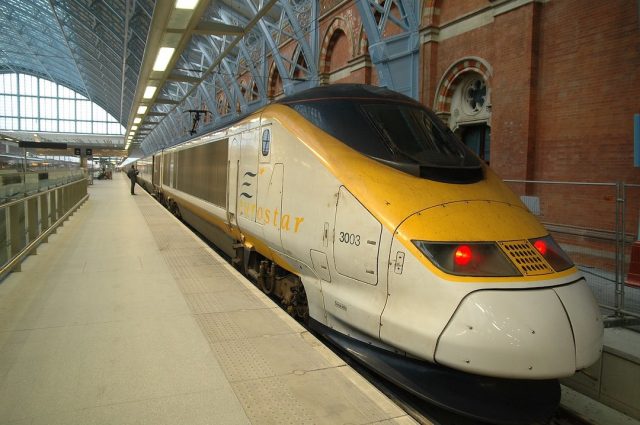 The rules for travelling with a dog on a train varies from train company to company, country to country. For instance, some countries unfortunately do not allow large dogs to travel on trains, only small dogs in a container. This applies to most long-distance trains in Spain (although larger dogs are now allowed on two routes), plus some of the time in Ireland and Greece.
Always check the details for the specific train company before planning your trip. These are the relevant pages for a few countries: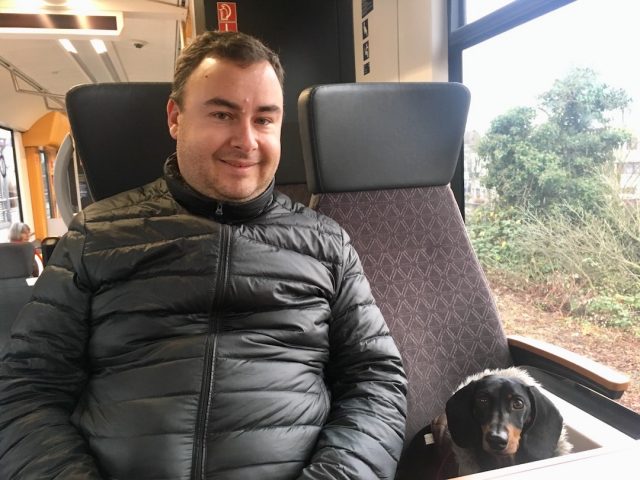 In general, small animals travelling in a container do not require a ticket. The main exception I have found to this is in France, where a set €7 fee is charged.
Larger dogs are generally charged for a ticket, most commonly a half-price ticket, although sometime a specific dog or luggage ticket applies. Your dog will need to be leashed, plus in some countries a muzzle is required. Check out my guide for whether this applies to your destination.
When travelling by train, it's best to book your ticket in advance, except for set price tickets. Often you can get cheaper tickets if you book in advance, the sooner the better.
For more information, check out my guide to travelling by train in Europe with a dog.
Flying with a Dog in Europe
The other alternative (or sometimes the only option) is to fly. Luckily, if you are travelling with a small dog, many airlines in Europe allow small dogs to fly in the cabin. Check out my guide to the pet policies of all the main European airlines, listing which ones allow pets in the cabin and their weight limits.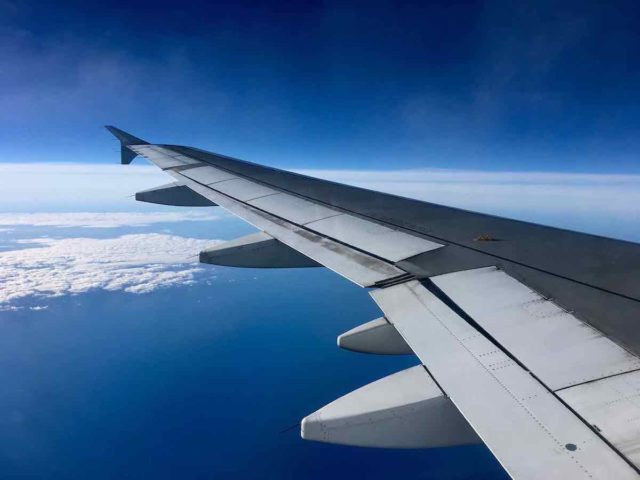 The main exception is for flying to the UK (and sometimes Ireland). Except for assistance dogs, no dogs are allowed to fly in the cabin travelling to the UK. Unfortunately, this has also resulted in the UK-based Easyjet not allowing dogs in the cabin at all, even when flying between different regions. The Irish-based Ryanair also doesn't allow dogs in the cabin at all.
Some airlines also allow dogs to be checked in and fly as excess baggage in the hold. This is required if your dog is too large to fly in the cabin, based either on their weight or their height. There are some European airlines though that don't have the facilities for pets to fly in the hold, only flying pets in the cabin. There is the option for pets to fly as cargo, including very large pets and on flights to the UK.
Keep in mind that many airlines don't allow snub-nosed breeds and certain dangerous breeds to be checked in. Always check the pet policy for the airline (see my list of European airlines linked above, or google the name of the airline and "pet policy").
If flying with a dog, book the ticket for your dog when making an online booking (if possible), or otherwise contact the airline before booking your ticket to confirm availability and then book as soon as possible afterwards.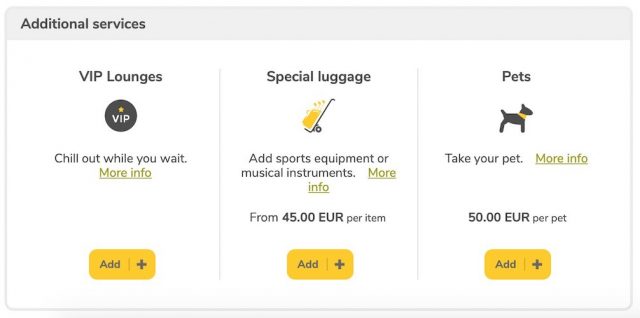 Also check the airline's pet policy for the specific dimensions of the carrier or crate your dog requires and any extra rules. For dogs, generally a set fee is charged per flight, and no, they're never discounted during airline sales!
For tips on what to do at the airport, check out my guide to travelling with a dog in the cabin in Europe, plus my discussion about dog-friendly airports in Europe.
Can You Catch Long-Distance Buses in Europe with a Dog?
Unfortunately, taking long distance coaches are not usually an option in Europe if you are travelling with a dog.
While travelling in Europe, I checked the rules for multiple companies, especially when looking into travelling in the Balkans where there's not many trains. I discovered most bus companies don't allow dogs, including Flixbus, one of the most common operators. Although sometimes drivers exercise their discretion…
However, I recently uncovered that the Czech-based RegioJet allow pets on some of their routes. Small dogs in a suitable carrier weighing up to 10kg are allowed on their domestic buses within the Czech Republic and Slovakia, plus selected international routes. Your dog in their carrier should travel either on your lap or under your feet, with no fee charged.
Another exception are the long-distance buses in Portugal. Small dogs in a carrier can travel with you on the buses, including routes to the Algarve region. See my guide to dog-friendly Portugal for more information.
Alternatively, if you get stuck for transport in the Balkans, there are many mini-bus operations, and I've come across at least one that allows dogs if you book a private transport (i.e. the whole mini-bus). Just be prepared for it to be expensive, unless you're travelling as part of a group.
Taking Ferries with a Dog in Europe
One final form of transport to keep in mind are long-distance ferries. These are often the easiest option to get between destinations such as France and Great Britain, Great Britain and Ireland, Helsinki and Talinn, Sicily and Malta, and around the Greek Islands.
Most of the ferries that I've investigated allow dogs on board. However, some ferries only allow those travelling with a car to bring along pets, including the quick ferries between Calais and Dover, where dogs are usually expected to stay in your car.
However, an increasing number of ferries in Europe offer pet-friendly cabins. Other ferries have special kennel areas, while some ferries allow pets to travel on the outside deck, or even inside the passenger area, for small dogs in a carrier bag.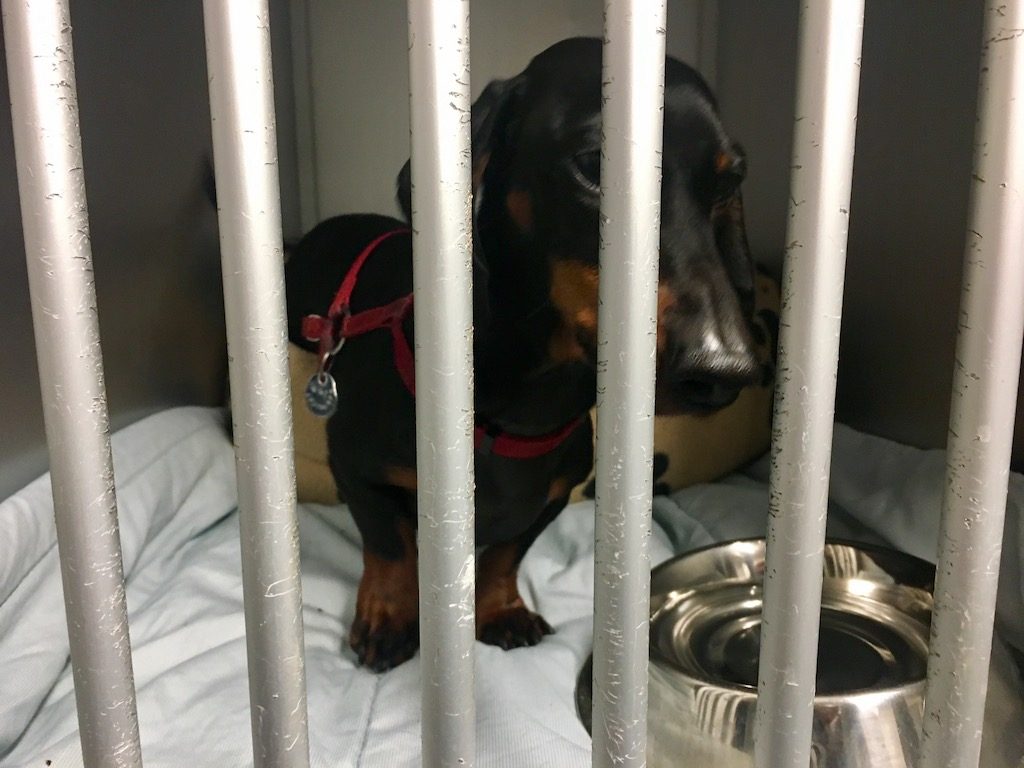 It's best to research the options in advance, including what facilities for pets are available, whether foot passengers are allowed to bring pets (if you are travelling without a car) and the applicable fees.
Check out some of the guides and posts that I have written covering ferries:
Local Transport in Europe with a Dog
Generally, most local trains, metros and trams in Europe allow dogs, but don't assume this is always the case. For instance, there are some cities that only allow small dogs in a carrier to travel on public transport.
This was the case when I visited Lyon and Marseille, both in France, in 2018, and I can't track down the rules online to see if they have since changed. This also applied in Madrid up until mid-2016, with larger dogs these days still restricted to the rear carriage and not permitted during peak hour.
Buses are not as likely to allow dogs, other than small dogs in a container, but larger dogs are also permitted in many places.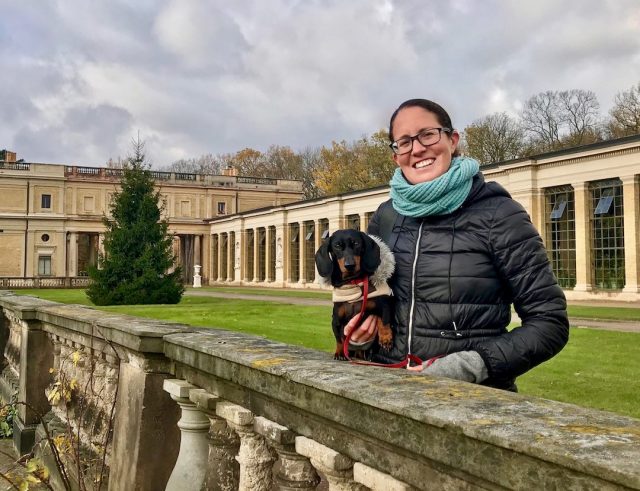 As well as variable rules as to whether dogs are allowed on local transport, they are also variations on whether dogs require a ticket. Most of the time, small dogs in a container ride free. However, for larger dogs, sometimes they ride free, sometimes they require a child's (half-price) ticket or sometimes there is a special dog ticket.
For instance, in Berlin dogs require a half-price ticket, unless you have purchased a day ticket, in which case you can bring along one dog for free. Keep in mind that rules and ticketing will vary not just from country to country, but from region to region and city to city.
Often the signage about rules and tickets is only in the local language, or not easy to find. Try and Google the local public transport website in advance, although often it will only be in the local language. But it's easier to translate it if you don't have a bus arriving any minute!
Alternatively, if I've been unsure I've usually carried my small dog in a carrier bag (and not bought a ticket) or just bought him a half-price ticket to be covered.
Most of the time on local transport, dogs must be on a leash and wear a muzzle, unless they are travelling in a container. Often there is a sign at the door or inside showing a dog wearing a muzzle. (Next to the signs stating no eating food.)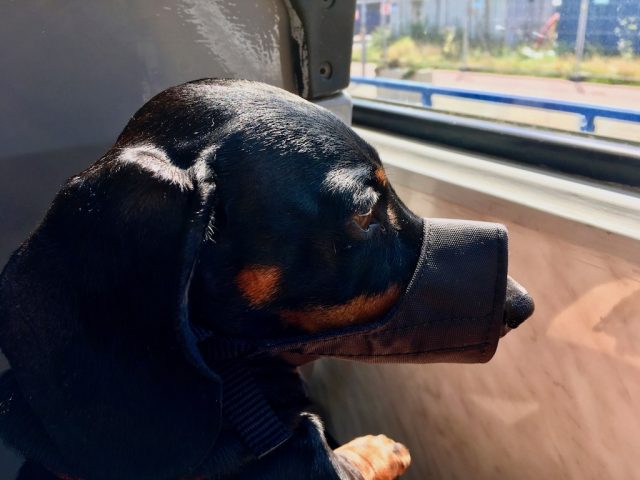 However, most locals will inform you that wearing of muzzles, at least on smaller dogs, is not always enforced. Always be ready though.
Check out my guide to which countries in Europe do and don't require a muzzle for dogs on public transport.
Hiring a Car in Europe with a Dog
In many ways the easiest form of transport when travelling in Europe with a dog is to hire your own car. There's no need to worry about timetables or tickets, your dog will often be more comfortable in its own "territory" and if the weather is mild it's possible to leave your dog inside for short periods of time, to duck into a shop or have lunch. (Just be very careful, and never leave dogs in a car in warm weather.)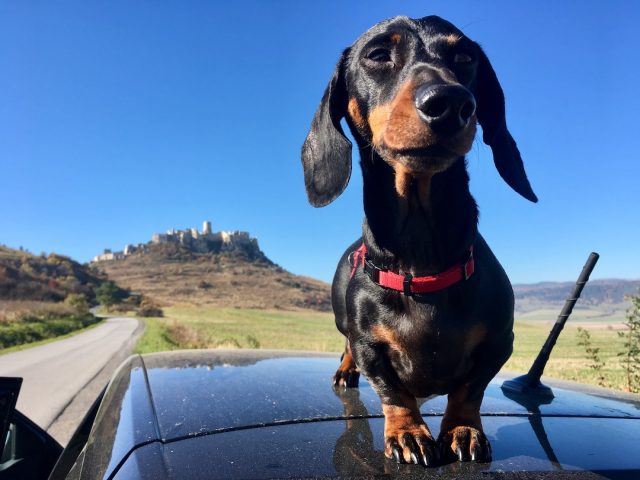 Another positive benefit is that you can be more flexible with where you are staying, with cheaper Airbnbs in the suburbs or countryside hotels being accessible. On the other hand, many city centres in Europe have limited or expensive parking, and may even restrict access to non-local vehicles.
The majority of hire cars allow dogs inside, although you may want to double check in advance, especially if you are picking up the car with your dog. However, be considerate and always put a bed or blanket underneath your dog on the seat, always clean them off before allowing them inside, and attach them securely with a seat-belt harness or similar.
Read my guide on road tripping with your dog.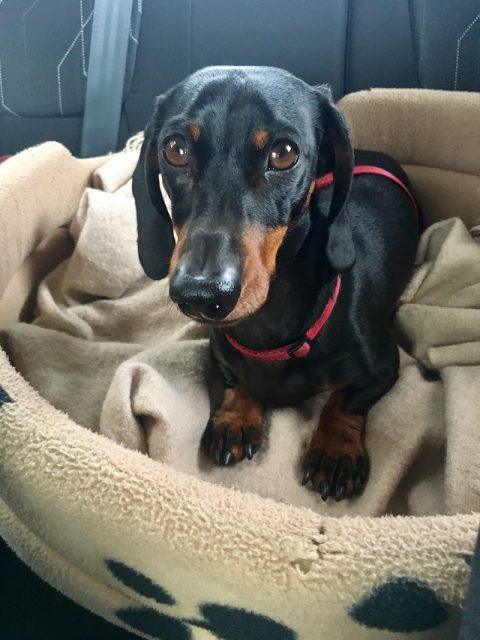 One other consideration specific to Europe to keep in mind is that not all hire cars can cross borders. If you are wanting to take a car into another country, check with the hire car company first. (Or make a booking that can be cancelled for free, then check.)
The hire car may be allowed to cross into certain countries, but not others. In particular, cars hired in the EU often cannot be taken into non-EU countries.
Additionally, one-way hires where a car is picked up in one country and dropped off in another are usually not allowed. And if they are allowed, a ludicrously expensive one-way fee is always charged, so it is best avoided. One-way hires within the same country are more likely to be allowed and less likely to charge a fee or an unreasonable fee.
Dog-Friendly Accommodation in Europe
Compared to most other parts of the world, there's generally plenty of dog-friendly accomodation options in most parts of Europe, whether you're looking to stay in a hotel or an Airbnb. However, the percentage of dog-friendly options does vary between locations and I've never yet come across a destination where ticking the "pets allowed" box didn't eliminate some of the options.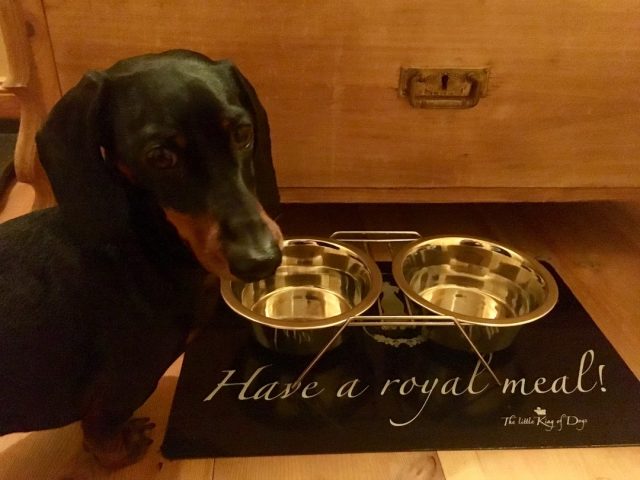 Back in 2018, I researched how many hotels in different European cities allow pets, and found that the percentage ranged from 84% in Helsinki (closely followed by Zurich and Berlin) to a tiny 4% of hotels in Dublin (with Lisbon and London also performing poorly).
If you're travelling to a destination with not many dog-friendly options, it's always best to at least research your accommodation options in advance. If the pickings for dog-friendly accommodation are slim, book now rather than risk leaving it to later and having nowhere with vacancies that'll accept dogs. But if most hotels allow dogs, it's fine to leave it to later, if you prefer.
Another important consideration is the size of the dog. Just like elsewhere, some hotels and Airbnbs only allow small dogs, which is unfortunate if you're travelling with a well-behaved larger dog. Always look at the fine print, including whether there's a restriction on size, number of dogs, rooms available to book and whether a fee is charged.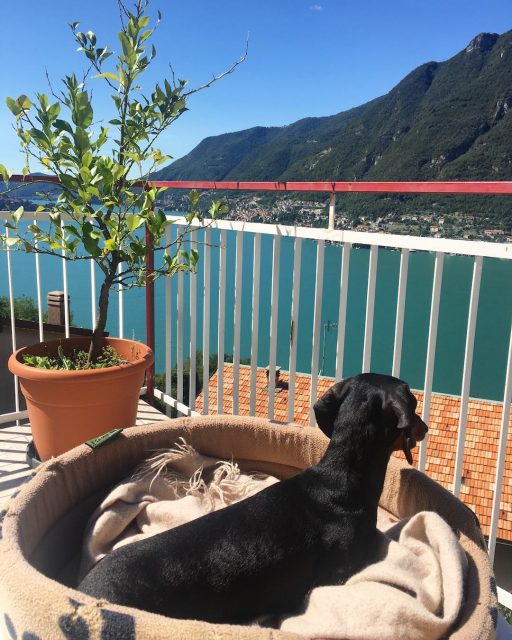 If in doubt, contact the property. This is especially easy for Airbnbs, although many hotels also have a contact email address on their website. (Additionally, if you've got reviews from previous Airbnb stays that mention your dog as being a well-behaved guest, some hosts might be flexible.)
Another accommodation option to consider in Europe is camping. Most campsites in Europe are dog-friendly, just one of the reasons why you should consider camping with your dog in Europe.
Dining Out in Europe with a Dog
Seen photos of people dining in restaurants in Europe with their dog at their side? While this is certainly the case in some European countries, it is not the case everywhere.
Based on personal experience and reports from other travellers, these are the countries where your dog is most likely to be allowed inside a restaurant or cafe (and where you're most likely to see other dog owners dining with their pooches at their side):
Austria
Belgium
Croatia
Czech Republic
France
Germany
Hungary
Italy
Liechtenstein
Luxembourg
Malta
Monaco
Netherlands
San Marino
Slovenia
Switzerland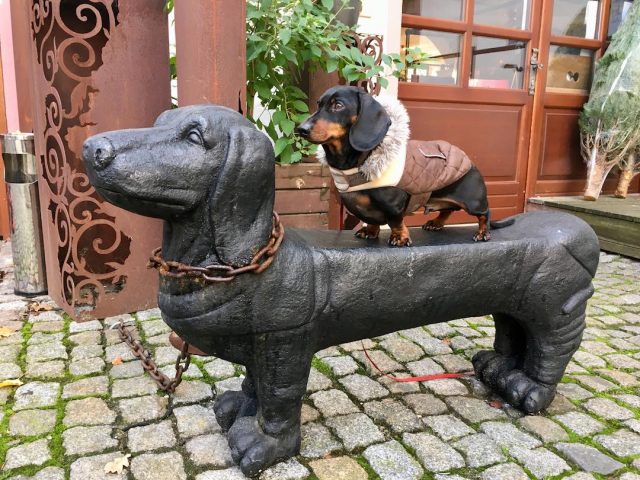 What about other countries? It depends. In some countries there are laws prohibiting dogs inside (although both Ireland and Portugal changed this in late 2017, after I visited). In some countries it's not common for people to dine out with their dogs, so staff may be unsure of whether to let in your dog. In other countries some restaurants allow it, while others don't (and this may vary between regions in the same country).
Here's some quick notes on the remaining countries I've visited:
Andorra – We only briefly visited, so I'm not sure.
Bulgaria – It's not the local custom, although it's worthwhile asking. If dining outside, beware of cats.
Denmark – It's not common, but some restaurants allow dogs. As the owner of one restaurant told us, there's not a law against it. But it can sometimes be nearly impossible!
Estonia – We found some restaurants that allowed dogs inside. Tallinn is probably the most dog-friendly.
Finland – It's not common, but some restaurants allow dogs.
Greece – It didn't seem the local custom, but when we asked at one place with no outdoor seating, we were allowed inside, but only at the front. Beware of cats when dining outside.
Ireland – When we visited, dogs were not allowed inside, but the rules changed in December 2017, so there are now dog-friendly options, although I'm not sure how common it is.
Latvia – It's not common, but some restaurants allow dogs.
Lithuania – It's not common, but some restaurants allow dogs.
Norway – We rarely dined out in Norway (as it's not exactly affordable!), but I believe that dogs are not usually allowed due to hygiene/allergy concerns.
Poland – It's not common, but some restaurants allow dogs.
Portugal – When we visited, dogs were not allowed inside, but the rules changed in October 2017. I still believe it's not common.
Romania – It's not the local custom, but when we asked, our dog was allowed inside a couple of restaurants.
Slovakia – While some restaurants had no dog signs or turned us away, we found some dog-friendly restaurants, mainly in Bratislava. However, technically dogs aren't allowed inside restaurants (or even on outside terraces). There was a recent vote to overturn this, but it wasn't successful.
Spain – Most restaurants don't allow dogs inside, but we found plenty of pintxos bars in the Basque region were dog-friendly, plus there's a scattering of restaurants elsewhere that allow dogs, including in Barcelona. Alternatively, dine at the plentiful outdoor terraces.
Sweden – Whenever we asked dogs were not allowed inside, due to allergy concerns, but there may be a few rare restaurants that allow dogs. My Airbnb host in Gothenburg mentioned a cafe that allowed dogs, but due to the sunny, warm day we dined at their outside area and forgot to confirm.
United Kingdom – Many pubs allow dogs, at least in the less formal areas, plus some cafes and restaurants allow dogs. We found Northern Ireland to be less dog-friendly.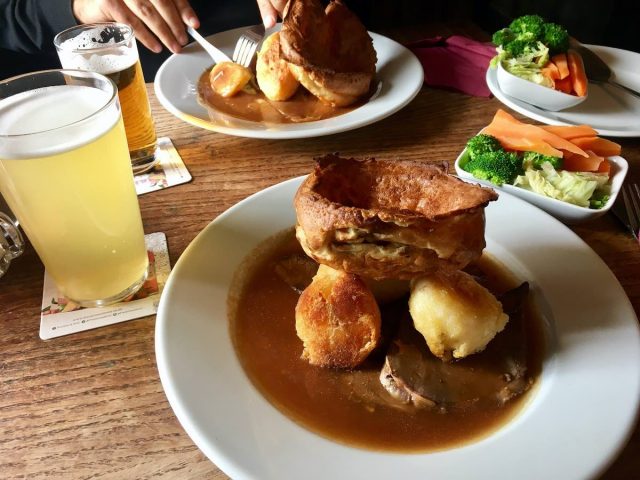 This guide also details how dog-friendly restaurants are in different European countries, with some slight differences to my own experiences, such as in Sweden. (Rules can change, or even vary between different parts of the same country.)
Even if you are dining out in a country that usually allows dogs inside restaurants and cafes, always check whether there is a sticker at the door stating no dogs allowed or asking for dogs to be left outside. (They're usually easy to recognise even if you can't speak the local language, as there will usually be an image of a dog.)
Or when you step inside the door, check with the staff. (Asking "Okay?" and pointing at your dog gets the message across.) If you're making a reservation, always mention if you're bringing a dog. (They may restrict the total number of dogs, or seat you at a more dog-friendly table.)
As an example, while Germany is generally dog-friendly, dogs are never allowed in their wonderful bakeries, which are often combined with a cafe and the best place to have a quick coffee. The same also applied at many kebab shops and even a couple of burger restaurants we tried to visit in Trier!
If dogs aren't allowed inside (or you don't want to bother checking), many restaurants offer outdoor terraces, especially in the summer time, which are usually always dog friendly.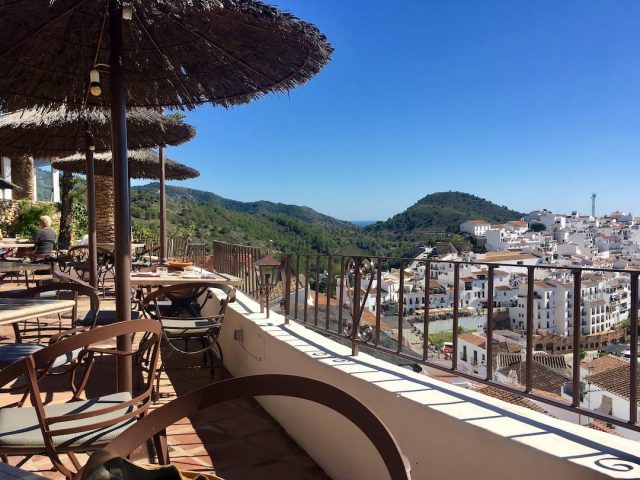 If the weather's not ideal for outdoor dining and dogs aren't allowed inside, try to book an Airbnb or hotel room with a kitchen. Otherwise, there's always takeaway.
Dog-Friendly Sightseeing in Europe
Taking your dog sight-seeing is the trickier part of vacationing in Europe. Yes, dogs are fine to join you in wandering around old cities and are allowed on most hikes in national parks. However, if you're entering inside churches, museums and palaces, dogs are almost never allowed.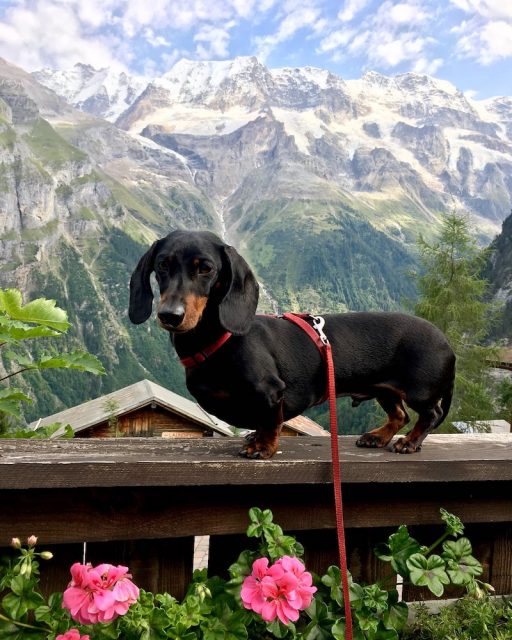 If you really want to visit somewhere that doesn't allow dogs, there are ways around it. My husband and I have sometimes alternated going outside, the other one staying in a dog-friendly cafe with our dog.
Other times, especially if we're staying somewhere for awhile, we've had suitable accommodation where our dog could be left alone for up to half a day. Another option is to also look for dog sitting services. Check out my guide to options when visiting non-dog-friendly attractions.
However, the best option is to add dog-friendly sightseeing options to your itinerary. I've suggested lots of fun things to do with your dog in this post. Here's some more ideas from different parts of Europe for your travels:
I've also got lots of suggestions in my guides to individual countries and destinations! In particular, check out my recommendations for the most dog-friendly cities, with plenty of dog-friendly sightseeing options.
Dog-Friendly Guides to Countries and Regions
Looking for more details on visiting a specific country or region in Europe with a dog? Along with some awesome guest bloggers, I've put together these guides on different countries and regions.
Dog-Friendly UK & Ireland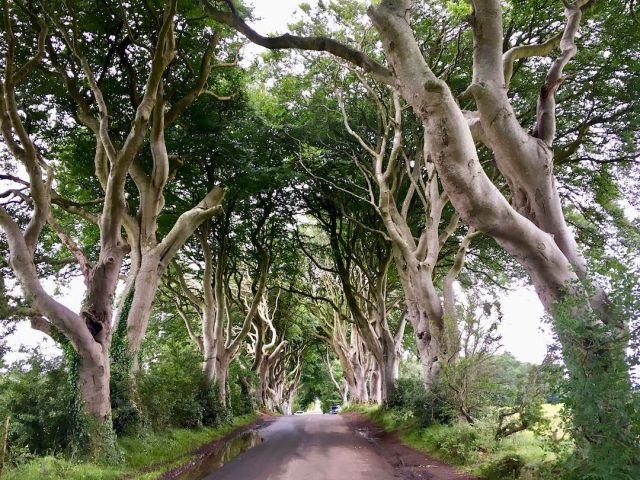 Planning to visit the United Kingdom or Ireland with your dog? Check out these guides.
United Kingdom
Ireland
Dog-Friendly Western Europe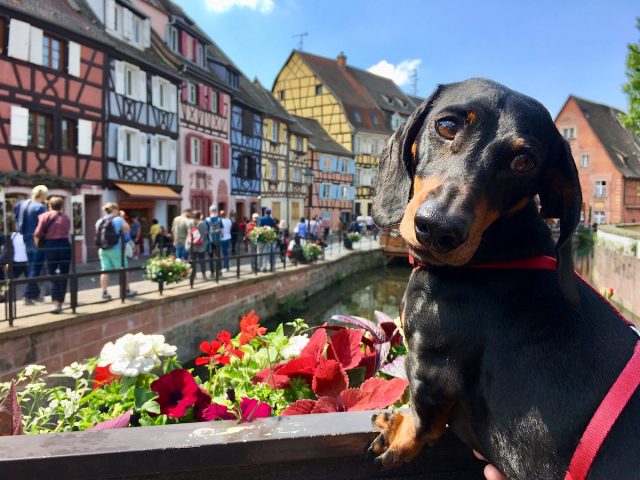 I've spent plenty of time travelling around Western Europe with my dog. Check out these guides:
Austria
Belgium
France
Germany
Italy
Luxembourg
Malta
Netherlands
Portugal
Spain
Switzerland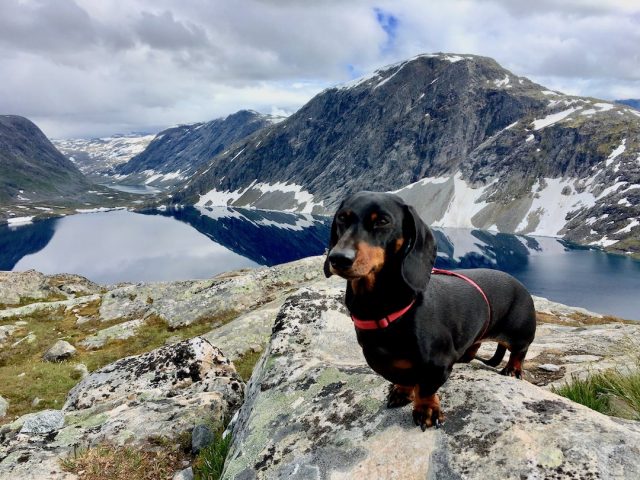 Scandinavia is a beautiful part of Europe to visit with your dog. Check out these guides:
Denmark
Finland
Norway
Sweden
Dog-Friendly Central & Eastern Europe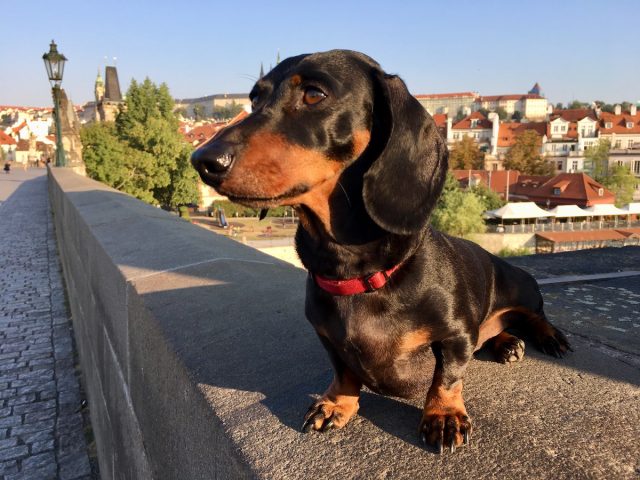 Planning to visit Central or Eastern Europe with your dog? Check out these guides:
Bulgaria
Croatia
Czech Republic
Estonia
Greece
Hungary
Latvia
Lithuania
Poland
Romania
Slovakia
Slovenia
Turkey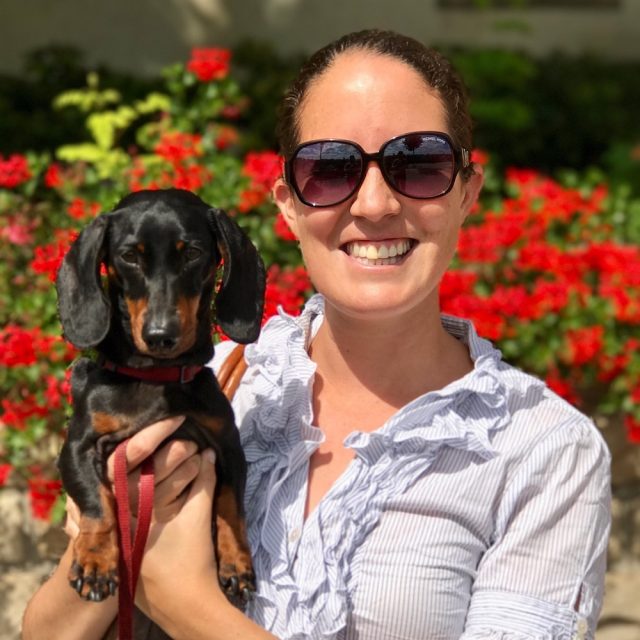 Shandos Cleaver is the founder of Travelnuity: Dog-Friendly Travel. She has travelled extensively with her Miniature Dachshund, Schnitzel, including to 33 countries across Europe, every state and territory of Australia except Tasmania, and 10 of the United States. She's passionate about providing inspiration and information to others wanting to travel with their dogs, whether close to home or internationally.
Inspired? Pin this to your Pinterest board!