Just like many that travel with their dogs, I like to take my dog to as many places as he is allowed. But should you visit the Daintree and Cape Tribulation with your dog?
With much of the area located within the Daintree National Park, I cover the restrictions on dogs in the Daintree region in Far North Queensland, what dog-friendly options available, and tips for visiting the region on either a day trip from Cairns or Port Douglas, or while driving the Bloomfield Track.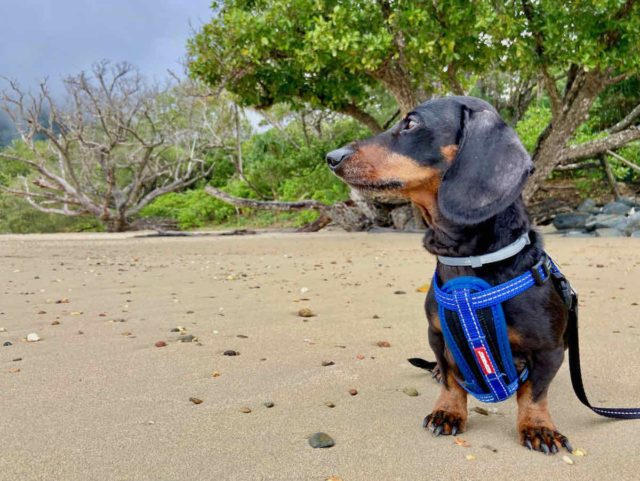 Restrictions on Dogs in the Daintree
Much of the Daintree and Cape Tribulation region, extending from the Daintree River up to the Bloomfield River, is situated inside the Daintree National Park. This includes the majority of the walking trails and boardwalks, along with lookouts.
As explained on the Queensland Government Department of Environment and Science website, dogs and other pets are not permitted inside national parks in Queensland. If travelling through a national park with your dog in your vehicle, you must remain on gazetted roads (not any management roads) and you can't stop at any day-use areas, lookouts or other sites, at risk of a fine.
However, not all of the Cape Tribulation region is within the national park. As can be seen on this map, there's also large areas of private land outside of national park in the region, such as around Cow Bay Village.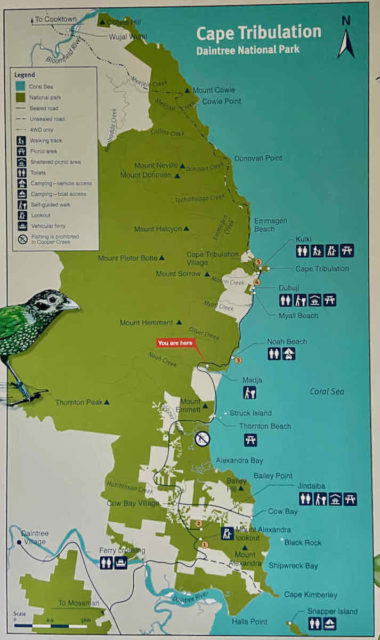 Taking the Ferry Across the Daintree River
The main access point to the Cape Tribulation area is the car ferry across the Daintree River. If you're visiting Cape Tribulation from Cairns, Port Douglas or the Daintree Village, you'll need to cross on this ferry and then return on the ferry. Alternatively, if you are driving the Bloomfield Track, you'll use this ferry in one direction.
There's no issues with taking your dog on the ferry. It only takes a few minutes to cross (the time to load and disembark cars is longer if the ferry is full) and everyone is required to stay in their vehicles, both humans and pets. As of 2023, the charge for standard vehicles (including our small campervan) is $45 return or $26 one-way. There is no additional charge for dogs.
Dog-Friendly Sightseeing at Cape Tribulation
The two main dog-friendly places to visit around Cape Tribulation are Cow Bay Beach and Thorton Beach. Both beaches are situated outside of the Daintree National Park and dogs are allowed on both beaches. (Cape Tribulation itself is within the national park and is a no-go zone for dogs.)
According to the website of the Douglas Shire Council, Cow Bay Beach is meant to be an off-leash beach, south of the access road and carpark. However, when I visited Cow Bay Beach in 2021 there was a clear sign stating dogs so be restrained, so I kept my dog on leash. Perhaps the sign has since been removed.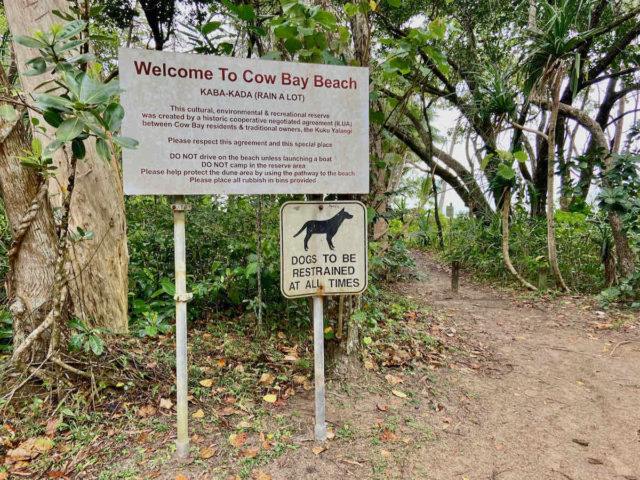 There is also an off-leash exercise area at Diwan Reserve, behind the council works depot on Tea Tree Road in Diwan. However, I wasn't aware of this at the time of my visit, and didn't check it out, so don't know what it's like.
Of course, the other dog-friendly sightseeing option at Cape Tribulation is simply driving through the area in your vehicle. From the Daintree River to Cape Tribulation its only 35km, but allow at least an hour each way due to the narrow, windy road, not to mention the many speed bumps on straight sections, to get drivers to slow down for cassowaries.
Visiting Cape Tribulation on a Day Trip
So, should you visit Cape Tribulation on a day trip from Cairns, or else from Port Douglas or the Daintree Village? My answer is it depends.
If you visit with your dog on a day trip, you're going to be limiting your options of what you can do. Due to the national park restrictions, you can't stop and visit the lookouts and boardwalks. Instead, you'll be restricted to the admittedly beautiful drive through the area, plus stopping at dog-friendly spots such as Cow Bay Beach and Thornton Beach.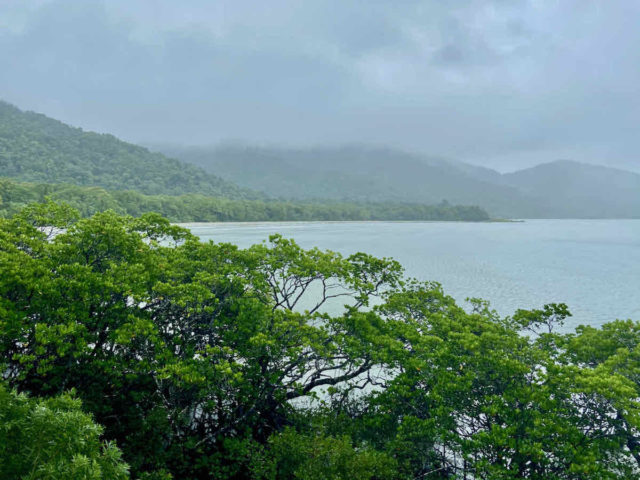 It can be tempting to leave your dog in your vehicle while stopping at the sights (assuming the weather is cool), but this is still breaking the rules, with most national park stops displaying domestic pets prohibited signs at the entrance to car parks.
The other alternative is to take it in turns visiting sites (if there is more than one of you), while someone else looks after the pup outside of the national park boundaries.
Dog-Friendly Accommodation at Cape Tribulation
If you are determined to go ahead with visiting the Cape Tribulation and Daintree region with your dog, you could also consider extending your experience, with more time to take turns visiting the sites, by staying for the night within the rainforest.
While the national park campground close to Cape Tribulation of course doesn't allow dogs, plus the nearby Cape Tribulation Safari Lodge Camping, there are other caravan parks in the area that do permit dogs.
The Daintree Rainforest Village, which has powered and unpowered sites, as well as a general store, permits pets for a small fee of $2.50. In return you receive a booklet about the best dog walk areas in the rainforest.
Additionally, about a kilometre south Daintree Siesta (previously Lync Haven) also permits pets on their caravan and camping sites, plus in selected pet-friendly rooms. Note that both parks have a strict on-leash policy due to the surrounding wildlife. Daintree Siesta also doesn't allow pets on its rainforest walks, only along the campground road.
PK's Jungle Village close to Cape Tribulation also recently starting allowing dogs, presumably only on campsites. Just be warned that this budget resort has a reputation for partying.
Visiting Cape Tribulation While Driving the Bloomfield Track
Heading north of Cape Tribulation, the sealed road up until that point is reduced to a gravel road then a 4WD track, known as the Bloomfield Track. The Bloomfield Track is quite short, only about 30km, joining up with the recently sealed road at the Bloomfield River, that then continues up to Cooktown.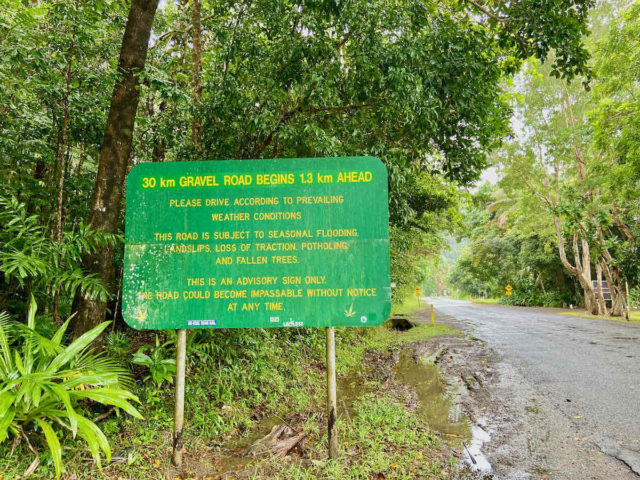 It's the shortest route from Cairns to Cooktown, and definitely the most scenic option. The alternative is the Mulligan Highway, which loops a long way inland through much drier country. I would have loved to have driven it, but didn't have an appropriate vehicle. (Although some claim that 2WDs with enough power could drive it when dry.)
If you're passing through Cape Tribulation as part of driving the Bloomfield Track, it's certainly worthwhile still taking your dog, as this is just one part of a much longer drive, and the only part with significant restrictions.
Once you get to the far end of the Bloomfield Track and the Aboriginal town of Wujal Wujal, I recommend taking the turn-off to Wujal Wujal Falls. This beautiful spot reached by a short walk doesn't have any prohibition on dogs.
Find out more tips for visiting Cooktown with a dog
Dog-Friendly Sightseeing South of the Daintree River
If you're heading for the Daintree River and Cape Tribulation, there's also some worthwhile dog-friendly stops south of the river, before you cross into the national park.
For starters, I was surprised to discover that the Daintree River Cruise Centre offers dog-friendly cruises on the Daintree River. Lasting 60-90 minutes depending on the weather conditions, their cruises are a chance to spot crocodiles and the many local birds along the river. They just ask that you call them in advance, so that they can be accommodated.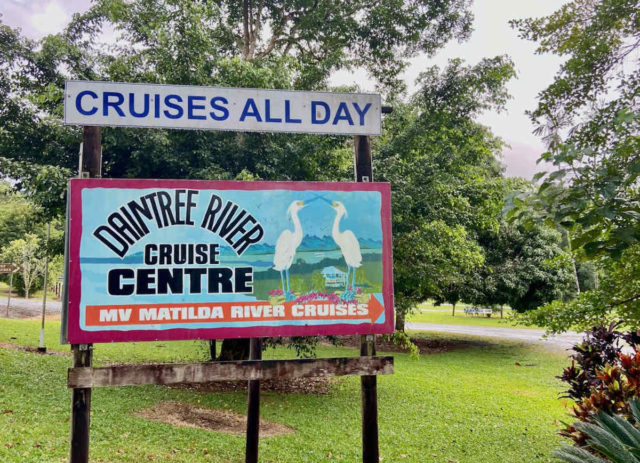 Further south at Mossman, a great dog-friendly swimming spot is the Shannonvale Causeway, not far from the Shannonvale Winery. There's no signs about crocodiles at the creek (plus I was tipped off by a local), so head to this gorgeous swimming hole surrounded by rainforest.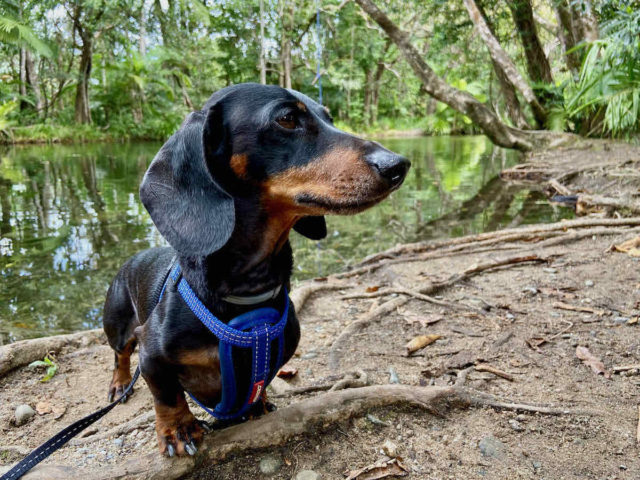 Alternatively, Mossman has a fenced off-leash dog park at George Davis Park, on the northern side of town. It's a great chance for your pup to let off steam on the drive up to Cape Tribulation.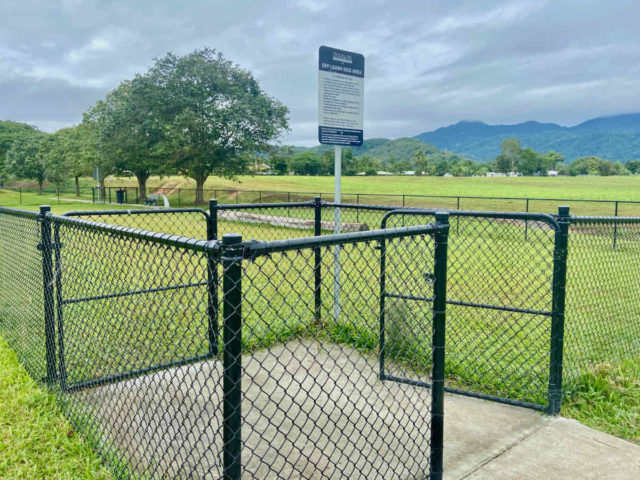 If you're spending a longer time in the area, a pet-friendly accommodation option south of the Daintree River is the Daintree Riverside Van Park. Dogs are allowed on the lower level of the park, and it's just metres from the edge of the upper Daintree River.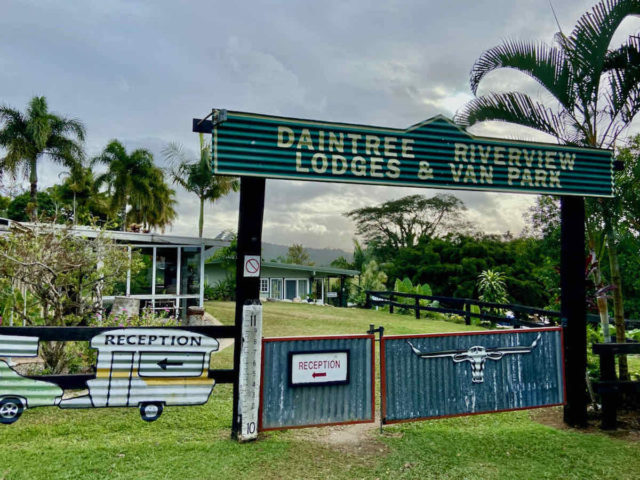 Keeping Your Dog Safe in the Daintree
There's two main dangers for dogs when visiting the Daintree region and Cape Tribulation: crocodiles and cassowaries.
As well as in the Daintree River, crocodiles are a risk at many of the creeks within the Cape Tribulation area and along the beaches, no matter how inviting they look. Make sure you keep your dog away from the water, unless you know it's safe. (Some of the forest streams further away from the coast are croc-free.)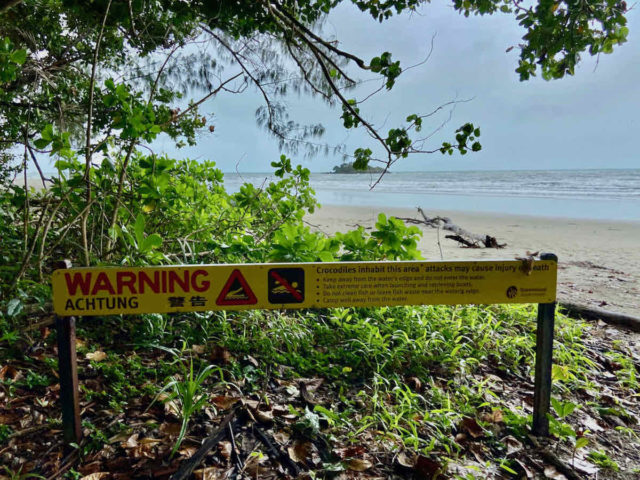 When it comes to cassowaries, dogs are both a danger to cassowaries and in danger from cassowaries. Dogs, particularly when they display aggression towards larger cassowaries, have been maimed or killed by their dagger-like middle claw. Additionally, both domestic and wild dogs are one of the biggest threats to young cassowaries.
Make sure you keep your dog on a leash in cassowary habitat. If you spot a cassowary, keep your distance and a firm grip on your dog's leash, and retreat slowly.
You May Also Like