Although just a one hour drive north of Cairns, the resort town of Port Douglas in Queensland is deserving of more than just a day trip. There's plenty of things to do in Port Douglas, including if you're visiting with a dog. Find out about the best dog-friendly sightseeing ideas, including off-leash beaches, plus where to stay and dine with your dog in Port Douglas.
Dog-Friendly Sightseeing in Port Douglas
Once a sleepy fishing town, Port Douglas is today a booming resort town, home to many tourist attractions. One of the main draw cards, taking a day trip to the Great Barrier Reef, is naturally not possible to do with your dog. (Consider organising doggie day care so you can still make the trip.) But there's plenty more dog-friendly attractions in and around Port Douglas…
1. Head to Four Mile Beach
One of the top attractions in Port Douglas is Four Mile Beach. This gorgeous long expanse of sand runs along the southern side of the town.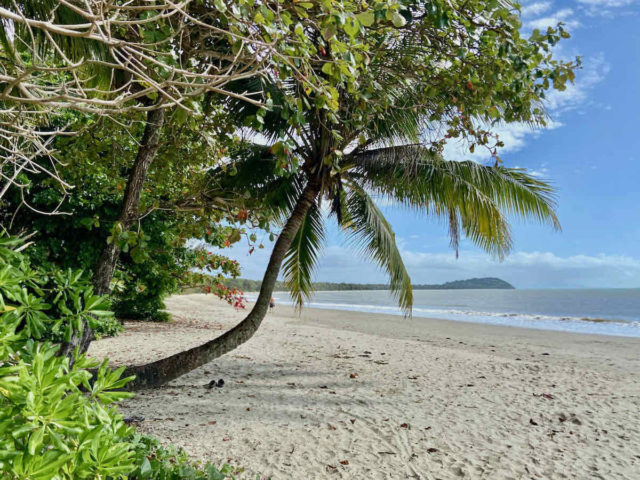 Luckily a large section is designated as an off-leash dog beach, perfect for fun on the beach with your pup. The off-leash dog exercise area starts at the access track at Four Mile Beach Park and extends south to approximately Martin Scullett Drive, on the southern edge of town.
Curiously, when I visited in 2021, I didn't notice any signs saying dogs could be off-leash. Instead, I came across a sign at the Cowie Street entrance, a former starting point, the seemed to indicate dogs should be on-leash. Regardless, there were plenty off off-leash dogs around!
Dogs are also allowed on-leash along most of the rest of Four Mile Beach, in between the Four Mile Beach Park and the patrolled area at the eastern end of the beach, perfect for long walks on the beach.
If you park close to the Cowie Street entrance, there's a convenient hose and tiles for washing the sand off your dog after a visit. Just keep an eye out for any signs about recent crocodile sightings and be aware of marine stingers over the summer months – see more below.
2. Walk Up Flagstaff Hill
At the eastern end of Port Douglas is Flagstaff Hill, home to the popular Flagstaff Hill Walking Trail and some excellent lookouts. With on-leash dogs permitted, its a fun and scenic walk to do with your dog around Port Douglas.
The easiest starting point for the walk is at the northern end of Rex Smeal Park, where there's plenty of parking. Then follow the 1.1km path along the headland to the steps leading down to Four Mile Beach. There's also a 175m detour up to Flagstaff Hill Lookout itself.
If you're not up for a walk, but still want to appreciate the view, you can also drive up Flagstaff Hill to the lookout, which offers beautiful views back along Four Mile Beach. Just be warned that the initial climb is quite steep and might be too much for some caravans.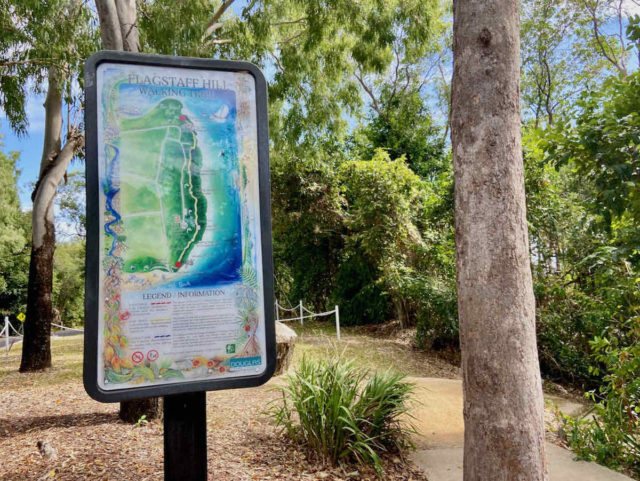 3. Spot Crocs from the Mowbray River Foot Bridge
There's multiple wildlife parks around Port Douglas that offer the chance to see crocodiles up close, but naturally dogs are not allowed to join you when visiting. Instead, there's a great spot close to Port Douglas where you can try and spot a crocodile in the wild.
Head 10 minutes out of town and park up on the eastern side of the Mowbray River Foot Bridge. There's a relatively new viewing point here, with regular reports of crocodiles being spotted. Just don't do what we did and visit at high tide – the best chance is at low tide.
4. Go on a Daintree River Cruise
Another popular attraction in the region are cruises on the Daintree River, a 40 minute drive north of Port Douglas. The highlight of these cruises is spotting crocodiles on the banks of the river, with a high likelihood thanks to the assistance of the guides, along with plenty of local birdlife.
Surprisingly, at least some of these cruises are dog-friendly, with pet dogs welcome to join you on the cruise. One of the pet-friendly options is the Daintree River Cruise Centre, which offers 60-90 minutes cruises, depending on the weather conditions. Just make sure you call them in advance, to confirm that your pup can be accommodated.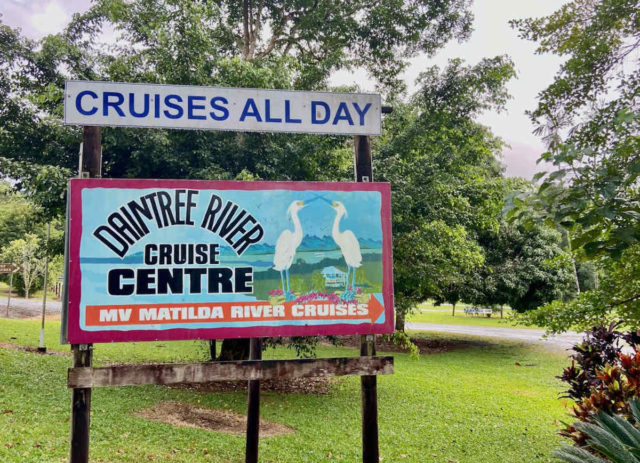 5. Or Take a Day Trip to the Daintree
Another surprising destination that is possible to visit with your dog is Cape Tribulation and the Daintree region, north of the Daintree River. While much of the area is national park, there are also pockets of privately owned land, and dogs are fine to join you driving on the main road through the region.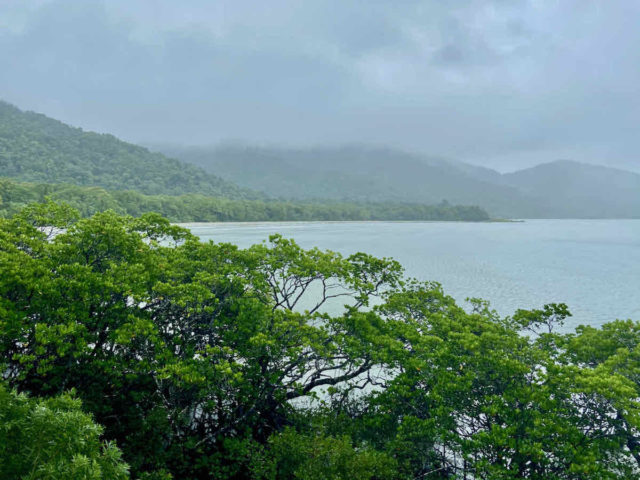 Your trip will start with the ferry across the Daintree River, a paid service, with the chance to spot crocodiles lurking nearby. It's then a slow drive north to Cape Tribulation, thanks to the winding road and speed bumps to slow cars down for cassowaries, surrounded by beautiful rainforest.
Make sure you don't miss visiting Cow Bay Beach, an off-leash beach in the region, with dogs allowed off-leash south of the carpark. There's also an off-leash dog park in Diwan behind the Douglas Shire Council Depot.
You can easily drive north to Cape Tribulation along the bitumen and return on a day trip from Port Douglas. If you have a 4WD, consider taking the Bloomfield 4WD Track north to Cooktown, or else there are some dog-friendly caravan parks in the area, including right in the Daintree.
Read more about visiting the Daintree with your dog
6. Go Paddling at Shannonvale Causeway
A wonderful freshwater swimming spot near Port Douglas that is crocodile-free and popular with locals is Shannonvale Causeway, a 20 minute drive away from Port Douglas.
Search for "Shannonvale swimming hole" on Google Maps, close to the fruit winery. It's a pretty spot, surrounded by rainforest.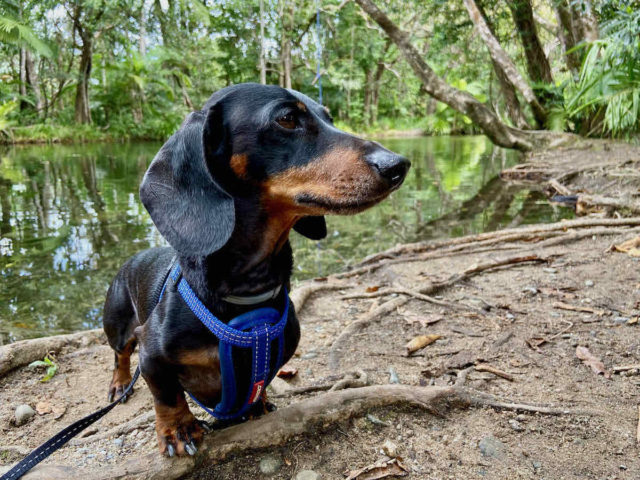 Dog-Friendly Beaches in Port Douglas
The most popular dog-friendly beach in the Port Douglas region is Four Mile Beach, right in town. But there are also some other beaches in the Douglas Shire Council area where dogs are permitted off-leash.
Heading north from Port Douglas, check out these beaches:
Cooya Beach – Northern end of beach, north of the toilet block
Newell Beach – Northern end of beach, north of Phillip Street, plus the adjacent foreshore area in between Phillip Street and Marine Parade. (Just be wary of crocodiles around the Mossman River mouth.)
North Wonga Beach – Roughly between Giblin Street and Vixies Road
Dog-Friendly Parks in Port Douglas
There are no off-leash dog parks in Port Douglas itself. I believe that Hutchings Park on Oriole Street was previously an off-leash park, but this option is no longer listed on the Douglas Shire Council website.
Other than the foreshore area next to Newell Beach, there is only a single dog park nearby at Mossman, a 20 minute drive north.
The off-leash dog park is located at George Davis Park, on the northern side of town, in its northwestern corner. While not that large, the park is fully fenced, with a secure entrance gate. There's also plenty of parking nearby along Foxton Avenue.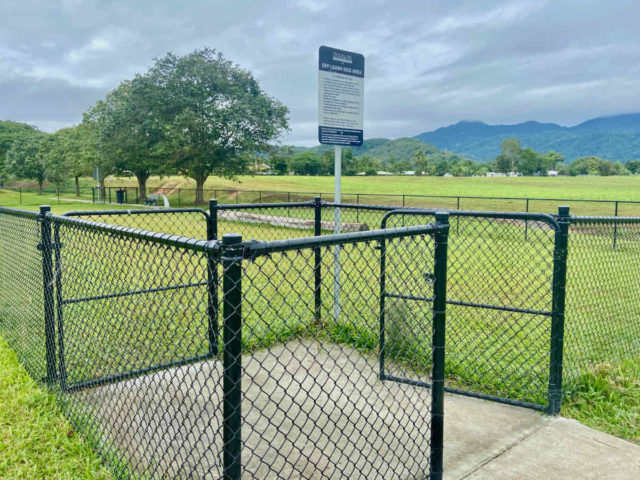 Dog-Friendly Dining in Port Douglas
Port Douglas is home to plenty of restaurants and cafes, many with outdoor dining. Well-behaved dogs are welcome to join you at many venues, although always double check first with staff.
We checked out St Crispin's Cafe, a picturesque spot that overlooks a dam and the greenery of the Mirage golf course. This cafe is open from Tuesday to Saturday for breakfast and lunch, with a short but delicious menu. They are proudly dog-friendly, with water and dog treats available.
Port Douglas is also home to a second outlet of Hemingway's Brewery, a brewery that we visited in Cairns. Open daily for lunch and dinner, there's plenty of outdoor tables overlooking the water and dogs are welcome.
Dog-Friendly Accommodation in Port Douglas
Note: This post contains affiliate links, which means I may receive commission if you make a purchase using the links. See my full disclaimer.
The majority of resorts in Port Douglas don't allow pets to stay, with one of the only pet-friendly options being the Pink Flamingo Resort, which has plenty of happy reviews from previous pet owners.
Located in the heart of the resort strip, not far from the on-leash section of Four Mile Beach, this three-star adult-only resort has ten garden villas designated as pet-friendly. Each villa is fenced, and your pup will be welcomed with their own bowls and blanket. When I last checked, no additional charge applied for pets.
If you're looking for caravan parks, out of the two caravan parks in the centre of Port Douglas, the Tropic Breeze Caravan Park allows dogs. (Pandanus Tourist Park and the nearby BIG4 Port Douglas Glengarry Holiday Park both prohibit dogs.)
It's essential to inform the Tropic Breeze Caravan park ahead of time that you'll be bringing a pet, with only a limited number allowed at any one time. Pets are only allowed in the powered section inside motorhomes and caravans, not with tents or rooftop tents.
Heading further north, popular dog-friendly parks include the ones on the beaches at Newell Beach (Newell Beach Caravan Park) and Wonga Beach (the council-run Wonga Beach Caravan Park).
Keeping Your Dog Safe Around Port Douglas
Make sure you are aware of the dangers of both crocodiles and marine stingers when visiting Port Douglas with your dog.
Marine stingers are mainly present between November and May, although they can occur in other months. While there are stinger-free netted areas for humans to swim in, such facilities don't exist for dogs. Consider keeping your dog out of the water at the beach during high risk months.
Crocodiles are a risk year round – always check for signs warning of recent sightings. Only let your dog enter the water at known safe swimming spots, otherwise keep them on a leash and away from the water. Check with the locals if in doubt.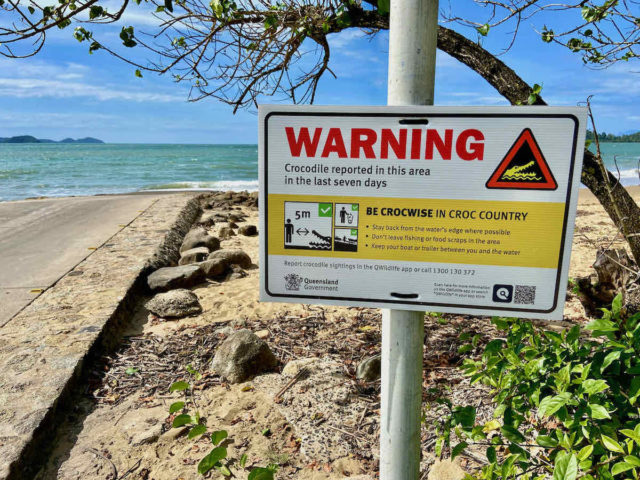 In particular, avoid beach areas near creek mouths, such as the mouth of the Mossman River at the northern end of the off-leash Newell Beach.
Head Next To