The popular holiday destination of Coffs Harbour on the North Coast of NSW is a great place to head with your pup. One of the most dog-friendly destinations along the coast, there's plenty of fun dog-friendly things to do.
To plan your dog-friendly getaway to Coffs Harbour, check out these tips that I've put together after my visit, from the best off-leash beaches to visit with your pup, more dog-friendly sightseeing ideas, not to mention where to dine out and stay for the night.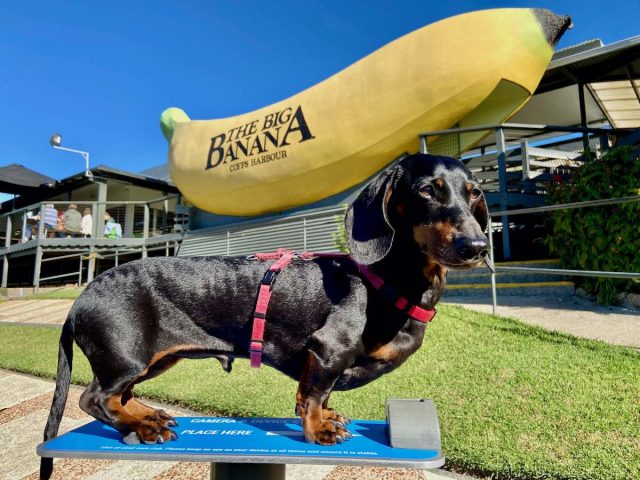 Dog-Friendly Beaches in Coffs Harbour
You can't head to Coffs Harbour and not visit some of the beautiful beaches in the area. Even during the winter months, the water stays warm enough for swimming, if you're brave.
The Coffs Harbour City Council has grouped the beaches and other public places in the region into ones where dogs are allowed off-leash, on-leash and where dogs are prohibited. Note that even when dogs are allowed off-leash, they still need to be under direct supervision and control.
After hitting up multiple beaches with my pup, I recommend visiting the following off-leash beaches for dogs:
North Wall Beach: Just north of the marina in Coffs Harbour, look for the beach marked "Park Beach South Dog Beach" on Google. There's plenty of parking, plus it's great to combine with a visit to the jetty and perhaps coffee from Hub Cafe Jetty. Note that dogs are prohibited on Park Beach (north of Coffs Creek, including the reserve) and Jetty Beach.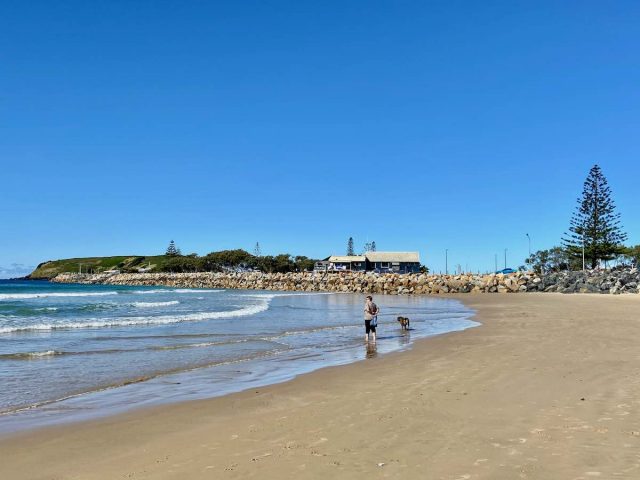 Northern end of Emerald Beach: Dogs are permitted off-leash at the northern end of Emerald Beach, north of Fiddamans Creek. This section of beach is easiest accessed from the pet-friendly caravan park, where we stayed, or else walk through the reserve to the creek. Dogs are prohibited at the southern end of the beach plus the nearby Look at Me Headland, popular for its many kangaroos.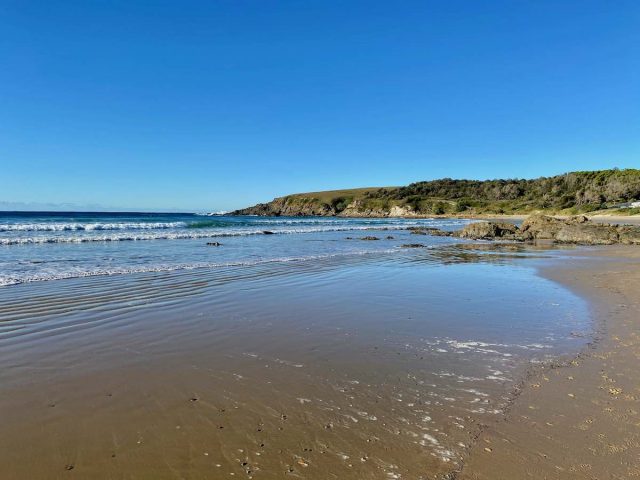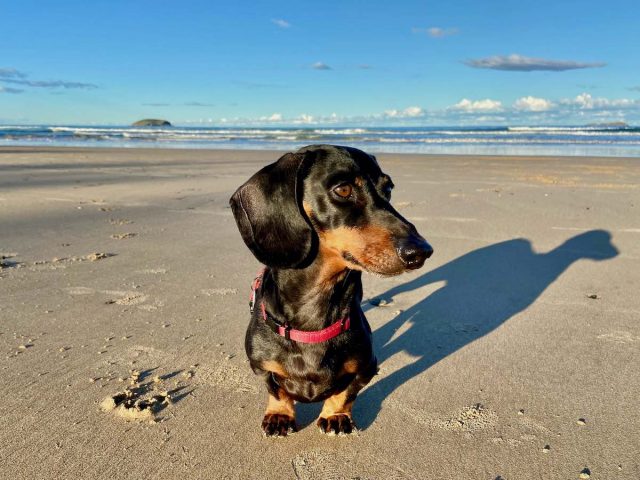 Further north, dogs are also permitted off-leash at Hearns Lake Beach, Woolgoolga Back Beach (except during the Little Tern breeding season), Darkum Beach (except during the Little Tern breeding season) and Corindi/Pipeclay Beach (south of Ocean Street). Dogs are also permitted off-leash on Boambee Beach, on the southern side of Coffs Harbour.
Further south, the beaches are looked after by Bellingen Shire Council. Dogs are permitted off-leash on Urunga Beach, in between the river mouth and the four wheel drive access point, the "Sand Mines". Without a 4WD, it's easiest to access the beach from the Urunga Boardwalk (see below).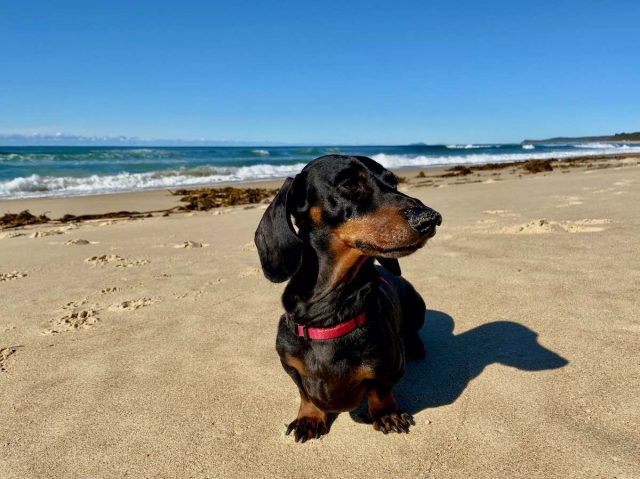 There's also a long list of beaches around Coffs Harbour where dogs are permitted on-leash, including Murray's Beach at Sawtell, Korora Beach, Hills Beach, Campbells Beach, Sapphire Beach and Moonee Beach.
Dog-Friendly Sightseeing around Coffs Harbour
What I most loved about visiting Coffs Harbour with my dog, was the number of fun sightseeing options that also welcomed dogs. During your visit, add some or all of these onto your itinerary.
1. Visit the Big Banana
Coffs Harbour is synonymous with the Big Banana. Built in 1964 at the side of the Pacific Highway next to a banana plantation, it was one of Australia's first big things.
These days the Big Banana is surrounded by an amusement park. Dogs are allowed onto the grounds, although naturally they aren't allowed inside any of the attractions. Instead, I recommend taking for a selfie with your dog at the Big Banana. (I made use of the camera stand for Schnitzel, as he's quite small.)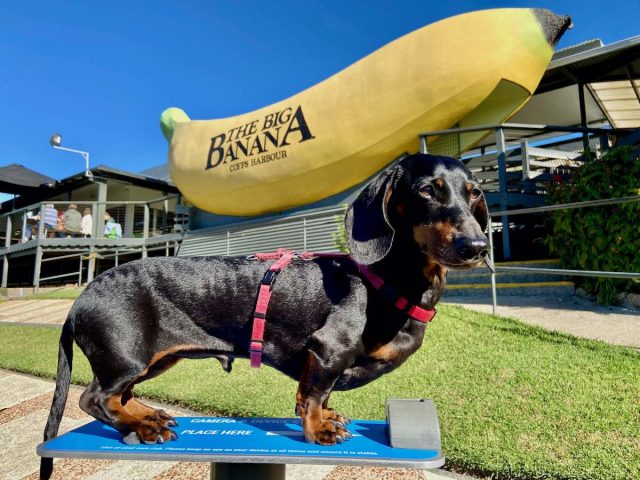 The adjacent cafe also has a pet-friendly section of outdoor seating, with chocolate-coated frozen bananas being a popular option.
2. Stroll Along the Urunga Boardwalk
About 25 minutes south of Coffs Harbour is the sleepy coastal town of Urunga. Make sure you stop off for a stroll along the Urunga Boardwalk, an impressively long 1.2km boardwalk that starts behind the caravan park and follows the mouth of the Bellinger River to the sea. There's also a side branch that heads off into the mangroves, although this is currently closed due to flood damage.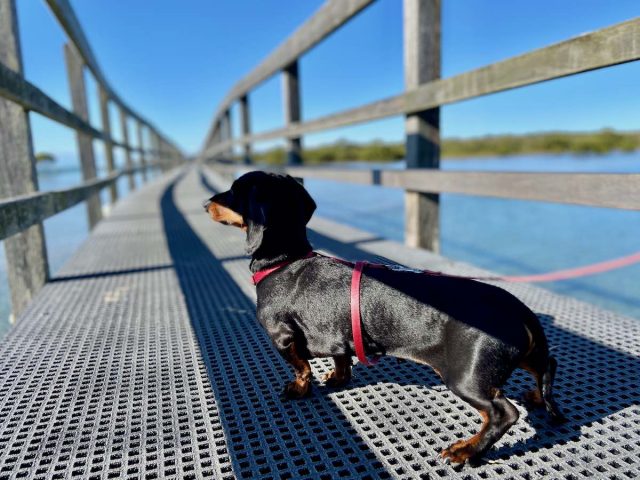 Dogs on a leash are permitted along the entire length of the boardwalk. At the far ocean end, the beach has been designated off-leash, if your dog still has the energy for a run. Make sure you take along poo bags, as there are limited bins and bags along the boardwalk.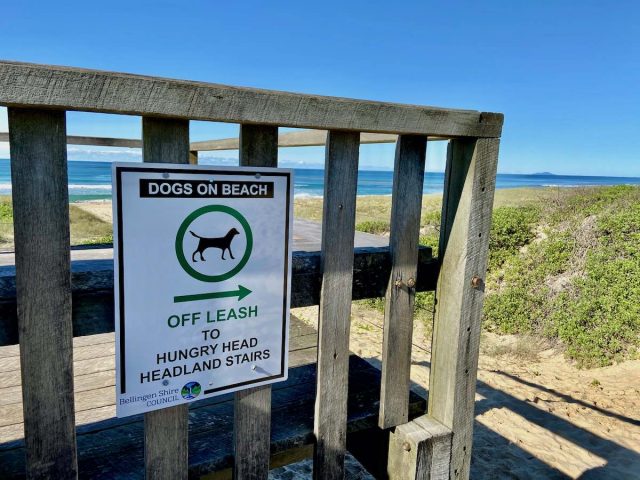 3. Or the Coffs Harbour Jetty
Dogs are also allowed on the historic Coffs Harbour Jetty, as long as they are kept on a leash. The jetty is located near the marina and the off-leash North Wall Beach, and a walk along the jetty is a great addition when exploring the area.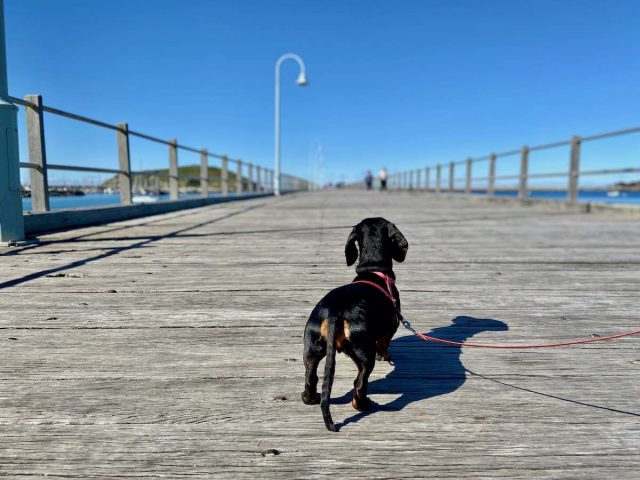 Take in the views towards Muttonbird Island (where dogs are not surprisingly not permitted) or check out the catch of the locals fishing from the wharf and pontoon.
4. Head to the Forests and Sealy Lookout
The area surrounding Coffs Harbour contains some beautiful rainforest, although much of it is off-limits to pets as it is within national parks. However, for a pet-friendly rainforest outing head to the Orara East State Forest and Sealy Lookout.
Take the signposted turn-off not far north of the Big Banana and climb up the hills through banana plantations. At the top you'll arrive at the Orara East State Forest, with Sealy Lookout located at the end of the road. The highlight is the Forest Sky Pier, extending out over the forest, with brave dogs that aren't scared of heights permitted on the lookout.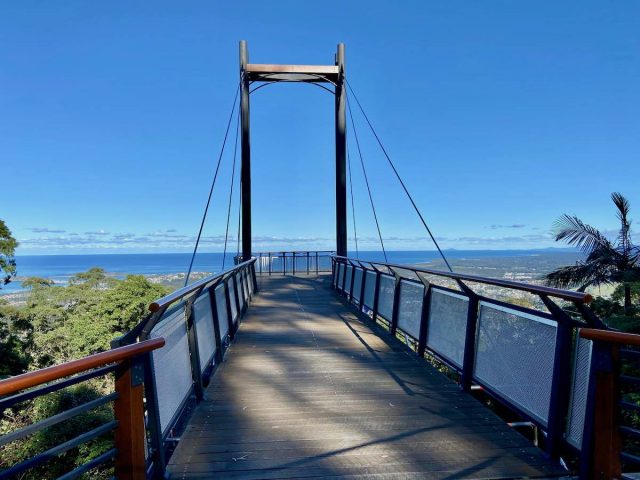 There's also multiple walks available in the area, including the Scenic Rim Track and the walk to Korora Lookout, a short distance back down the road. Dogs just need to be kept on a leash.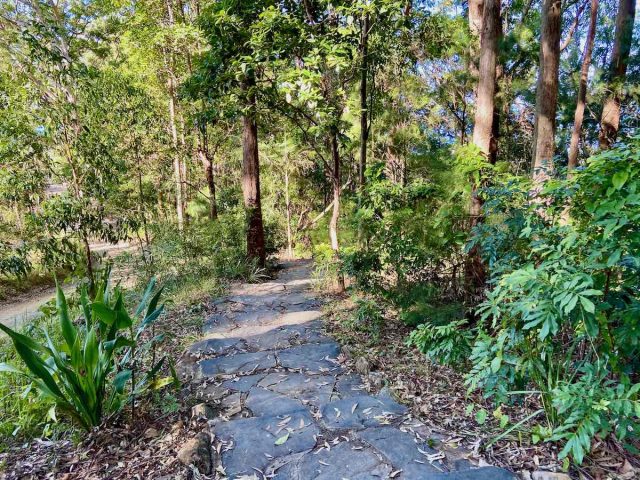 During banana season, don't miss out on stopping at one of the many roadside stalls that line the road up to the lookout, with cheap bananas often available for sale.
5. Visit the Clog Barn
A Dutch-themed barn dedicated to clogs isn't something I was expecting to discover in Coffs Harbour, but that's what you'll find. The Clog Barn is located next to the pet-friendly caravan park of the same name, and features a beautiful miniature Dutch village, along with clog making demonstrations and a coffee house.
There's free admission to the model Dutch village, accessible through the shop, and your dog is welcome to join you.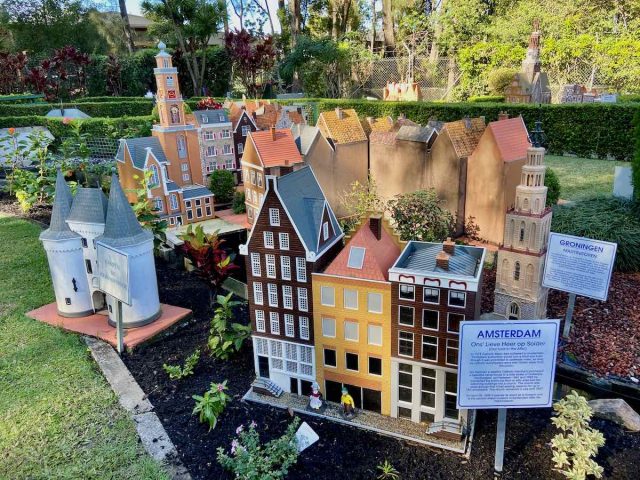 6. Check out the Buster Shipwreck
Back in 1893, the sailing ship "Buster" broke away from its moorings and was wrecked on the beach just south of the Woolgoolga Lake entrance. Fortunately, there were no lives lost, and parts of the shipwreck are generally still visible along the beach, depending on the sand and tides.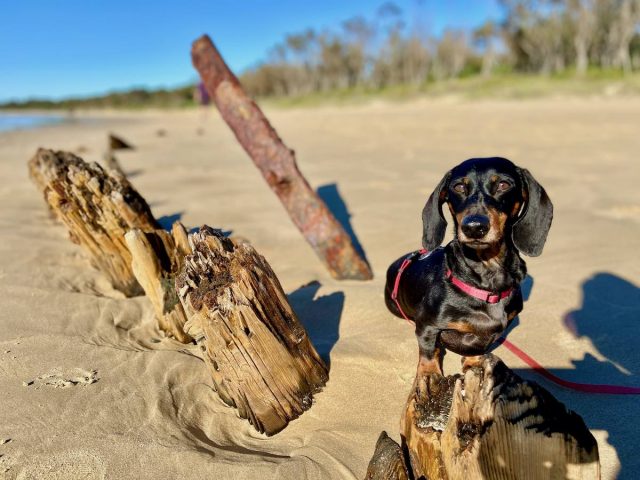 To spot the wreck, park near the pet-friendly Woolgoolga Lakeside Holiday Park and walk along the beach to the spot about 200m south of the lake's entrance, ideally at low tide. (Unfortunately, there's no marker on Google Maps.) The southern end of Woolgoolga Beach doesn't allow dogs, but dogs are allowed on-leash along this section.
Off-Leash Dog Parks in Coffs Harbour
If you're looking for an off-leash area in Coffs Harbour away from the beaches, there are multiple off-leash dogs parks that you can visit.
We visited Thompsons Road Reserve, just behind the car dealerships on the southern side of Coffs Harbour. A large fully enclosed park, there's plenty of shade and benches to sit on, even a creek where your dog can enjoy a freshwater swim.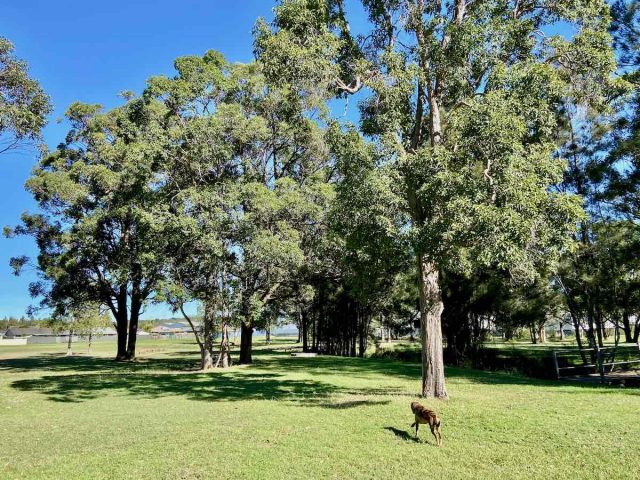 Dogs are also allowed off-leash at the new West Coffs Reserve District Park. There are two fully fenced off-leash dog areas, one for all dogs, plus an area restricted to smaller dogs under 10kg, but no puppies under 6 months. The park also has plenty to kept human kids entertained.
If you're visiting Bellingen, dogs are allowed off-leash at Jarrett Park, west of Lavenders Bridge. The off-leash section starts behind the skate park and is adjacent to the river, perfect for swims during summer.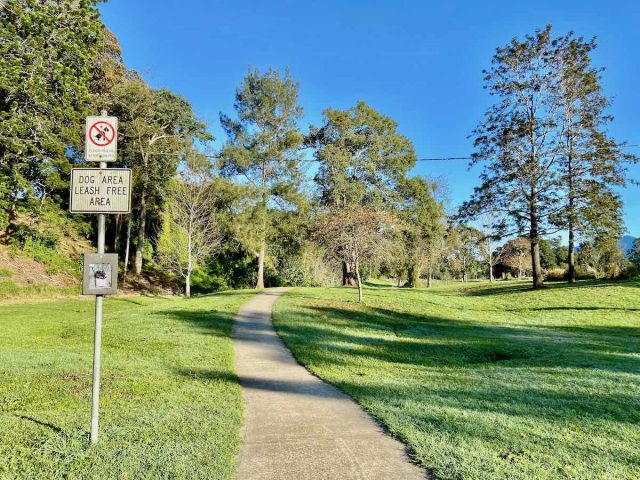 Dog-Friendly Dining in Coffs Harbour
With beautiful weather year round, there's plenty of cafes and restaurants around the Coffs Harbour area with outdoor dining areas where dogs are welcome.
A great place to head in the heart of Coffs Harbour is the Euro-style King Tide Brewing. Leashed dogs are welcome in their expansive beer garden, which includes undercover seating. They are currently open from noon to late on Wednesday to Sunday, plus Tuesday evenings.
In addition to their range of beers on tap (and even locally distilled spirits), they've recently expanded their food offerings. Choose from a selection of share plates, burgers and salads, plus they now offer wood-fired meats, available evenings and all-day on the weekend.
For more dog-friendly cafes in Coffs Harbour, check out Urban Espresso Lounge, Cafe Aqua, Twenty46 and Old Johns.
To the north of Coffs Harbour, drop into the Moonee Beach Hotel. A family favourite thanks to its mini golf, jumping castle and regular kids activities, it's open daily for lunch and dinner. Dogs are warmly welcome in the outdoor area, and there's even a dog wash next to the bottleshop so they're looking their best after an outing to the beach!
If you're heading to Bellingen, a beautiful village located inland from Urunga, stop by the Old Butter Factory complex. There's multiple shops in the complex, including a woodcraft gallery, plus the dog-friendly Old Butter Factory Cafe.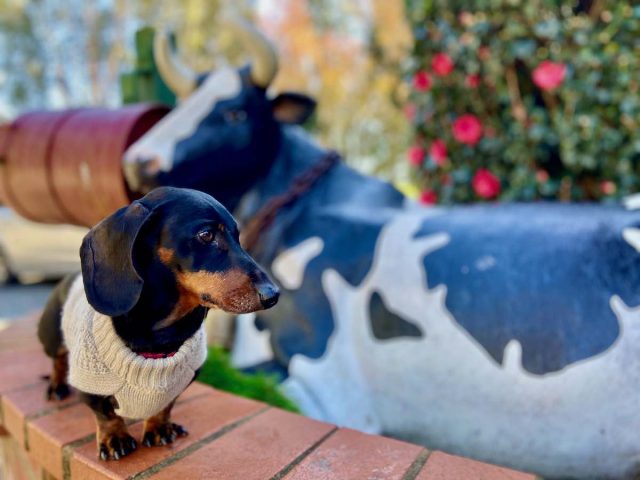 We enjoyed an excellent breakfast at the cafe, a favourite spot of dog-owning locals and visitors. (Just make sure you supervise your pup!) Open for breakfast and lunch daily, there's a large sheltered outdoor area, plus additional tables sprinkled around visited by the local birds. The gelato shop in the complex is also pet-friendly.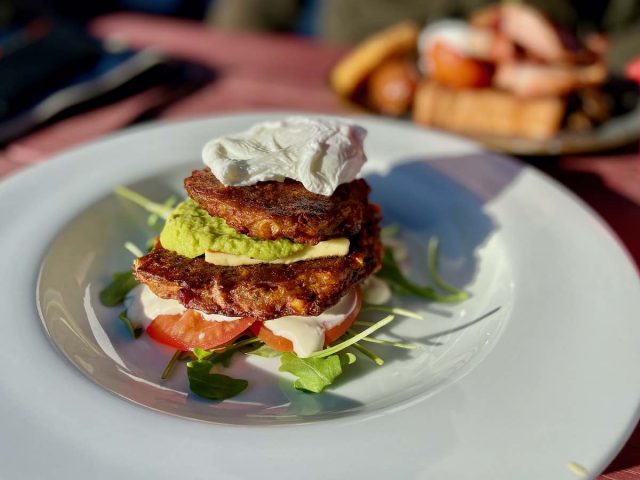 Dog-Friendly Shopping in Coffs Harbour
Every Sunday, the Harbourside Markets are held at the Jetty Foreshores between 8am and 2pm. Declaring they have "something for everyone", pets on a leash are welcome at the markets. Your dog might be tempted by the pet stalls, plus it's close to the off-leash North Wall Beach.
Dog-Friendly Accommodation in Coffs Harbour
There's a variety of dog-friendly accommodation options around Coffs Harbour to choose from.
Pet-Friendly Caravan Parks in Coffs Harbour
The majority of the caravan parks around the Coffs Harbour area are dog-friendly, with many even allowing dogs year round. Just double check the pet rules first before booking, and you will generally need to book directly.
We stayed at Discovery Parks – Emerald Beach, about 20 minutes drive north of Coffs Harbour itself. It was great being located next to the off-leash northern end of Emerald Beach. Plus the park has plenty of amenities for all the family, including a heated swimming pool and water park.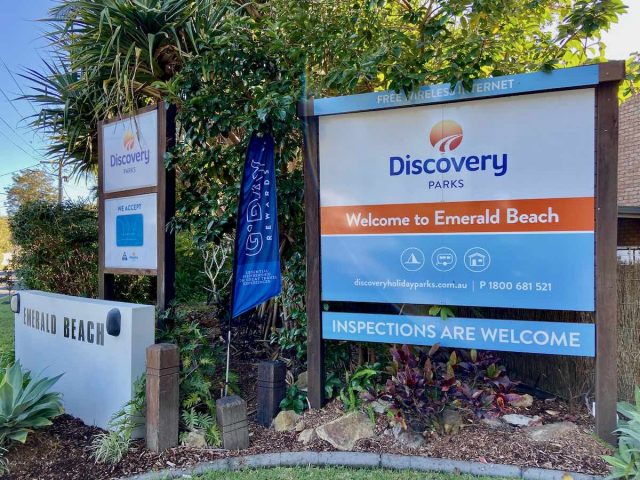 Dogs are allowed on all types of sites, including ensuite sites, outside of the peak summer season from mid-December to mid-January and the Easter long weekend. Look for the pet-friendly site options when booking online.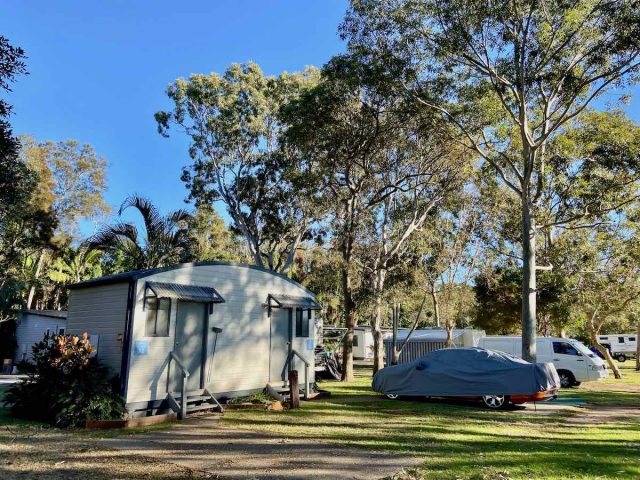 Another caravan park that I've heard lots of praise for is the Reflections Holiday Parks Moonee Beach. Dogs are allowed year round at the park, both on sites and in selected cabins. Call directly to book. This park is also near the on-leash Moonee Beach and has a deluxe dog wash onsite.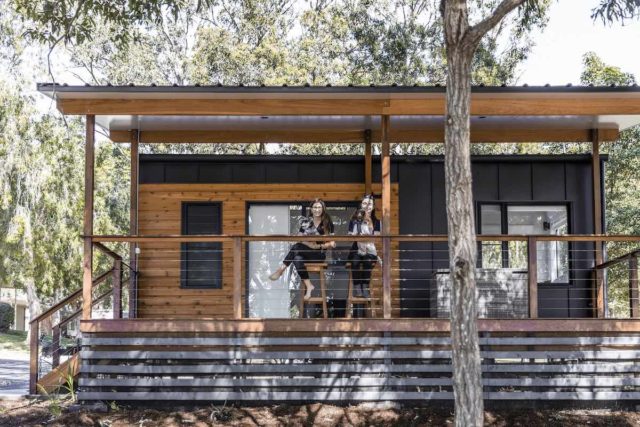 Pet-Friendly Cottages and B&Bs in Coffs Harbour
Note: This post contains affiliate links, which means I may receive commission if you make a purchase using the links. See my full disclaimer.
If you're not planning on camping, a stunning looking dog-friendly option in the Coffs Harbour region is Friday Creek Retreat. Located about 20 minutes inland from Coffs, pets are allowed in the nine cottages, as long as they are pre-approved by management prior to arrival. Up to two small/medium dogs are accepted, but only one large dog, with no additional fee.
Each of the cottages offer up beautiful views of the coastline, including from a private verandah, plus a fully equipped kitchen and open fireplace, perfect for winter months. Pets are allowed inside, but not on furniture, and you'll need to bring your own bedding and bowls. Pets are welcome to roam the property, but need to be kept on a leash due to the abundant native wildlife.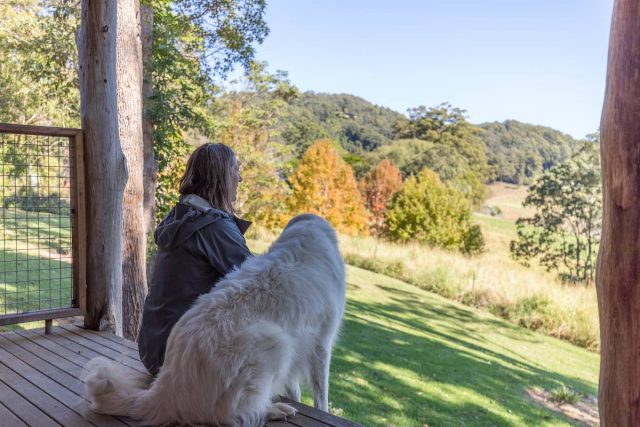 Another bed and breakfast in the region that is pet-friendly is Bonville Lodge. Situated about 15 minutes south of Coffs Harbour, choose between the 2-bedroom Lodge that sleeps 4 and the Bridge Cottage that sleeps 2. Pets are allowed inside, but not on furniture or beds, with no additional charge.
Pets are also welcome at the Woolgoolga Coast Motel, about a 25 minute drive north of Coffs Harbour. There are six pet-friendly rooms available, each with their own outdoor fenced pet run. Double check with the motel directly for any extra rules that apply.
Alternatively, consider a pet-friendly holiday home around Coffs Harbour, with plenty of options available. For instance, check out Moonee Beach House, just north of Coffs Harbour. This beautiful beach house that sleeps up to four guests welcomes pets, although make sure you advise the host at the time of booking. Generally only one dog is permitted, and an additional charge may apply.
Head Next To
Inspired? Pin this to your Pinterest board!