Just over 4-hours drive north of Sydney, Port Macquarie is a beautiful coastal holiday town in NSW with lots to do. While some of the popular sightseeing options are off limits if you have a dog, I share with you the best dog-friendly sightseeing options in Port Macquarie, from off-leash beaches to dog-friendly walks, along with where to stay and eat out.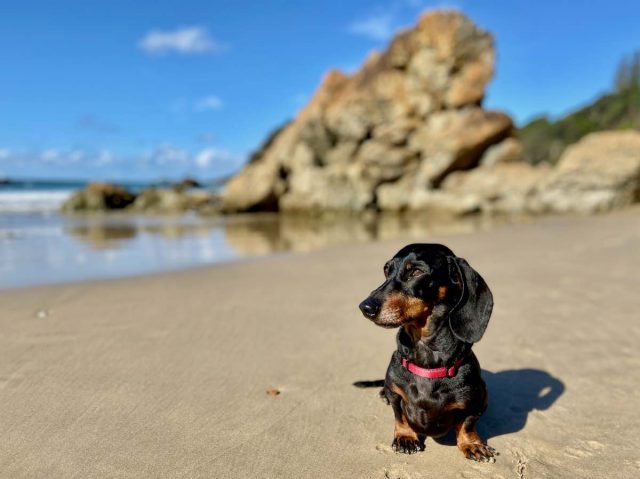 Dog-Friendly Beaches in Port Macquarie
The local beaches in the Port Macquarie area roughly alternate between allowing dogs off- or on-leash and prohibiting dogs. This council webpage has a map clearly showing the status for all beaches in the region.
Consider visiting one of these dog-friendly beaches:
Oxley Beach: The closet dog-friendly beach to the town centre of Port Macquarie, although dogs need to remain on a leash on this beach.
Rocky Beach: Immediately south of Oxley Beach, dogs are allowed off-leash on this beach but thanks to the steep cliffs, it's difficult to access, except for a few rough tracks. On the other hand, it's very quiet.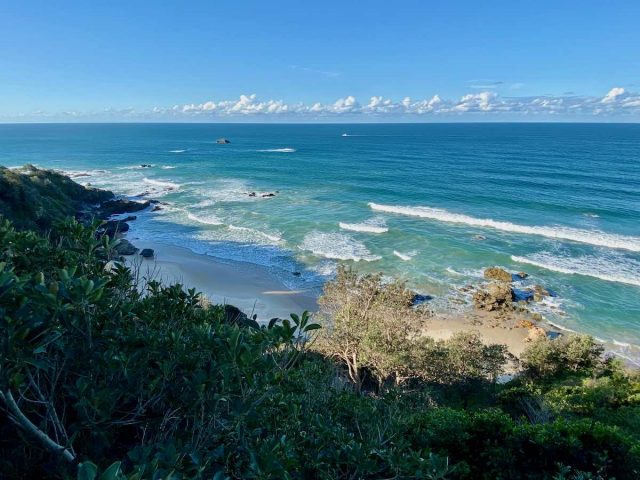 Nobbys Beach: The most popular off-leash beach close to the centre of Port Macquarie, there's a carpark at the southern end of the beach, with a short staircase down to the beach. Just long enough for a decent off-leash walk, it's partially sheltered but the waters can still be rough depending on the wind. Check out the stick and ball library!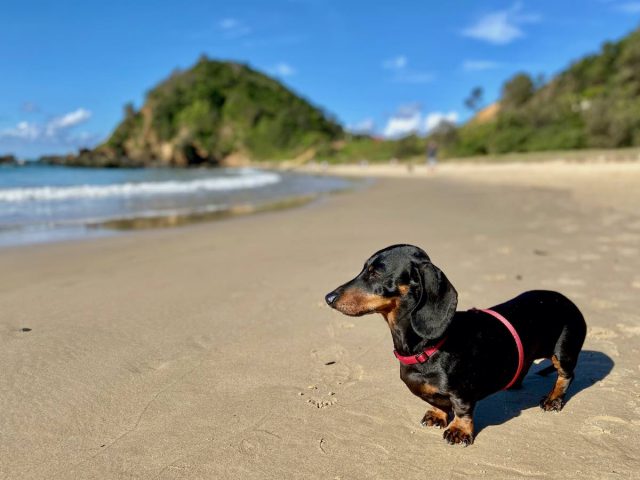 Lighthouse Beach: While dogs are prohibited from the northern end of this beach closest to the lighthouse, dogs are allowed off-leash from the Watonga Rocks south to the 4WD beach access point at Lake Cathie. It's a huge, wide expanse of sand, with plenty of room for off-leash fun.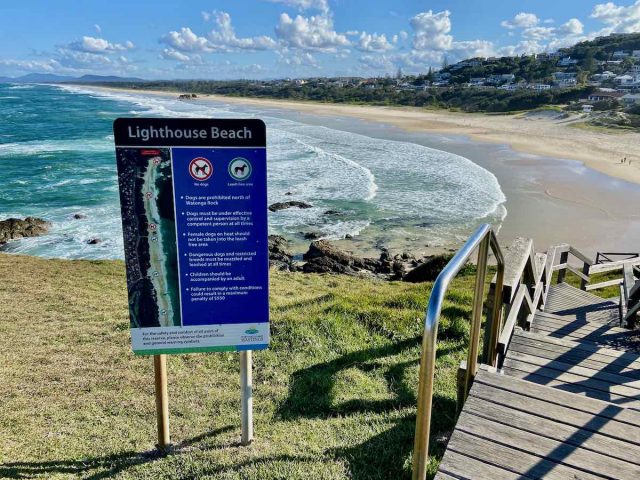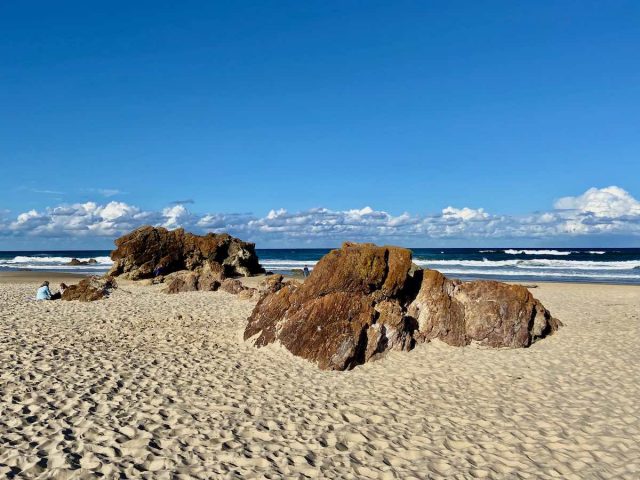 North Shore Beach: If you take the ferry north of the Hastings River (a fee applies), dogs are allowed off-leash on this beach from the breakwall to the Queens Head 4WD access point, except adjacent to Corrilla Estate, where dogs are prohibited.
Grants Beach: About a 30 minute drive south of Port Macquarie in North Haven, this is the one of the closest off-leash beaches to Laurieton, along with the southern section of Dunbogan Beach. The off-leash section starts from the northern end of the surf club car park (marked as "North Haven Beach" on Google Maps), and extends all the way north of Grants Head.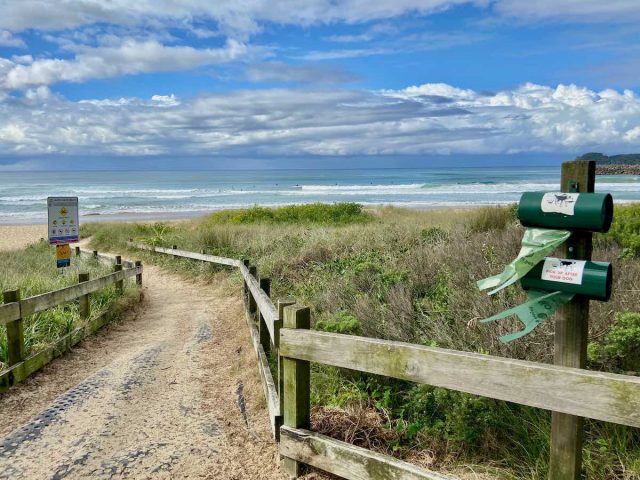 Off-Leash Dogs Parks in Port Macquarie
While the majority of places that dogs are allowed off-leash around Port Macquarie are off-leash beaches, there are also a handful of off-leash dog parks.
In Port Macquarie itself, there is a fenced dog park at Stuart Park, on the western edge of Port Macquarie. The dog park is located adjacent to Woods Street in the centre of the park, with agility equipment and a separate section for small dogs.
There are also fenced off-leash dog exercise areas in Wauchope, at Blackbutt Reserve, and Laurieton, at Henry Kendall Reserve.
Dog-Friendly Sightseeing Around Port Macquarie
Some of the top attractions around Port Macquarie are unfortunately not dog-friendly. Not surprisingly, dogs are not allowed to visit the wonderful Koala Hospital. Dogs are also not allowed at the Sea Acres Rainforest Centre (as it's located in the small Sea Acres National Park) or at Timbertown in Wauchope (due to the working animals).
Instead, check out these fun dog-friendly sightseeing options around the Port Macquarie area.
1. Follow the Coastal Walk
A number of walking paths have been combined in Port Macquarie to create the 9km-long Port Macquarie Coastal Walk. Starting from Westport Park on the western edge of the town centre, it extends all the way south to Tacking Point Lighthouse. There's plenty of detailed signs along the way.
Unfortunately, not all the walk is dog-friendly. The southern half, south of John Downes Park, is along Shelly Beach and through Sea Acres National Park, both which prohibit dogs. Stick to the northern half of the walk, with two of the most popular sections for walking dogs along the breakwall and near Nobbys Beach.
To walk along the breakwall, whose rocks have been brightly painted, start from the town centre or the car park behind Town Beach. The breakwall is adjacent to the NRMA caravan park, where we stayed, which also provides easy access.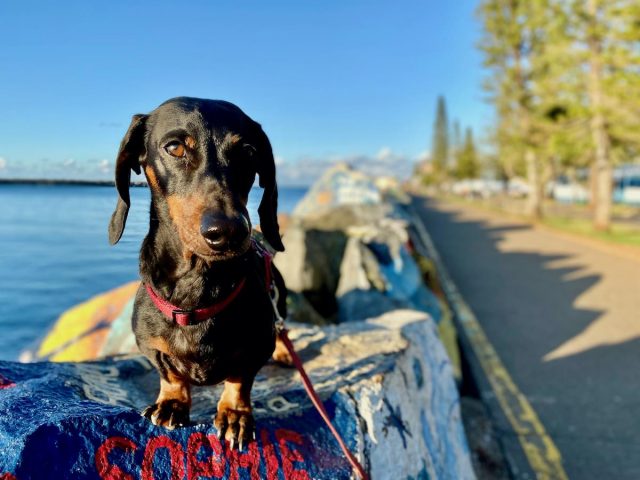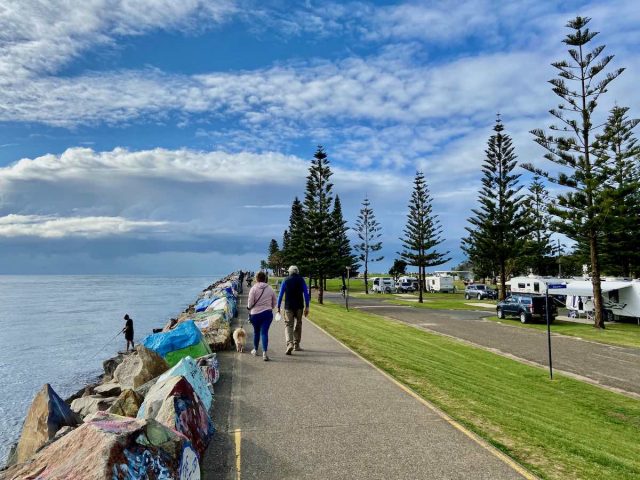 At the eastern end of the breakwall, dogs are prohibited from Town Beach. But you can walk with your dog on the footpath that continues behind the beach, south to Flagstaff Lookout and the small Oxley Beach, where dogs are allowed on a leash. Make sure you keep your dog on a leash all along the walking path, especially in the evening when it can get busy.
Alternatively, head to the section of the Coastal Walk near Nobbys Beach, parking in the carpark at the southern end of the beach. Dogs are allowed off-leash on the beach, plus on-leash to the south along the Kenny Walk in John Downes Park, although not down onto Shelly Beach.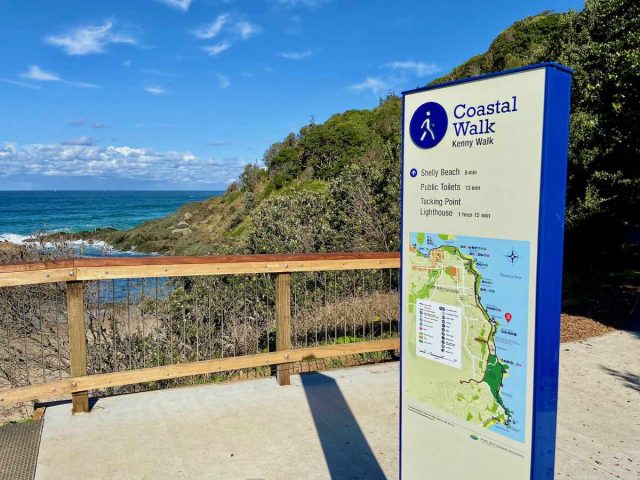 At the northern end of Nobbys Beach is a staircase over the headland, but dogs aren't allowed onto Flynns Beach on the other side. As we had parked at Flynns Beach, we resorted to carrying our small dog back across Flynns Beach, but I believe there's a rough track on your left hand side at the top of the stairs heading back up to the main road. At Flynn's Beach is possible to walk along the side road and the footpath to continue north.
2. Watch for Whales at Harry's Lookout
Another pretty dog-friendly spot to visit along the coastline in Port Macquarie is Harry's Lookout. Overlooking Shelly Beach, there's a short path to the lookout where there's some beautifully carved seats, probably a popular wedding spot on weekends.
From the lookout, keep an eye for whales off the coast. The whale migration season lasts from May to November and whales are commonly spotted.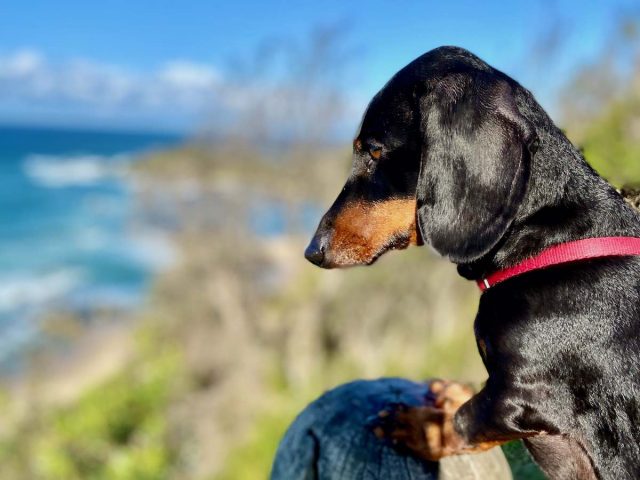 3. Or at Tacking Point Lighthouse
Another popular whale watching spot in Port Macquarie is the Tacking Point Lighthouse. There were a number of very serious observers at the lighthouse when we visited it.
The lighthouse is also famous for being very short, a mere 8m tall. Most of its height is provided by the headland on which it is perched. There's no entry to the interior of the lighthouse.
4. Enjoy a Cruise on the Hastings River
Port Macquarie lies on the southern side of the wide and winding Hastings River. A fun excursion is going for a cruise on the river, taking in the beautiful scenery and perhaps spotting some dolphins. Luckily, one of the local cruise companies allows pets to join you, Cruise Port Macquarie.
Dogs are allowed on their regular cruises, as long as they are not too large, due to space constraints. It's best to advise the cruise company when you make a booking that you'll be bringing along a dog, as there is a limit on the number allowed on each cruise. And once on board, they need to stay leashed and next to you.
Cruises operate multiple times per week, depending on the time of year. Minimum numbers are required, so it's best to book in advance.
5. Visit the Old Bottlebutt Tree
While dogs aren't allowed in many of the sections of rainforest that lie near Port Macquarie as they are inside national parks, such as the Sea Acres National Park, dogs are allowed at Burrawan State Forest, home to the Old Bottlebutt Tree.
The Old Bottlebutt Tree is the largest Red Bloodwood tree in the southern hemisphere, estimated at over 200 years old. The huge tree is surrounded by a beautiful section of remnant rainforest, with a lovely 600m-long walking trail providing access.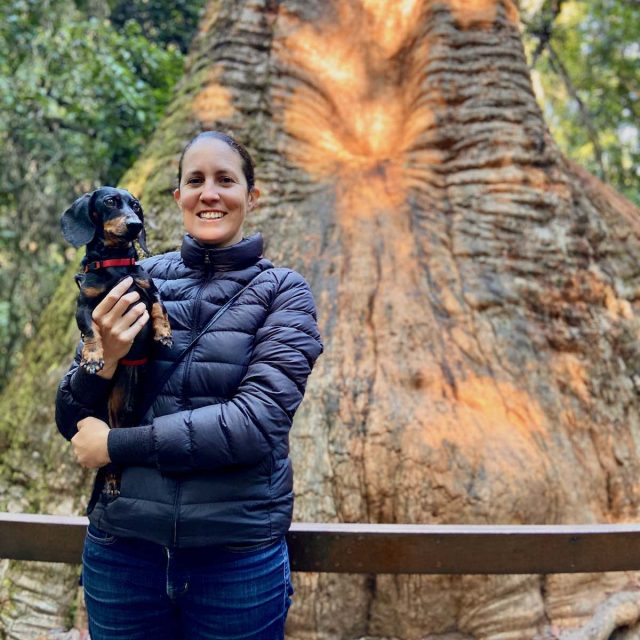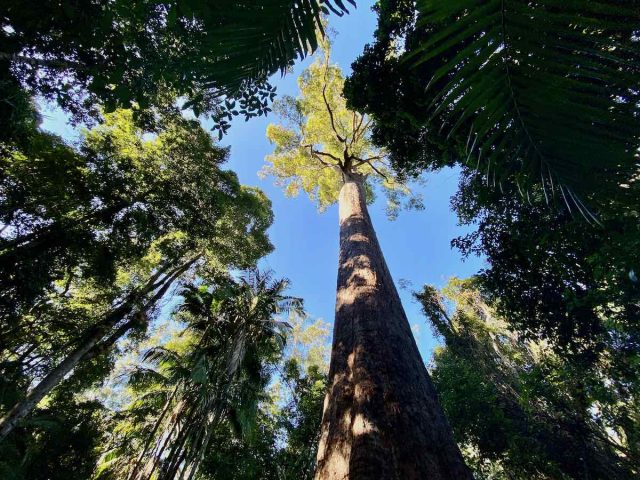 It's about a 30 drive from Port Macquarie to the Old Bottlebutt Tree. From the southern end of Bago Road, there's clear signage to the location in the tree, along 3.5km of unsealed but well maintained roads. There's a small carpark, shelter and toilet at the start of walking trail.
6. Spot a Koala Sculpture
While you're in Port Macquarie and the surrounding towns, keep an eye out for the koala sculptures, a tribute to the many koalas living in the area. We spotted some at Cassegrain Wines, outside McDonald's Port Macquarie and in Laurieton.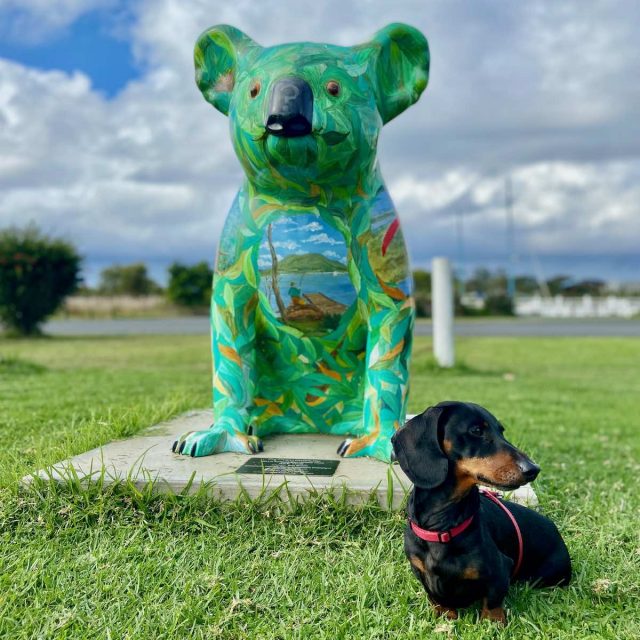 There's over 70 koala sculptures in total, with each of the one-metre high koalas painted in a unique design by Australian artists. Pick up the latest map at the Glasshouse visitor information centre or download it from this website.
Dog-Friendly Dining in Port Macquarie
There's plenty of dog-friendly dining options available in Port Macquarie, with many cafes with outdoor dining areas welcoming pets to join you.
On the recommendation from someone who lives in Port Macquarie, we enjoyed a wonderful lunch at Sandbox Cafe. It's a beautiful location overlooking Flynns Beach (although the beach itself doesn't allow dogs), with a water station provided for dogs. I loved my warm chicken salad, and don't miss ordering the perfectly done chips.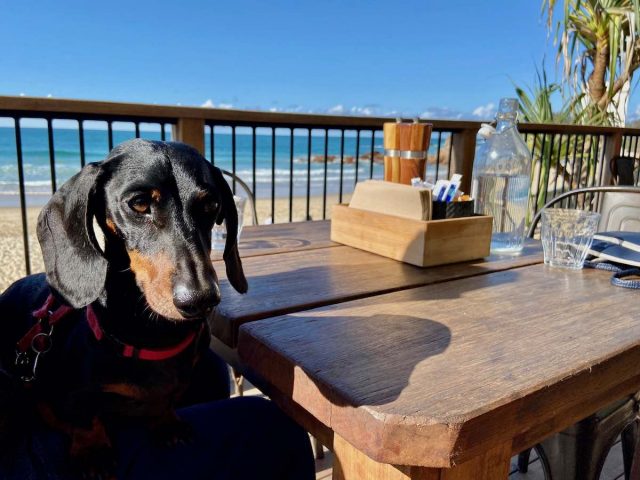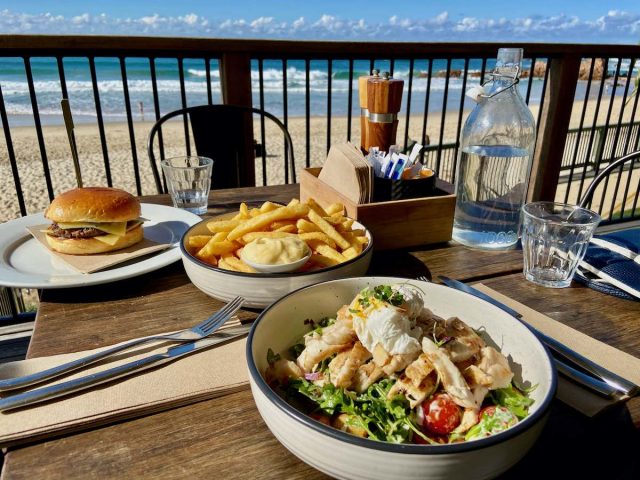 For somewhere tranquil away from the beach, take a 15-minute drive inland to the Abundance Cafe. Located adjacent to a garden centre, the large outdoor dining area overlooks a small lake, with a wide range of options for breakfast and lunch, plus tempting Devonshire Teas. It's open from Wednesday to Sunday.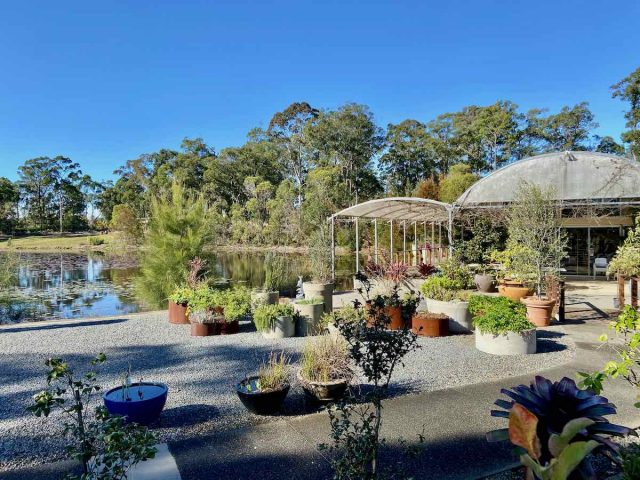 Two fancier dog-friendly dining options are located at vineyards in the region. Little Fish Cafe has a French-inspired menu that changes with the seasons, including two-course and three-course menu specials. Dine on the verandah or in the garden overlooking the vineyard of Innes Lake Estates.
At Cassegrain, dogs are welcome on the deck of the restaurant, twotriplefour by Bills. A paddock-to-plate eatery, the focus is on serving local seasonal produce alongside the fine wines crafted by Cassegrain.
Dog-Friendly Accommodation in Port Macquarie
When visiting Port Macquarie with your dog, there's a wide range of pet-friendly options available.
Note: This post contains affiliate links, which means I may receive commission if you make a purchase using the links. See my full disclaimer.
Pet-Friendly Caravan Parks in Port Macquarie
If you've got your own caravan, tent or campervan, one of the best dog-friendly accommodation options in Port Macquarie is the NRMA Port Macquarie Breakwall Holiday Park. The park is centrally located next to the breakwall, next to the dog-friendly section of the coastal walk, and is well maintained, although one of the pricier options.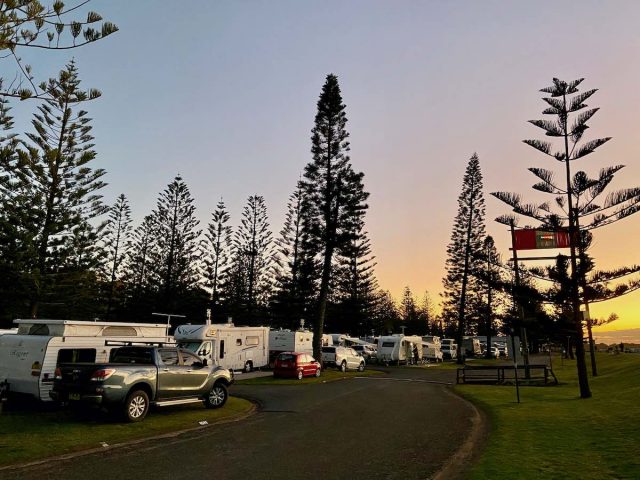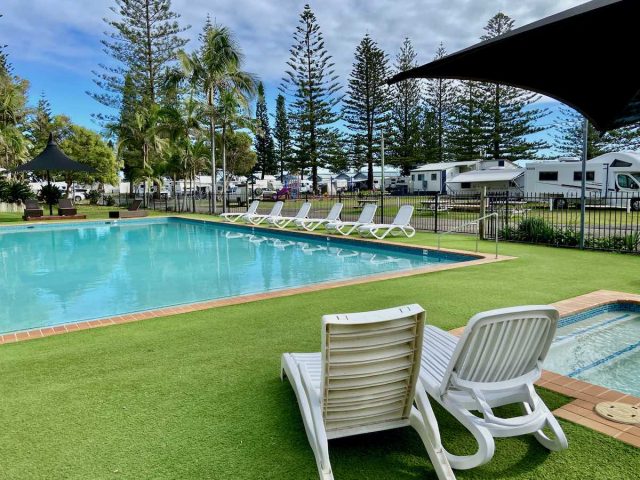 Pets are allowed on selected powered and unpowered sites in the park (just in the main southern end of the park at the time of our stay), but not over the peak Christmas and Easter school holiday periods. There is also now a dog wash on site. Make sure you call up to book, plus ask about the latest pet rules. Pets often receive a welcome treat at check-in!
Pet-Friendly Motels in Port Macquarie
If you're looking for a pet-friendly motel, one of the best options in Port Macquarie is the Narimba Motel. There's multiple rooms that vary in size, each with fridge/freezer, microwave, crockery and cutlery. Both dogs and cats are welcome, for a small pet fee, and a small secure off-leash yard is available. It's also not far from the off-leash dog exercise area at Stuart Park.
Alternatively, the Ibis Styles Port Macquarie recently added some pet-friendly rooms. The 4-star hotel is located just behind Town Beach, close to the breakwall and coastal walk. Ring up to find out more details and whether the pet-friendly rooms are available.
Pet-Friendly Holiday Homes in Port Macquarie
One very pet-friendly holiday cottage rental I've uncovered in Port Macquarie is Nobby's Beach Cottage. Situated just near the stairway to the off-leash Nobby's Beach, it sleeps up to four, on a queen bed and sofa bed, although best for couples for longer stays. Dogs are allowed inside (although not on the sofa) and there's also an enclosed yard.
Up to two small dogs or one larger dog is permitted – message to discuss before booking. Make sure you bring your pet's own bedding. The owner (who lives in the adjacent house) will even check in on your dog, if available, if you need to head out without your pup.
A larger pet-friendly holiday home in Port Macquarie is Seahorse house. A short drive from the centre of Port Macquarie, this relaxing family home has three bedrooms and an outdoor saltwater pool. Up to two pets can join you, who are allowed inside, although preferably only on the tiles, plus in the fully fenced yard.
Dog-Friendly Camping Near Port Macquarie
Alternatively, if you'd prefer to camp somewhere outside of Port Macquarie, I've heard great reports of Delicate Campground and Diamond Waters Caravan Park, both of which allow pets year round.
Delicate Campground is one of the only beach camping grounds along the NSW coast that is dog-friendly. It's located in the Goolwah Regional Park, rather than in a national park. Online bookings are available, and the rates are quite reasonable.
On a map it looks not that far from Port Macquarie, but as the most direct route involves a ferry and 4WD-only track, it's best to loop back up via South Kempsey and Crescent Head, a one-hour drive. I believe the road this way is now fully sealed.
Diamond Waters Caravan Park is located 40 minutes south of Port Macquarie on the Camden Haven River, near Laurieton. It's a gorgeous spot surrounded by bushland and welcomes dogs all year round on campsites, plus they have one pet-friendly self-contained cabin. There's a maximum of two pets per site or cabin, with no cats allowed, and their full pet rules are listed on their website.
Head Next To
Inspired? Pin this to your Pinterest board!