Byron Bay in northern NSW is one of the most popular beach destinations on Australia's East Coast. But what if you're visiting with a dog? On my recent visit with my pup I investigated everything dog-friendly in Byron Bay, and can recommend these options for your visit, from what beaches allow dogs, to where to dine and stay.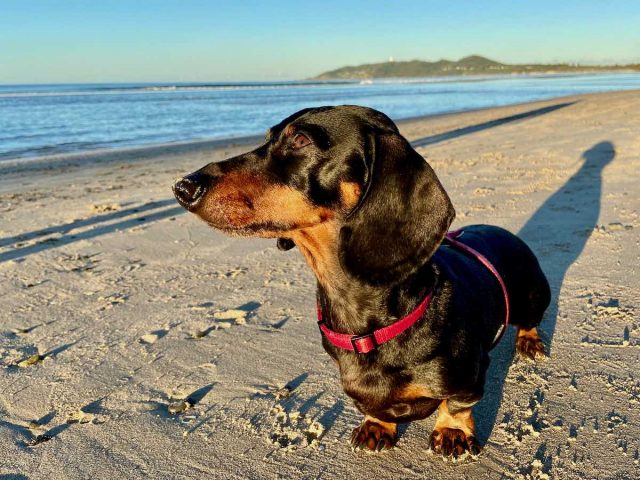 Dog-Friendly Beaches in Byron Bay
When visiting Byron with your dog, naturally you'll be wanting to hit the beautiful beaches with your pup at your side. Luckily, two of the beaches right in Byron Bay allow dogs off-leash: Belongil Beach and Tallow Beach.
Belongil Beach is located just west of the Main Beach in Byron Bay (where dogs are prohibited), and is a very popular spot with backpackers. The waters are pretty sheltered, and it's a great spot to head for a walk, picnic or to enjoy the sunset.
The off-leash section starts a little way west of the Main Beach car park and extends west to Manfred Street in Belongil. Dogs are also allowed on the adjacent section of Cavanbah Park.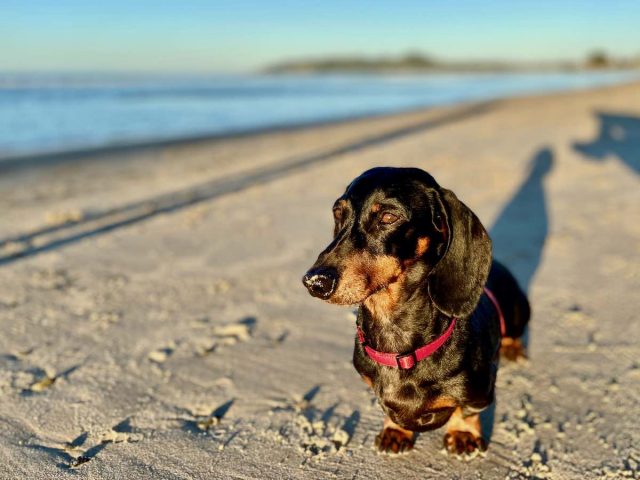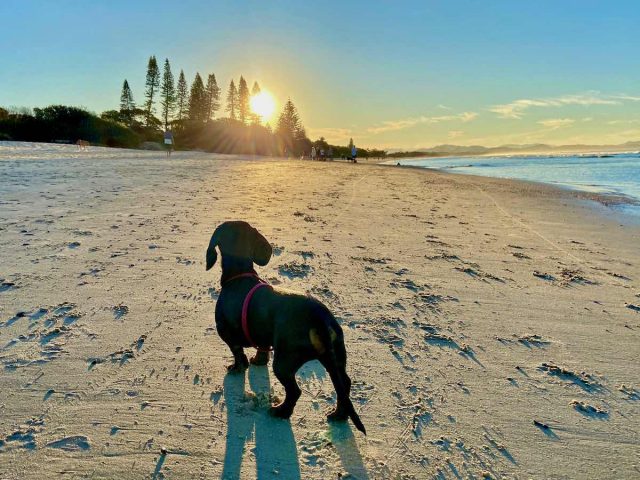 Tallow Beach is located just south of Cape Byron. In total it's 6.5km long, but the off-leash section is about 1.5km in length, from just south of the Arakwal National Park (there's an access path on the northern side of the caravan park) south to Jarman Street in Suffolk Park. This beach is more open, with rougher waters, and quieter.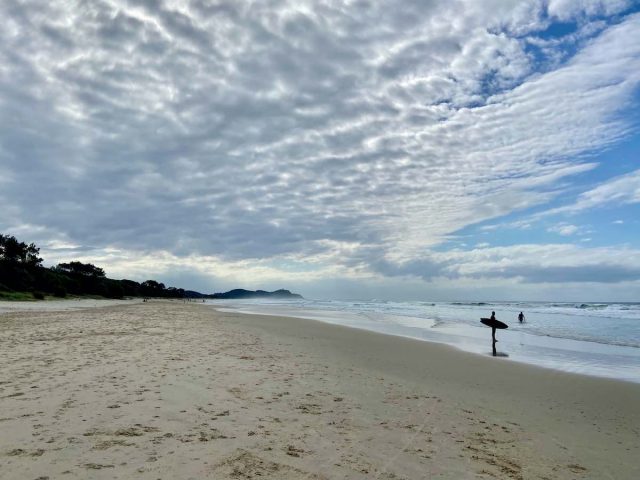 Another beautiful off-leash beach to head with your pup nearby is Brunswick Heads Beach. This beach is located 20 minutes north of Byron Bay and is popular with locals, away from the bustle of Byron Bay. The off-leash section is well signposted, starting just south of the Surf Club and extending for 400m south to the boundary of Tyagarah Nature Reserve.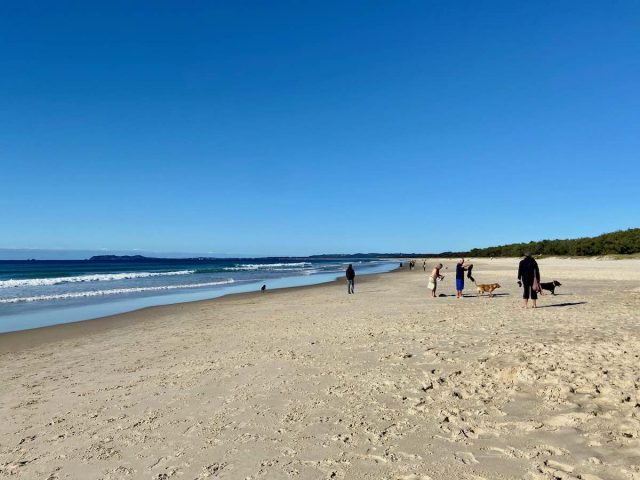 Dogs are also allowed off-leash at two beaches slightly further north, New Brighton Beach and the northern end of South Golden Beach. For full details of all the beaches and maps, see the council website.
Alternatively, if you head south of Byron Bay, Seven Mile Beach in Lennox Head has an off-leash section. Famous for its surf break, the off-leash section of this beach starts just north of the Surf Club, adjacent to Lake Ainsworth, and extends to the very distant end of the beach.
To access the off-leash beach section, use the access path just north of the Surf Club, with dogs required to be on leash on the path. Confusingly, Pacific Parade is no longer open to vehicles and there's plenty of dog prohibited signs around, as dogs are not allowed on the land surrounding the lake. Alternatively, take Camp Drewe Road around to the 4WD access point north of the lake.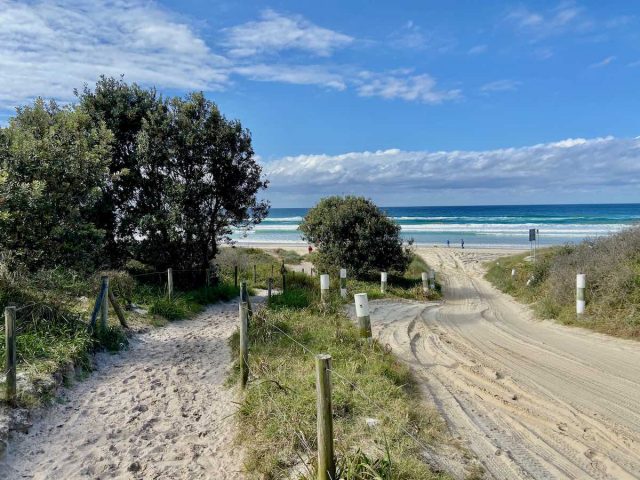 Additionally, in Ballina, dogs are allowed off-leash at The Spit. For full details, see the Ballina Shire Council website.
Dog-Friendly Parks in Byron Bay
If you'd prefer to skip heading to the beach with your dog, there's also an alternative off-leash dog exercise area at Suffolk Park, just south of Byron Bay. The reserve behind the northern end of Beech Drive, right around the lake, is off-leash. It's a peaceful spot for an off-leash walk away from the road.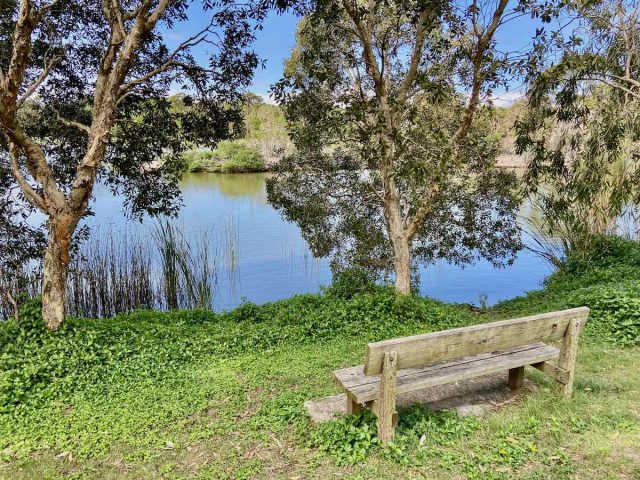 There's also more off-leash parks further afield in Mullumbimby, Bangalow, Skennars Head and Ballina. For further details, see the relevant pages for the Byron Shire Council and Ballina Shire Council.
Dog-Friendly Sightseeing Around Byron Bay
Unfortunately, dogs are prohibited from one of the most famous sightseeing spots in Byron Bay: Cape Byron and its Lighthouse. This area is situated in the Cape Byron State Conservation Area, which prohibits dogs.
The Cape Byron State Conservation Area extends across most of Cape Byron, excluding the residential areas at Wategos Beach and behind Clarkes Beach, but including the actual beaches at Wategos Beach and Clarkes Beach. Off limit to dogs is the popular walking track to the easternmost point in Australia and the lighthouse.
However, there's plenty more sightseeing options available around Byron Bay that do allow dogs. Once you've had your fill of the beaches and cafes around Byron, get in your car and head off on a road-trip through the Byron Bay Hinterland to stop at these dog-friendly destinations.
1. Visit The Farm at Ewingsdale
Just 10 minutes west of Byron Bay, adjacent to the Pacific Motorway, a must-visit stop is The Farm. As well as being home to the Three Blue Ducks restaurant, it's also an actual farm.
There's a recommended 1km-long tour around the property, which can be done self-guided or guided, a chance to view the animals and produce growing there. On-leash dogs are permitted to join you. Perhaps also stop off at the Bread Social Bakery or Baylato for gelato.
Dogs are only not permitted in the indoor areas of the restaurant.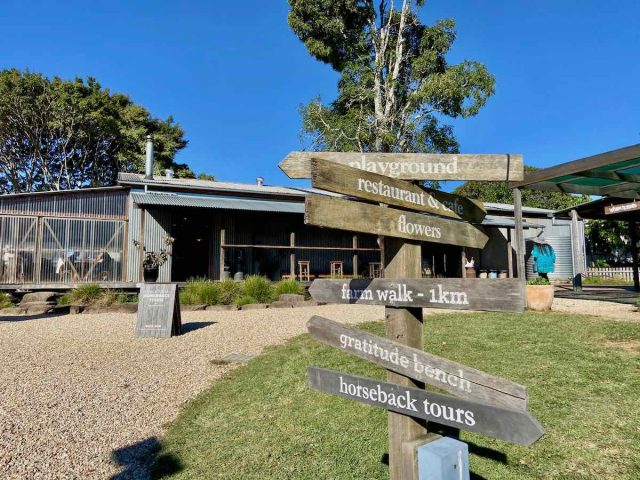 2. Head to Newrybar
The delightful small village of Newrybar is also just off the Pacific Motorway, southwest of Byron Bay. The village is home to the award-winning Harvest Newrybar restaurant. But there's also the wonderful Harvest deli and coffee-stand and some gorgeous shops, Harvest Marketplace and Luther & Co.
Luther & Co was named after their recently passed away German Shepherd, Luther, and you're still likely to encounter a dog or two out the front. I'm not certain if dogs are allowed inside, but it's still possible to browse the front.
Plus don't miss grabbing one of the delicious sausage rolls at Harvest deli, enjoying it out on the verandah, or some of the sourdough bread baked in the 118-year-old wood-fired oven.
3. A Stroll Through Bangalow
Not far from Newrybar is the larger town of Bangalow. This is also a great shopping destination for homewares and clothing, even if you just stick to window shopping. Perhaps also stop off at Butcher Baker Bangalow or Bangalow Bread Co for a sweet snack.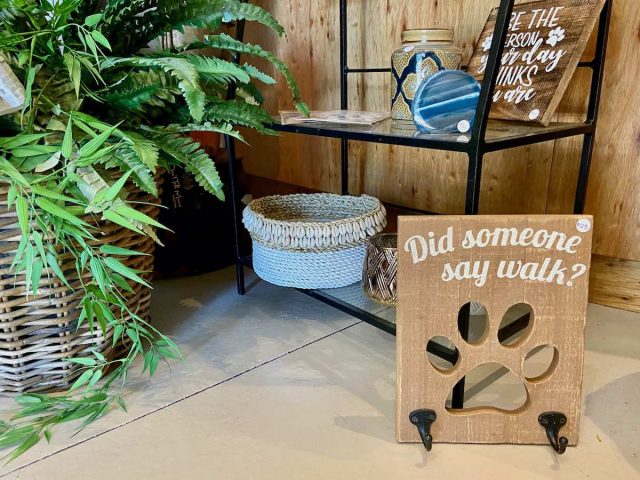 Many of the buildings lining the main street of town are 100 years old or even older. Keep an eye out for the Bangalow Heritage Walk signs on many of the buildings, to find out details of their history.
4. Hiking at Rocky Creek Dam
Not far inland from Byron Bay is the Nightcap National Park, home to a beautiful World-Heritage listed rainforest. While dogs aren't allowed in the park, head to the adjacent Rocky Creek Dam, part of the Rous County Council Rainforest and Water Reserve, where on-leash dogs are permitted. The dam is a 55-minute drive inland from Byron Bay, along some beautiful but bumpy roads.
Unfortunately, the dam was closed when I visited shortly after a lockdown, but by all reports it's a great destination to head with your dog. There's multiple walks available, up to 2.3km long. Just skip the longer walks that enter into the national park. There's also a grassed picnic area.
5. The Hippie Town of Nimbin
A little further inland from Byron Bay is the old hippie town of Nimbin. It's a further 40 minute drive from Rocky Creek Dam, or 75 minutes directly from Byron Bay. Alternatively, the road from Lismore is less windy and bumpy, especially if you're driving a campervan like we were.
Originally a small dairy farm, Nimbin became the hippie capital of Australia when it hosted the Aquarius Festival in 1973. Just note that the vibe around Nimbin can be rather strange, with the town not as friendly as it used to be, so decide whether you want to visit.
Perhaps head there on the weekend for the Nimbin Market, held on every forth and fifth Sunday of the month. The rest of the time the town is home to plenty of quirky boutiques and shopfronts, including the Nimbin Hemp Embassy, plus some colourful murals and new-age cafes.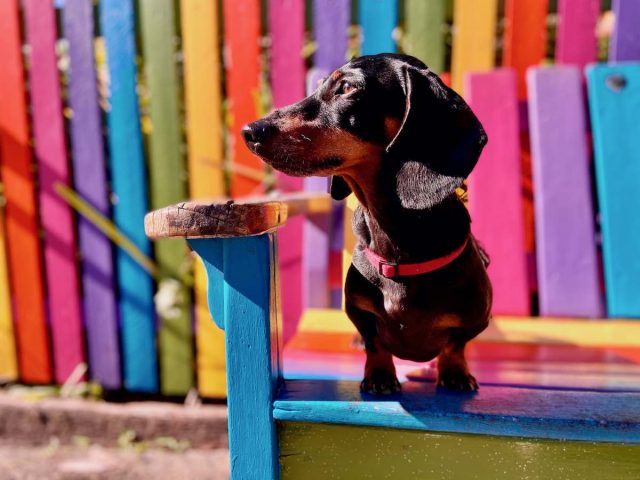 6. A Tasting at Cape Byron Distillery
Not far from Bangalow is the Cape Byron Distillery, a producer of fine gins and liqueurs, and soon also whiskey. While only guide dogs are allowed on the regular tours, well-behaved pet dogs are welcome to join you for a tasting on the balcony.
I didn't get a chance to visit while I was in Byron, but their location surrounded by rainforest and a macadamia orchard looks gorgeous. Bookings are essential.
Dog-Friendly Cafes in Byron Bay
There's no shortage of dog-friendly cafes to eat out in Byron Bay and the surrounding towns. Just walk along the main streets and there's plenty of cafes and restaurants with outdoor seating, many with water bowls put out for the pups of locals and visitors.
One of my favourite dog-friendly spots around Byron Bay is Treehouse Byron Bay. It's a very spacious venue with a tropical vibe, open daily from early to late for breakfast, lunch, dinner, or just a drink. It's a great spot to head before or after a walk on the off-leash Belongil Beach, with dogs welcome at the many outdoor tables.
Another popular spot in Byron Bay is the Byron Bay General Store. Established as a general store in 1947, these days it's a rustic chic cafe serving up mainly vegan fare at breakfast and lunch. There's plenty of outdoor seating and we spotted lots of dogs when we visited, even one inside, but maybe that was just for ordering. I highly recommend the smoothie bowls!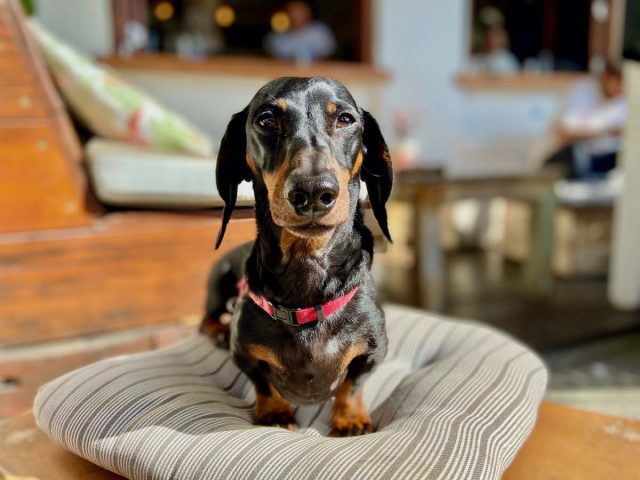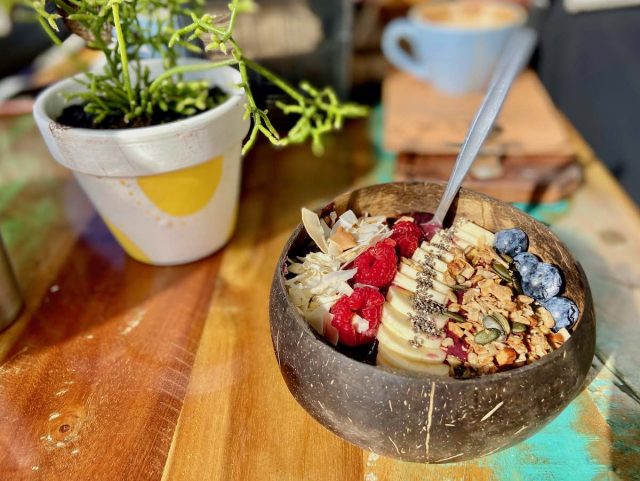 If you head further west from Byron Bay, just before the Pacific Motorway is The Farm. The very popular Three Blue Ducks restaurant is located here, with plenty of outdoor tables where dogs are welcome. Note though that dogs are not permitted inside the restaurant.
Alternatively, just grab a snack from inside or from the gelato stand, and take a walk around the property. Your dog is welcome to join you on the 1km route around the farm, as long as they stay on a leash.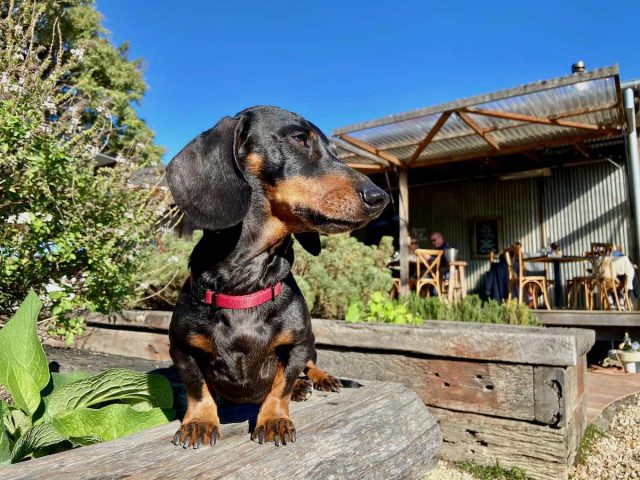 Note that if you're considering heading to the Byron Farmers Market, dogs are not permitted. I'm not sure if this applies at the other markets in the Byron Bay area.
Dog-Friendly Pubs & Breweries in Byron Bay
I recommend heading to the Stone & Wood, whose Byron Bay brewery is located just west of town. The brewery and tasting room is open during the day, and their friendly staff assured me dogs are welcome in the large outdoor space.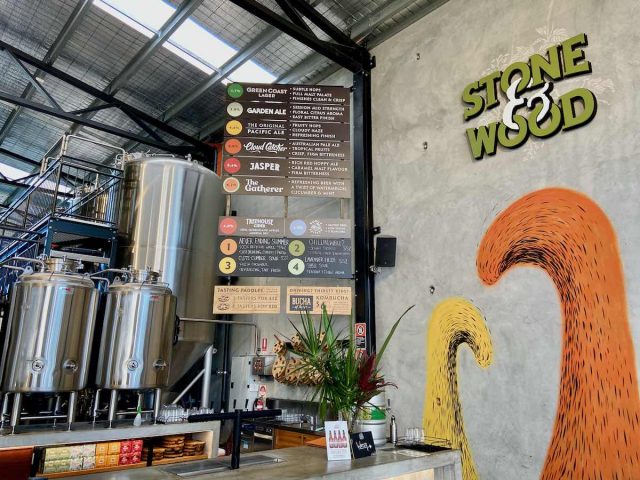 We just picked up some takeaway beers, but tasting paddles are available to sample their large range, as well as a small food menu – check the latest offering on their website.
Dog-Friendly Accommodation in Byron Bay
When it comes to dog-friendly accommodation in the heart of Byron Bay, there's not as many options available as you'd expect. Even most of the caravan parks don't allow dogs, and the rates are generally more expensive that other coastal towns further south, even compared to Ballina.
Note: This post contains affiliate links, which means I may receive commission if you make a purchase using the links. See my full disclaimer.
Pet-Friendly Caravan Parks in Byron Bay
Your best bet for affordable dog-friendly accommodation in Byron Bay is Ingenia Holidays Byron Bay. Located a few kilometres south of Byron Bay proper in Suffolk Park, the park allows pets both on camp sites plus in selected studio cabins and standard villas. Blackout dates apply, but are not listed on the website. Only one pet is permitted per booking, unless prior arrangements are made.
It's a very large park, the largest in Byron Bay, with lots of unpowered sites in particular. It's no surprise then that the rates for unpowered sites are a lot cheaper than for powered sites, something to keep in mind if you don't really need power. For powered sites or cabins, it's best to book, either by calling or emailing, if you want to stay with a pet.
One of the benefits of staying at Ingenia Holidays Byron Bay is that it's just a short walk to the off-leash Tallow Beach, located behind the park. However, in between lies a wetlands area, and the access path sometimes floods, like was the case during our stay. There's also a fenced are for off-leash exercise at the rear of the park, plus a new dog wash in the visiting parking area.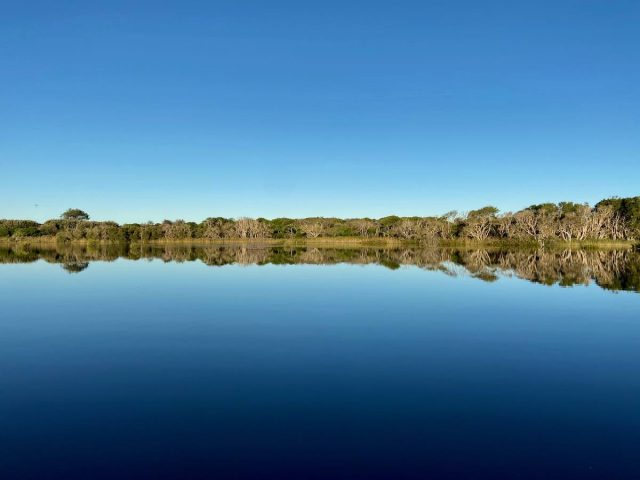 Pet-Friendly Resorts & Motels Around Byron Bay
A great pet-friendly accommodation option in the heart of Byron Bay is the Byron Bay Hotel and Apartments, with rooms sizes ranging from King Size up to Three-Bedroom Apartments.
Pets are allowed in all of their room types, with specific rooms on the ground floor allocated as pet-friendly. Make sure you mention you are bringing a pet, and an additional charge of $80 will apply per stay.
Alternatively, book a stay at the highly-praised Beach Suites Byron Bay. They offer a mix of Penthouse, Beachfront Studios and Garden Suites, opposite the Main Beach in Byron Bay. Small dogs are welcome in selected studio and penthouse rooms, pampered with their own luxe bed and bowls.
Note that direct bookings are required for bookings with a pet, and advance approval is required -certain breeds of dogs not permitted and a vaccination certificate required. The pet policy also stipulates that an additional fee of $75 or $125 per night will apply.
For a more peaceful spot, head to the Byron Bay Rainforest Resort, immediately south of Ingenia Holidays in Suffolk Park. The resort has nine self-contained cottages, all of which are pet-friendly, for an additional charge.
The resort is surrounded by remnant coastal rainforest and wetlands, with lots of walking tracks on the property. Just don't expect a luxury resort, it's more basic in style.
Alternatively, head north of Byron Bay. About 20 minutes north is The Chalet Motel in Brunswick Heads. The Chalet is a classic 60s-style motel, albeit freshly renovated, with beautiful stylings, luxe toiletries and smart TVs.
Brunswick Heads is a more relaxed alternative to Byron Bay and there's an off-leash beach within walking distance. One dog is permitted per room, with prior approval. There's an additional charge of $50 per stay for your dog – make sure you select the option for the pet fee when booking online.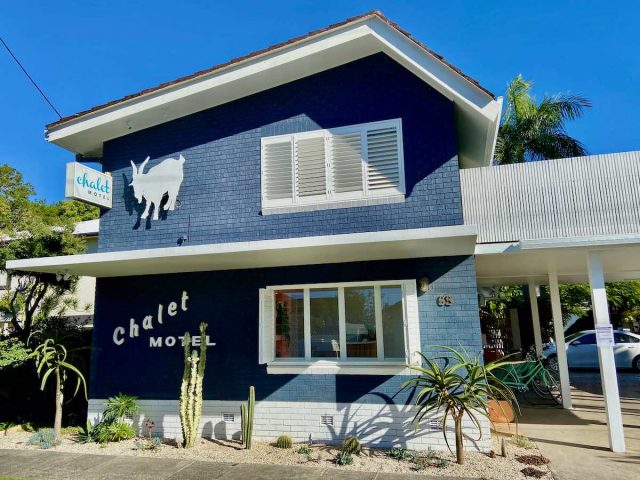 Pet-Friendly Holiday Homes Around Byron Bay
There's also plenty of great holiday homes around Byron Bay, including on Airbnb.
For a luxurious option, make a booking with Lang Park Cottages. There's three recently constructed one-bedroom cottages, that can sleep up to four guests, at this serene farm-stay 10 minutes inland from Byron Bay. Each has an outdoor bath and there's also a gorgeous pool on the property.
Up to two dogs are welcome at each cottage, although they are not allowed in the bedrooms or on the furniture, or to be left unattended. Make sure you also notify the hosts when booking, so that you can receive approval. Book Cottage 2 or Cottage 3.
Another pet-friendly place to stay is Byron Beach Retreats. Small house-trained dogs are welcome at each of their three luxury properties, the Beach House (sleeps up to 6), the Bungalow (sleeps 2) and the Eco Lodge (sleeps up to 8).
All three are located at Broken Head, immediately south of Byron Bay. Contact the property directly to find out the full pet policy. Note that the Eco Lodge isn't fenced.
Head Next To
About the Author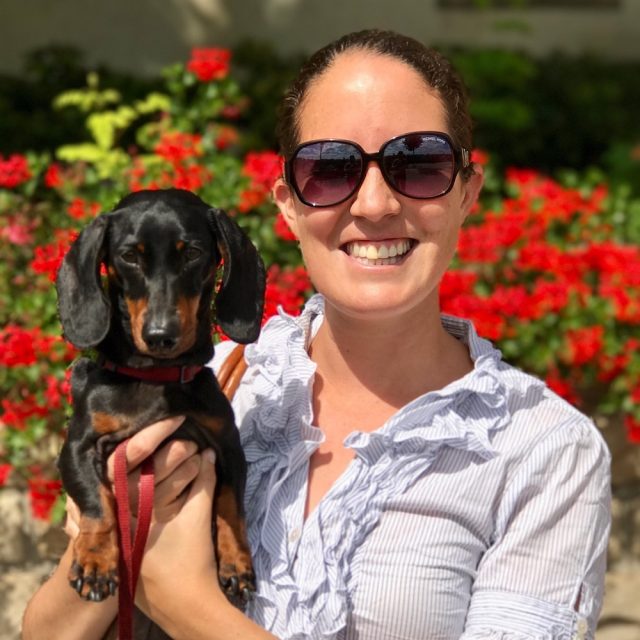 Shandos Cleaver is the founder of Travelnuity: Dog-Friendly Travel. She has travelled extensively with her Miniature Dachshund, Schnitzel, including to 33 countries across Europe, every state and territory of Australia except Tasmania, and 10 of the United States. She's passionate about providing inspiration and information to others wanting to travel with their dogs, whether close to home or internationally.
Inspired? Pin this to your Pinterest board!