As a lifelong resident of New South Wales in Australia, I used to think there weren't many options for holidaying with a dog. However, whether things are becoming more dog-friendly or it's simply a matter of researching what is available, there's an incredible variety of things to do on holidays with your dog in NSW.
Sure, NSW still isn't the most dog-friendly place in the world, but there's still plenty of options for dog-friendly holidays in NSW. Read on to find out more, from pet-friendly accommodation ideas to fun things to do with your dog in NSW.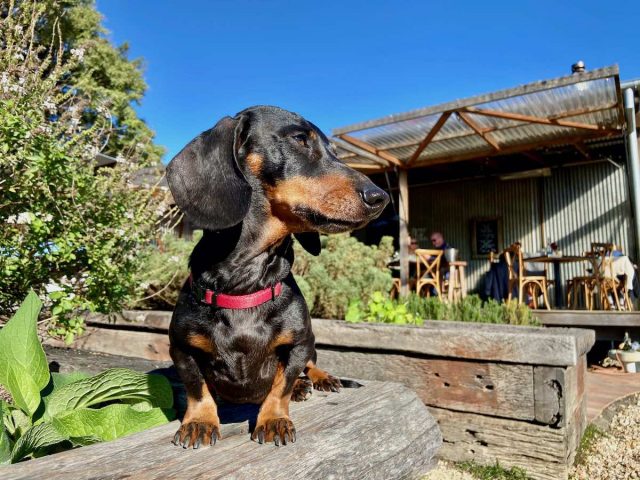 Dog-Friendly Accommodation in NSW
The biggest deal breaker when it comes to holidaying with your dog is not finding somewhere suitable to stay. Luckily, there's a wide variety of dog-friendly accommodation options available in NSW.
Pet-Friendly Hotels in NSW
If you'd like to stay in a hotel, an increasing number of hotels in Sydney are becoming dog-friendly. For a full list of your options, from luxury to boutique to beachside stays, check out my listing of dog-friendly hotels in Sydney.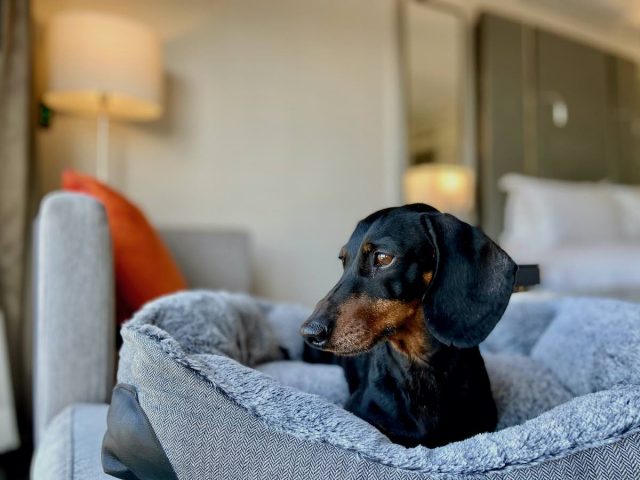 Outside of Sydney, there aren't as many hotels that are dog-friendly, although there are a few scattered gems. For instance, Bannisters has dog-friendly rooms at both their Port Stephens and Mollymook locations, while the Abode Malua Bay near Batemans Bay is dog-friendly. Check out my recent list of stylish pet-friendly hotels along the NSW coast.
There are also an increasing number of options in the Blue Mountains, Hunter Valley and across the border in Canberra. Some country motels also have a dog-friendly room or two (it's always worthwhile asking), including if you're driving along the Hume.
When staying with your dog at Australian hotels, it's best to book directly with the hotel – this is often the only way you can make a booking with your pet.
Dog-Friendly Caravan Parks in NSW
If you're heading into regional NSW, the easiest dog-friendly option to find are dog-friendly caravan parks. I'd estimate that well over half of caravan parks in NSW are dog-friendly, even more in some inland areas.
Note though that dogs are usually only allowed on campsites, with only selected parks having pet-friendly cabins in NSW. The degree of dog-friendliness varies from park to park. For instance, some excellent dog-friendly caravan parks have dog washes, fenced off-leash areas and more. Check out my recommendations for extra dog-friendly caravan parks in NSW.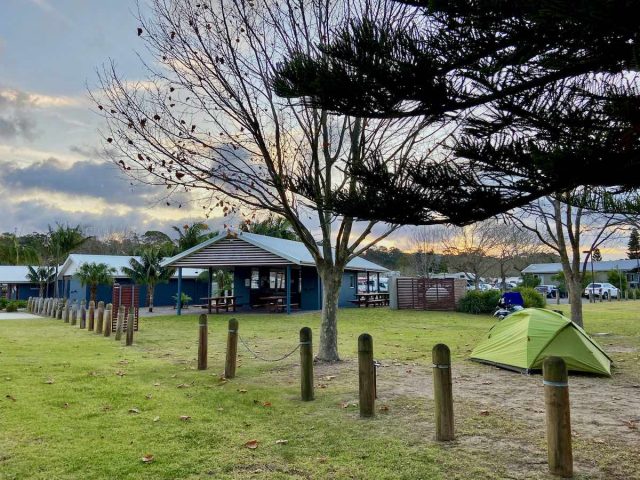 Also be aware that some caravan parks are only dog-friendly on a seasonal basis. The most common peak periods when dogs aren't allowed are over Christmas and New Year, plus the Easter long weekend. This most commonly applies in caravan parks along the coast. Always confirm directly with the park that your dog is permitted, along with any blackout periods and the latest rules.
There's also some terrific dog-friendly campsites that are located outside of typical caravan parks. Or if you don't have your own tent, check out these pet-friendly glamping tents in NSW.
Pet-Friendly Holiday Rentals in NSW
While some caravan parks have dog-friendly cabins in NSW, this is still a minority. Outside of Sydney, if you're not wanting to camp or stay in your own caravan or campervan, your best alternative is often a dog-friendly holiday rental. In particular, this is a great option if you're holidaying with a large family or in a group, although smaller rentals are usually also available.
There are multiple websites in Australia that cater specifically for people looking for dog-friendly holiday rentals, such as Holidaying with Dogs. However, you can also filter holiday homes on both Stayz and Airbnb for pet-friendly options. I've put together these two lists of dog-friendly beachside Airbnbs on both the NSW North Coast and NSW South Coast.
Dog-Friendly Holiday Ideas for NSW
So, what sightseeing options are there in NSW that allow your dog to join you? Here are my top recommendations for what to do with your dog.
Don't also forget to check out my guide to the best fenced dog parks in NSW, no matter what part of the state you're visiting.
1. Visit a Dog-Friendly Beach
There's no shortage of beautiful beaches along the NSW coastline and plenty of them are dog-friendly, particularly when you head outside of the cities. While some beaches only permit dogs off-leash during restricted hours or only allow on-leash dogs, such as the beautiful beaches of Jervis Bay, there are plenty more that allow dogs off-leash 24/7.
For some beautiful beaches to add to your itinerary, check out my list of the best dog-friendly beaches in NSW. I put this list together after road tripping up and down the coast and visiting dozens of beaches with my pup. Best of all, all of the beaches I've included allow dogs off-leash all day long, with no time restrictions to worry about.
2. Head Out Hiking
While many of the most popular hiking trails in NSW are located within national parks, and thus are off the agenda for hiking with your dog, there's some other great dog-friendly hikes located around the state.
A great place to start, is by checking out the hiking options available inside nearby state forests. Did you know that dogs are permitted inside all NSW state forests?
At Coffs Harbour, head to the Sealy Lookout in the Orara East State Forest, then complete one of the nearby hikes. Closer to Sydney, head to Strickland State Forest near Gosford for a number of popular walks.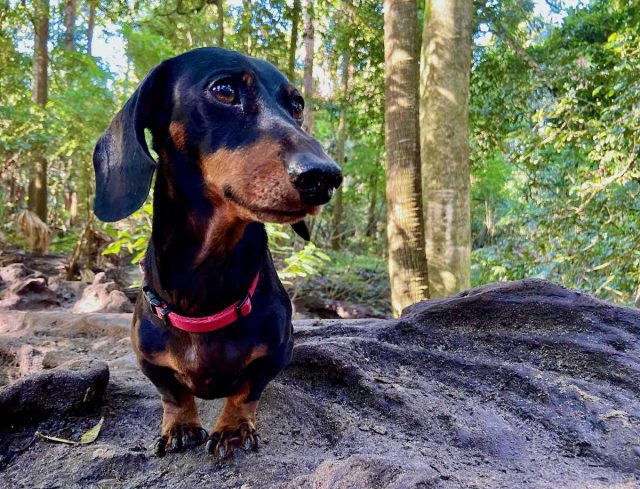 Many other walking tracks are located on council land or simply outside of national parks. For plenty of dog-friendly hiking inspiration for your next trip, check out my lists of recommended dog-friendly hikes in NSW:
Find out more about hiking with your dog in Australia.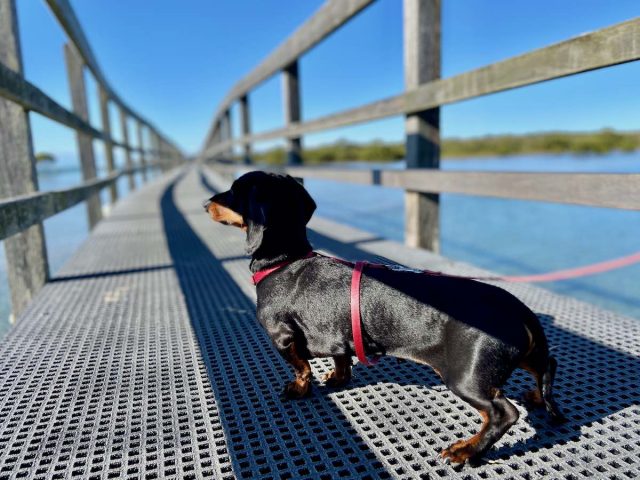 3. Book a Tasting at a Dog-Friendly Winery
NSW has no shortage of fabulous wine regions, and luckily many cellar doors permit your dog to join you when wine tasting. Some cellar doors only permit dogs outside, while other cellar doors also allow dogs to join you inside, sometimes in air-conditioned comfort or next to an open fire. I recommend reaching out in advance to find out the details, plus make a booking.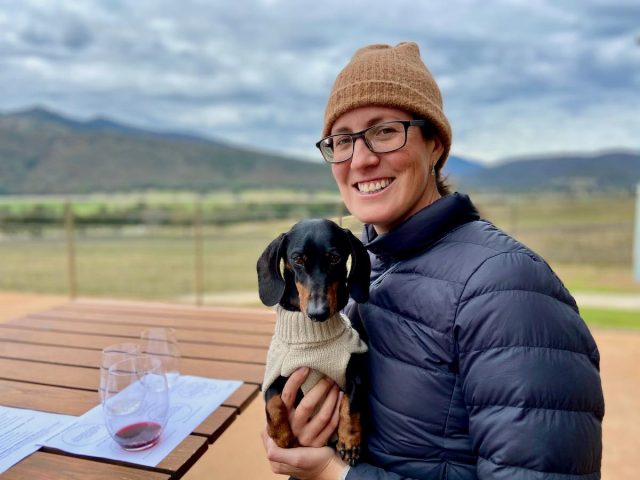 For recommendations on dog-friendly cellar doors in NSW, check out my guides to:
Also check out my tips for visiting dog-friendly wineries with your dog.
4. Stroll Around a Dog-Friendly Garden
Another great dog-friendly sightseeing option is to visit a dog-friendly garden. While unfortunately many of the gardens in NSW don't permit dogs on their grounds, including many botanical gardens in the state, luckily there are some great gardens that do permit on-leash dogs to join you.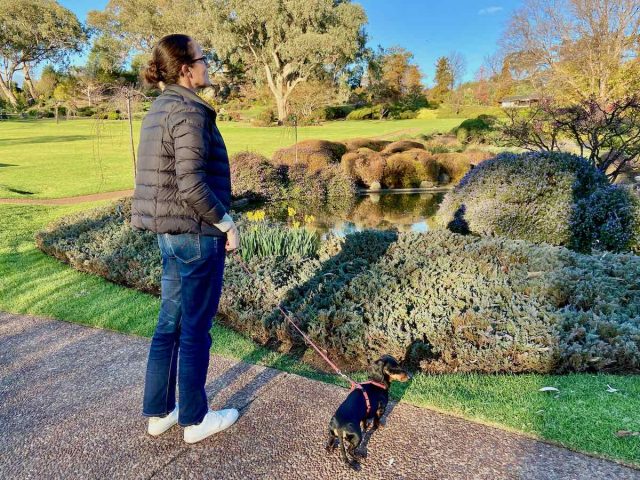 For instance, in Cowra you can head to the Cowra Japanese Garden, the largest Japanese garden in the Southern Hemisphere, with on-leash dogs welcome, including in the outdoor area of the cafe. Alternatively, head to Oberon and the increasingly popular Mayfield Gardens, which is also dog-friendly.
For more ideas on gardens to visit, including the best time of year to visit them, check out my guide to dog-friendly gardens in NSW.
Dog-Friendly Dining in NSW
The same rules apply for dining out with your dog in NSW, as in the rest of Australia and New Zealand. That is, dogs are allowed in the outdoor dining areas of cafes and restaurants, albeit at the discretion of the owner/manager. Additionally, the NSW rules make clear that dogs must be leashed, not be fed, stay on the ground, and not pass through enclosed areas to reach the outdoor area.
While travelling around NSW with my dog, whether in the cities, along the coast or in the country, I've generally found most cafes and restaurants fairly accommodating. In my individual guides to different regions of NSW, I've picked out some of the more dog-friendly places to dine. Around Sydney, check out my recommendations for extra dog-friendly cafes and the best dog-friendly pubs.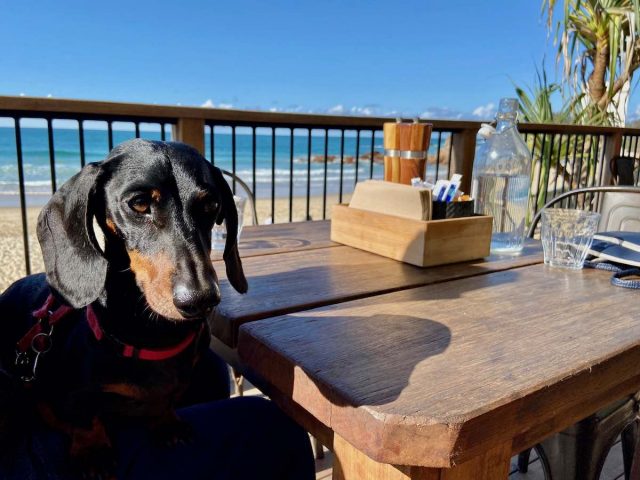 If you have trouble finding dog-friendly dining options, there's always the option of take-away or the many picnic areas located around the state. Be warned though that dogs generally need to remain 10m away from food preparation or consumption areas in parks, so bring your own picnic blanket or sit away from the BBQs with your pup.
Also consider staying in accommodation with your own cooking facilities, as a back-up during inclement weather.
Getting Around NSW with a Dog
By far the easiest way to travel around NSW with a dog is by your own car. In particular, your dog is likely to already be familiar with travelling in your car, helping them adjust to the idea of travelling. But what other options are available?
Hiring a Vehicle
If you don't have your own car, or it's unsuitable for a road trip, you might want to consider hiring a vehicle. Note though that not all rental car companies in Australia permit pets to travel inside their vehicles. To find out which companies have pet-friendly policies, check my guide to hire car companies in Australia.
Alternatively, you might want to consider hiring a pet-friendly campervan, even if you already have your own car. Having a campervan gives you the flexibility of staying in the many dog-friendly caravan parks in NSW, without the hassle of camping in a tent. You can even hire a campervan with your own toilet and shower.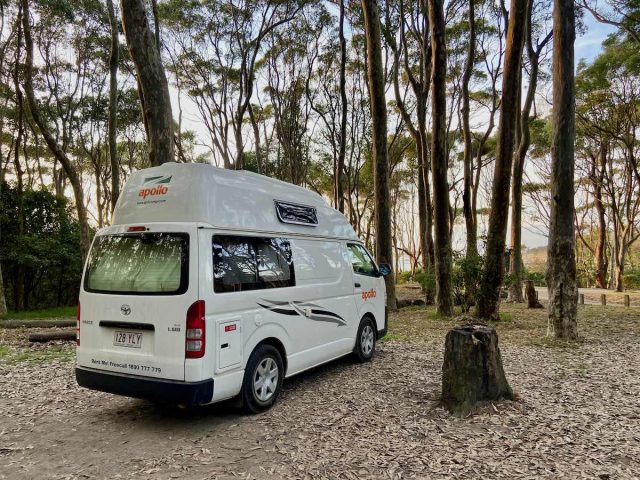 There are an increasing number of pet-friendly campervan options in Australia. On our recent road trip around NSW, we hired a pet-friendly campervan from Apollo. For more information, check out my guide to hiring a pet-friendly campervan. Be prepared to pay a fee for your pet.
Dogs on Public Transport in NSW
Unfortunately, it's not really feasible to travel around NSW with your pet dog on public transport, unless you're staying very close to home. This is because pets aren't allowed on trains within NSW, whether Sydney Trains, Intercity Trains or CountryLink. Pets are also not allowed on the coaches operated by Transport NSW. (Note that assistance animals are exempt.)
The only public transport run by Transport NSW that permits dogs on board are buses, light rail and ferries. Pets must travel in an enclosed carrier, making this only ideal for small dogs, plus you need to ask permission from the driver/crew and ideally avoid peak hour. Check out the full rules.
For other private transport operators, double check the rules if in doubt. I've found that many private ferries permit dogs of all sizes onboard, as long as they stay outside and on a leash. This applies on the ferry to Bundeena in Sydney, plus the seasonal ferry between Huskisson and Myola at Jervis Bay. Find out more about dog-friendly ferries around Sydney.
Flying with Your Dog in NSW
Most regional flights within NSW are operated by either Qantaslink or Regional Express (REX), both of which permit pets onboard, with conditions. Virgin Australia also permits pets on board, while Jetstar doesn't accept pets.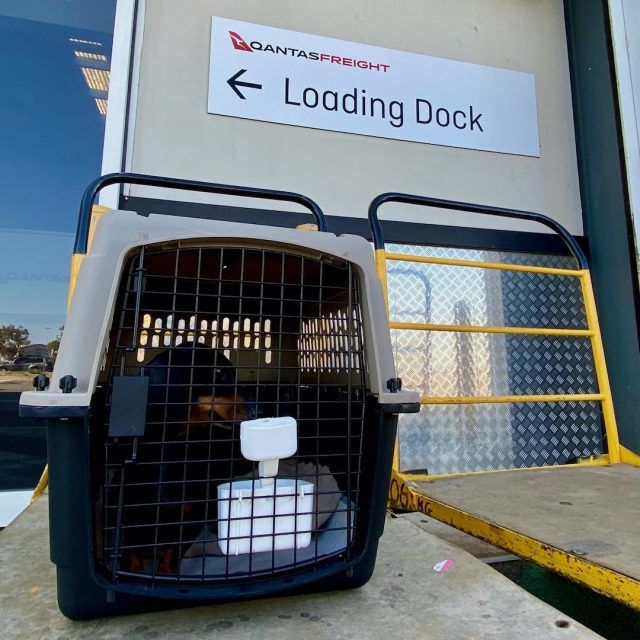 Note that each of these airlines only permit pets to fly in the hold, in a large airline approved crate. To find out more about the rules and how to book a flight for your dog, see my guide on flying with a dog in Australia. During the summer months, approach flying with a pet with caution, and see my tips.
Dog-Friendly Regional Guides
Travelling to a specific area of New South Wales with your pup? Check out my detailed guides on different regions, with suggestions for accommodation, dining, parks and dog-friendly sightseeing.
Around Sydney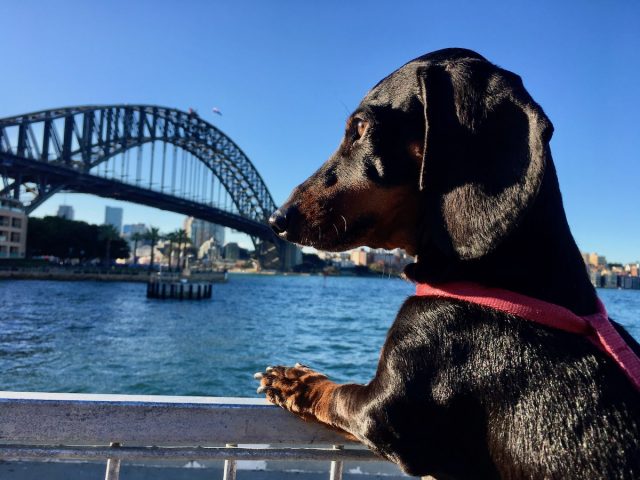 Close to Sydney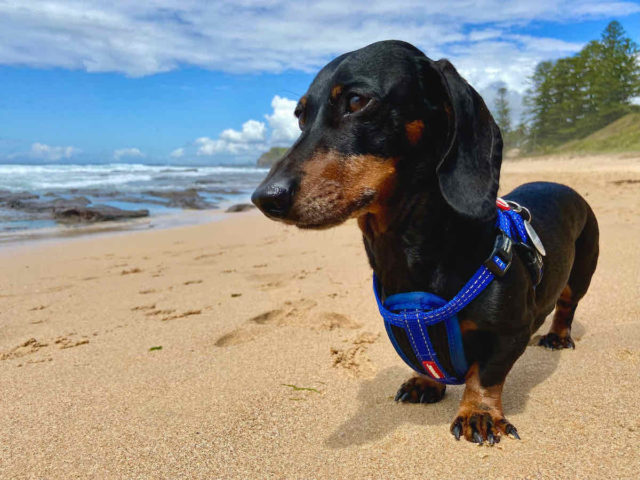 NSW North Coast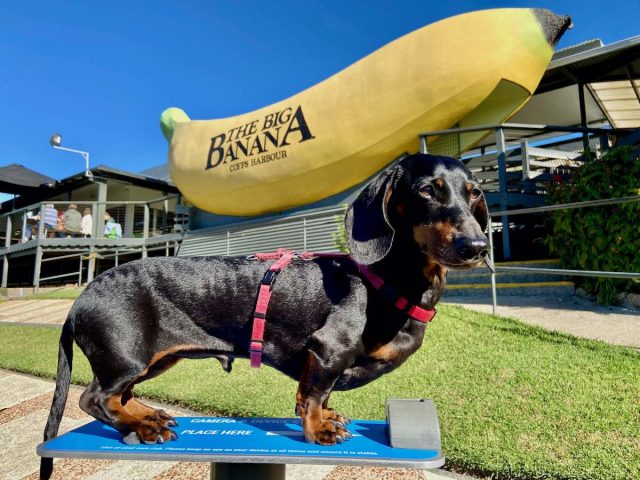 Heading north up the coast…
NSW South Coast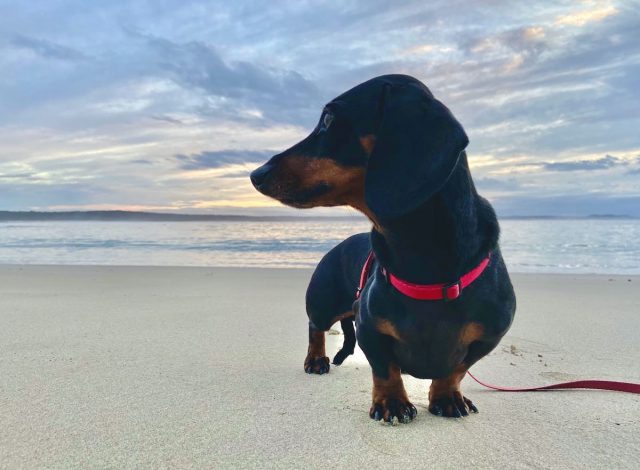 Heading south down the coast…
Country NSW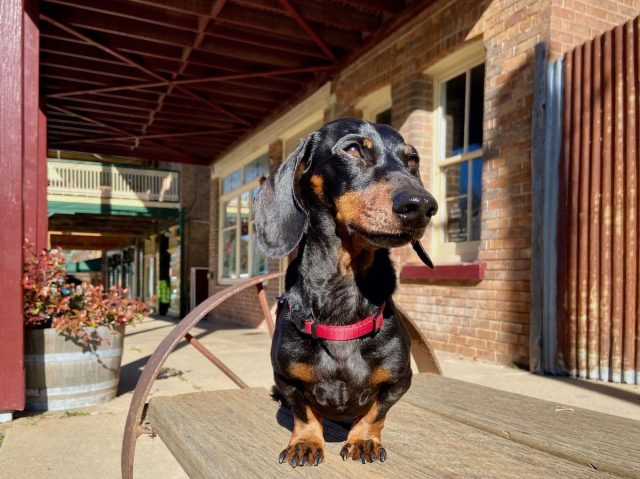 About the Author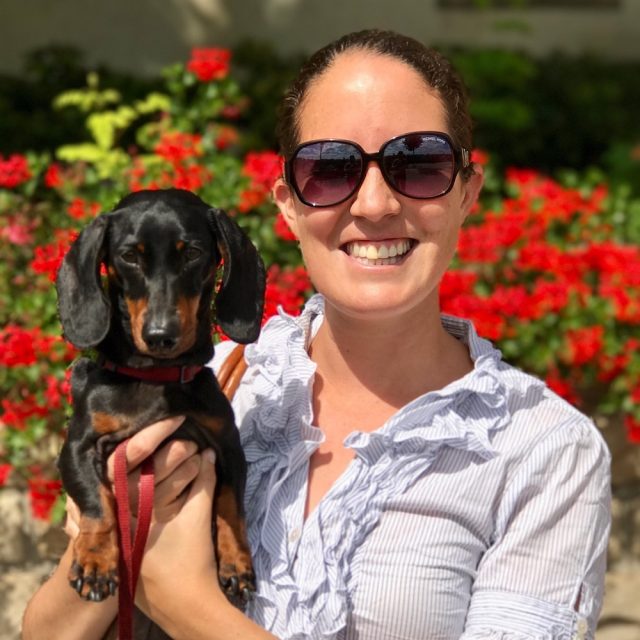 Shandos Cleaver is the founder of Travelnuity: Dog-Friendly Travel. She has travelled extensively with her Miniature Dachshund, Schnitzel, including to 33 countries across Europe, every state and territory of Australia except Tasmania, and 10 of the United States. She's passionate about providing inspiration and information to others wanting to travel with their dogs, whether close to home or internationally.
Inspired? Pin this to your Pinterest board!