It was on my first visit to the Czech Republic, prior to flying to Europe with my dog Schnitzel, that my eyes were opened up to how dog-friendly Europe is and the possibilities of travelling with a dog in Europe (unlike my native Australia).
It was a cold winters day in Prague, just a few days after Christmas, and we were enjoying the warmth inside an excellent cafe compared to the snow-covered street outside. A man entered the door, accompanied by a large dog on a leash, and we heard a woof from a few tables away. Inside the cafe was already another dog, who wasn't too happy at another dog entering. Wow, we commented, they allow dogs inside cafes here!
In fact, the Czech Republic is one of the most dog-friendly countries in Europe, and it's been a delight to visit the country twice with our dog. If you're planning on travelling in the Czech Republic with a dog, here are some tips for enjoying your time.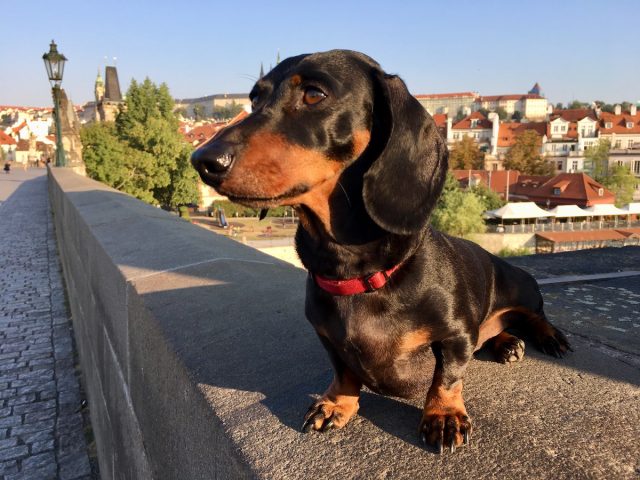 Travelling to the Czech Republic with a Dog
The standard EU rules apply to travelling to Czech with your dog. If you are travelling to the Czech Republic from another EU country, your dog will need to be microchipped, have an EU pet passport and have been vaccinated for rabies at least 21 days before crossing the border. However, pet passports are generally not checked when crossing the border by car or train.
If you are flying to the Czech Republic from outside of the EU, as well as a microchip and valid rabies vaccine, your pet will require an EU health certificate and in some cases a rabies titre test. Check out the full details on travelling to Europe with a dog.
Dining Out in Czech Republic with a Dog
As I mentioned above, dogs are allowed inside many restaurants and cafes in the Czech Republic. This is just as well, as the food in the Czech Republic is delightfully affordable, and it's tempting to eat out every meal.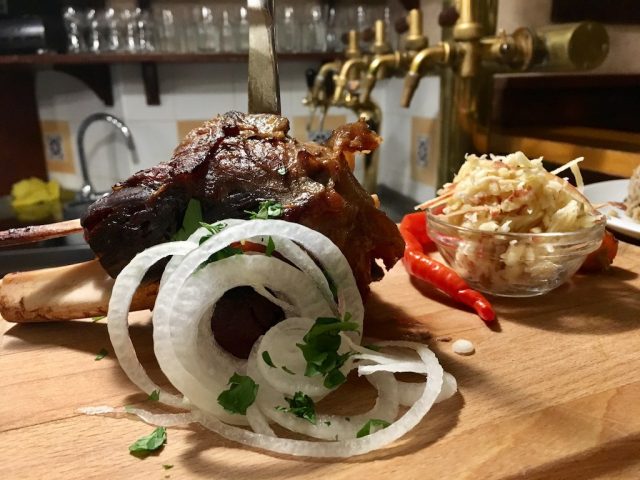 As well as in Prague, we also dined inside restaurants in Cesky Krumlov, Brno, Olomouc and Ostrava with our dog, as well as a few small towns. Just make sure to check at the door, as like other countries there are some exceptions. This also applies to bars, naturally!
Taking a Dog on Public Transport in Czech Republic
Just as dogs are allowed in most restaurants and cafes in the Czech Republic, the public transport is also fairly dog-friendly, with dogs generally allowed onboard.
Dogs on Local Transport in Prague
Small dogs in a carrier bag can travel for free on local transport in Prague, as long as their carrier is smaller than 70 x 45 x 25cm, the maximum size for a small bag that can be carried for free.
Larger dogs travel for free on public transport within the Prague city limits, but are charged a fee of 20 CZK fee, the discounted rate, on public transport outside Prague plus PID trains. However, if you have a ticket valid for one day or longer, you can also bring along a piece of luggage or dog for free, except for on PID trains.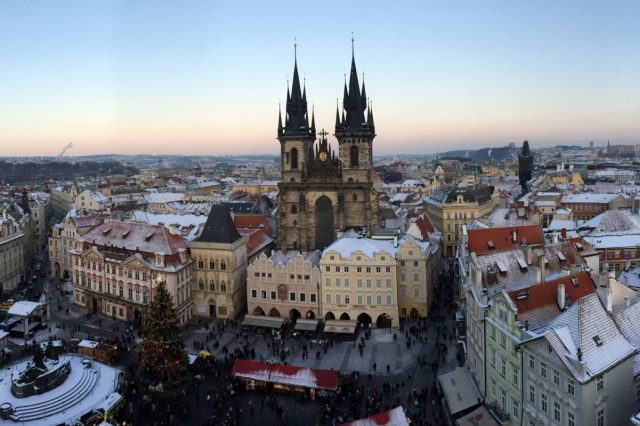 Previously, I had noted down that when boarding a bus, tram or funicular with a larger dog, you needed to request permission from the driver. But I can no longer see that rule mentioned, as least on the English website.
Be aware that the rule still may apply. Additionally, you should board through the doors with a dog pictogram on buses and trams and travel in the adjacent vestibule, as long as there is no pram in it.
Naturally, larger dogs need to be on a short leash and wear a muzzle. I had also previously noted down that even small dogs on public transport in Prague are required to wear a muzzle, if their carrier isn't entirely closed! It's a lot more common to see dogs wearing muzzles in the Czech Republic, at least on public transport.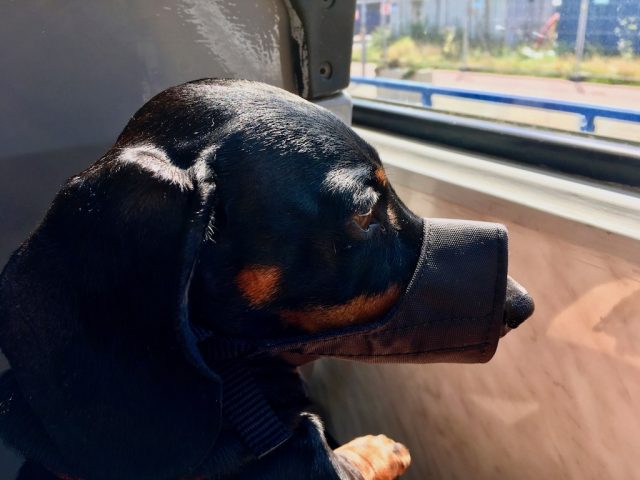 Dogs on Local Transport Outside Prague
The rules are similar for both small and large dogs on local transport outside Prague. Check the relevant website, although in my experience an English version is often not available. Alternatively, look for signage at the bus or tram stop.
Generally small dogs in a carrier can ride for free, while a reduced fare ticket is often required for larger dogs. This was the case when I visited Ostrava – see the sign below. A leash and muzzle was also required for larger dogs not in a carrier.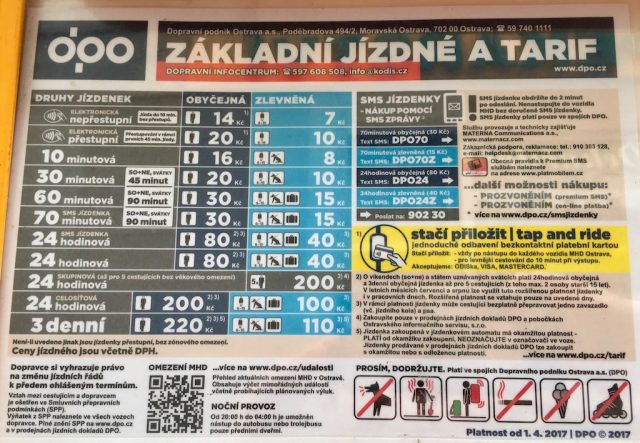 Dogs on Trains in Czech Republic
On trains operated by ČD, small dogs in a carrier travel for free. The maximum carrier size is a very generous 90 x 60 x 40cm, with larger carriers charged at the oversize luggage rate. The carrier must have an impermeable bottom and be completely closable.
For larger dogs travelling on domestic trains operated by ČD, a ticket is required but is very cheap. It varies in price from 15 CZK for up to 50km to 50 CZK (about €2) for 350km plus. On cross-border trains, larger dogs are charged the half-fare rate for 2nd class.
Note that animals are only allowed on 2nd class trains within the Czech Republic, and larger dogs need to be on a leash and wearing a muzzle.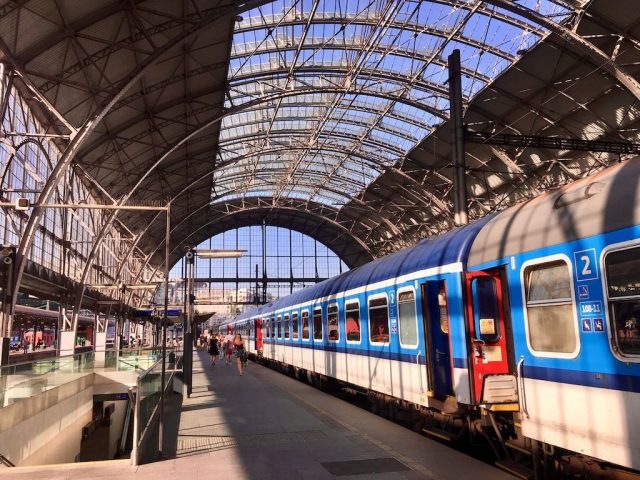 The rules are slightly different on RegioJet trains. Small pets in a carrier with solid bottom can travel for free on both RJ and R trains, of any tariff class.
However, larger dogs not in a carrier can only travel in 2nd class carriages on R trains. A fee of 30 CZK applies, and they need to be leashed and wear a muzzle.
Dogs on Long Distance Buses in Czech Republic
A final pleasing note on the long-distance buses also operated by RegioJet! Small dogs in a suitable carrier are allowed on the domestic buses operated by RegioJet, both in Czech Republic and Slovakia, plus selected international routes – see the website for the latest listing.
A maximum weight of 10kg applies, with your dog travelling either on your lap on under your feet, with no fee charged. Note that larger dogs are not permitted, except guide and assistance dogs.
Dog-Friendly Accommodation in Czech Republic
The majority of accommodation in the Czech Republic allows dogs. In my recent investigation, 60% of hotels, guesthouses and B&Bs in Prague on Booking.com allow dogs, although conditions may apply.
Often a extra charge applies – we were stung with a hefty (compared to the amount we paid for our room) charge of €15 when staying in a hotel just outside of Prague. We also had no issues finding dog-friendly apartments on Airbnb, many being rented out by people who themselves are dog owners!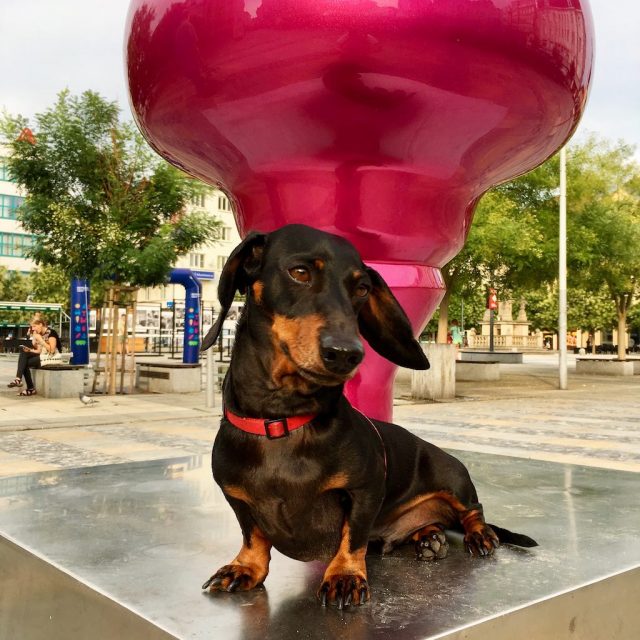 Dog-Friendly Parks in Czech Republic
While we didn't spend much time at parks in the Czech Republic (on our most recent visit it was too hot, so we often chilled out in our accommodation), there are plenty of dog-friendly parks in the different cities.
Not far from our apartment in Prague we found this handy sign (see above), showing the nearby parks, including whether dogs are allowed on-leash, off-leash or not allowed.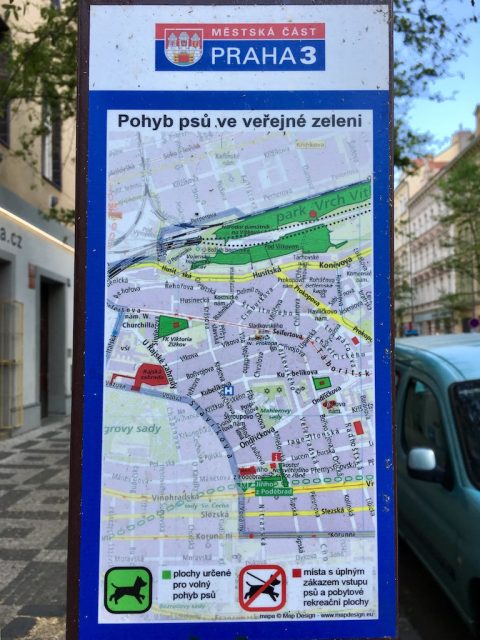 Dog-Friendly Sightseeing in Czech Republic
There's plenty of dog-friendly sightseeing options no matter where you are in the Czech Republic. Here are some of my top recommendations.
1. Visit a Charming Historic Town
Many visitors to Czech Republic only visit Prague, the country's bustling capital. However, one of my favourite things to do in the Czech Republic is to visit the countless charming historic towns scattered all around the country.
In particular, there are some very impressive old town squares, lined with pastel-hued buildings and home to some excellent restaurants and cafes. Two of my favourite towns are Olomouc (in the east of the country, easily accessible by train) and the pint sized Telc (which has been UNESCO World Heritage listed).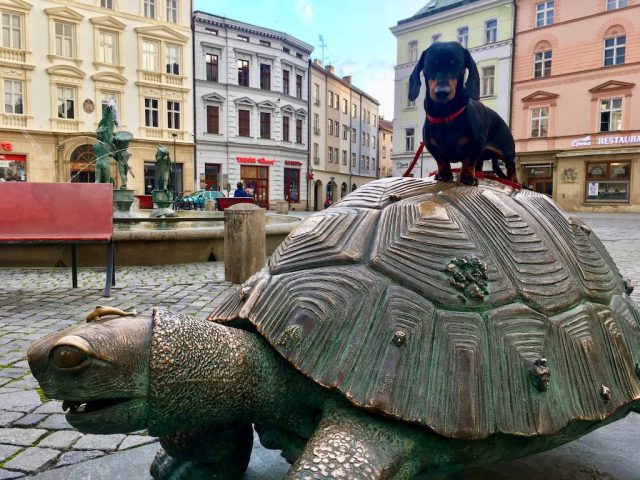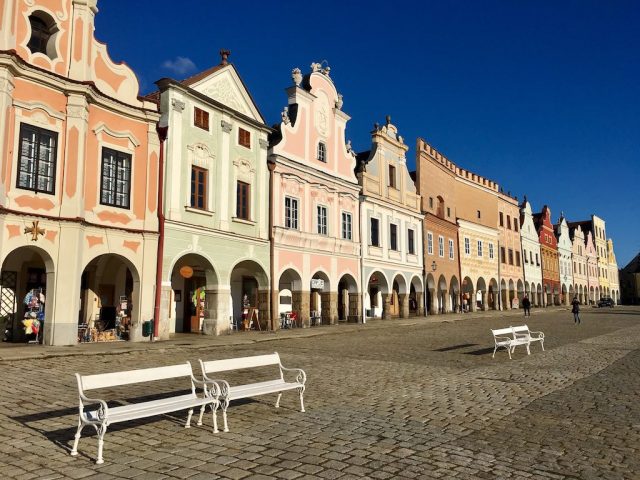 2. Walk Across the Charles Bridge in Prague
But of course you should also visit Prague, which is packed full of things to see (and tourists). One of the must-see attractions of Prague is the Charles Bridge, stretching over 600m across the Vltava River, connecting Prague's castle and the Old Town. Construction began in the 14th century and the bridge is lined with many impressive states.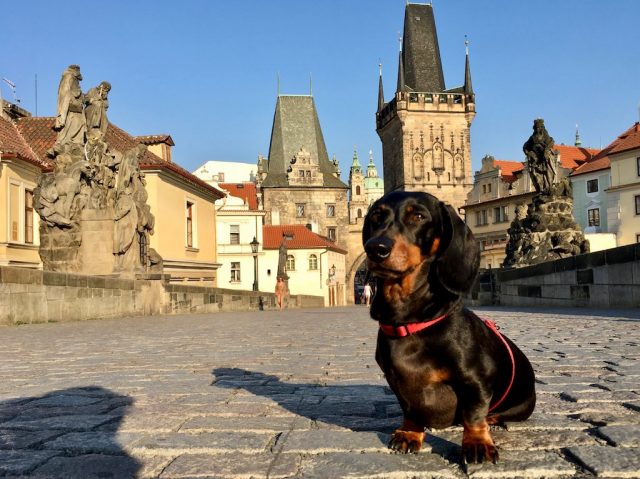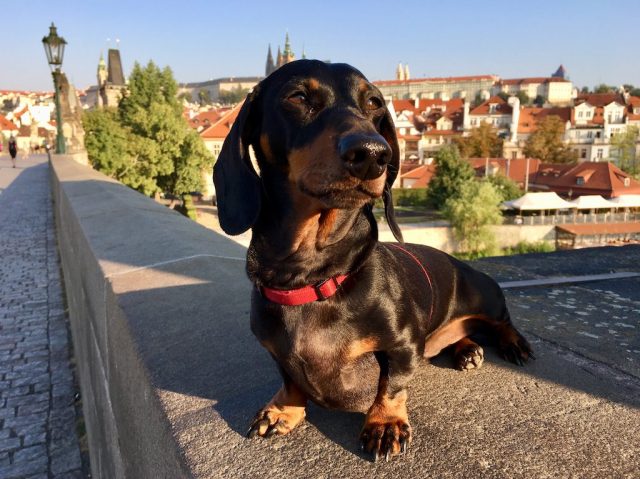 The best time to walk across the bridge is the early morning (before the crowds arrive, and when the light is beautiful). At the other end, it's also a short detour to the heavily-graffitied Lennon Wall, a fun spot for photos but with historic significance.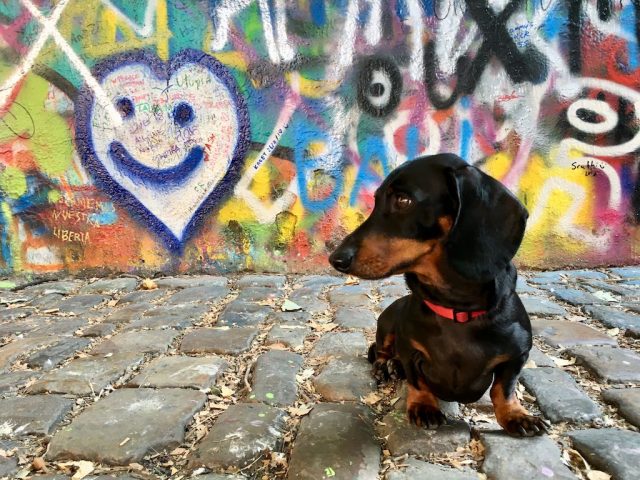 3. Explore Prague Castle
If you head up the hill from the Charles Bridge, through the narrow streets of the Lesser Quarter, you'll reach the extensive grounds of Prague Castle. It's a huge complex, and there's plenty to see!
While dogs aren't allowed inside the castle buildings or the gardens, they are allowed to explore the grounds with you, as long as they are on a leash and wear a muzzle. Dogs are also allowed inside most (if not all) of the restaurants and cafes at the castle.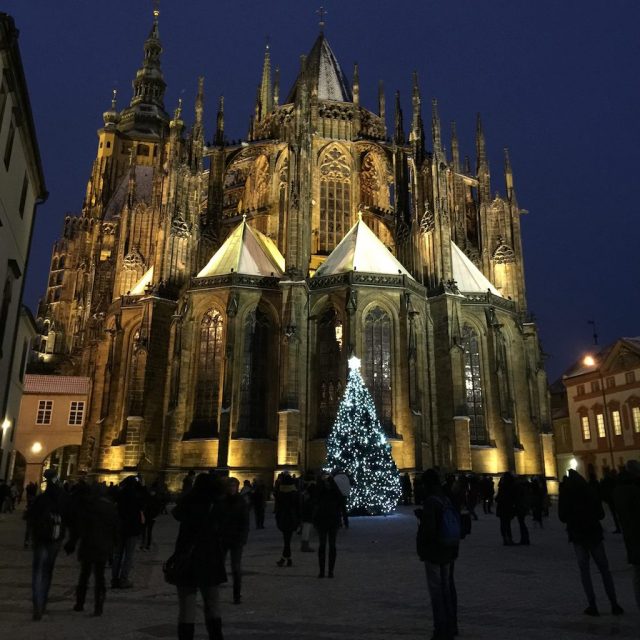 It's free for both humans (and dogs) to visit the grounds of Prague Castle, with entry fees only applying for entering buildings (although it's free to enter the vestibule of St Vitus Cathedral). It's also fun the catch the changing of the guards ceremony at 12 noon.
For more information on visiting the castle complex, click here.
4. Visit Karlštejn Castle
Something else that isn't in short supply in the Czech Republic are castles. The country has countless castles, and one of the most popular and most dog-friendly is Karlštejn Castle. I'd love to visit this castle on my next visit.
It's just a 40 minute drive to the southwest of Prague, surrounded by forest. It's also accessible through a train ride then either a long walk or a taxi.
All dogs are free to join their owners in the grounds of the castle, as long as they are on a leash and wearing a muzzle. Up until recently, small dogs were also allowed to join you on one of the tours inside the castle, however, according to the latest FAQ on the website, this appears to no longer be allowed.
5. Stroll Around Lednice Park
Lednice Park is in the far east of the Czech Republic, not far from Brno, plus the borders with Austria and Slovakia. The park is home to a grand neo-gothic chateau, but when I visited in late Autumn, the chateau was closed that day, plus if you're visiting with a dog they are not allowed to join you inside.
Instead, I recommend that you stroll through the beautiful park. It contains a large irregular lake, crossed by multiple bridges, plus the grounds are dotted with interesting follies.
It's completely free to visit and the park is open year round, except for during severe weather. It would be beautiful anytime of year, but my heart was won over by the magical fall colours during my Autumn visit.
Read more about our visit to Lednice Park with a dog.
6. Visit Cesky Krumlov
I couldn't make recommendations of what to do in the Czech Republic without including Cesky Krumlov. It's a fairly small town, but absolutely gorgeous, although that has translated into huge numbers of visitors in recent years. For that reason, it's best to stay at least overnight, and head out early in the morning or the evening to explore the streets.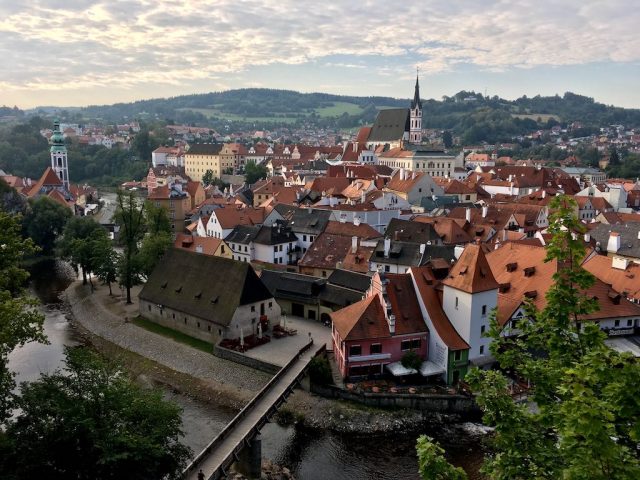 Cesky Krumlov, like Prague, is dominated by a castle on the hill above the town. However, in this case dogs are not allowed in the grounds. One of the signs wasn't that clear, but there was a no dog pictogram at the entrance to the grounds.
We were determined though to have a quick look, so carried our small dog through the entry, and wasn't stopped inside. If you have a small dog it'd be possible to do the same – just be apologetic and leave the grounds if you are stopped.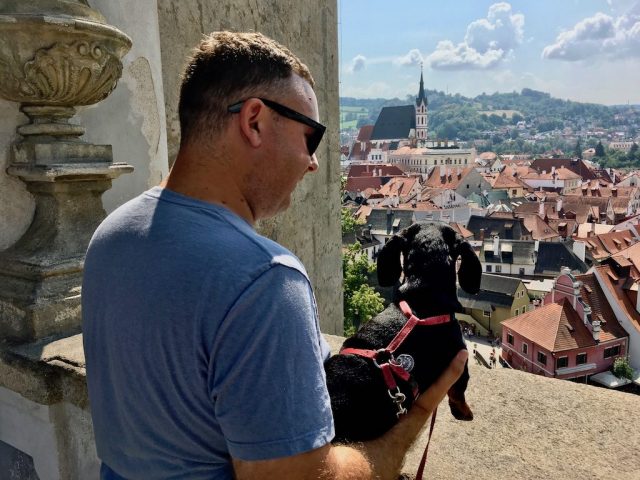 In summer time, the river weaving through the town is filled with canoes and rafts. If you have a water-loving dog, I'm sure you could bring him along! Otherwise, have a quick paddle in the chilly waters to cool down.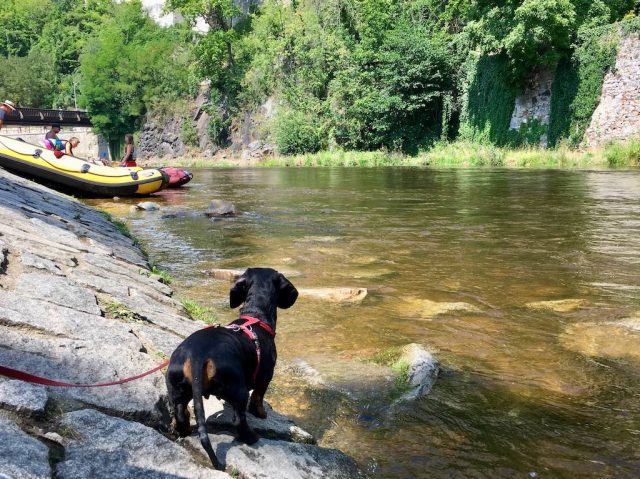 An affordable spot for lunch or dinner (prices at many restaurants here are a lot higher than in the rest of the country), is the historic brewery, Pivovar Eggenberg. Our dog joined us at our outdoor table (it was a hot day), but I'm sure dogs are allowed inside too.
You May Also Like
Inspired? Pin this to your Pinterest board!