A weekend away with your pup probably isn't the first thing that springs to mind when you think of Daylesford and the surrounding region, best known for the luxurious combination of spas and fine dining. However, while the region isn't the most dog-friendly one, there's still plenty of dog-friendly options around Daylesford in Victoria, from things to do to dining and accommodation.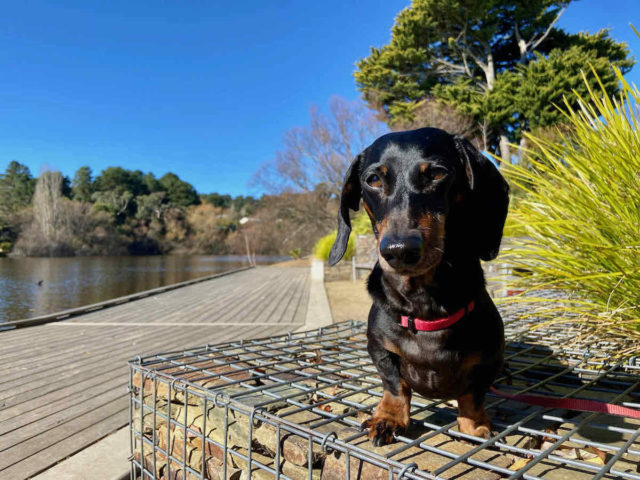 Dog-Friendly Sightseeing Around Daylesford
If you're visiting Daylesford and the surrounding region with your dog, fill your days with the following options…
1. Walk Around Lake Daylesford
Top of the list for a dog-friendly visit to Daylesford is to go for a walk around Lake Daylesford. Situated right next to the centre of Daylesford, there's an easy walking track that loops all the way around the lake, with a total distance of 2.8km.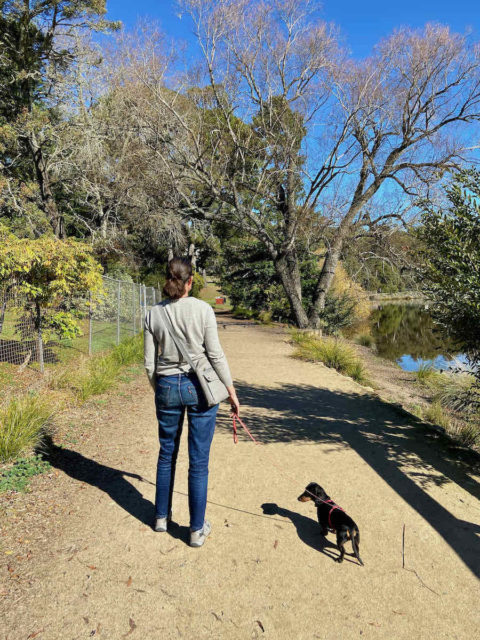 Allow about an hour to complete the full lap, or else just walk a section of the path. There's three carparks available, at Foreshore, Fulcher Street and Wombat Flat, or walk from the town centre. Along the way there's plenty of signs to direct you to the next point of interest and ensure you don't get lost. Just don't forget to leash your dog.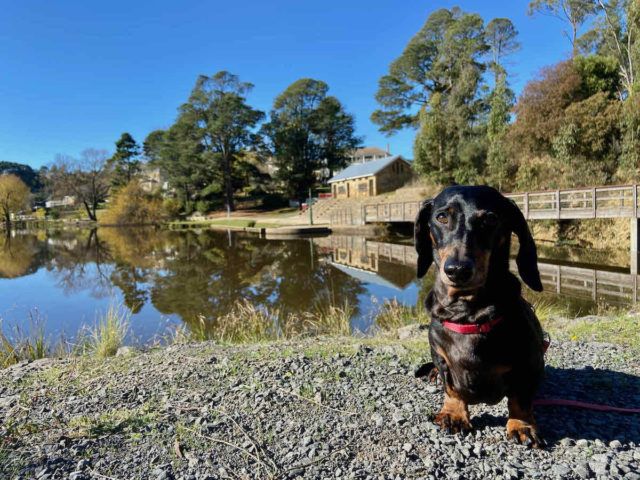 2. Sample the Local Mineral Springs
The Daylesford area is famous for its mineral springs, and while heading to a local spa for treatments is not a dog-friendly option, sampling the local springs is still possible.
While walking around Lake Daylesford, it's a short detour down to the historic Central Springs Reserve, with a pump for the mineral water. There's also mineral water pumps at Wombat Flat Mineral Spring.
In Hepburn Springs, head to Hepburn Mineral Springs Reserve, which features a number of different tasting springs and where dogs are permitted on leash. Read the tasting notes and compare the taste of Locarno, Soda, Sulphur and Wyuna Springs. Feel free to bottle your own.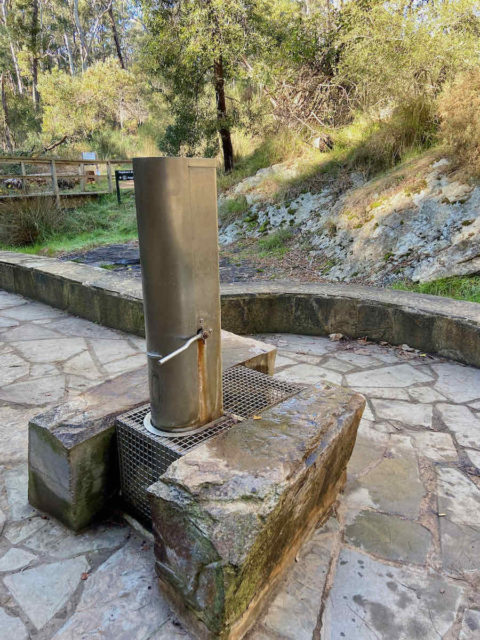 But, what about your dog? The general advice is that dogs shouldn't drink water high in minerals, especially if it is carbonated. However, a little taste is fine. Note that the water from these springs is untreated, although it is tested regularly, so there is a small risk for both humans and dogs.
3. Head to Wombat Hill Botanic Gardens
On the hill above Daylesford is one of the region's historic botanic gardens, Wombat Hill Botanic Gardens. The gardens are small, but are a great spot for a stroll or picnic. There's even a short scenic drive that loops around the hill. The gardens are also home to the dog-friendly Wombat Hill Cafe.
There's a wide number of other gardens in the region, some of which are also dog-friendly. Another beautiful garden to check out is Forest Glade at Mount Macedon.
4. Visit Trentham Falls
Trentham Falls is one of the longest single-drop waterfalls in Victoria, plunging 32m over beautiful basalt columns. The Falls Reserve is located just outside the town of Trentham, and it's well worth stopping and making the short walk to the top of the falls. Dogs are permitted to join you on leash.
Note that the older walking track to the bottom of the falls is currently closed, due to previous rockfalls around the falls.
5. Hike in Hepburn and Macedon Regional Parks
Hepburn Regional Park is located around the townships of Daylesford, Hepburn and Hepburn Springs, and because it's a regional park rather than a national park, on-leash dogs are generally allowed. There's a couple of walking trails starting right at Hepburn Mineral Springs Reserve.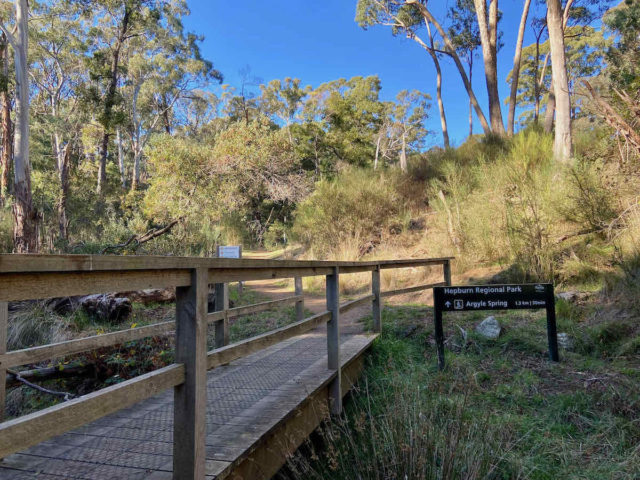 Not far away, another dog-friendly regional park is Macedon Regional Park. A highlight is the 21m high Memorial Cross, reached by a short 200m-long walk. A longer dog-friendly walk is to Camels Hump, the highest point in the Macedon Ranges.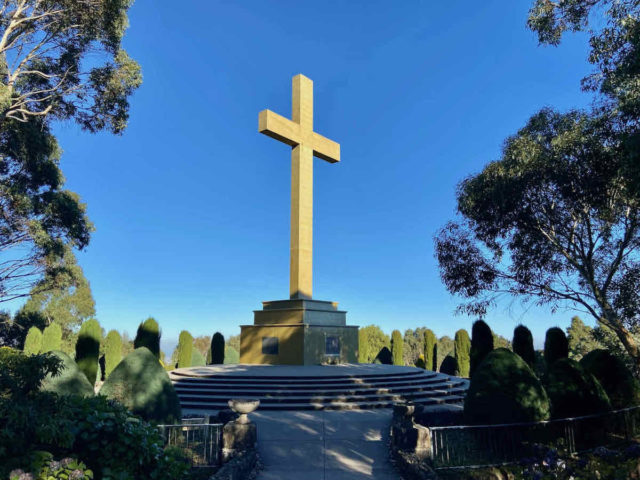 6. Visit Overwrought Sculpture Garden & Gallery
Head 10 minutes west of Daylesford to Blampied and Overwrought. The beautifully landscaped garden is full with their unique metal garden sculptures, and on-leash dogs are welcome to join you for a wander around, perhaps to pick out something for your garden at home.
7. Visit a Farmers Market
Each weekend there's at least a couple of farmers markets held in Daylesford and the surrounding country towns.
The Daylesford Sunday Market is on every Sunday, from 8am to 1pm, on Raglan Street in Daylesford. Alternatively, check out the Trentham Farmers' Market on the 3rd Saturday of the month, or the Woodend Farmers' Market on the 1st Saturday of the month.
Well-behaved dogs on a leash are generally permitted, although sometimes rules do change.
Dog-Friendly Dining Around Daylesford
There's no shortage of dog-friendly cafes and pubs around Daylesford, whether you're looking for someone for lunch or to just enjoy a coffee or cider.
Wombat Hill House at the Wombat Hill Botanic Gardens in the centre of Daylesford is open daily from 9am to 3:30pm. With a simple, fresh seasonal menu that focuses on local produce, the semi-enclosed outdoor area is dog-friendly – just ask to let your pup in by the separate gate.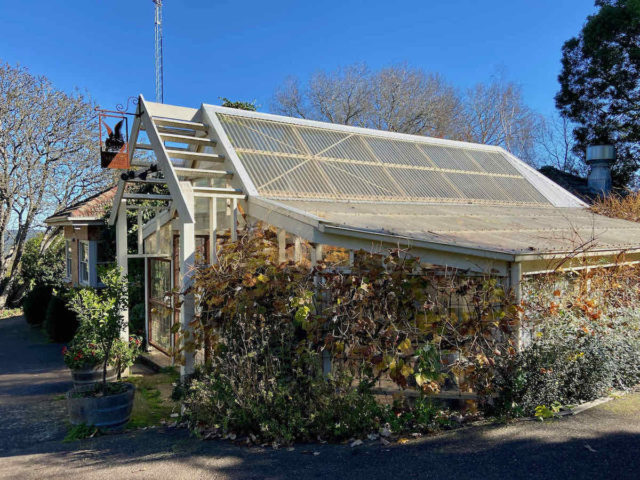 While walking around the lake, a handy spot to stop is Splinters Cafe, next to the Foreshore Carpark. There's a few tables scattered outside the front, plus the back deck, accessible down the side, is dog-friendly. While the food options are basic, the location is superb.
Another recommendation close to Daylesford is Daylesford Cider, located a few kilometres east of Daylesford. The cellar door is open daily for tastings, including a cider tasting paddle. The restaurant is open for lunch from Friday to Monday, with bookings recommended. Select to sit in the dog-friendly Courtyard area, which is protected from the rain but not heated, so rug up during winter days.
During your evening, your best bet is to find a pub with a beer garden. One top choice is the Cosmopolitan Hotel in Trentham, a rustic-style country pub with an amazing beer garden. The restaurant is open for dinner from Wednesday to Saturday.
Dog-Friendly Accommodation Around Daylesford
Two of the holiday cottages listed by Daylesford Country Cottages are pet-friendly: Bidwell Cottage in the centre of Daylesford, not far from the lake, plus Bonnie Brae Cottage in Hepburn Springs. Both cottages permit pets inside, plus have a secure garden. Did I mention they also have a woodburner stove, with free firewood supplied?
If you have your own caravan or tent, head to the Daylesford Holiday Park, located not far from Lake Daylesford. Dogs are allowed year-round on both caravan and camping sites, although not in cabins. The prices are on the high side due to the location – a cheaper option further out of town is the Jubilee Lake Holiday Park, although it isn't as highly rated. They also offer a dog-friendly on-site van and cabin.
If you're happy with basic facilities, one of the closest options is the Mt Franklin Reserve, located just over 10 minutes drive north of Daylesford. Located in an extinct volcano crater, this shady campsite only has limited facilities, but is free of charge and on-leash dogs are permitted.