Edinburgh is one of the most popular tourist destinations in the United Kingdom and it's not hard to see why. Edinburgh Castle looms over the city, surrounded by the charming medieval Old Town, and there's a packed event schedule, from the Edinburgh Festival to Hogmanay. If you're considering visiting Edinburgh with your dog, read on to find out what to do with your pup, and more tips for your stay.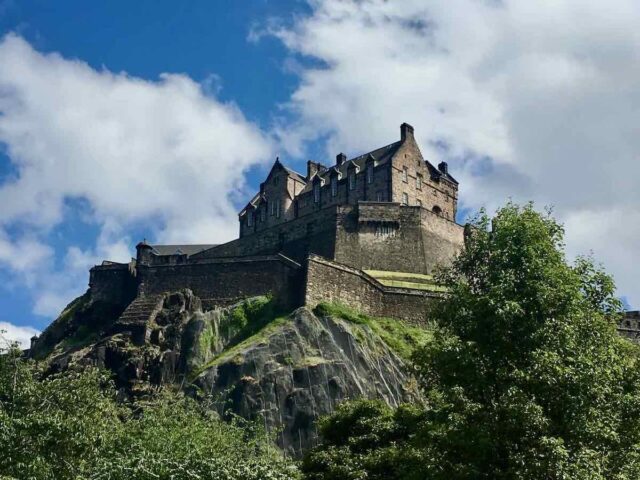 Dog-Friendly Sightseeing in Edinburgh
While most Edinburgh Festival shows will be off-limits to pups, there's still plenty of dog-friendly attractions in and around Edinburgh. Make sure you add these sights to your itinerary…
#1 Walk Along the Royal Mile
One of the top things you have to do in Edinburgh is walk along the Royal Mile in Edinburgh's Old Town. And luckily this is a great walk to do with your dog.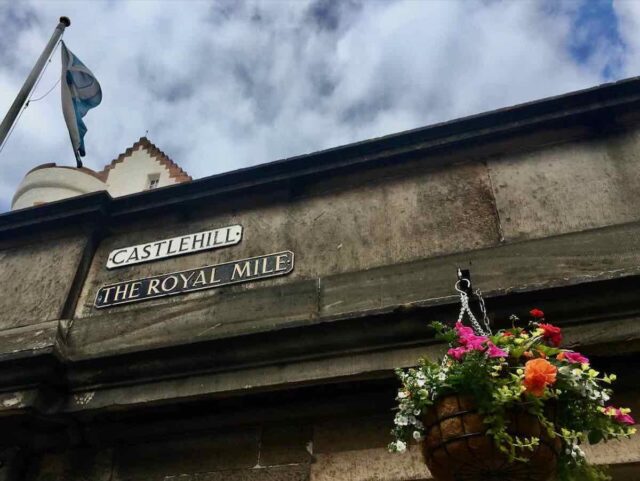 The easiest spot to start the walk is at the bottom end, at the Palace of Holyrood, which is the residence of the monarch when they're in Edinburgh. Then slowly make your way up the hill towards Edinburgh Castle.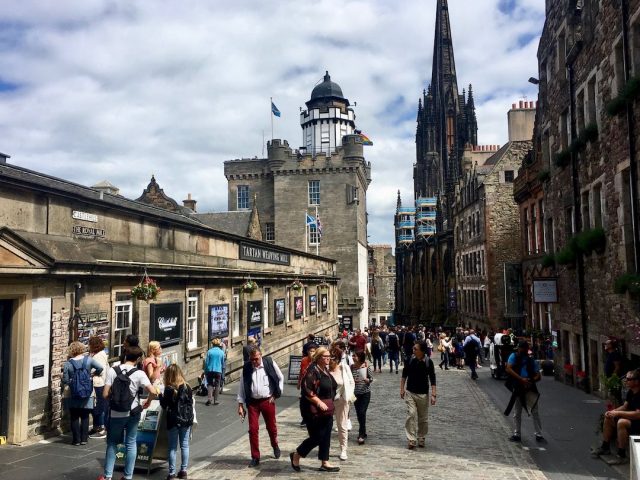 Along the way you'll pass the modern Scottish Parliament Building, but also plenty of old gothic buildings. Some of the stand out architectural gems include St Giles' Cathedral and the Tolbooth Tavern.
Originally built in 1591 as part of the original Canongate Tolbooth and reputedly haunted, these days the Tolbooth Tavern is a popular dog-friendly pub. Dogs are welcome to join you inside and can choose from their own menu.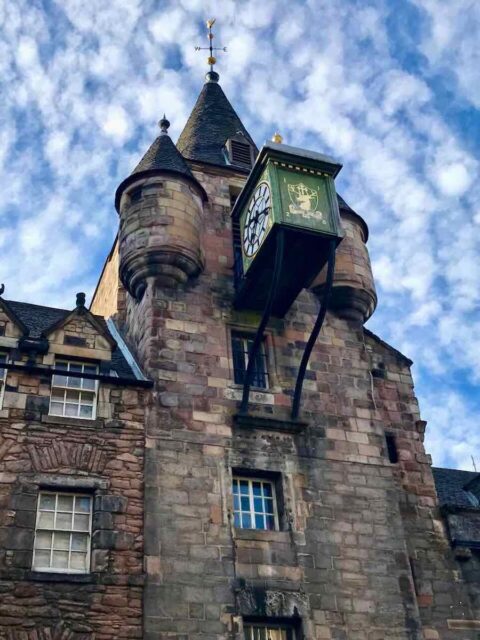 Note that dogs are not allowed inside Edinburgh Castle, even in the outside grounds. You'll have to return another time if you want to visit this landmark and symbol of the city, which is definitely worthwhile.
#2 Hike Up Arthur's Seat
At the other end of the Royal Mile, one of the other most popular (and dog-friendly) free things to do in Edinburgh is hiking up Arthur's Seat. The remains of a dormant volcano, the summit looms 251m above the rest of the city and provides wonderful views on sunny days.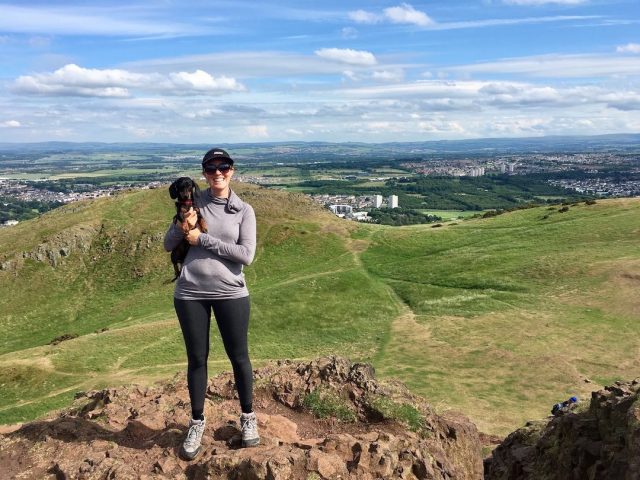 The trail to hike up Arthur's Seat starts just behind Holyrood Palace, within Holyrood Park. From the main carpark, it's a 45 minute climb to the summit along the Summit Path. Alternatively, if you start at The Hawse you can take the Zigzag path which only takes about 25 minutes.
It's a bit of a clamber up the steep slopes at time, but do-able by most people even if you've only got a pair of trainers. Take along your own water and allow a couple of hours to return. Dogs are welcome in the park, although there may at times be restrictions due to nesting birds – check the signs. At least part of the walk is off-leash, or dogs are commonly allowed off-leash.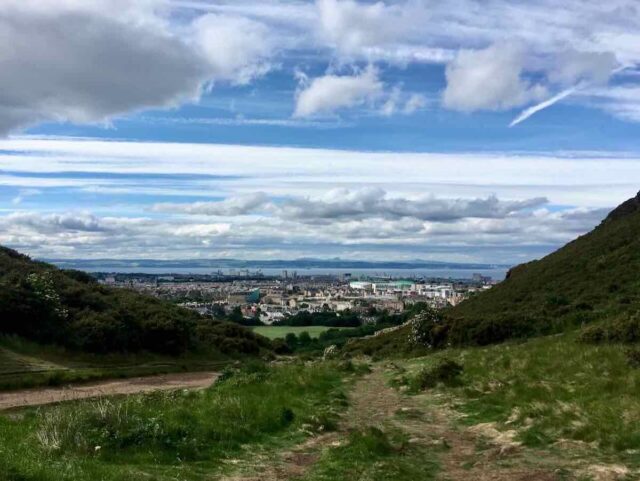 #3 Climb to the National Monument
While Calton Hill is far lower than Arthur's Seat, this hill is still an imposing spot to visit, as it's home to a number of important monuments and buildings, including the National Monument.
Inspired by the Parthenon in Athens, this monument was erected in the 1820s as a national memorial to the Scottish soldiers and sailors who died fighting in the Napoleonic Wars, but was left unfinished. These days it's often dubbed Edinburgh's Folly.
None the less the views from Calton Hill are outstanding, particularly at sunrise. And come New Year's Eve and Hogmanay, it's traditional to climb the hill and watch the yearly fireworks display above Edinburgh Castle. Although that's best done without your pup by your side!
#4 Wander Through Princes Street Gardens
The Princes Street Gardens is one of the largest urban parks in Edinburgh. Formed in the early 19th century by the draining of Nor Loch, once Edinburgh's largest loch, these days the green parklands divide the Old Town and the New Town.
While dogs are not welcome inside Edinburgh Castle, you can take in wonderful views of the castle from down below in the park, where leashed dogs are allowed. The gardens are a popular spot on rare sunny days, with multiple events held in the park throughout the year.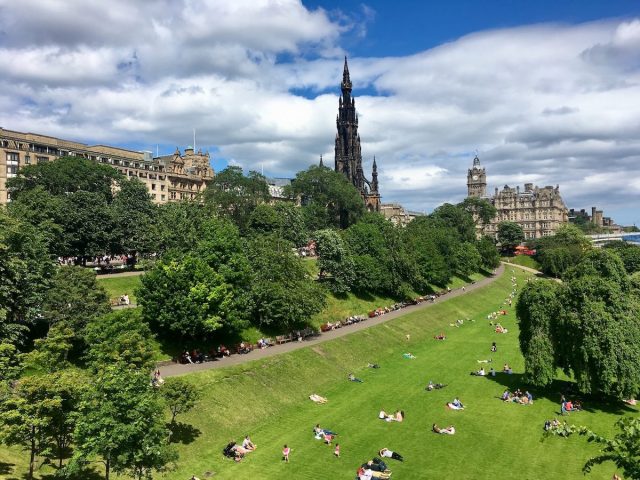 In addition to the larger West Princes Street Gardens, there's also the smaller East Princes Street Gardens on the other side of the Scottish National Gallery. Adjacent to this part of the park is the imposing Scott Monument, built to commemorate the death of Sir Walter Scott, one of Scotland's most beloved writers.
While dogs are not allowed inside, you can still view it from the outside, including the statue of Scott inside the base, with his deerhound, Maida, at his side.
Maida isn't the only famous dog statue that you'll find in Edinburgh. It's also worthwhile hunting down the famous statue of Greyfriars Bobby in the city.
#5 Search for Greyfriars Bobby
While walking along the Royal Mile, after passing St Giles' Cathedral and the David Hume statue, turn left towards the George IV Bridge and the National Museum of Scotland. You'll find the status of the little Sky Terrier just opposite the National Museum in Greyfriars Kirkyard.
This faithful pup followed the remains of his master to the churchyard and stayed there until his death, the bronze statue erected in his honour.
#6 Visit the Camera Obscura and World of Illusions
A popular attraction in the centre of Edinburgh that you wouldn't expect to be dog-friendly is the Camera Obscura and World of Illusions. Located close to the entrance of Edinburgh Castle, there's five floors of optical illusions to explore, plus the Victorian spectacle of the Camera Obscura.
Dogs are welcome to join you, although I'm not sure whether they'll be take in by the illusions! They'll definitely appreciate being offered a dog treat on arrival. The staff can also provide you with a water bowl to take around and keep your pup comfortable.
#7 Hop-On a Sightseeing bus
If you've tired out your feet for the day, consider taking a ride on one of the hop-on hop-off buses that tour around Edinburgh, along the way enjoying historical commentary and fascinating stories about the city.
Edinburgh Bus Tours offers three sightseeing tours – the Edinburgh Tour, the City Sightseeing Tour and the Majestic Tour. Each has a slightly different itinerary and different commentary options (double check if different languages are available, if English isn't your first language). Tickets are valid for 24 hours and well-behaved dogs are welcome on board.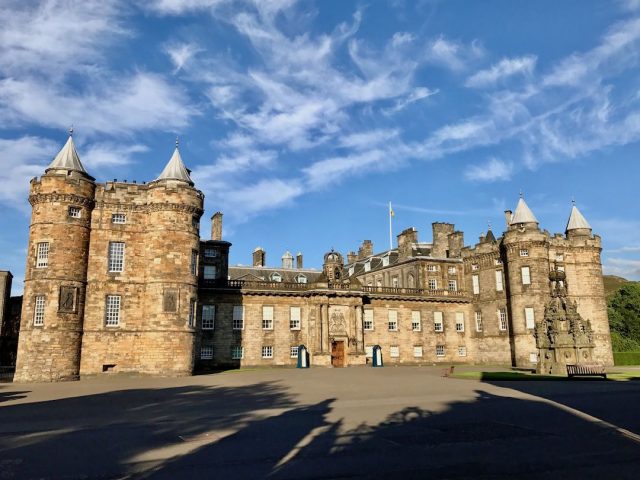 Additionally, the Three Bridges Bus Tour and Boat Cruise will be returning in Spring 2023, with dogs also likely to be allowed to join you.
#8 Visit Lauriston Castle
While dogs are not permitted at Edinburgh Castle, instead head just outside of Edinburgh to the beautiful Lauriston Castle and Gardens, which dates to the 16th century.
While dogs are not allowed on the tours of its Edwardian interiors, they are instead welcome to join you in the grounds outside, as long as they are leashed. Perhaps follow the woodland walk around the castle, before exploring the Japanese Garden.
The castle grounds are open daily from 8am to 4:30pm, with free entry for all. Also located onside is Mimi's Bakehouse, which welcomes well-behaved dogs.
#9 Check Out the Forth Bridge
Lauriston Castle overlooks the Firth of Forth, the estuary lying to the north of Edinburgh. If you continue a little further outside of Edinburgh you'll reach the trio of bridges that cross the Firth, including the UNESCO World Heritage-listed Forth Bridge.
A symbol of Scottish engineering prowess, the Forth Bridge carries the railway across the Forth. When it opened in 1890 it had the longest single cantilever bridge span in the world, and is still the second longest.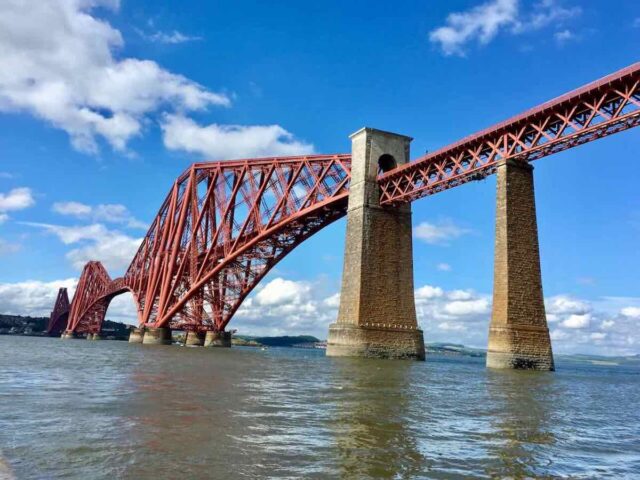 One of the best viewpoints of the Forth Bridge is from the town of Queensferry, or South Queensferry as it's commonly called. Head right underneath the bridge span to Hawes Pier or a short distance away to the Forth Bridges Viewpoint on Gote Lane.
Queensferry is a pretty town that is well deserving of a wander, ideally with an ice cream in hand on sunny days. Perhaps also consider walking along a short section of the John Muir Way, which passes underneath all three of the bridges, either west towards Port Edgar or east through Dalmeny Estate.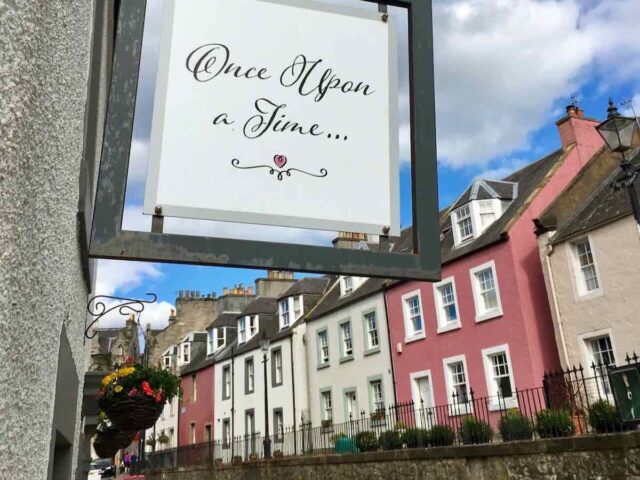 #10 Take a Boat Trip on the Forth
Another way to view the Firth of Forth and its bridge, plus a chance to spot seals and puffins, is on a boat tour. Boat tours on the Forth are offered by multiple companies, either with or without a visit to Inchcolm Island, home to a medieval abbey.
Forth Boat Tours welcomes pet dogs on board, with a small charge of £1 per pet applying. Just double check the specific tour you are interested in taking, as some of their wide ranging tours may visit non-dog-friendly attractions.
Alternatively, check out the tours offered by the Maid of the Forth. Dogs are welcome onboard their boats, they just need to be kept on a short leash.
Dog-Friendly Beaches in Edinburgh
While a visit to the beach is probably not something you would associate with visiting Edinburgh, there are a number of dog-friendly beaches not far from the city.
For starters, Cramond Beach in between Edinburgh and Queensferry is dog-friendly year round. It's located just north of the historic village of Cramond, one of the earliest known sites of human habitation in Scotland and these days an outer suburb of Edinburgh. The beach is vast at low tide, when it's possible to walk out to Cramond Island.
Alternatively, head east of Edinburgh to Portobello. Less than two miles east of the city centre, it's a sandy beach that is popular for swimming, kayaking and sailing on sunny days during summer. A promenade runs along the back of the beach, which can be accessed by bus from the centre of Edinburgh.
A little further east is the former fishing village of Musselburgh. Fisherrow – West Beach and Fisherrow – East Beach lie either side of its tidal harbour, both having no dog restrictions. The East Beach is the more wild of the two.
Dogs on Public Transport in Edinburgh
If you're wanting to catch public transport in Edinburgh with your dog, the most dog-friendly option are the trams, operated by Edinburgh Trams. Dogs are welcome on trams free of charge. Just make sure they are always kept leashed and off the seats.
With the buses in Edinburgh operated by Lothian Buses, small animals are only permitted on buses at the driver's discretion, according to the Conditions of Carriage. Dogs must be on a lead and muzzled (if required by relevant legislation), while other animals should be secured in a suitable carrier, and in both cases kept off seats.
If animals cause a nuisance or become aggressive, the driver may require the animal to be removed. Alarmingly, if any repairs or cleaning is necessitated by animals travelling on a bus, the cost will be charged to the owner, including any revenue lost if buses are withdrawn from service.
Additionally, it's possible to take well-behaved dogs on board the hop-on hop-off sightseeing buses operated by Edinburgh Bus Tours, see above.
Taking the Train to Edinburgh with a Dog
If you're wanting to travel to Edinburgh from elsewhere in the United Kingdom with a dog, a great dog-friendly option is to take a train. Most trains arrive at the centrally located Waverley or Haymarket Stations. (Note that no UK airlines allows dogs in the cabin of planes.)
Both smaller dogs in a carrier and larger dogs on a leash are welcome on board long-distance trains in the UK. Up to two dogs can travel for free (except in sleeper cabins), as long as they are part of your personal allowance of three free items. For a full list of rules, see the National Rail website, with the same rules legislated to apply to all train companies in the UK.
If travelling from London, a handy option is the Caledonian Sleeper train. You can take two pets with you in rooms, with just a cleaning fee of £30 per room per journey applying, for either one or two pets. See their full list of rules, including a request to keep pets off beds.
Dog-Friendly Accommodation in Edinburgh
Note: This post contains affiliate links, which means I may receive commission if you make a purchase using the links. See my full disclaimer.
There's a wide range of dog-friendly accommodation options available in Edinburgh.
For starters, one of the most dog-friendly hotels in Edinburgh is the boutique Hotel Indigo Edinburgh. Up to one pup up to 40 pounds in weight can stay with you as part of the Supaw Campaign, in a selection of ground floor rooms.
A small additional fee of £15 (plus an extra £5 if you require a bed) applies, with your pup welcomed with Sea Snax Treats. Dog-sitting is also able to be pre-booked.
Alternatively, for a luxury dog-friendly stay in Edinburgh, consider splurging on The Balmoral. This grand five-star hotel has been a landmark of Edinburgh since it opened in 1902 at No. 1 Princes Street.
Dogs are welcome to join you, although there is a 20 pound weight limit, unless you have written permission from the hotel. A fee of £50 applies per stay, with all four-legged guests receiving a welcome pack with a bed, water bowl, welcoming treats, and a list of dog-friendly local establishments and local dog walkers.
If you require something more spacious, consider the Cheval Old Town Chambers. These luxury serviced apartments are centrally located nearly Waverley Station, perfect if you are arriving by train. Each of the apartments contains a fully fitted kitchen, with some having balconies.
Pets are welcome to stay with you. There is an additional charge of £50 per stay for a pet package. A bed and bowl will be placed in your room, along with dog treats and bags.
You May Also Like